CONVERSATIONS Mousse 65
Rage against the Machine: The Theatrical Whirlwinds of Reza Abdoh
Close
1
2
3
4
5
6
7
8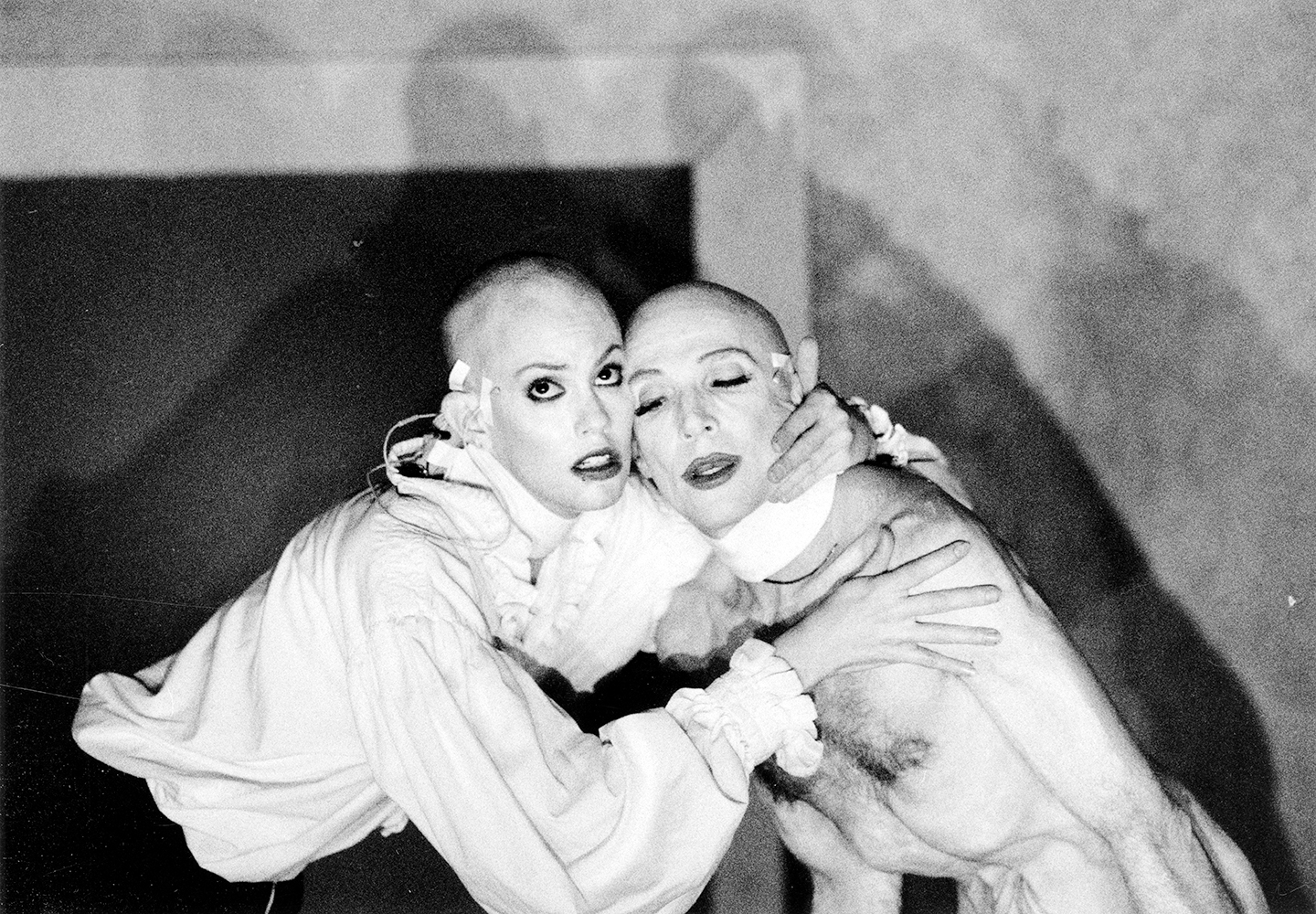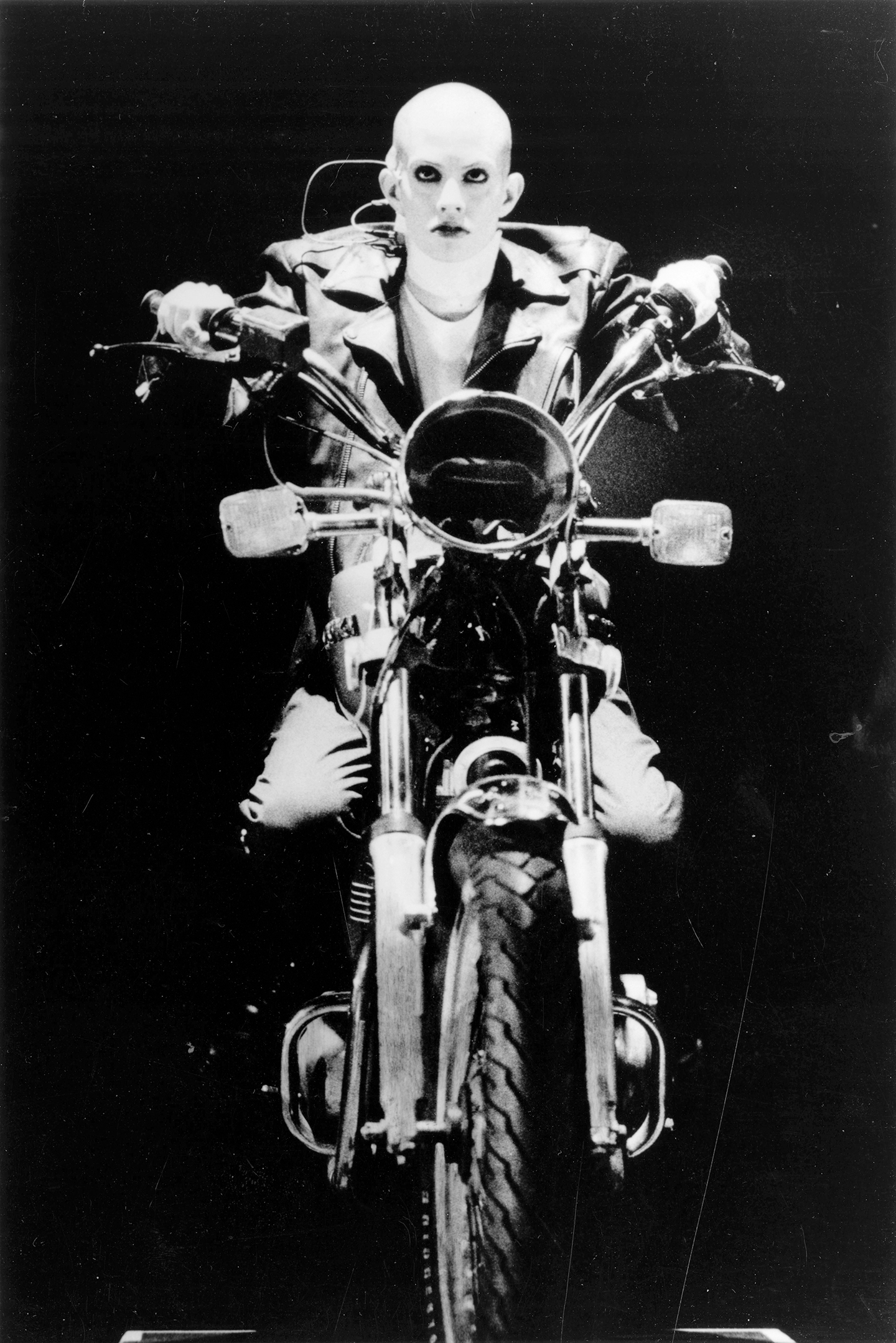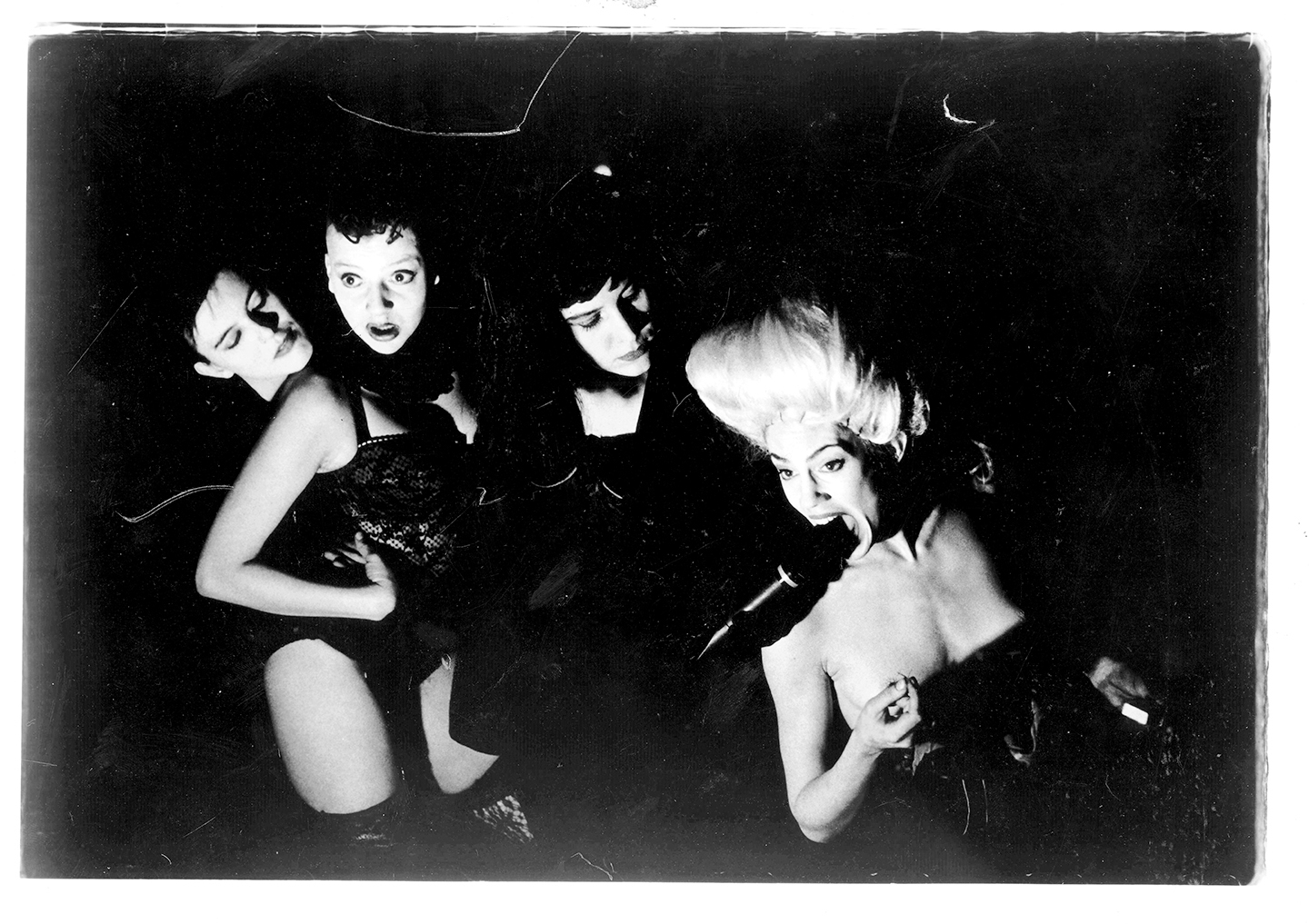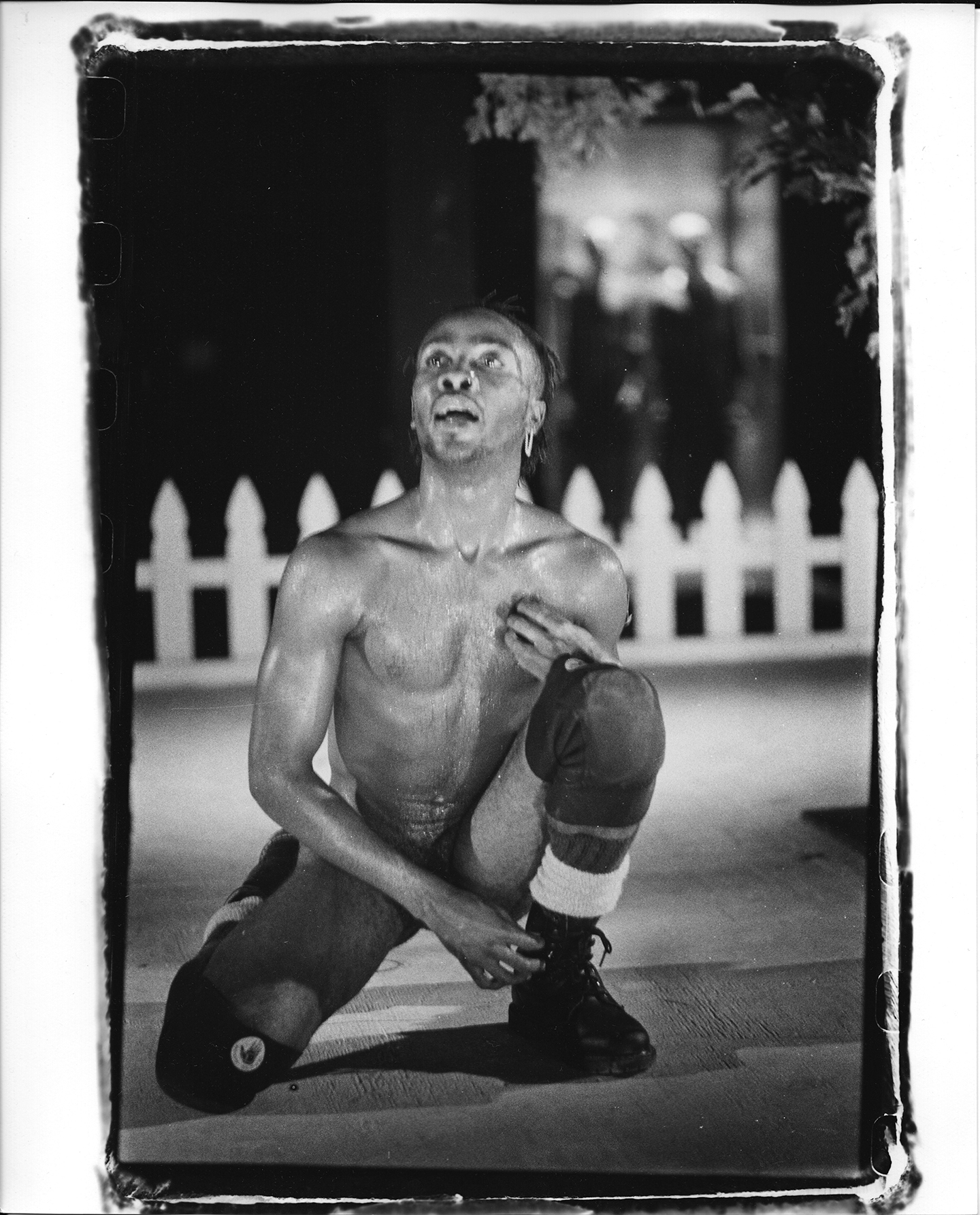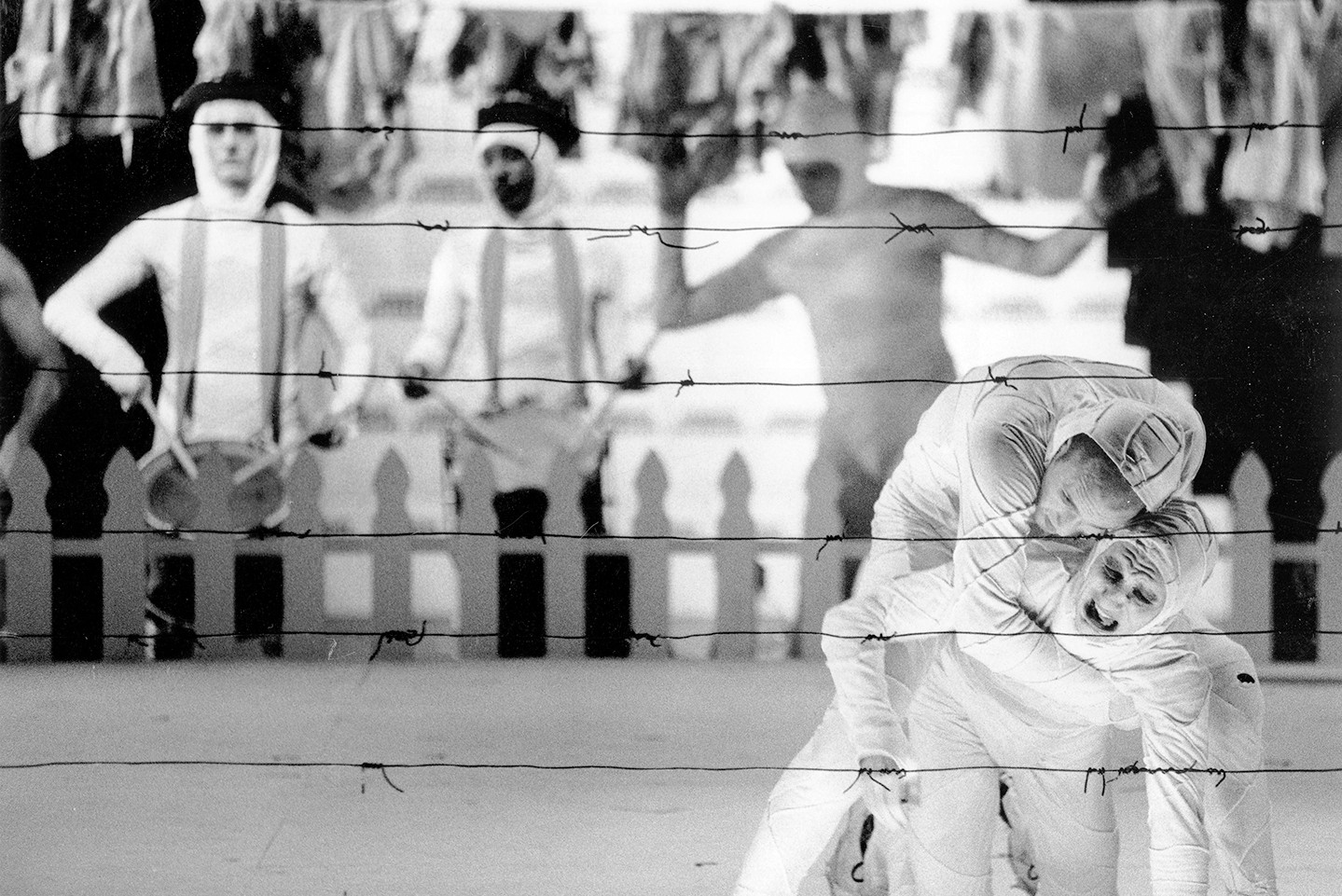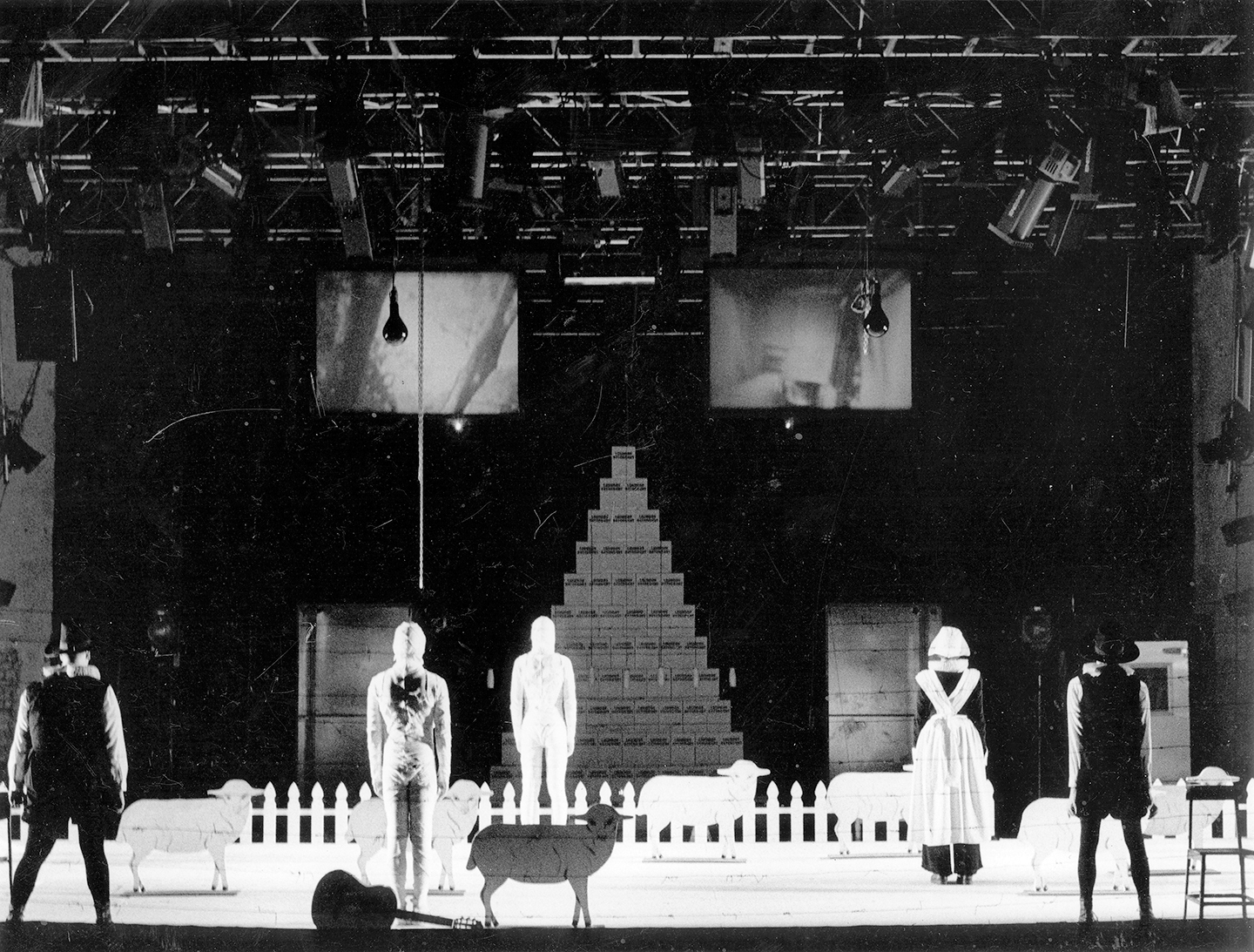 Negar Azimi, Tiffany Malakooti, and Krist Gruijthuijsen in conversation
Focusing on the experimental theatrical productions of Reza Abdoh, an Iranian-born American avant-garde director who had a "lived in the moment" political approach to the stage, Krist Gruijthuijsen talks to Negar Azimi and Tiffany Malakooti. The conversation touches on the complications of representation and the mechanics of museology.
There is always a fine line when it comes to reintroducing practices that are considered "complicated," "fragile," and "special." Finding the right moment and the right representation, especially when it comes to a practice that lived in the moment and refused to be historicized, is, to say the least, challenging. Reza Abdoh, a once celebrated theater maker of Iranian descent, is one of those cases. 
Abdoh's plays were, by all accounts, immersive, confrontational, and often shocking. The theater maker was a self-described member of "a TV generation" and voraciously incorporated varied references to music videos, variety shows, film, dance, classical texts, and BDSM into his work, with equal parts poetry and rigor. He broke with all the parameters of theater in order to create a primal experience in which subjects involving militarism, racism, and homophobia were tackled. It was the Reagan era, and Reza was angry. Very angry. HIV/AIDS, the fatal disease he was diagnosed with and which grew to become one of the world's biggest epidemics, became a recurring theme in his last productions, such as Bogeyman (1991), The Law of Remains (1992), and Quotations From a Ruined City (1994). Writer and theater critic Hilton Als recently wrote in the New Yorker: "Abdoh didn't rely on metaphors for the gorgeous confusion and frequent disillusionment of being sexual; he showed those things. His actors tore at their skin, slathered their faces with makeup that ran down their shirtfronts or their naked chests, because Abdoh wanted sex to look like sex, not like a polite version of closeness or romance." Within the short span of his career, he managed to leave an inerasable mark on theater's (im)possibilities that today feels as relevant as ever. Near the end of his life, Abdoh insisted that his plays never be restaged. At the age of thirty-two, he died in New York of AIDS-related diseases. Traces of his work were to be found on videotapes, which ever since have been circulating around experimental theater companies as inspiration. Negar Azimi, Tiffany Malakooti, and Babak Radboy of Bidoun have over the past years dedicated themselves to making Abdoh's legacy visible and have addressed the complications of representing such an oeuvre, especially as it operated within a live context and not a museological one. In dialogue with Klaus Biesenbach, director of MoMA PS1, and with me, this has resulted in exhibitions at MoMA PS1 and KW Institute for Contemporary Art which attempt to depict the energy and originality of a prodigy gone too soon. I took the opportunity to discuss with Azimi and Malakooti the legacy of Reza Abdoh, the urgency of presenting such an oeuvre within the current political climate, and the everlasting complications of representing theater within the visual art context. 
.
KG: The two of you have been researching and presenting Reza's work for a number of years. It's a very fragile practice full of complications to be preserved. Could you talk a bit about such complications in terms of representation and the various outcomes you have produced out of these considerations?
NA: Reza didn't mince words. His work is heroically difficult to digest—both then and now. It's a visual and aural and spiritual assault. A blistering jeremiad. In the course of our research, we collected so many stories about people walking out of his productions at the halfway point because they simply couldn't stomach it. We cherish those tales. But the question remains, How does one reengage such challenging work nearly three decades later? How to make sense of art that was so tightly tethered to a time and a place and its author? How to present work in a sterile museum context when it was never meant to be shown as such? Reza's plays were not polite. Nor could they be tamed. So how do we revisit and disseminate his work today and simultaneously remain faithful to its spirit and ethos? We're still wrestling with all of these questions. That negotiation has been a challenge. And a joy.
KG: Reza spent his childhood in Iran in sheer decadence, whereas later, after moving to the United States, poverty and survival took over. In what way do you think this experience was represented in the pieces he produced?
NA: An air of tragedy hangs over Reza's life. It's probably no accident that he adapted Greek classics—Medea and King Oedipus, for starters—early on in his career; so many of those tales are about loss and exile, after all. As you say, he went from a life of delirious privilege under the shah's reign to grinding poverty and hustling and despair in very short time in the midst of the Iranian Revolution. That whiplash probably gave him an outsized empathy with marginalized persons in general. You can't help but notice this empathetic embrace in the plays, almost all of which are somehow invested in exploring or exposing injustice. And then there's his HIV diagnosis in 1987. Reza knew he was running out of time, and you begin to feel that urgency in his plays from that year onward. It's inescapable. AIDS either explicitly or implicitly became a subtext of many of the late productions—notably Bogeyman and Quotations From a Ruined City. His final play, which was never realized, charted an epistolary exchange between a man with a terminal illness and a man on death row. It was called The Story of Infamy (1995). His own impending death weighed on him.
TM: His early attachment to the classics was surely also a product of his upper-class English boarding school education. Young Reza was extremely precocious, prolific, and ambitious. His sudden loss of wealth, home, and father all occurred concurrently with the Iranian Revolution, his coming of age, and—anecdotally—his coming out as well. I think he sort of hit the ground running in his new life… Those were difficult times for Reza and his brothers, but it was also essentially a rebirth for him. He was thrust into the seedy West Hollywood universe that would come to serve as the very stuff of his work. Reza eventually outgrew the classics thing, but one could easily make the argument that he retained the temperament of a dictatorial rich boy until the end of his life. There are Polaroids of a preteen Reza dressing up his family's domestic workers in costumes he created that feel either sweetly or horrifyingly prophetic, depending on your point of view.
KG: What specifically made Reza's theater so unique in comparison to, for example, the Living Theatre or the work of Robert Wilson?
NA: We've often described Reza as a collage artist. It makes sense that he was obsessed with one of the twentieth century's most inspired collagists, William S. Burroughs. Like Burroughs, he borrowed from multiple realms—television and movies, newspapers, literature, life, and, inevitably, other theater. His taste was totally ecumenical. He was also deeply aware of the conventions of the theatrical avant-garde and even indulged in them. For that reason, a conversation about Reza's formal originality will always be an interesting one. To quote the critic Daniel Mufson, Reza "uses tradition to alter tradition." It's interesting that you mention Bob Wilson. Bob cast an important shadow over Reza's work. For years Reza insisted he was a child extra in KA MOUNTAIN AND GUARDenia TERRACE, an epic 159-hour production Bob directed, which was held over seven hills in the Iranian city of Shiraz in 1972. We've since learned that Reza wasn't present—that this was a lie. Nevertheless, Reza wrote Bob and that epic production into his personal mythology, which in itself is worth lingering over. Interestingly, Reza's first New York play, Father Was a Peculiar Man (1990), had something of the durational and environmental vibe of KA MOUNTAIN; it was spread across several blocks of the meatpacking district and featured a large and eccentric cast. Having said that, Bob's work was much slower and more meditative than most of Reza's. Watching Reza's plays was like being mugged. Its dominant mode was excess. It made unusual demands of its audiences. And you never quite knew what hit you. 
KG: I guess the most poignant but also most cliché thing is to wonder what the urge is to look at such practice today in regard to the current times we live in. What are your thoughts on this?
NA: I suppose it's chic to talk about urgency in such spectacularly shitty times. But in Reza's case, it's actually more than shallow boilerplate. I think we can genuinely say that his work, though so tied to a specific moment, has a lot to offer our moment too. Reaganism and Trumpism are not that dissimilar, it turns out. The wages of the patriarchy, narrow nationalism, entrenched racial and gender discrimination, foreign wars without end: the nightmare kakistocracy that Reza raged against is very much among us today. Through his art, Reza asks this of his audiences: what are you going to do about it? As unappealing as earnestness can be, all of Reza's work had a clear and present social conscience.
KG: Reza did not believe in the reconstruction of his theater pieces, except for a more professional recording of Bogeyman (1991), even though ad hoc video recordings and photographs were made. Could you talk a bit about the status of such recordings and the notion of presenting them within the art context?
NA: As he was dying, Reza left directions that his work was never to be performed again. Luckily for us, his longtime videographer, Adam Soch, documented most of his productions. Without Adam's videos, we wouldn't have been able to put together an exhibition at all. Not having the videos also would have robbed generations of theater students and scholars of the chance to begin to imagine what sitting in a Reza production was like. All of which is to say, the videos exist as documentation. But there are other videos too. There are the so-called "show tapes" that were embedded into the sets to create a certain mood or atmosphere. And then there are the stand-alone films and videos which Reza made, like Sleeping with the Devil (1990) or his feature, The Blind Owl (1992). These works exist at a right angle to the theater work and should be treated independently. They also deserve to be in museum collections. I have little doubt that Reza would have pursued film further had he lived longer. 
TM: The footage of Bogeyman wasn't necessarily more professional than the others, but it was the work that we chose to put the bulk of our energy into fleshing out. For the exhibition, our co-curator Babak Radboy worked closely with an editor to painstakingly piece together recordings from different performances on different nights into a dynamic multichannel installation. The audio from these recordings was just whatever was coming through the video camera mic, so it was pretty bad. Luckily, Raul Enriquez, the sound engineer from Bogeyman, just happened to have kept DAT tapes from the performances that we were able to digitize. The whole process was very arduous, but the end product is hopefully something that feels truer to the work. I really love Reza's feature, The Blind Owl. It was shot on film, but unfortunately only a video edit was created due to lack of funds. We've been trying to track down the original footage in hopes of creating a print, but we haven't had any luck yet. After I watched The Blind Owl on the big screen at MoMA, I felt a deep pang of sadness for the films that Reza didn't get to make. I think they would have been really amazing.
Reza Abdoh (1963-1995) was an Iranian-born American avant-garde director, playwright, company leader and poet known for his large-scale, experimental theatrical productions. He created an impressive body of stage spectacles known for their ferocious energy and hallucinatory dreamscapes. With his company Dar A Luz, formed in 1991, Abdoh created plays that have made a major impact on experimental theatre worldwide. His recent exhibitions include: Reza Abdoh: Radical Visions, MoMA PS1, New York and KW Institute for Contemporary Art, Berlin (upcoming).
Krist Gruijthuijsen is the director of KW Institute for Contemporary Art. 
Negar Azimi and Tiffany Malakooti are part of Bidoun collective.
Originally published on Mousse 65