CONVERSATIONS
Riccardo Previdi "Fun With Flags" at Francesca Minini, Milan
Close
1
2
3
4
5
6
7
8
9
10
11
12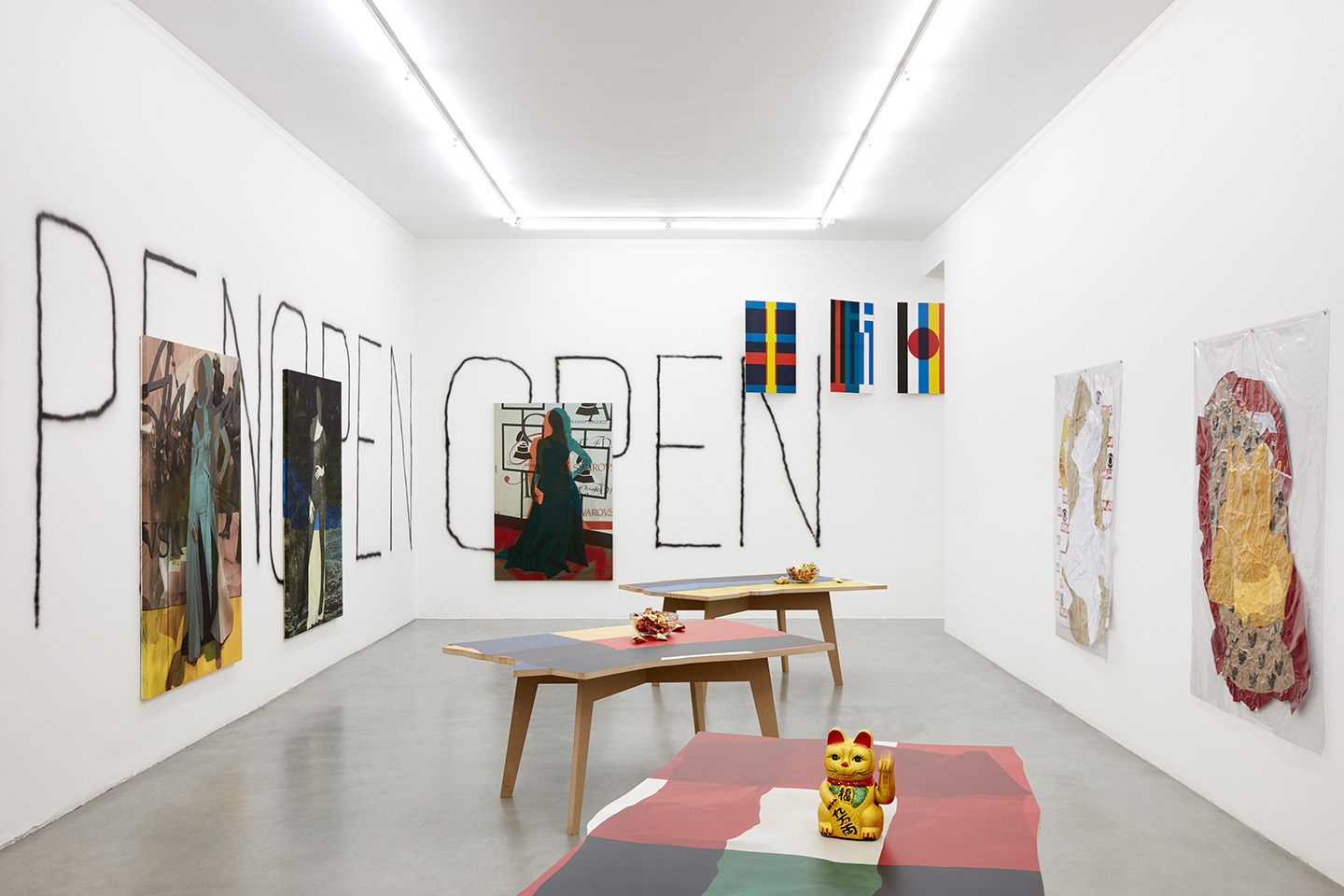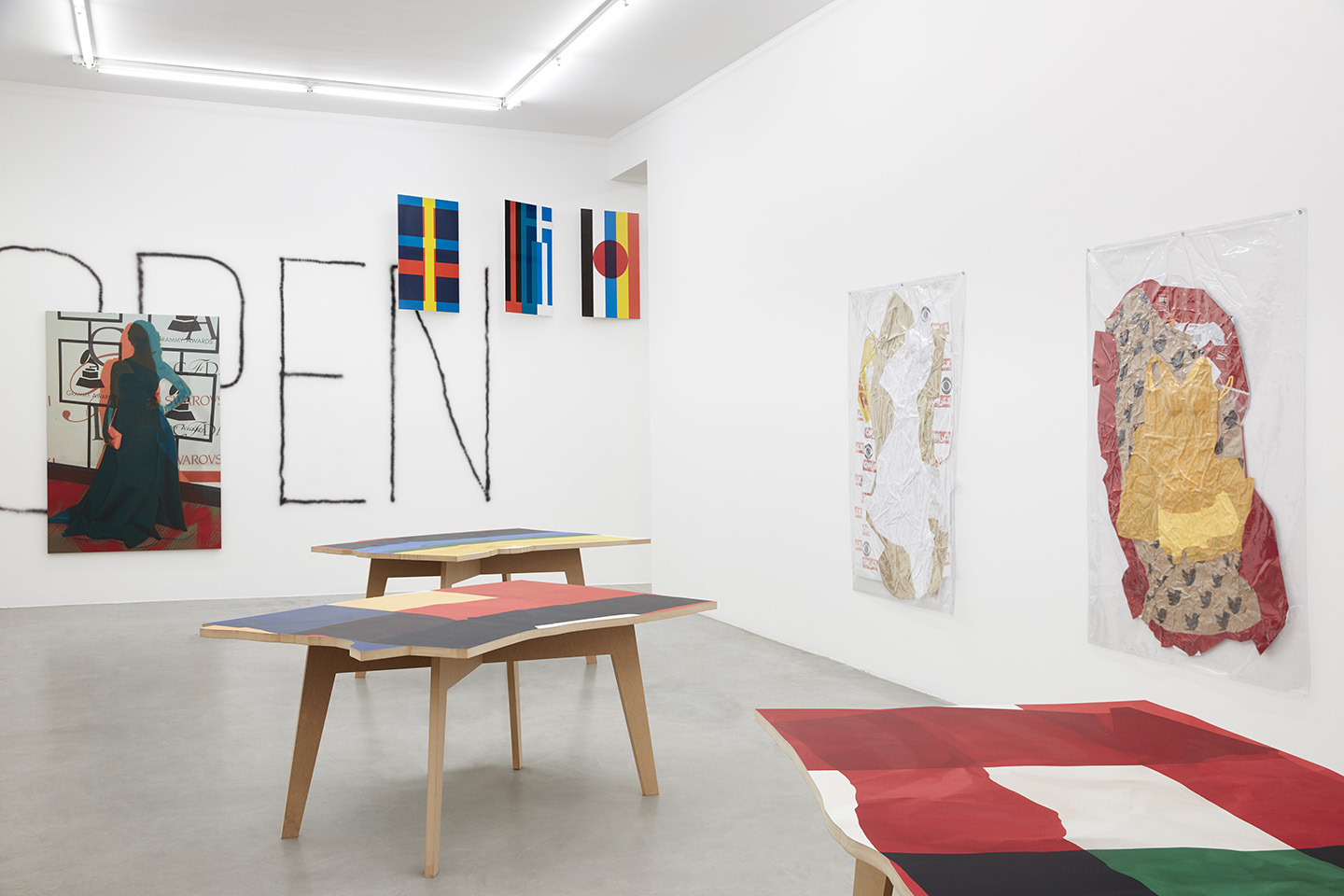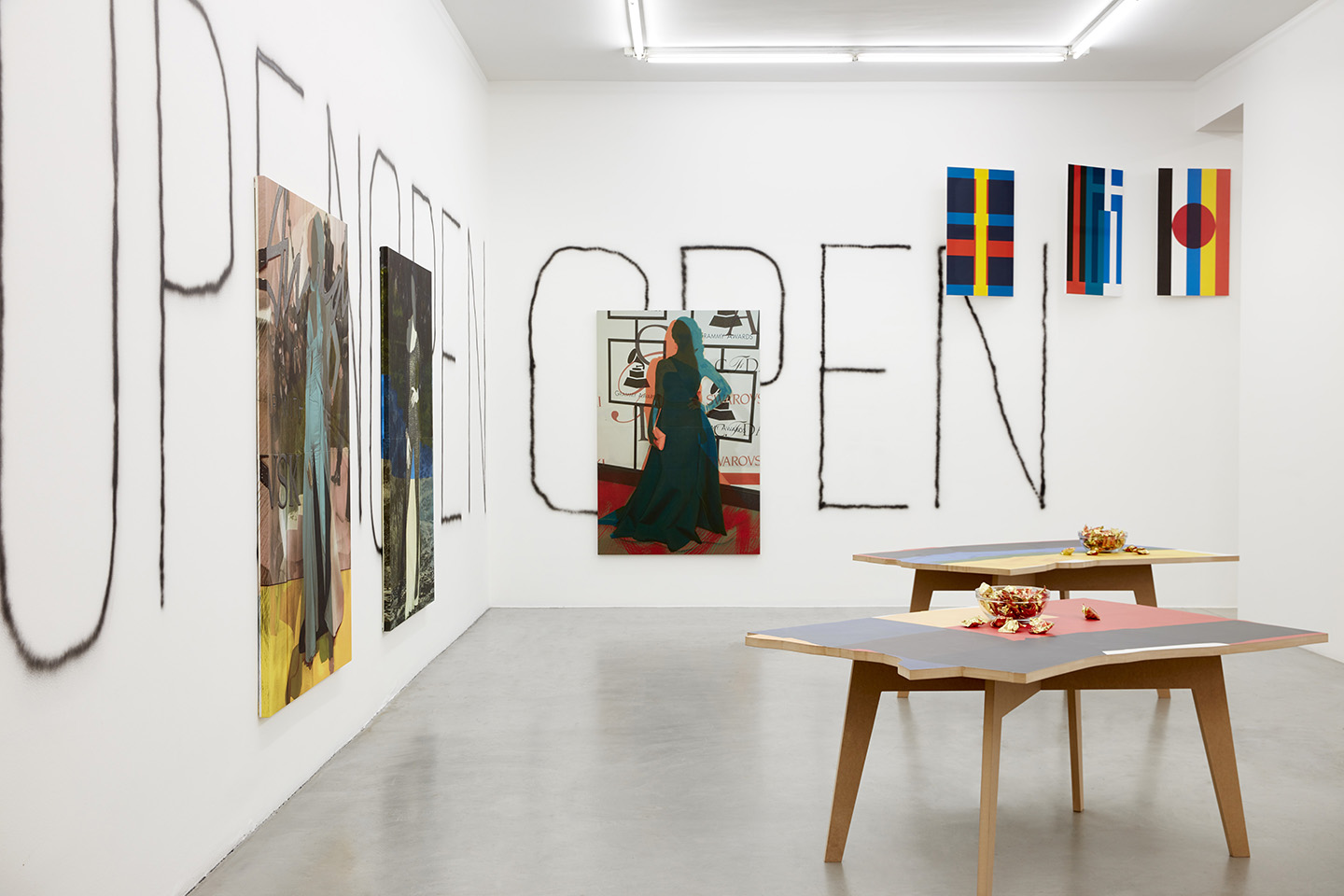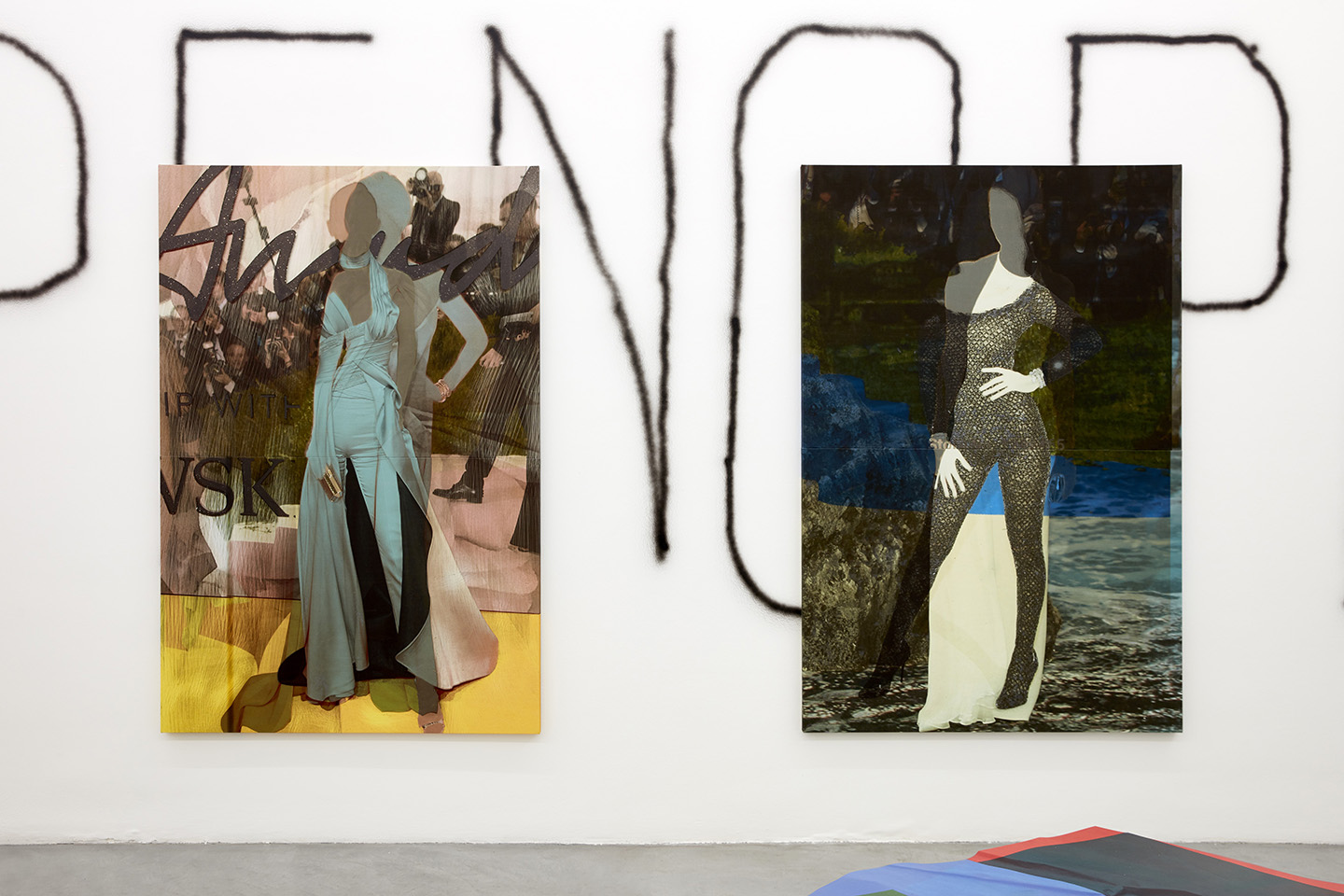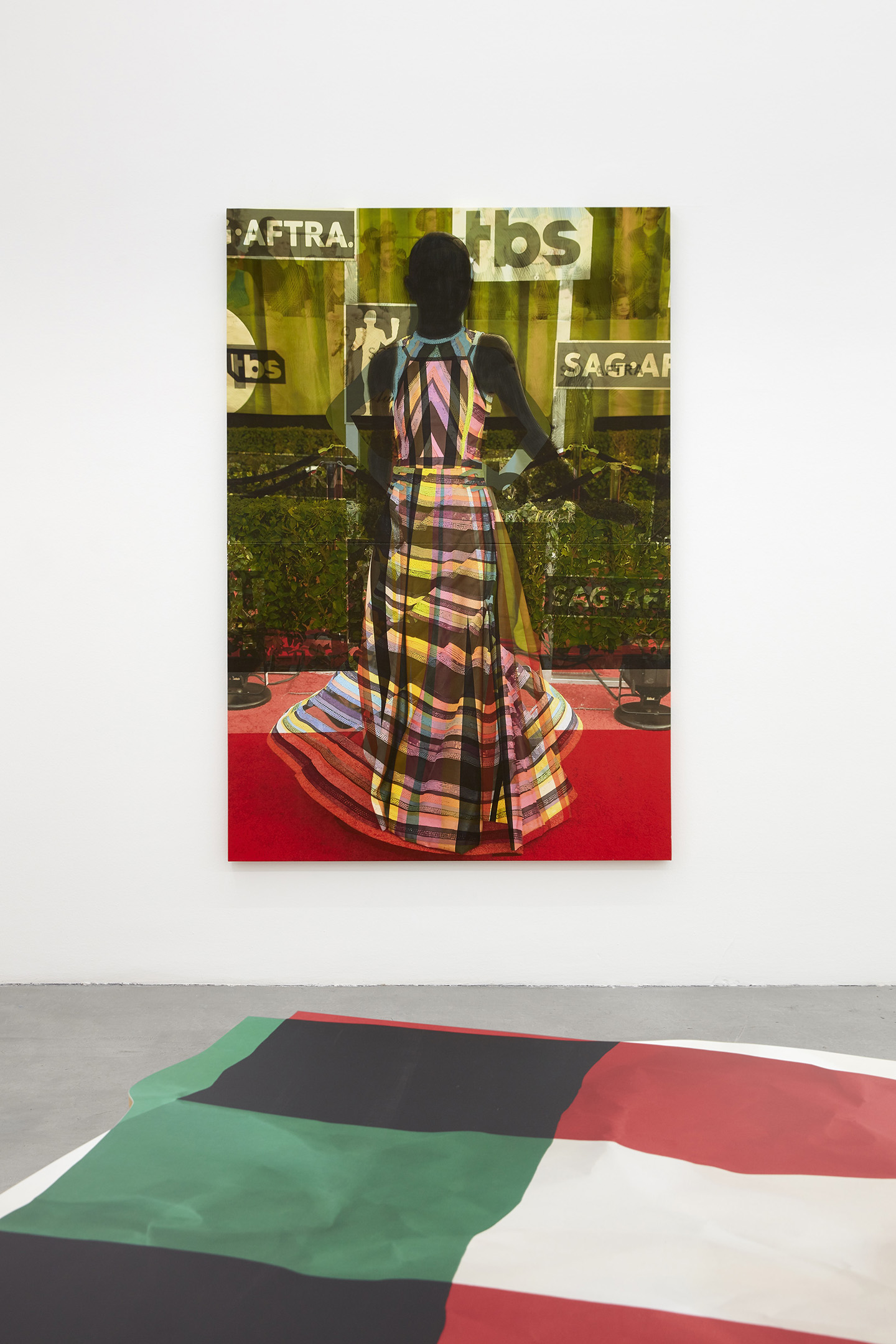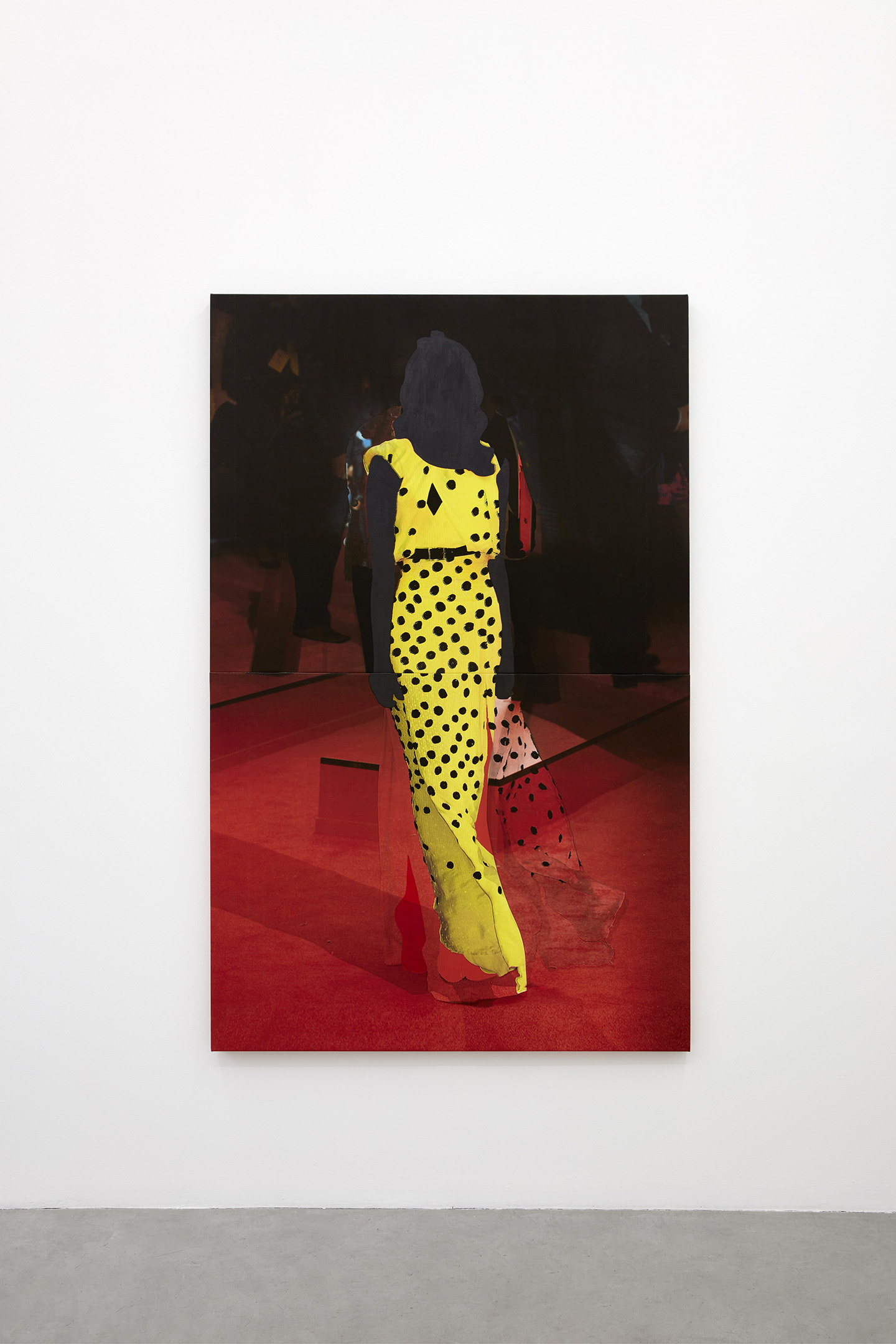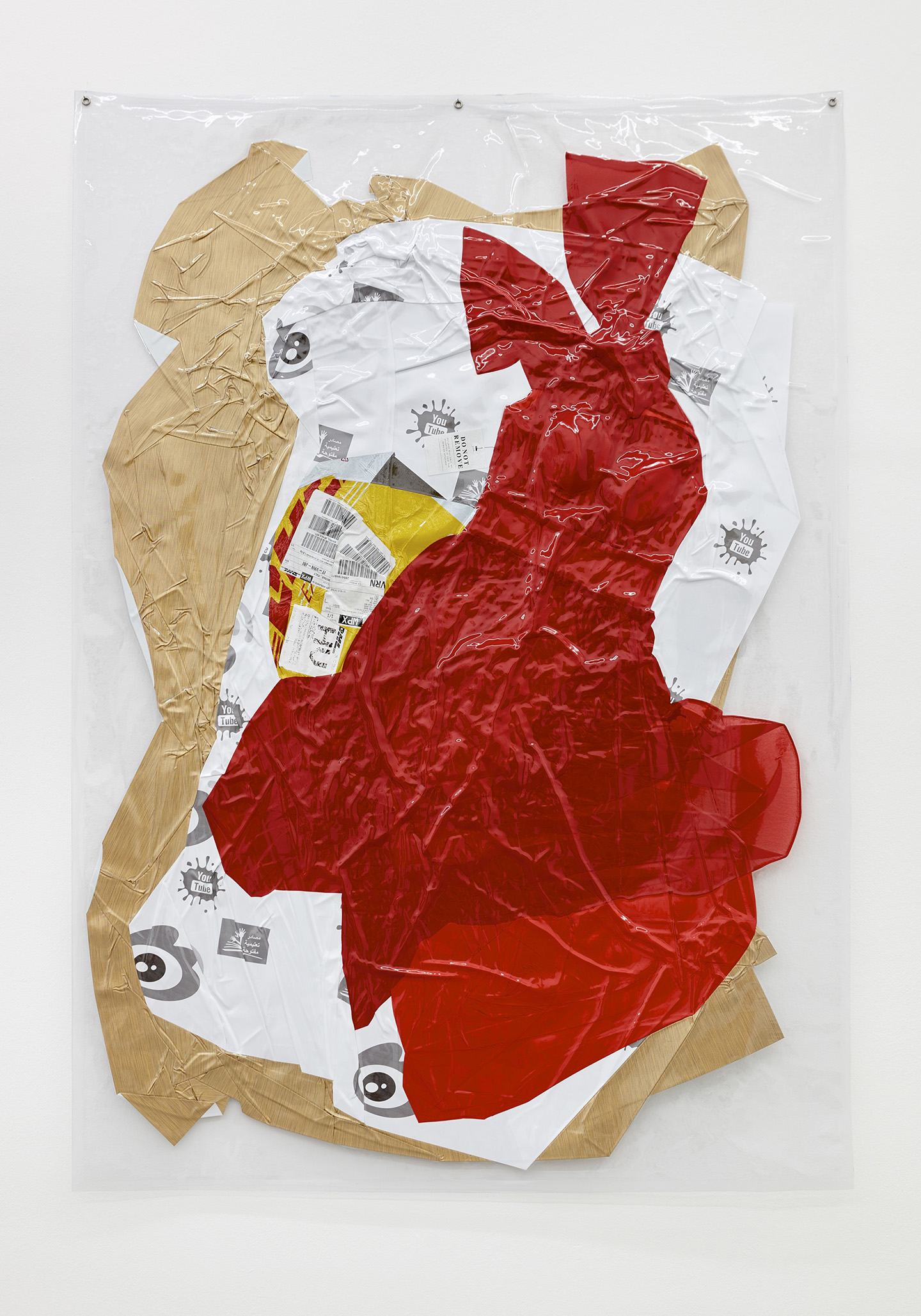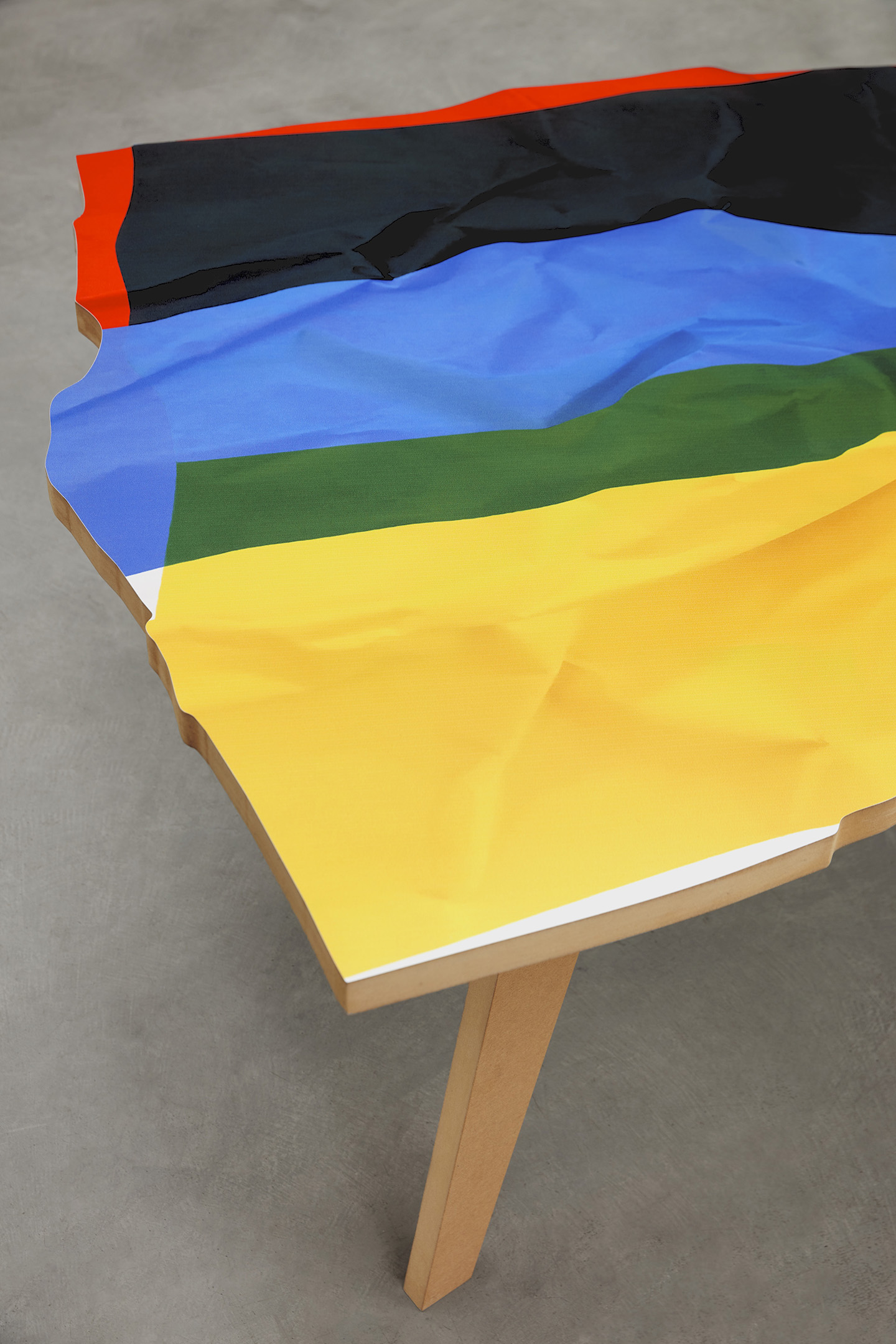 On the occasion of Fun with Flags, on view at Francesca Minini in Milan, Andrea Kvas talks to Riccardo Previdi about his practice of image-blending and attention to form. With his titular series of works, the artist takes a personal journey around the world, through flag designs of bordering countries that have experienced war, that are now at war, or might be in the future—from the most basics layouts to the "graphically-hardcore" ones. The elaborate prints of the tables are obtained by mixing colors both mechanically and pictorially, blending and altering the original design of the flags, and returning a complex image of their convoluted present.
ANDREA KVAS: The first thing I noticed walking into the exhibition were the tables, or to put it better, I noticed that those works were tables and that they functioned as such. I was immediately excited about them and my enthusiasm only increased as I moved closer and realized how good the fortune cookie wrappers looked on them.
The arrangement of the scrap paper and notes on the tabletop added another level—casual, considering the multitude of techniques used to ball up and toss the paper—onto the work. How did you envisage the interaction between the public and this work? And what is your favorite flag? Mine has always been the flag from Seychelles.

RICCARDO PREVIDI: I just looked up the one from Seychelles. It's great! I didn't know it before, you win! As I worked I chanced upon the flag of the Republic of China, the state that governed the island of Taiwan from 1912 to 1949. I fell in love with it straight away. It's red, yellow and blue—a dirty blue, almost robin's egg—and then, unexpectedly, white and black. It's a strange flag, very far from the often stereotypical idea we have of China. I also really like the German flag, also because of the black and the parallel stripes.
Talking about his maps, Alighiero Boetti said that what interested him was the fact that the colors, the geometries and the crests of the flags, just like the lines that define borders, are complex organisms whose rules are the combination of various elements such as the passing of time, cultural differences, religious beliefs, wars and reconciliations. I think that the point of the maps was to represent the—often bloody—history of populations and the fact that this history was there, at his fingertips, and that no artistic understanding was needed to tell this story (people often cheat about these things). I also think that he liked the fact that the code was open, accessible to everyone, always being revised and that the simple consultation of an atlas was sufficient for understanding a good part of the formal decisions he made (… how he would have loved the Internet!). Perhaps this is precisely the spring that triggered his reflection on the flags: the idea that he did not need to add (almost) anything, that the realization of such complexity spoke for itself.
The flag paintings are the fusion, conceptual but also and above all mechanical, of two forms. The aesthetics and the rules that generate the paintings might make one think of concrete art, but obviously it is just a happy coincidence. I like to think that in a different context, if deprived of the title, they would be understood as simple abstract compositions, losing their original meaning and acquiring a new, purely compositional, formal one.
The flag tables work more or less on the same principle, but they also perform a practical function. And in order for this to be evident, I wanted to place something on top. The cat that greets the patrons, a lucky charm believed to bring business, like the Eastern version of the flashing OPEN sign, and the crystal bowls with fortune cookies. I wanted to add a level on top of the simple crumpling of the printed pieces, something that would record the passage of the audience. The shiny golden paper, the gesture of breaking the cookie in half, the crumbs and the paper with a fortune: all these elements come together to create the informal climate in which I wanted the work to be received.
For some time now I have been trying to not be "satisfied" with what already exists and to not limit my contribution to a mere comment. Rules and samples have always been present in my work. For a while my artistic practice has used post-production, as Bourriaud called it. Then, about a decade ago, I began to think that choosing, highlighting, commenting, replacing, overlapping, disassembling and reassembling were no longer enough. That the times were ripe to go back to making. That a conceptual approach could finally be reconciled with a more studio based practice and that manual labor should come back to play a role within my research.
AK: There are some flags (not only national flags but also regional and tribal flags) that are gorgeous. If we collected them all we would have a body of phenomenal "works." Think of the history of the flags of Libya: from that of Italian Libya (horrendous) to that of the French administration of the Kingdom of Libya (first introduced in the 1950s, then taken up again as the current flag), to the flag of the Republic of Libya (with horizontal red, white and black stripes) and then to that of Gaddafi, entirely green, which was fantastic, both aesthetically and—if I may say so—conceptually. To then go back to the flag (modified in proportion) of the 1950s, via that of the rebels from the civil war.
Some of them are surprising: from the Saint Lucia to the Albania one (graphically hardcore), the Dominica one with the parrot, the Guam one that looks like a souvenir. Not to mention Mozambique's flag with the AK-47 and the previous one of the Benin Empire with a decapitation. Antwerp's flag looks like a work by Richter or Kelly.
Have you ever seen the Asafo flags? The Asafo (literally, "men of war") are a sort of police order of the Fante tribes in Ghana. In the seventeenth century, when they came into contact with the Europeans, armed and on horseback in search of gold and slaves, began, fascinated, to merge their symbols with what they had just met, creating a new language for their flags (and not only).
RP: I would never have expected you to be an expert in vexillology!
My approach, especially when the idea first came to me, was certainly more Eurocentric. In fact, the first combination of flags I did coincided with two things. One was my move from Berlin—where I had lived for fifteen years—to Merano, in South Tyrol / Trentino Alto Adige. The other was that I had finally come into posession of a large format digital printing plotter. For some time already I had been meaning to put the same support through the machine several times. But up to that point I had worked exclusively with printing laboratories, and I had always met resistance from printers to these type of experiments. So, as a test, the first thing I thought about was the two flags that best represent the place where I now live. That of Austria and that of Italy. As my longterm partner's mother tongue (a problematic word) is German, and I have a four-and-a-half-year-old daughter, born in Berlin, who speaks both German and Italian, I have never experienced these two worlds as conflicting. In fact it had always seemed to me (and I continue to think so) that few combinations work as well as this one. It's certainly a difficult union, but one that, unlike with many others, can be really beneficial for both parties. So seeing the two flags disfigured after the second passage through the machine was liberating. Finally a new form. However simple, fundamentally different from its matrices. Not only the colors, but also the geometries. Horizontal parallel lines superimposed on vertical parallel lines, drawing a kind of chessboard. It only took a few months for me to grow bored of the forced ballets to which bilingualism and political correctness can lead. So the first Fun with Flags, were born here. In a place where police cars have written "Polizia/Polizei" on the same door, where the debate on toponyms is still very much alive and where the Italian-speaking community defines as German anyone who express themselves in German.
AK: The flags that you chose, aside from being connected to your personal journey, have an important aesthetic value for you as well. The result of this coupling retains little of its origins, it is already something completely autonomous and far from the majority of the flags we know (I do not think I have ever seen flags with such half tones or colors so dark or desaturated). They activate a kind of reverse mechanism compared to your other works. The Red Carpets, the Opens or the Vacuums have a strong impact at first sight but as you get closer (or time passes) they crumble into multiple levels of reading, both in terms of content and references and on a material level. The flags, on the other hand, immediately have a sort of—if I dare say it—deceitfulness: even if they are hanging like flags they are not flags, and it takes a while to break down the combinations and decode the assemblies, and even once they've been decoded they maintain a strong hermeticism. You told me you printed the same image on the same canvas several times and that between the various steps you painted certain portions with acrylic colors. The result is that, looking closely (maybe even sideways assuming improbable poses), the eye (or at least my eye) recognizes the pastiness of the acrylic (which I hate) that is, however, covered by a differently pigmented patina that turns that acrylic into something different, I would say another "flag effect." Once again that hermeticism, that remaining in a constantly ambiguous territory, something that seems to be moldable and workable by our eyes and by our mind, but which soon after returns to its original form.
RP: Perhaps we've gone back to demanding greater attention to form. At a time when this seems to have completely lost its authority, giving its reasons for existence over to a sophisticated list of "instructions for" (just think of the increasingly sophisticated marketing strategies). Maybe it is physiological that art should return to being concerned with the "problem of form." Perhaps the frenzy with which forms change is reaching a speed of frequency that is such that, after years of stroboscopic illumination, we are looking for a constant light that allows us to see the beautiful (woah, I said it!) without being blinded by it. Perhaps.
It's a bit like when you said that you hate acrylics, or that you would never set food in an art supply store, that the colors you use are primarily industrial paints for home decoration. Only ten years ago, to speak of certain things (especially in Italy) was very difficult. We know the reasons for this, in many ways we have even shared them, only that now that everything has been dismantled, the space left empty is being filled up with more or less borderless showcases, optical units, displays. In regards to this, the way that new smartphones are introduced is very interesting. Given that from one model to the next the actual substance of the phone changes very little, to prove that we are standing before the latest creation an image is conjured up. It is the background that has the task of impressing and tempting us. A 458 dpi jpg is responsible for the commercial success of a device that costs twice as much as the one we already have in our hands.
And so, what to do?
As far as I am concerned, finding a—more or less convoluted—way to be able to go back to dealing with the form of things, has become an imperative. Emancipating the works from the story constructed around them was fundamental for me. In your case I imagine that this happened in a less traumatic way. Yet your distrust of art supply stores makes me think that you too are fighting with your demons, and that these demons may not be all that different from mine. One thing is certain. The studio is central to your practice, much more so than it is to mine, and believe me, this alone seems to me to be a sign that things are fundamentally changing. When I was studying, I loved to say (as did many of my friends and colleagues) that my studio was my laptop. Having a real studio was problematic, from many points of view. In Berlin I learned that a laptop wasn't enough to do the things I wanted to do. And so I looked for an atelier (a fantastic word, when we finally stop calling it "studio" in Italy, we will have rid ourselves of a lot of haranguing)!
AK: "To emancipate the works from the story constructed around them," I'm glad to hear that coming from you as, if I'm not mistaken, you belong to the "school" for which the context and the "story" (a cock-and-bull story) are decisive elements in giving meaning to a work of art.
I believe it is the duty of the viewer, of who enters into contact with our things, to determine their context and story, while our work is to create something that is able to dialogue with the surrounding space.
But I don't believe it's a question of studio or no studio. It's rather a question of awareness, of what we do, of what we mess up or what we delegate, as well as of everything we use for our diabolical ends and everything we do not use. It's a pretty big responsibility!
at Francesca Minini, Milan
until 18 January 2018