EXHIBITIONS
Roberto Coda Zabetta "Cantiere 1 / Terrazzo" at SS. Trinità delle Monache Complex, ex Military Hospital, Naples
Close
1
2
3
4
5
6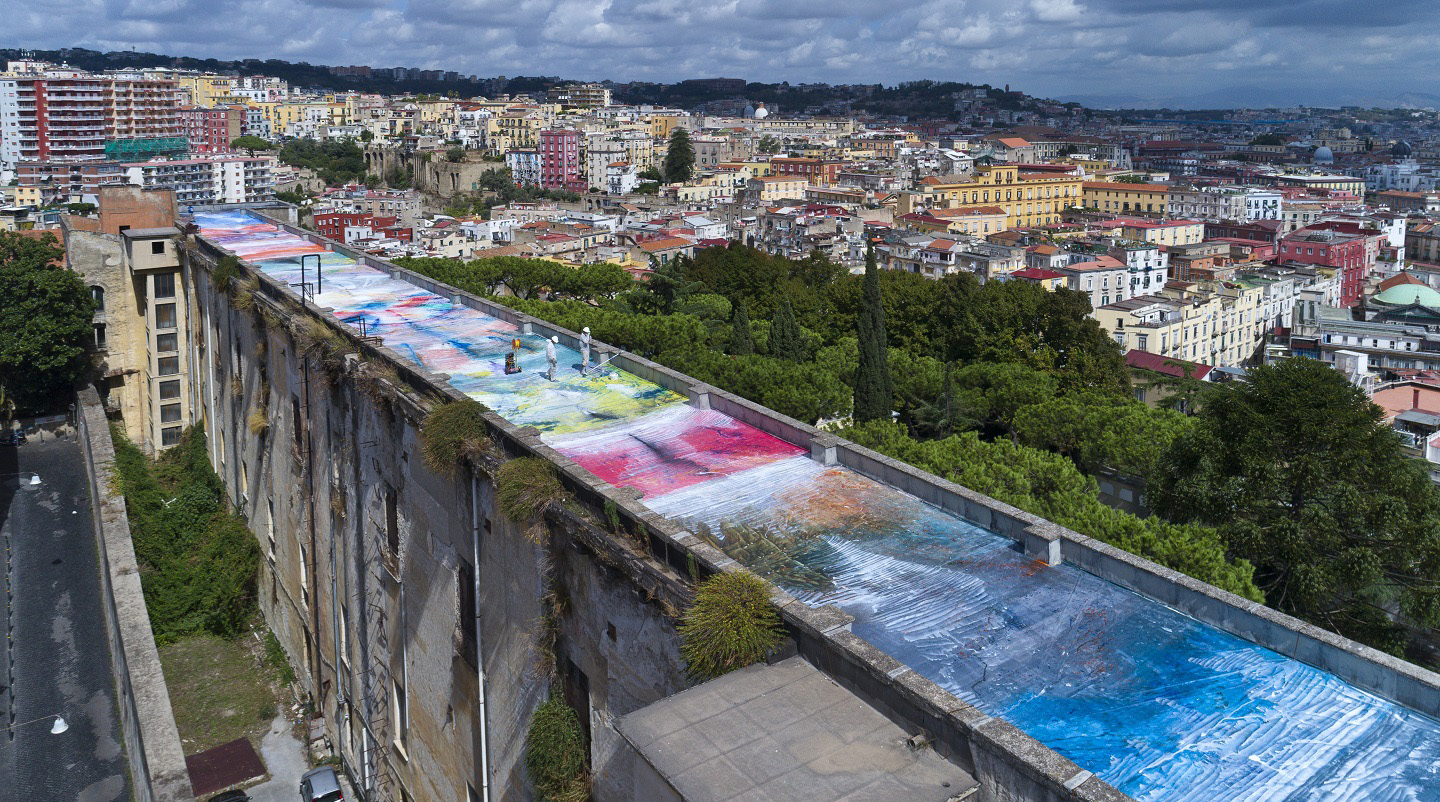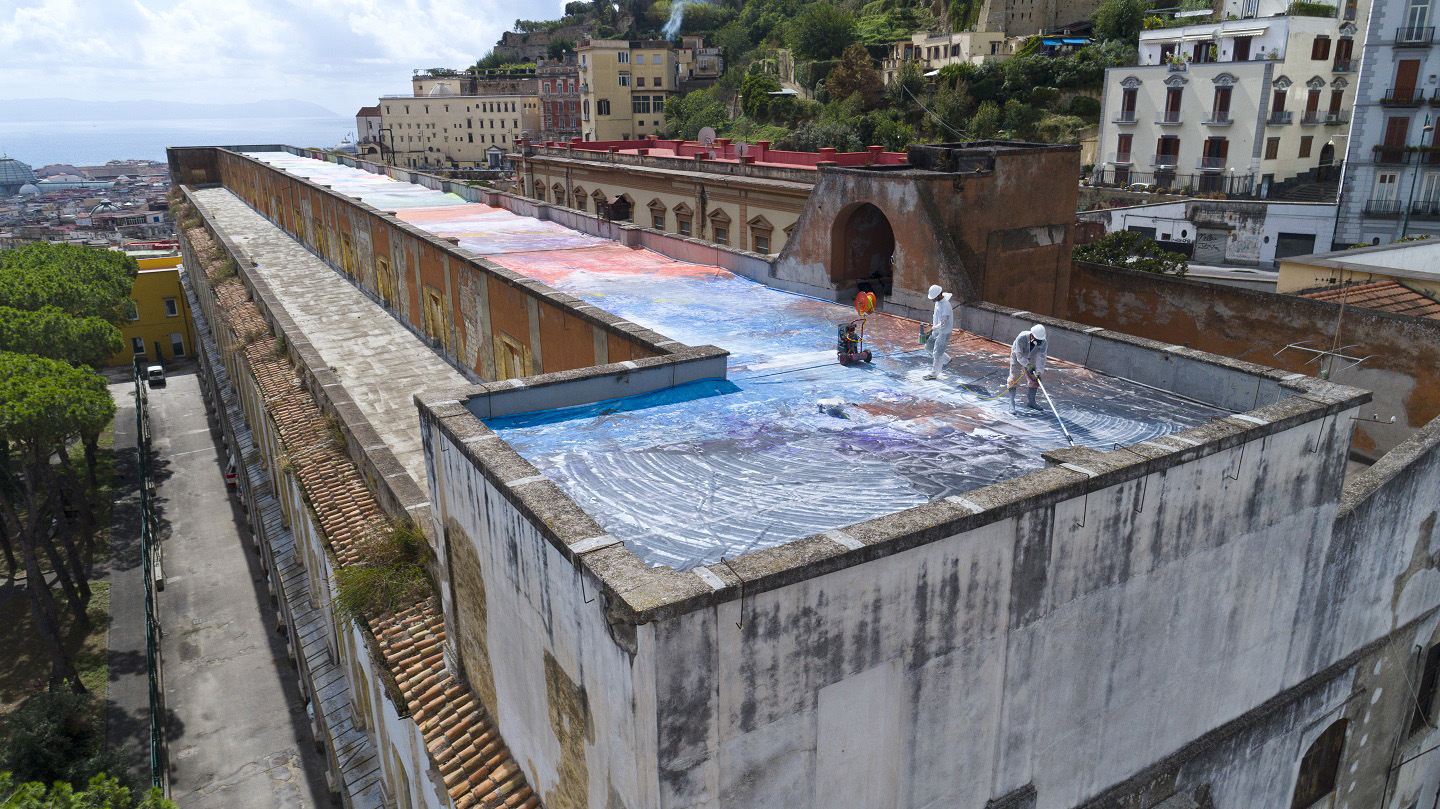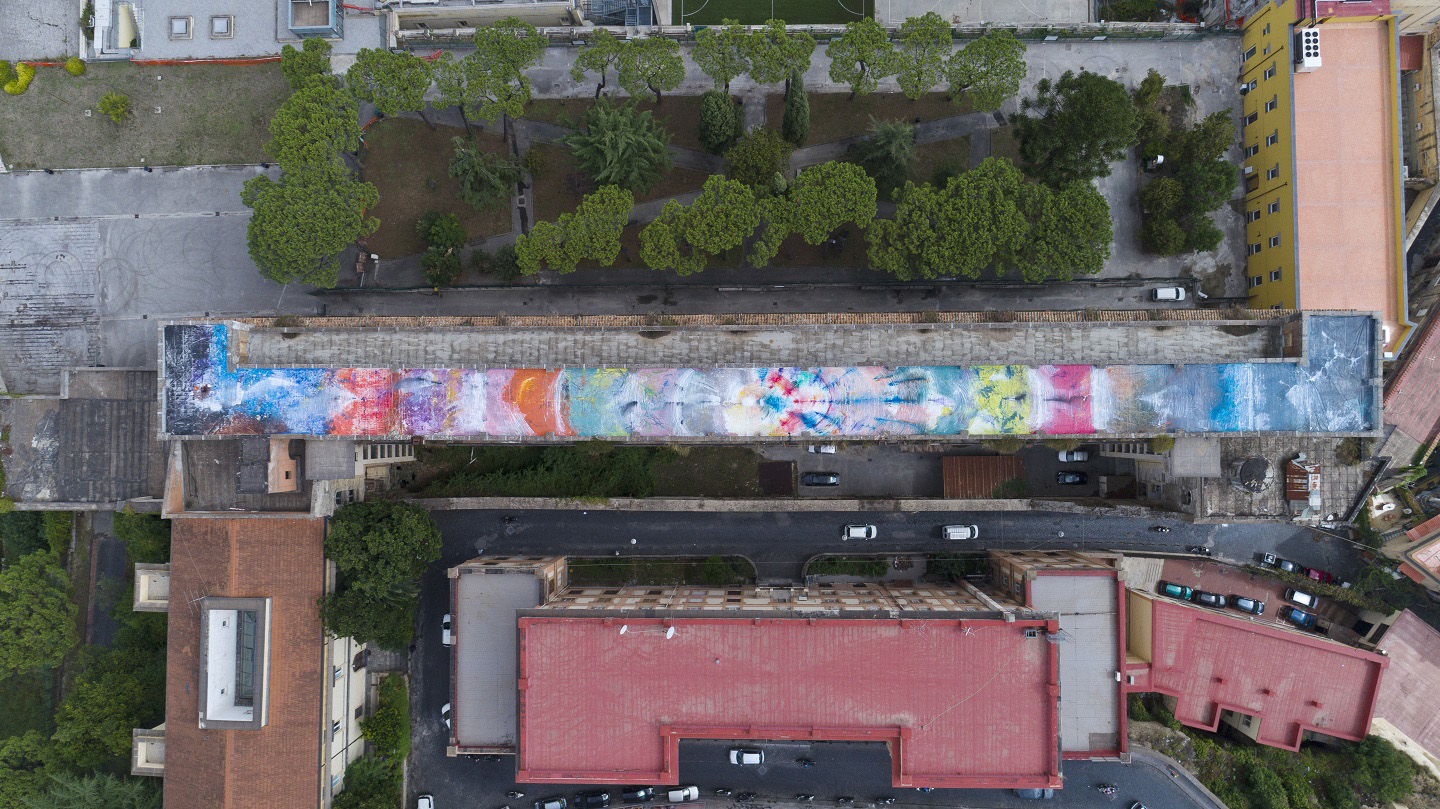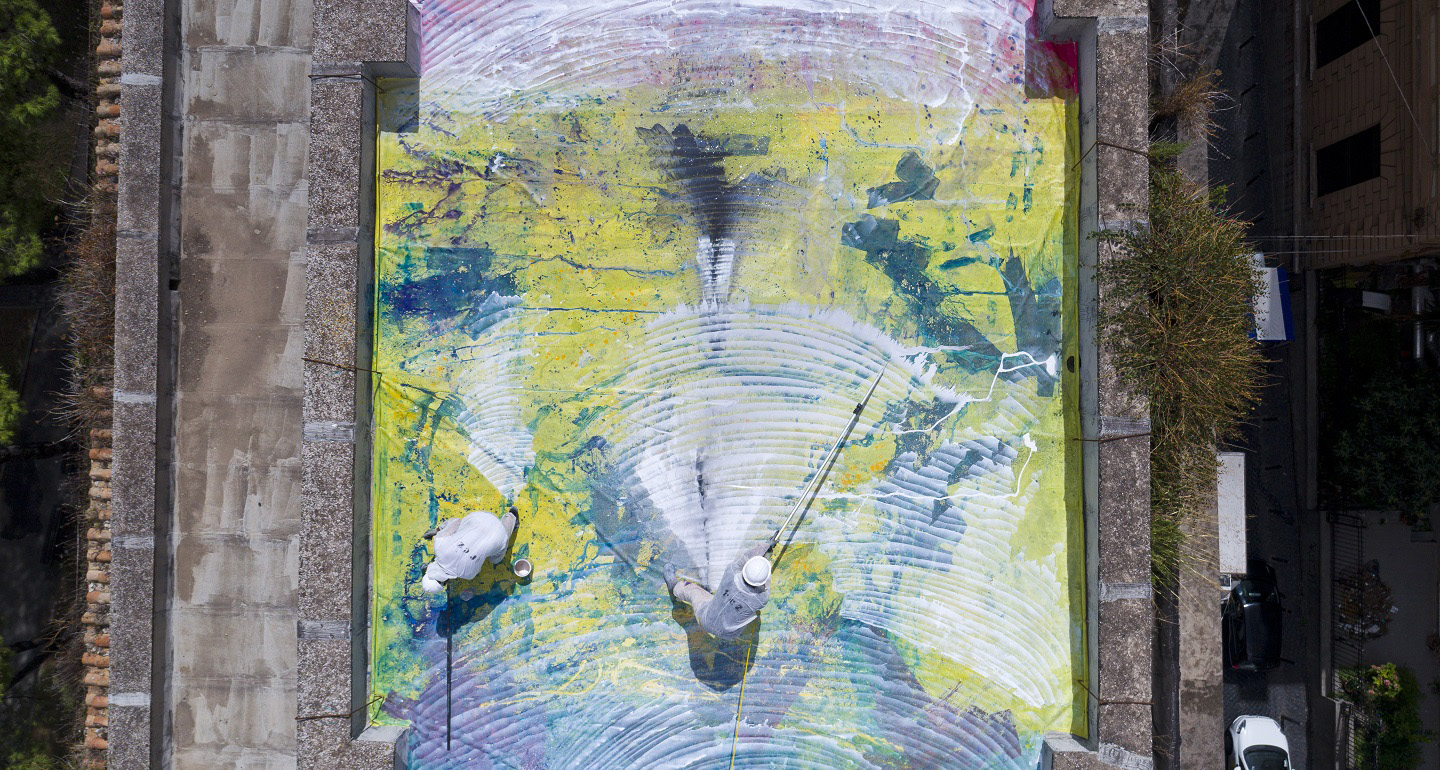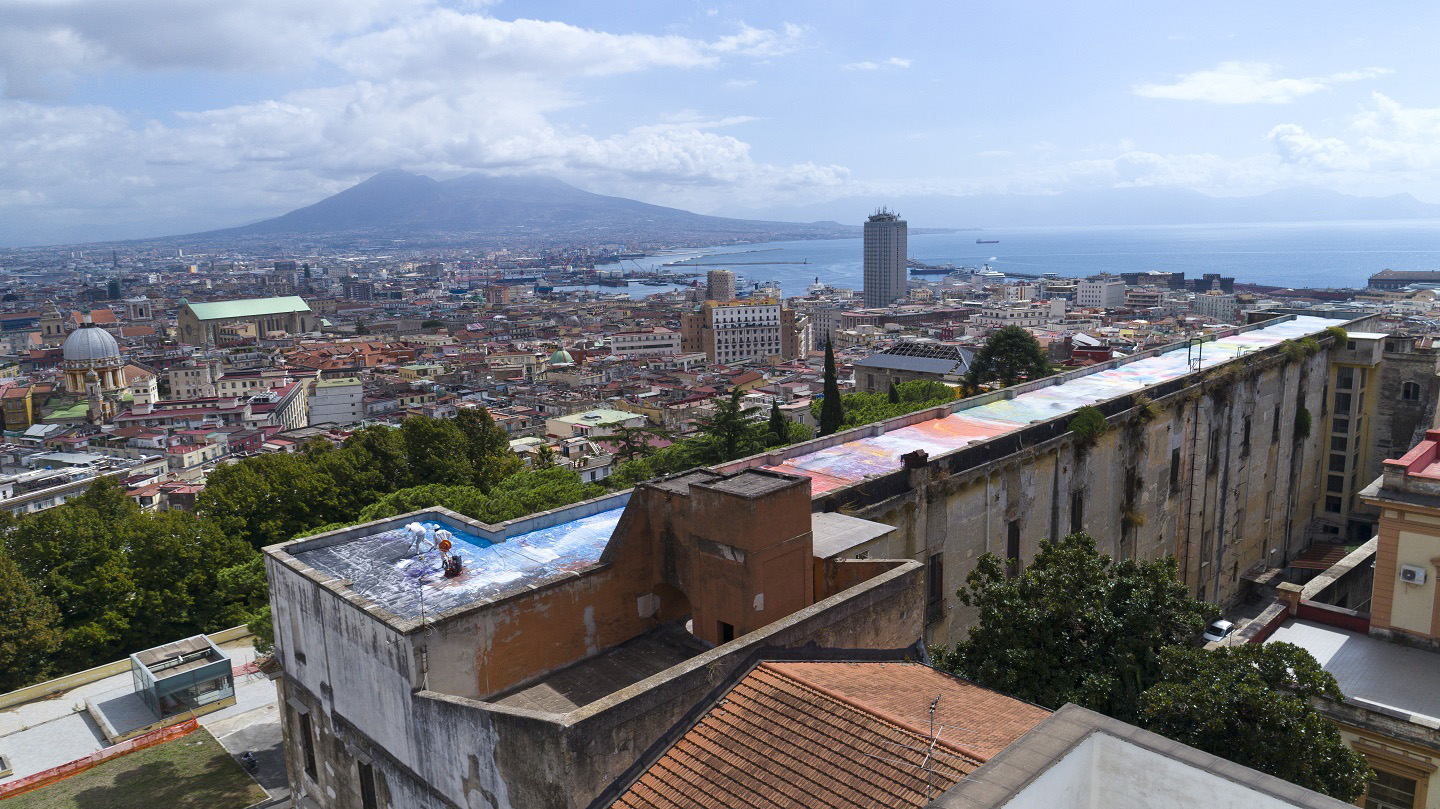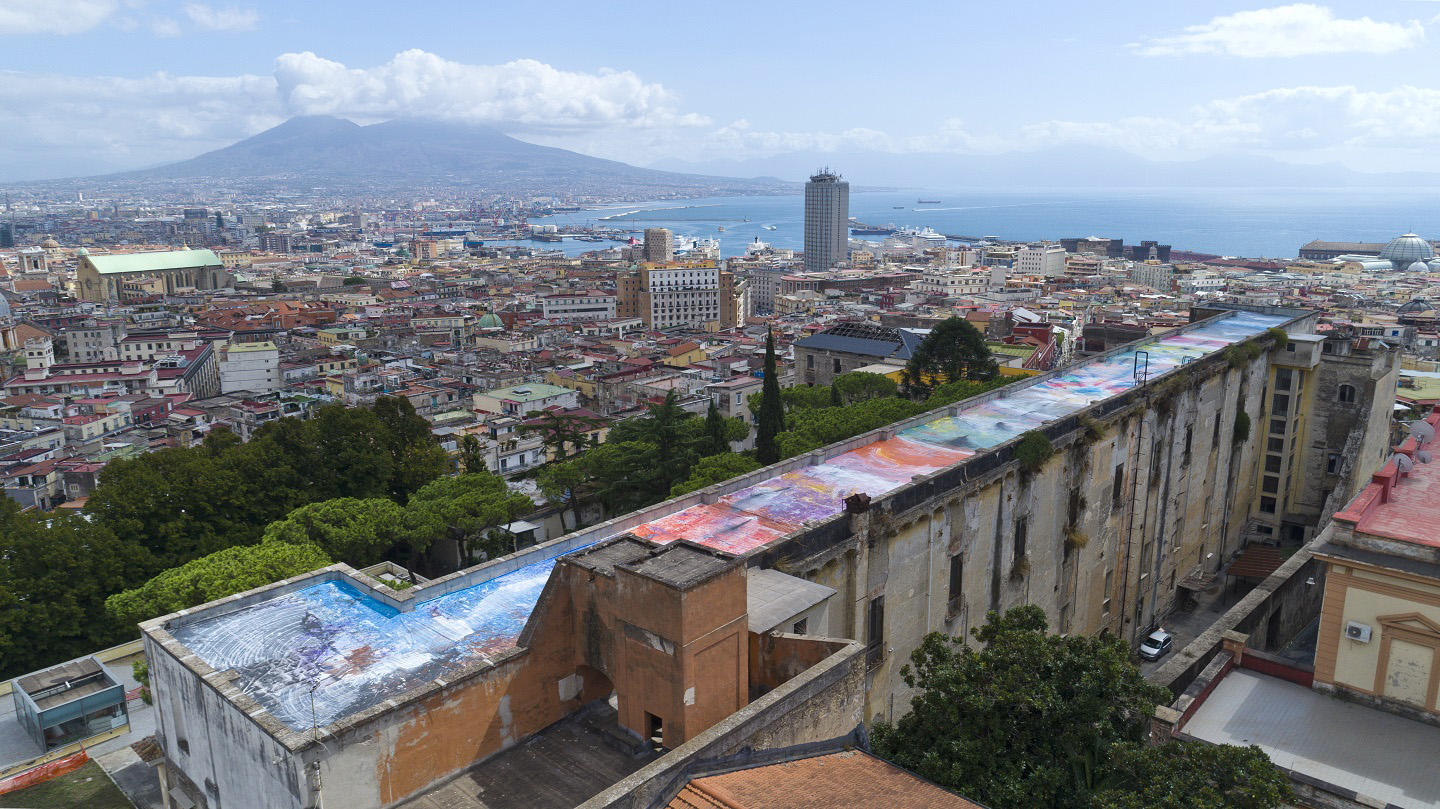 Cantiere 1 / Terrazzo is an open-air art studio in a public setting, but accessible only to a few points of the city.
The new project by Roberto Coda Zabetta for the abandoned Complex of Santissima Trinità delle Monache – ex Military Hospital of Naples – is promoted by the City Council of Naples – Department of Culture and Tourism, in collaboration with the Department of Urban Planning and Common goods and with the "URBACT Interdirectional Project Unit and Networks for the development of urban integrated policies" – 2nd Chance project of the URBACT III program led by the City Council of Naples. Cantiere 1 / Terrazza received the "Matronato" from Donnaregina Foundation for Contemporary Arts in Naples .
This is the first stage of a work that will touch other cities in Italy and around the world. The basis of Cantiere 1/ Terrazzo is a relationship of mutual involvement between painting, architecture and territory. The project – curated by Maria Savarese – is intended as an itinerant journey and will take place from 28 August to 14 October 2017 in one of the most striking places of the historical center of Naples. The Complex of Santissima Trinità delle Monache is currently undergoing a urban participatory planning process which is involving citizens and the municipal administration to implement an action for the recovery, re-activation and management of the Complex.
Roberto Coda Zabetta's work will focus on creating a large painting on the roof of the former military hospital, an experience yet unseen.
The project will be followed and documented by Henrik Blomqvist, photographer and filmmaker, with video contributions by: Maria Savarese, Ilaria Bonacossa (former Director of the Villa Croce Museum, Genoa, and current director of ARTISSIMA, Turin) Nino Daniele (Councillo for Culture and Tourism of the City of Naples) and Andrea Viliani (director of the Madre, Museo d'arte contemporanea Donnaregina, Naples).
The work will be visible, during the time of exhibition, from the hilly area of ​​Naples behind the architectural complex, becoming a tissue element interacting with the city itself. A public art work for the city, which engages with the whole building and its architectural heritage.
The whole structure and the abstract figure with which the artist chose to express himself, provides a meeting place between the senses and the intellect, aiming to produce a reference without a intermission between perception and thought, allowing access to another dimension than that governed by simple perspective, which usually identifies our relationship with external reality.
The video of the project will premiere nationally in Naples and later in major international museums and institutions.
.
at SS. Trinità delle Monache Complex,  ex Military Hospital, Naples 
until 14 October 2017