ESSAYS Mousse 54
Role Play
by Maurizio Cattelan, Liam Gillick, Thomas Demand, Barbara Bloom, Christian Jankowski, Elmgreen & Dragset, Michelle Grabner, Tobias Rehberger, Ugo Rondinone, Harrell Fletcher, John Miller, Paulina Olowska
We asked twelve artists who have also curated exhibitions the following questions:
There are more and more large scale shows curated by artists; why do you think that is?
Could you please expand upon your experience and what you see around you, regarding this trend?

Read the texts by Maurizio Cattelan, Thomas Demand, Barbara Bloom, Christian Jankowski, Tobias Rehberger, Ugo Rondinone, Harrell Fletcher and Paulina Olowska in the printed issue of Mousse #54.
LIAM GILLICK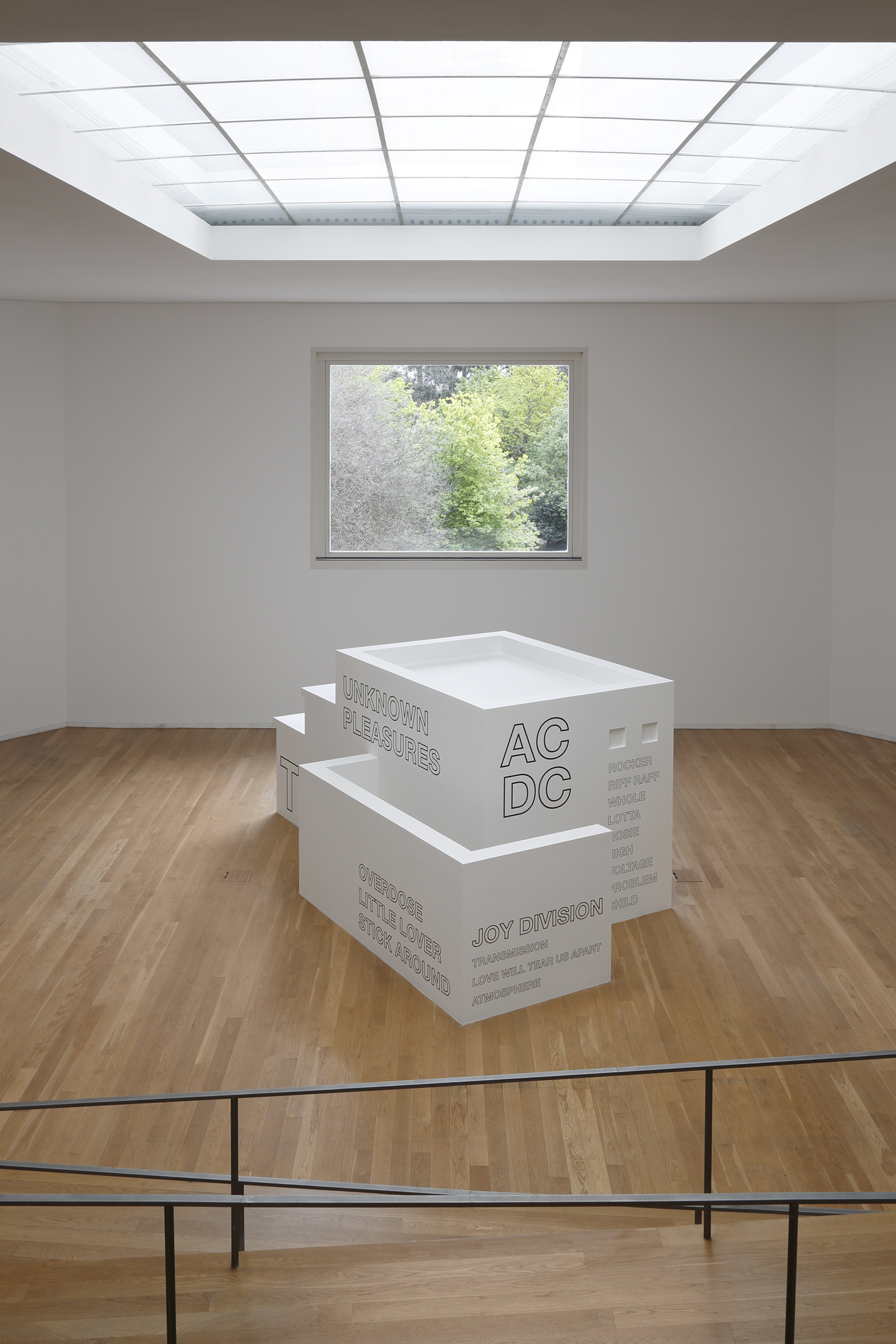 Liam Gillick, Scale Model Of A Social Center For Teenagers For Milan 1993 (Porto), 2016, Campaign installation view at Serralves Museum of Contemporary Art, Porto, 2016. © Liam Gillick. Courtesy: the artist. Photo: Filipe Braga
In the last two or three years I have thought about this question a lot. So I wrote two texts. They contradict each other. There is no resolution. One thing that has stressed curating as we have known it over the last twenty years has been the emergence of a new Contemporary Art History challenging the critical theory base of "the curatorial" moment of apparent freedom and loose collaboration. Here are the more pertinent parts of those two texts—for comparison.
Complete
Over the past twenty five years, the complete curator has emerged as an agent within cultural practice. This heightened individual or group demonstrates varied responses to ethical demands exceeding those being produced by artists, and posits new models in advance of art being made today. Bypassing the complexities and dead-ends produced by attempting to match theories to forms—curatorial conceptualization runs ahead—dragging desire for new structures into direct confrontation with theoretical (philosophical, sociological and psychological) constructions. The complete curator expresses disappointment with current art in its glossier, petulant and uninhibited forms and weariness with art's inability to produce new societies and new relationships. It does so alongside a revived critical community, bolstered by the academy and the rise of contemporary art as an area of advanced study. The complete curator desires a world —expressed and realised by art, artists and themselves—which expels the present domination of capital via the machinations of neoliberalism. The complete curator has no need to build new critical models restricted to art in object or structural form, for they gain momentum from art's lack and the increasingly precise description of societies' needs. It is not that the complete curator is incapable of deconstructing art's often wry and self-abasing engagements; rather, such an exercise has become pointless in the face of a new conversation with the academy and its own self-conscious institutions.
Incomplete
The incomplete curator is aware of shifting curatorial scope. They do not see their work as the production of encyclopedic knowledge. They say to themselves "To pretend, I actually do the thing: I have therefore only pretended to pretend." (Jacques Derrida) The incomplete curator is part of a curatorial mass. They know that there are an infinite number of other curators. They look in the mirror and recite the words "To say 'we' and mean 'I' is one of the most recondite insults." (Theodor Adorno) The incomplete curator is under pressure to prove capable of an academic method. Yet they ignore the shadow of correct technique. With tears in their eyes they shout "The point is not to stay marginal, but to participate in whatever network of marginal zones is spawned from other disciplinary centers and which, together, constitute a multiple displacement of those authorities." (Judith Butler)
The incomplete curator smiles at the idea of faith, hope, and charity. While at the same time telling artists about all the artists they do not know about, and all the books they have not read. There is no contradiction here: "What I claim is to live to the full the contradiction of my time, which may well make sarcasm the condition of truth." (Roland Barthes) The incomplete curator is an agent of compromise. Reveling in an acceptance of the limits of any given structure. For the incomplete curator understands that "All forms of consensus are by necessity based on acts of exclusion." (Chantal Mouffe) The incomplete curator works hard toward the end of withering the museum as a cultural "state." They make use of entryist strategies at any given moment. For them a foundational truth is that "The paradigmatic body of Western control societies is no longer represented by the imprisoned body of the worker, the lunatic, the ill person, but rather by the obese (full of the worlds of the enterprise) or anorectic (rejection of this world) body, which see the bodies of humanity scourged by hunger, violence and thirst on television. The paradigmatic body of our societies is no longer the mute body molded by discipline, but rather it is the bodies and souls marked by the signs, words and images (company logos) that are inscribed in us—similar to the procedure, through which the machine in Kafka's Penal Colony inscribes its commands into the skin of the condemned." (Maurizio Lazzarato) The incomplete curator is not without an aesthetic dimension. The incomplete curator demonstrates a desire to recognize an aesthetic dimension in locations that are not limited to the work or the location of work at any given moment. For the incomplete curator "Artistic subjectivity without content is now the pure force of negation that everywhere and at all times affirms only itself as absolute freedom that mirrors itself in pure self-consciousness." (Giorgio Agamben).
Liam Gillick is an artist and author of Industry and Intelligence: Contemporary Art Since 1820 (Columbia University Press, 2016). He is curating the first triennial Okayama Art Summit, titled Development in October 2016.
ELMGREEN & DRAGSET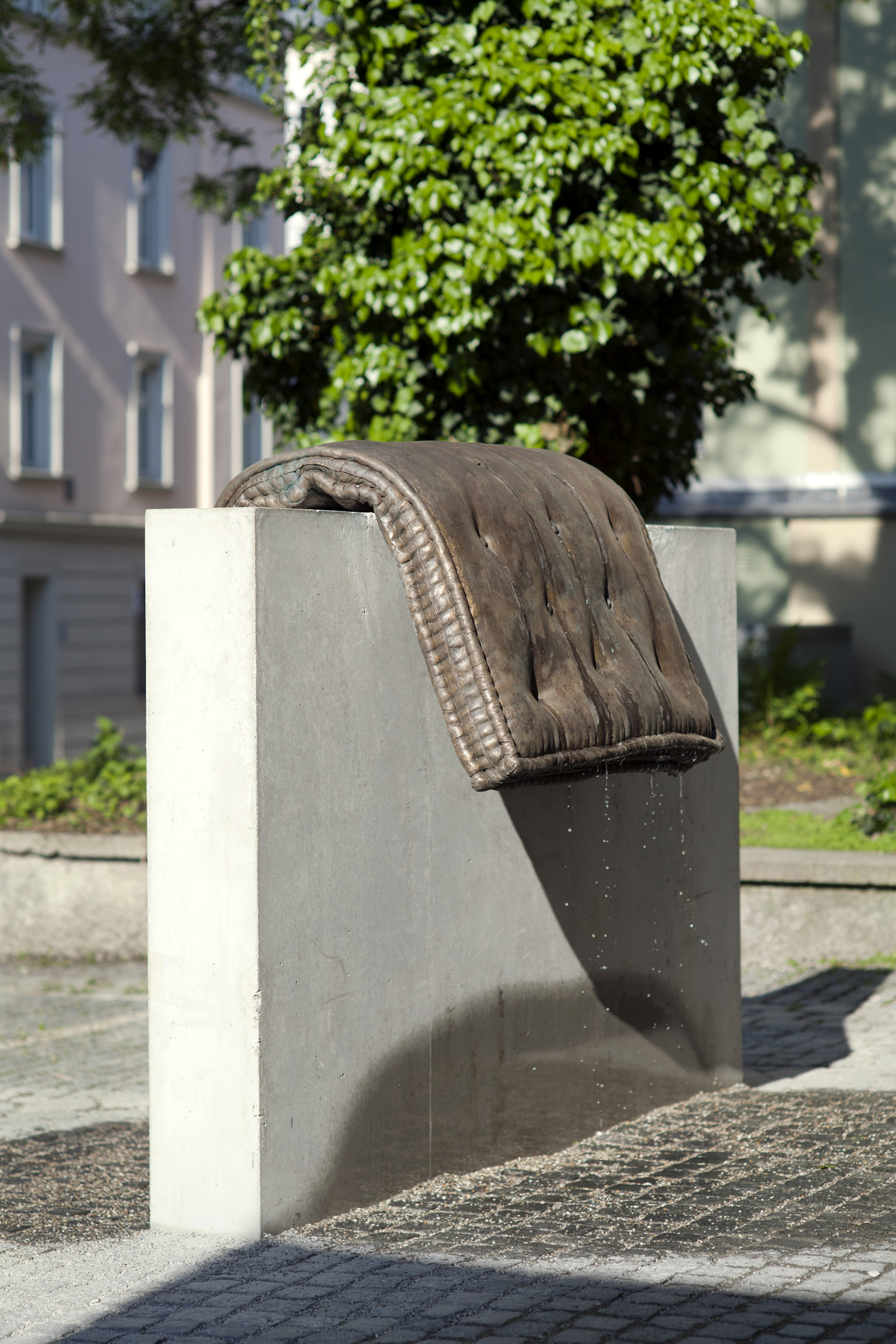 Tatiana Trouvé, Waterfall, 2013, A Space Called Public installation view in Munich, 2013. Curated by Elmgreen & Dragset. Courtesy: KÖNIG GALERIE, Berlin. Photo: Leonie Felle
Actually, the role of the professional curator itself is relatively new. Many historically significant exhibitions have been curated by artists, not least those that took place in the 19th century when artists were breaking away from institutions like the Royal Academies of Art in France and England. Among these were shows such as the Salon des Refusés in Paris in 1863, which came about due to protests by artists whose work had been rejected by the official Salon and was later followed by the first Impressionist exhibition in 1874, also organized by a group of artists independent of the Salon. In the UK, the New English Art Club was started by a group of young London-based artists in 1885 because they were frustrated with the Royal Academy, and so they launched a "rival" exhibition in 1886. Of course there is also the Vienna Secession, which was formed in 1897 by a group of Austrian artists in opposition to the Viennese Academy. Today, artists' curatorial practices have evolved to often reflect and investigate aspects of various working methods and artistic practices, rather than stemming from more theoretical, textual or thematic concepts. But then again, we don't think that it's really possible to generalize a set of rules that would indicate the clear differences between artists' curatorial approaches and exhibitions curated by art historians.
Already in 1996, when we had only worked together as an artist duo for one year, we curated a performance festival in Copenhagen that mixed performances from visual artists and artists who came from theatre. Almost ten years after that, in 2005, we curated a show at Künstlerhaus Bremen, where we asked a larger group of artists—including Pawel Althamer, Maurizio Cattelan, Danh Vo, Coco Fusco, and Andreas Slominski, among others—to describe a work that they would like to realize, but had not yet executed. We showed all these wonderful descriptions in the form of extended wall labels in the otherwise empty exhibition hall. For the 2009 edition of the Venice Biennale, we invited more than twenty artists to contribute either already existing works, or to develop new projects for the exhibition The Collectors that we staged at the Danish and Nordic pavilions. In this show there were no labels; everything morphed into one coherent setting. It became a sort of Gesamtkunstwerk with many contributors. In 2013, we organized a display of seventeen different artists' outdoor projects throughout the city of Munich, all of which delved into the role of public art today. So our own approach to taking on the role of curators has actually been quite diverse, varying from project to project and depending on context and concept. Given our history of questioning institutional formats and the fact that we often conceptualize our own exhibitions as complete artworks, curating has a natural place in our work.
Elmgreen & Dragset have worked together as an artist duo since 1995. Sculpture and installation are their main media, although they make frequent use of other disciplines, such as performance and architecture. They are curators of the upcoming 15th Istanbul Biennial, opening in Fall 2017.
MICHELLE GRABNER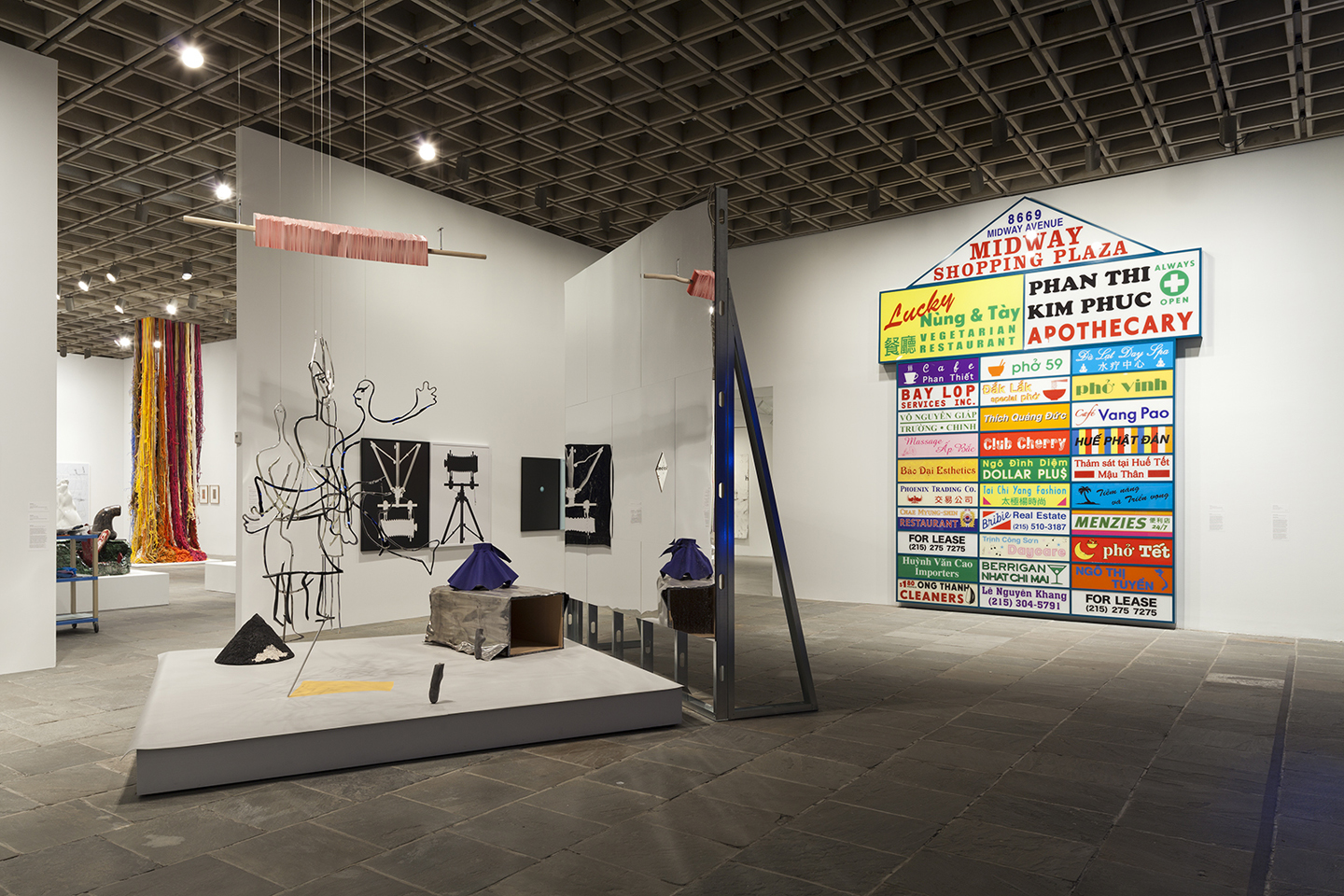 From left to right – Sterling Ruby, Basin Theology/Butterfly Wreck, 2013; Alma Allen, Untitled, 2013; Shelia Hicks, Pillar of Inquiry/Supple Column, 2013-2014; WariWalk (stroller on the altiplane), 2014; Embedded Thoughts, 2013-2014; Shana Lutker, Protestation!, 2014; Sarah Charlesworth, Camera Work, 2009; Regarding Venus, 2012; Ken Lum, Midway Shopping Plaza, 2014. Whitney Biennial 2014 installation view at Whitney Museum of American Art, New York, 2014. Courtesy: Whitney Museum of American Art, New York. Photo: Sheldan C. Collins
My thought is that the curatorial studies industry that has flourished over the past decade had a great hand in growing this trend. Training a multitude of ambitious contemporary curators to think expressively and without the burden of art history has acclimated institutions to the idea of this new cultural professional who embodies many of the same attributes as an artist. In 2003 the curator Jens Hoffmann was already articulating this cultural development. His proposition for The Next Documenta Should Be Curated by an Artist states, "While their task was historically related to the conservation of art works and the maintenance of a museum collection, curators began more and more to be creatively and conceptually involved in the making of exhibitions. Exhibitions became the creative principle of so-called exhibition makers who were described as exhibition directors and who became catalysts between the creative individual and society."[1]
Of course there is a long history of artists working as curators. Gustave Courbet made an exhibition of his paintings across the street from the 1855 Paris Salon, and showed his state-rejected paintings The Artist's Studio (1854-1855) and Burial at Ornans (1849-1850), claiming that his pavilion would present them "differently and better." But it was Marcel Duchamp who secured the artist-as-curator paradigm. Dorothea von Hantelmann argues that it was "Duchamp who anticipated, performed and articulated a new archetype of creativity."[2] Duchamp's choice of a found object marked the transition from a production-oriented to a selection-oriented culture. In addition he invented a scheme to hang work alphabetically and according to chance. This was his conceit as president of the hanging committee for the 1917 exhibition of the Society of Independent Artists in New York.
No longer are exhibitions understood as "a neutral arrangement of artworks in a given space and time for didactic and spectacular display," as Elena Filipovic wrote in the introductory issue of her serial publication for Mousse, The Artist as Curator.[3] This is indeed the situation. I would argue, however, for continued protraction of this "ontological thing" called "the exhibition" but do away with prioritizing curatorial authorship altogether. This would refocus criticality back on art and institutions, a more urgent undertaking than analyzing personalities. As an artist I felt great freedom in curating my section of the 2014 Whitney Biennial, knowing that I would return to the studio regardless of the critical fallout. I am convinced that my colleagues, both talented professional curators, did not enjoy that same freedom to stretch this iconic exhibition or its institutional home.
[1] http://www.e-flux.com/projects/next_doc/about_printable.html.
[2] Elena Filipovic, "When Exhibitions Become Form: On the History of the Artist as Curator," The Artist as Curator, no. 0, in Mousse, no. 41 (December 2013–January 2014): 20.
[3] Ibid, 5.
Michelle Grabner born in Oshkosh, Wisconsin (1962) lives and works in Milwaukee, WI and Chicago, IL.
JOHN MILLER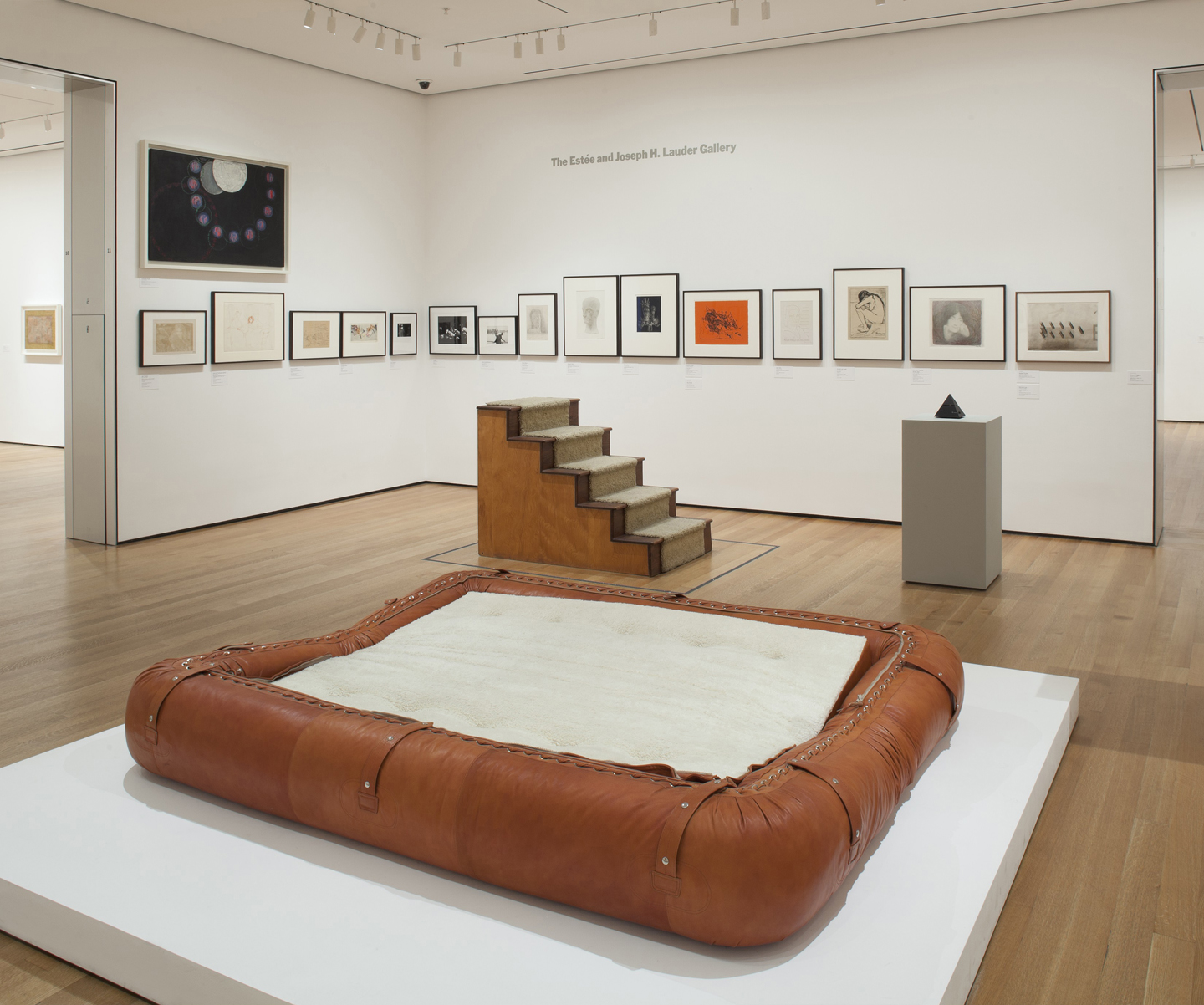 Artist's Choice: Trisha Donnelly installation view at The Museum of Modern Art, New York, 2012-2013. © 2016 The Museum of Modern Art. Photo: Thomas Griesel
Given the rapid, worldwide growth of curatorial training programs within the last fifteen years or so, it may seem surprising that museums, biennials, and galleries often turn to artists to organize exhibitions. But perhaps it is exactly because of this professionalization that artists are called on to do so. Artist curators offer some relief, real or imagined, against this burgeoning surplus institutionalization.
Liam Gillick writes, "The complete curator is an expression of art's lack."[1] This, of course, involves Gillick's ongoing critique of the notion of "contemporary art." It also points to the dialectic between theory and practice. While a utopian might imagine that the two should be the same, their difference is significant. If theory were to become identical to practice or vice versa, it would hold no value whatsoever. Gillick's choice of the word "complete" in this sense can be understood to imply a stifling quality, namely the closure of theory and practice.
Just what is an institution, anyway? In their seminal treatise The Social Construction of Reality (1966), Peter L. Berger and Thomas Luckmann situate the outset of institutionalization in habitualized interactions between discrete individuals. These begin as ad hoc, even playful, behaviors that through repetition provide "a stable background in which human activity may proceed with a minimum of decision making."[2] For these initiators, the background remains transparent and open to change. When their routines are passed on to a succeeding generation, however, the character of habitualization changes qualitatively; it possesses a "thickened" and "hardened" reality of its own, one now experienced as external, opaque, and coercive. Berger and Luckmann conclude, "Institutionalization occurs whenever there is a reciprocal typification of habitualized actions by types of actors. Put differently, any such typification is an institution."[3] This threshold marks the beginning of social reality.
John Dewey's Art as Experience (1934) affords a compelling comparison to Berger and Luckmann's account of institutionalization. As an educator and philosopher, Dewey was concerned with the dissipation of experience that occurred through reification and rote forms of behavior, especially those which arose with the advent of industrialization and readymade goods. Dewey saw an interrelation between art, education, and communication: "All communication is like art. It may fairly be said, therefore, that any social arrangement that remains vitally social, or vitally shared, is educative to those who participate in it. Only when it becomes cast in a mould and runs in a routine way does it lose its educative power."[4] Communication presumes information, that is, that which stands out against a routinized background. Perhaps what Dewey did not—and could not—anticipate is the recuperation of experience itself by a "museum industrial complex."
One artist-curated project that throws these issues into high relief is Trisha Donnelly's 2012 Artist's Choice selection at the Museum of Modern Art in New York. Postmodern discourse notwithstanding, the arrangement and presentation of MoMA's permanent collection set the master narrative for modern and contemporary art. Donnelly was the tenth to participate in the Artist's Choice series. All the work she chose came from the museum's collection. In short, she was operating in an established capacity well within the purview of the museum, not against it. The pieces she selected, whether Joe Goode's staircase work entitled Shoes, Shoes, Shoes (1966) or Eliot Porter's photos of birds or a black, pyramidal ionizer, conveyed a sense of direct, epicurean experience. Ironically, this approximates the conditions of traditional connoisseurship. Donnelly installed her selections, not in one room all together, but in several rooms in the museum's fourth- and fifth-floor painting and sculpture galleries. These interrupted the otherwise linear narrative of artistic progress one has come to expect from MoMA. They pointed, moreover, to the radical incompleteness of that narrative. And they offered an alternative. (In this regard, perhaps when Gillick deploys the absolutist term "complete," he hints at its impossibility.) Funnily enough, this project managed to achieve what the MoMA press release claimed: "[Donnelly] intentionally complicates the way we typically apprehend and classify a work of art, not to confuse, but to change and fundamentally enhance the ways in which we experience it."[5] Can such an operation be viably repeated? By its very nature, probably not.
[1] Liam Gillick, "The Complete Curator," in Industry and Intelligence (New York: Columbia University Press), 71.
[2] Peter L. Berger and Thomas Luckmann, The Social Construction of Reality (New York: Random House, 1966), 53.
[3] Ibid., 54.
[4] John Dewey, "Chapter One: Education as a Necessity of Life," in Democracy and Education: An Introduction to the Philosophy of Education, Kindle edition, transcribed by David Reed, retrieved from Amazon.com.
[5] Artist's Choice: Trisha Donnelly, http:// www.moma.org/calendar/exhibitions/1306?locale=en
John Miller is an artist and writer based in New York and Berlin. In 2011 he received the Wolfgang Hahn Prize. Miller's books include Mike Kelley: Educational Complex (Afterall Books), The Ruin of Exchange: Selected Writings and The Price of Exchange: Selected Writings (1977-1988) (JRP Ringier and the Consortium both). He has had solo exhibitions at La Magasin, Grenoble, The Kunstverein in Hamburg, the Kunsthalle Zurich and the ICA Miami. Miller is a Professor of Professional Practice in Barnard College's Art History Department.
Originally published on Mousse 54 (Summer 2016)