REVIEWS
Rose Wylie: "Quack Quack" at Serpentine, London
Close
1
2
3
4
5
6
7
8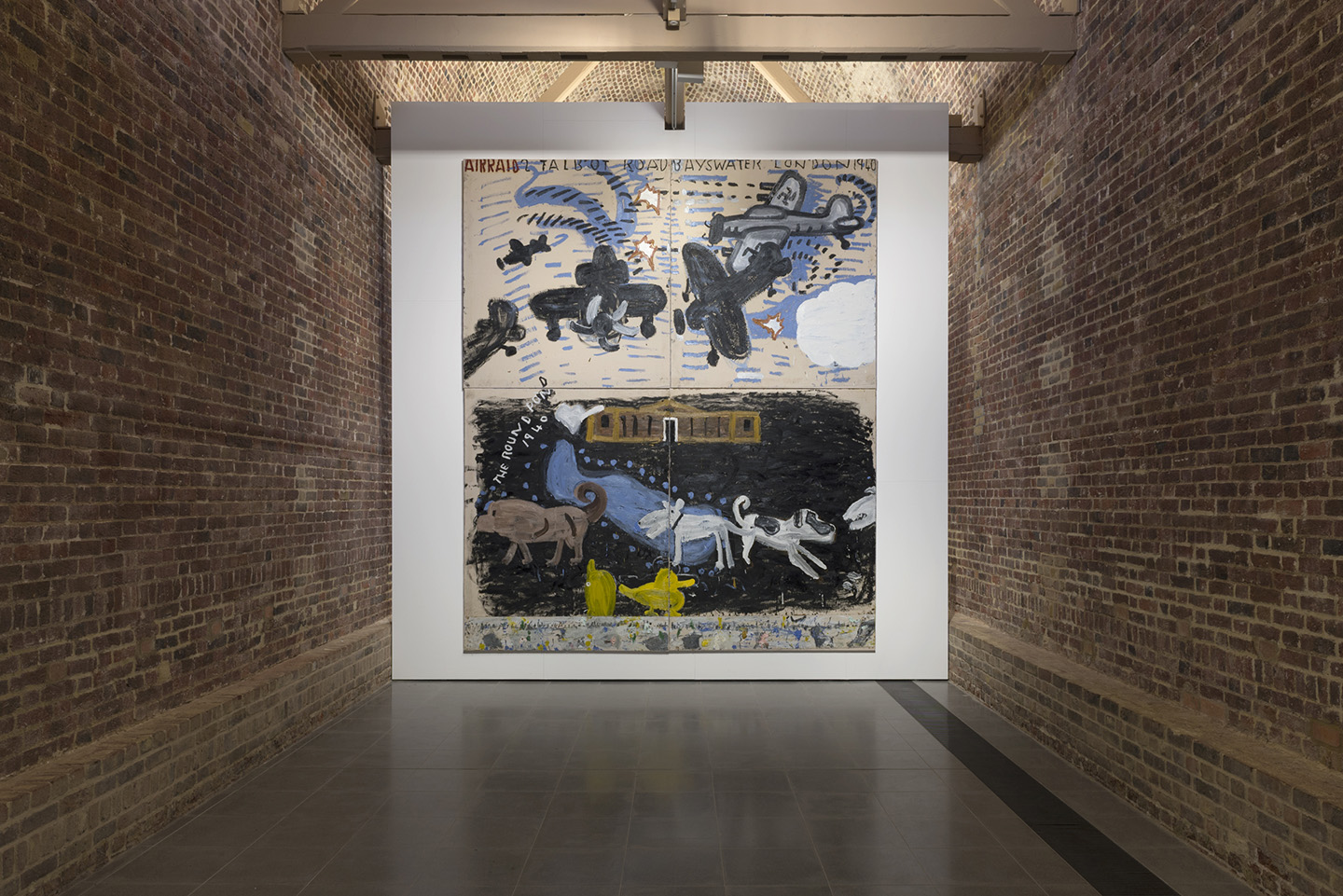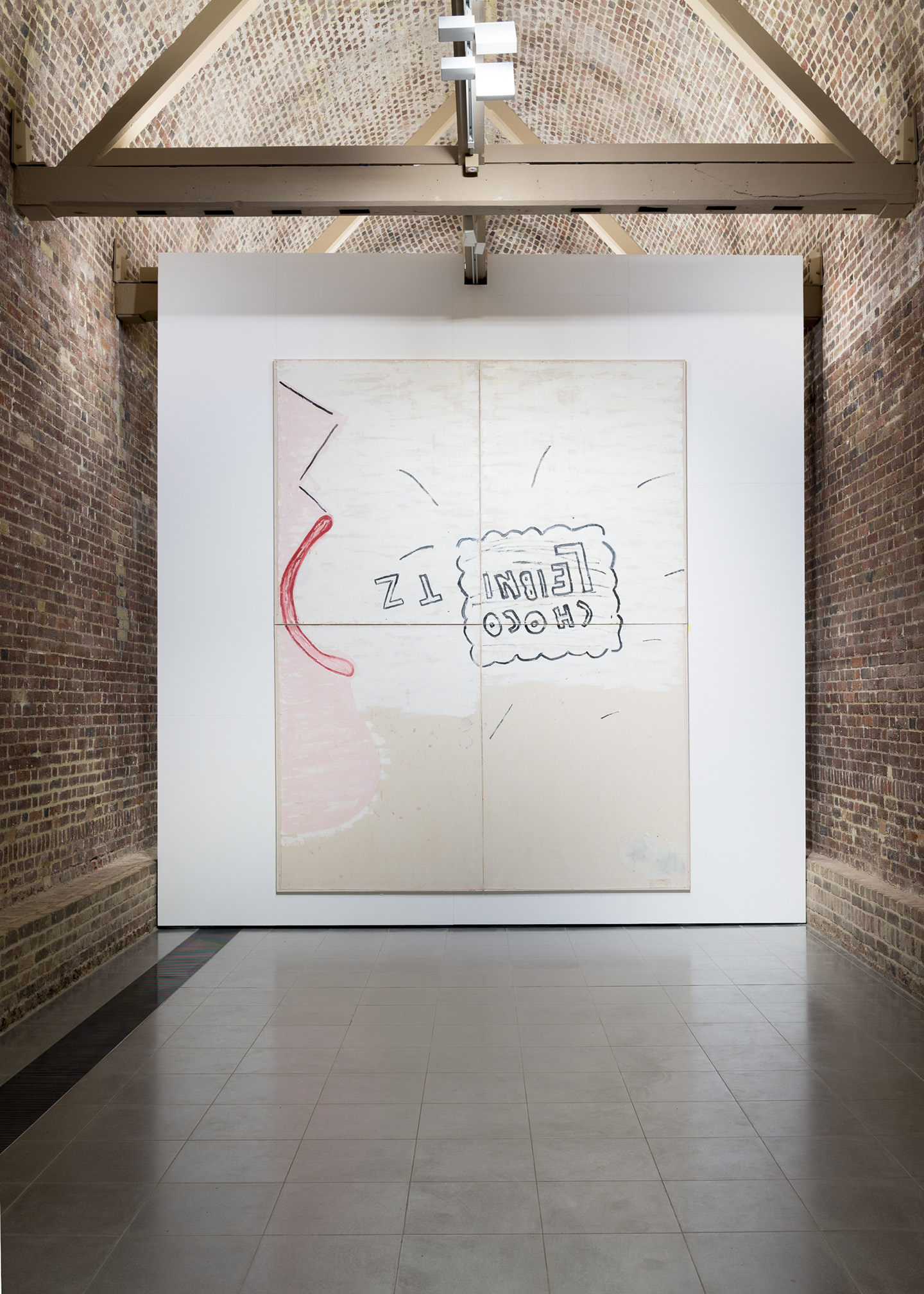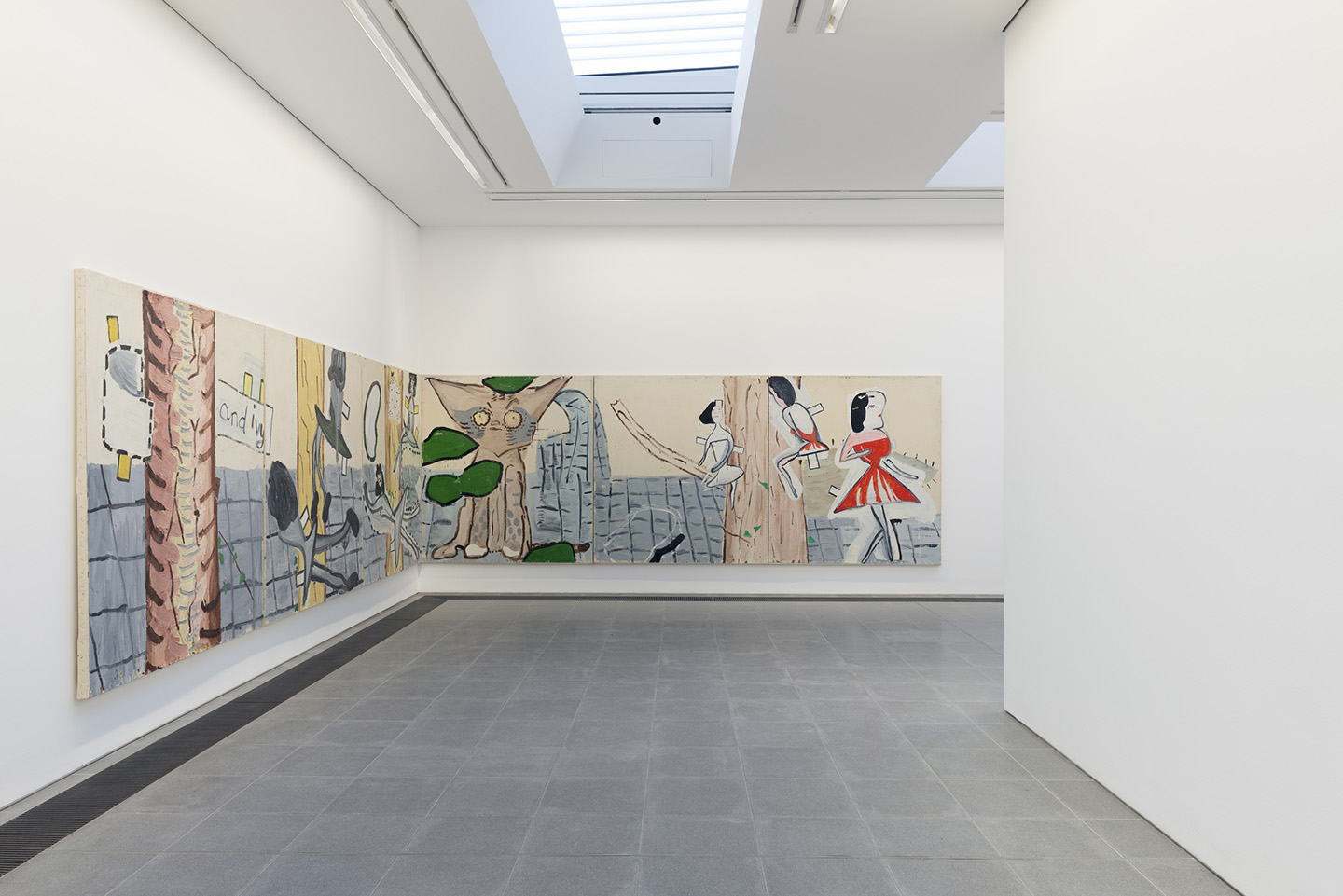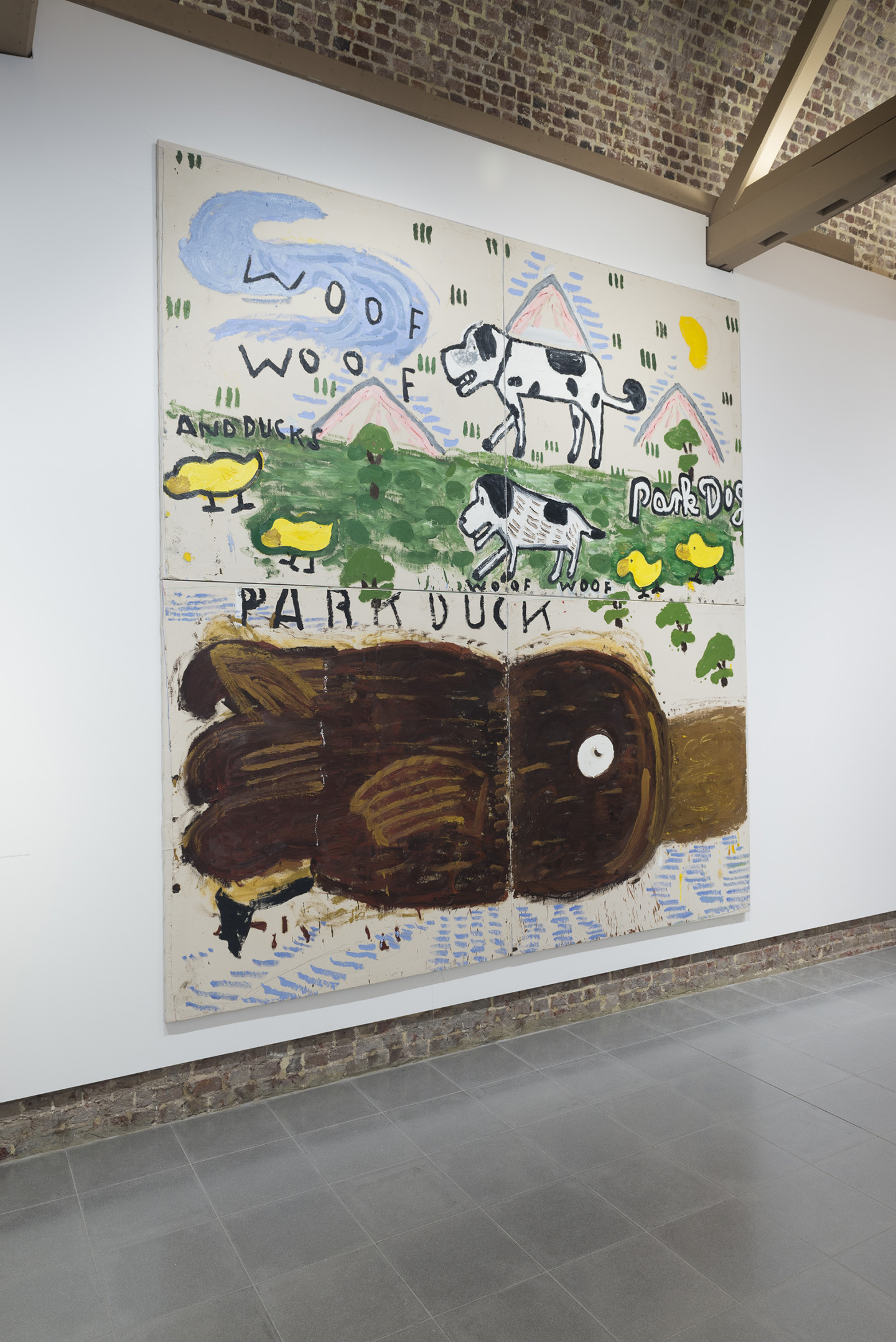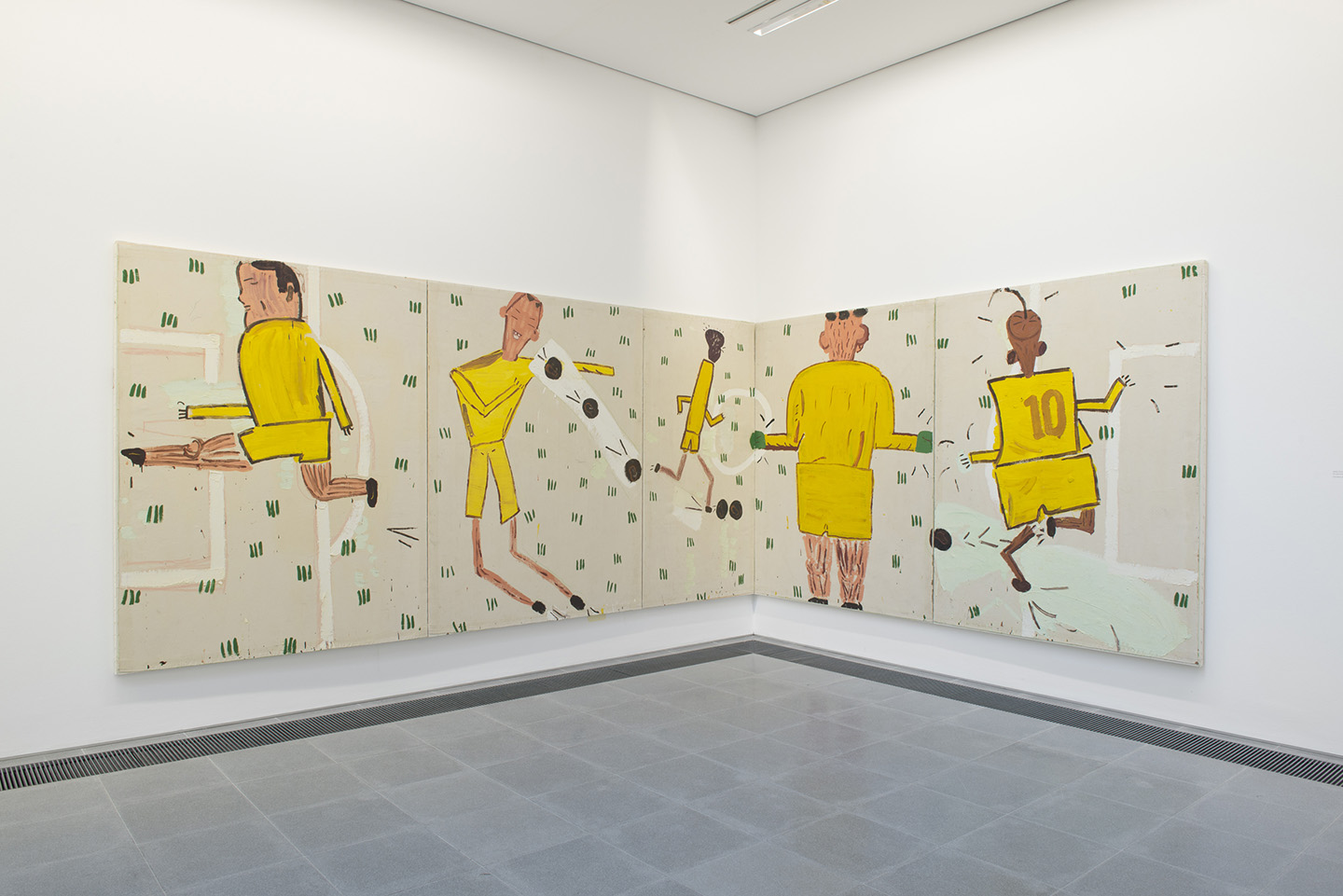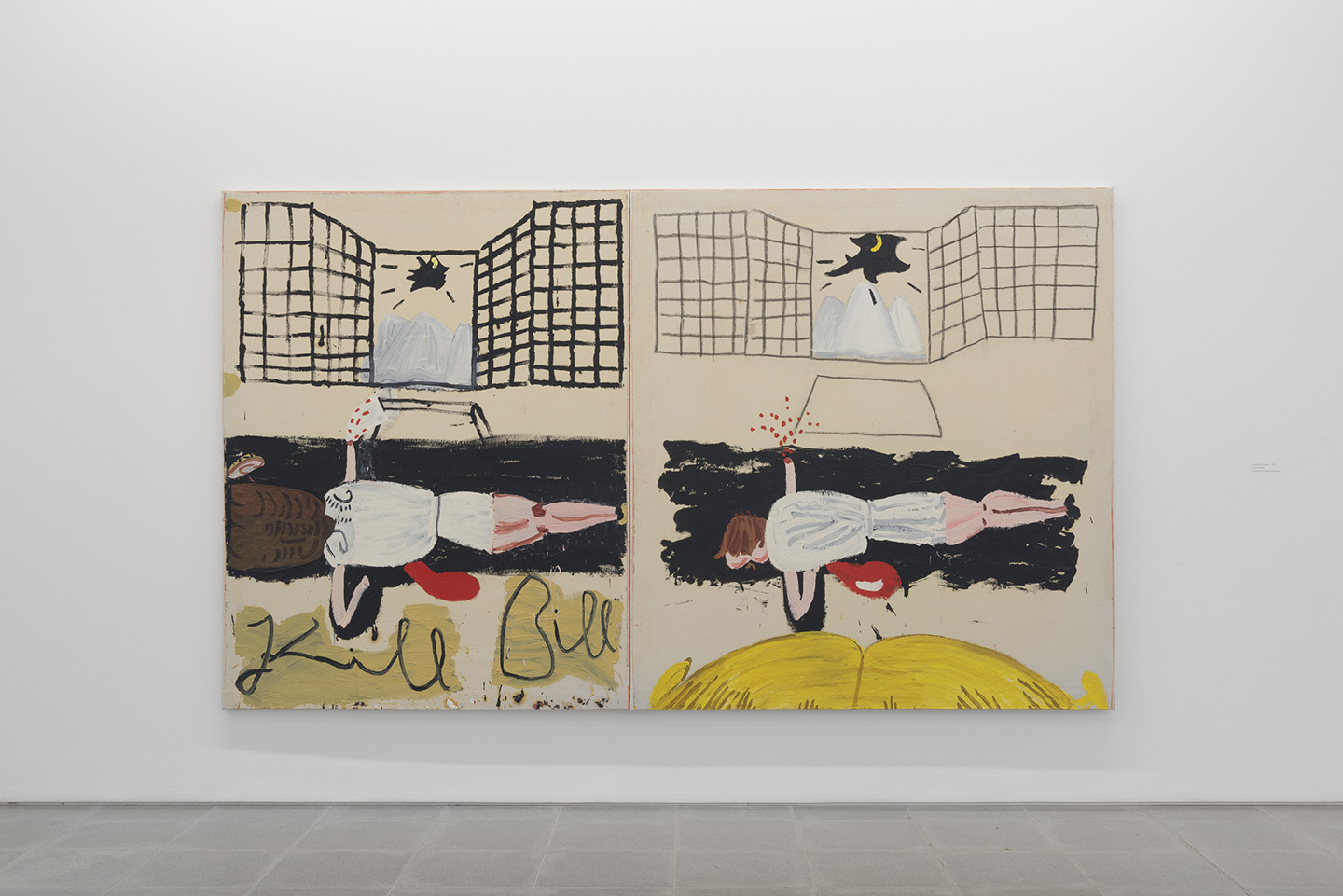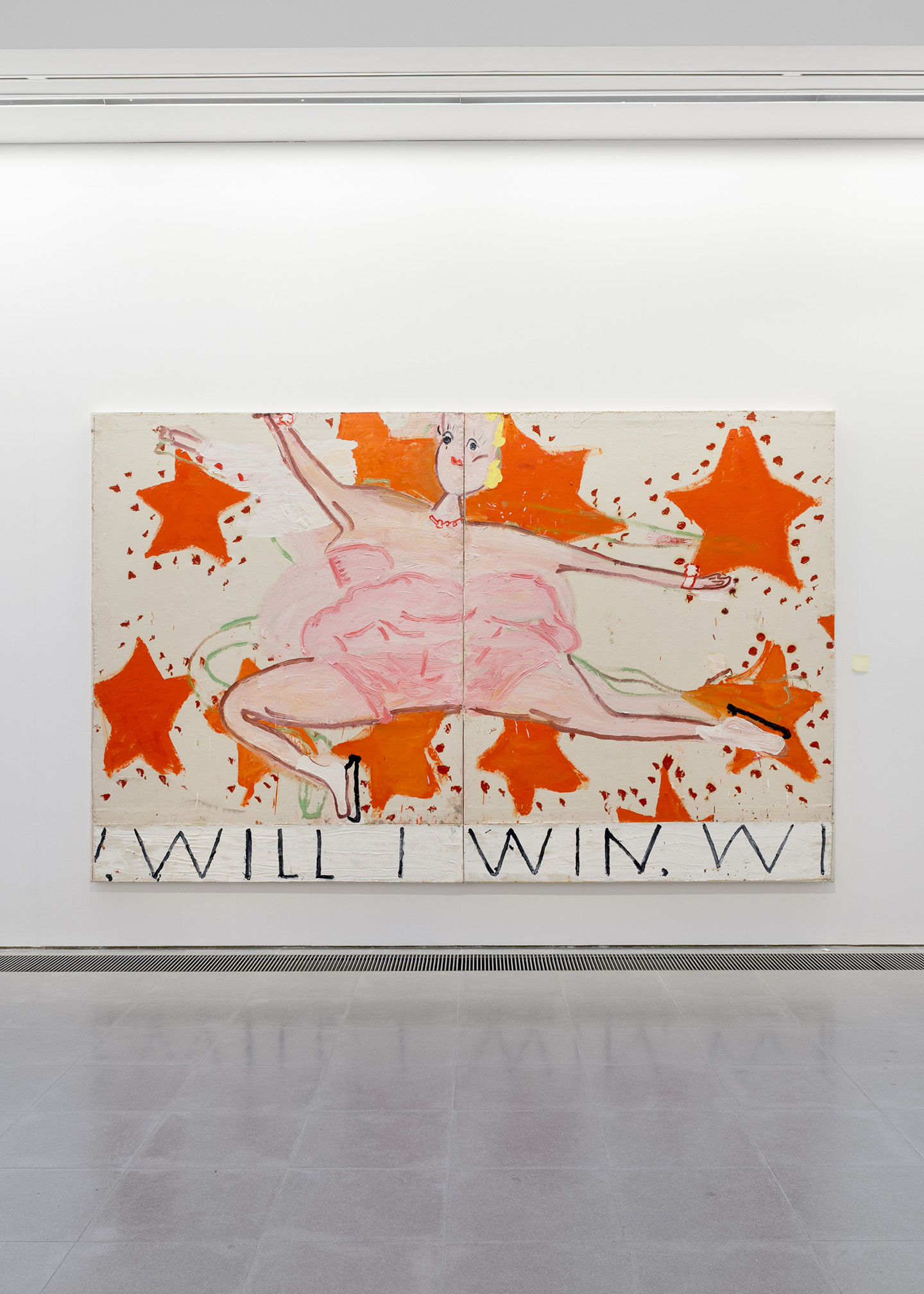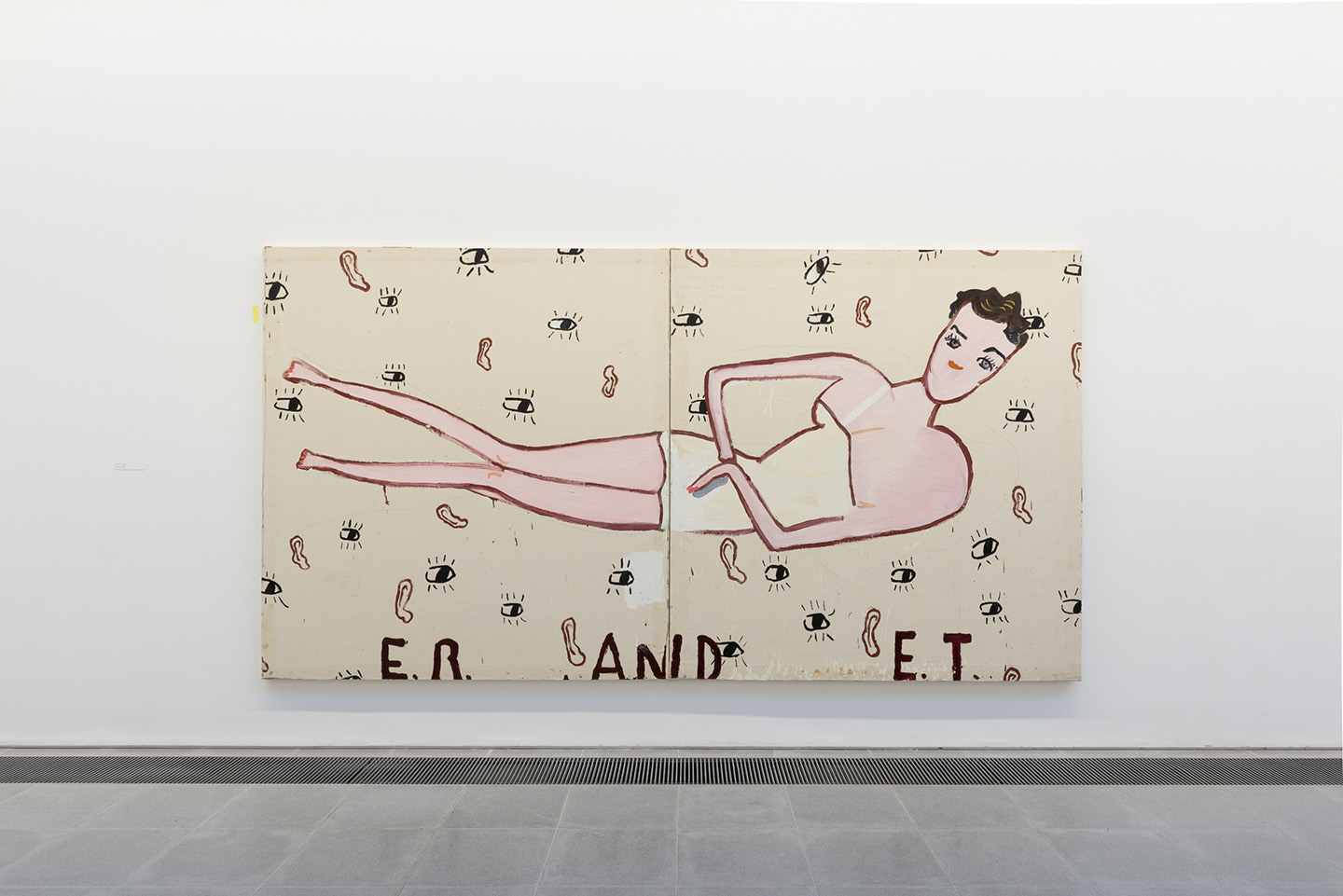 Text by Nicholas Hatfull
The shelves of Maison Dandoy, the venerable baker of speculoos on Rue au Buerre, Brussels, are crowded with antique biscuit moulds. Each wooden block contains a rustic figure, creating a frieze of jostling characters from another century. Engraved detail is held in beveled islands of form that, if rudimentary, have room for idiosyncrasy. They brim with personality, and it seems that their crumbly doppelgängers will accept a biscuit's fate with good humour. The afterimage of Rose Wylie's Serpentine show has something of that bunch. Her figures, irreducibly themselves, meld pruned detail with brute silhouette. They lean forward in paper doll poses, often with pursed lips—though not in Choco Liebnitz (2006), where the artist's gaping mouth prepares to dispatch a billboard-size biscuit as summarily as her brushes dealt with the mammoth canvas. The advertisement giantess of Federico Fellini's Le Tentazioni del Dottor Antonio (1962) comes to mind.
It may amuse to learn that Yellow Strip (2006) captures footballers Rooney, Crouch, and Ronaldinho. They're hardly unmistakable. But there is more earthy truth in Wylie's outré arrangements of hairy knees and sharp elbows that the zhuzh'd-up fantasy of an Adidas commercial. The players are inscrutable shapes, just as you've never seen flowers so alien as her pansies—looming and oddly squared-off, with the strangulated cheer of novelty phone covers. The paintings themselves have a tendency to morph. Canvases on the same theme are hung abutting each other, not always because they make up one picture, though the Twink and Ivy series (2002-3) look like they'll be hard to separate, wrapping around a corner, like James Rosenquist's F-111(1964–1965).
Park Dogs & Air Raid (2017), one of a new set made anticipating the show, teleports the present- day Sackler Gallery to the Blitz, which Wylie witnessed. When detail matters, trowelled-on paint is induced to cooperate. Propellers, swastikas, spurts of gunfire, and the squiggle of Zaha Hadid's restaurant canopy all have to meet the paint halfway, but fare amazingly well—perfectly clear, although gooier than might be advisable. A yellow duck waddles along a marvellous border; commemorating the studio skirting board, it is a free, rhythmic passage of painting. Chance blobs and stains are noted in a panorama of dabs and twitches, by way of miniaturized Joan Mitchell. As Claude Monet responded when asked what a lick of improvised colour meant, c'est la peinture. Kensington Gardens today can be a bleak schlep—glum panino huts and gilet-clad boors teasing the swans. But Wylie has the resources to thrash out another locally prompted scene, whose Park Duck (2017), which swamps the bottom half of a towering canvas. Though bearing some relation to a children's book duck, there's no escaping its nightmarish quality—a bulbous, faecal morass. On close inspection, though, the brown is enlivened by a repertoire of demonstration gestures—swirls, plunging, and stabbing brushwork selling the vast blob with easy charm.

For the most part, Wylie's paint is qualmless and blunt. Surface incident is dealt with in by-products of her process, characterized by homespun solutions to unfurling epics in the dimensions of her Kent cottage. Lengths of canvas are pinned to the wall, cropped or extended as she goes. Loose threads hang here and there, as do footprints and dimples, occasionally a pleated effect. Intervals of twenty inches measurements punctuate the edge, which may be frayed. A fat bluebottle gobbet of paint will sigh a halo of linseed oil, if allowed to remain. Unprimed cotton duck is so prominent in Wylie's scenes that Quack Quack might pay tribute to its dependable service. Haptically, it is absorbent and receptive, generous to accident. Closer to paper than primed, areas left untouched suggest reverie. Though often a disastrous choice for art school freshers who dozed through their tutorial on preparing surfaces, it is not so unorthodox, having played roles for David Hockney and Joe Bradley. But I'm not sure I have seen it claimed as a material presence with such vigour.
In PC Small Head with Frame III (2014) the habit of appending extra portions of canvas becomes a riff in itself. Multiple scraps are stacked, their various edges a patchwork within a depicted wood frame, in turn bordered by a cuticle of scribbled cotton duck where painted edge falls short of stretcher lip. In the petite quadrant available to picture float patches of faint banana and sap green, setting off a dainty portrait. The ochere swirl of PC's (Penelope Cruz's, not that you can tell, but who gives) hair is a favourite, morphing shape. It may look larval or pastry-ish, but crops up as men's robes in paintings based on the 2005 movie Syriana. Wylie's magpie attitude to source material engages, but whether motifs are cued by cinema or the mulch of broadsheets carpeting her studio, to paint them large is to strand them in a wilderness, – like the robed men meeting around a table in the desert of the diptych Pink Table Cloth (2013) diptych.
 Tree Canterbury (1997) is the earliest painting on view, and sumptuously resonant. The trunk, a battleship- gray drainpipe, veers abruptly towards the right- hand corner. A sliver of pictorial space is hatcheted open by a severe black patch snuck in behind. The paint, though slithering and greasy, feels impacted, squashed into the surface, which is one contradiction. Another: the image couriers a lucid idea, express service across the length of the gallery, while hurtling away from you at the same time, a capsule ejecting into unknown depths. As with many Wylies, you imagine an illuminated manuscript, blown up and discombobulated. In a tent, pitched in another royal park, you may have seen Inuit artist Parr's drawings displayed by Donald Ellis. Recollecting hunting trips, Parr showed arctic animals ballooning across the page, cornered by rifles, searingly direct in crayons. The fluent placement of his images, drifting unmoored by gravity or perspective, is there in Wylie's work too. It's the float and bounce of microbiology you squinted at once on a glass slide.