ESSAYS Mousse 73
Nothing Independent of Its Circumstances: Rosemary Mayer
Close
1
2
3
4
5
6
7
8
9
10
11
12
13
14
15
16
17
18
19
20
21
22
23
24
25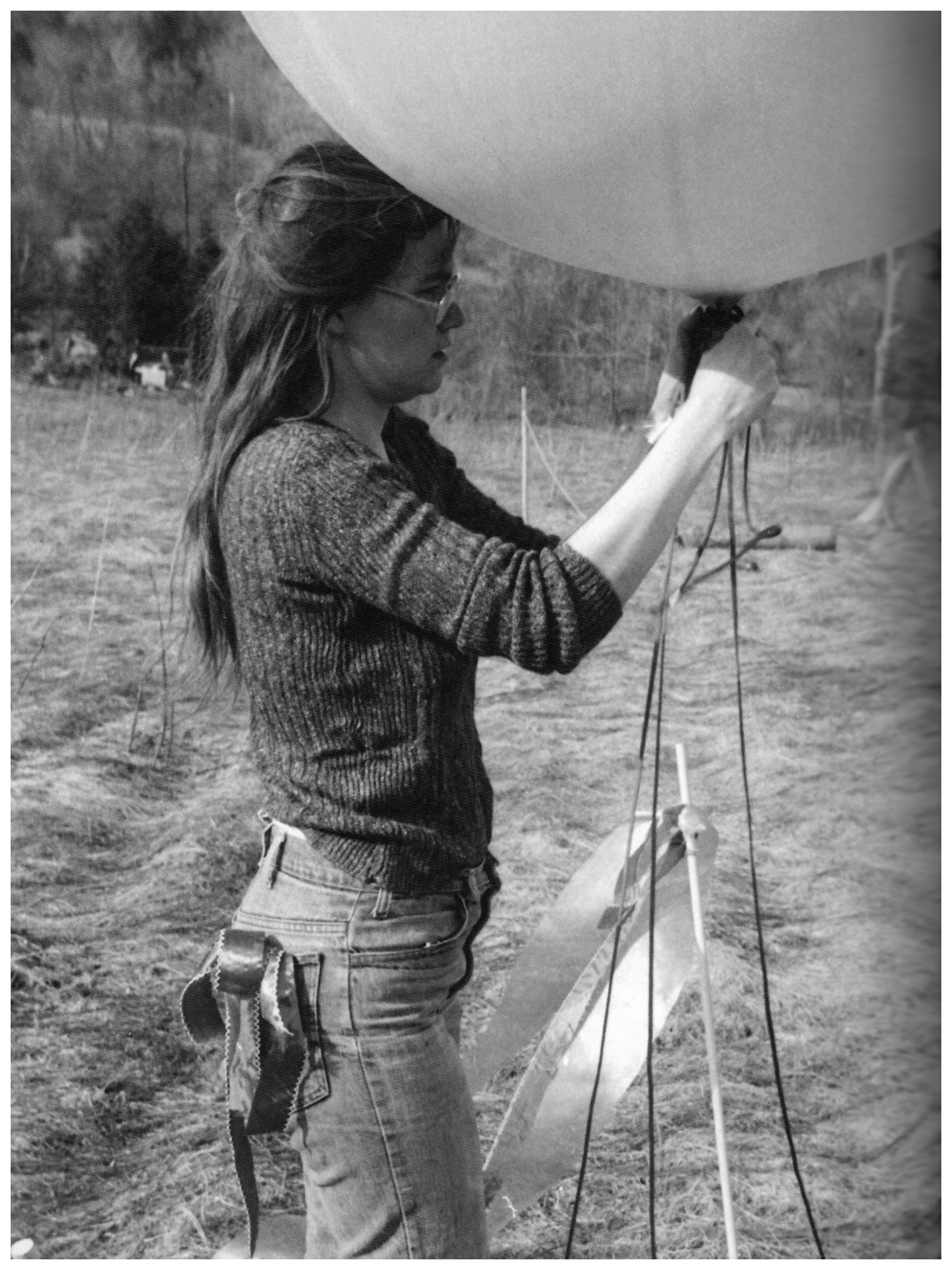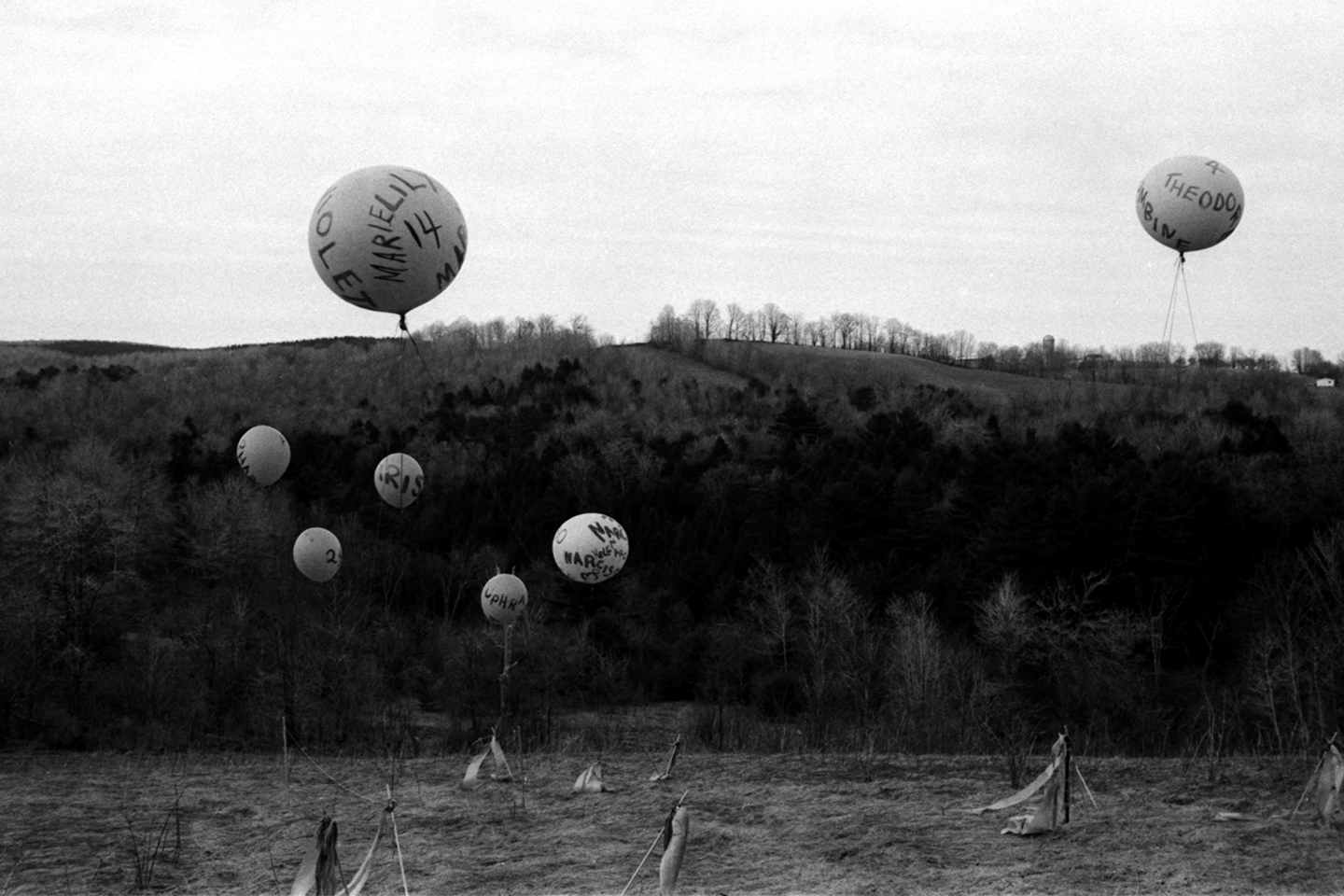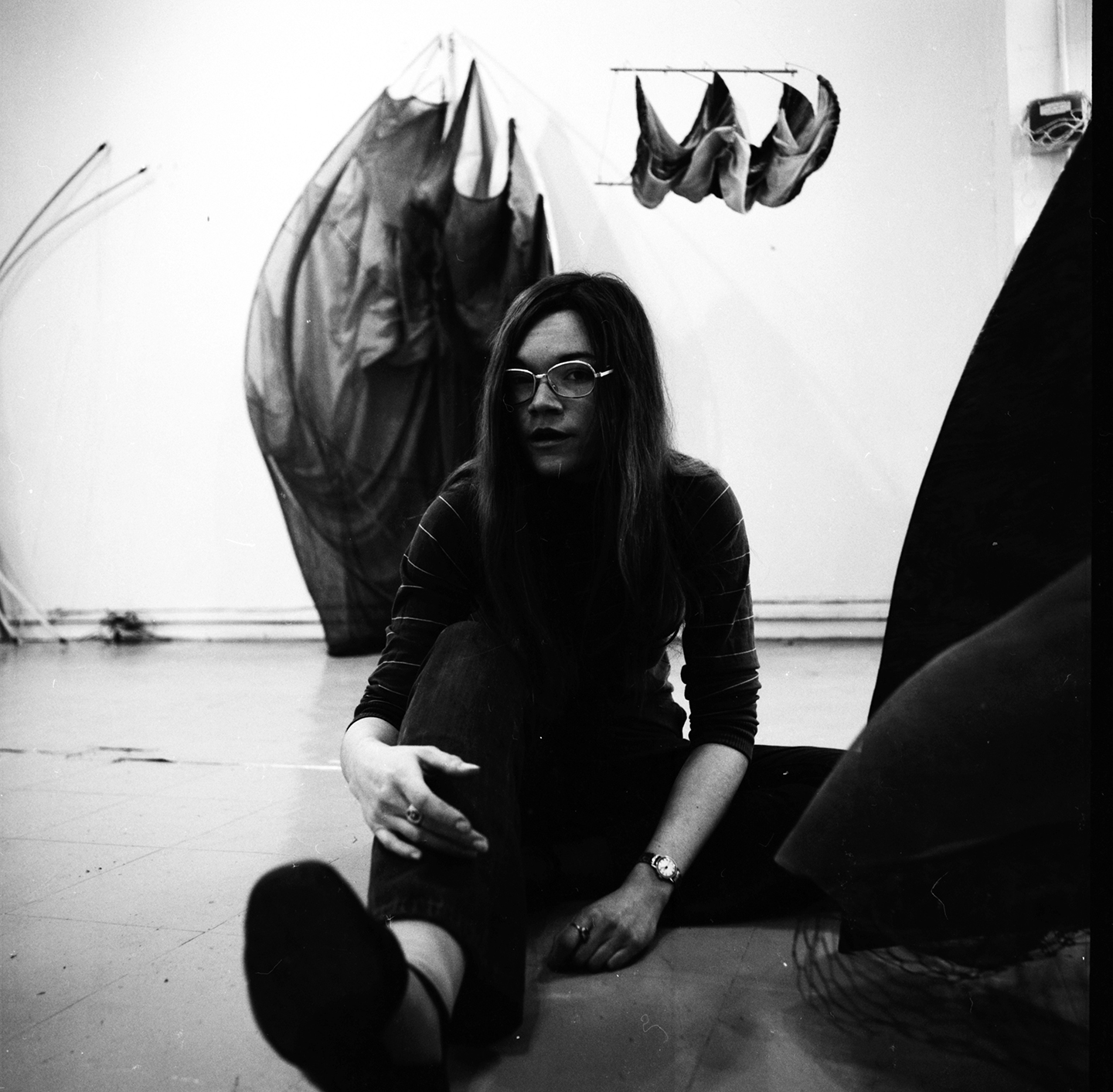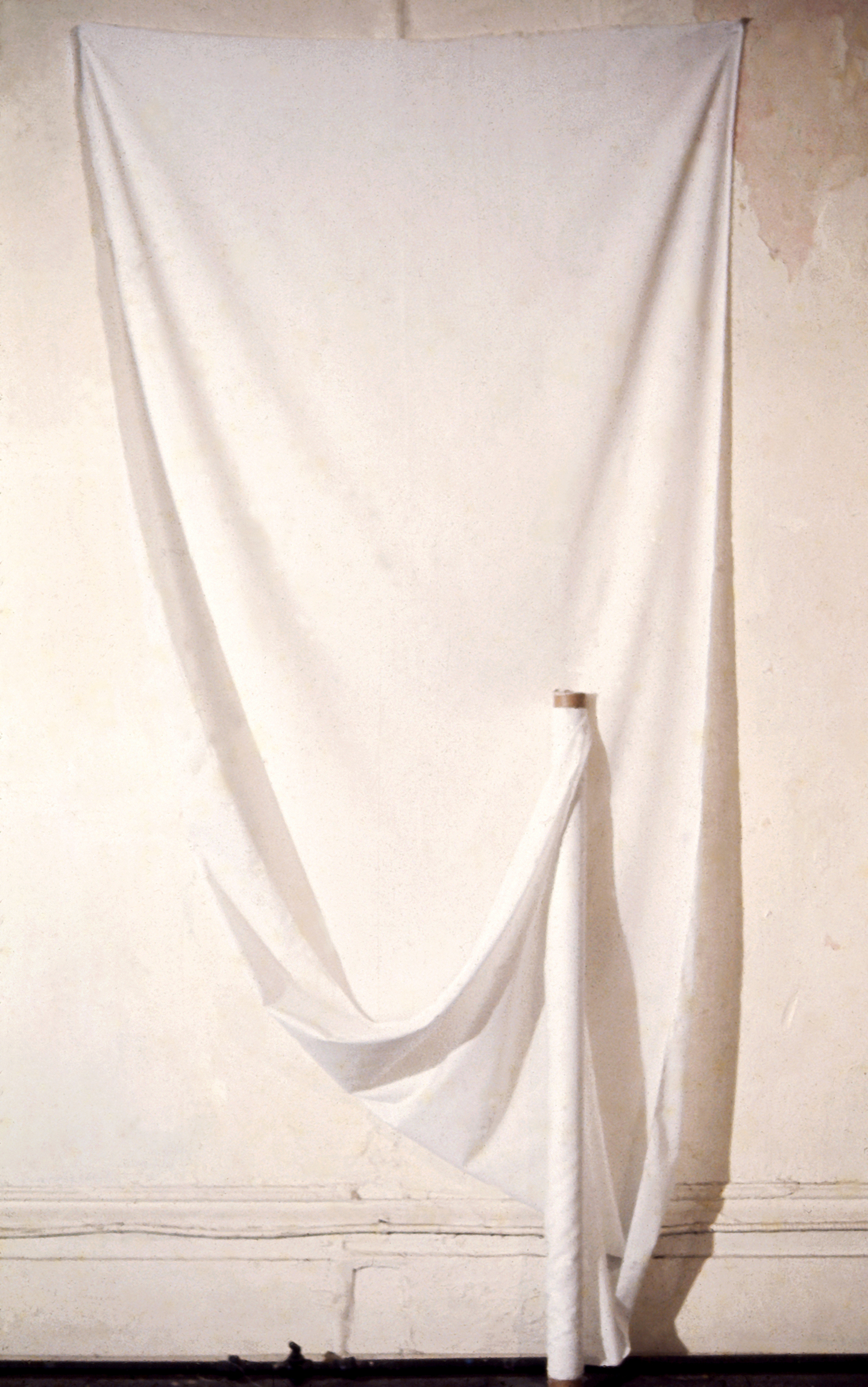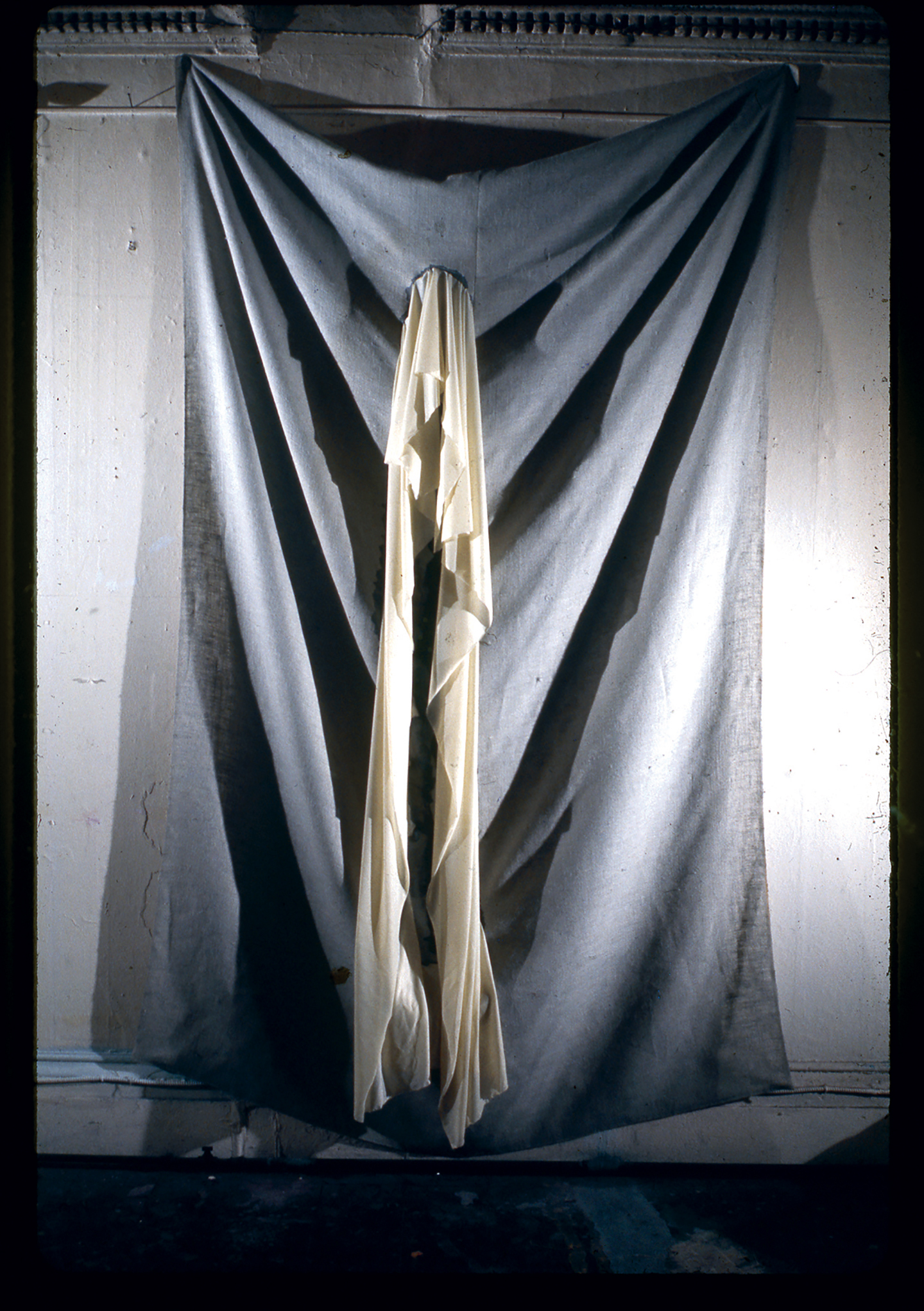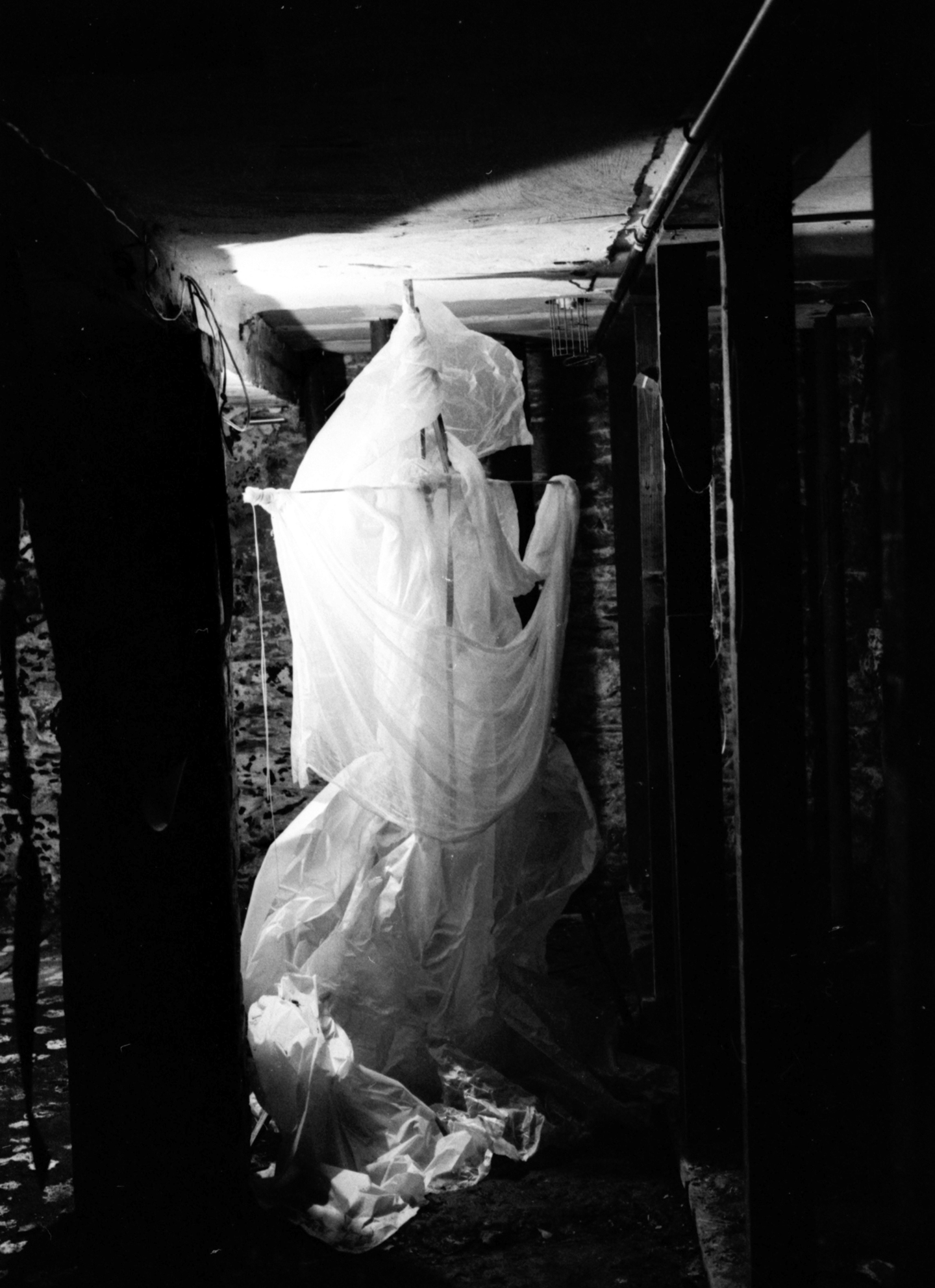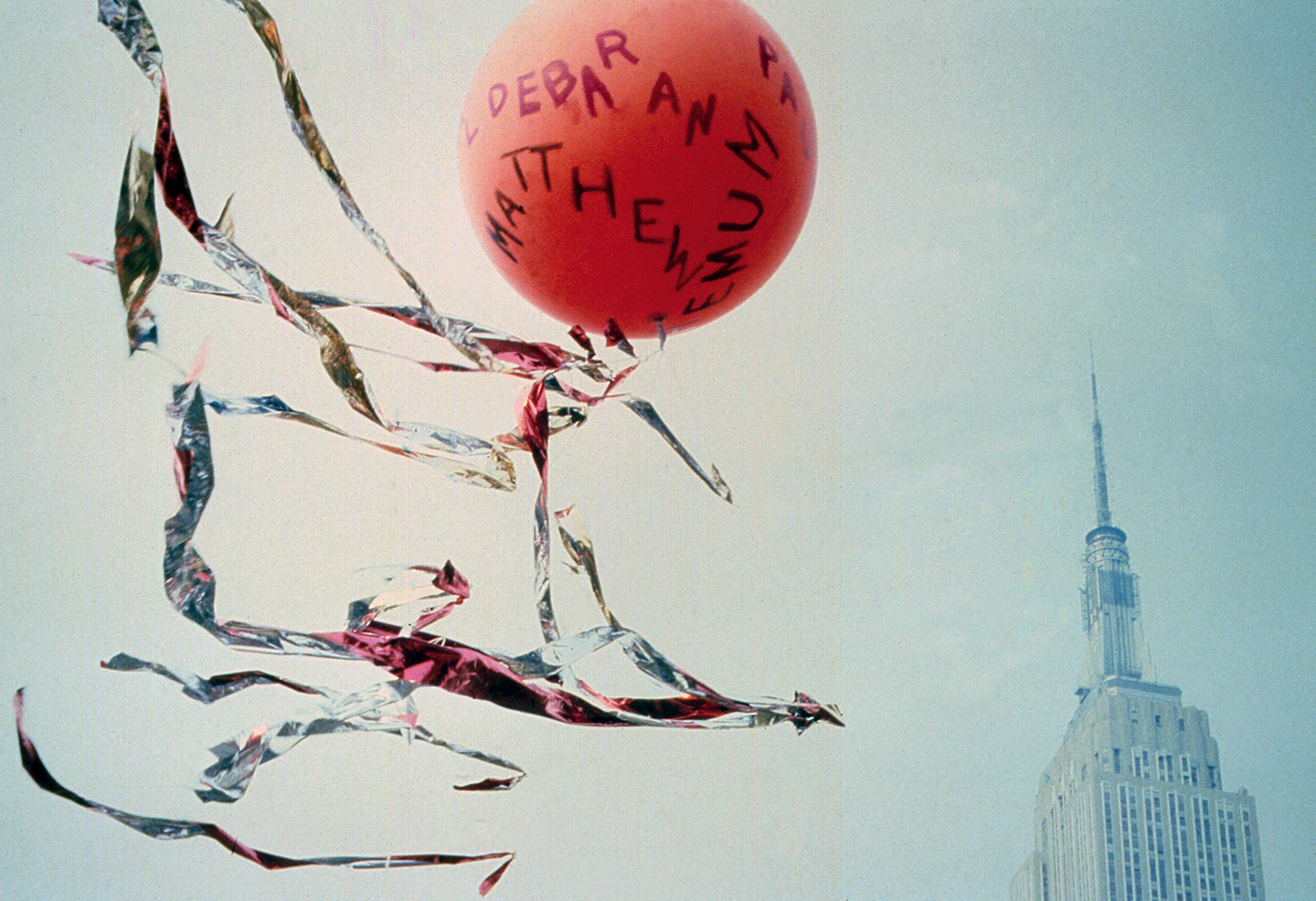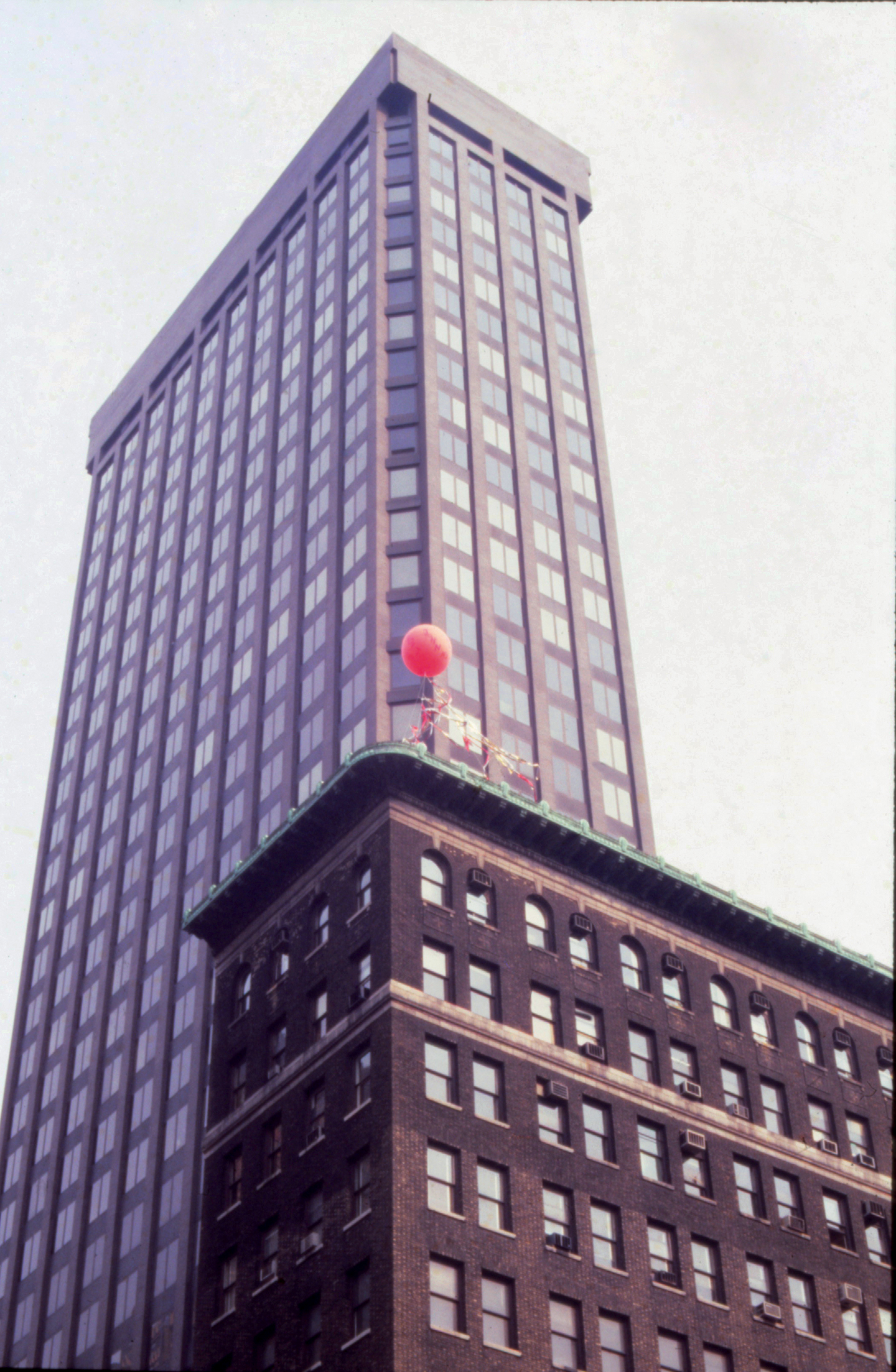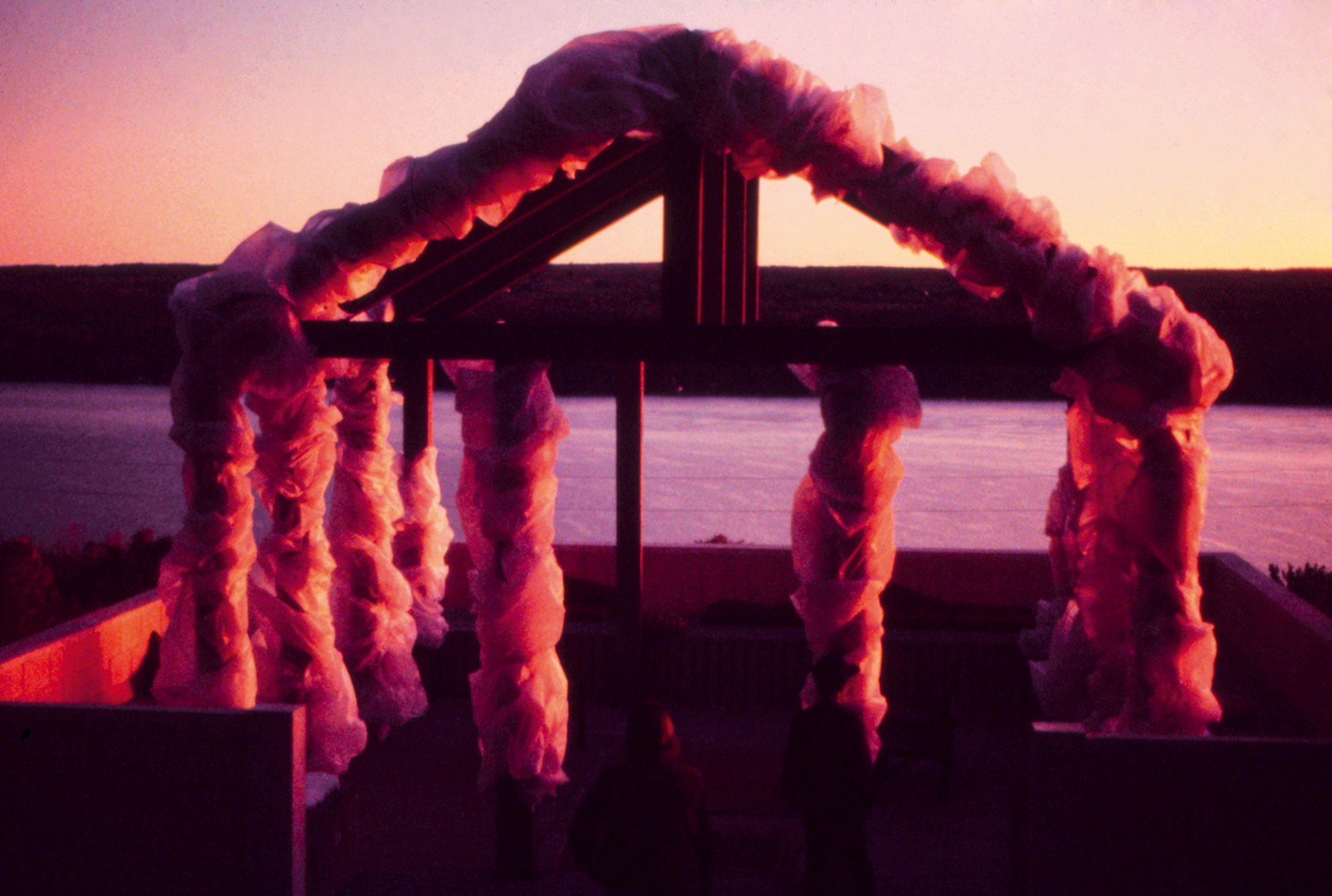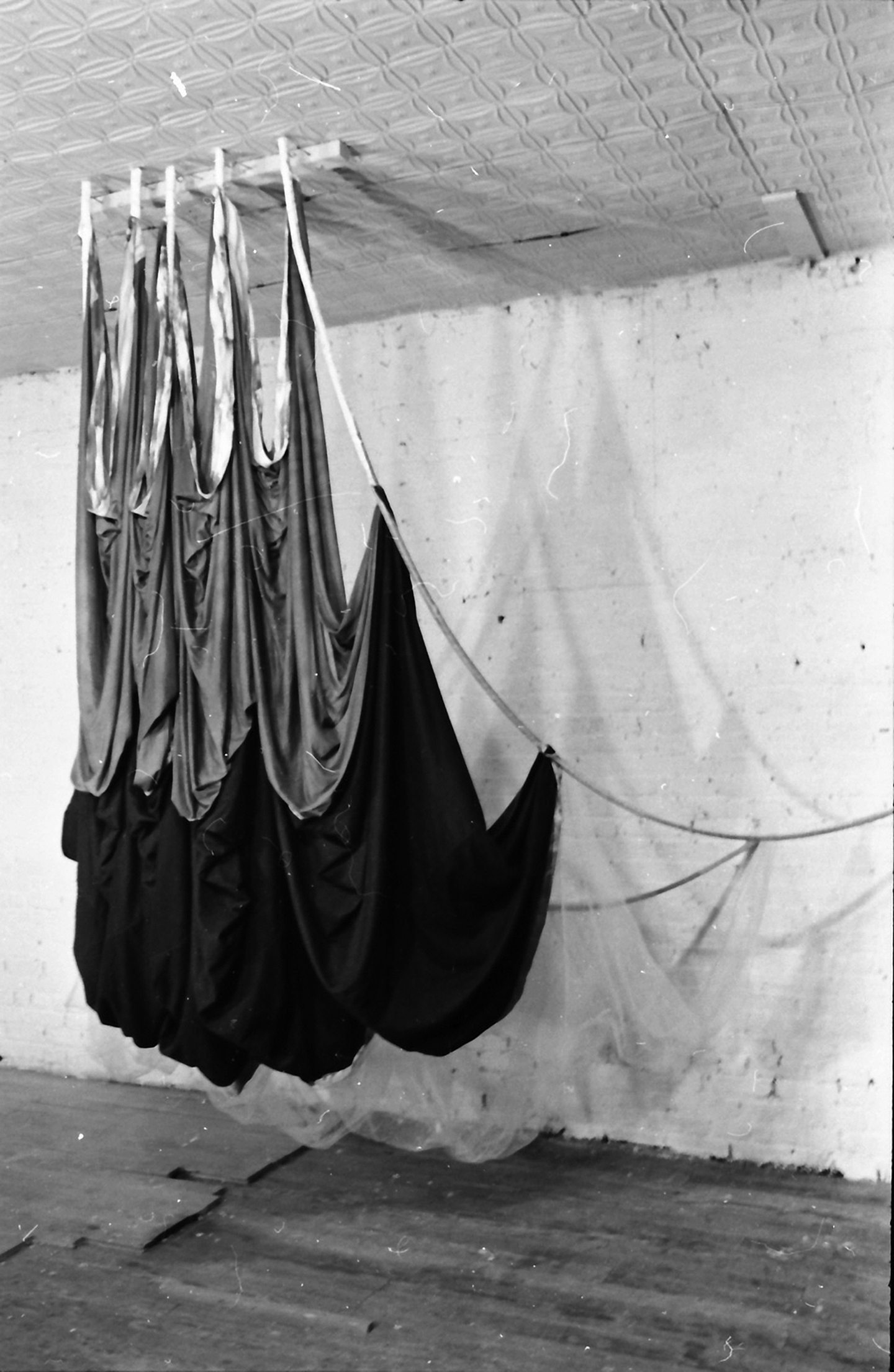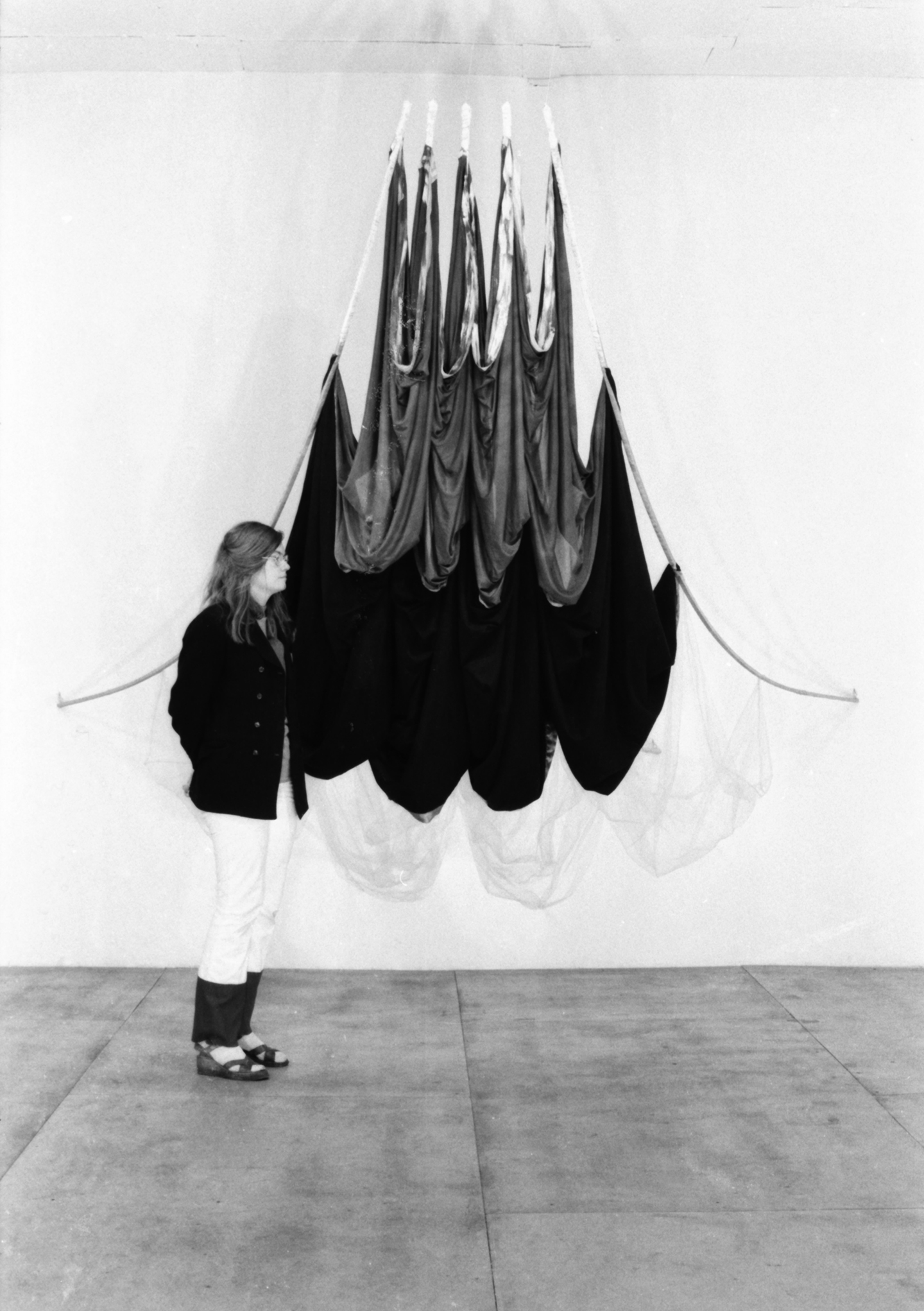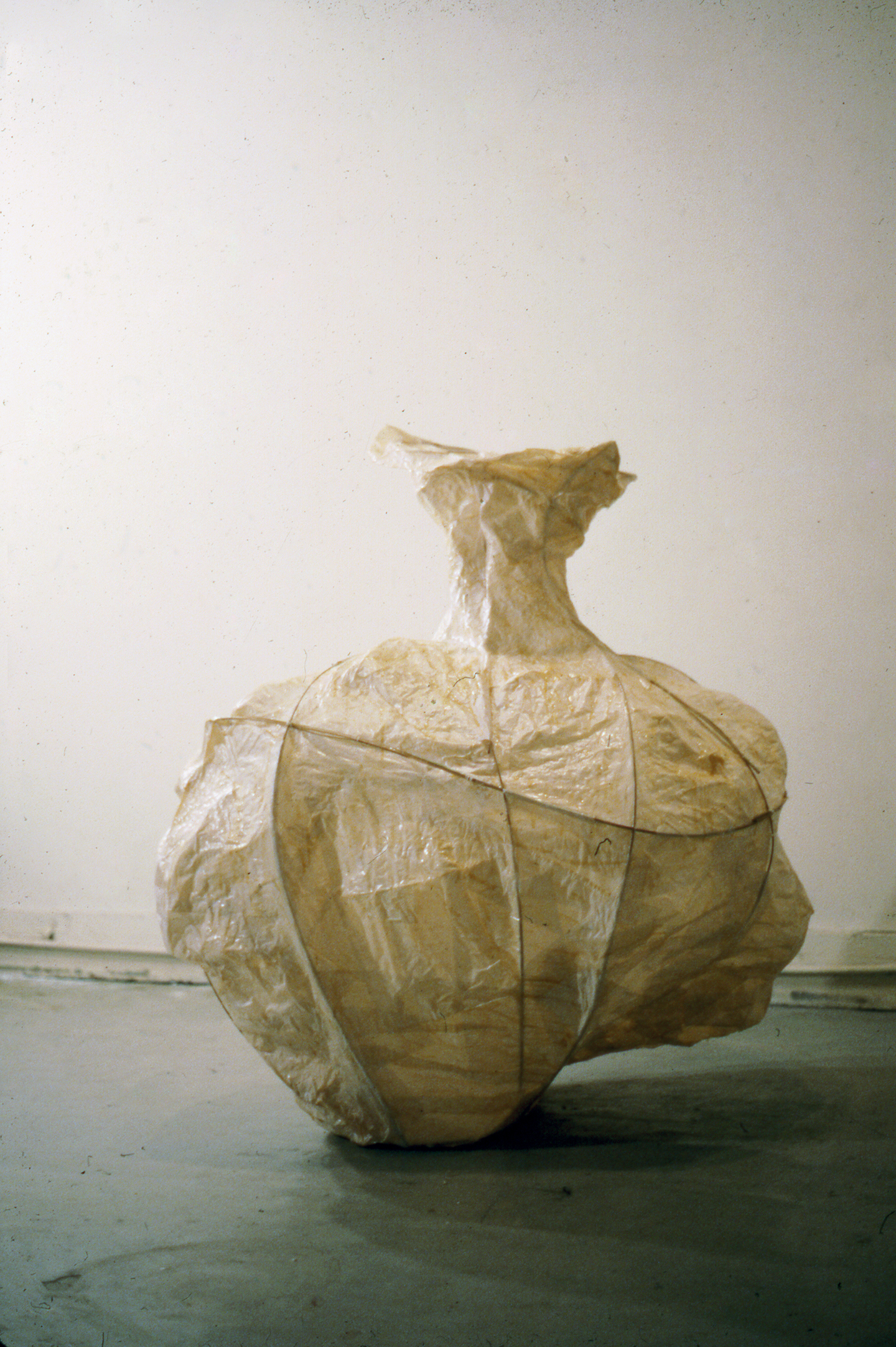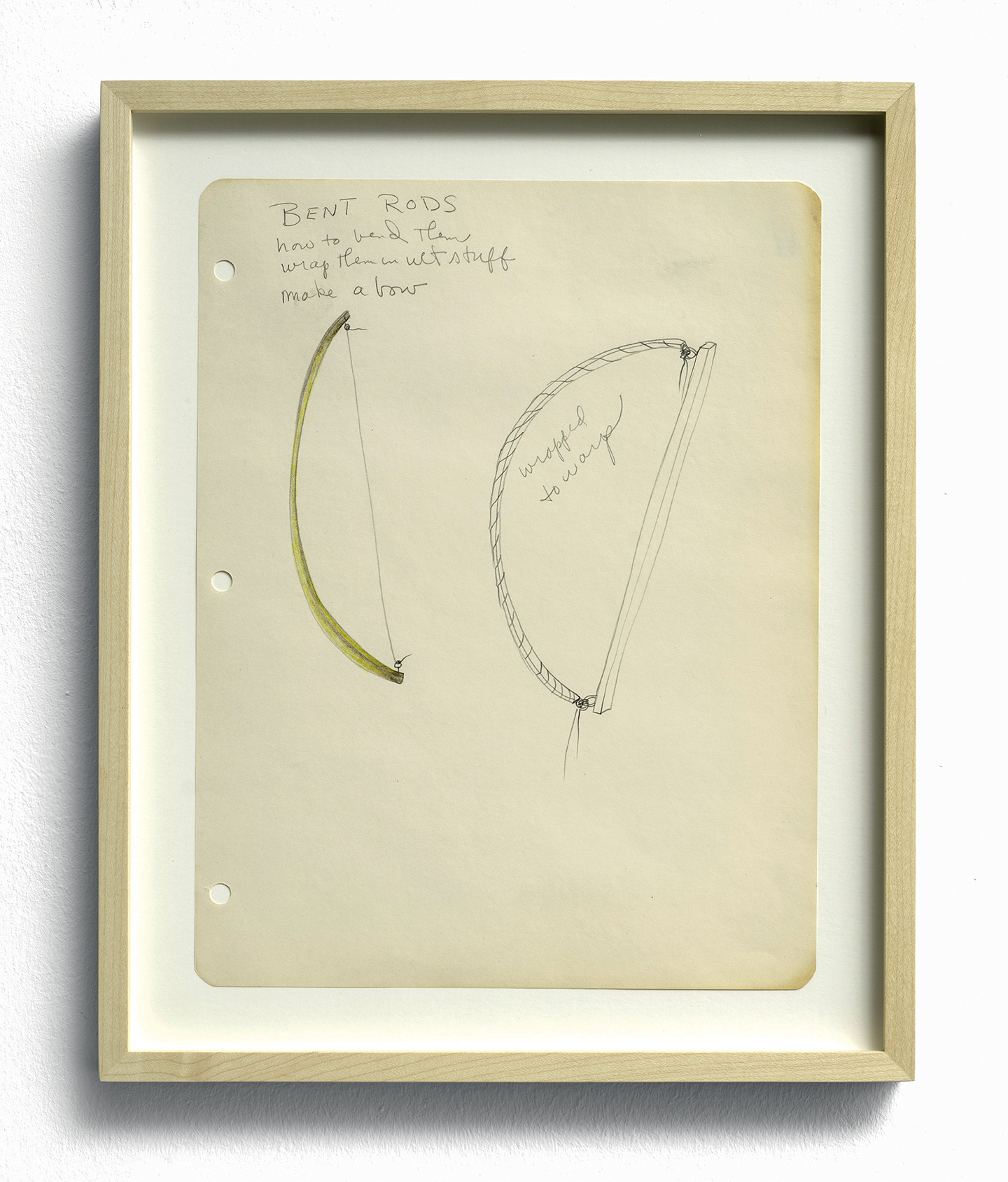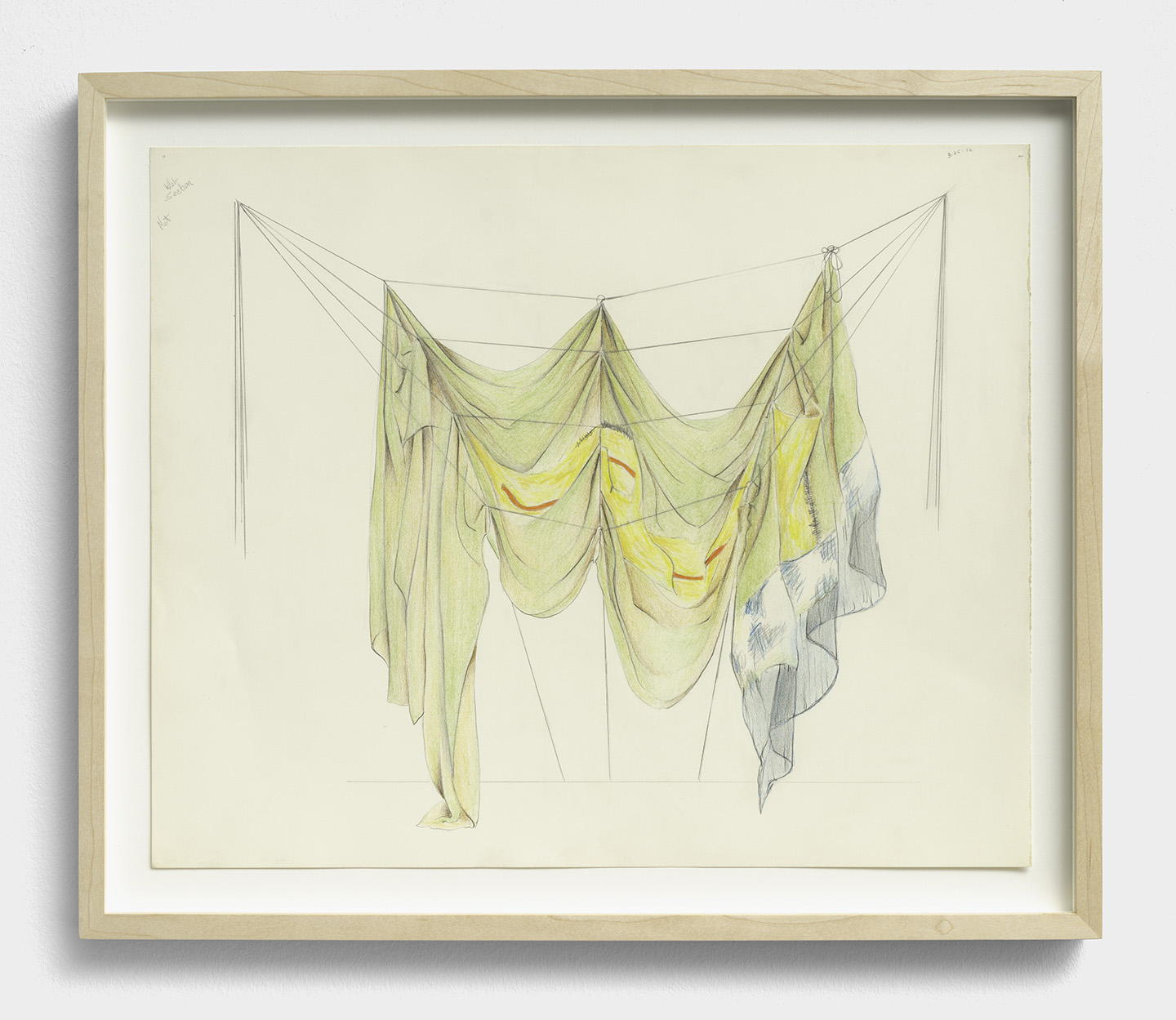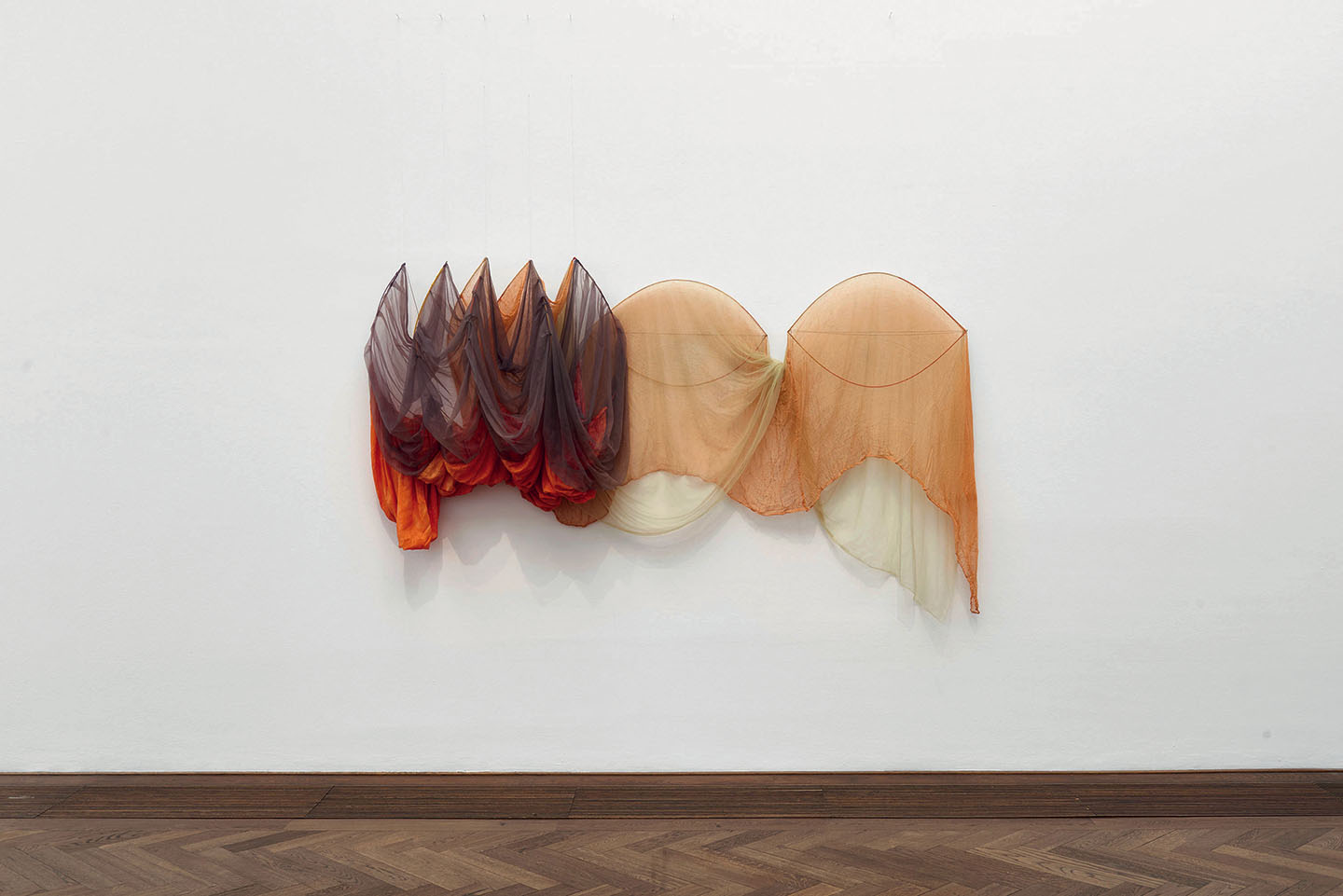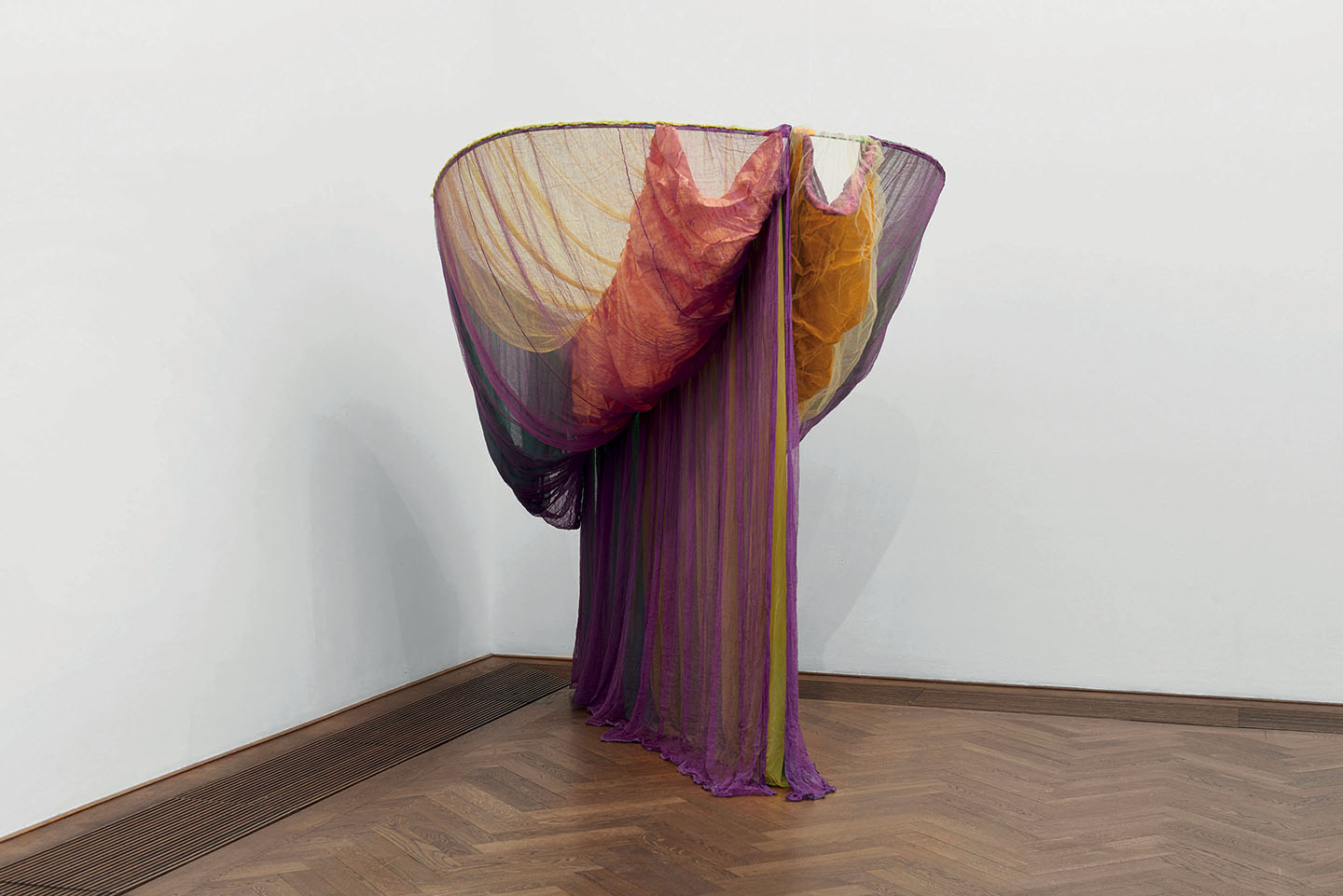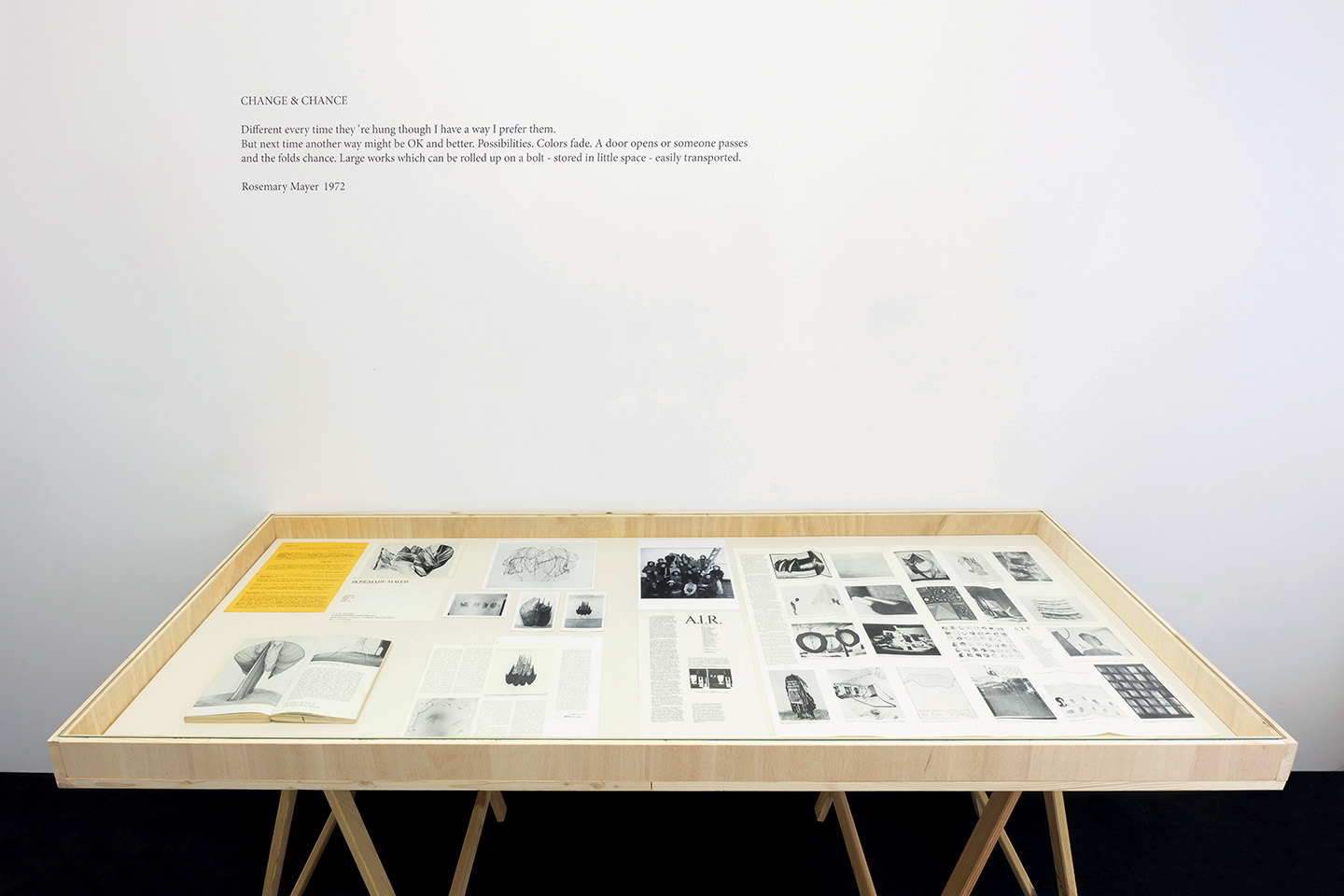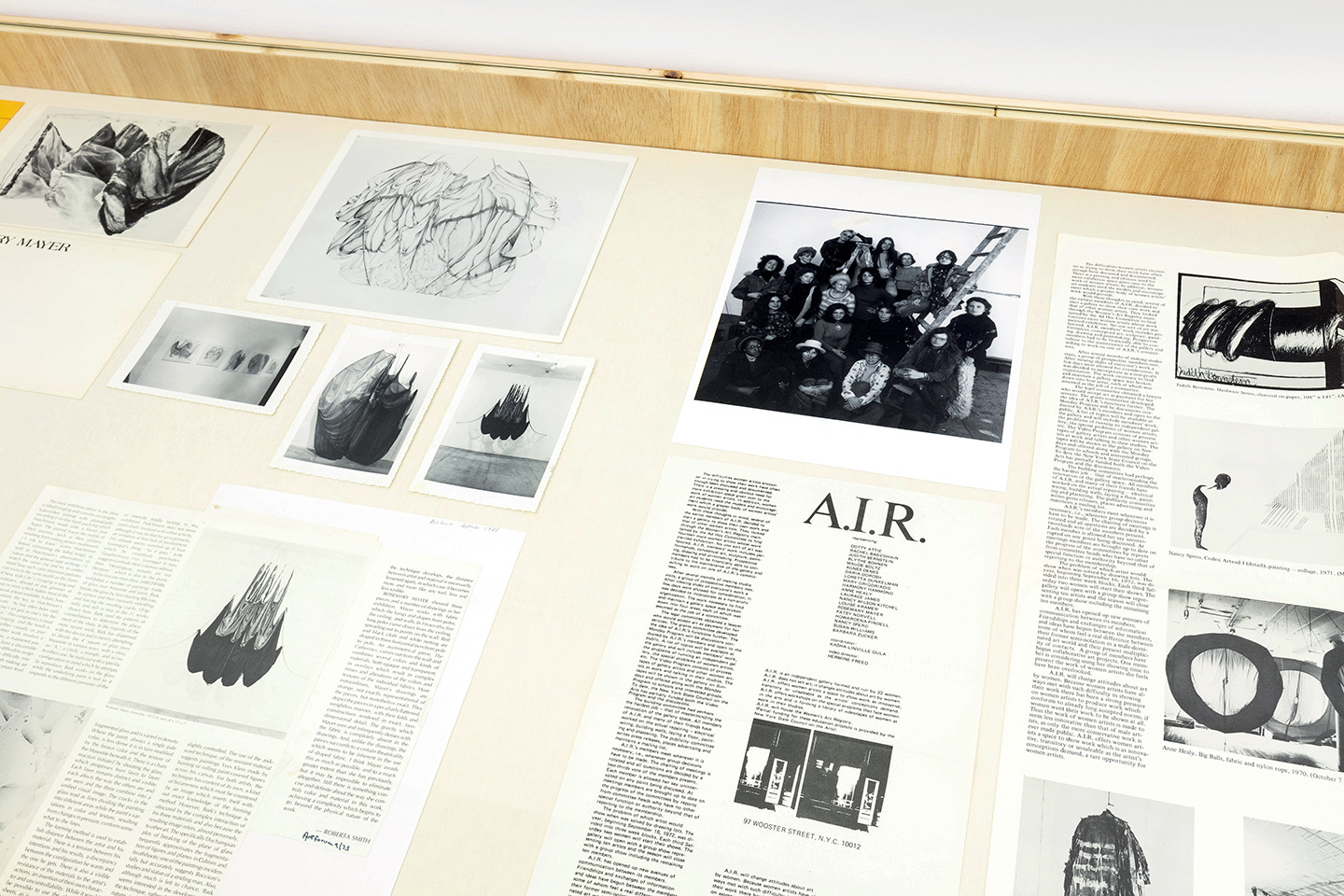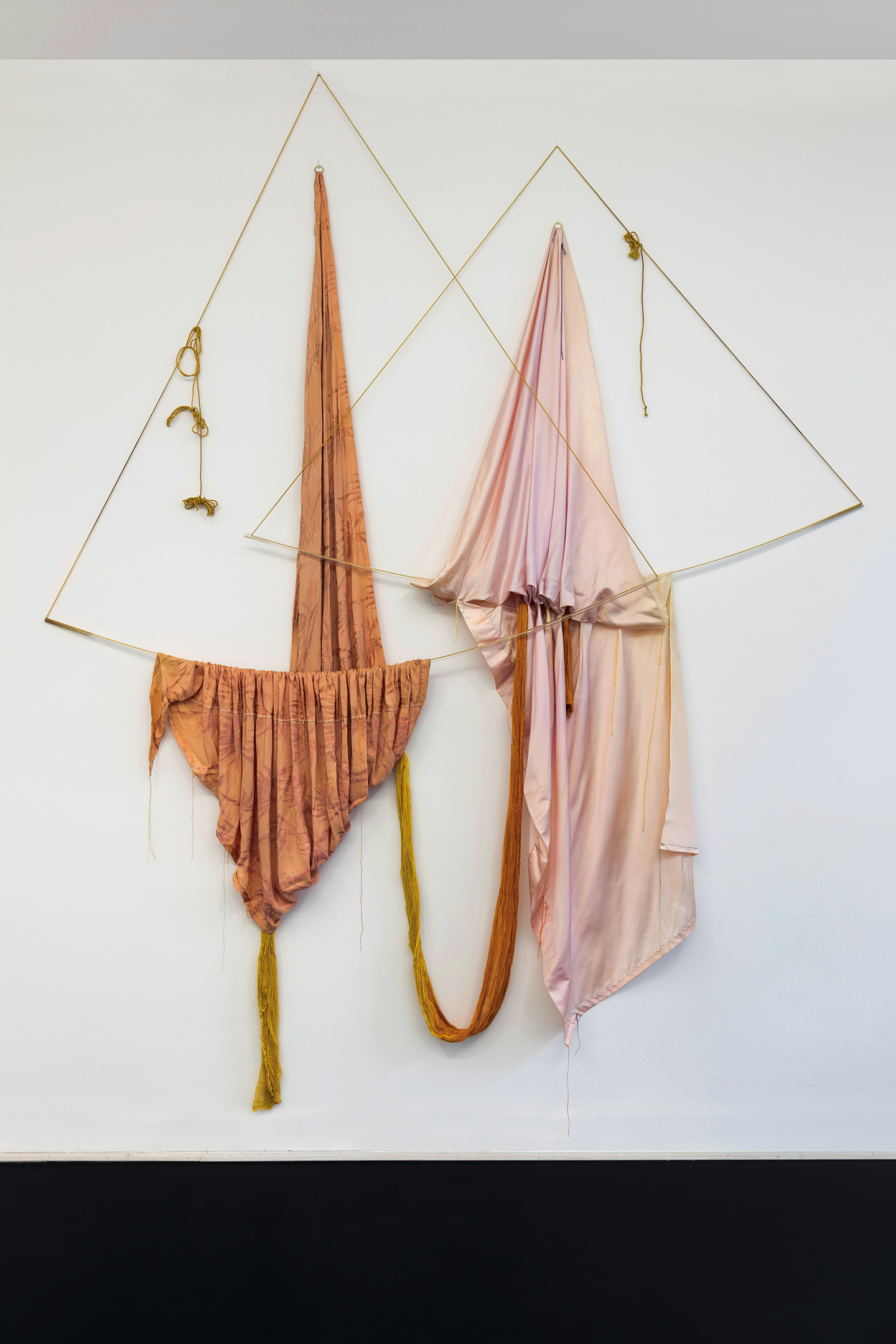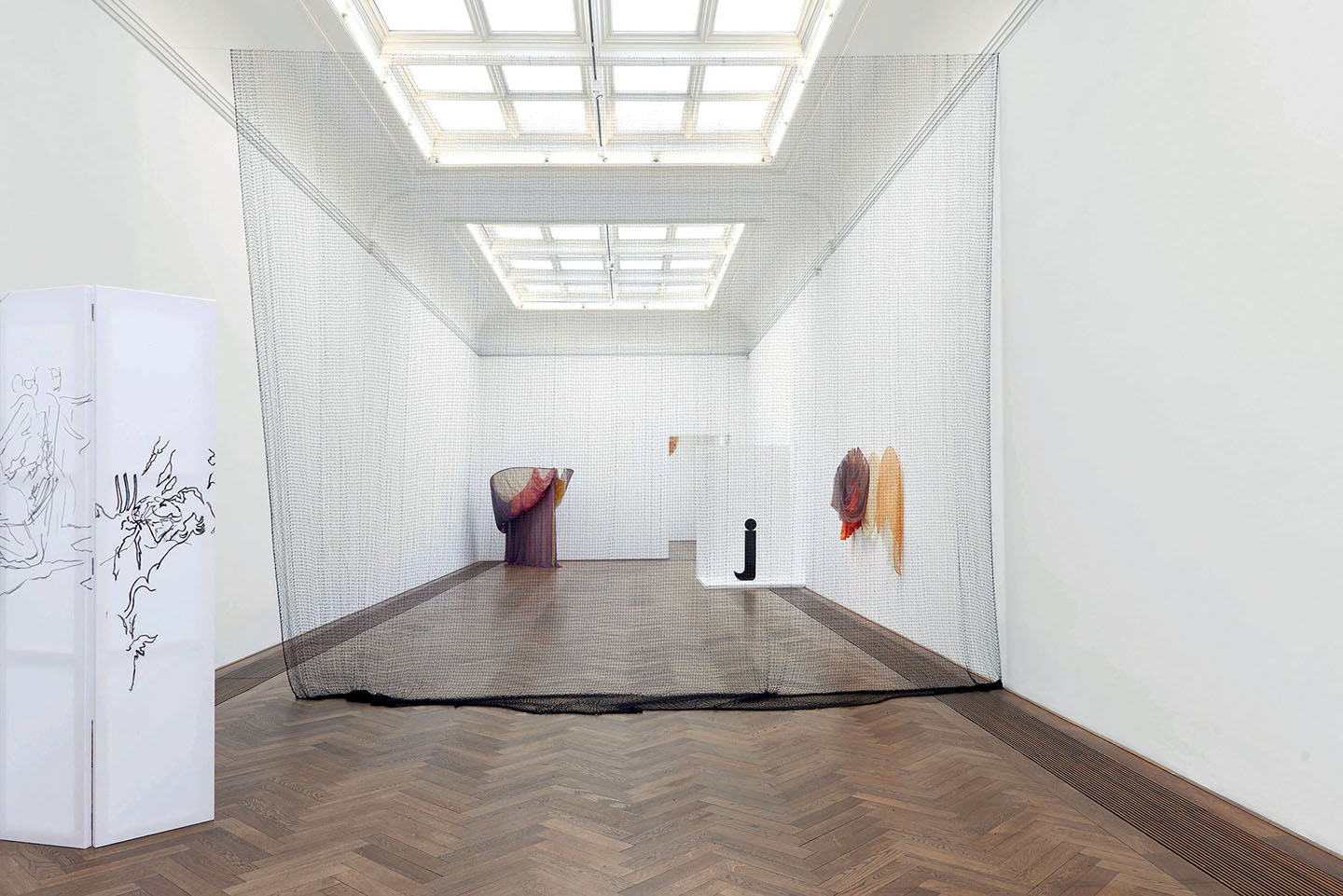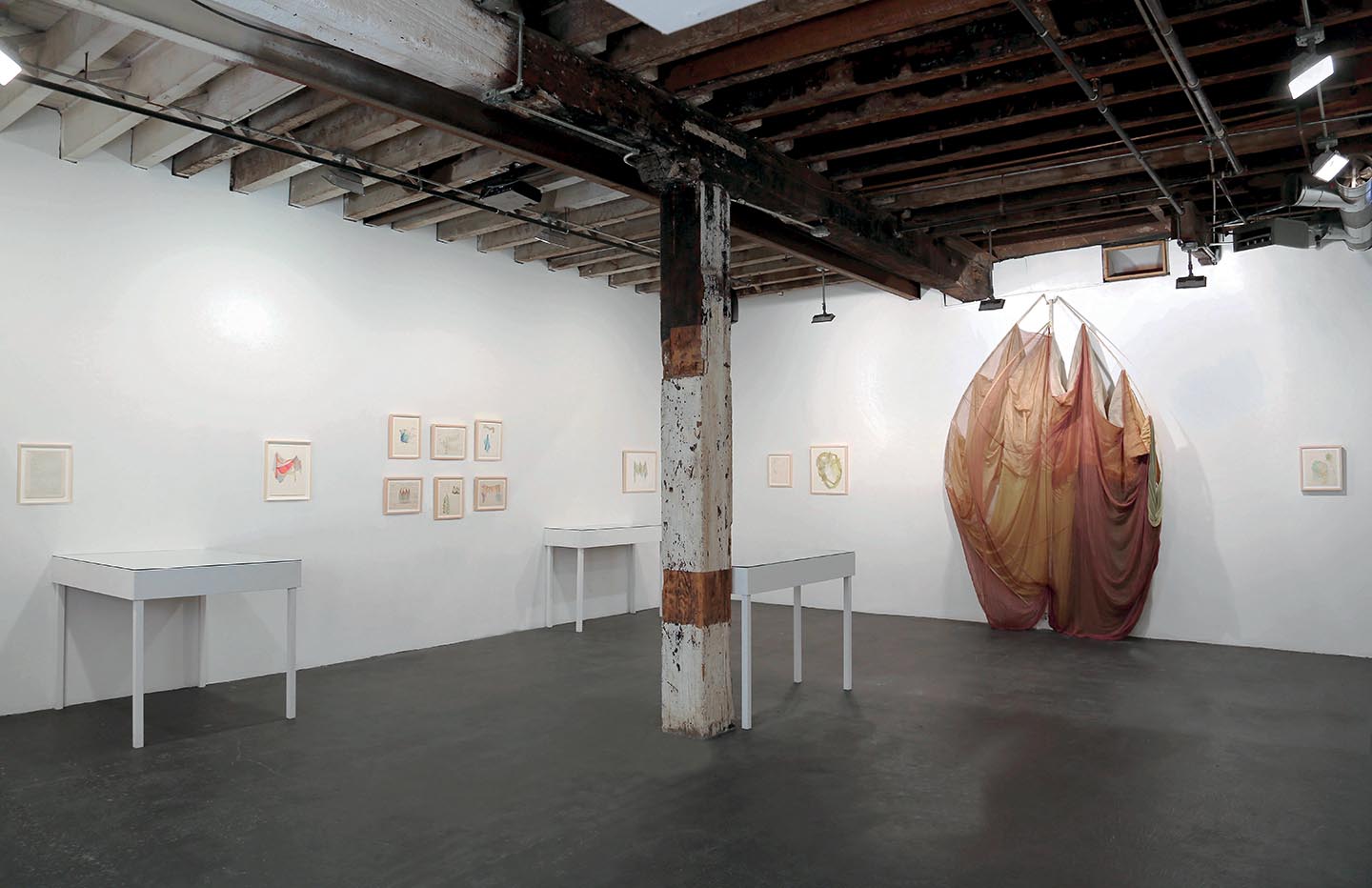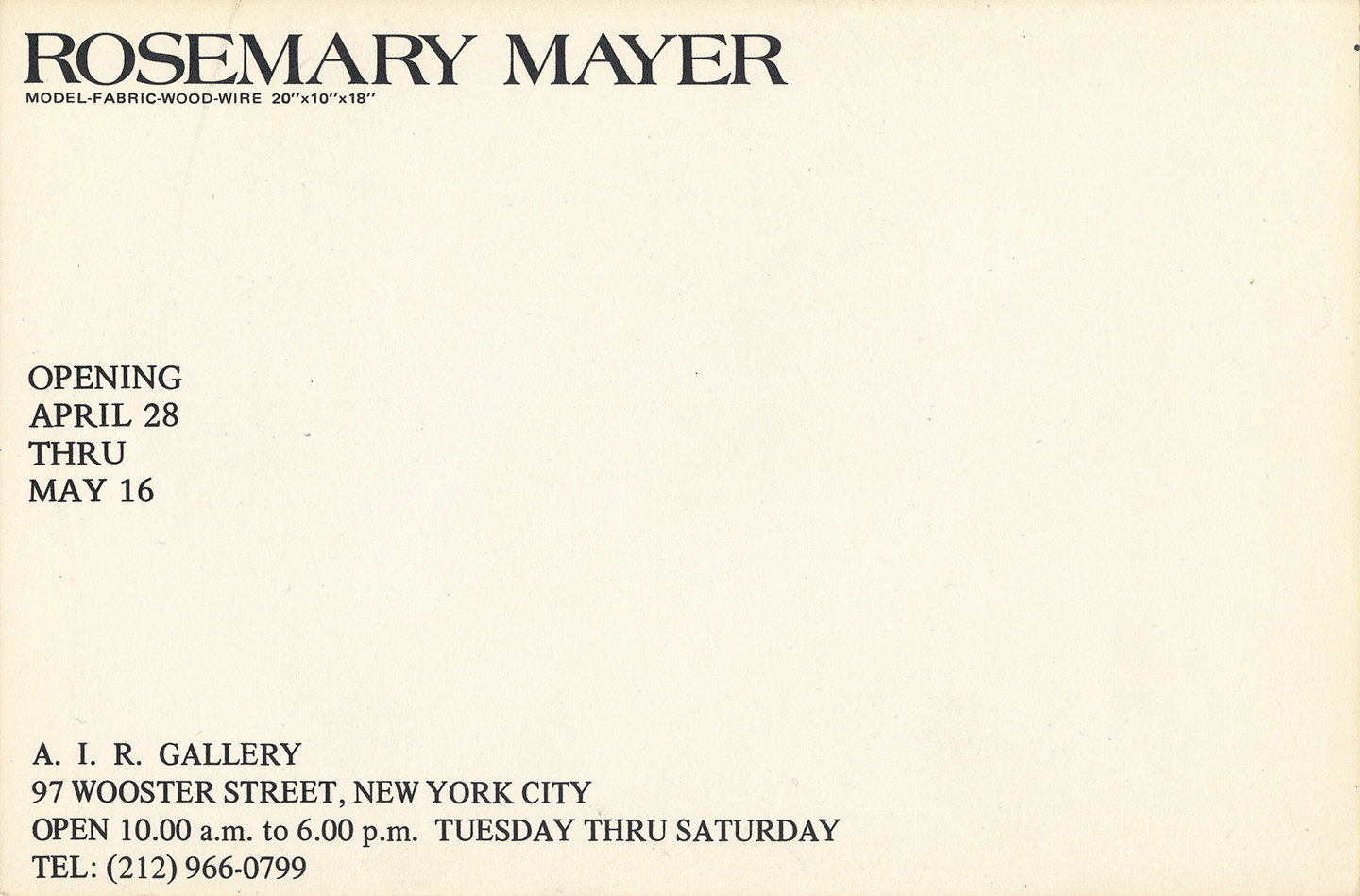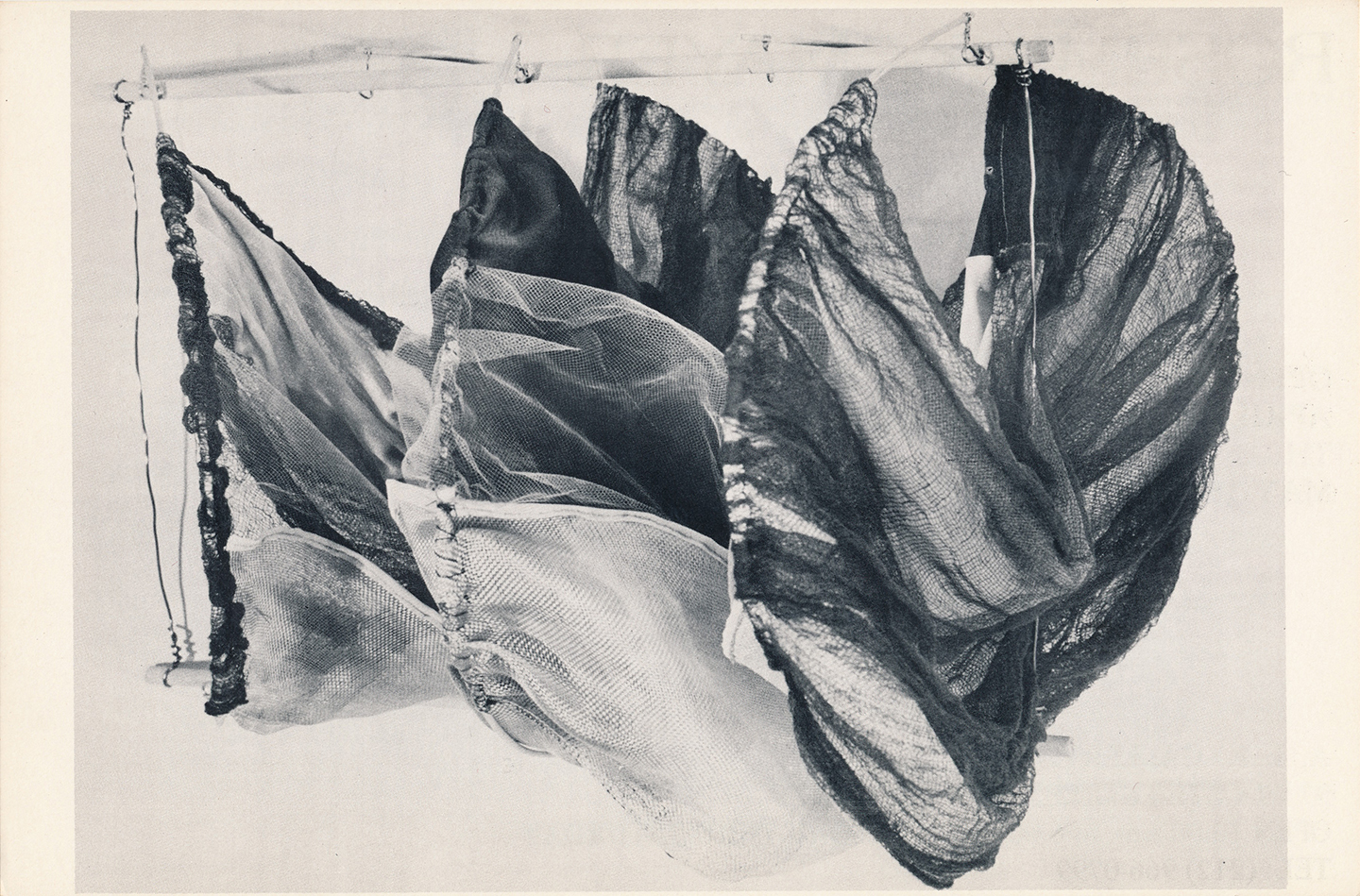 by Wendy Vogel
"I feel like I'm having another adolescence [. . .] The time of cautious self-sufficient solitude is over," wrote Rosemary Mayer (1943–2014) in her journal in 1971. "What next? I'm after more involvement with people, more art making—but fewer certainties—faster change."1 In 1971, aged twenty- eight, the New York–based artist was on the precipice of a creative transformation. In her Little Italy apartment she was experimenting with layered fabrics to produce delicate hybrids of painting and sculpture. A year later, she would become one of the founding members of A.I.R., New York's first all-women cooperative gallery. Mayer developed a unique feminist approach to lyrical abstraction and public art that would flourish in the alternative-space heyday of the 1970s. Fifty years later, her underknown work is having a resurgence.
Mayer came to maturity in a social scene where several artistic movements intersected: language poetry, conceptualism, performance art, installation, feminist art. Informed but not limited by these tendencies, she forged a singular path as an artist, writer, translator, and educator. She was born in Queens, New York, to a devout, working-class Catholic family. When she and her younger sister Bernadette Mayer (now a well-known poet) were teenagers, their parents died. At age nineteen, Rosemary married the future performance artist Vito Acconci. In 1964, the young couple graduated from the University of Iowa—she with an undergraduate degree in classics, he with an MFA in writing. Returning to New York, they followed related pursuits: Mayer enrolled at the School of Visual Arts, while Acconci and Bernadette Mayer edited the art-and- poetry magazine 0 TO 9 from 1967 to 1969. Rosemary occasionally contributed writing to the mimeographed publication. At SVA, she became close friends with Adrian Piper, who recalled introducing herself to Mayer in a drawing class. Although Mayer did not call herself a conceptualist, Piper wrote: "I could not have developed my own work in that direction without having absorbed her cool detachment and deep intellectual engagement in the artistic process."2
By the end of the decade, Mayer and Acconci had split. The beginning of the 1970s found her on the cusp of breakthroughs both personal and professional. Excerpts from the 1971 Journal of Rosemary Mayer (2020), a volume edited by her niece Marie Warsh (daughter of Bernadette), reveals the artist struggling with loneliness, self-doubt, and debt. She documented her wide-ranging reading choices (Heraclitus, Claude Lévi-Strauss, Anaïs Nin), her joining of a women's consciousness-raising group (along with Piper and artist Donna Dennis), and rocky romantic life. In 1972, she joined the women's cooperative A.I.R. Gallery as one of twenty founding members, alongside such artists as Judith Bernstein, Howardena Pindell, and Nancy Spero. The members' work, selected by a small committee, ranged in style and media; the cooperative structure of the gallery illustrated A.I.R.'s feminist politics as well as its dedication to various social issues. Mayer remained a member until 1974.
Her breakout works, first shown in a 1973 solo exhibition at A.I.R., included a series of draped fabric sculptures titled after female historical figures. The accompanying press release listed her references matter-of-factly. The Catherines (1973) was named for eminences of the past, including Caterina Sforza, "who was a rival of Lorenzo de' Medici"; empresses Catherine I and II of Russia; and the religious mystic Saint Catherine of Siena.3 The work consisted of diaphanous swags of nylon, cheesecloth, and rayon, arrayed over a teardrop-shaped armature, in shades from gold to plum. The two other sculptures on view, Hroswitha (1972–73) and Galla Placidia (1973), paid respective homage to a tenth-century German Latin poetess and a regent of the Western Roman Empire who ruled in her son's stead. Like The Catherines, they were fashioned from colorful lengths of everyday fabrics, suspended from the walls to evoke sails or underskirts.
Mayer learned to embroider, sew, and crochet as a child. In 1971 she created works with fabric that surrendered to forces such as air currents, called Veils, applying oozes of paint to nylon, voile and other cloths. Her influences included Robert Morris, who marked the beginning of his Postminimalist period with felt installations, and the Color Field painter Morris Louis, who stained his canvases with pours of acrylic paint in his Veil series (1958–59). In an artist statement, she wrote, "The art object should not be still, unmoving and independent of its circumstances. Nothing is."4 Mayer, too, made a series called Veils, applying oozes of paint to nylon, voile, and other cloths. Some pieces had personal undertones. Veils III (1971), sometimes called "the abortion," followed a pregnancy scare.
The works shown at A.I.R. took a further step toward forging a connection between her abstract aesthetic and her politicized involvement in the women's movement. But she rejected the idea that her sculptures had anything to do with biological essentialism. She described her allusions to bygone women as "a deliberate feminist gesture to connect these works to a large body of female experience, but not to any particulars, especially not to sex."5 The critic Lawrence Alloway concurred. He admired her sculptural evocation of "feminine presence" without reducing her art objects to costume design or portraiture: "Mayer has taken the Surrealist concept of the personnage and invested it with renewed semantic power. The personnage was a totemic, ancestral, or regressive image manifested in forms that relied on the human contour, but without specifying details [. . .] Thus the feminine figure is absent as well as present, missing as well as given."6
Mayer's research into the ephemeral and spiritual worlds deepened over the following years. She professed a fascination with mysticism from a young age; her fabric pieces imply the forms of veiled women, such as nuns, as well as spectral traces. In an interview, she recalled a discussion in a female artists' group about space: "The room was divided between women who saw it as empty and were terrified by the space and those on my side who thought the space was full of presences. That thought connects to my work, that those presences are everywhere."7
Despite her interest in extrasensory phenomena, Mayer did not deny sensuality in her work. Her vibrantly colored drawings for her fabric pieces—which she used as studies and also treated as stand-alone works—drew early comparisons to Baroque art. In the mid-1970s, she embarked on a major translation project connected to the Early Modern Period. She learned old Italian to translate the diaries of Jacopo Pontormo, a sixteenth-century Florentine Mannerist artist whose religious paintings featured lush, billowing textiles. It took Mayer four years, from 1975 to 1979, to complete Pontormo's Diary. The book interspersed her own words with those of the painter, who recorded his health struggles as he worked on his final, incomplete Last Judgment commission for the San Lorenzo Basilica. "I attempt to connect his time and my own as two periods that follow times of consensus, periods in which art has to proceed from particular experience [. . .] Periods of exhaustion, withdrawal, desperation," Mayer wrote.8 Her diary precipitated a pivot in her writing, too. In 1976, she stopped penning criticism—which she had done on a freelance basis for several years—to focus on personal material and essays. While Mayer was immersed in Pontormo's writing, she was simultaneously developing a new visual language for a series of public art projects. She called these works, which combined the registers of celebration and memorial, Temporary Monuments.9 She admired the rituals, parades, and pageants of eras such as the Baroque—in particular, the way the role of the artist-as-designer was integrated into civic life. Part of her inspiration for this series also derived from her close friendship with the artist Ree Morton; the two shared an affinity for overtly feminine imagery, medieval heraldry, and the aesthetics of everyday festivities like birthday parties.10 In 1975, Morton received a Creative Arts Public Service (CAPS) grant for Something in the Wind, a project at New York's South Street Seaport. She suspended a hundred hand-sewn flags—each dedicated to a friend, including one for Mayer—from a docked ship. In 1977, Mayer conceived the installation Spell to celebrate the reopening of the Jamaica, Queens, farmers' market, with the support of her own CAPS grant. Evoking springtime festivals, she tied together a group of large balloons, ribbons, and orange fabric that she intended to float in the air. Inclement conditions caused the sculpture to fall apart. But this failure of sculptural engineering spurred Mayer to examine her own family's history and to reconsider expressions of loss and remembrance.
She sited her next—and most personal—outdoor sculpture, Some Days in April (1978), at a private residence in upstate New York. For this piece, Mayer tied seven large balloons to posts in a field. Each balloon commemorated someone who had died in April—including both of her deceased parents, whose birthdays were in April, and Morton, who died in a car accident in April 1977. Mayer wrote a deceased person's name, the name of a star and flower associated with the spring season, and a number on each individual inflatable. Balloon for a Birthday (1978), her final installation of this type, was tethered to a friend's Manhattan rooftop. Mayer tried to elicit audience participation by distributing flyers on the sidewalk below calling attention to the roof, though the work could only be fully experienced from a bird's-eye (or private resident's) perspective.
For her next public intervention, she chose a prominent location—and a substance almost as evanescent as helium. At the Lenox Library, Massachusetts, she crafted Snow People (1979), a series of slowly melting snow sculptures dedicated to anonymous individuals from the town's past. One of Mayer's final temporary monuments, Moon Tent (1982), compressed the duration of her work to a single night. On October 2, 1982, the artist wrapped a pavilion on the top of art historian Robert Hobbs's residence in glassine paper and invited friends to revel from dusk to dawn. The event channeled her longtime studies of astrology and ancient rituals, while also foreshadowing future generations of socially engaged art practices that embraced actions like dinners and processions.11
Simultaneously with her work outdoors, Mayer constructed a series of Ghost sculptures that conjured the transience of anonymous "presences" she sensed in empty spaces. Atop spindly bases of wood coated with metallic paint, she arrayed swirls of lightweight paper and bits of pale fabric. She made these objects throughout the 1980s, often thanks to the support of artist residencies at small university galleries. The first Ghost appeared on the occasion of Times Square Show, an ad-hoc exhibition in June 1980 organized in New York by the young artist collectives Colab and Fashion Moda. The show was held in a former massage parlor—a typical location in the then-seedy district—and featured works by more than a hundred artists, including rising stars Jean-Michel Basquiat, Jenny Holzer, and Kenny Scharf. Mayer installed a Ghost in the basement along with a painted flag of women's first names, purportedly to remind viewers of the nameless, long-dead prostitutes who worked in the building. But her poetic, process-oriented work jarred with the rest of the show, which ushered in the styles of punk, graffiti art, and agitprop. In a column devoted to Mayer's work later that year, Lawrence Alloway remarked that, "though present, she did not look at home" in the show.12
Alloway, who had championed Mayer's work for years, frankly acknowledged the problems of artists like her as a new decade, and a hyper-inflated commercial art market, dawned. "She typifies a largely undiscussed problem of today's crowded art world," he wrote. "Her situation is that of an artist in her thirties with a solid record of work, but without a gallery at which it can be consulted."13 With grants drying up for alternative spaces and individual artists, and no income from sales, Mayer took a full-time job in the early 1980s at an advertising agency. She continued to make work in various mediums, such as a group of sculptures that reference Greek amphorae. In the 1990s and 2000s, she devoted more of her energy to teaching art—a calling that reignited a love of graphic narrative and illustration in her later years. Never again, though, would she work with the rigor and support that she had in the 1970s, buoyed by the feminist movement and the art world's Postminimal enthusiasm for process art. Her preoccupation with the fleeting, the spirit world, was darkly ironic as her own presence seemed to vanish from the art world's memory.
In 2016, two years after her death, Mayer was the subject of her first solo show since 1985. Presented at Brooklyn's SOUTHFIRST gallery, the exhibition presented her writings, drawings, and early fabric sculptures. Mayer's fêted rediscovery, timed with the uptick of enthusiasm for second wave feminist art, was coorganized by art historian Maika Pollack in collaboration with Mayer's niece and nephew, Marie and Max Warsh. As directors of her Estate, they also planned intimate studio tours and slideshows of her photographs documenting pieces long lost.
Mayer's reputation has since grown, and in 2020, her work received its European debut. At Kunsthalle Basel last winter, artist-curator Nick Mauss selected two of Mayer's 1970s works, and collaborated with her Estate on "reenactments" of Ghosts, for a transgenerational exhibition titled Bizarre Silks, Private Imaginings and Narrative Facts, etc. Because no extant Ghost sculptures survive, the Estate constructed them anew in consultation with Mauss, titling them with the month of their debut (February) and constellations on view in the European sky that winter. Due to COVID-19, the entire exhibition shuttered just weeks after its vernissage, leaving curious viewers only with documentation of Mayer's fluttering pieces on the museum's website. The show reopened in September, timed coincidentally with ChertLüdde's solo presentation of Mayer's 1970s works during Berlin Art Week. Looking ahead, in autumn 2021, the Swiss Institute will present her first solo institutional exhibition in New York in decades.
It seems fitting that Mayer's work, which honored life's impermanence and glorified ceremonial gatherings, is attracting a new audience in the moments around a global pandemic. Her legacy, too, is an instructive example of how cooperative, alternative spaces have nourished intellectually adventurous art. Across her fields of endeavor, Mayer's efforts are impossible to categorize in just a few words. Yet her practice exemplifies a feminist ideology of interconnectedness—emphasizing that history always informs the present, that form is fused with content, and that artists thrive or falter in tandem with the politics of their supporting structures.
[1]  Marie Warsh, ed., Excerpts from the 1971 Journal of Rosemary Mayer (Chicago: Soberscove, 2020), 76.
[2]  Adrian Piper, "Rosemary Mayer (1943–2014)," artforum.com, (December 11, 2014), https://www.artforum.com/passages/adrian-piper- on-rosemary-mayer-1943-2014-49436.
[3]  Press release, "Rosemary Mayer at A.I.R., April 28–May 16, 1973".
[4]  Rosemary Mayer, "Passing Thoughts," artist's statement, November 4, 1978.
[5]  Mayer, "Passing Thoughts."
[6]  Lawrence Alloway, "Rosemary Mayer," Artforum 14, no. 10 (Summer 1976): 36.
[7]  Hillary Kane, "Interview with Rosemary Mayer," Women in the Arts II
(New York: School of Visual Arts, 1976), 17, quoted in Maureen Connor, "The Pleasure of Necessity: The Work of Rosemary Mayer," Woman's Art Journal 6, no. 2 (Fall 1985–Winter 1986), 36.
[8]  Mayer, "Passing Thoughts."
[9]  Rosemary Mayer, "Spell," 55 Mercer Street, press release (January 15– February 16, 1979), Rosemary Mayer Archives, quoted in Marie and Max Warsh, eds., Temporary Monuments: Work by Rosemary Mayer 1977– 1982 (Chicago: Soberscove, 2018), 7.
[10]  Gillian Sneed, "'Pleasures and Possible Celebrations': Rosemary Mayer's Temporary Monuments 1977–1982," in Temporary Monuments, 11.
[11]  Sneed, "'Pleasures and Possible Celebrations,'" 27.
[12]  Lawrence Alloway, "Art," The Nation, December 6, 1980, 621.
[13]  Alloway, "Art," 621.

Rosemary Mayer (1943–2014) was a significant figure in the New York art scene from the late 1960s through the 1980s. A prolific artist and writer, and active participant in feminist artistic discourses, Mayer was intimately involved with a close-knit network of fellow artists, scholars, and gallerists. In 1972 she was a cofounder of A.I.R. Gallery, New York, the first nonprofit, artist-directed gallery for women artists in the United States. While she was alive, Mayer exhibited at numerous alternative art spaces in New York, including The Clocktower, SculptureCenter, and Franklin Furnace, as well as several university galleries. In 2016, SOUTHFIRST, Brooklyn, held a major exhibition of her work, igniting renewed interest. In 2017 the Museum of Modern Art, New York, acquired some of Mayer's drawings and artist's books from the 1970s. Her work was part of the exhibition Bizarre Silks, Private Imaginings and Narrative Facts, etc., curated by Nick Mauss at Kunsthalle Basel in 2020. A solo presentation of her work is on view at ChertLüdde, Berlin. In autumn 2021, the Swiss Institute will present her first solo institutional exhibition in New York in decades.
Wendy Vogel is a writer, critic, and independent curator. She regularly contributes to Artforum, Art in America, and art-agenda, among other publications. Vogel teaches in the photography department at Parsons School of Design, New York. She is a 2018 recipient of the Creative Capital | Andy Warhol Foundation Arts Writers Grant.
Originally published in Mousse 73