Mousse 72 TIDBITS
Cosmopolitan Other: Salman Toor
Close
1
2
3
4
5
6
7
8
9
10
11
12
13
14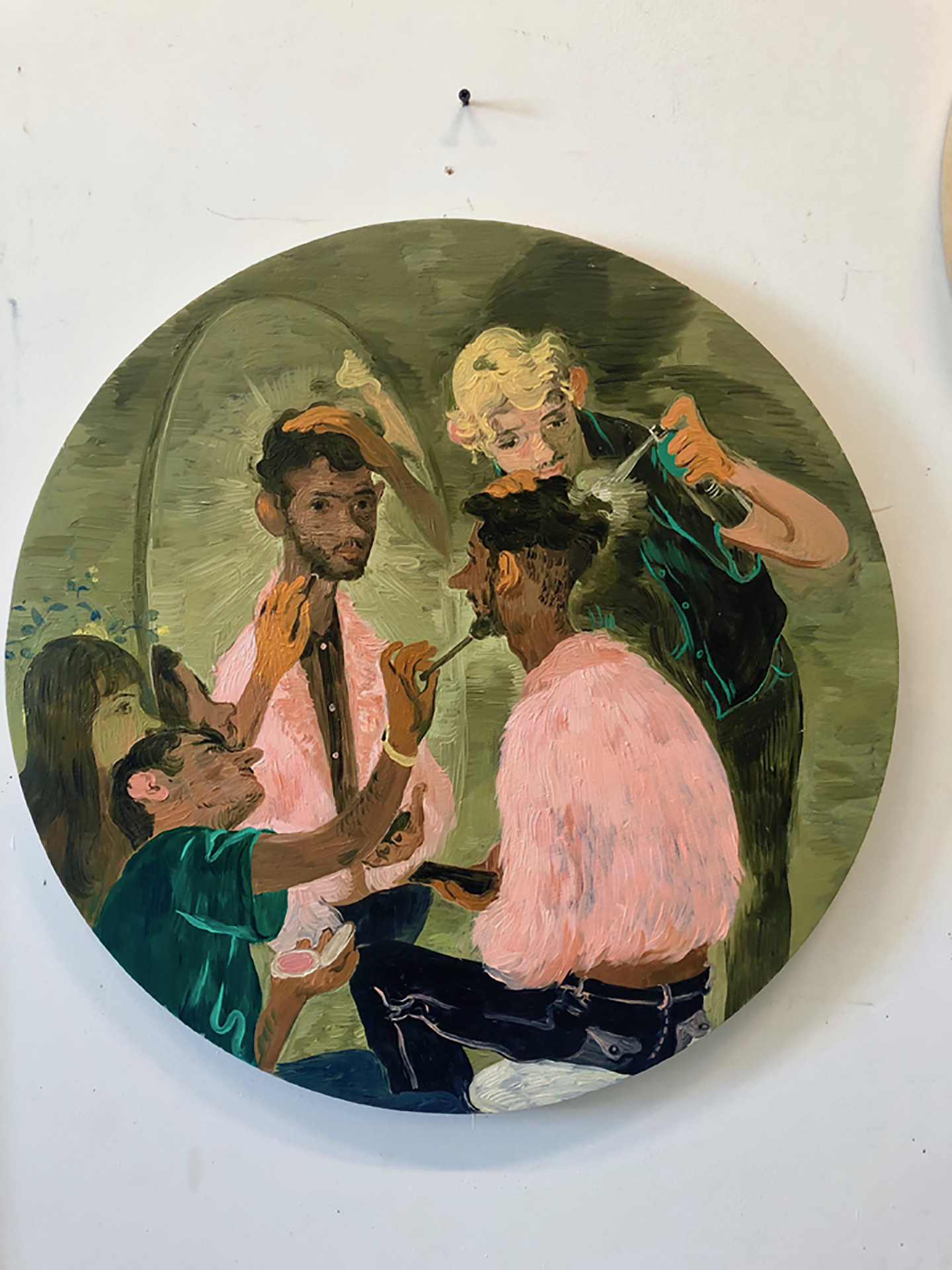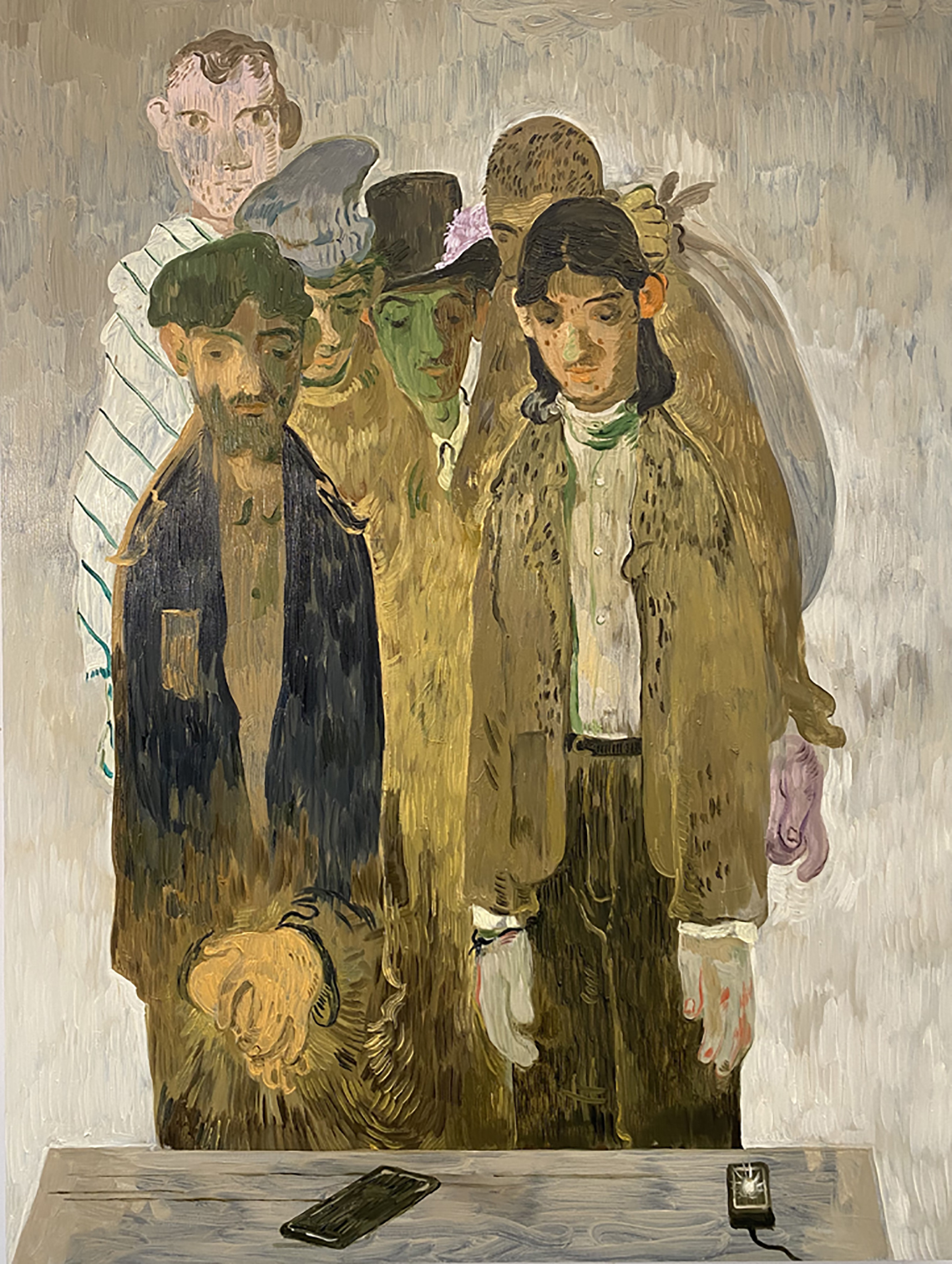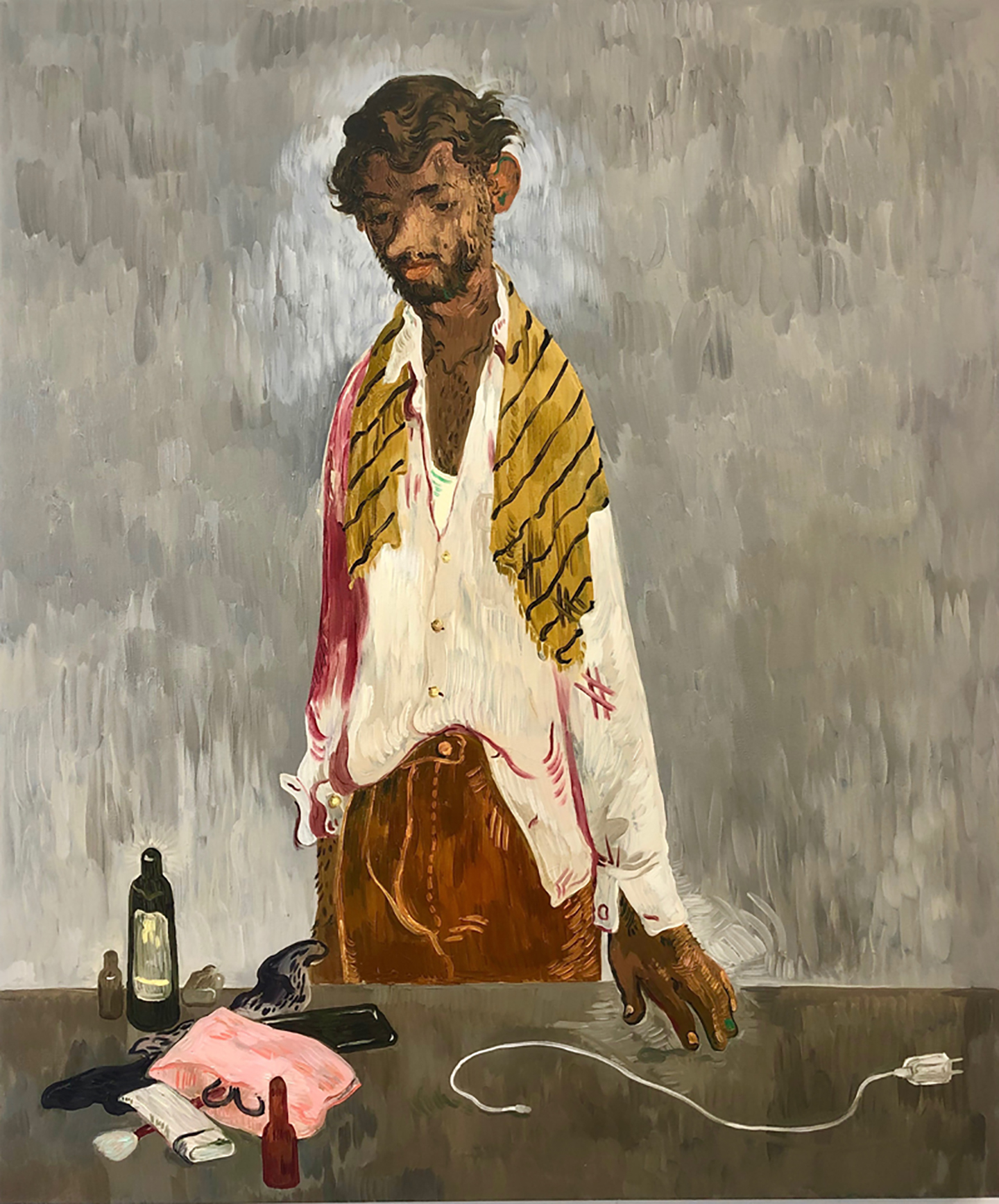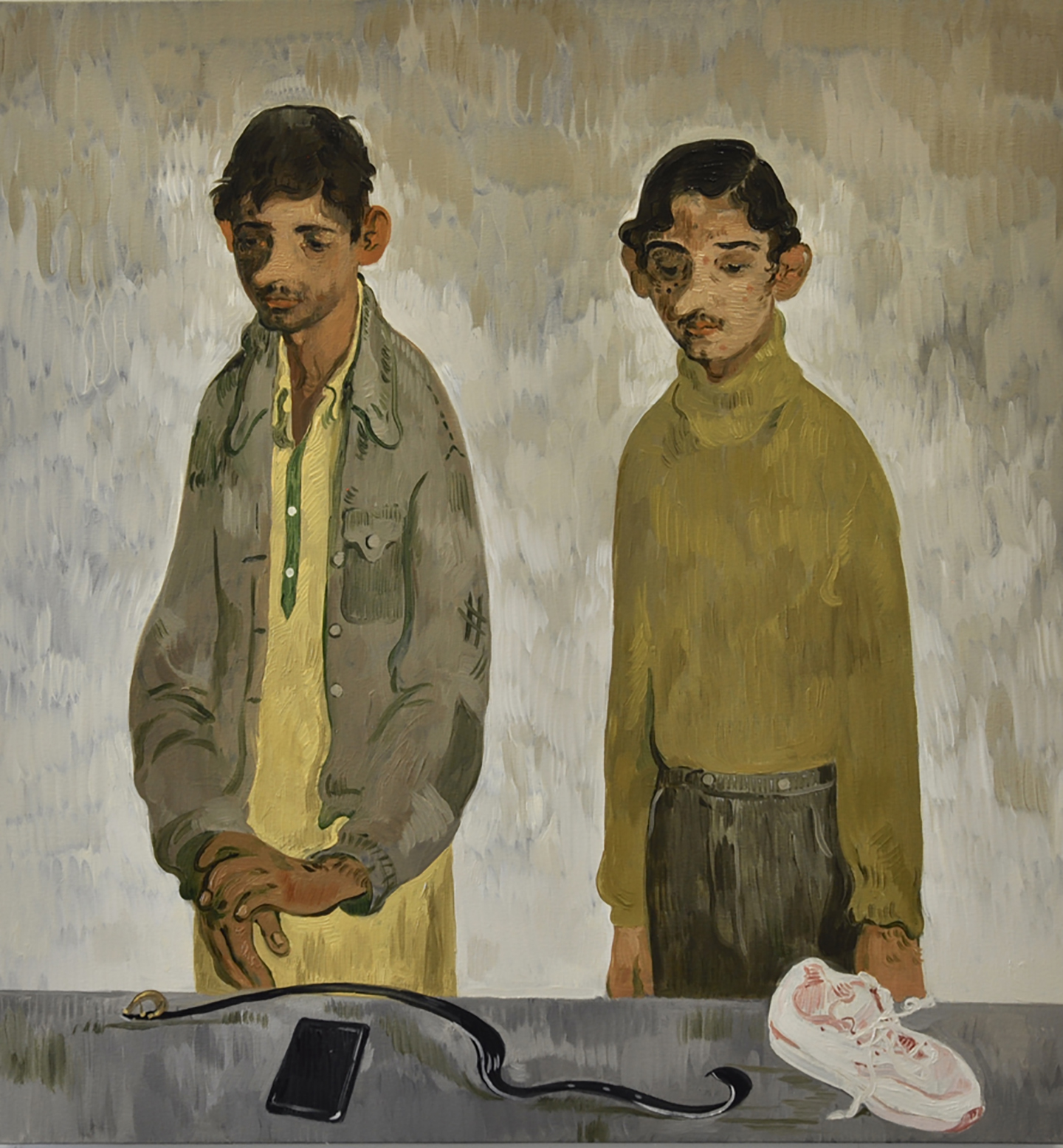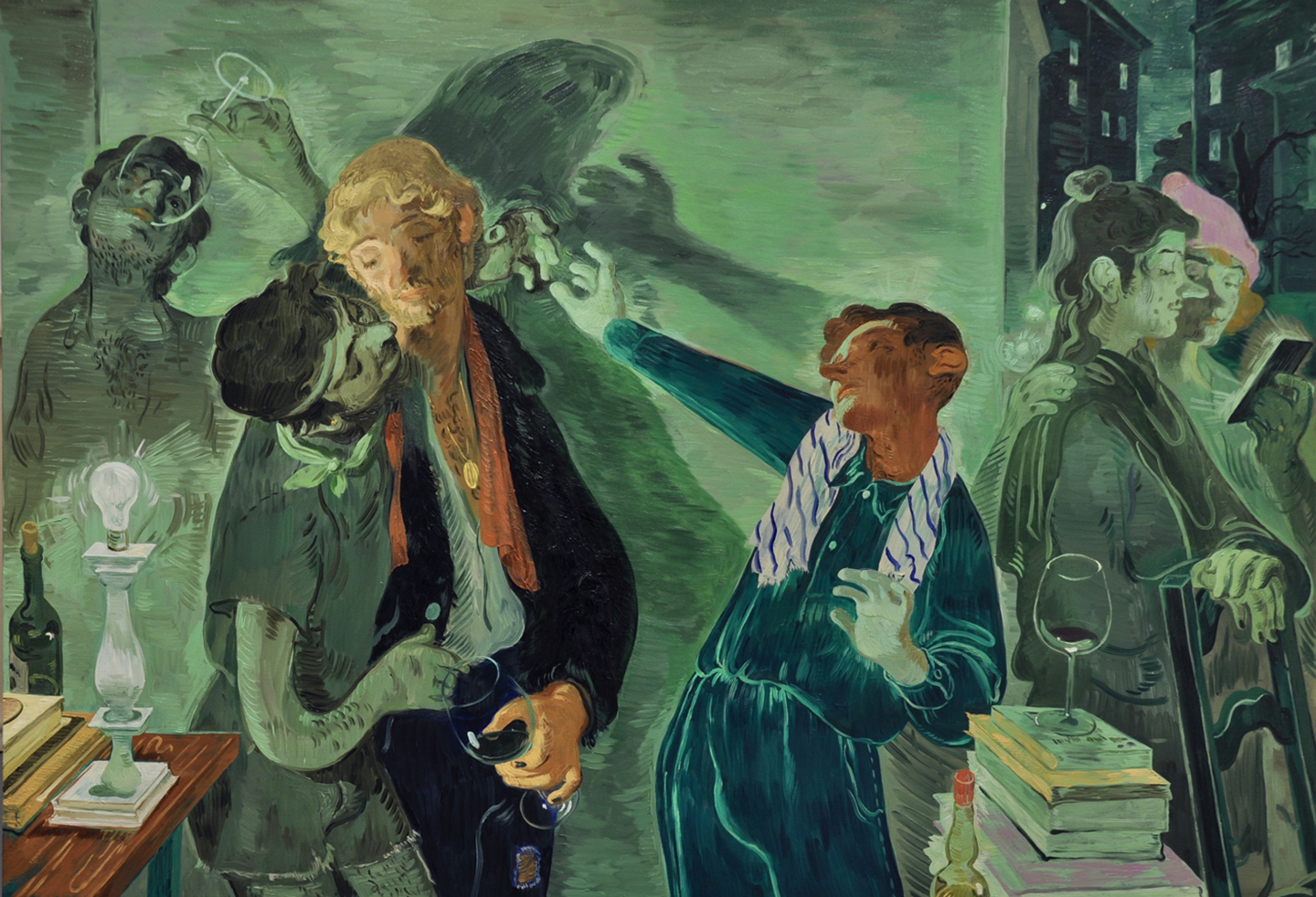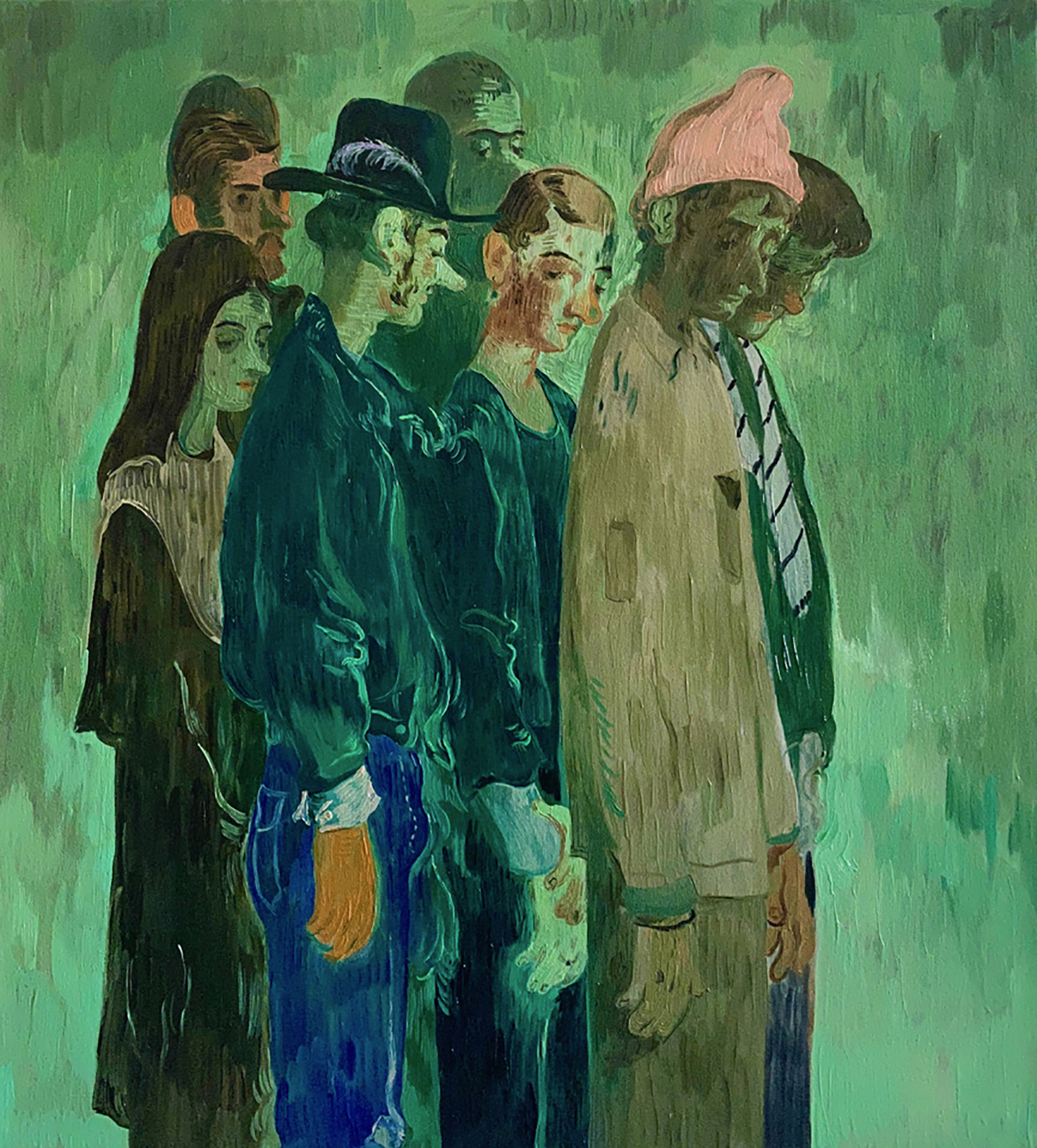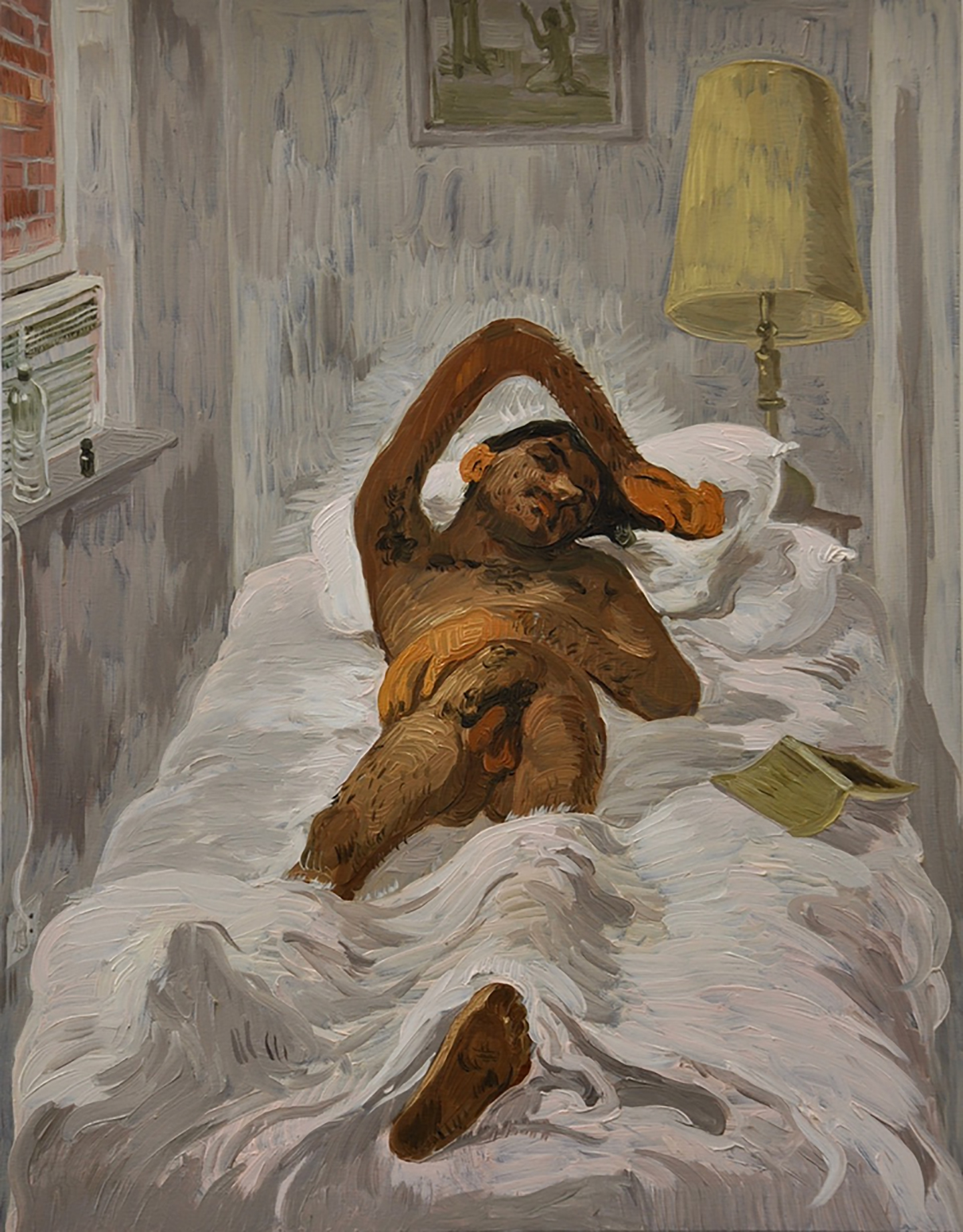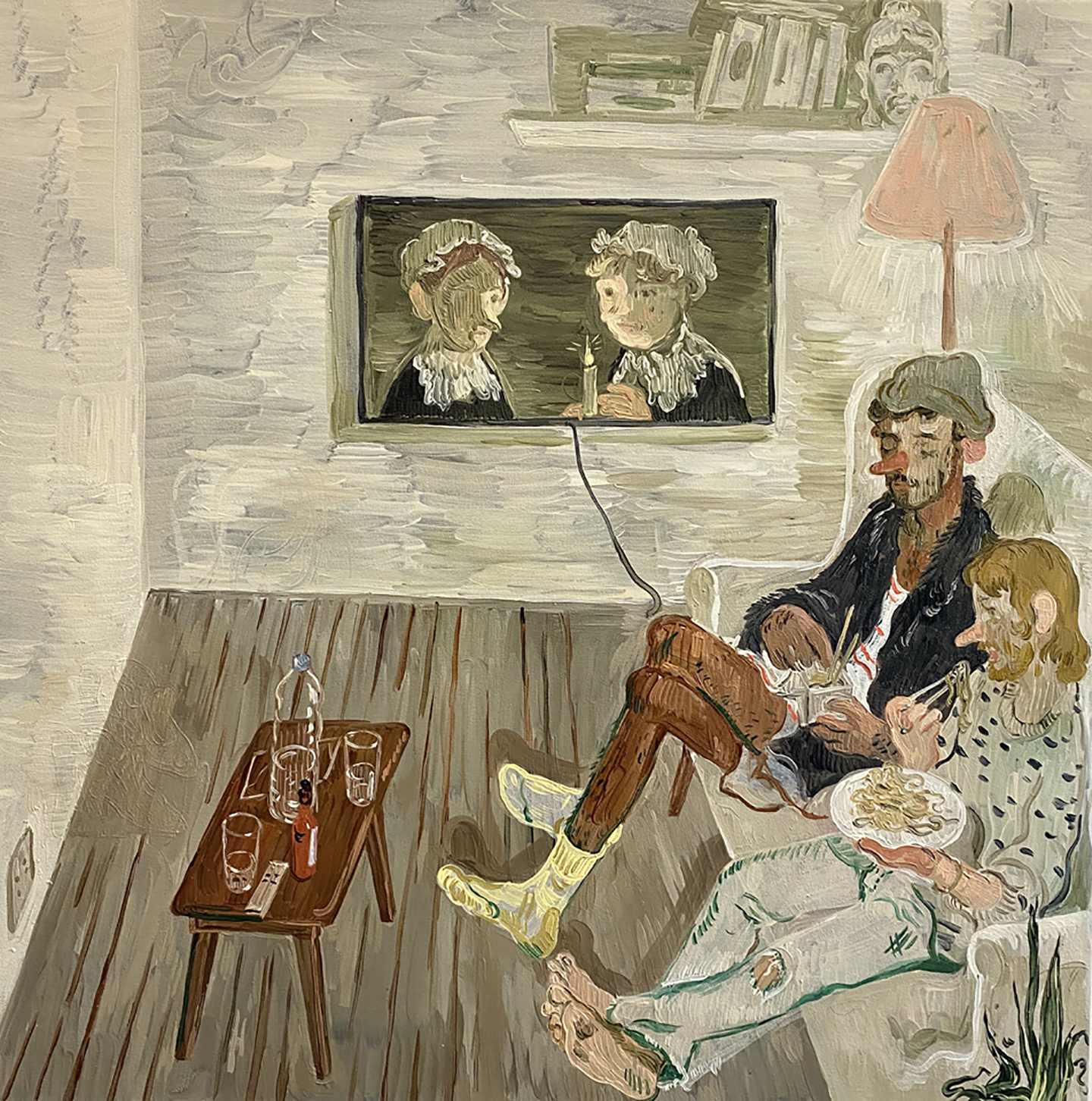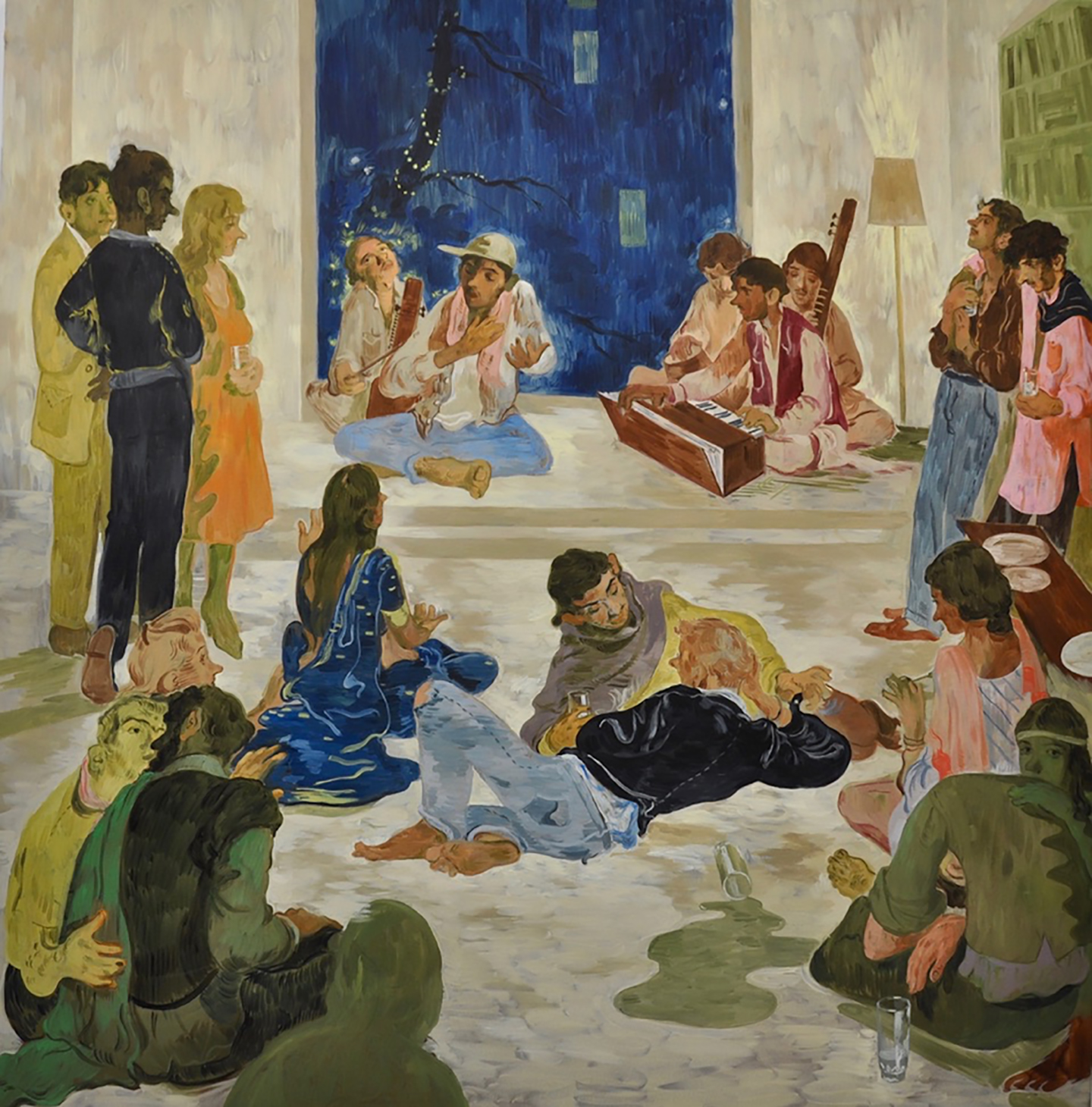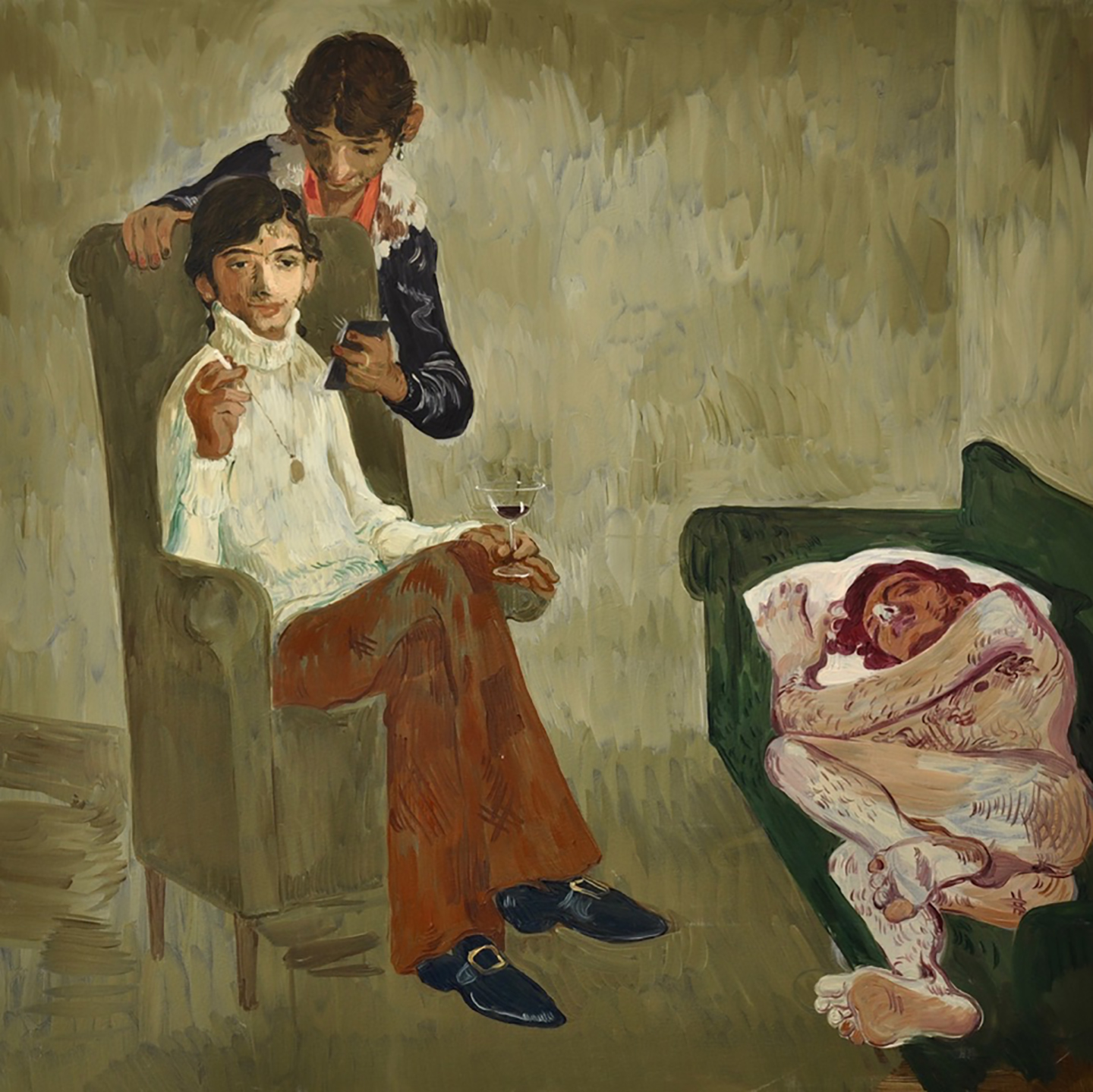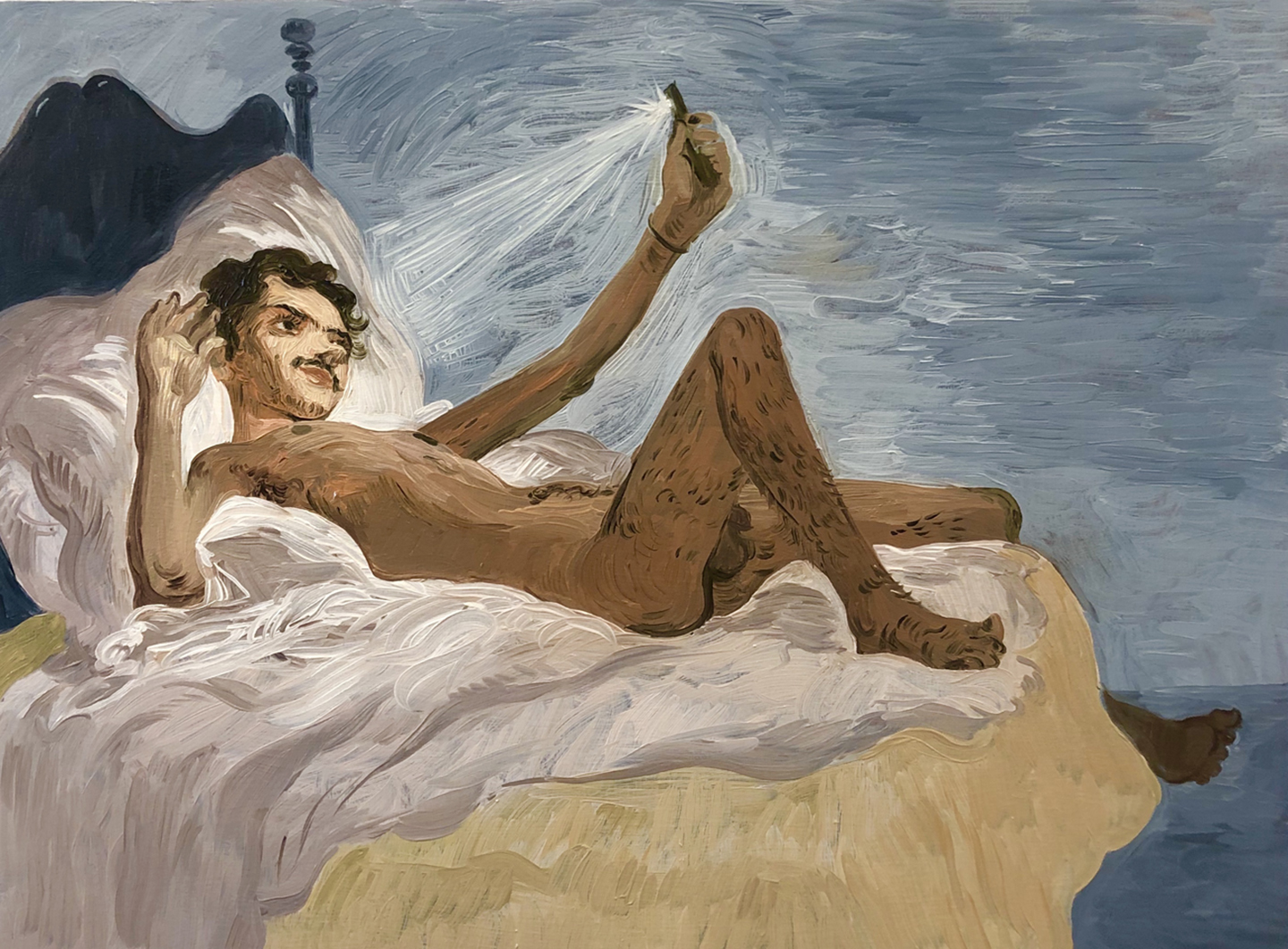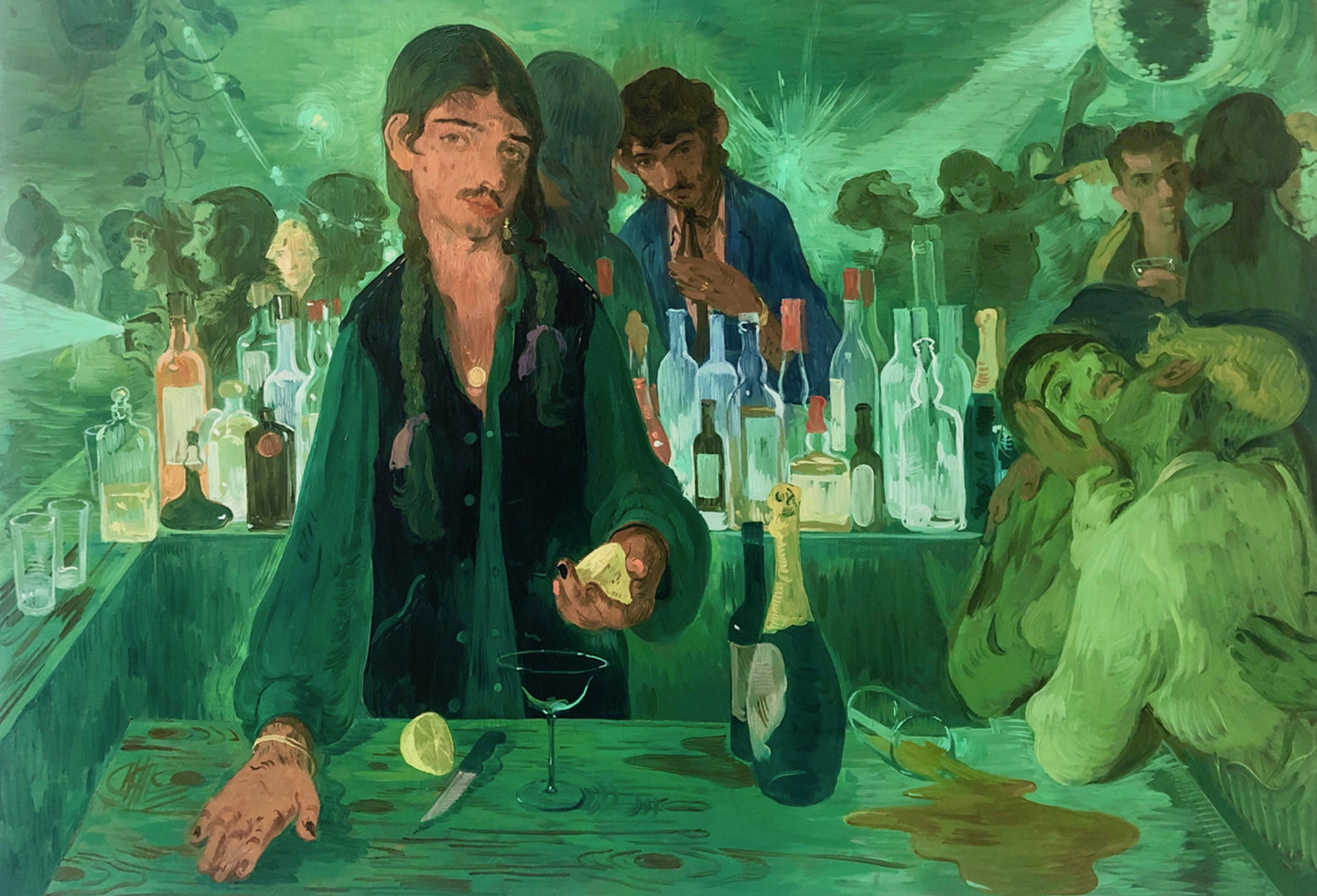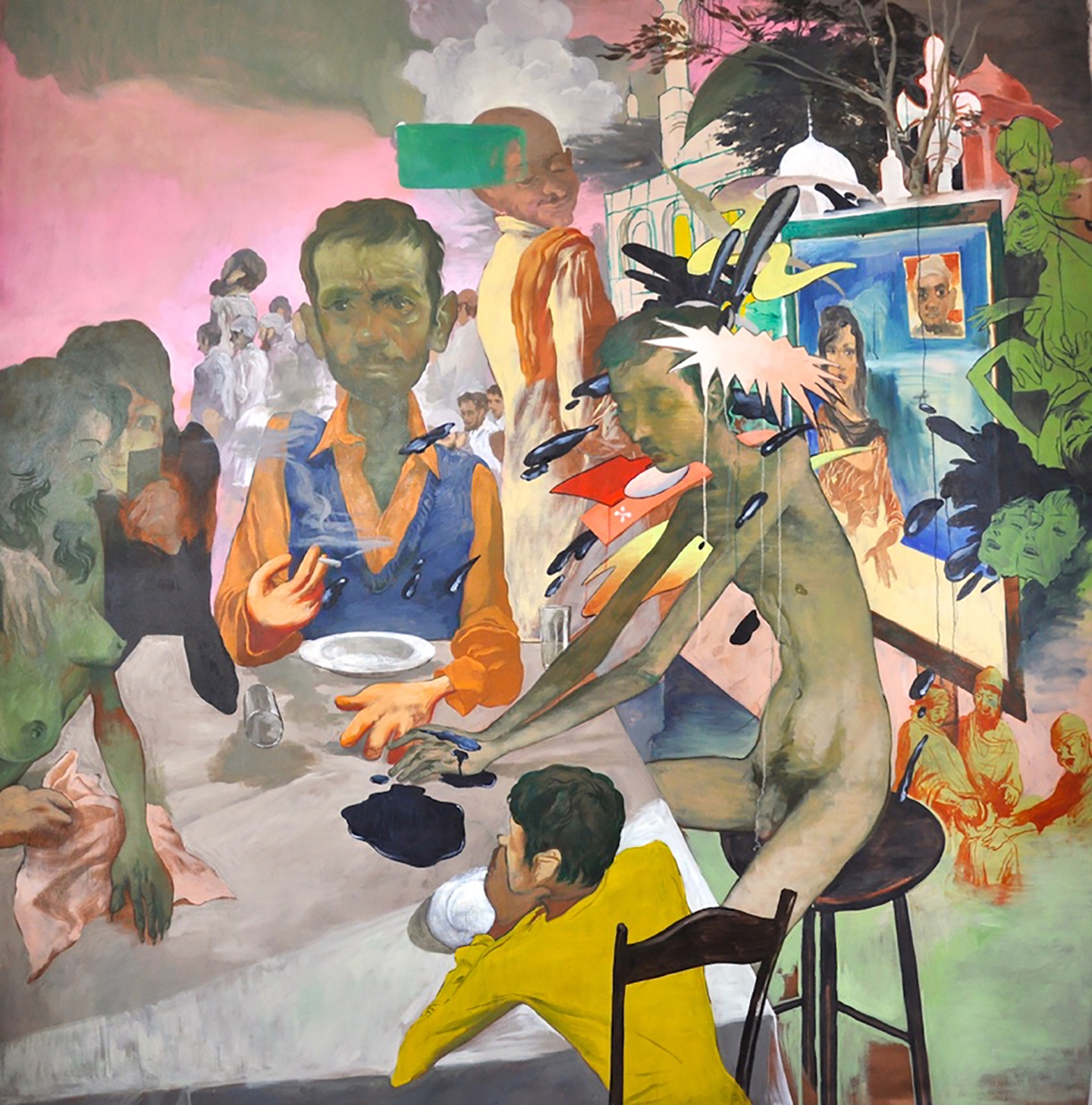 by David Everitt Howe
Salman Toor's intricate scenes of gay men socializing in bars, bedrooms, and other urban spaces portrays Brown men navigating the complexities of assimilation and otherness with both joy and solitude. While often portrayed in groups, there's something always "other" about them.
Charles Baudelaire once compared entering the metropolis to "bathing in the multitude"—a drunkenness of "universal communion" where "the unforeseen arises, the unknown person passes."1 With his lush, figurative scenes of gaggles of gay men hanging out in watering holes, outside brownstones, and on street corners with a drink in every hand, Salman Toor seems to channel romantic notions of urban living—of being alone in a crowd, one of many. Based in Brooklyn but hailing from Lahore, Pakistan, Toor spent his time in school trying to paint like European Old Masters, combining stylistic elements from Rococo, the Dutch Golden Age, and early Modernism, among many other periods, with inspirations from contemporary figurative painters and influences from his own personal experiences as a queer-identifying Brown man caught between East and West. His project is, in part, to "enter Brown bodies into the language of the humanities, symbolized by the European nude," he notes.2 This tension runs throughout all of his work; there is almost always a Brown body surrounded by a veritable sea of white ones.
Take Bar Boy (2019), in which we see a South Asian gentleman in the dead center of the canvas, surrounded by groups of white people clutched together, spinning martini glasses in their fingers. Standing alone, the central figure gazes at his phone, his wide-brimmed hat seemingly lifted from the type ubiquitous in seventeenth-century Dutch painting, such as those by Frans Hals the Elder. Art critic Peter Schjeldahl called Hals the "virtuoso of the visible brushstroke" and—at the risk of exaggeration —the same could be said of Toor.3 In Bar Boy, reckless crosshatches and flighty daubs of paint add depth and shadow, while swelling shades of green reminiscent of the monochrome backgrounds of Pablo Picasso's Blue and Rose periods build up and around the solitary man, transforming an ordinary wall into anything but; it's more like hormones or electricity under the influence, languorously discharging.
Hals's nonacademic, "unfussy" painting style is said to have greatly inspired Édouard Manet,4 so it's perhaps no surprise that Manet is also one of many tools in Toor's arsenal. Not only is Toor's mode of working like Manet's —in the studio and always from his imagination—but he also directly references the elder's works. The undressed man sleeping next to his laptop in Bedroom Boy (2019) recasts Manet's Olympia (1863) as a Brown, queer youth. The Bar on East 13th Street (2019), meanwhile, takes its whole composition from Manet's A Bar at the Folies-Bergère (1882), though Toor again replaces the titular female bartender with a Brown male variant, and Manet's relatively straightforward coloring with the woozy, almost psychedelic green that filters most of Toor's bar scenes. A disco ball in the top right corner of the canvas and the flash of a smartphone camera at bottom left firmly situate The Bar on East 13th Street in contemporary times.
If, like the Dutch hat, we could identify an object or accessory that functions for Toor like a trademark motif, surely it's the tech gadget—smartphone, charger—that sticks out like a sore thumb amid the artist's pervasive quotations of historic dress, settings, and compositions. In The Convalescent (2019), one man leans into another to show him his phone's screen, while another naked man relaxing in bed in Bedroom Boy lifts his phone high in the air, its glowing screen radiating spectral, almost religious beams of light.
Far from being harmless signifiers of contemporary culture, Toor's gadgets point to the pernicious ways technology capitalizes, literally, on social relationships in a metropolis, the "various forms of community… that [make] possible the functioning of industrial capital, finance capital, merchant capital, and all others."5 Moreover, every- day acts like finding a bar or cruising for sex on Grindr can, of course, have unintended, grave consequences for Brown men who are inevitably caught up in the politics of immigration, patriotism, and the surveillance state. Rendering this explicitly, Group (2020) portrays downcast men huddled behind a table on which two smartphones rest, painted from the point of view of two US Customs and Border Patrol agents tasked with guarding a narrow "Make America Great" agenda. Turning the table literally, Toor depicts two Brown boys being interrogated by one such agent in Untitled (2017), which makes vivid Hiram Perez's claim that because brown is not white or black, nor white or Asian, its ambiguity is "opportunistically… deployed at times of crisis—as instanced by the intensified race profiling authorized by 9/11."6
It's paintings like these that cast Toor's work in a much more complicated light. Far from merely joyous, rollick- ing social scenes of camaraderie and desire, there's something immeasurably dark about the artist's othered subjects, awash in difference. They are of their worlds and not, simultaneously.
1. Charles Baudelaire, "La Foule," in Œuvres completes, ed. Marcel Ruff (Paris: Seuil, 1968), 155.
2. Ambika Trasi, "The Self as Cipher: Salman Toor's Narrative Paintings," Whitney Museum of American Art, New York, accessed May 31, 2020, https://whitney.org/essays/salman-toor-self-as-cipher.
3. Peter Schjeldahl, "Haarlem Shuffle," The New Yorker, August 8, 2011, https://www.newyorker.com/magazine/2011/08/08.
4. Schjeldahl, "Haarlem Shuffle."
5. Michael Hardt and Antonio Negri, Commonwealth (Cambridge, MA: Belknap Press of Harvard University Press, 2009), 271.
6. Hiram Perez, "You Can Have My Brown Body and Eat It, Too!," zSocial Text 23, nos. 3/4 (Fall–Winter 2005): 176.
Salman Toor (b. 1983, Lahore) lives and works in New York. He received his MFA in painting at Pratt Institute, New York in 2009. His paintings are figurative, varying in scale and style, ranging in subject from art history to queer culture to postcolonialism. Toor has had several solo exhibitions in the US and Pakistan, and has participated in significant group shows such as the Kochi-Muziris Biennale (2016). A recipient of a 2019 Joan Mitchell Foundation grant, he has been profiled in a number of publications, including Interview, W Magazine, ArtAsiaPacific, Foreign Policy, THEM, GAYLETTER, Hyperallergic, New York Magazine, and the New York Times. His solo show at the Whitney Museum of American Art, New York, is scheduled to open in November 2020.
David Everitt Howe is a New York-based critic and curator at Pioneer Works, New York, since 2015. He helped establish the nonprofit's exhibition and studio program; organized first-ever institutional solo shows by Charles Harlan, GaHee Park, Doreen Garner and Kenya (Robinson), Demian DinéYazhi' and R.I.S.E., and Gerard & Kelly; and founded the organization's performance art department. Forthcoming projects include exhibitions by Patty Chang and Laura Parnes, and a new performance commission by Dynasty Handbag. Previously Howe was online art editor at BOMB, associate director for Dirty Looks, and curatorial/development associate at Participant Inc. His curatorial work has been profiled in Artforum, the New York Times, the New Yorker, and the Brooklyn Rail, and his criticism has been featured in Art in America, Artforum, Art Review, the Village Voice, Flash Art, frieze, Mousse, Afterall, and BOMB, where he remains a contributing editor. He received his BFA from the Savannah College of Art and Design and his MA from Columbia University.