News
Hilary Lloyd "Robot" and Wilhelm Sasnal "Columbus" at Sadie Coles HQ, London
Hilary Lloyd "Robot"
Sadie Coles HQ is delighted to present a new installation by Hilary Lloyd, opening in Frieze Week at the gallery's project space at 62 Kingly Street, The Shop. This is the first exhibition to take place in the small street-level space adjoining the main gallery, and Lloyd has constructed a multipart installation which harnesses its intimate, domestic scale. To one side is a large tie-dyed curtain, its variegations mimicking the recent lunar eclipse. In its combination of patterned surface and photographic imagery, the curtain finds a parallel in the series of films which play in unison on monitors and as projections. In these Lloyd swerves between—and collapses together—glimpses of the material world and phases of sensual abstraction.
?The four-part collage of films comprising Robot shows Lloyd increasingly using digital editing techniques alongside diverse sequences of raw and found footage.
Throughout, she returns to images of automatist doodles created on a computer—clusters of stars, snaking lines, or coloured circles dragged into meandering daisy-chain loops or wobbly grids, against backgrounds of lilac and green. These convoluted, at times cloyingly decorative symbols and scribblings become the strangely alluring punctuation marks within a ranging and referential sequence of images, suggesting the robotic hardwiring or encrypted sequences that underlie crisp digitised surfaces. At the same time, they harbour an incongruously handmade and haphazard quality (the computerised gradations of colour mirroring, for example, the effects of the tie-dyed fabric). At moments, Lloyd shuffles rapidly between similar images to evoke their quick-fire evolution on the computer screen; while elsewhere, her camera observes the erratic marks with the slowly zooming 'gaze' that has regularly characterised her films. Spontaneous marks and scattered glyphs—of the kind quickly created and quickly erased—are thereby subjected to an unnervingly prolonged and unerring kind of scrutiny, gaining their own unlikely beauty and formalist logic in the process.
In each of these digital concoctions, space is an uncertain quantity—the patterns occupy a single flat plane, while the amorphous fields of colour or blurred forms suggest spatial depth. The same interplay of surface and depth, and exacting attention to incidental or transient visions, extends to all of the films in Robot. In a diptych-style pairing of projected videos, shots of brightly coloured flowers resembling cut-out patterns or digital superimpositions are observed above a blurry ground, alongside a close-up of origami animals. Lloyd's focus and framing move by infinitesimal degrees, homing in on the objects to produce a kind of jamais-vu sensation of alienation or otherness. On a separate monitor, everyday spectacles—a cat, a pair of felt hats—are subjected to sudden phantasmagorical effects, saturated with colour, or interspersed with pyramidal motifs built from the same chains of digital ellipses. In a large projection covering the monitors and surrounding walls, granulated footage of a dog chewing on a toy is bathed in vivid tinctures of lilac and yellow, the viewpoint rotated and cropped so that the animal's purposeful movements and the marks of its black-and-white fur acquire a near-abstract dimension. A glimpse of a wind-up toy robot reveals the source of the installation's whirring, mechanical soundtrack. Obsessive, recursive and verging on the haywired, fragments of everyday reality emanate a robotic aura.
.
until 24 October 2015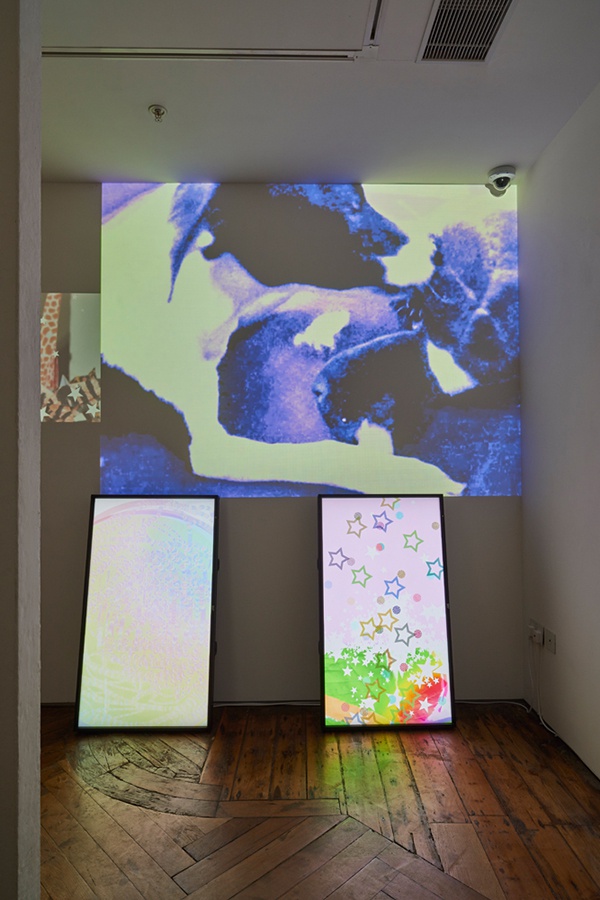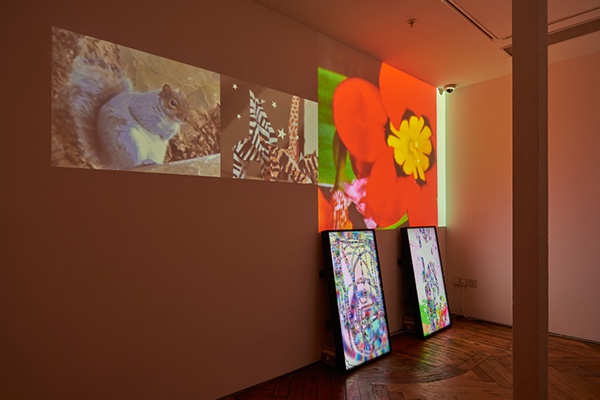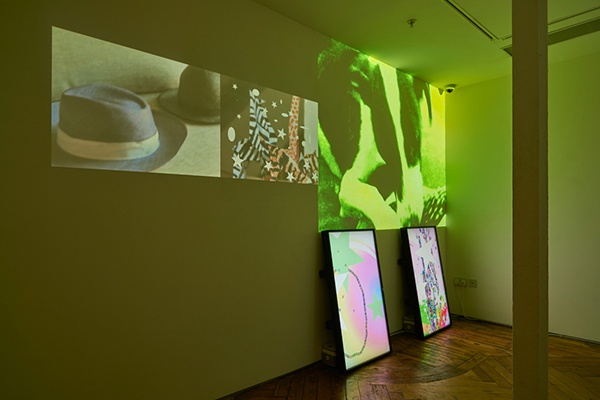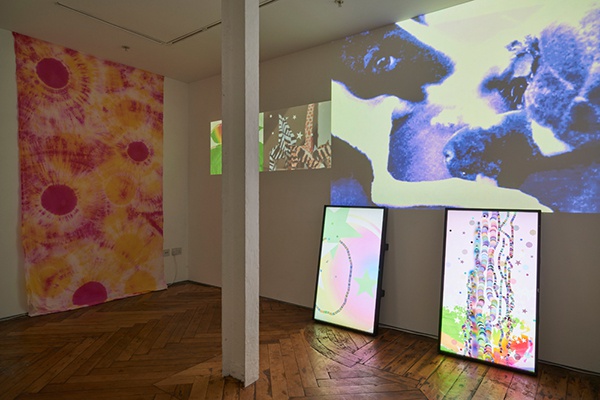 Hilary Lloyd, "Robot" installation views at Sadie Coles HQ, London
Copyright: the artist. Courtesy: the artist and Sadie Coles HQ, London.
.
Wilhelm Sasnal "Columbus"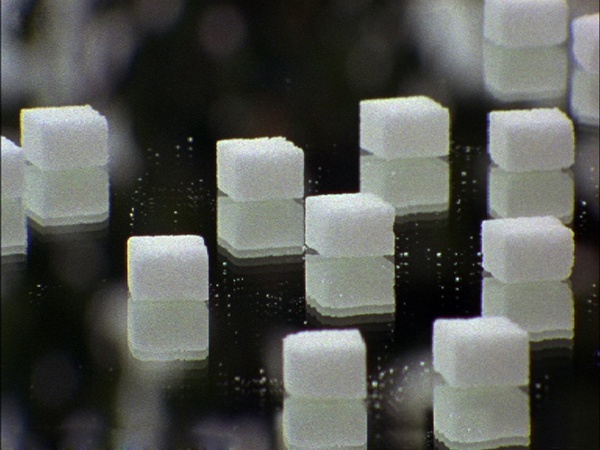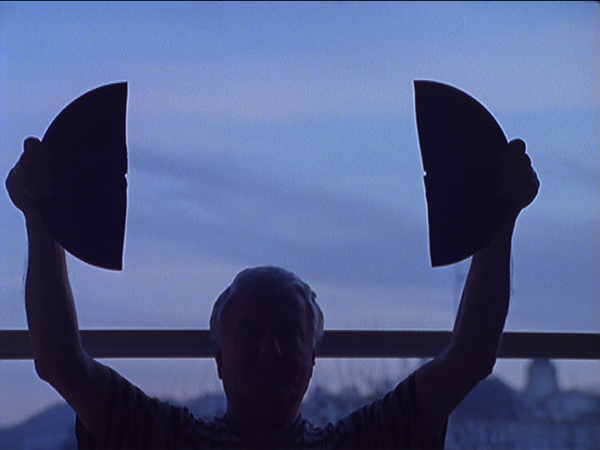 This October at Sadie Coles HQ, Wilhelm Sasnal presents a new film, Columbus, in the gallery's 9 Balfour Mews space. The half-hour composition is the latest in a prolific body of video works that has evolved in parallel to Sasnal's career as a painter, ranging from short experimental pieces to feature-length films. Columbus interleaves sections of film with title cards telling the story of Christopher Columbus. The explorer's voyage to the New World is distilled into laconic statements in which historical fact blurs with otherworldly fable. Shot on a 16mm camera in the artist's hometown of Krakow and in San Francisco, the film compounds the listless, meandering mood of the story. Its disconnected sequences and motifs—a boy wandering through parkland, shaded squares on graph paper, radio masts rising above trees—also transpose the quixotic events onto an abruptly ordinary plane. In parallel to the visual and atmospheric shifts, an instrumental soundtrack—collaged from recordings by classical, electroacoustic and experimental composers—fluctuates between ceremonial chimes, oppressive discordance and expressive interludes reminiscent of film scores.
In this way, Sasnal sets film, text and sound in a mercurial dynamic – the three elements synchronise and splinter over the course of the work. As in his previous short films, the small-scale, occasionally claustrophobic vignettes point to the influence of Polish avant-garde and neo-avant-garde cinema. Footage of the artist's family occasionally dovetails (as if by accident) with the events of the tale, in an echo of the genre of 'Personal Cinema' which proliferated in Communist-era Poland. According to critic Lukasz Ronduda, this style of filmmaking—often linked with the short films of poet Miron Bia?oszewski (1922-1983)— developed close to the artist's life and focused on recording the banalities of everyday life, fantasies, masquerades".
In Columbus, as in Sasnal's paintings, such "banalities of everyday life" are endowed with a heightened yet open-ended significance—abstracted away from their context, made pregnant with unresolved meaning. The razor's edge of a spinning record becomes a metaphor for the flat earth envisaged by Columbus's sailors as they venture across the sea. As the ship stalls on becalmed waters and the sailors descend into madness, a needle suspended on a thread descends over the spinning disk. In reference to Columbus's ship of "irrational design", Sasnal's camera pans over the Modernist interior and exterior of the Arka Pana church in Krakow—a modern-day vessel of the Catholic faith whose architect, Wojciech Pietrzy, conceived of the building as Noah's Ark resting on Mount Ararat.
The story alludes at various moments to Columbus's manic-depressive state of mind (his trip to the New World is inspired, Sasnal relates, by a phase of mania or megalomania) and his recurrent headaches; and a kindred quality of neuralgic fitfulness permeates the entire work. Columbus produces a sense of mundane reality being coerced into the fanciful shapes of myth, or conversely of myth dissolving into shapeless reality (supporting the theory, perhaps, that even the most fabulous tales find their historical basis in real-life phenomena). A melting sugar cube evokes the frothing water around Columbus's ship; and later, sugar cubes arrayed in Minimalist formation on a table stand for the settlements established by his men in the New World (a glancing reference to the fact that sugar was first exported to the New World by Columbus on his 1492 voyage). Yet as much as they "illustrate" the tale, these everyday spectres interrupt and resist the narrative flow. They jolt viewers out of the annals of history and fiction, and into the concrete realm of the here and now.
.
until 24 October 2015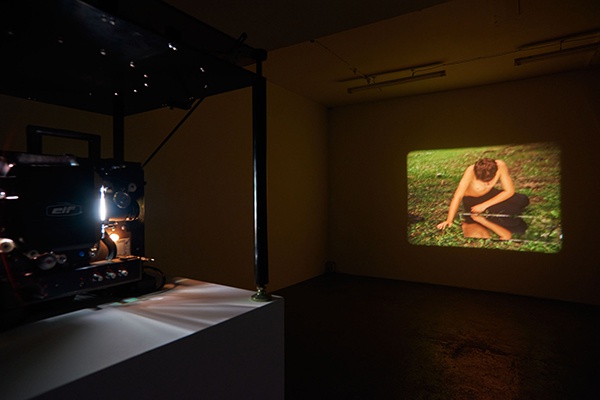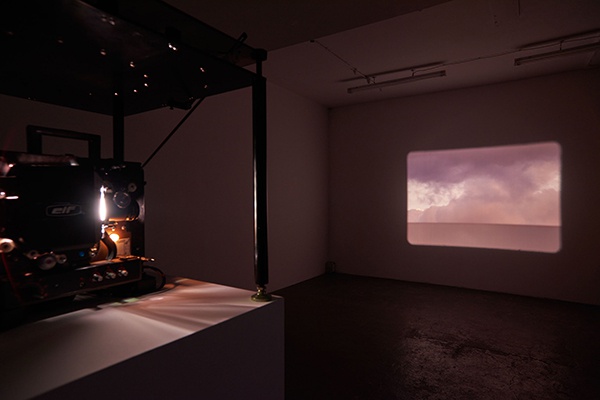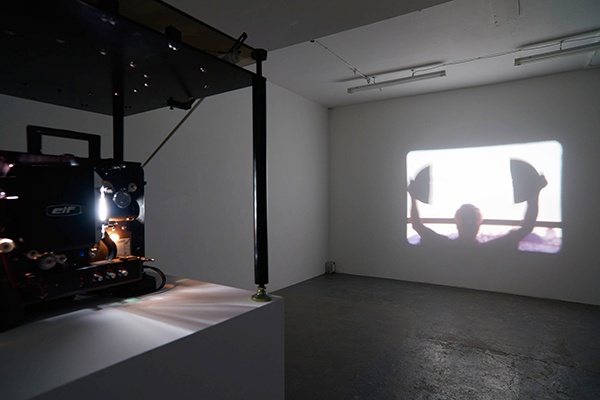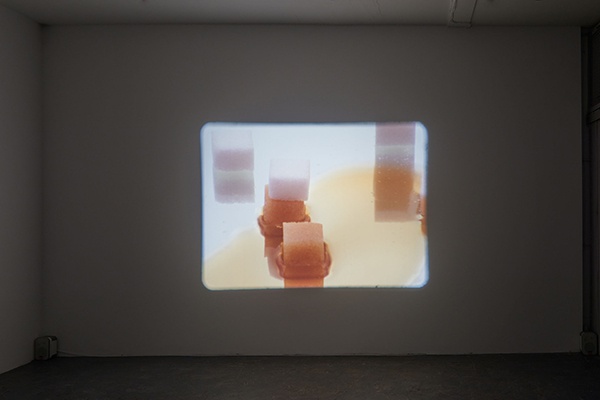 Wilhelm Sasnal. "Columbus" installation views at Sadie Coles HQ, London, 2015
Copyright: the artist. Courtesy: the artist and Sadie Coles HQ, London.