CONVERSATIONS
Simon Denny "New Management" at Portikus, Frankfurt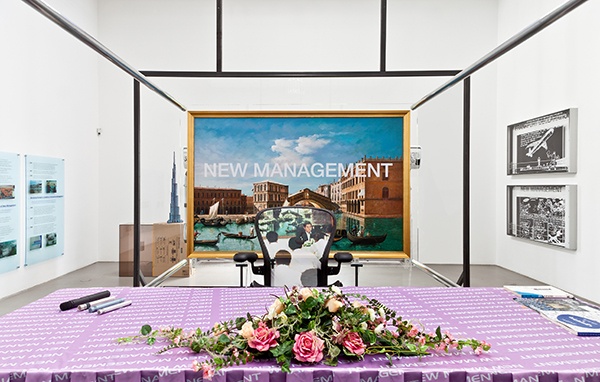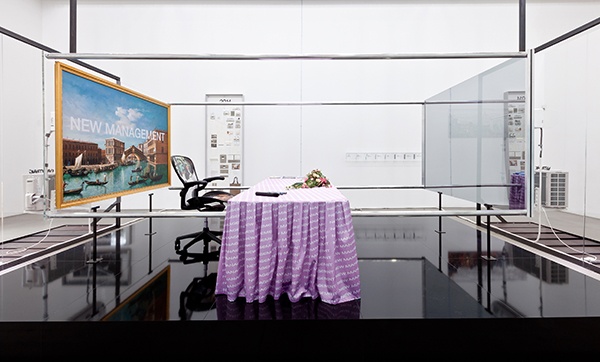 Simon Denny's exhibition opening at Portikus this month revisits a pivotal occasion in the history of the South Korean multinational Samsung. The project is his most recent exploring the broader cultural message implied within the aspirations and legacy associated with a very spectacular but essentially closed, corporate event. It closely follows "Disruptive Berlin", at Galerie Buchholz which quoted branding, media and rhetoric from a technology conference held in Berlin last year, interrelating aspects of the city's identity to an emerging part of its economy, namely the local, so-called "start-up" industry.

"New Management", refers to a meeting of executives and investors that Samsung held in Frankfurt in 1993. What was it about this event that made it a subject for your exhibition?
The "Frankfurt Declaration" as it is referred to within Samsung, is in a way the origin story of their mobile and TV production dominance of today. Samsung are the "biggest electronics company by sales"[FT] on the planet. Their hardware is inside many of the most used devices we all rely on, including other brands such as Apple. Samsung products are everywhere today—most present in our mobile devices. These objects clearly have a huge cultural impact and to know the philosophy that they developed from is some way to start figuring out what these objects are.
You lived in Frankfurt for two years as a student at the Städelschule. Does the city also have a bearing within this story?
The "Declaration" and the "New Management" philosophy was the moment when Samsung entirely changed its strategy and the internal culture of the company pivoted away from one that was dominant in many markets in South Korea but much less significant globally. Lee Kun Hee, the chairman of Samsung, introduced a complex cultural ethos that paved the way for this total global takeover. There are many significant things that come into focus when you look at this event. There's the symbolic use of a "foreign" city like Frankfurt to indicate a more "international" orientation, and a signal for a huge territorial expansion—in a way the "Declaration" acts as a declaration of economic war, and the material that came out of the three day presentation is rich with imagery that suggests just this. It's a South Korean giant coming to a city that could be seen as a gateway to the west—with the European Central Bank, and the massive airport, and declaring a beautiful, euphoric dream of expansion that is also a dream for political and economic assertion that is ruthlessly competitive and strongly nationalist.
You've referred to it as an "unauthorised history", how did you go about researching the unofficial or unauthorised version of this event?
My partner Marta Fontolan first alerted me to an article about the event in Bloomberg Businessweek (April 1 – April 7, 2013). This has some detail about the event, the hotel where it took place, and the objects that Samsung bought from the hotel to enshrine as a memorial of the event. There are also details about a "Frankfurt Room" that they constructed in Yongin, South Korea. I approached Samsung with a proposal about the exhibition in the hope that they would want to work with me on the exhibition. They were unfortunately not able to commit to that, and so I continued my research independently, which is why I refer to it as unauthorised. I visited Samsung's Human Resources Development Centre (Changjo Kwan) in Yongin and the Kempinski Gravenbach in Frankfurt. I also met with people in Seoul close to the subject including curators at Samsung's Leeum Museum and Yang-Hae Chang Heavy Industries, who have made work about Samsung for over a decade. They were very helpful with perspectives on unofficial histories and on the differences between South Korean and international perceptions of Samsung.
Through friends I located an official biography of Lee Kun Hee from 1993 and a comic book called Let's change ourselves first, fully explaining and illustrating the philosophy. I had these translated by a couple of different sources through freelancer.com and also interviewed one of the translators who is a South Korean national with diplomatic training living in Halle. There were other avenues of research but these were the main sources of information that were the most useful for the framing of the project.
I find it incredible that they would reconstruct the hotel conference room in South Korea—like an artwork in itself.
It's unclear whether the whole room is reconstructed in Yongin: for sure there is a near-reproduction of a Canaletto depicting the Rialto Bridge and a presentation table with a pink tablecloth.
The Portikus presentation is the outcome of me imagining this space without having seen it. I have had the painting repainted, I have made an interpretation of the table—complete with a printed swivel chair, but I have also tried to augment this with other imagined items. The major centrepiece that holds the painting and the table is sandwiched between two plexiglas walls that have decorated Samsung air conditioning units mounted on them. These units will be running, pulling in the air from the room and distributing it out again, generating condensation that gathers in pipes as water. The boxy air conditioning units will have excerpts from the philosophy on them—famous pull quotes, less famous excerpts and drawings from the comics with be printed on them. There will also be key hardware triumphs from the last 20 years of Samsung on display and a number of timelines relating to the company taken from different sources. All of these will follow a logic of "international" corporate display: the language will be English, the physicality clean and clear.
Apart from the world's business media, the Samsung employees were obviously the primary audience for the Frankfurt address which leads me to thinking about the way in which this event and its legacy operates within a workforce. You mentioned freelancer.com. Did the corporate philosophy also inspire a methodology or approach?
Yes. I have tried to follow a "global" process for production also—employing several translators, illustrators and producers to help research, visualise and fabricate my imagined "Frankfurt Room"—a loose work- force that spanned continents,—Europe (Halle), Africa (Egypt & Tunisia), Asia (India, China and Korea). In so much as these global practices mirror the production networks of a truly global company, this process stays in the foreground of the exhibition.
Simon Denny interviewed by Michelle Cotton
.
until 7 September 2014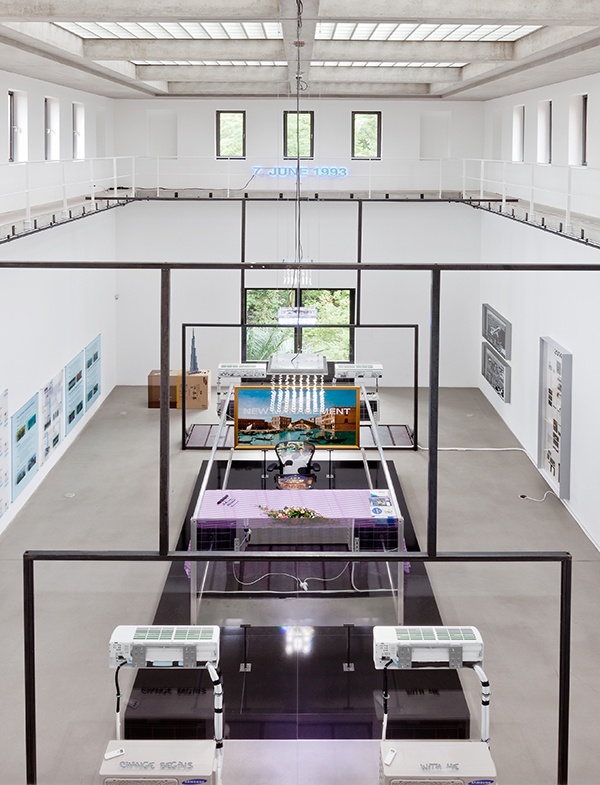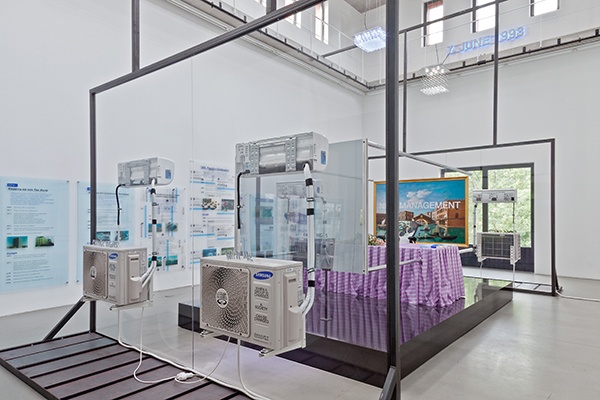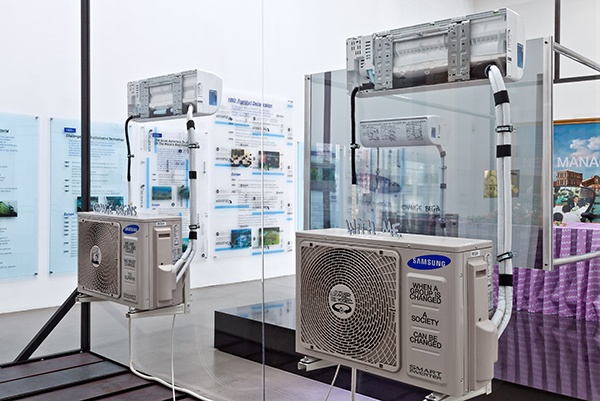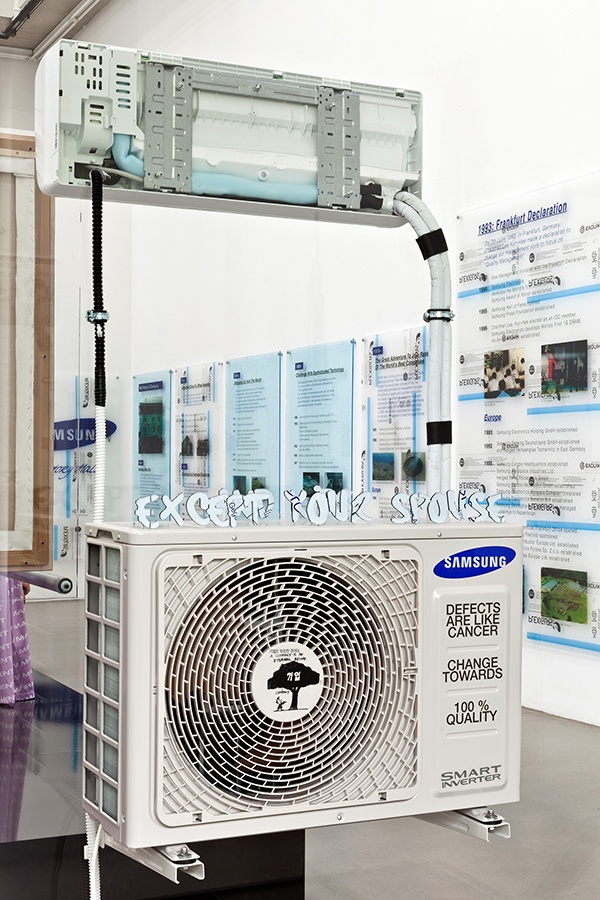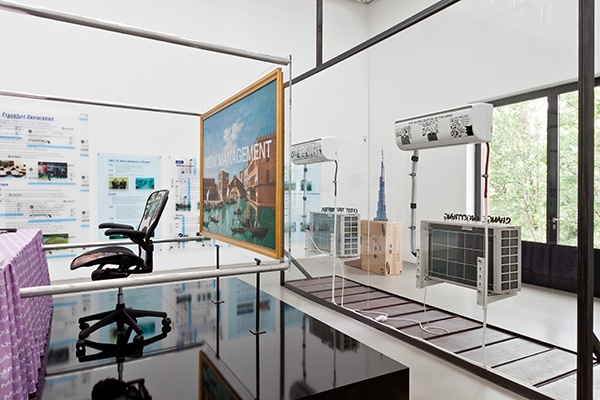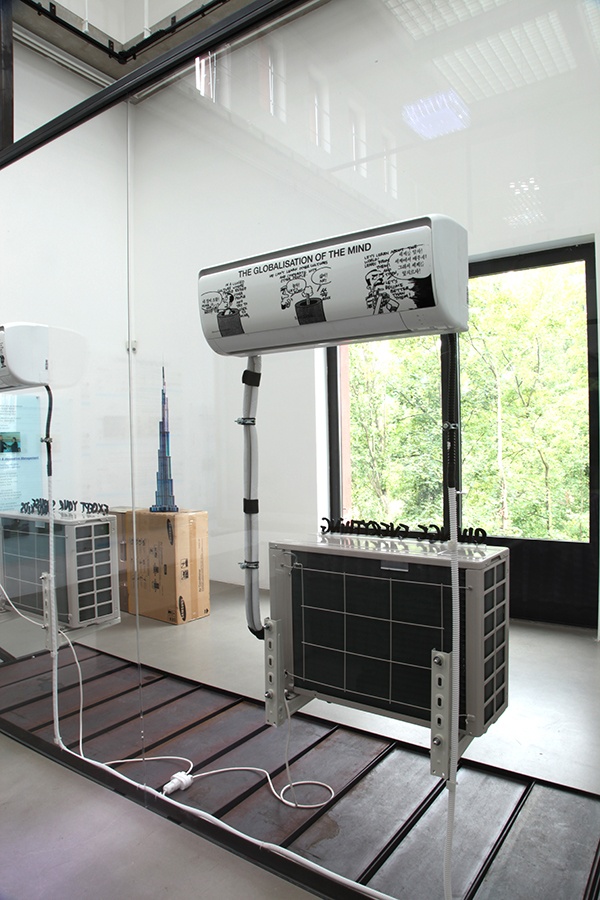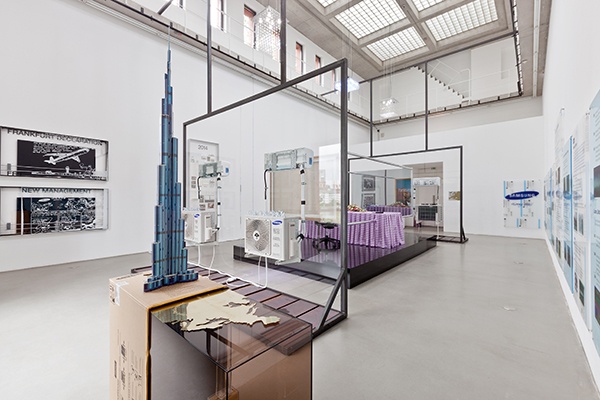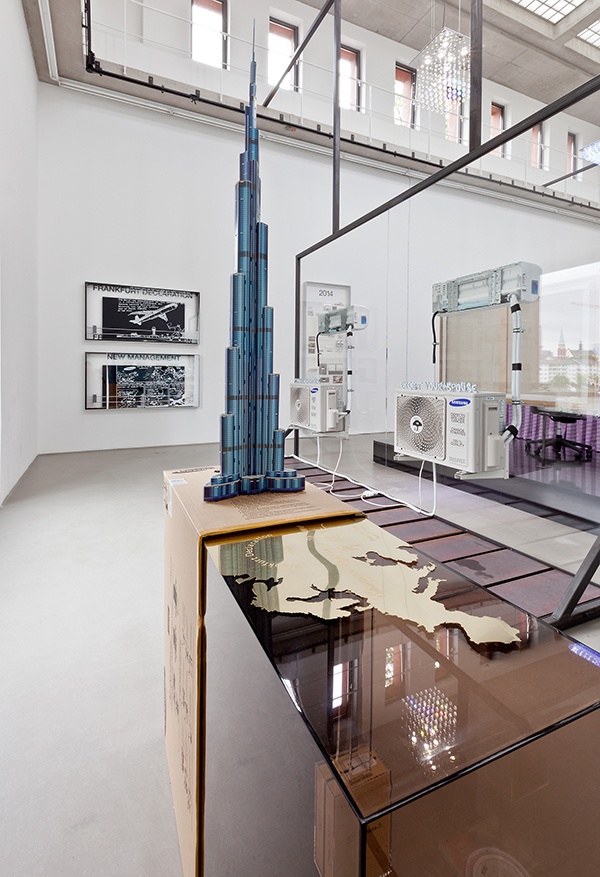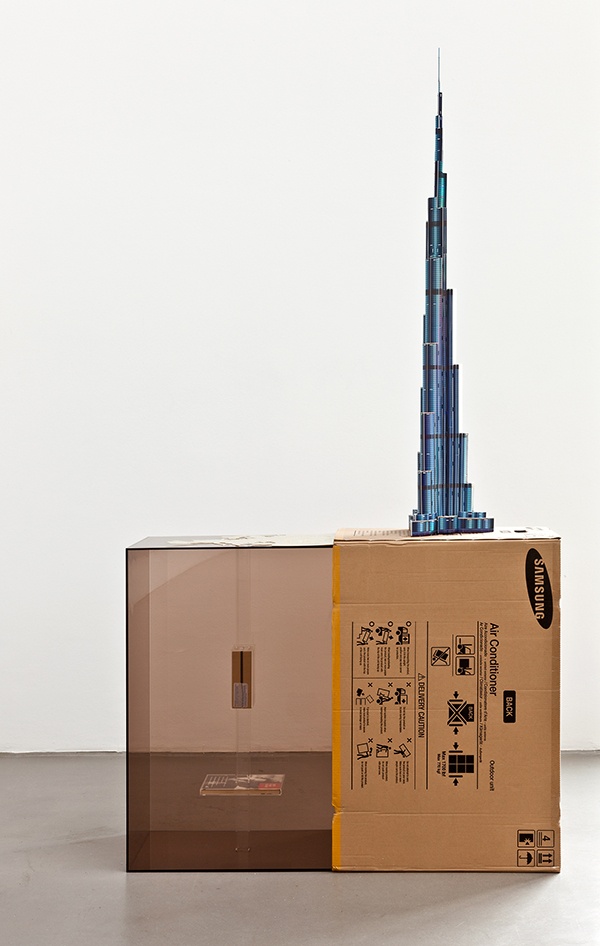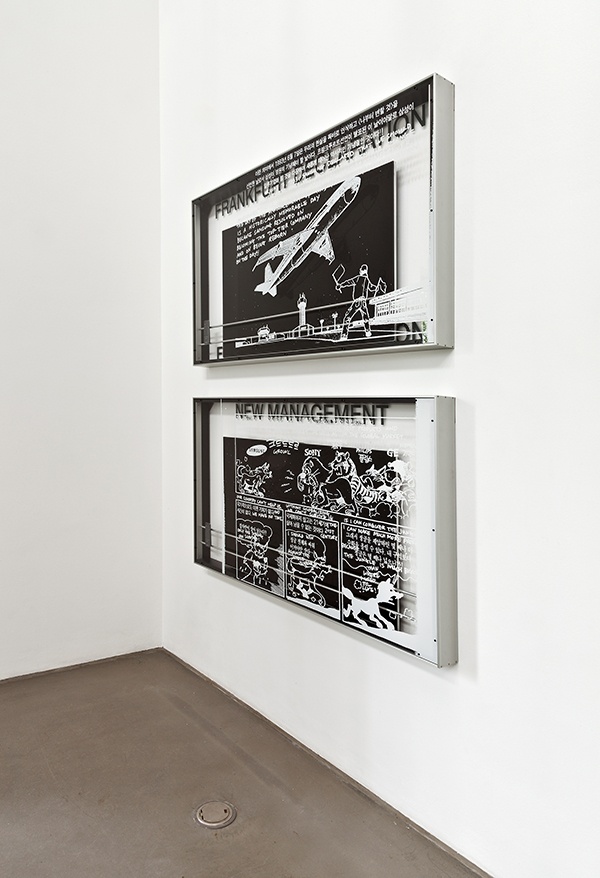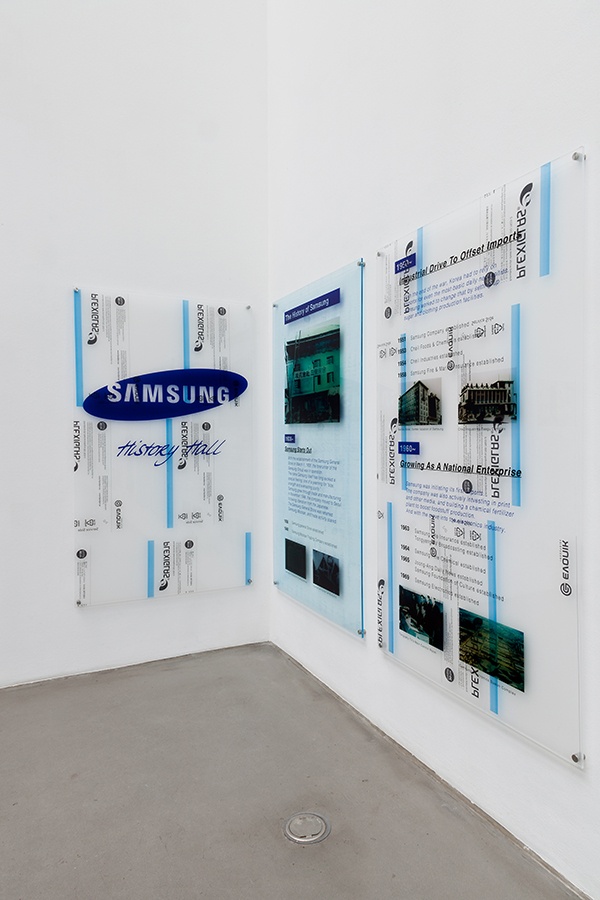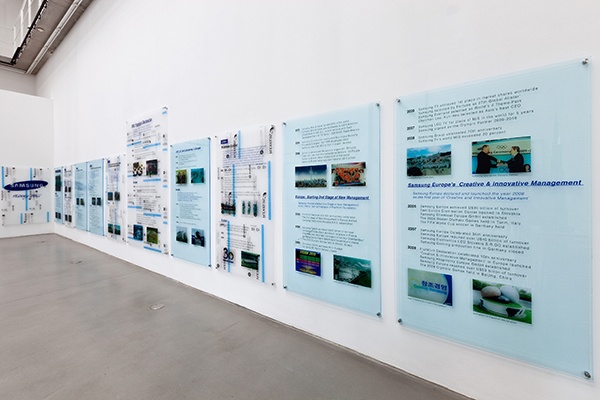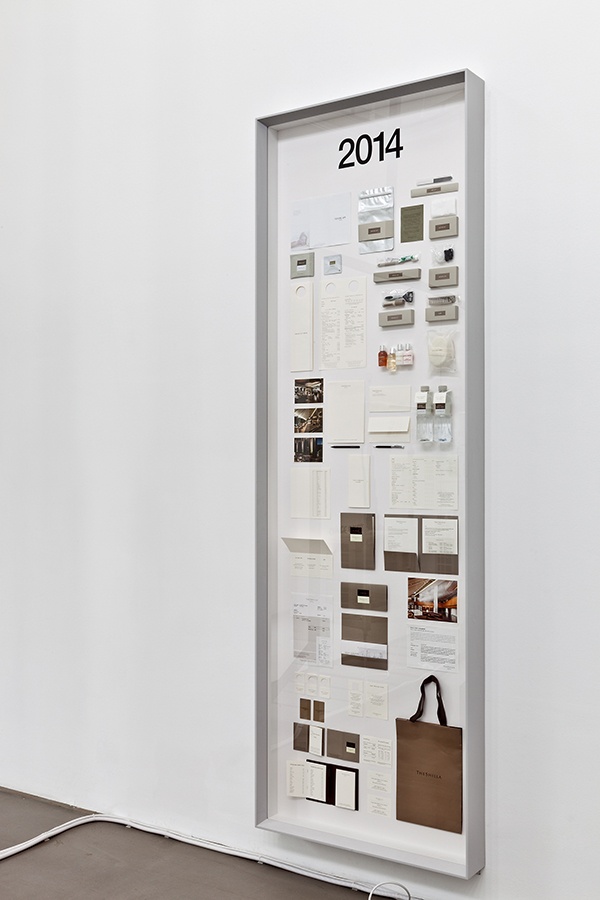 Simon Denny, "New Management" installation views at Portikus, Frankfurt, 2014
Courtesy and Copyright: Portikus, Frankfurt. Photos: Helena Schlichting.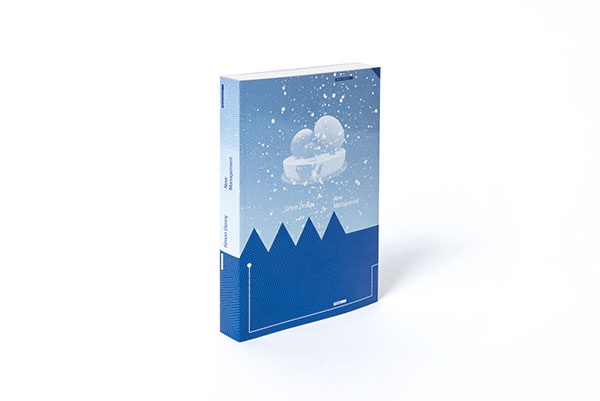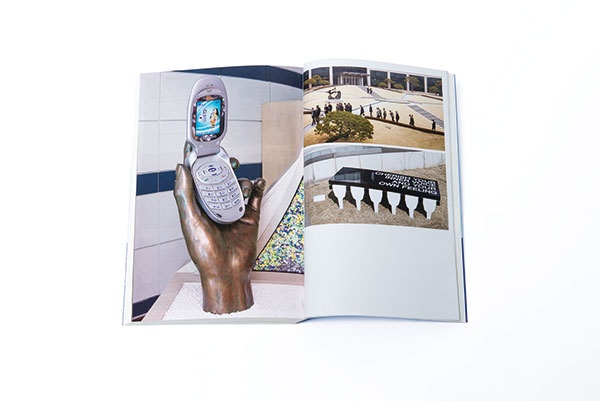 Catalogue co-published by Mousse Publishing, available from September