REVIEWS
Simon Fujiwara "Empathy I" at Esther Schipper, Berlin
Close
1
2
3
4
5
6
7
8
9
10
11
12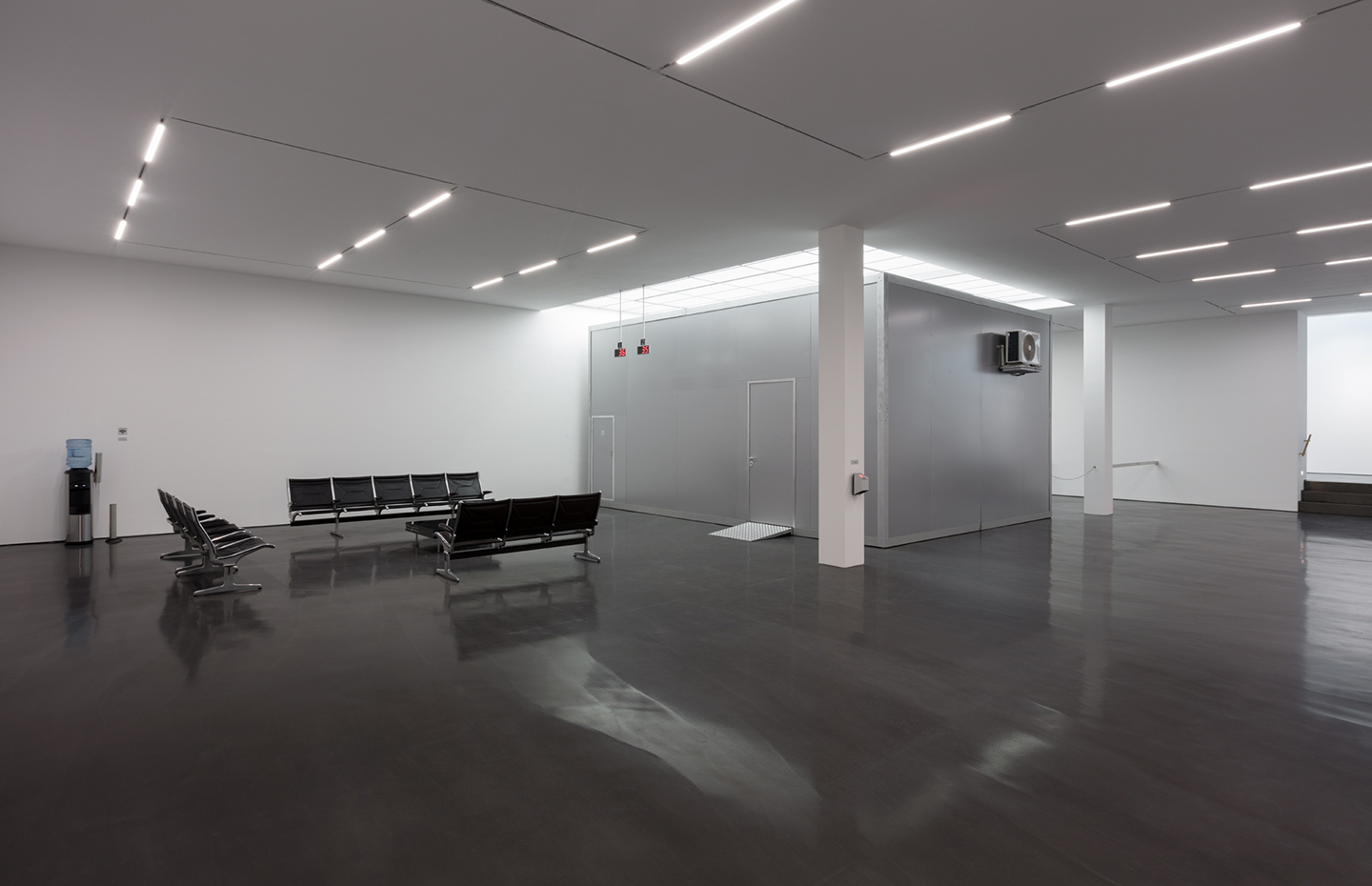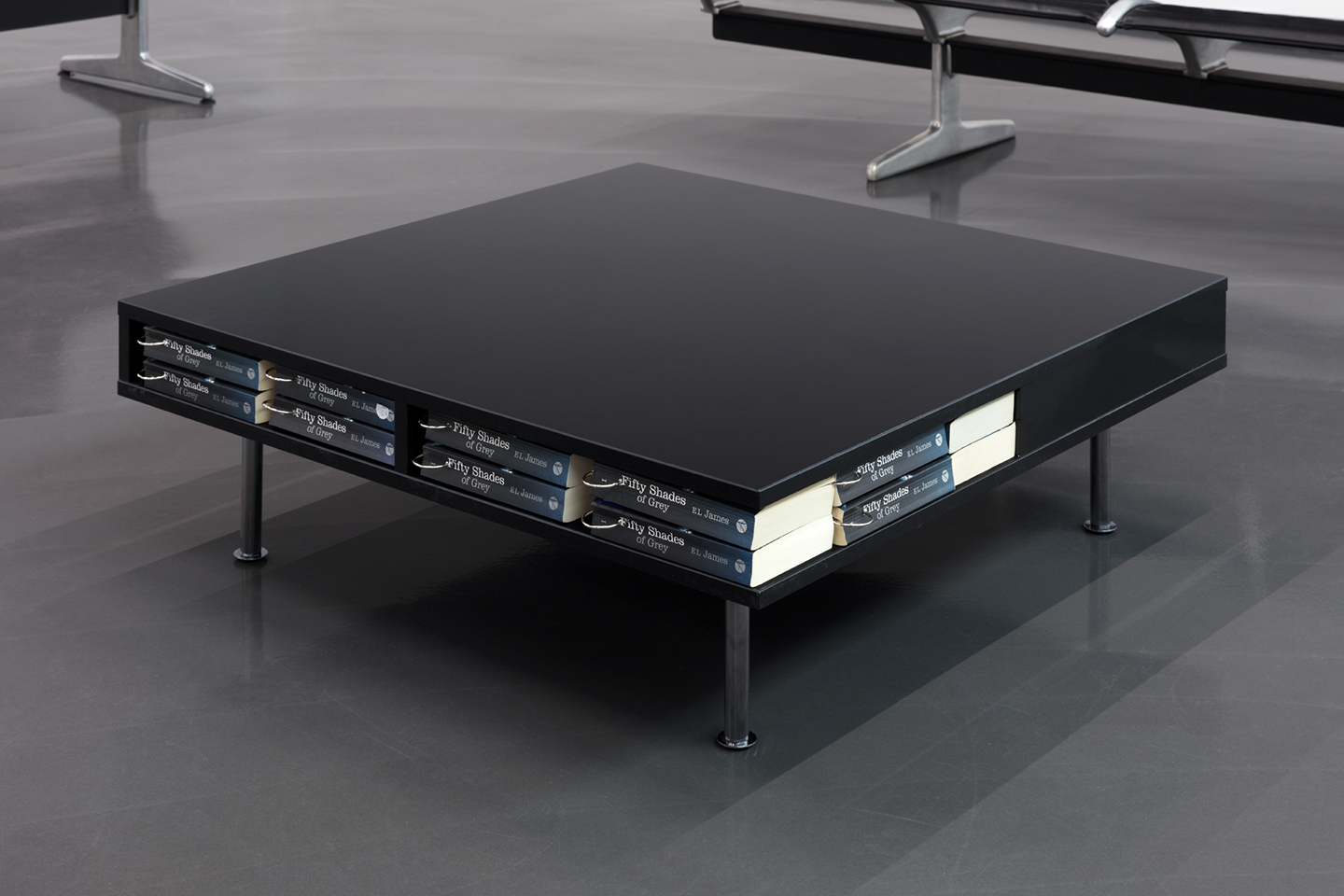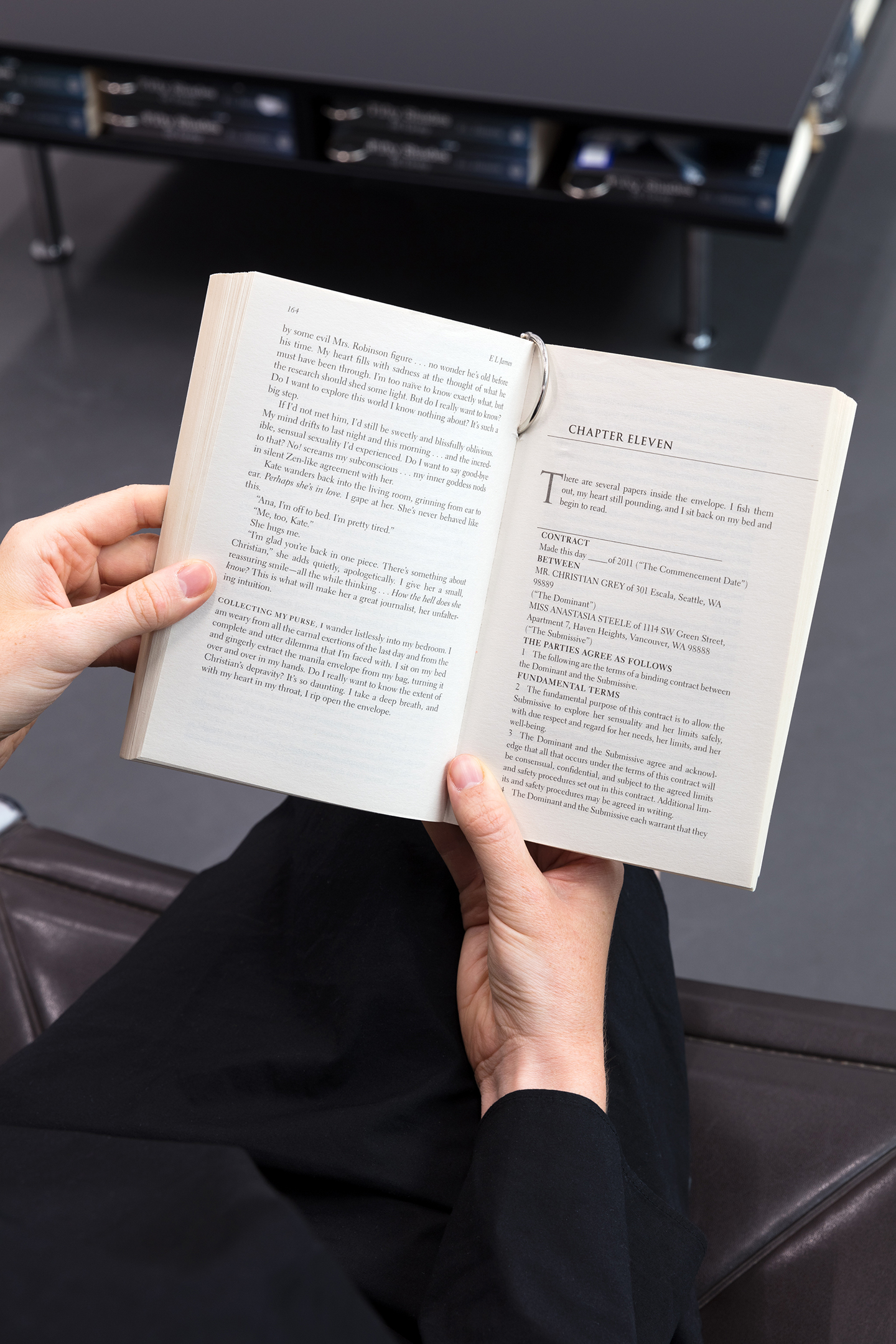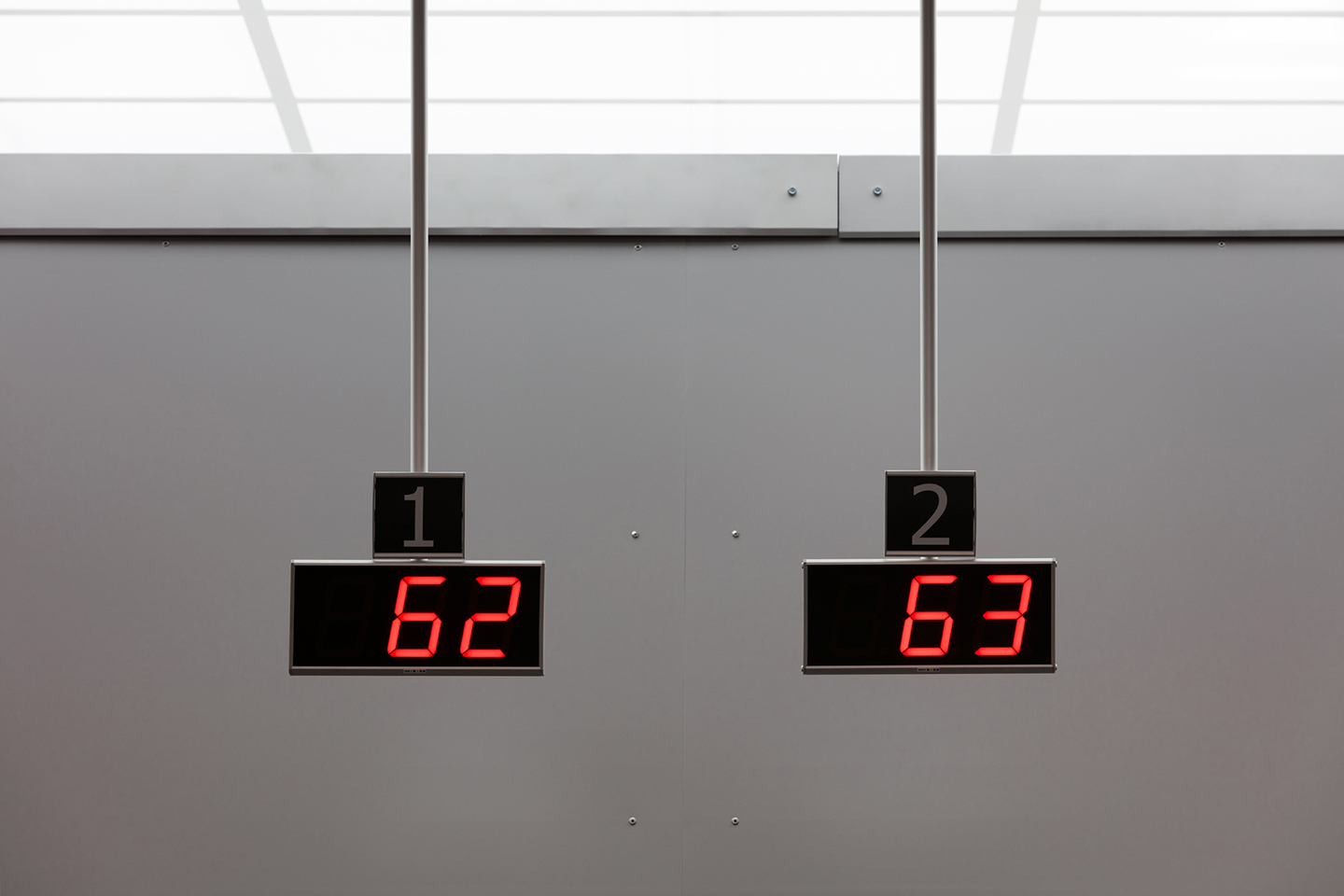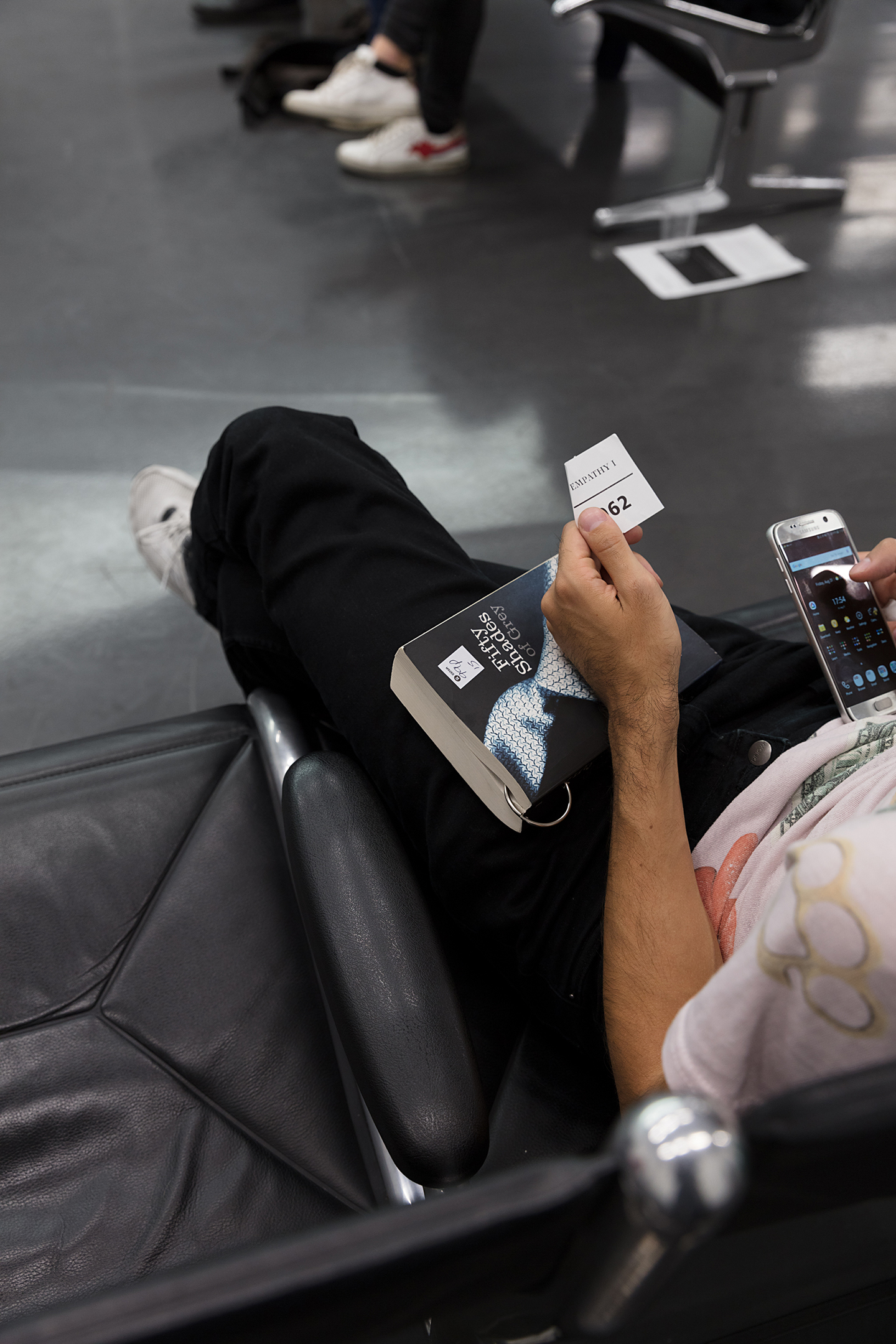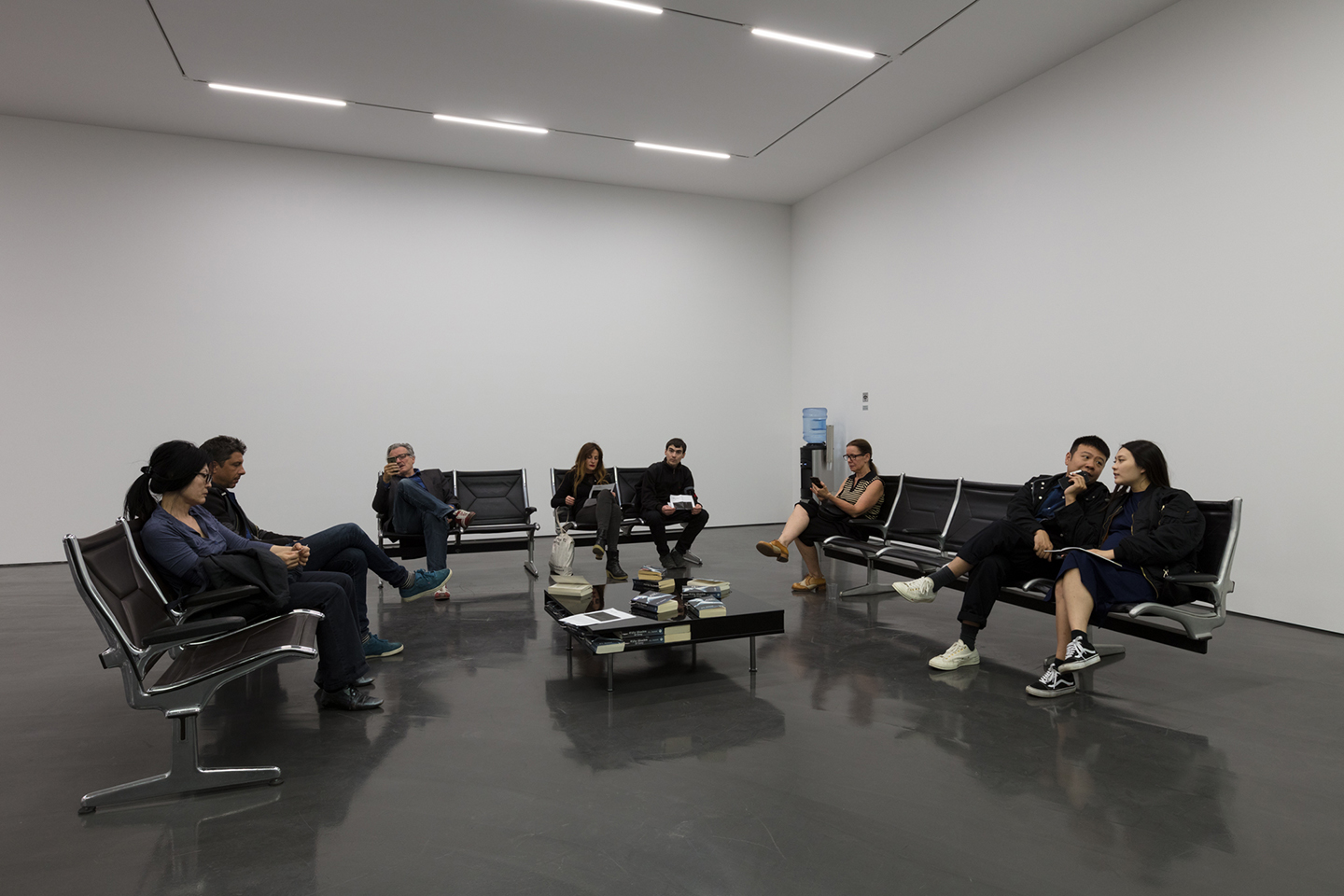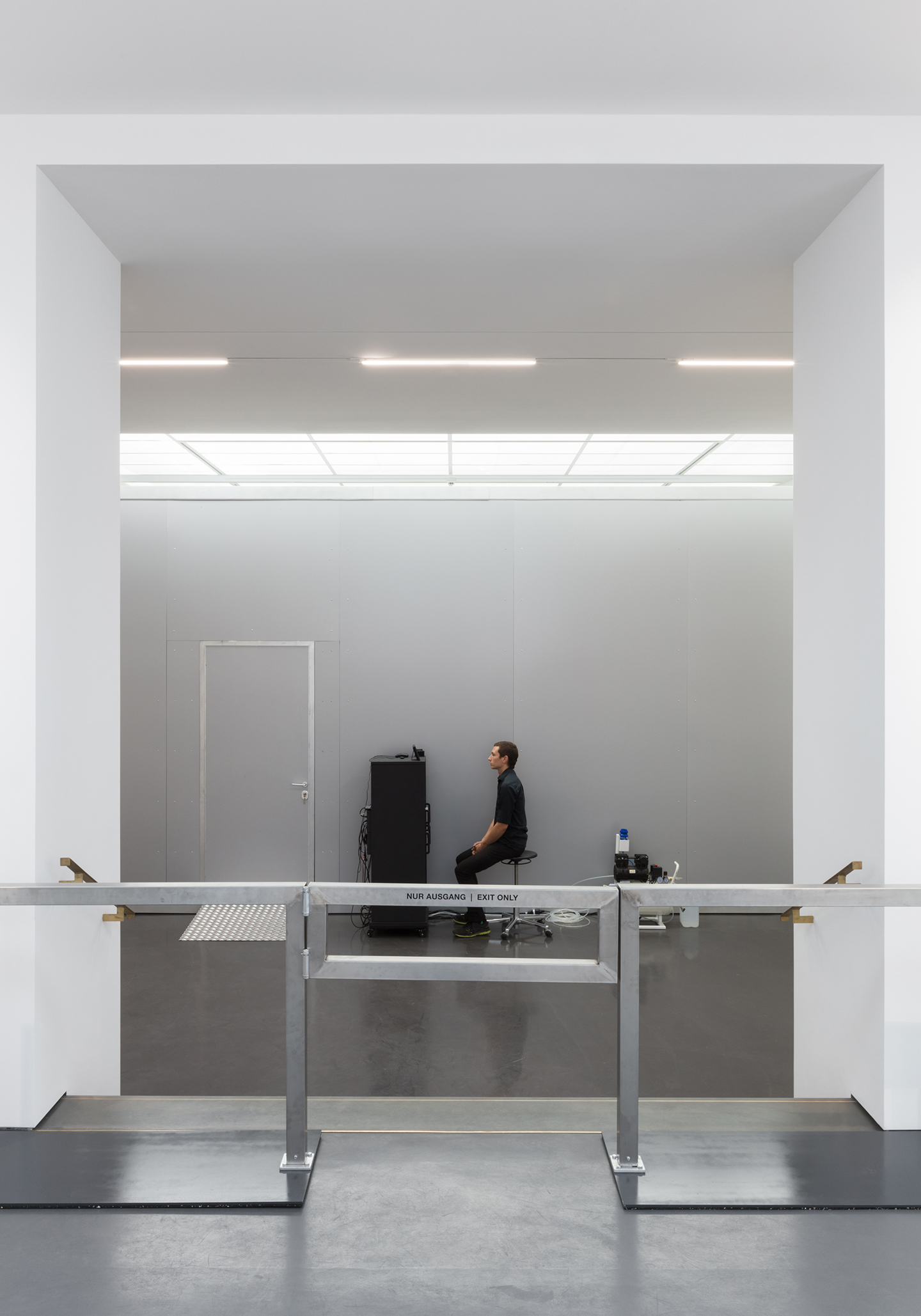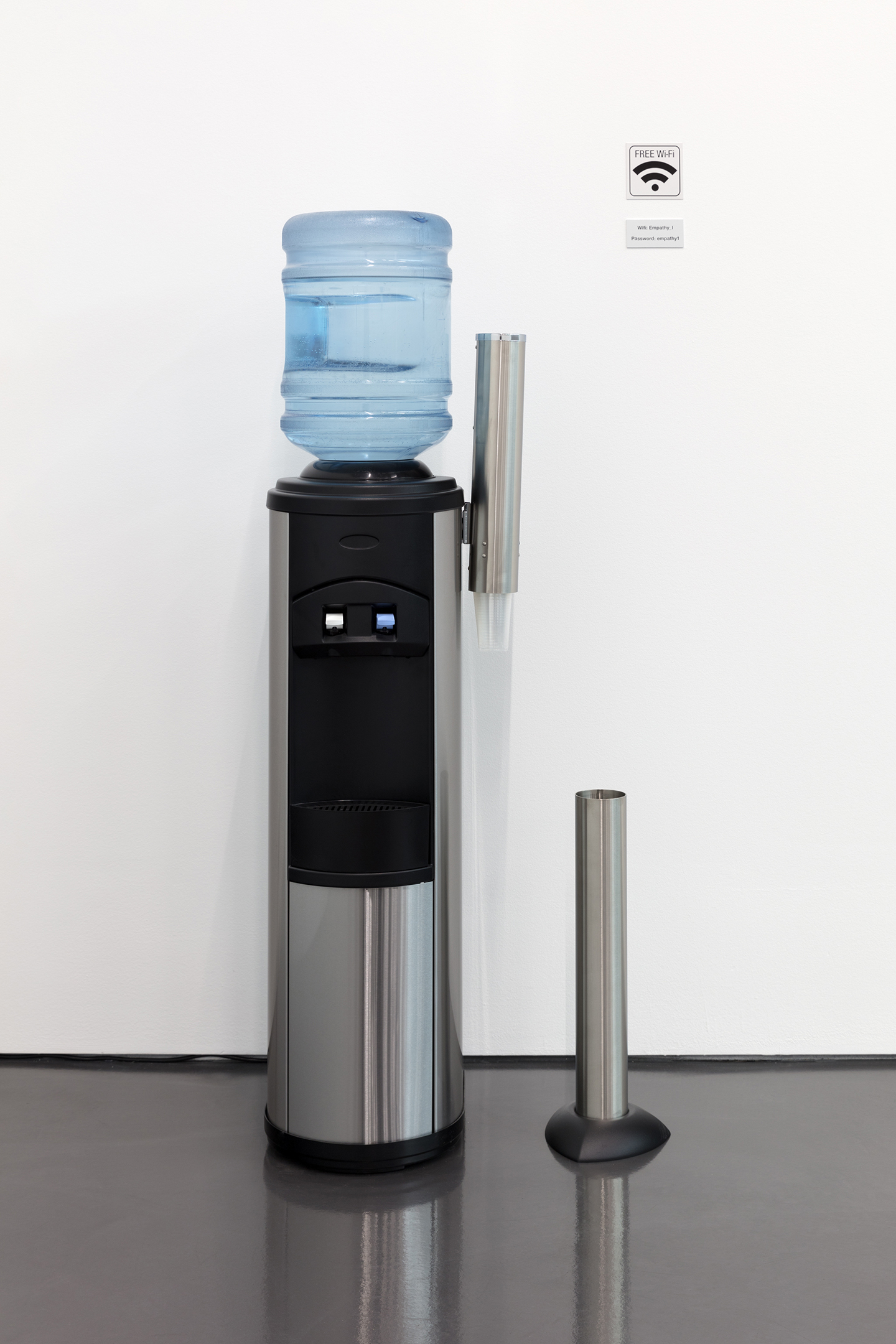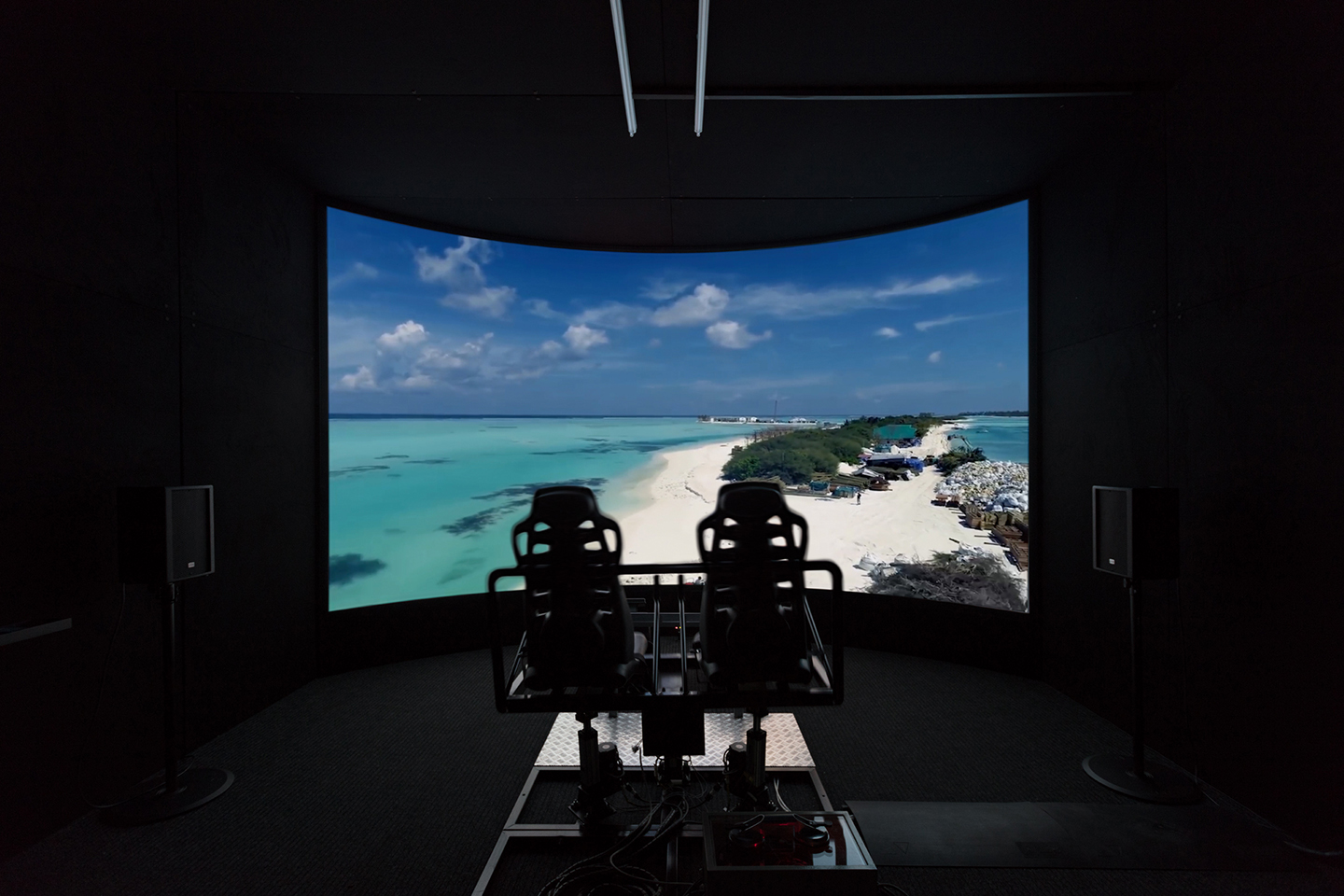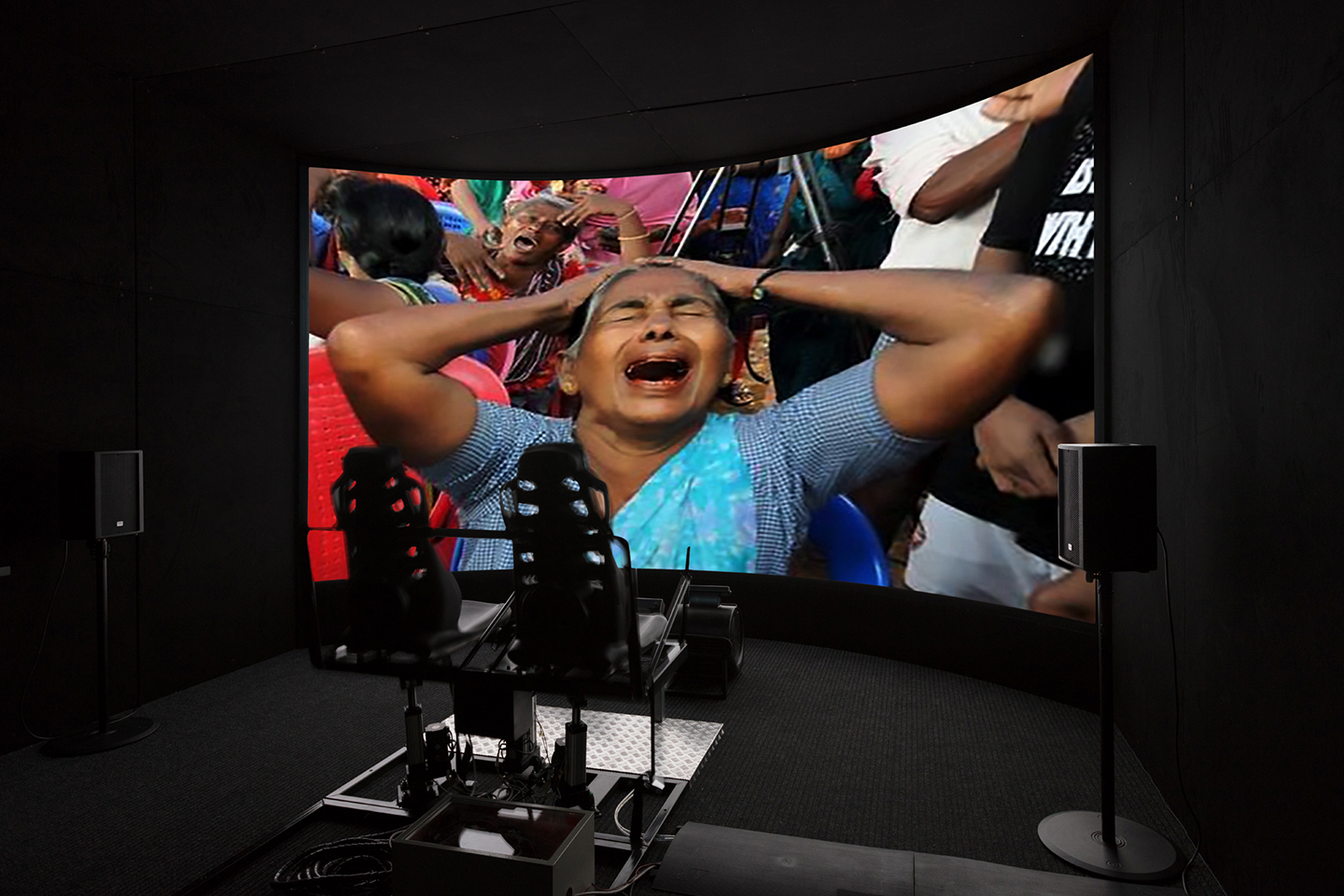 by Massimo Vaschetto
In his 1962 film La jetée, Chris Marker depicts a post-atomic dystopian future in which humanity must live in an underground wasteland world. The only way to survive is by retrieving images from the past, and conducting experiments on the human brain. According to the critic Jonathan Crary, the film "affirms the indispensability of the imagination for collective survival."1 Empathy I, Simon Fujiwara's first solo presentation at Esther Schipper gallery in Berlin, answers this thought, but unlike Marker's film, it draws images from our present, as if the greatest fear of our time is nostalgia for something we haven't yet experienced. In the artist's work the real appears as a multidimensional layered entity: the factual moment (which someone else lived and recorded), the (virtual) staging of that moment, and us, inhabiting someone else's point of view.
Entering the space, we read the visitor warning on the wall, then grab our ticket and wait for our turn. While sitting in the lounge we can connect to the Wi-Fi or flip through one of the many copies of Fifty Shades of Grey—E. L. James's best-seller—stacked on the coffee table. We're inside what the artist defines as "queue management system," a sort of anti-empathetic antechamber intended to contrast with Empathy I's ride. The core of the exhibition is an immersive simulator experience, produced with the same technology originally developed for the military-industrial complex, and later used in theme parks.2 The device's function is to virtually generate the most realistic possible effect of a specific situation by synchronizing moving images with physical stimulations. However, in Empathy I, we don't dive into a computer-generated fantasy or war scenario, but are let loose into the (un)real.

Our seats shift according to the camera's movements. We see (what appears to be) video fragments of daily life and private moments, most of them shot using first-person perspective. They have been selected by the artist from the vast content available on the web. The contradictions in the way we experience images become clearer, and "empathy" is paradoxically a ploy to unlock them. We are sitting inside a sort of YouTube dimension, where footage succeeds footage as if it is all automatically played suggestions. It's a weird, unedited, yet familiar feeling; we can identify with the images' essence, since we're used to experiencing others' (digital) perspectives as if they were our own.
On board a drone, we lift off from a courtyard and hit a window / as if we were trapped inside a smartphone, we swing left and right while a chatty woman films her apartment / we get off a motorbike and get into an argument with a driver, pick a fight with him till he ends up lying on the street with his eyes wide open / we are hit by a splash of water (literally), we float in the open sea, in front of us a man stands on what is left of a wrecked boat, he is reaching out to us / a door opens, the guests of a ceremony welcome us, eyes tearing up / we are facing a train's coach, we slowly descend it with a mechanical buzz stuck into our ears, we realize we are sitting in a wheelchair / once again aboard a drone, we fly high near a huge apartment building that looks like a beehive, a young couple happily waves to us from an open window, we get closer and closer until we are in front of them. The "empathy" of the title becomes true in less than four minutes. The ride triggers a range of feelings, from pleasure to danger, stillness to action, measured into a specific script. The result is a mesmerizing yet nostalgic journey through the social mental landscape of our time.
Since the beginning of his career Fujiwara has been working on complex mise-en-scènes in which narrative elements—a mix of collective memory, autobiographical details, and fiction—intertwine. In previous works such as Welcome to the Hotel Munber (2010) and the more recent Hope House (2017) the artist's presence is clear. The first is an environmental reconstruction of the hotel's bar in Catalonia where his parents lived during the Francisco Franco dictatorship. The set evokes his father's life, reinterpreted in a homoerotic way; in the fiction, sexual desire and social oppression coexist and clash. The latter is a full-scale replica of Anne Frank's House Museum in Amsterdam, built based on a cardboard model purchased from the museum's gift shop, but with contradictory—in some cases ethically controversial—elements added to question the historical authenticity of the visitor experience. Nonetheless in Empathy I, Fujiwara's intervention seems to be concealed behind the visual result of a collective contribution: a summoning of universal digital memory, made up by random web users and realized by a team of "imagineers."3
[1] Jonathan Crary, 24/7: Late Capitalism and the End of Sleep (London and New York: Verso, 2013), 92.
[2] For instance Disneyland Paris's "Star Tours."
[3] The term "imagineer" combines "imagination" and "engineer" and is a registered trademark of the Walt Disney Company.