ESSAYS Mousse 61
Simon Starling on "Kunsthalle Bern" by Michael Asher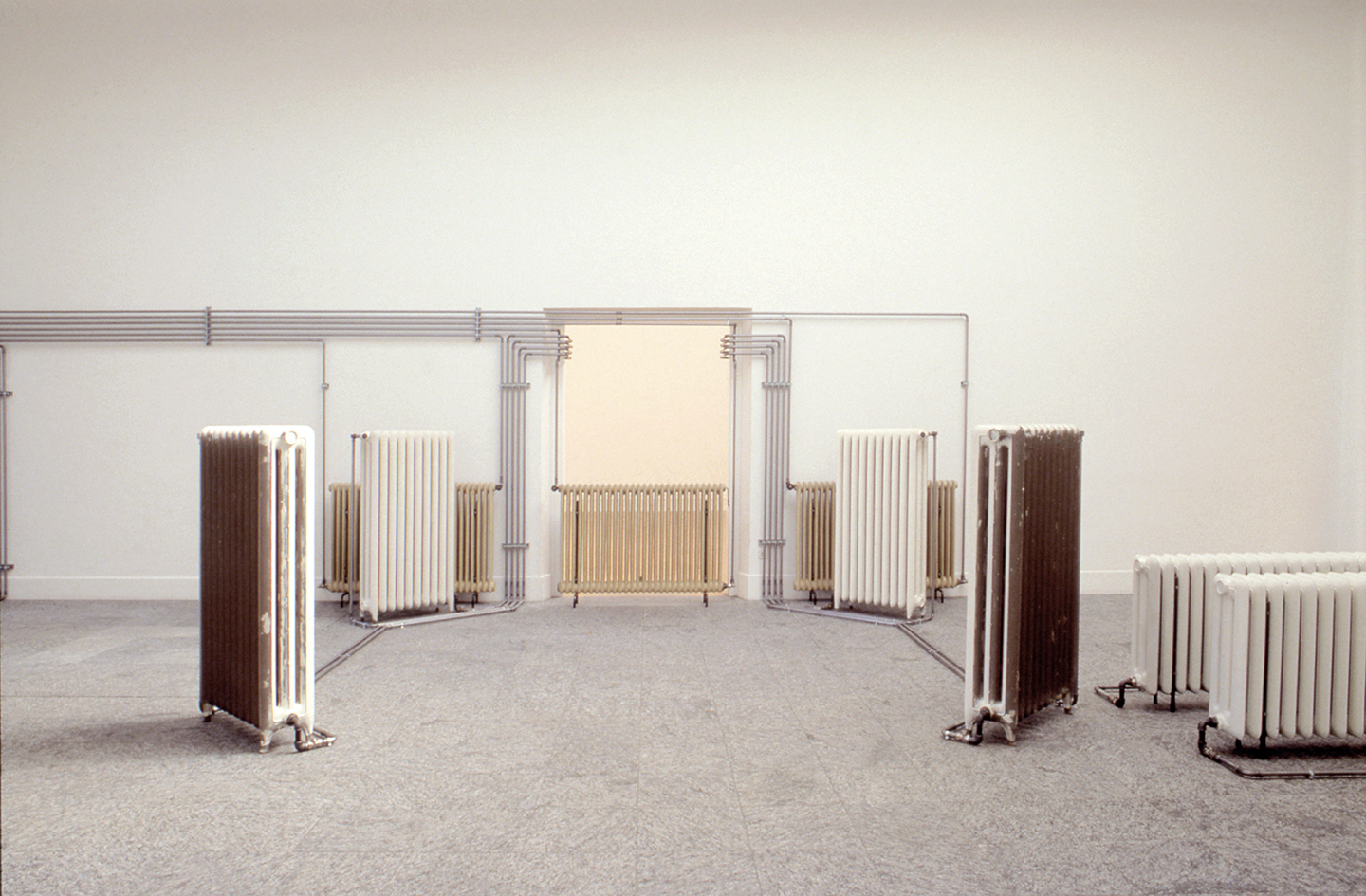 Michael Asher, Kunsthalle Bern, Bern, Switzerland, October 17- November 29, 1992. © Michael Asher Foundation
So many images and experiences came flooding into my mind when trying to decide on a single, significant example of a work that engages with the means or parameters of display. I thought of exhibition designs that have inspired and amazed, for instance Lina Bo Bardi's massed ranks of transparent walls in São Paolo's MASP (1957-68), Rémy Zaugg's strip-lit tribute to the architects Herzog and de Meuron at the Centre Pompidou (1995), or Lilly Reich's Material Show for The Dwelling in Our Time (1931). I thought of pitch-perfect responses to the particularities of space and place, like Gordon Matta-Clark's Conical Intersect made in the shadow of the sci-fi structure that was to become the Centre Pompidou, Andreas Slominski's windmill-burning-stove at the endlessly reimagined Portikus in Frankfurt (1996), Narelle Jubelin's Mackintosh-inspired, pebble-dashed wall supporting Dead Slow at the CCA, Glasgow (1991), Richard Serra's elegantly brutal Weight and Measure that captivated the Tate's Duveen Galleries (1992) or Lothar Baumgarten's blue, blue wall in the faded baroque splendour of Castello di Rivoli (1984).
These very particular things, along with the exhibition practices of artists like Mike Nelson, Michael Stevenson, Willem de Rooij, Christopher Williams and Richard Wright, among others, have shaped my understanding of what display can be and how works of art find a relationship to architecture and the mechanisms of display.
In the end I have chosen Michael Asher's Kunsthalle Bern (1992), a work that came onto my radar at exactly the right moment. As a recently graduated student who had been struggling with the institutional frame within my own work and similarly had been deploying strategies of displacement in works such as Museum Piece (1991), made in collaboration with my fellow student Paul Maguire, to discover Asher's intellectually brutal and achingly eloquent intervention into the fabric of the 1918 Bern exhibition space was a shot in the arm. For Kunsthalle Bern, Asher orchestrated the repositioning of all the museum radiators into a single ensemble that greeted you in the foyer, a space already somewhat belligerently occupied by two preexisting radiators. Each repositioned radiator was then reconnected to its original plumbing points through an elegant flow-diagram-like network of copper pipes that led around the walls and down the stairs, mapping the journey made by each. Thus the exhibition space showed a sculpture (Kunsthalle Bern was certainly a very persuasive example of sculpture), while that same sculpture showed the exhibition space and by implication its history as a place of display. It remains for me a benchmark.