REVIEWS
Laughter That Will Bury You All: "Crack Up – Crack Down," the 33rd Ljubljana Biennial of Graphic Arts
Close
1
2
3
4
5
6
7
8
9
10
11
12
13
14
15
16
17
18
19
20
21
22
23
24
25
26
27
28
29
30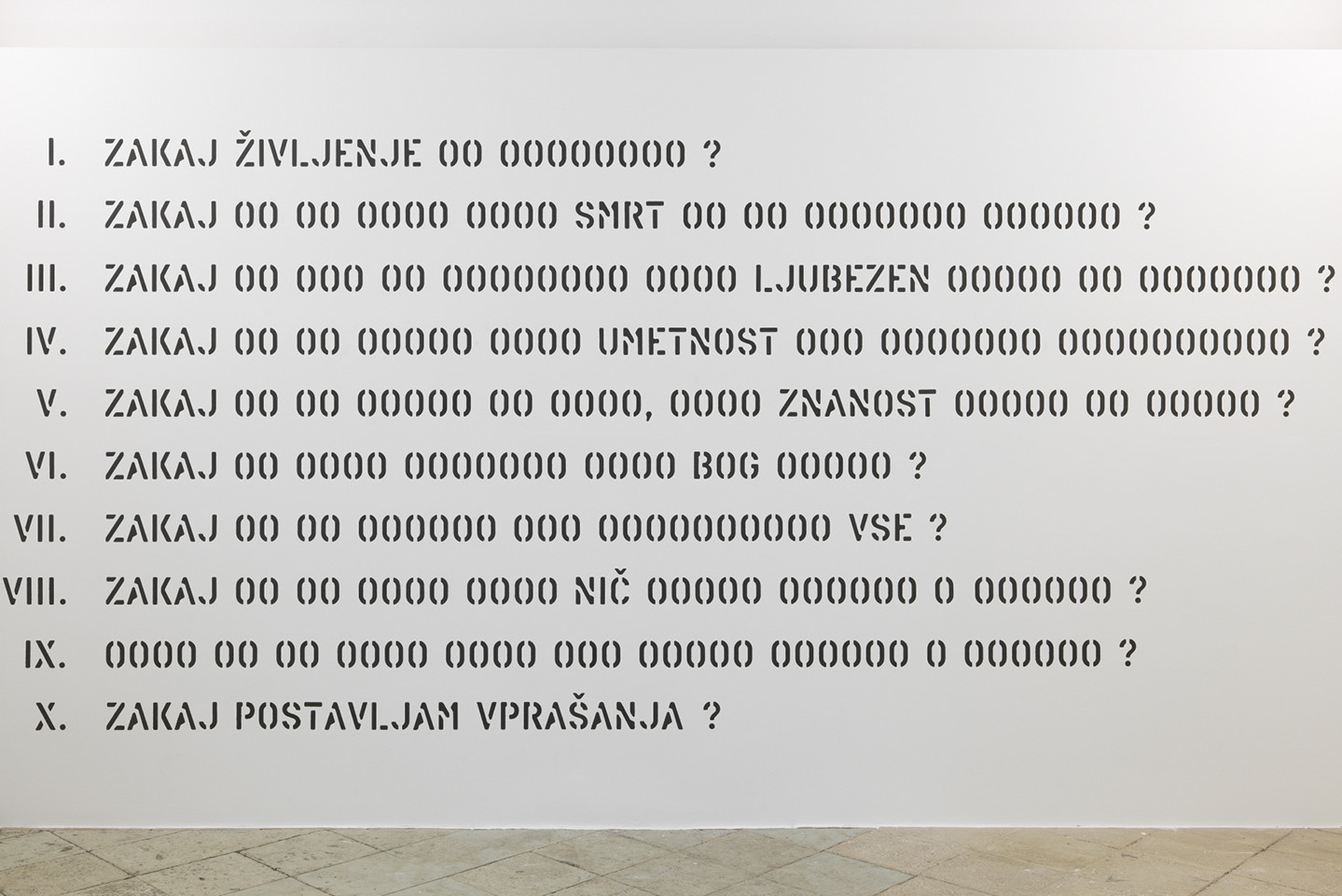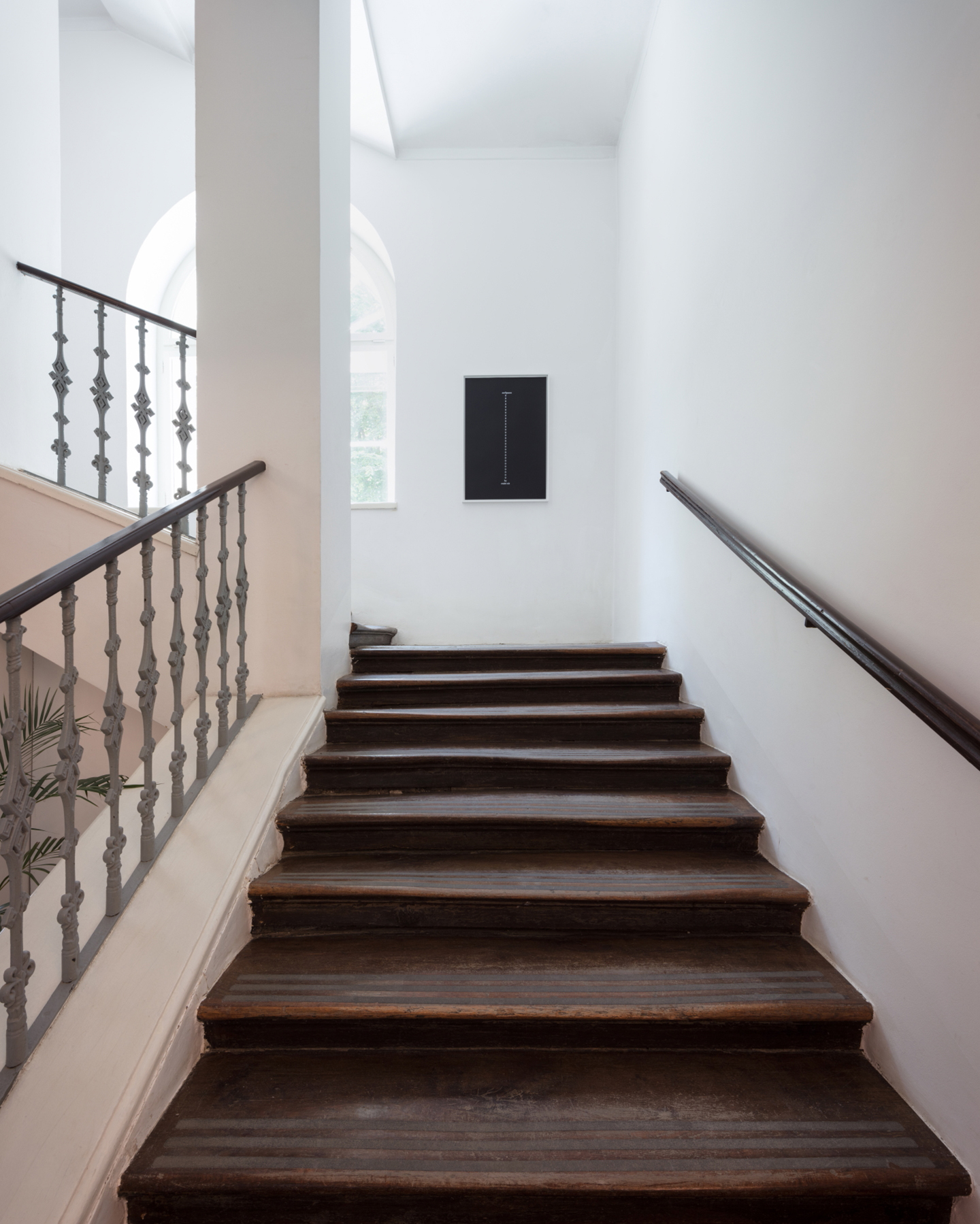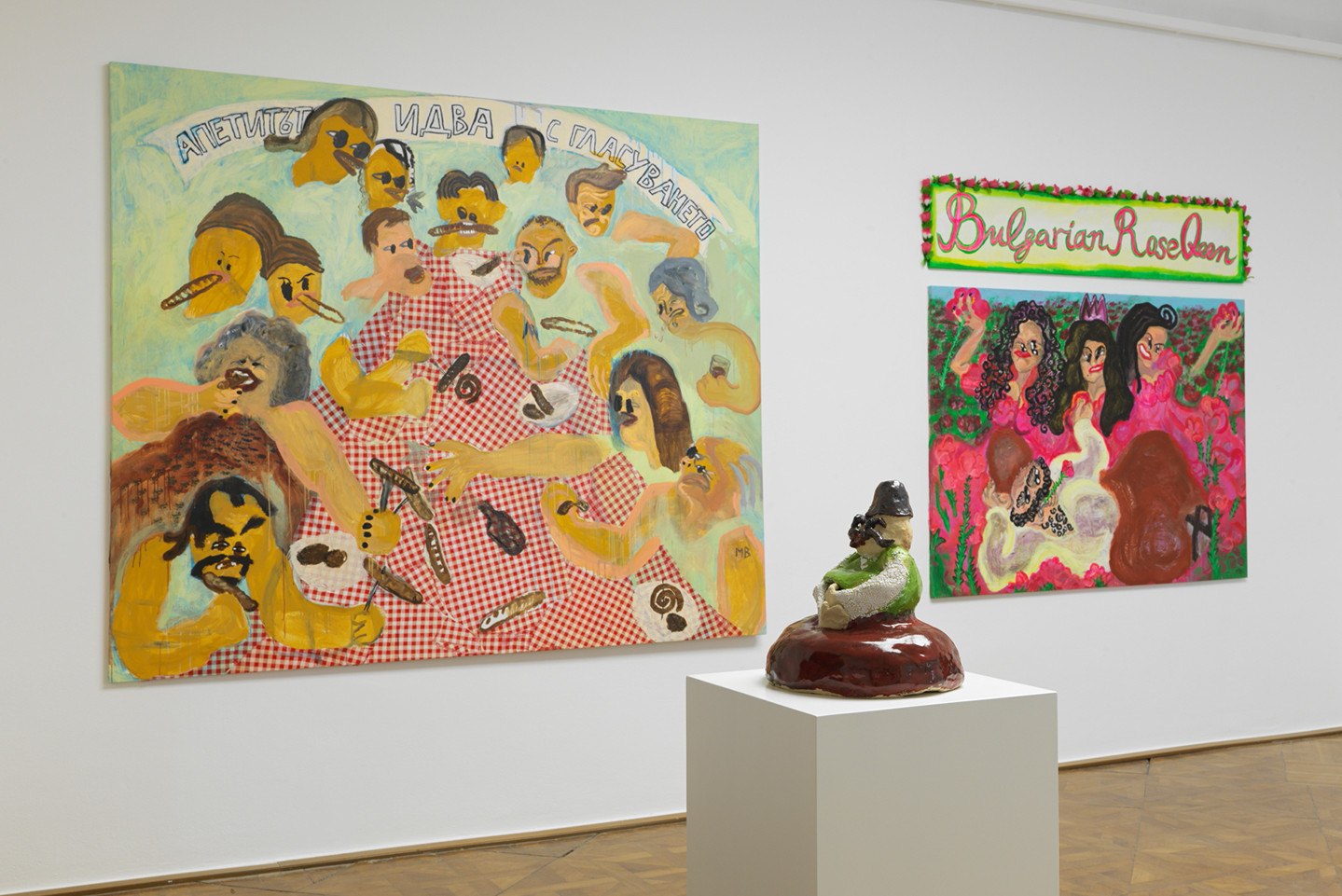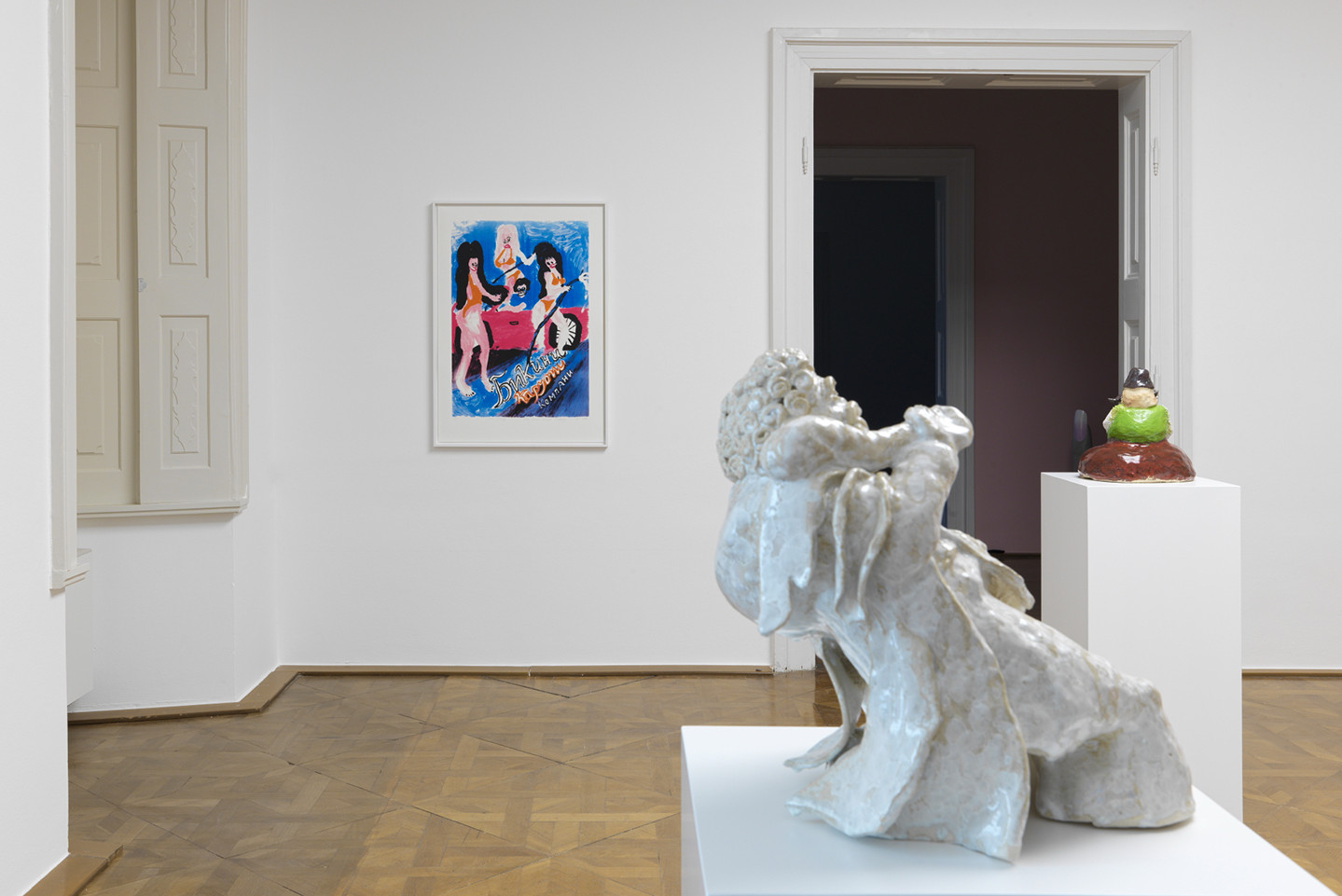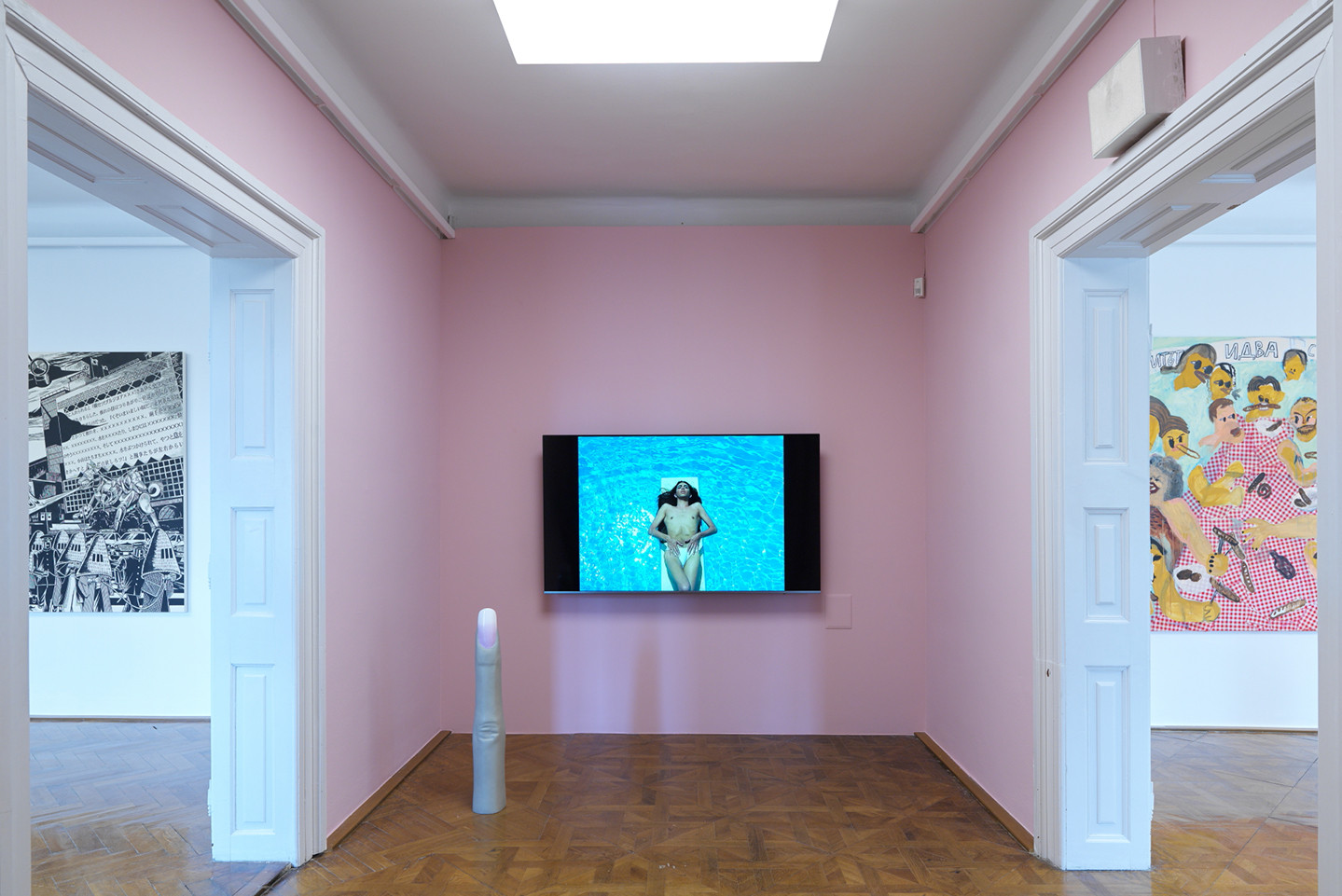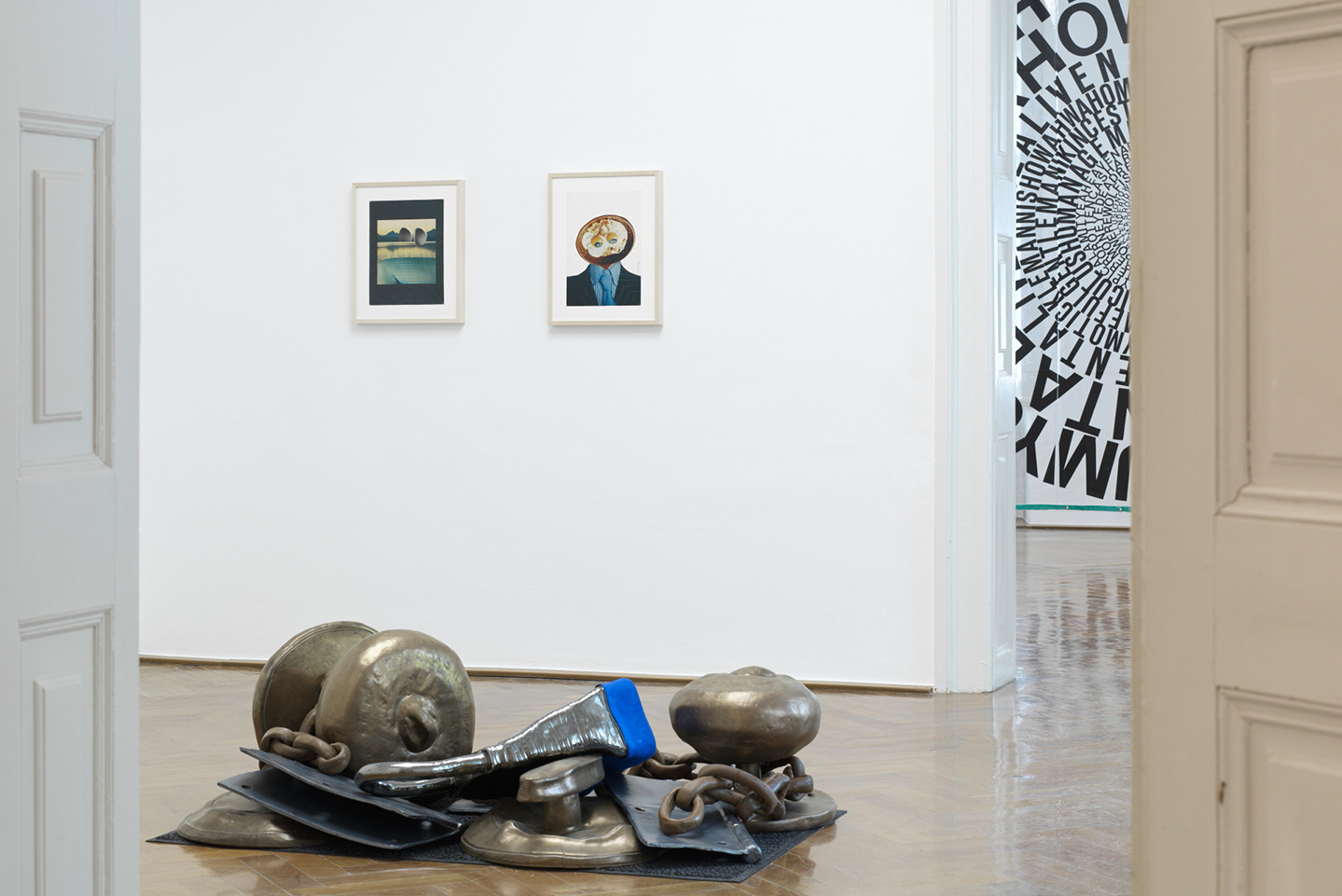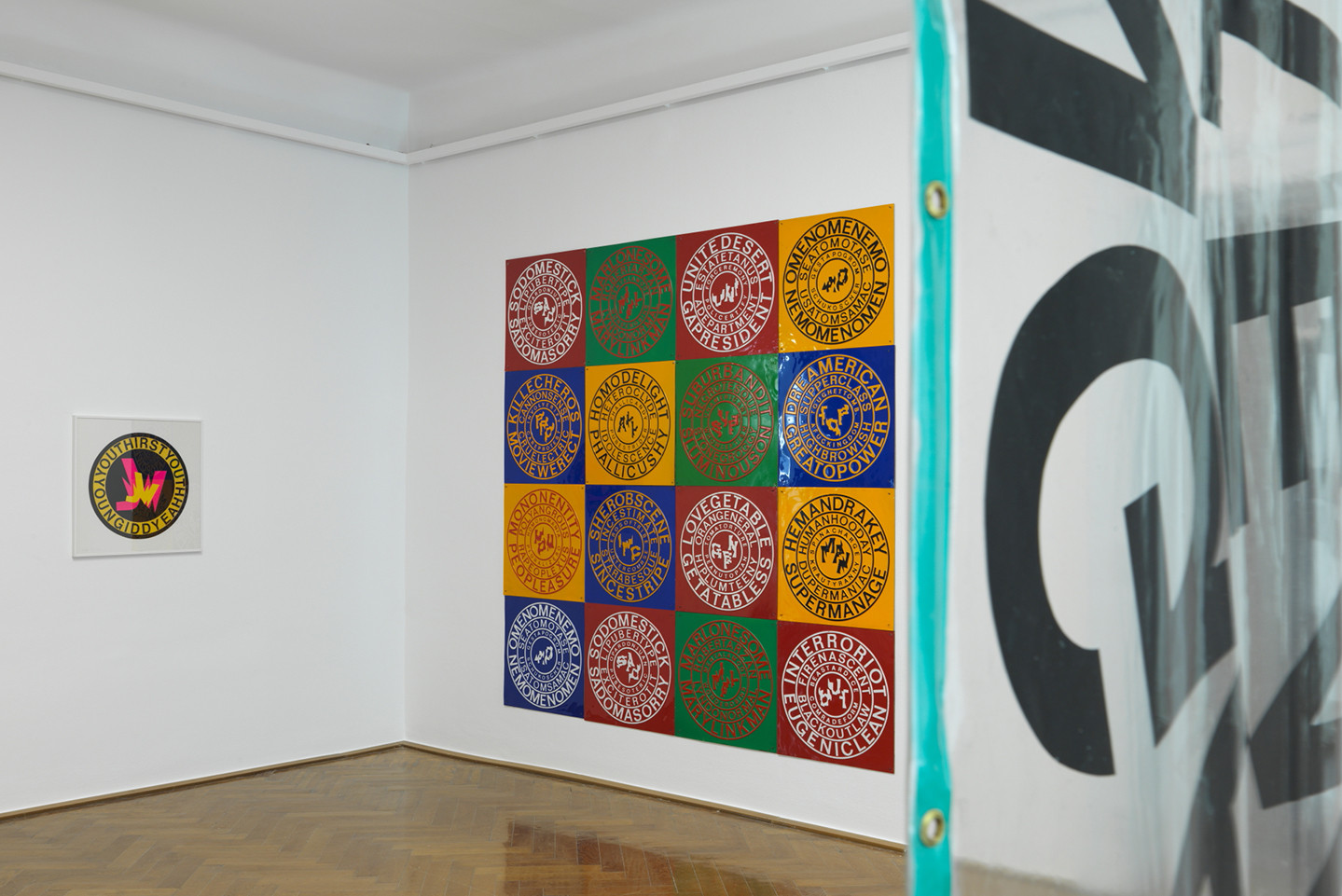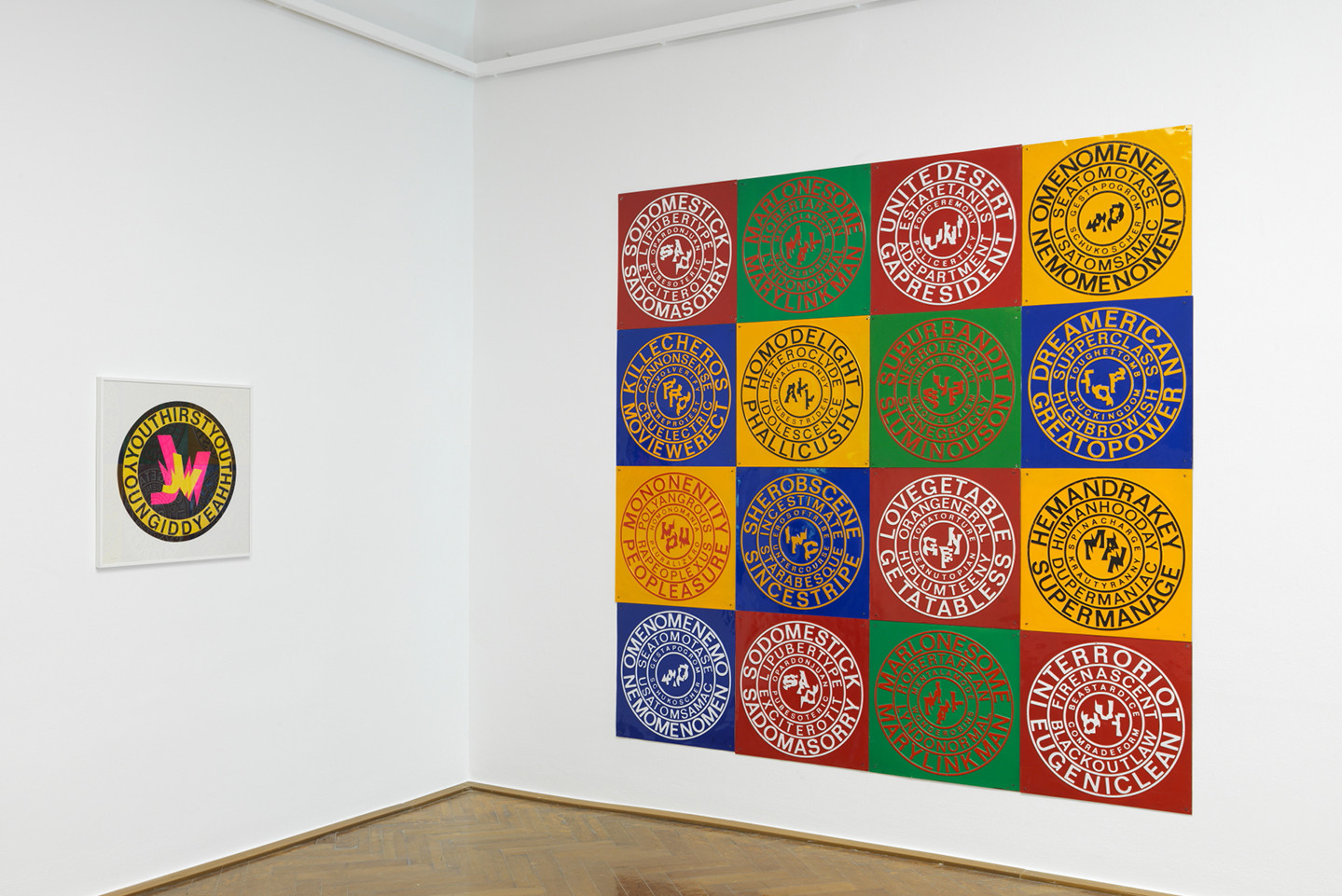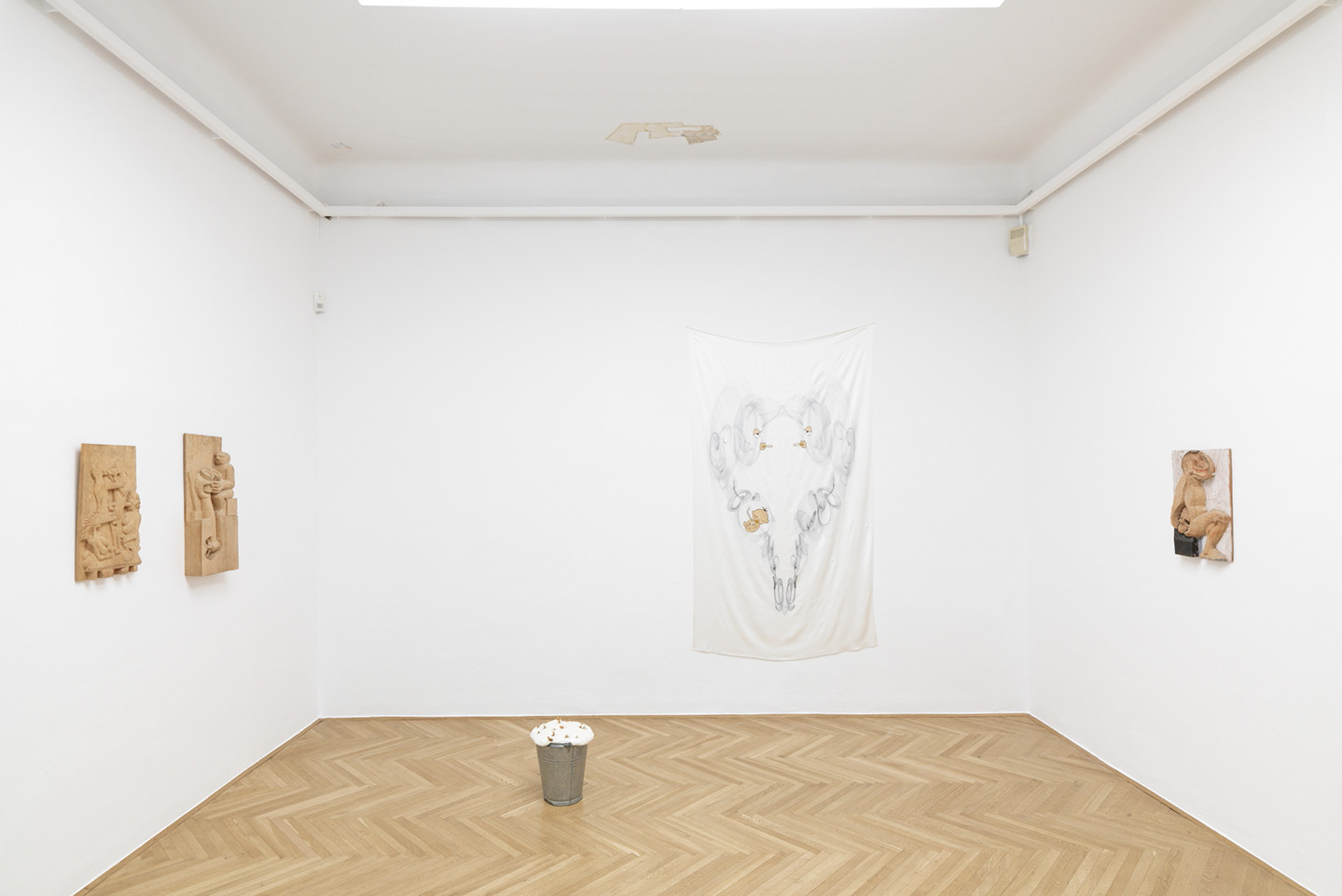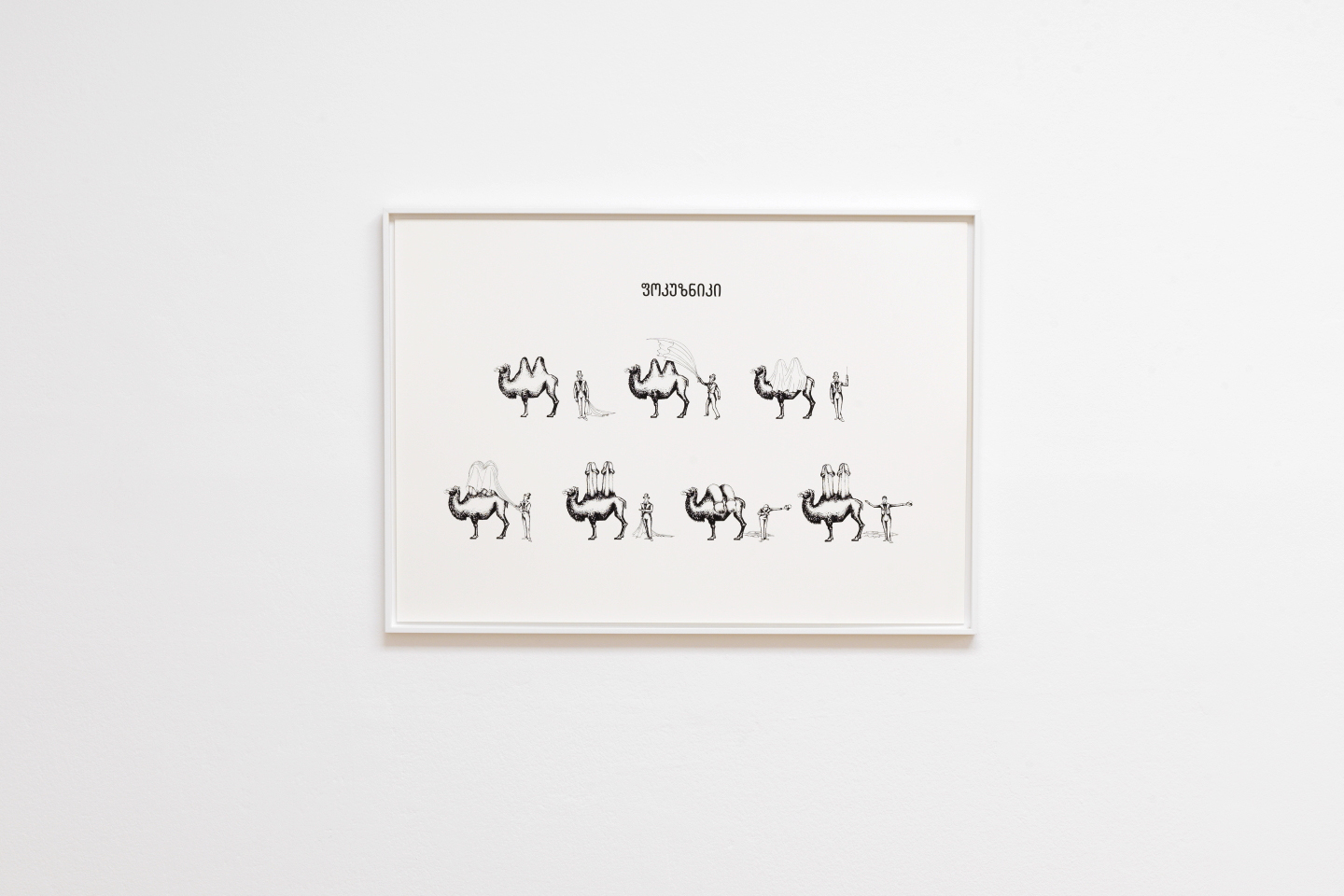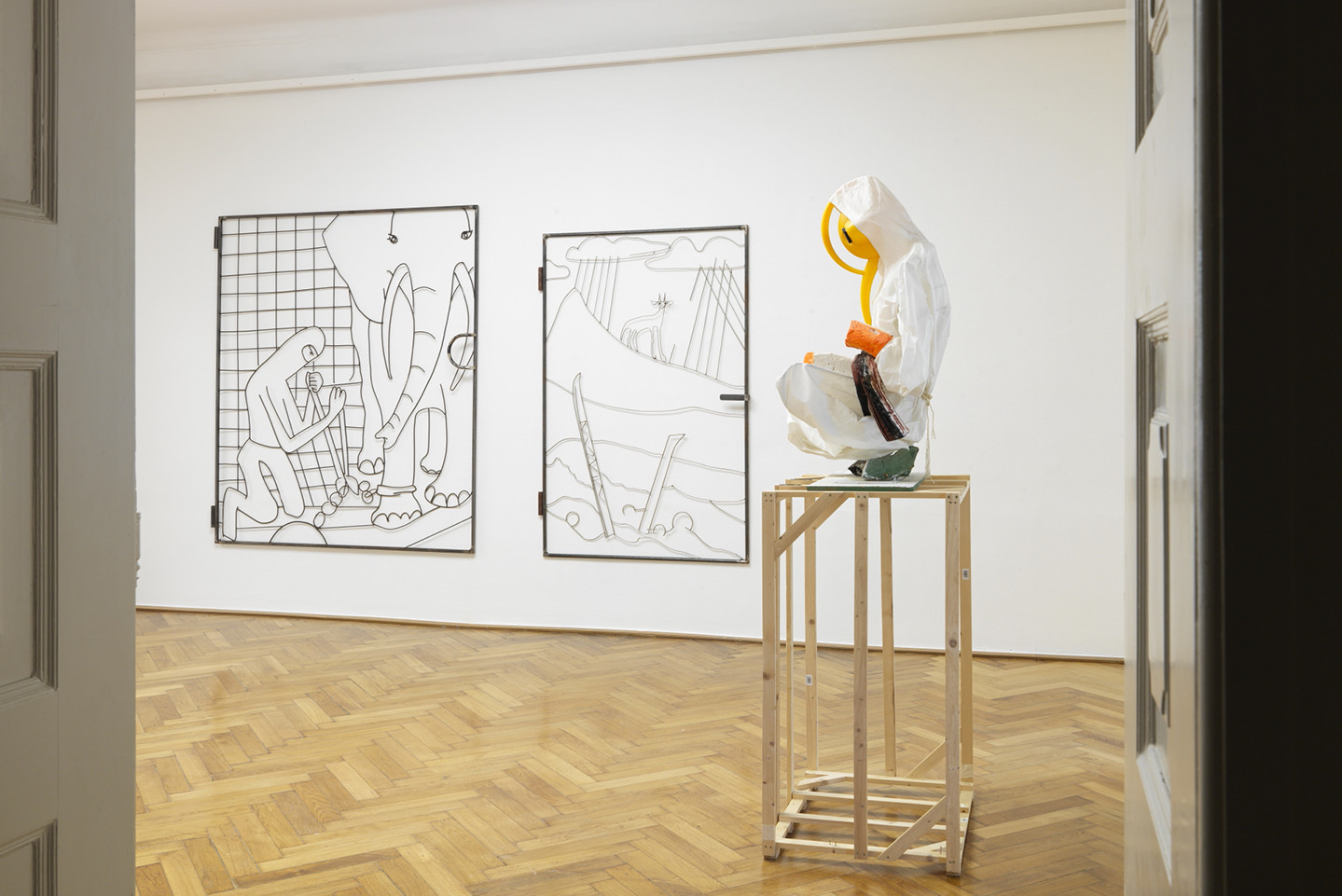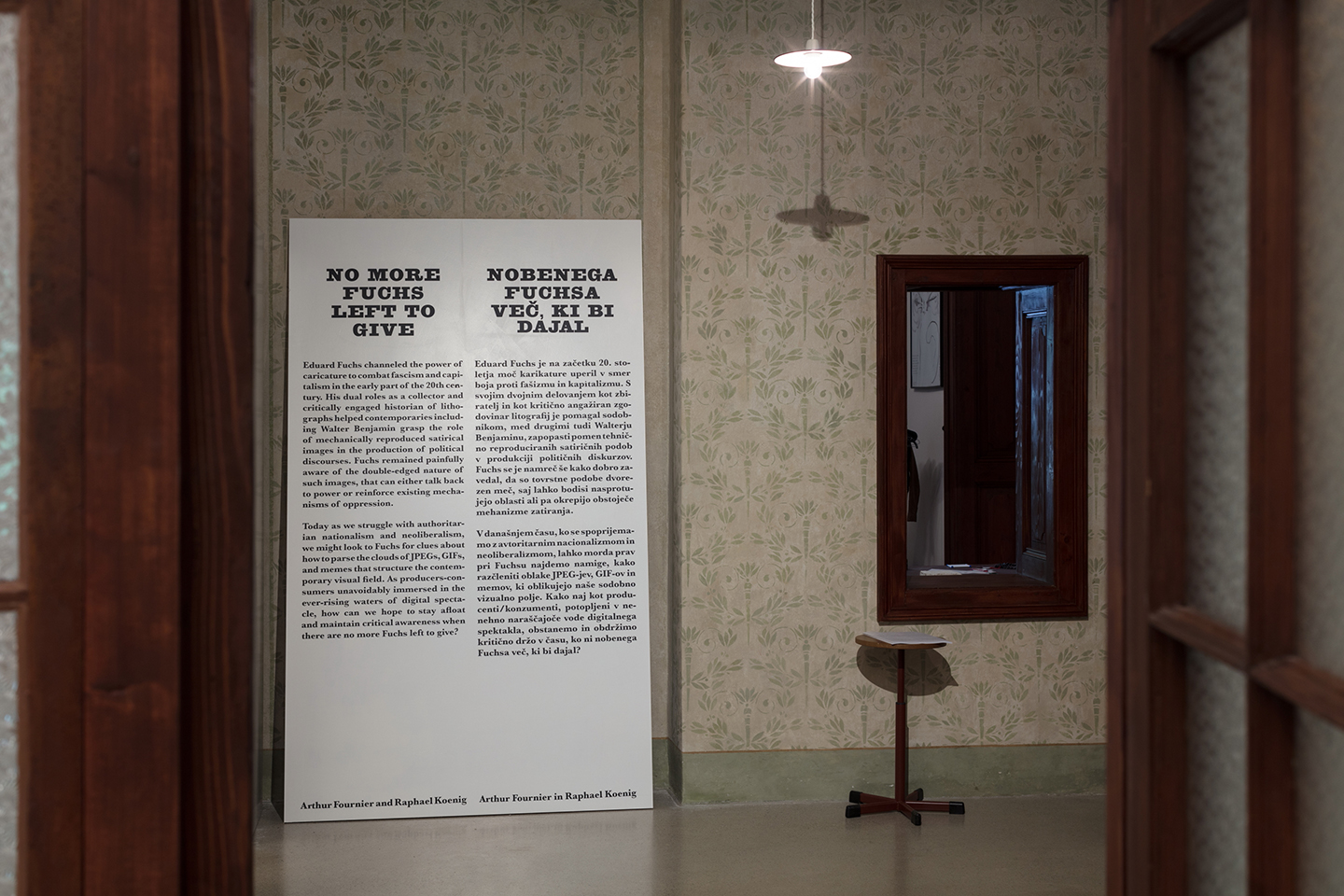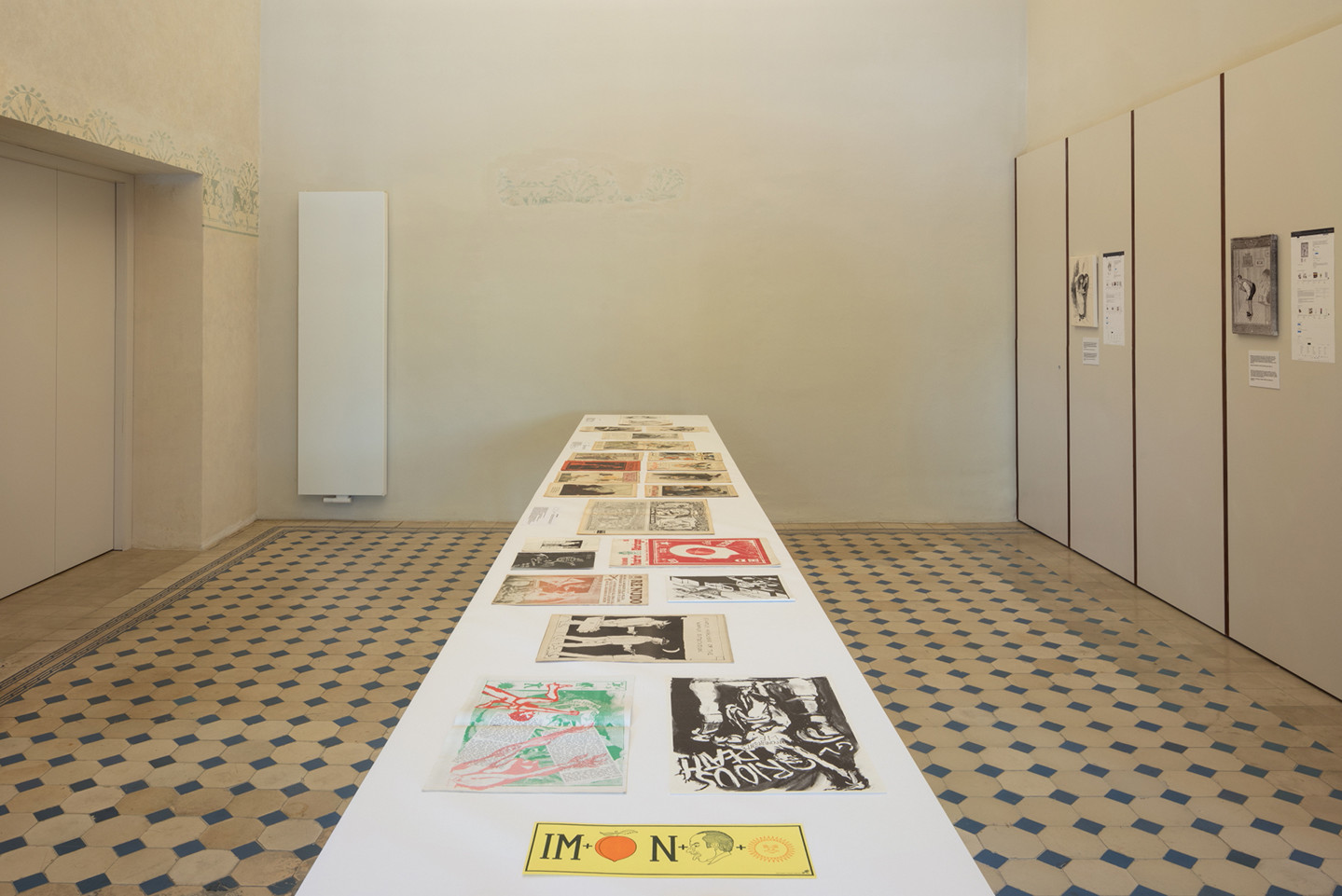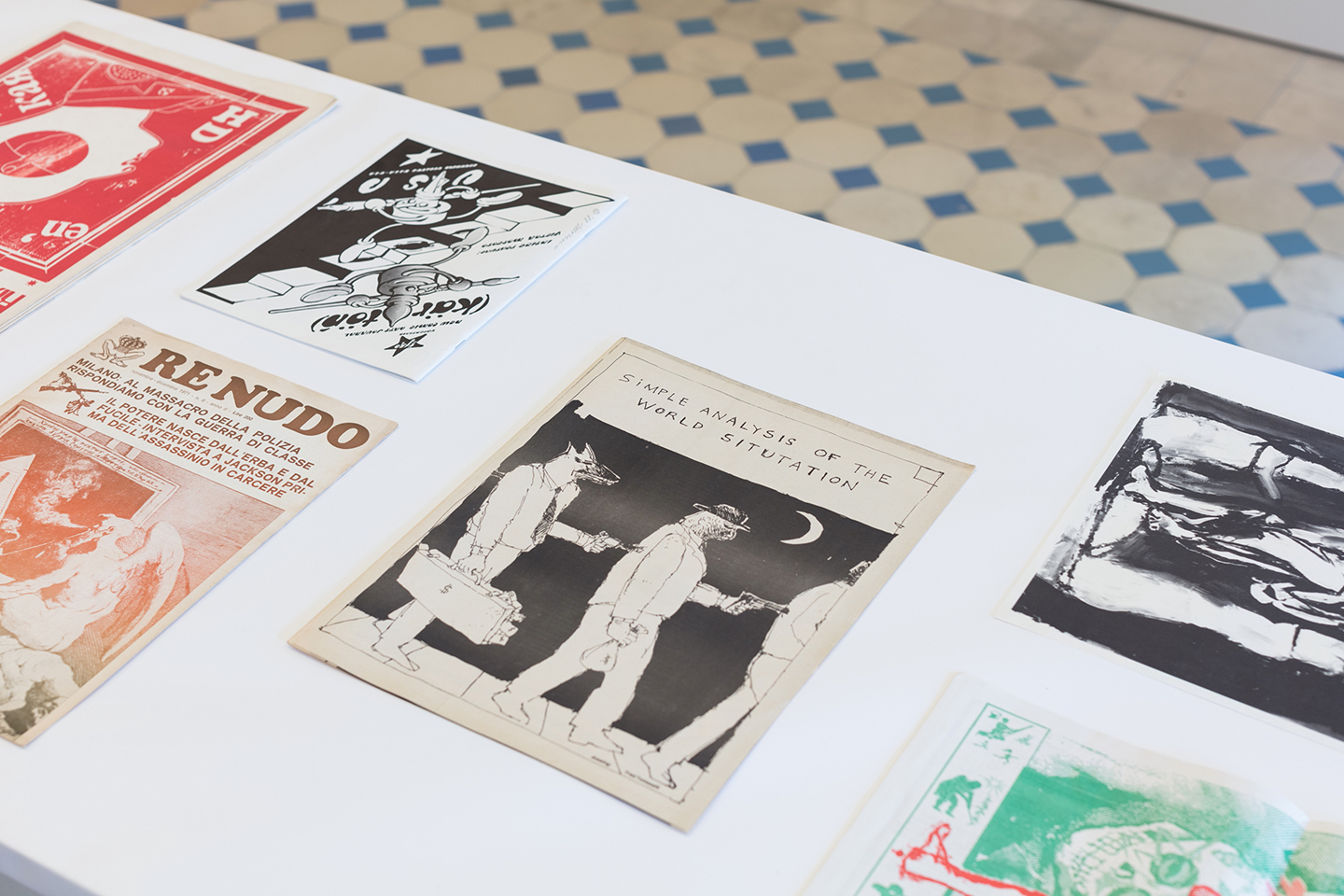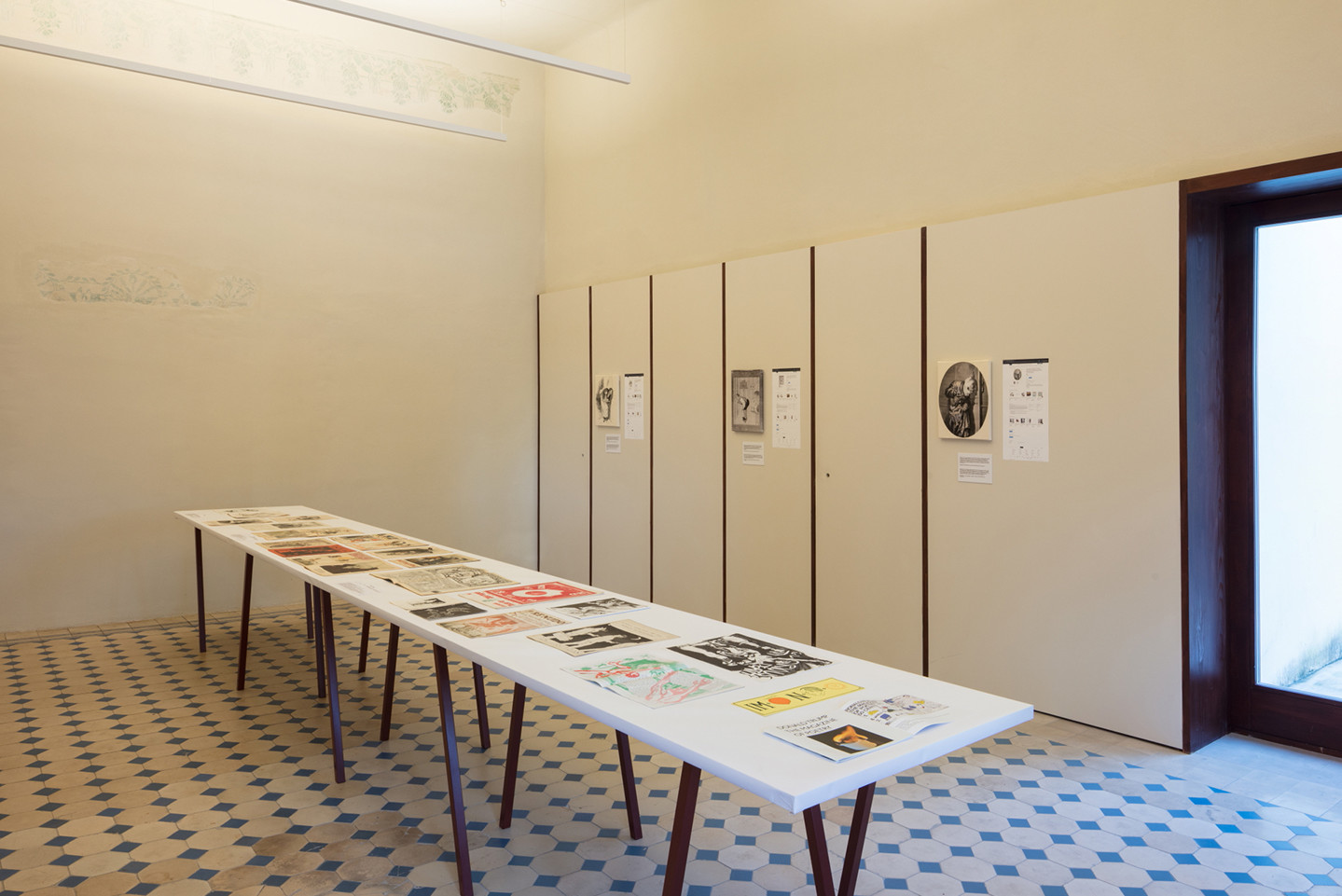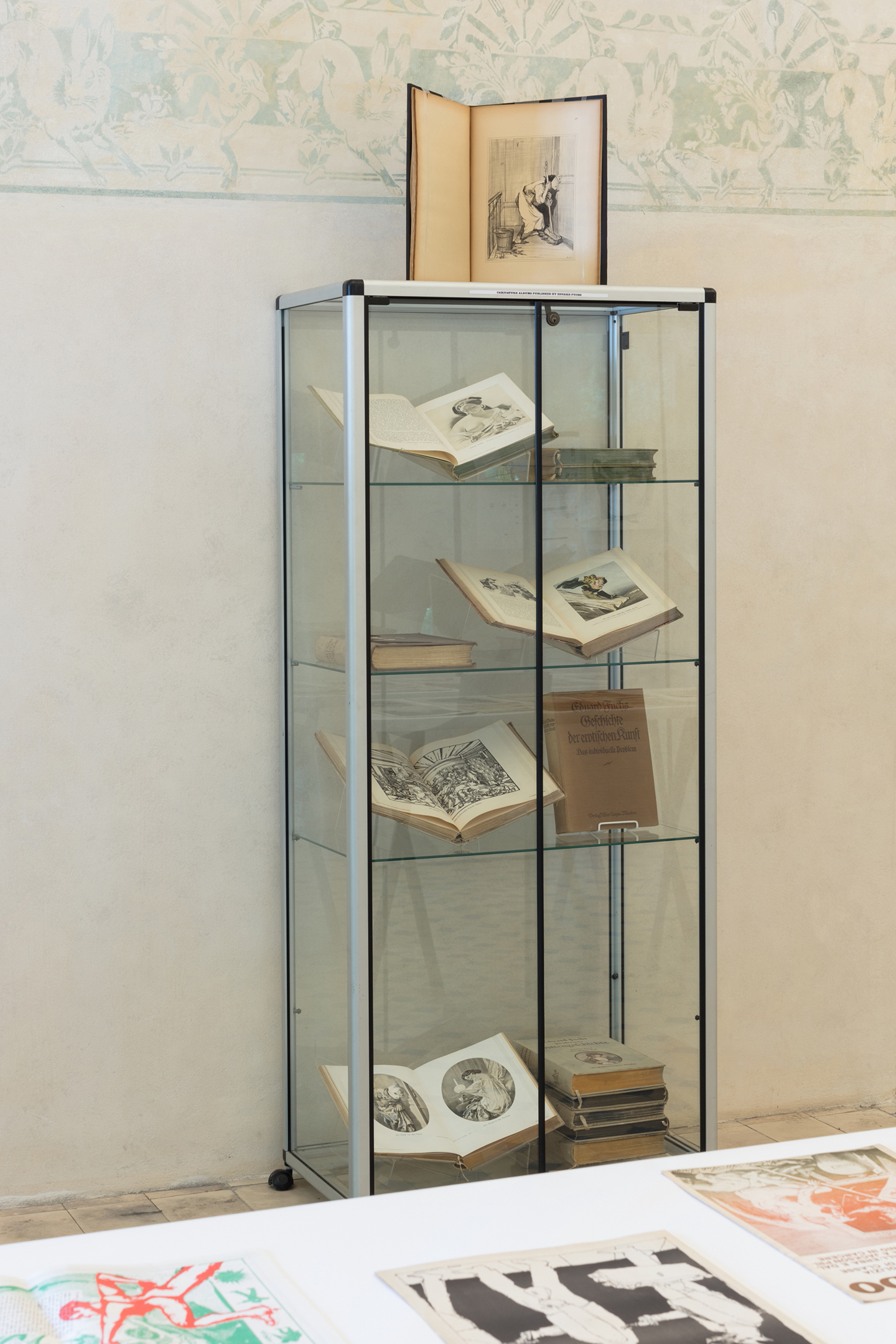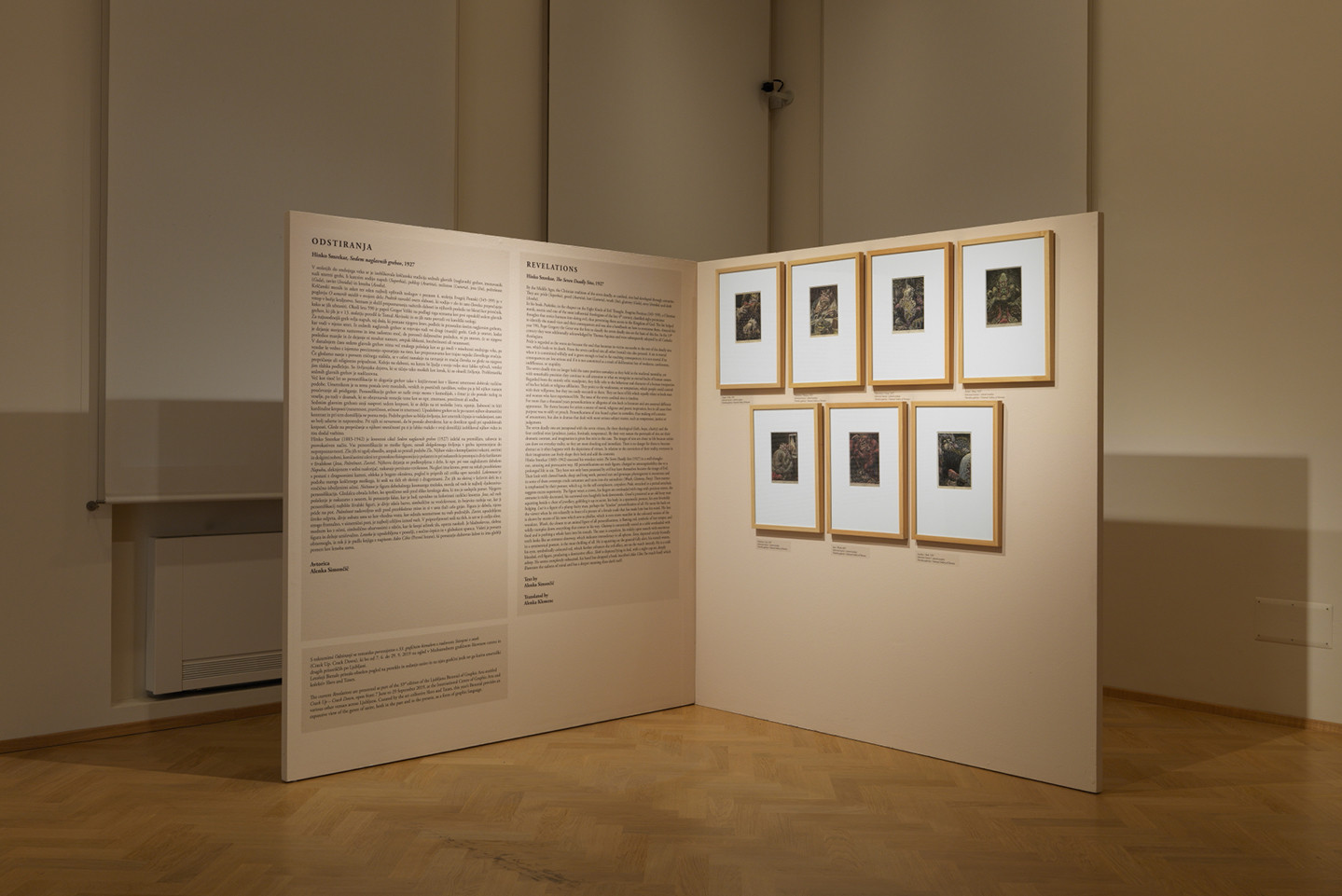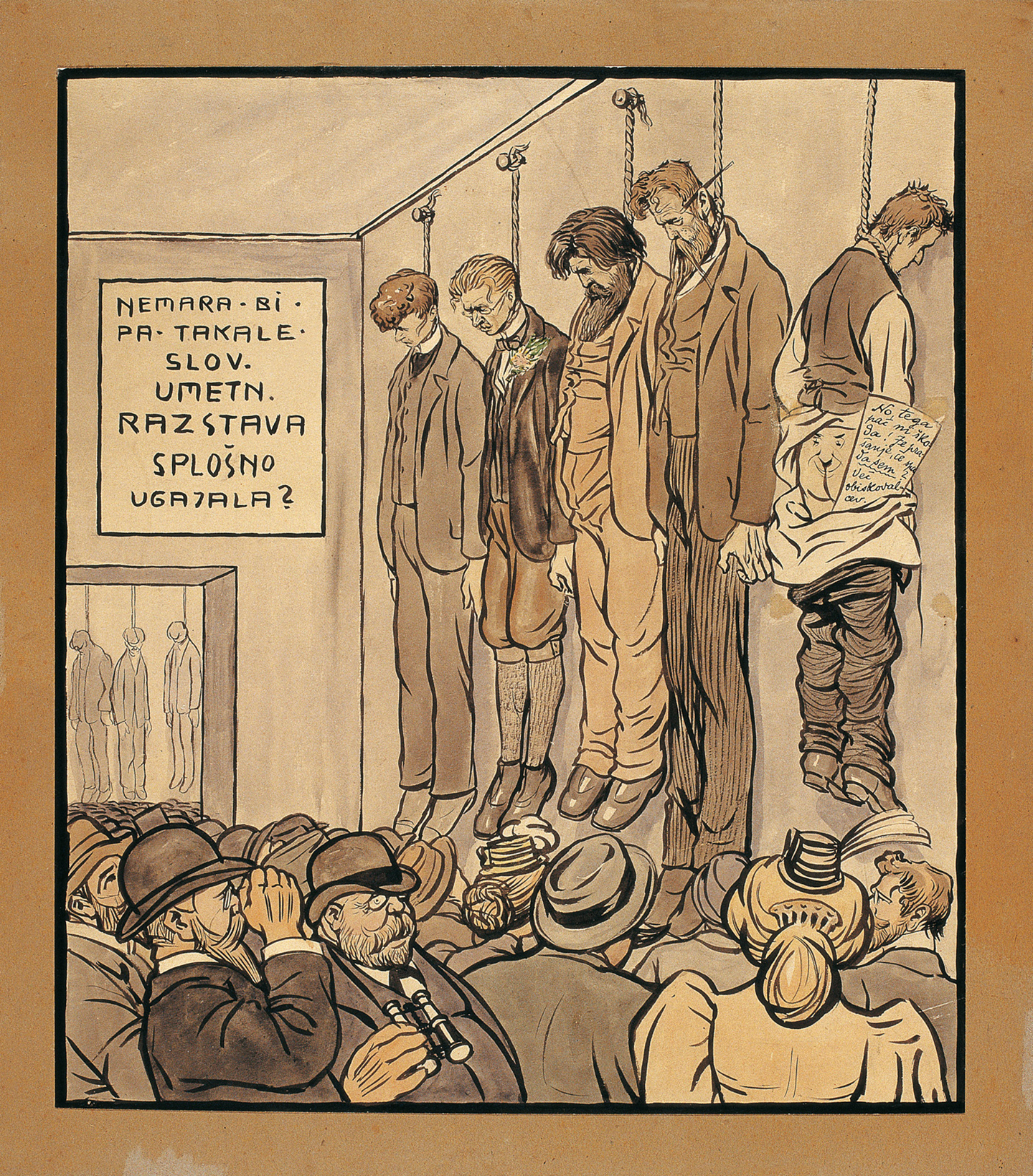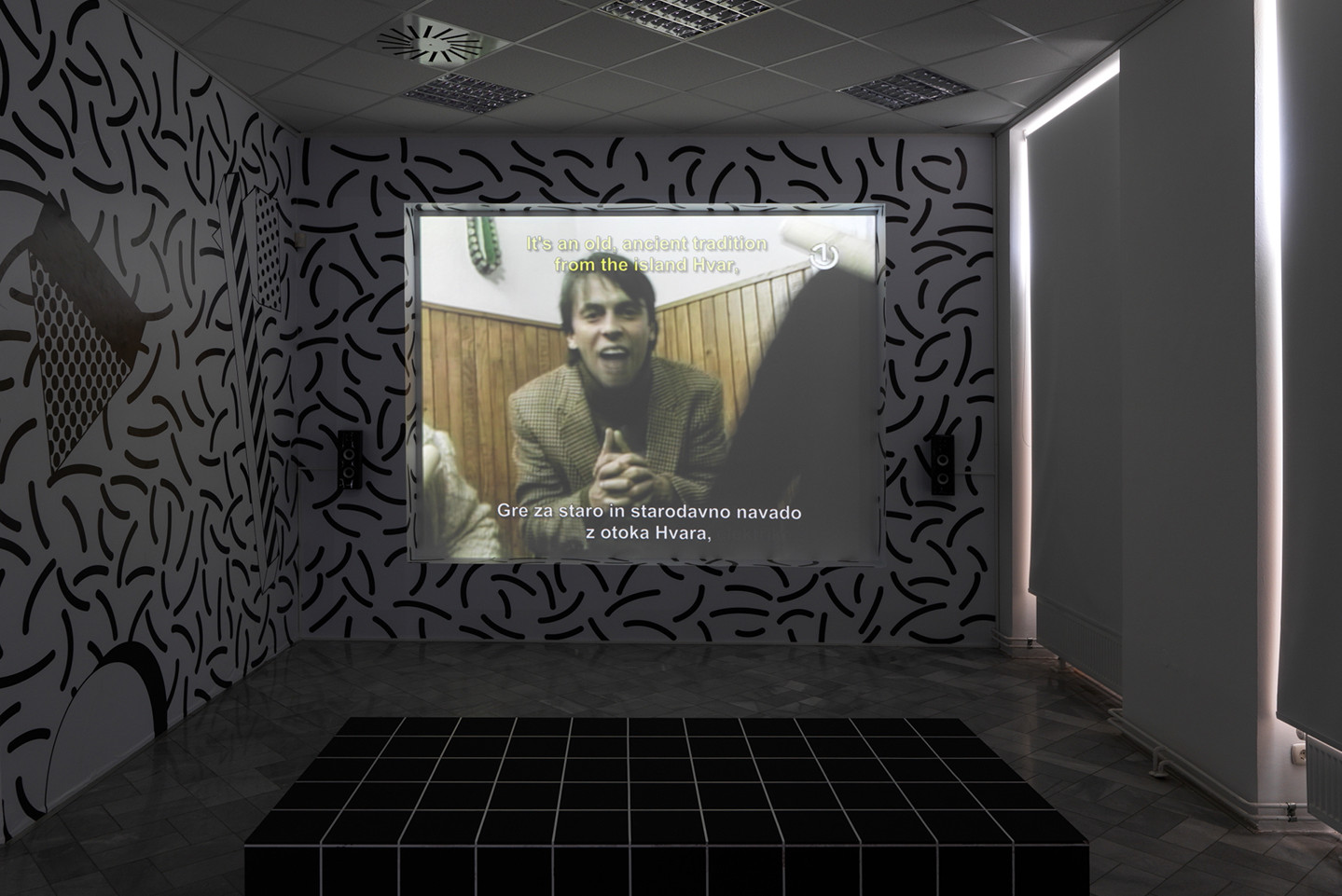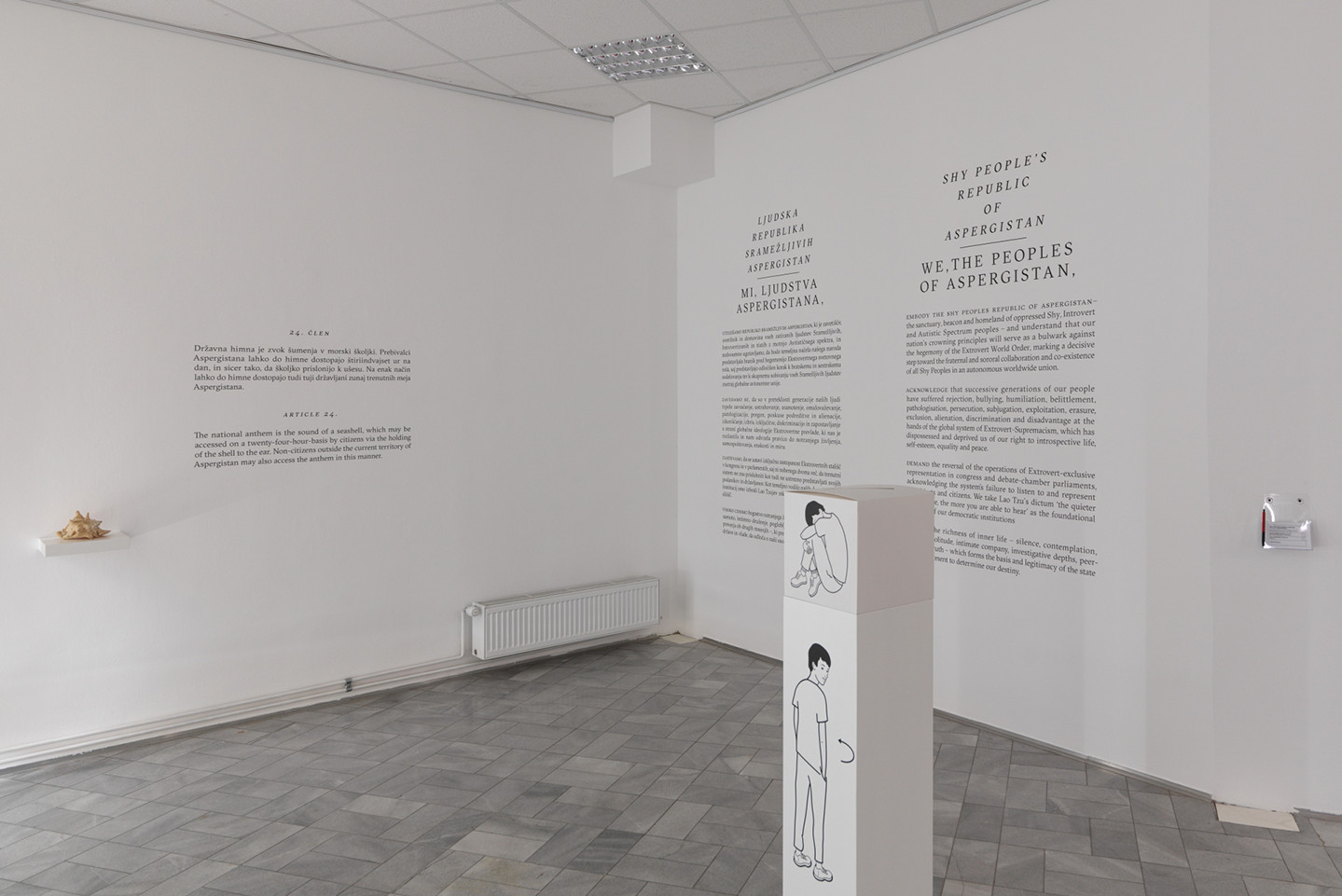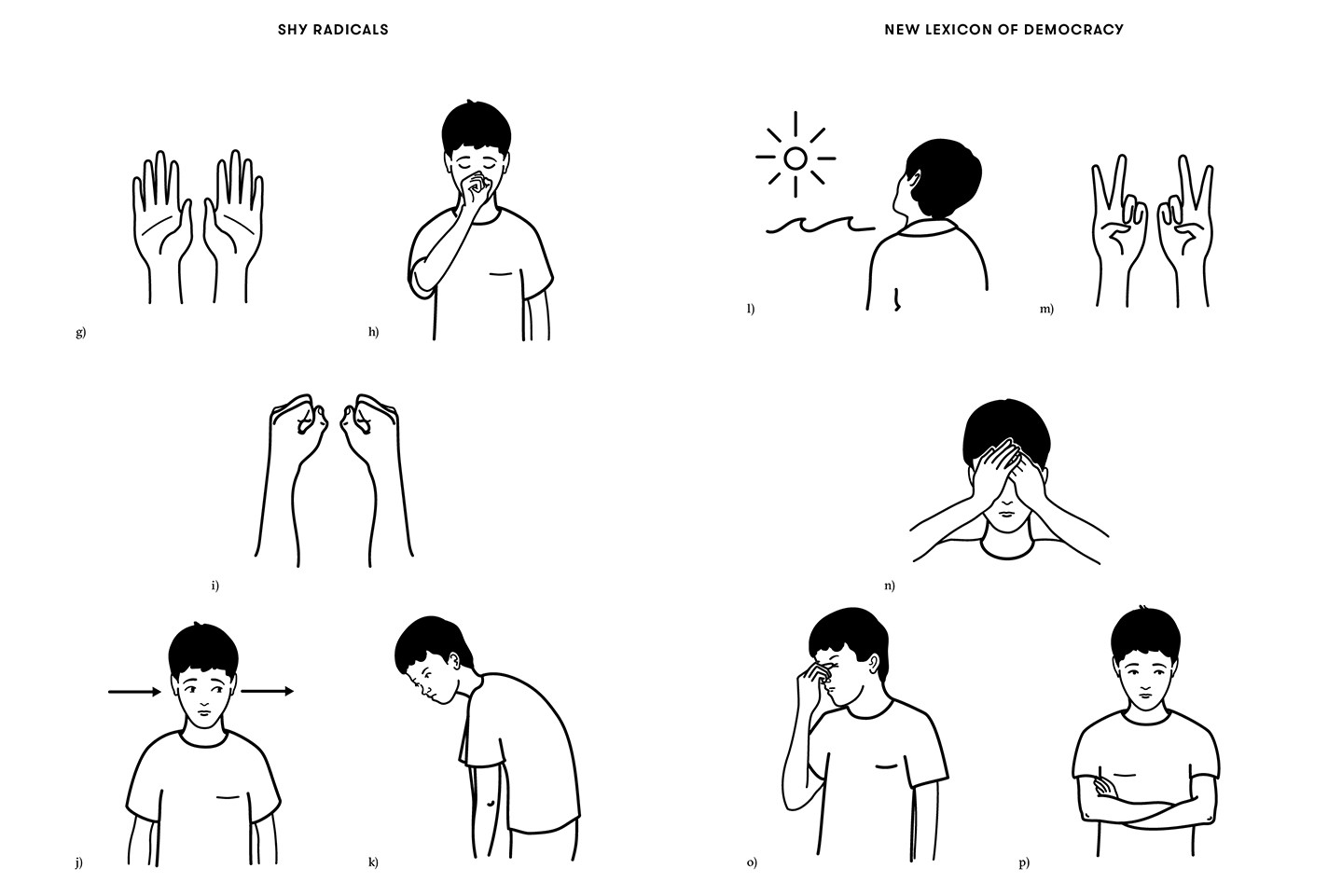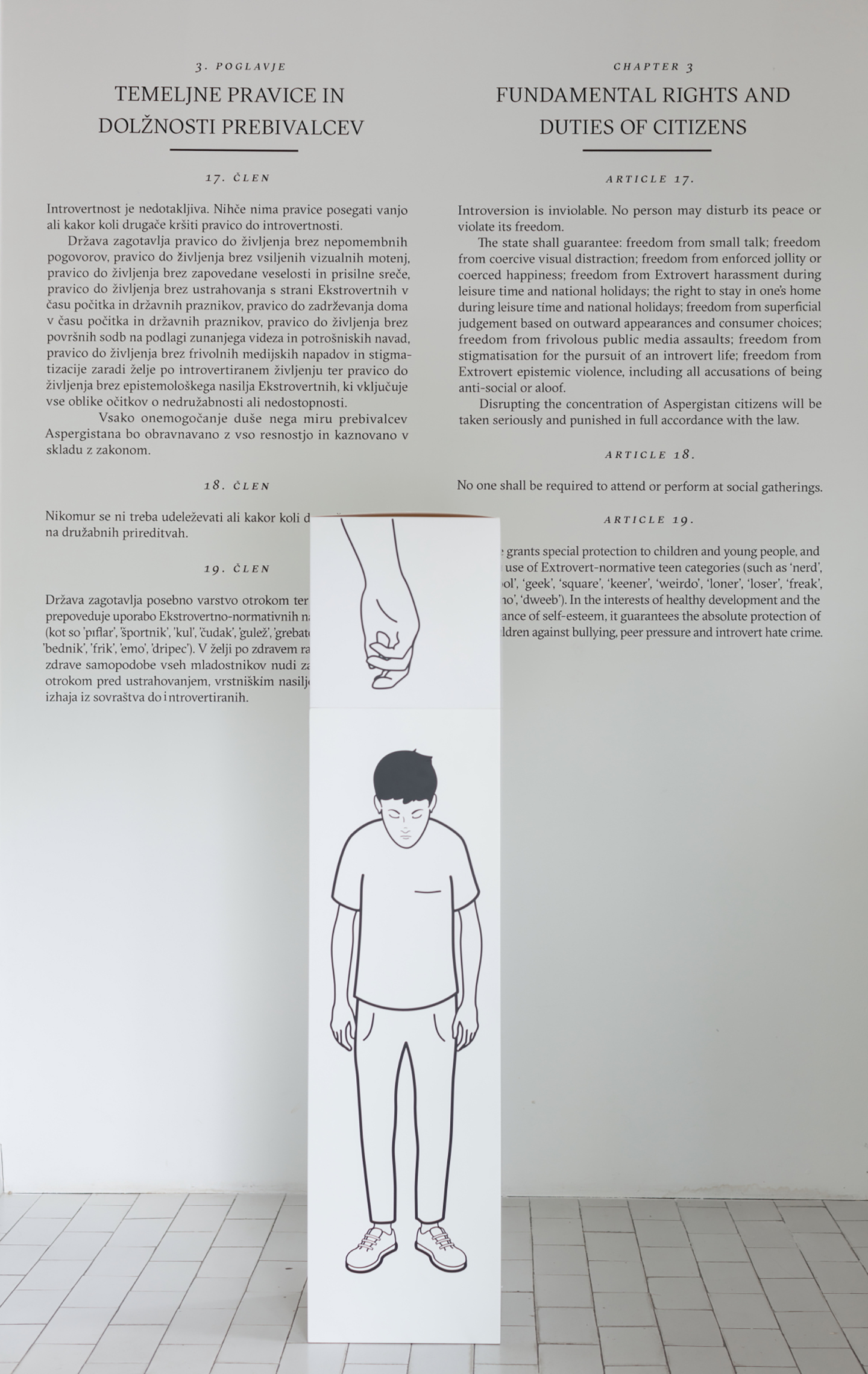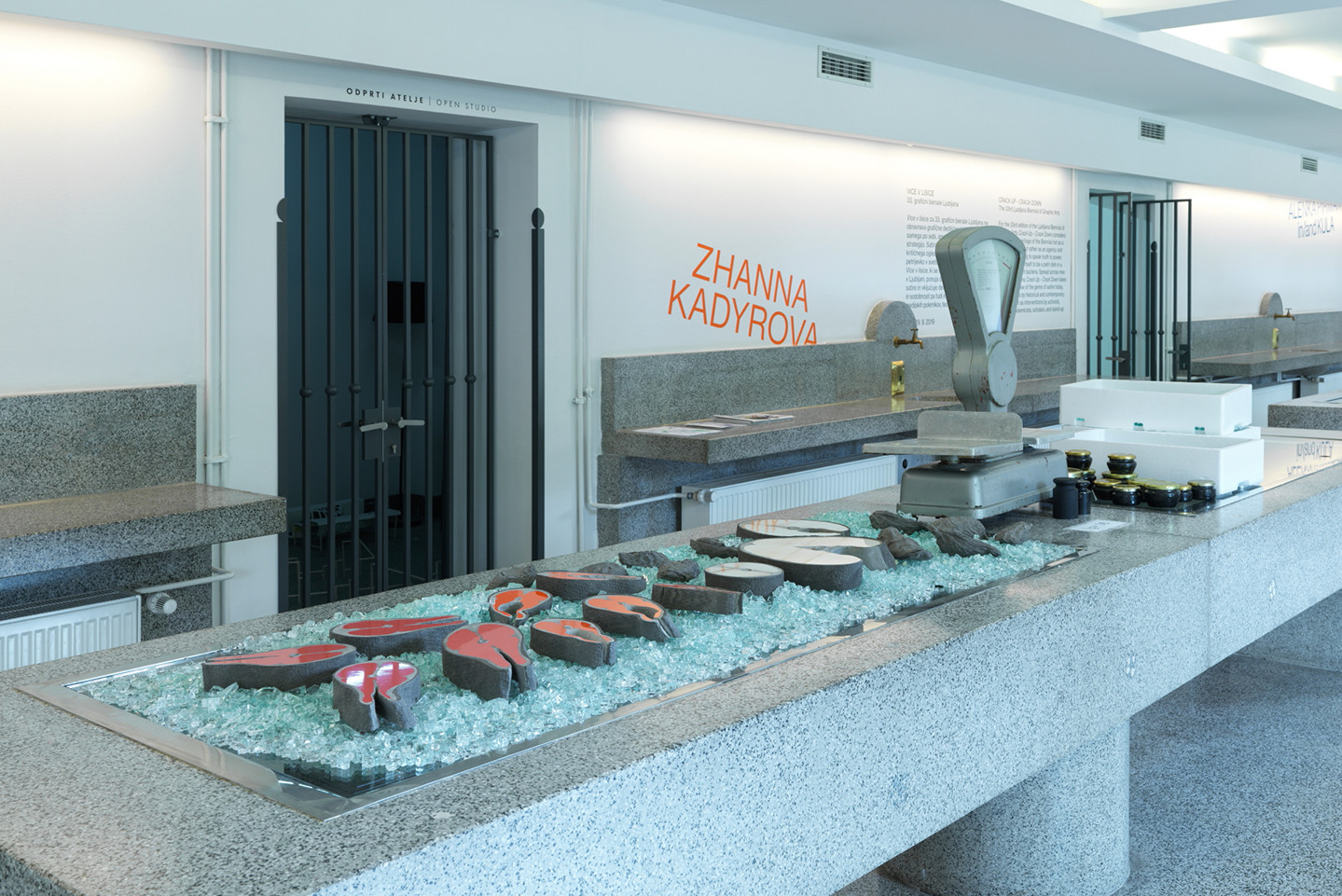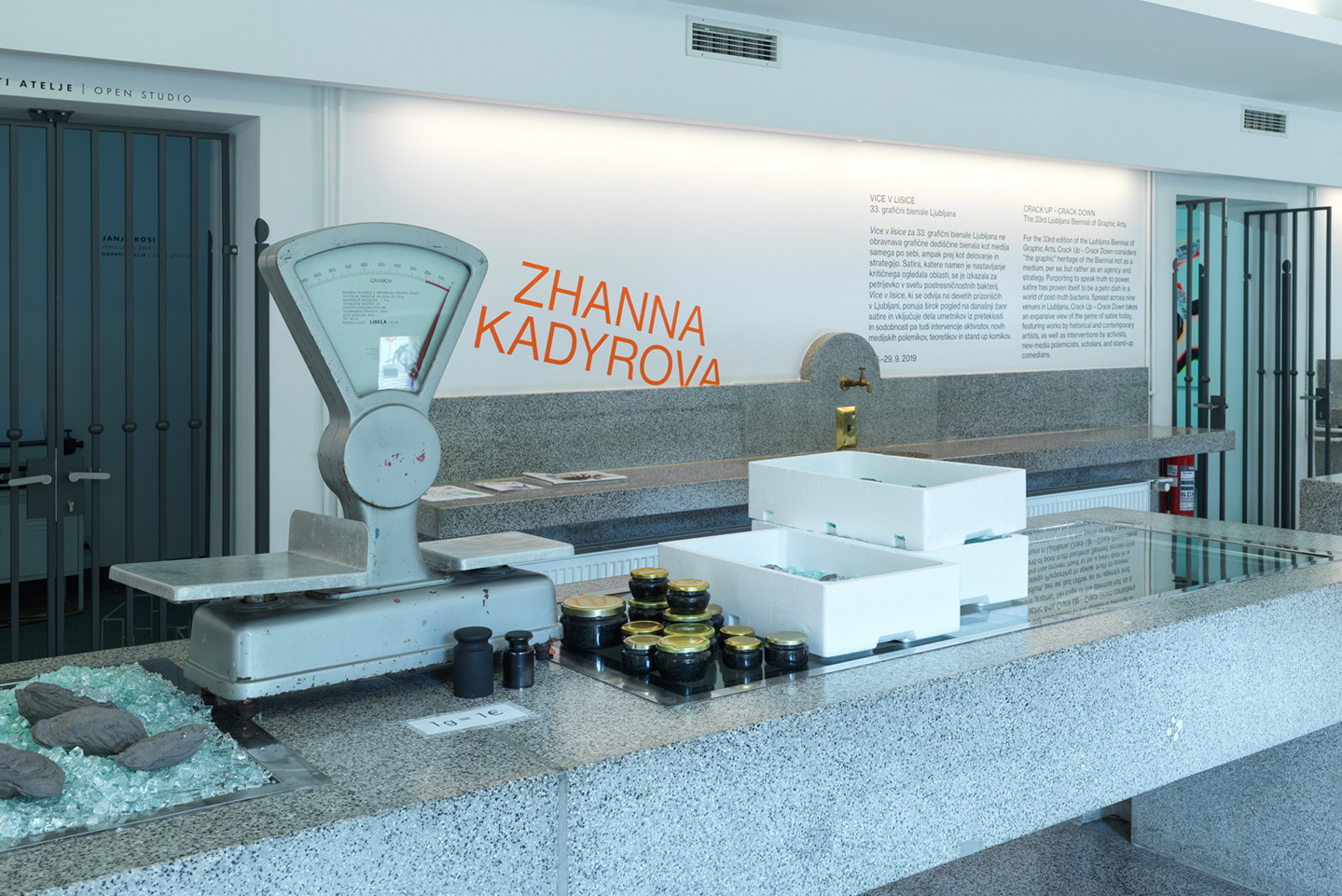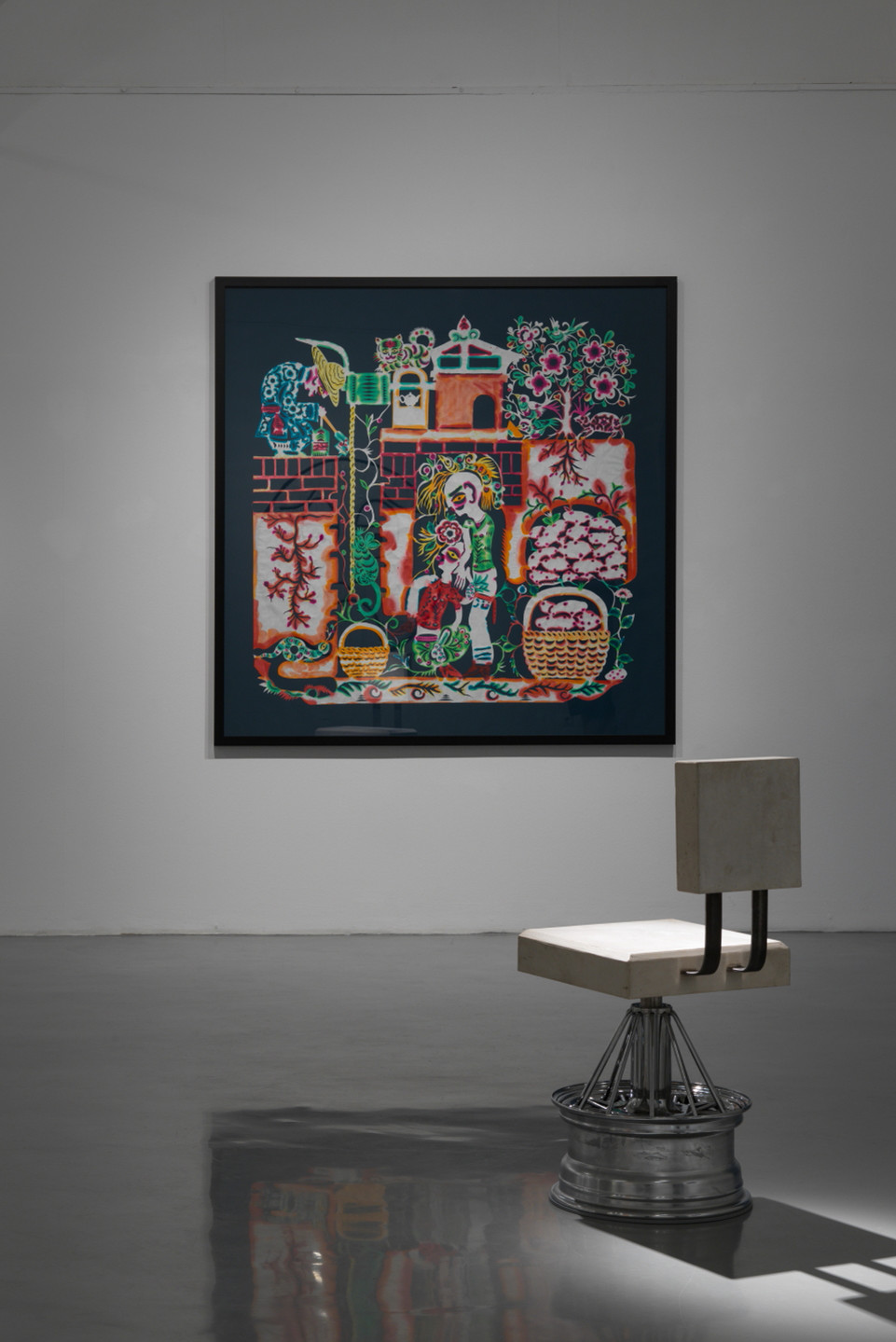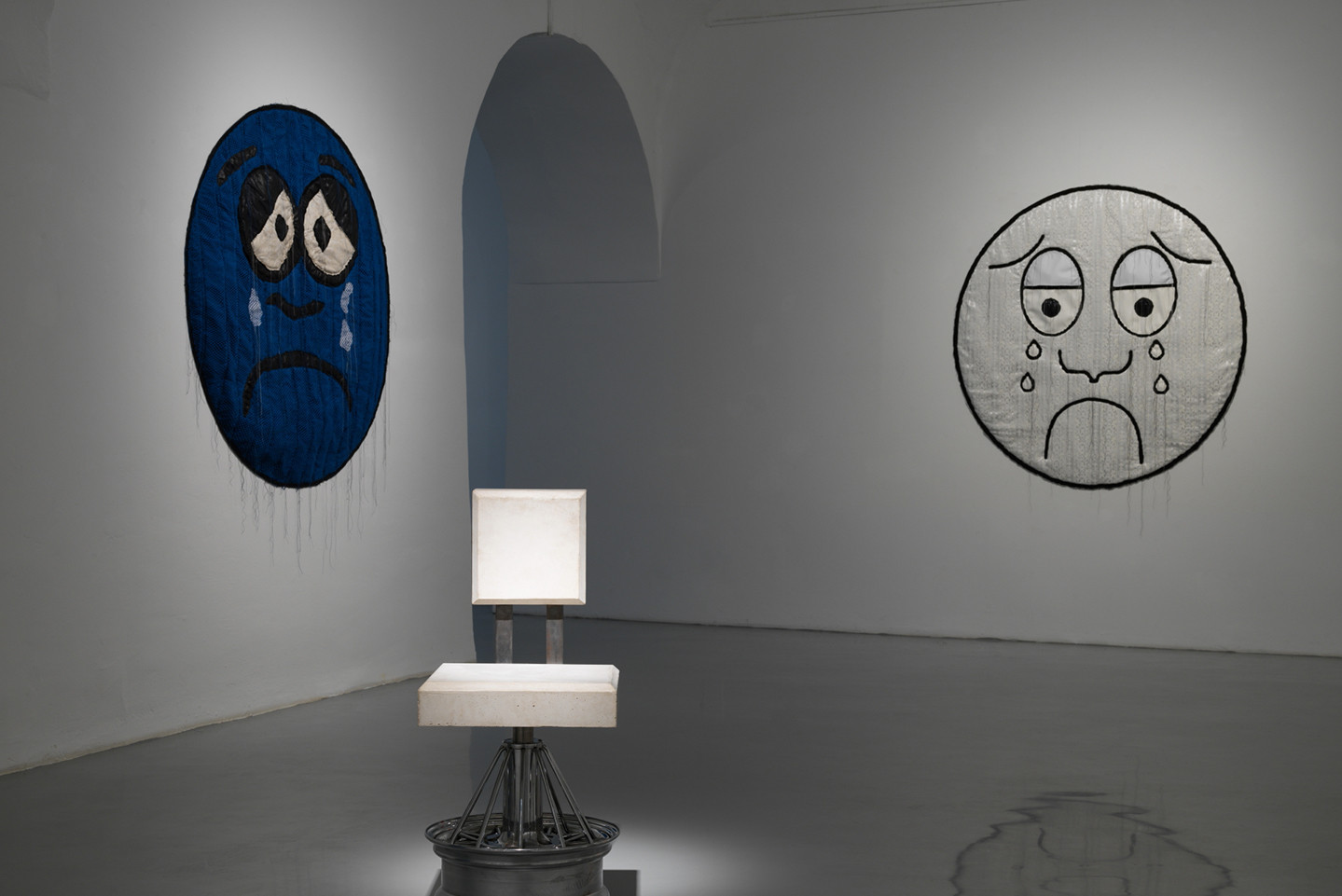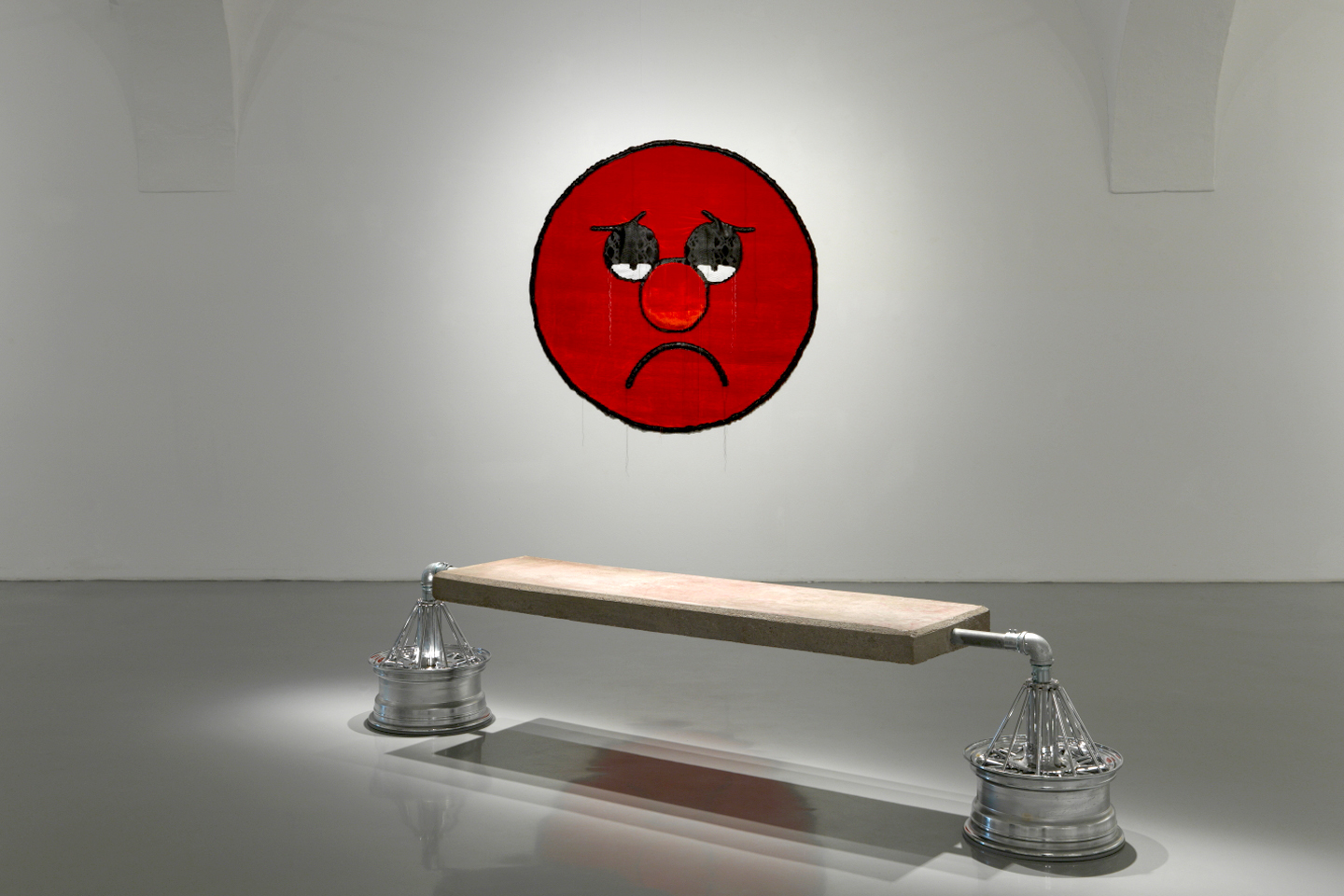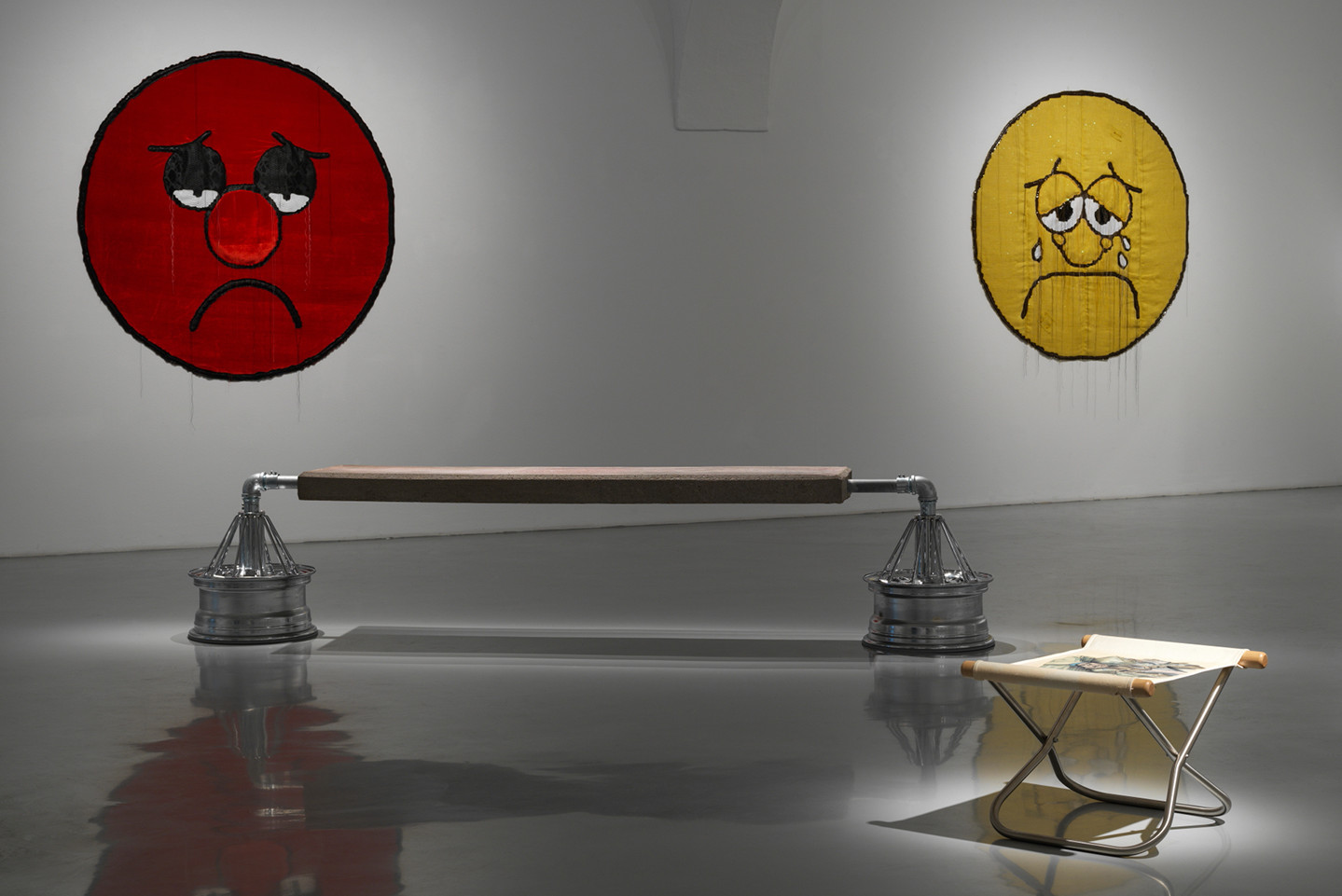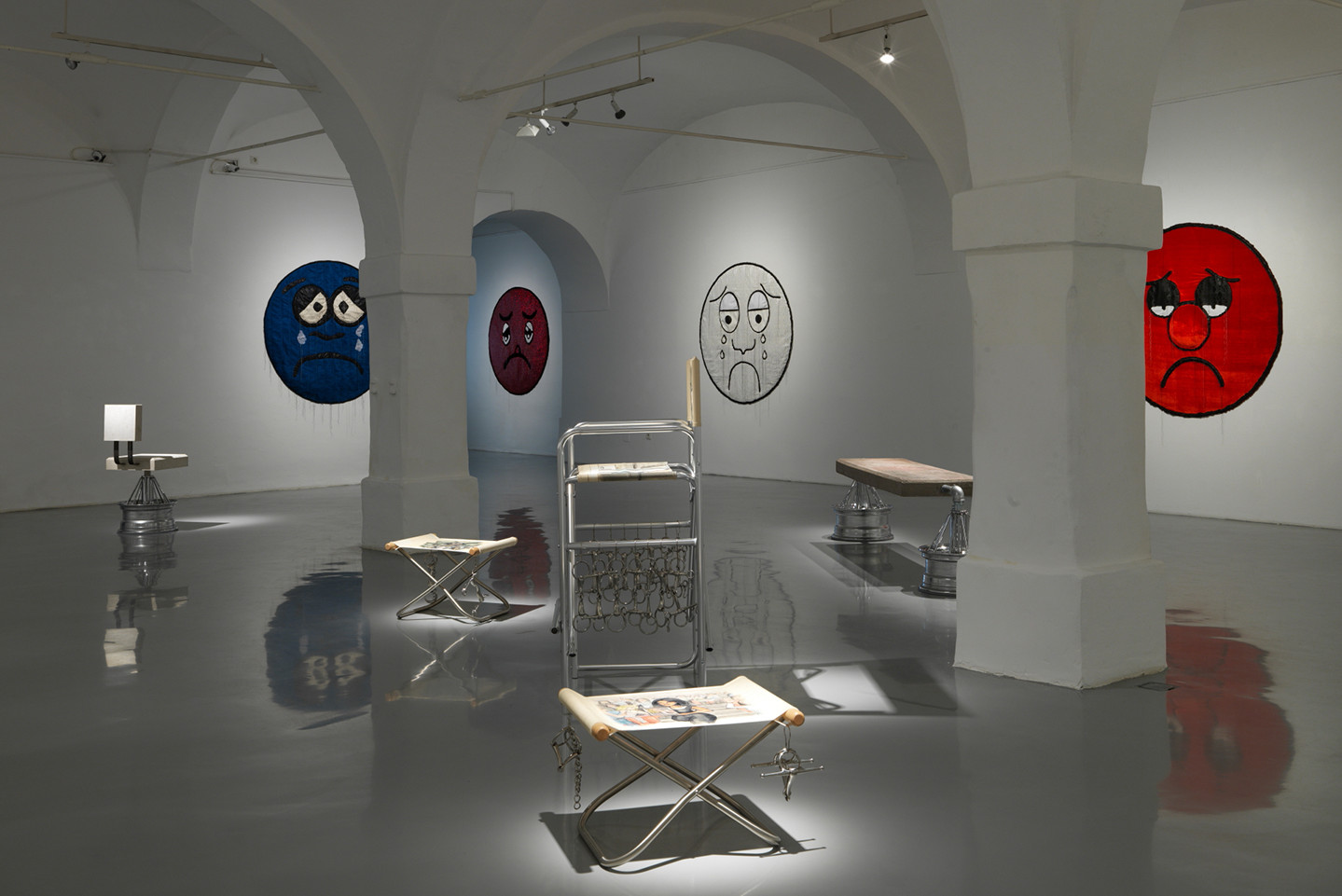 by Chiara Moioli
"Fantasy will destroy power and a laugh will bury you!" was an anarchist motto in the nineteenth century—some believe no less than Mikhail Bakunin first pronounced it. The subversive spark of laughter—whether in the shape of satire, humor, or sarcasm—is the number one enemy of single-thought power doctrines, which fear the desecrating strength of a critical, ironic look to deprive dogmas of their mantle of (presumed) inviolability. It is no coincidence that satire blossoms in epochs of authoritarian rule, and thus it's no less accidental that, when asked to curate the 33rd Ljubljana Biennial of Graphic Arts, Slavs and Tatars turned to satire to stress the urgency of our current sociopolitical situation. They boldly ask themselves, the invited artists, and visitors: Do irony and satire in the arts still wield political clout in today's world?

Satire's relation to politics is hardly a new topic for the collective. Founded in 2006 by Payam Sharifi and Kasia Korczak originally as a reading group, Slavs and Tatars dedicates itself to in-depth research concerning polemics and interactions in the Eurasian landscape—that site "east of the former Berlin Wall and west of the Great Wall of China." They are firm believers in the power of humor, and embrace George Orwell's maxim "Every joke is a tiny revolution."
But is every joke really a tiny revolution?
Their efforts to answer the query were tested by the geopolitical importance of Slovenia as a former Yugoslavian nonaligned state, and by the very fact of the biennial's original focus on graphic arts. Founded in 1955, the Ljubljana Biennial was, during the Cold War, one of the few available meeting points for artists of the Eastern and Western blocs; the inexpensiveness of the medium (print and paper) made participation accessible to the artists, who could literally mail their work in a tube for it to be showcased, traded, and collected. The medium made the show reasonably democratic. Then in 2001 the biennial introduced a curatorial paradigm and retired the previous convention of choosing works through national selectors, thus broadening its horizons and scope, as every invited curator was encouraged to consider what the term "graphic art" meant in the twenty-first century. Slavs and Tatars decided to focus on satire because its democratic spirit, to them, recalls that of graphic art. Their selected works consider how satire and the geopolitical overlap by considering "graphic arts" less as a medium and more as an agency; to Slavs and Tatars, the idea of medium specificity "seemed a bit outdated and out of context."1 Their selected participants include historical and contemporary artists as well as publishers, scholars, activists, new-media polemicists, and stand-up comedians.2 "We were interested in showcasing works or practices that were not only art practices," noted Sharifi at the opening. "We are very happy to have people who function both as writers and as activists, also embracing discursive practices that are relevant to the art but not necessarily functioning within the realm of 'fine arts.'"3
The presentation at ZVKDS Gallery of a selection of sketches from the Bosnian cult comedy show Top lista nadrealista (The Surrealists' Top Chart), which aired on TV Sarajevo from 1984 to 1991, incorporating political satire along with cutting portrayals of peoples from the Socialist Federal Republic of Yugoslavia in the years preceding the Yugoslavian Wars, is a direct attempt at this widened premise of inclusion, as were the numerous stand-up comedy shows and concerts organized during the opening days of the event.
Another issue Slavs and Tatars had to confront was the geopolitical status of the biennial, given that it's no longer the case that East and West converge only on the occasion of this event. However, the city of Ljubljana has a deeply rooted history of nonconformist resistance, especially in the arts (consider for instance OHO and Neue Slowenische Kunst), which begged to be tackled: "Yugoslavia and Ljubljana's position of non-alignment was very important to us as a legacy," notes Sharifi. "The challenge, when you have such a strong position like Ljubljana's, with the heritage of NSK, of IRWIN, of all this, is trying to answer differently. We are interested in extending the school of thought that urges doing what others don't, and exploring what's not being addressed."4
Several featured works are by groundbreaking historical figures operating in the ex-Yugoslavian panorama. At the National Gallery of Slovenia is a selection of prints, The Seven Deadly Sins (1927), from the archives of Hinko Smrekar (1883–1942), a Slovenian caricaturist significantly involved in the satirical periodicals of his time who was shot by fascists because of his connection to the Liberation Front. Hungarian seminal conceptual artist Endre Tot's P0ema nič (2019) welcomes visitors on the stairs of MGLC, leading to the first floor, where Tot's Ten Questions (1973 and 2019)—an overwriting of the Ten Commandments made with his distinctive series of zeros—appears. On the same floor are collages by graphic artist Stane Jagodič portraying a caustic cartography of postwar and post-socialist Central Europe. Alongside these historical figures, Martina Vacheva's works at MGLC stand out as a fresh kind of interrogation within the archetypes of the Balkans; she populates her world with characters drawn from pop culture, but re-elaborated as Bulgarian vernacular figures in a jarring but amusing way.
As told by MGLC director Nevenka Šivavec, this 33rd edition, distributed among ten venues across the city, was at one point going to be titled Humor and Harmour.5 But Crack Up – Crack Down was settled on for its capacity to embody an even stronger duality, the first part meaning to burst into laughter, and the second referring to tightened controls, and in its totality suggesting laughter as a form of emancipatory madness in times of escalating political rigor. Sharifi emphasizes its reference to the double-edged nature of satire: the power of laughter on one hand, and its limits on the other: "As we know, every revolution ends up eating its children, so there's a reversing of that power. The title speaks of the weaponizing of laughter, satire, and humor by less progressive forces in the same way we've seen poststructuralist, postmodernist identity politics being appropriated by the right."6
Satire can thus either talk back to power or reinforce existing mechanisms of discrimination and oppression, and this dichotomy might explain why many of the works on view deal with humor that has underlying complexity, or, as Slavs and Tatars puts it, maintains "a certain sophistication in stupidity: when the surface or first level is quite thick and viscous."7 Take for instance Zhanna Kadyrova's Market (2017–ongoing), recently also included in Ralph Rugoff's 58th edition of the Venice Biennale and here enacted at DobraVaga, formerly a fish market. Kadyrova offers her works—oysters, caviar, and fish steaks made of ceramic—for sale according to their weight (1€ per gram), disrupting notions of value, provenance, and context simultaneously within and outside the jurisdiction of the arts. Disseminated through four biennial venues, Hamja Ahsan's The Apergistan Referendum (2019) asks visitors to join the Aspergistan Federation, a utopian state for shy, introverted, and/or autism-spectrum peoples united against the "extrovert supremacy," encouraging a reflection upon structures of social exclusion and alienation. Sharifi notes, "I think humor is most effective, especially in politics, when it encodes encryptions: when it passes the sweet spot of humor, and politics show up, and it's not decipherable immediately as such, like with over-identification. As a political tool it's effective when it's slippery—when even the monarch is reading it and cannot understand that it's mocking him. That's what we tried to look at."8
In his Text-Signs series from the late 1960s, on view at MGLC, pioneering artist Ferdinand Kriwet (1942–2018) subtly played with a deceptive form of linguistic infinitude by placing intertwined words inside circular shapes, making their reading impossible if not in the form of sharp accrochages: "SODOMESTIC," "SODOMASORRY," "HOMODELIGHT," "IDOLESCENCE," "SHEROBSCENE." Irreverent, perhaps even profane, are the sculptures by Giorgi Xaniashvili (also at MGLC), whose work as a sculptor of Byzantine icons for the Georgian Orthodox Church led him to sabotage: carving out erotic and "unorthodox" scenes from the very same blocks of wood he used in his day-to-day employment. In a similar vein, XIYADIE (a stage name meaning "Siberian butterfly"), featured at Equrna Gallery, deploys the antique Chinese tradition of paper cutting to depict scenes of homosexual eroticism. The irreverence of all these works functions effectively as an invitation to explore their underlying, contingent, and urgent topics.
In their investigation, Slavs and Tatars also call into question the democratization brought on by the internet—specifically how the online milieu of memes has transformed the discourse of grassroots satire and irony. At MGLC – Švicarija, No More Fuchs Left to Give (2019) by Arthur Fournier (an independent dealer in books and manuscripts, head of the New York–based company Fournier Fine & Rare) and Raphael Koenig (an associate scholar in comparative literature at Harvard University), looks at the work of Eduard Fuchs—a political activist, collector, and publisher of European lithographs active around the turn of the twentieth century—for clues on how to parse the myriad satirical images pullulating online and off as a means to interrogate the Benjaminian notion of mechanical reproduction, and the relationships between satire and print culture in the twenty-first century.
As noted by Sharifi, "The proliferation of satire definitely decreased its aura, in the sense that the adrenaline burst you have upon seeing something is now rare. It sounds a bit old-fashioned to say, 'Oh, now because it's accessible it's meaningless.' Every generation said that. Democratization is what we want, but we have to accept that the democratization of satire diminishes its power. Again, this sounds a little passé, but there's a sort of connoisseurship that went away. If we look at the golden age of caricatures from the French Revolution, or at British caricatures of the late eighteenth and early nineteenth centuries, they were very politically articulate—viewers had to be acutely aware of politics to understand them fully. They were extremely rich. Today that density is lacking in the field of memes, as memes are not about density; they're about superficiality. We as curators don't want the density on its own, nor the superficiality; we are interested in the thickness in that surface, in that moment when that surface has depth."9 This is palpable in the practice of Amanda Ross-Ho, whose series Hurts Worst (2018–ongoing) adopts a symbolic system traditionally used to measure physical pain—that of a face expressing different shades of agony in response to the level of perceived discomfort—to construct a hyperbolic metric for the collective existential distress brought on by modern-day life. This despite the works' very catchiness (their resemblance to emojis makes them readily Instagrammable).
Trusting humor as one of the most disarming and generous instruments in anyone's tool kit,Slavs and Tatars legitimately tested the limits of satire today to epitomize what they call "a kind of defeatism": "You wake up every morning knowing that you'll fail, but you have to wake up trying: most likely you will fail but it doesn't matter, you have to get up thinking that you won't, have a kind of suspension of disbelief. Otherwise it's just not worth getting up."10
Well aware that satire has lost much of its former power, the collective has nonetheless orchestrated an unorthodox graphic arts biennial—a remarkably witty combination of astuteness and tongue-in-cheek disruption. But can we still speak of propaganda? According to Sharifi, yes. "Artist Lawrence Abu Hamdan always tells me that he makes propaganda in the sense that we, as Slavs and Tatars, also make a sort of propaganda instead of shying away from it. We have an agenda in some of the works, and it's true that there's a discourse we're trying to elevate that is not otherwise being addressed and functions on an affective level that is slippery. When you manage to combine these un-combinable things, to make propaganda and be effective, that's interesting. I'm not sure to what extent art in general has a political power. A lot of artworks have agendas, but I remain unconvinced as to how effective those agendas are. I'm more of a grassroots person, and I also think it's important that we don't take on responsibilities that others should have—the same way that NGOs sometimes are now filling in where the state should be doing work. I think it's important sometimes to say, 'No, that's their job, and our job is different.' I believe our job is to scramble the stories as much as to tell them."11
[1] Payam Sharifi, introductory remarks at MGLC – International Centre of Graphic Arts, Ljubljana, June 6, 2019.
[2] The full list of participants is: Alenka Pirman with KULA; Amanda Ross-Ho; Anja Wutej; Anna Uddenberg; Arthur Fournier with Raphael Koenig; Augustin Maurs; Boštjan Gorenc (aka Pižama); Cevdet Erek; Dozie Kanu; Dragoș Cristian; Ella Kruglyanskaya; Endre Tot; Ferdinand Kriwet; Flaka Haliti; Giorgi Xaniashvili; Hamja Ahsan; Hinko Smrekar; Honza Zamojski; Lawrence Abu Hamdan; Lin May Saeed; Marina Orsag; Marlie Mul; Martina Vacheva; Martine Gutierrez; Nicole Wermers; Pablo Bronstein; Pavlo Voytovich; Sachiko Kazama; Stane Jagodič; Tala Madani; Top Lista Nadrealista; Woody de Othello; XIYADIE; Zhanna Kadyrova.
[3] Sharifi, introductory remarks at MGLC.
[4] Author interview with Payam Sharifi, Ljubljana, June 7, 2019.
[5] Nevenka Šivavec, "33rd Ljubljana Biennial of Graphic Arts," Outsider, June 2019, 1. The ten venues are MGLC – International Centre of Graphic Arts, MGLC – Švicarija; National Gallery of Slovenia; NUK (National and University Library); Equrna Gallery; ZVKDS Gallery; ISIS Gallery; DUM Project Space; DobraVaga; and Plečnik House.
[6] Author interview with Sharifi, June 7, 2019.
[7] Slavs and Tatars interviewed by Ajda Bračič, Outsider, June 2019, 5.
[8] Author interview with Sharifi, June 7, 2019.
[9] Author interview with Sharifi, June 7, 2019.
[10] Author interview with Sharifi, June 7, 2019.
[11] Author interview with Sharifi, June 7, 2019.
Crack Up – Crack Down, The 33rd Ljubljana Biennial of Graphic Arts, Various venues, Ljubljana
until 29 September 2019