EXHIBITIONS
Sol LeWitt and Eloise Hawser at Galleria Vistamare, Pescara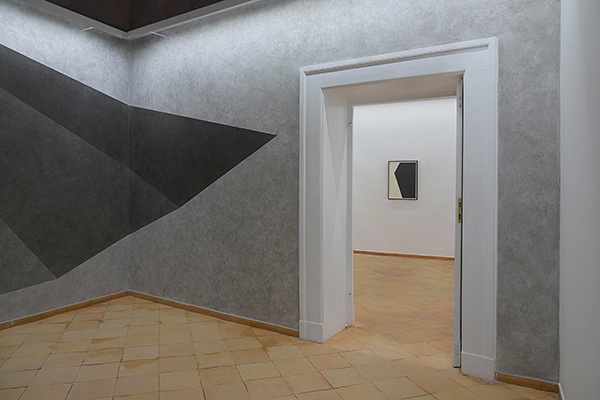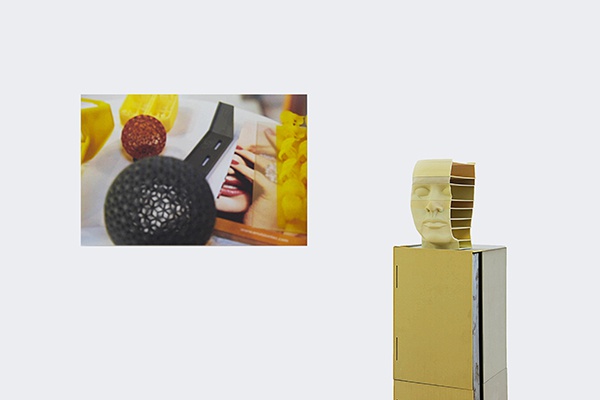 Vistamare gallery inaugurates an exhibition of work by Sol LeWitt and Eloise Hawser, as part of the gallery's programme of exhibitions pairing artists of long-recognised historical importance with young talents currently gaining international recognition.
In this show the works of the two artists are flanked and juxtaposed in a dialogue that spreads through the rooms of the gallery. Paired in this way, and despite the artists' profoundly different experiences and the completely different media employed, the individual pieces reveal a common interest in developing the idea of modularity and sequentially recurring motifs.
Sol LeWitt (Hartford, Conneticut 1928 – New York 2007) was a leading figure in both Minimal and Conceptual art from the mid twentieth century onwards. Having graduated in Fine Arts from Syracuse University, for a brief period LeWitt worked as a graphic designer for various magazines and in the studio of I.M. Pei, afterwards he began developing a corpus of ideas that, in a reaction against action painting, led him to conceive a series of structures based on a rigidly conceptual logic, excluding any emotional involvement on the part of the artist, in a constant search for purity and formal rigour.
His structures (a term he preferred to "sculptures") are simple basic modules that investigate the form of the cube – frequently an open cube. His geometric forms become matrices multiplying in space. In 1968 he realized his first Wall Drawing for Paula Cooper – one of the only he drew out himself (most successive wall drawings would be physically executed by his assistants). For this show one of the rooms of the gallery will be occupied by a drawing produced, as LeWitt intended, by his assistants, who today continue to travel the world executing his projects.
For LeWitt conceptual art establishes the primacy of the idea over its physical realization: the idea itself becomes more important than its expression via the artistic process. All importance resides in the concept, and it can be executed by anyone following strict and precise instructions. The Wall Drawing #460 on show at Galleria Vistamare fully represents these premises: cones, pyramids and isometric drawings unfold on the flat surface of the wall, mostly in black and white, and yet a broad chromatic range enriches the forms thanks to the juxtaposition of the different inks, creating blends that are both fascinating and intriguing. The walls form unbroken surfaces devoid of obstacles. LeWitt's drawings reveal the powerful influence of the Italian masters of the early renaissance: his admiration of the frescoes of Giotto and Masaccio and of the flattened and deliberately two-dimensional perspective of Piero della Francesca's figures. His wall drawings resolve the problem of the relationship between the three-dimensional figure and the two-dimensional surface, evoking and bringing up-to-date "a fresco" painting. A prolific artist, from the 1980s onwards he also created sculptures formed of blocks of concrete piled one on top of another, all identical and positioned in a series of symmetrical progressions. Exhibited here, Horizontal Progression #6 (1995) is a perfect example of how LeWitt's use of modular structures always derives from the open cube of his early works. The exhibition also features a group of gouaches from 2003: the only works on exhibit physically produced by the artist himself. Following a long period in Italy, a country he much loved and in which he lived for many years, LeWitt created a series of images, in strongly contrasting colours, that follow no set rules but are fluctuating and sensual. Works created in series and based on a specific motif, they exemplify his unflagging interest in the serial and the modular.
Eloise Hawser (London 1985) is a young British artist and a graduate of the University of Oxford's Ruskin School of Art. Her work focuses on reconfiguring and repurposing the seemingly banal materials employed in everyday industrial processes, materials of which her art works and installations reveal the intrinsic mutability. In this way she explores the potential of objects that have been declared obsolete and grants them new life, decontextualised and rendered newly contemporary.
Whether they take the form of woven polyester canvases imprinted with patterns inspired by postal envelopes or the prototype of a head that is simultaneously a resin plinth, the three works on show at Vistamare (Karoshi, 2011, Chorley 1 and Chorley 2, 2013) all express the generosity that characterizes Hawser's poetics – her very personal re-elaboration of long-abandoned objects giving them new life and meaning. Through scrupulous research and thanks to the artist's thoughtful sensitivity, instruments (often mechanical) that once served precise purposes are reborn in an art that is both fresh and original.
Eloise Hawser's selection of photographs were taken at the TCT trade fair in Birmingham, which features the latest developments in 3D printing. The vitrines, used by most exhibitors, showcase each company's range of stock prototypes. This includes anything from trinkets, souvenirs, jewellery and toys, to vital components of industrial assemblages,displayed as unprimed, uncoloured parts.Within the space the artist exhibits her own sculptures, made by the same 3D printing processes. Body parts, originally purchased over the internet, have been reproduced and cut into modular slats. The prototype conforms to the process in which production is out of the hands of the artist. For the 3D prototype, instructions are given to a line of technical assistants, before the code is received by the printer to produce the object.
.
at Galleria Vistamare, Pescara
until 28 February 2016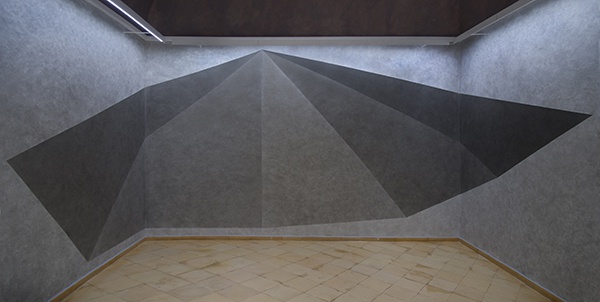 Sol LeWitt, Wall Drawing #460: Asymmetrical pyramid with gray ink washes superimposed, 1985-2015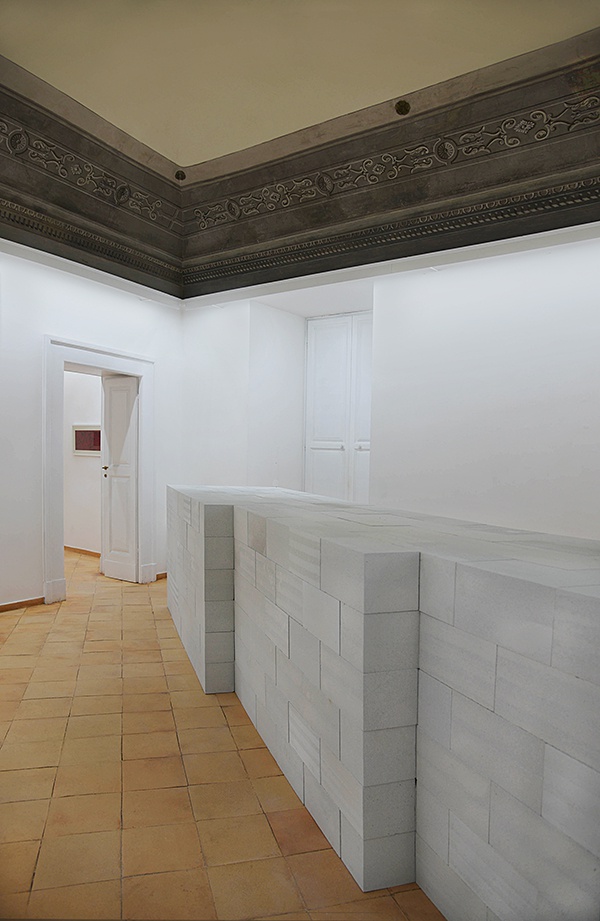 Sol LeWitt, Horizontal Progression #6, 1995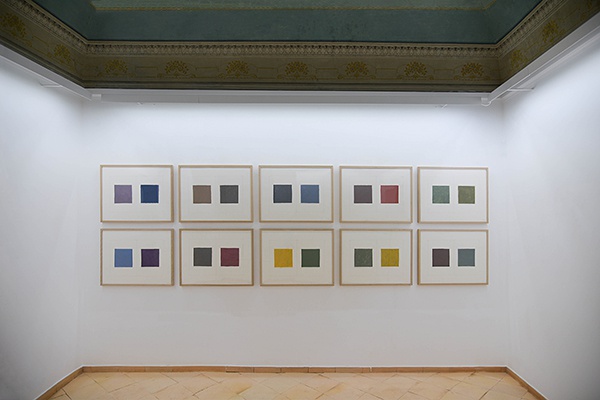 Sol LeWitt, Untitled, 2003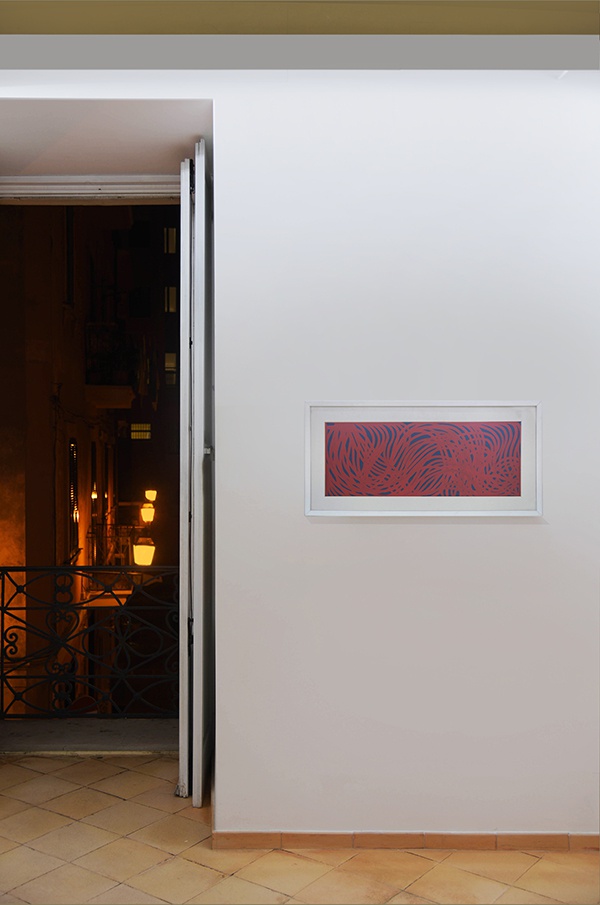 Sol LeWitt, Tangled Bands, 2002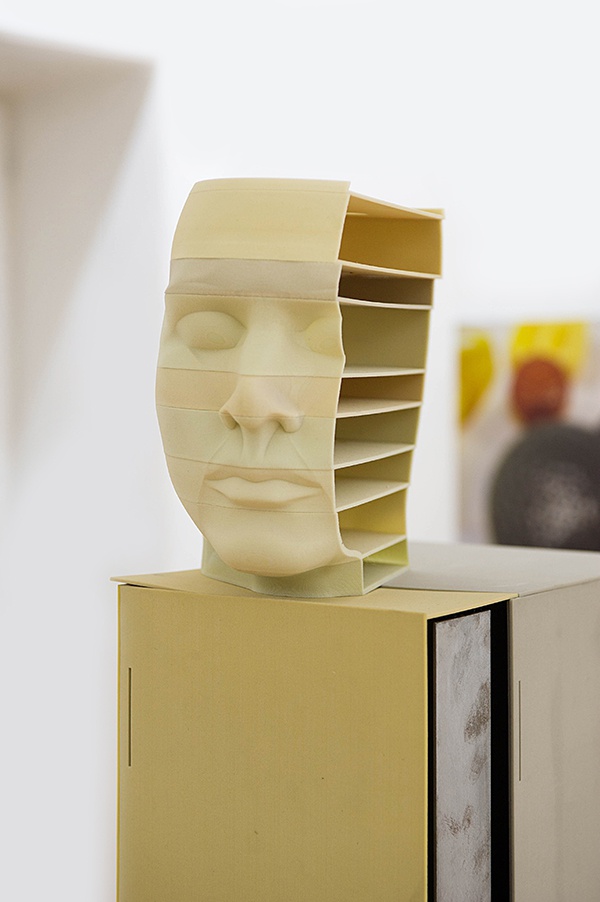 Eloise Hawser, Karoshi 1, 2015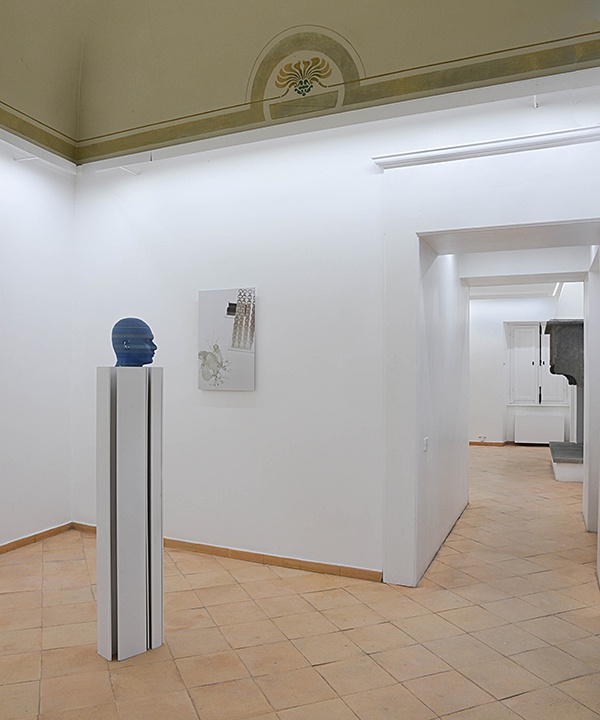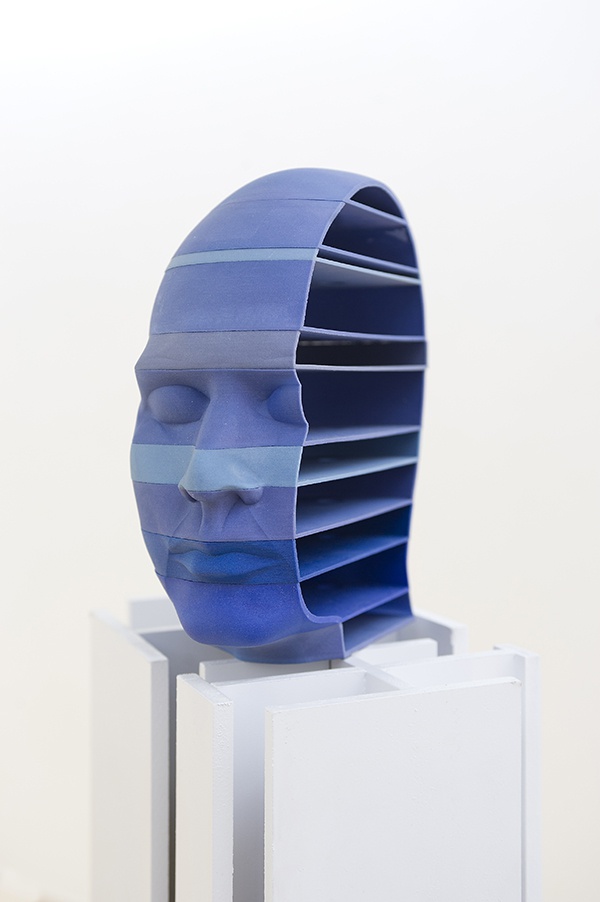 Eloise Hawser, Karoshi 2, 2015
.
Sol LeWitt and Eloise Hawser installation views at Galleria Vistamare, Pescara, 2016
Courtesy: the artists and Galleria Vistamare, Pescara. Photo: Davide Campanaro