CONVERSATIONS
"Somewhere in Between. Contemporary Art Scenes in Europe" at BOZAR, Brussels
Close
1
2
3
4
5
6
7
8
9
10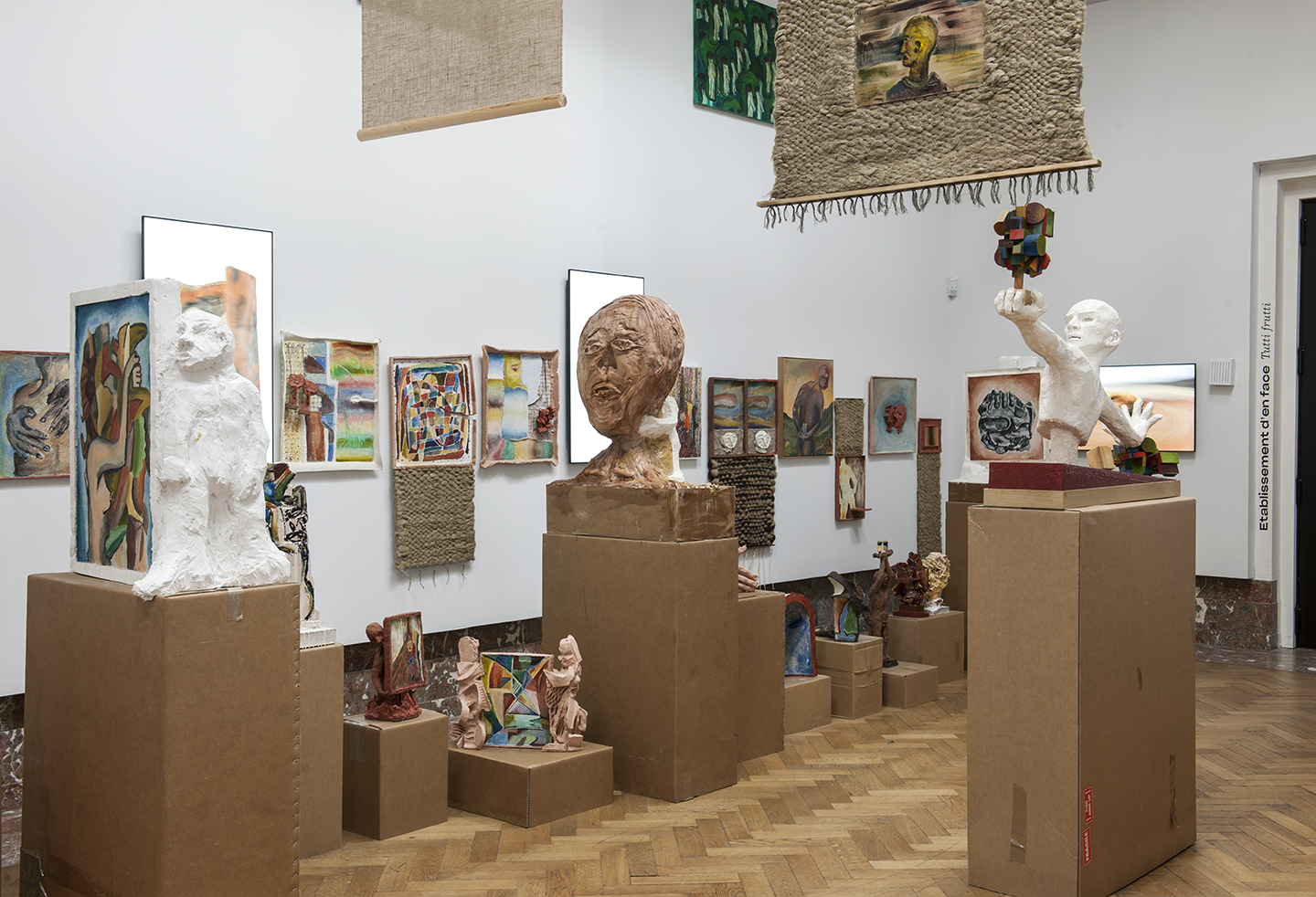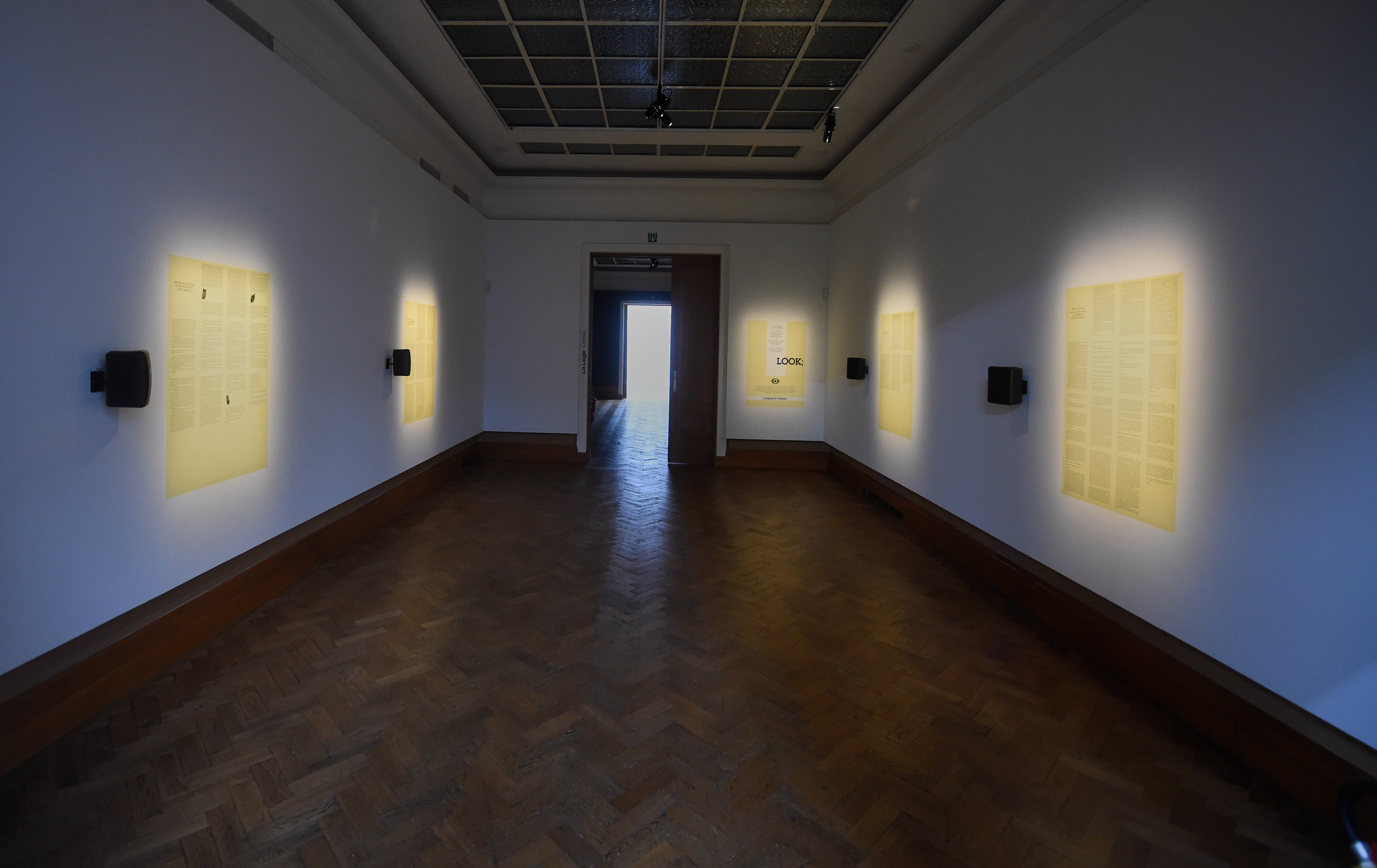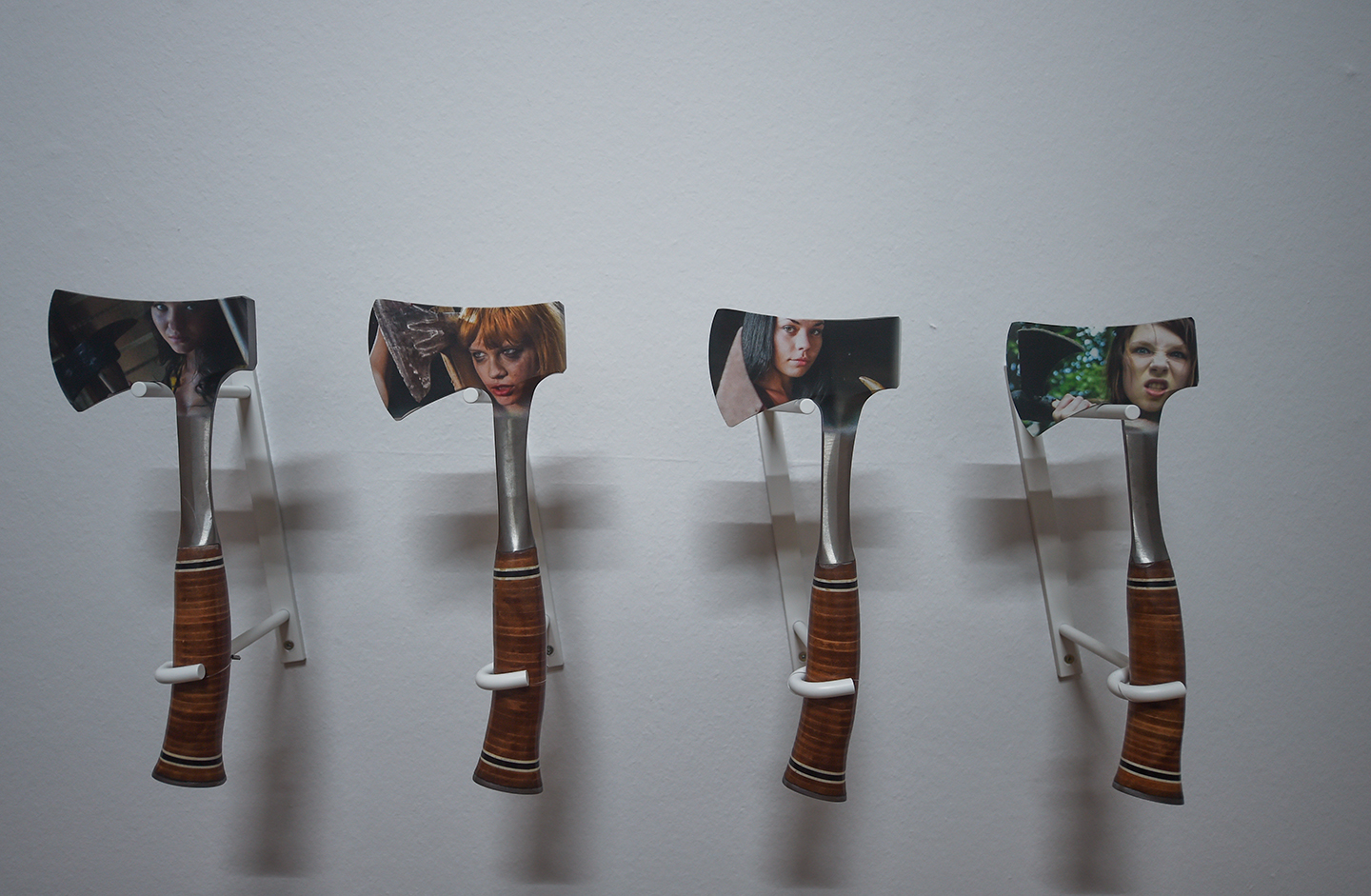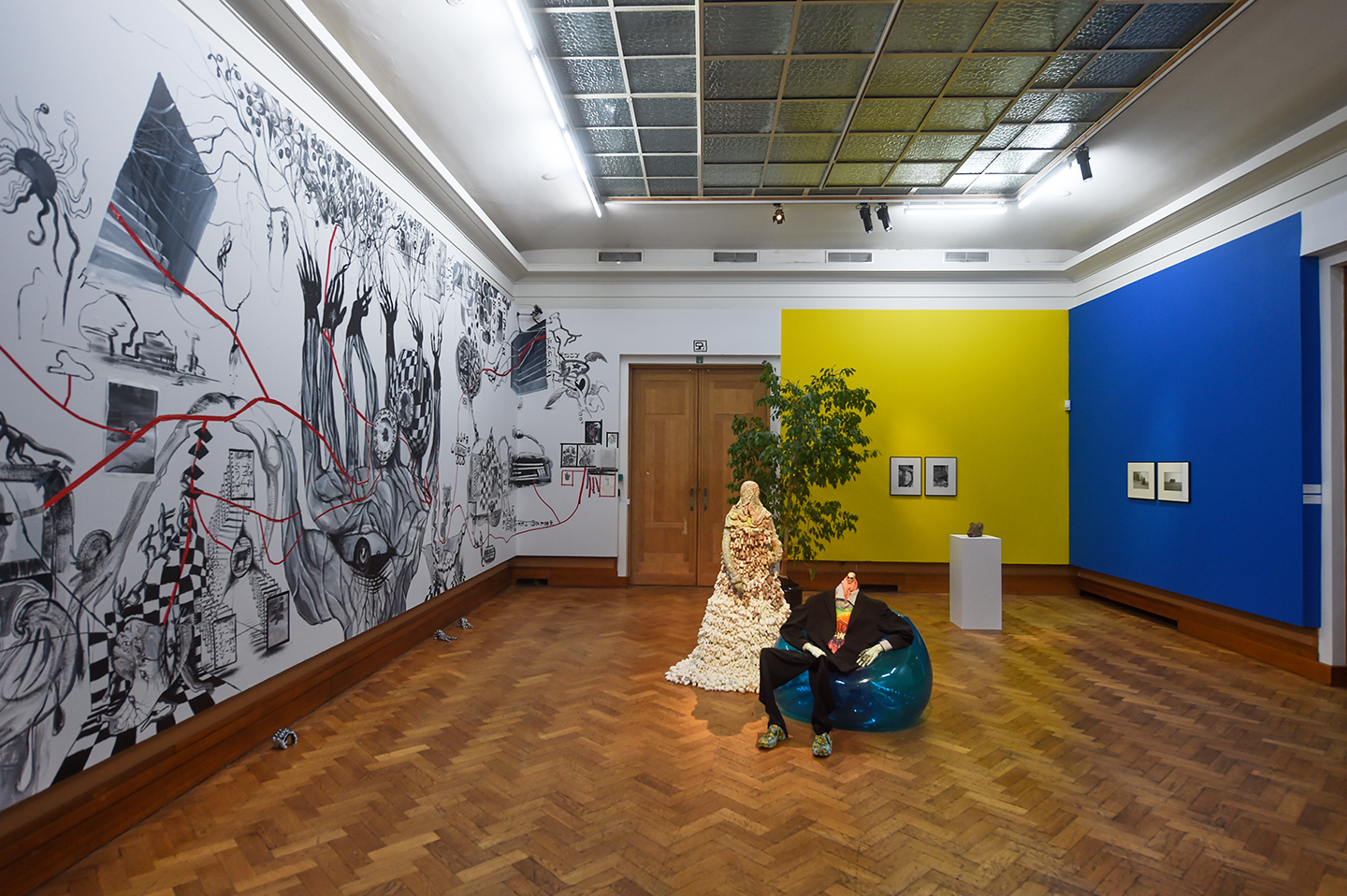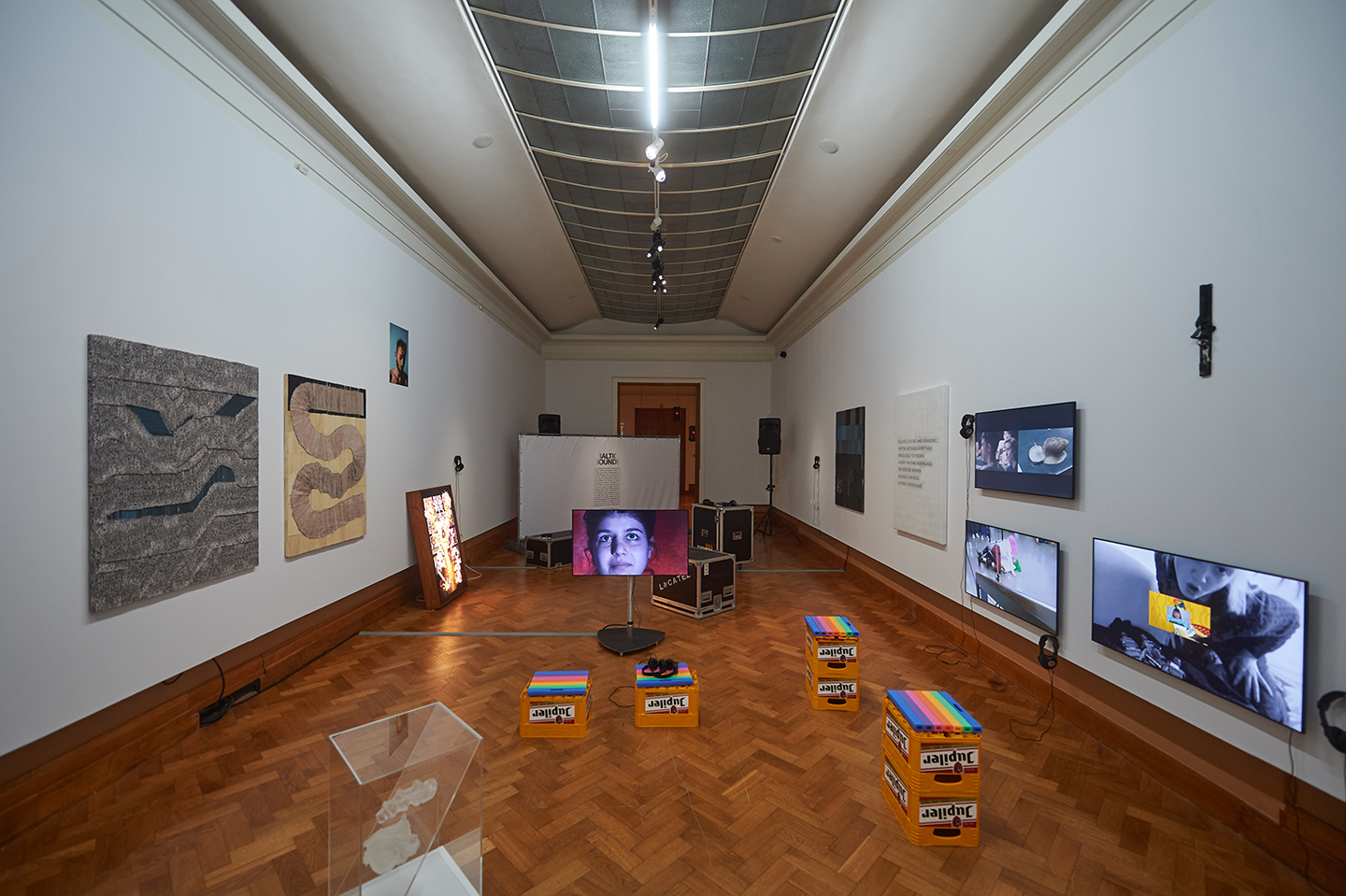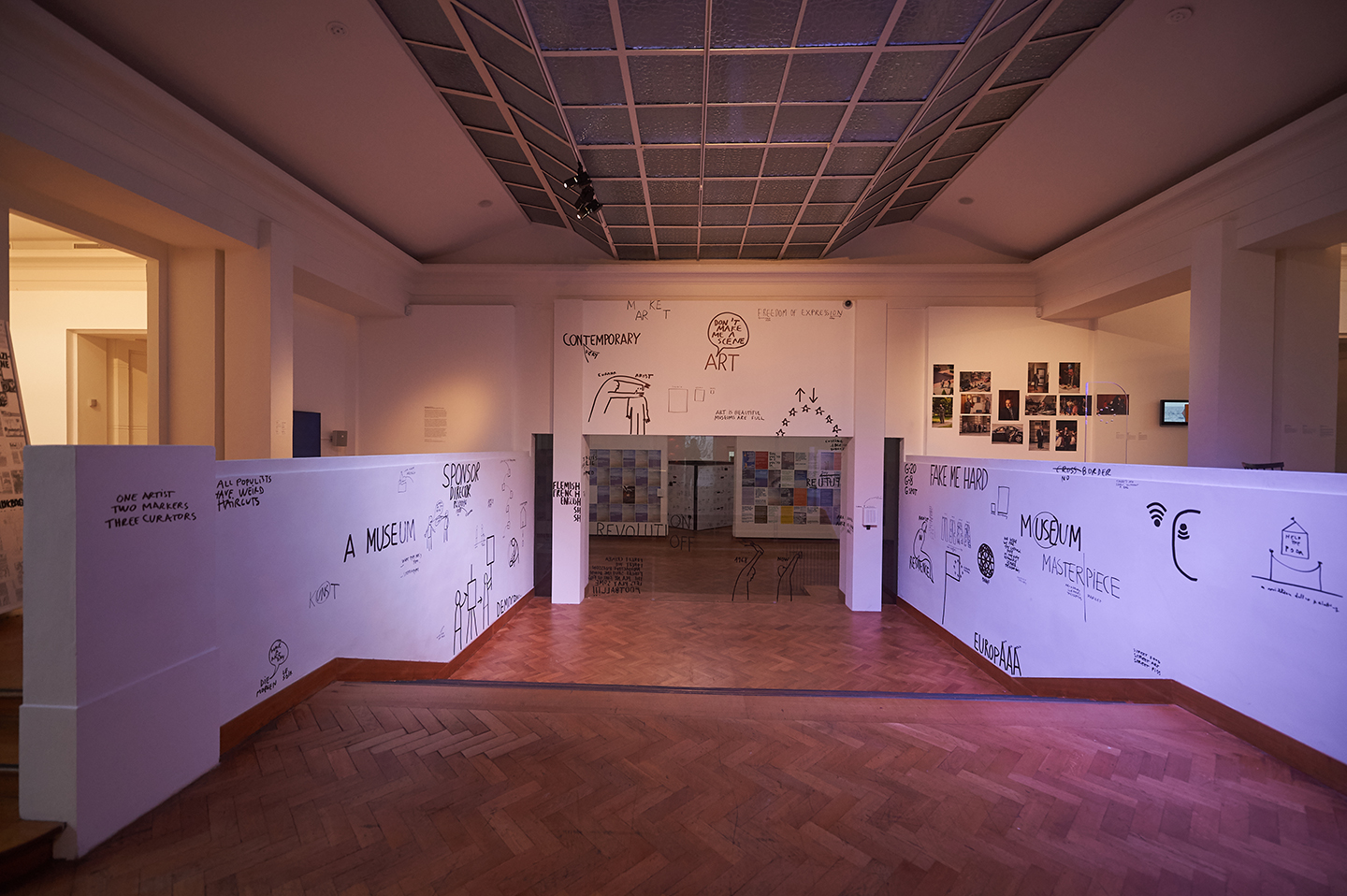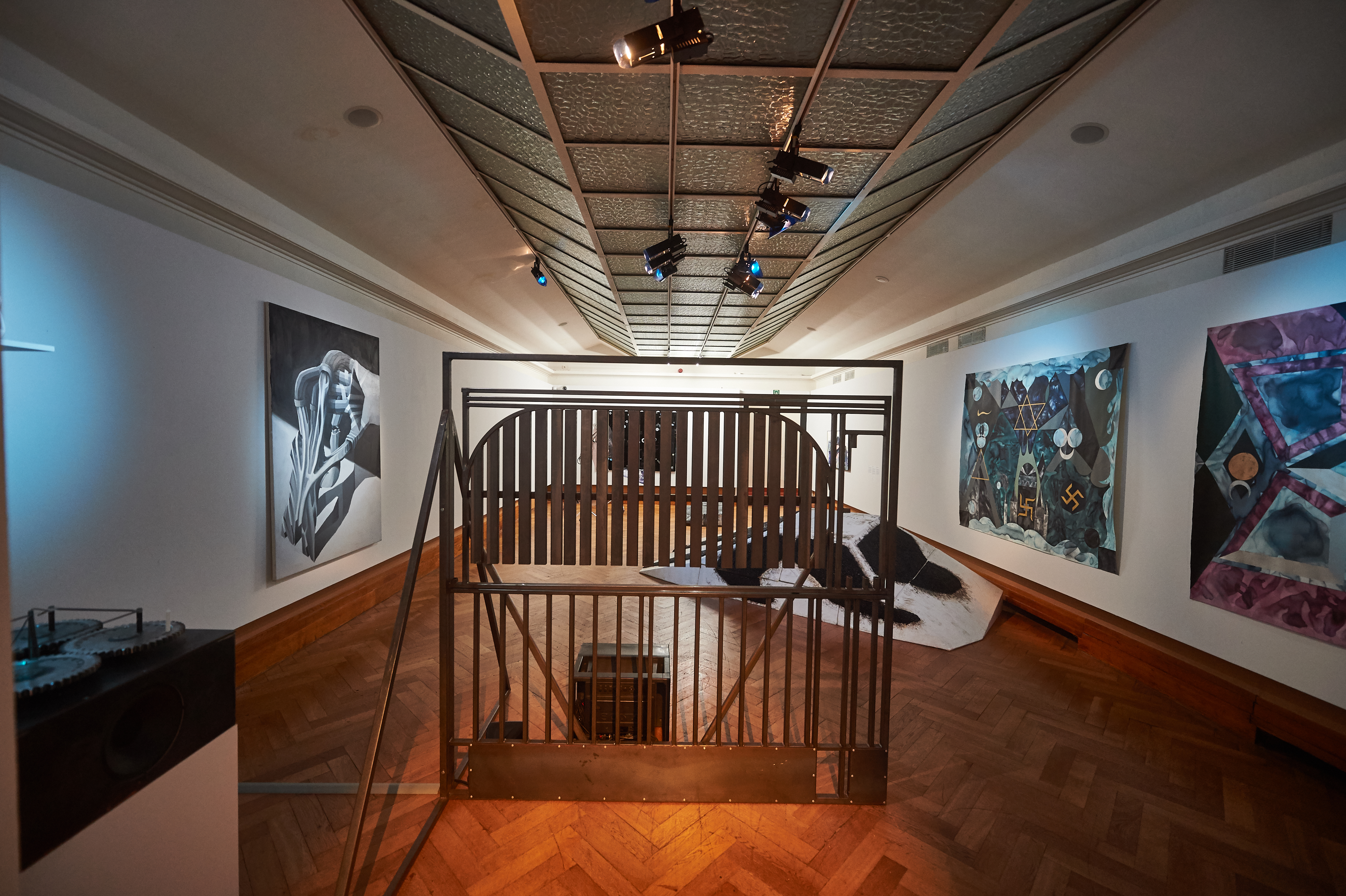 Kathleen Weyts, Etienne Wynants, Anne-Claire Schmitz, Antony Hudek, Michal Novotný, Sonia Dermience and Francesco Tenaglia in Conversation
Somewhere in Between: Contemporary Art Scenes in Europe, currently on view at BOZAR, Brussels, aims to connect the many realities that shape and inform contemporary art practices all over Europe, highlighting five artistic constellations—the Brussels-based art spaces Etablissement d'en face, Komplot, and La Loge; KASK School of Arts in Ghent and its Kunstenbibliotheek and students in curatorial studies; and the Orient project presented in collaboration with Kim? Contemporary Art Center (Riga) and Bunkier Sztuki (Kraków), curated by Michal Novotný—giving each carte blanche to curate a section of the show. In the following exchange, representatives from some of these entities, and Somewhere in Between curator Kathleen Weyts, talk about the genesis of the show and the role of independent art spaces in Europe today.
Francesco Tenaglia: Let's begin by having Kathleen Weyts describe the inspiration for the exhibition—the spark for the idea to open BOZAR to all of these independent art and educational spaces—then have each operator present describe the genesis of their Somewhere in Between section: How did you interpret the call to participate, and how are you reflecting the history of your respective institution?
Kathleen Weyts: This exhibition has a history. For several years now, BOZAR, an art institution situated in the capital of Europe, has been examining "the state of mind" of the so-called old continent in a transdisciplinary way (film, discursive programs, exhibitions, et cetera). The exhibitions The Power of the Avant-Garde; Facing the Future (a research exhibition on art in Eastern and Western Europe between 1945 and 1968); Imagine Europe; and In Search of New Narratives have all been part of this larger project. The Europe, Europe project staged by Hans Ulrich Obrist, Gunnar Kvaran, and Thomas Boutoux at the Astrup Fearnley Museet in Oslo in 2014 was chosen by Sophie Lauwers, director of exhibitions of BOZAR, as the seed for a contemporary follow-up we are calling Europe, Europe. We brought together a group of institutions with whom we will develop projects within this framework of Europe, Europe, which will launch in fall 2018 and seeks to further investigate emerging art scenes in Europe. Somewhere in Between is a prelude to Europe, Europe, focusing on independent art scenes in Europe, starting with Brussels as a point of reference, since the city and its artistic actors are so interconnected through artists and venues they relate to and work with on a daily basis. Brussels is also a place where many artists, curators, and writers from all over Europe (and other continents) at a certain point in their careers come to live and work.
Somewhere in Between also questions the status of the art institution and its "in betweenness" with, on the one hand, the increasing influence of the commercial art market, and on the other so-called independent art scenes. When in 2002 the renewed Palais de Tokyo was inaugurated in Paris, they published "What do you expect from an art institution in the twenty-first century?" This question was put to various protagonists of the contemporary art world—artists, curators, museum directors, and so on. What struck me then, and still now, is how the answers testified to a great longing for an institution that offers the unexpected, that is a "free space" for the art(ist)s, a place of possibilities rather than restrictions, progressive rather than conservative, flexible, open freely, where artists should have the keys.
When you are familiar with large-scale institutions, you realize that this longing is doomed to frustration unless you find ways to challenge the institution's functioning, not by fighting it, but by gently manipulating its advantages and limits into something new. This project definitely remains an experiment in bringing together different parts of the spectrum, and its result depends on the participants, but also on the viewers and how much of these different parts of the spectrum they actually discover, recognize, consider interesting or not. The approach is not without risks. It demands a certain way of diving into what is proposed, an openness to complexity. It's saying: the (art) world as you know it looks different (or not so different) elsewhere, and this elsewhere can be just across the street (without you being aware of it) or at the other end of the continent. And although it might seem different, there are many interconnections, relations, stories, atmospheres that are worthy of your attention.
Etienne Wynants (Etablissement d'en face): The invitation from Kathleen, as I understood it, was that several local art spaces in Brussels were invited to display something describing the nature of our European network by inviting related artists and art spaces around Europe. In brief, Etablissement d'en face is itself a conglomerate of engaged individuals, mostly artists. We met in Brussels, and throughout the years some of us sprawled out elsewhere. Our specific program is the result of individual interests and engagements that each of us happen to get in touch with, and then invite certain people in for a public moment in Brussels. Personally I'm not at all representative of Etablissement d'en face; I'm just a little part of the whole chain.
Answering the Somewhere in Between invitation, I thought of artists who in the past have had an extraordinary experience within Etablissement, artists who themselves are also engaged with other individuals in organizing, inviting, and co-working on aesthetic experiences. Artists who also address in their work, as subjectively as it can be interpreted, an idea of "Europe." For instance Abel Auer and Steinar Haga Kristensen, who both lived in Brussels for several years. Their practices are not the cliché of how "contemporary art" should look. Let there be no misunderstanding: I deeply and profoundly respect their work as non-nostalgic, quite fresh, and deeply contemporary. Both survived the reversal of the urinal and many other abstractions, so to speak. They even absorbed it into their practices without the need to quote it. Furthermore, their work uses the idea of "local identity," the "vernacular," so to speak. The idea of a Europe made up of regions with all their particularities is a certain fiction of its own, of course, but when worked out with intelligence and pictorial excellence, artworks can speak with more force, humor, relativity, and effect than a rootless academic style will.
A Brussels artist, Filip Gilissen, suggested some other artists with whom we did not have prior experience. From his many suggestions I decided to go for Athens-based Life Sport, a collective whose website (www.lifesport.gr) I deeply enjoy. Their practice I thought highly necessary to balance those of Abel Auer and Steinar Haga Kristensen. 
Finally, it was clear to me that it would be better to invite all these people to do a "solo" in their own space, as after all the whole show would be a group show.
Anne-Claire Schmitz (La Loge): Somewhere in Between came as an opportunity for La Loge to think of its own (hi)story, position, and role within a larger cultural landscape. Since we started La Loge in 2012 we have always tried to be aware of the language and attitude we articulate as an institution, and how this translates through the program and the architecture, shaping the way we talk, work, and exchange with both the audience that comes to La Loge and the diversity of artists, architects, and thinkers we invite to develop projects.
BOZAR's desire to investigate its own context, involving a constellation of complementary initiatives, exactly matched our long-term concern to reflect on our institutional ethics, vocabulary, proximities, and playfulness. For a while now we have been trying to start a series of publications that would extend the space of our physical institution and say something about La Loge's entangled web of prefigurations, frustrations, and aspirations—our sentiments, complicities, and affinities with our public, colleagues, and friends, beyond the traditional temporality of a project. Somewhere in Between offered the possibility to join forces on similar concerns and materialize them. 
The concrete outcome of this for La Loge was to release the first issue of LOOK, with contributions by Hanne Lippard, Andros Zins-Browne, Michael Van den Abeele, and Andreas Angelidakis, and launch a new series of publications initiated by La Loge.
Antony Hudek (Kask School Of Arts Ghent): Kathleen Weyts kindly asked me if Curatorial Studies, the postgraduate program I run at KASK School of Arts, Ghent, would be interested in taking part in the BOZAR exhibition. I was delighted, especially at the thought of being in such fine company as Établissement d'en face, Komplot, and La Loge. The sixteen student curators in this year's group took Kathleen's question of "mapping creative scenes in Europe" as their starting point. They could choose to work alone or collectively, and had complete freedom in interpreting the brief. This openness—as Kathleen mentioned, a considerable risk for such an established institution as BOZAR—resulted in a wide variety of curatorial formats and approaches, including a magazine insert (co-curated by Hilde Borgermans and Alicja Melzacka), a sound installation (co-curated by Nathalie Cohen and Christine Denamur), a screening corner (curated by Maxime Gourdon), and an evolving book collection (curated by Liliana do Nascimento). Many of the curators traveled to their respective "scenes" as part of their research, from the Baltic Region to Bruges, Brussels, the Euregio, Ghent, Lisbon, Luxembourg, and Moscow. Others, such as the curatorial trio formed by Griet Bonne, Alice Lefebvre, and Bert Puype, commissioned someone else—in this case the Romanian artist Dan Perjovschi—to travel to BOZAR.
Michal Novotný: In February 2017 I was asked by the organizers of Trauma and Revival (a large-scale exhibition survey revisiting the relations between Russian and European art scenes between 1945 and 1968, presented in BOZAR and ZKM in 2016 and at the Pushkin Museum in Moscow in 2017 under the title Facing the Future) to propose a contemporary version of the art relationships between Europe and Russia. My answer was that there was not only Europe and Russia but also something in between, whose presence we still feel. I proposed to reopen the question of Eastern Europe, its existence and identity. I probably wouldn't have done an exhibition on this topic on my own initiative, but I have no ideological problem in following certain demands, as our acts are always in a way "restricted." I myself do not believe that a unified Eastern Europe exists, but I do see some structural similarities, mainly in something that we could call an inferiority complex that may not be valid for the youngest generation, but definitely touches people of my age who experienced the end of the old regime and the economic transformation that followed. 
I also see this "inferiority complex" transforming itself in the recent upheavals of nationalism and non-democratic tendencies. So my exhibition proposes a certain therapeutic cure that is also the classic emancipation mechanism: when a group appropriates with pride the insults once hurled against it. It presents a series of stereotypical environments related to the region and its recent history that are not specifically perceived as cherished or positive. Nevertheless, they represent a certain history of failed freedom feelings, liberations that turned out to be only imaginary, as freedom generally doesn't "arrive" but needs to be made, replayed, every day in society and its functions. My exhibition is also a sort self-criticism toward a certain type of mentality of complaints and expectation—a role that Eastern Europe plays so often in the European Union nowadays.
Francesco Tenaglia: The concept of Somewhere in Between seems to take into account both a physical, geographical proximity and an opening to the rest of continental Europe—a certain form of collaborative openness among the cultural operators. For those of you based in Brussels, how do you feel about the other entities active in the Brussels-Ghent-Antwerp area, and how have they changed since you've been active in your own respective art spaces and educational institutions? And for those of you based elsewhere, what does this show lead you to ruminate on with respect to your "home turf"? 
Etienne Wynants (Etablissement d'en face): We mostly all grew up somewhere in Belgium, and arrived in Brussels to live and work. In the global world, this is just another place, and certainly a somewhat provincial one. Having myself originated from a village in the pre-digital era, I'm very happy to avoid getting framed back into any particular locality. When questioned by Flemish administrative officials, I did repetitively answer that our art-space practice is basically an import-export of ideas and persons. That's what keeps us alive and nourished, wherever people are coming from. The whole exercise is about how not to get bored stiff in our own locality. Let us exchange and communicate in one way or another, so that each of us is nourished to continue the existentiality of being a human individual, based in a specific place and trapped within a certain framework, the framework being governmental or whatever else. Life ain't always a joke or a play, alas. 
I've known Brussels somewhat since the mid-1980s, and have lived here since the mid-1990s, and can tell you for sure that a big change took place here around the year 2000—that is, the much greater flexibility of people coming and going, even people from outside the continent. We buy products and materials coming from wherever on this planet Earth. Which I think requires us to live more consciously, more openly, than the normality we imagine ourselves in most of the time. The whole task then is how to avoid exoticizing difference, personal identity included. In the early 1990s I learned from the artist Jimmie Durham, then preparing a show at BOZAR, that art is a Western concept. I swallowed that, as he explicitly told me he was trying to address some ideas from René Magritte on his visit to Brussels. Such encounters with poets of his kind have kept me thinking in the many years since. Encountering and experiencing any poetic person enables one to transcend locality and provincialism. We should absorb new thinking and ways of acting—try to go beyond and a little further.
Anne-Claire Schmitz (La Loge): It is interesting to notice and endorse the common ground shared by a variety of actors working in one cultural field. Ideas, positions, geographies, interests shift and develop through projects and situations. I believe a project such as Somewhere in Between highlights the relevance of a close coexistence and cross-contamination among cultural players. Similarities, exchanges, and specificity all contribute to a vivid and critical public domain. The exhibition shows and acknowledges institutional practices, in the same way that artistic practices exist, inhabit, and challenge our society.
Antony Hudek (Kask-School Of Arts Ghent): Because curating can be an unstable, endlessly morphing field, Curatorial Studies at KASK is continually reevaluating its own pedagogical forms and assumptions. Although based at the School of Arts in Ghent, the program attracts diverse students from Ghent, Flanders, Belgium, and internationally. This diversity and the highly flexible curriculum allows the program to be open to international developments in the curatorial field at large while remaining firmly implanted in the local and national art scenes. The program's contribution to Somewhere in Between, titled "Transborder Networks," establishes no hierarchies between local and international, central and peripheral, cosmopolitan and provincial. For example, curator Anna Zhironkina researches former industrial art spaces in Moscow in collaboration with Amsterdam-based artist Natalia Kozhukhovskaya, and curator Benedict Vandaele looks at the first three Triennales in his home city of Bruges in the late 1960s and early 1970s, in which such major artists as Marcel Broodthaers and Raoul De Keyser took part. What mattered to us was the status of various specific borders and limits, as well as their crisscrossings, be they linguistic, physical, bodily, ideological, institutional, or national.
Michal Novotný: I think in the Czech Republic, as much as in the other Eastern European countries I have experienced, one problem is a lack of art infrastructure, which consequently leads to the "over adoration" of places that do have this infrastructure, and confusing infrastructural density for higher quality of art. This hasn't changed much since the 1990s for the majority of our countries—on different levels, higher institutions and their art scenes are stuck in the same underground artist-run spaces as thirty years ago. We also lack any art press or magazines that would cover local or national positions and present alternatives to the so-called Western magazines, which understandably do not cover the region much.
Sonia Dermience (Komplot): Founded in 2002 in Brussels, Komplot is a curatorial collective of variable composition and condition. Concerned with nomadic creative practices and trends of specialization, it operates as a platform for experimental art, conducting extensive research into post-1968 collaborative art practices in Belgium, organizing seminars, and making two documentary films. Komplot activated the Public School between 2010 and 2012; published YEAR magazine until 2014; and between 2010 and 2015 has been based in a building with an exhibition space along with twelve artists' studios close to WIELS Contemporary Art Centre. Recently Komplot reinitiated a nomadic practice, fragmenting its large venue into several addresses and others beyond the city, responding also to invitations abroad. Meanwhile, it has shifted its focus from a collective structure to a sort of curatorial office, expanding its agenda to an interdisciplinary art practice that continuously searches for new formats and discourses. With the School of Curating, the group of resident curators at Komplot, along with guest curators, develop a critical program that studies the relationship between art and its physical, social, and political environment. Komplot starts from a core of openness and flexibility regarding its programming, and thus its projects can take different forms: exhibitions, publications, films, discussions, workshops, symposia, events. 
Francesco Tenaglia: I believe that the in-betweenness of the exhibition's title is very present in the show, in different forms. There is research around the relationship between independent spaces and museums, between the ideas of "West" and "East," between established and young art, between fashion, publishing, discursive production, and art making. What do you think are the creative and productive potentialities (and risks) today of operating in areas between the pure market and the grand institution?
Kathleen Weyts: The show is a reflection on the shifting position of art institutions and the challenges they face today. On the one hand there is a decrease in public funding, which urges institutions to find more private funding. There is increased pressure to build audience numbers, which is directly influencing programming and decreases space for reflection and experiment. The art market is taking over—at fairs like Art Basel, the most expensive artworks sell first, and the top galleries, private foundations, and collectors are increasingly dominating programming at biennials and institutions. On the other hand you have the flourishing world of so-called independent art spaces, very often artist-run initiatives that set out to function outside the market. These structures are—despite the fact that they are often very vulnerable—highly dynamic, inventive, interconnected, and informed. Bigger art institutions such as BOZAR balance between these two worlds and tend to flirt more easily with the first (the private funding) than seek out collaborations with the latter. But in past years there has been increased interest in the independent art scenes and what is going on there.
The institution is not only under pressure when it comes to finances, but also increasingly criticized about its functioning, from who's on the payroll to program formats and content. New generations are questioning the canon, conservatism, and white male dominance, and calling for more hybrid structures, different focuses, a new way of dealing with society and reality. We're living in very exciting but also very complex and confusing times. Smaller and more independent organizations seem not only more flexible but also more inventive and alert to these questions and changes. The future of the institution partly depends on the extent that it is able to react, learn, collaborate, change.
The Bologna regulations transformed the art education system in Europe, shifting it toward more academic, research-driven practices, and the advent of curatorial studies is a recent phenomenon. Before, we educated art historians, and the focus was on art conservation and historical research rather than developing curatorial concepts and art production and sales. Museums in Europe used to be public institutions, but now there are more and more private museums opening their doors. The corporate world used to sponsor big art exhibitions that were conceived and took place in the public art institutions, but nowadays they prefer to make and promote their own exhibitions, based on their own collections. Artists and museum directors are now marketeers, and critics can no longer survive in the regular media and must sell their services to galleries, et cetera.
Etienne Wynants (Etablissement d'en face): In Belgium, and more specifically in Brussels—and thanks to the government funding policy by the Flemish community, and only since 2006—for small art spaces and individuals there is a relative space to work out. Compared to earlier times, it's a paradise to operate in. It's our practice and conviction that one should relate to a whole variety of "actors" in the art world. Our primary partners are of course the artists, those who poetically work in depth and who are the most vulnerable. But with any other partner—whether fully commercial and "pure market" or great institution—we will fully collaborate, exchange, and contribute. The more different doors toward different kinds of spaces that artists can open, the more potential there is for their poetics to take root, for them to exploit the spaces they are in, reformulating their work and getting it distributed toward different audiences. I openly refuse the label of "alternative art space"—"alternative" having the connotation of being different from the "real" art world. Art has many different kinds of "uses," I think. And we are far beyond that certain subliminal quest of the 1980s, about the search for the "best architectural space for art." 
One crucial thing we cannot help artists with, for example, is how to make a living from their art. Our kind of art spaces fail here fully, as would I suspect any other "commercial" or "institutional" spaces. This aspect is explicitly formulated in the contribution by Life Sport, and is implicitly present in the presentations by Steinar Haga Kristensen and Abel Auer.
Anne-Claire Schmitz (La Loge): I believe we are all very consciously occupying a specific position. None of us inhabits a leftover terrain by accident or lack of opportunities, in between large institutions and dominating flows. On the contrary, it seems common to all of us, and to many colleagues around the world, to affirm our limitations, independence, small scale, and flexibility as advantages and virtues.
Antony Hudek (Kask School Of Arts Ghent): The independence of "independent spaces" is a figure of speech. What are they independent from? Who and what are they dependent on? Similarly, no museum can possibly argue its independence from the market. But this blur between "public" and "private" is no reason to give up on the belief in spaces (rather than institutions) dedicated to the public good, welfare, and exchange, no matter how obsolete these terms may sound today. The challenge the student curators and I faced in taking part in Somewhere in Between was to negotiate, on the one hand, a desire to accept Kathleen's generous invitation to reflect on contemporary European networks and scenes, and, on the other, to acknowledge the position of BOZAR—a politically influential public-private institution that could instrumentalize our participation to demonstrate its support of a "local" scene to attract European funding for future projects. In "Transborder Networks," Marta Masiero's installation analyzes the particular situation of Luxembourg, where artists are essentially funded to prosper abroad; and the subjective map created by Maaike Descendre and Eva Dobbels connects, rather than distinguishes, current "alternative," "emerging," and "established" art spaces in Ghent. The student curators were aware of these tensions from the start; their aim is for the visitor to encounter art and research that embraces the fundamentally ambiguous, contentious, and irresolvable nature of a border-rich "Europe."
Michal Novotný: I don't know if it's so much a question of choice, but maybe there is something symptomatic of the in-betweenness of nowadays. For example, in the summer so many tourists are going to countries from which migrants come from. I don't know if in art these divisions are valid any more as such. There are definitely places with a density of infrastructure and capital, and places that lack it. But there is also a lot of imagination involved in the way we almost mythologize the so-called centers, where opportunities—and quality of life, for that matter—may be much lower, and what remains is only the feeling of being "there" where things happen, this competitive ethos, the mythology of "if you can make it here, you can make it anywhere." So this accent on material conditions and importance of infrastructure and capital should also scrape a bit against this holy spirit of few places many people in the art world believe in. It's no longer the 1930s, where the cities and fairs were real torches of light. Now there is the internet, ever-cheaper air travel, et cetera. On the other hand there are places in Europe, like Romania, where poverty is deeper than in the third world but there is no outside attention precisely because Europe is not considered the third world.
I think that for "in between" institutions, the advantage is mainly the freedom, but it is pricey, and comes mainly on account of doing everything other than having time for research, self-education, and even some sort of curatorial work in the institutional sense. Rather, one spends one's time fundraising, accounting, taking care of maintenance, technical assistance, transport, and so on since you don't have money to outsource. Meanwhile constantly fretting that the authorities will shift priorities and stop altogether what is already, most of the time, lousy support. I say "lousy" in proportion to the sheer numbers of events, artworks, artists, and exhibitions we are all doing to survive. I would say we are much more effective at communication, as it is always face to face and there is no real management needed, but art scenes need to have the scale of commercial galleries, small size non profits and state but artistically independent large institutions: if you don't have this full scale, the scene starts to overemphasize just one element, or some players needs to hybridize, which is not always good.
Sonia Dermience (Komplot): The Disorder exhibition in BOZAR in 2018 will be revived for the Odessa Biennial in 2019 with a certain idea of expographie, which in French refers to the practice of exposition as a discourse; it is an exhibition that creates a space mimicking the setting of a house or habitat, de-sacralizing its objects and inviting people to touch and interact with them freely. Decoration is often considered a poor relative of Western Modern art, and so we flip the question around in order to use this notion as a reference to the habitat: how to inhabit a space, how our living spaces, which can be seen as protective envelopes for the body, are threatened by war or other precarious situations, and why so many people are on the street.
These issues affect us all, and in the face of inequality and injustice we feel the same sense of helplessness, tormented at the thought of losing what we have built. This decorated second skin is a place of intimacy, creativity, sharing, and hospitality, a place that we can create from scratch or that we can adapt using decorative objects in order to make it livable. In other words, it is the setting of our lives, in the forms of workplace, school, public space, shop, recreational area, and so on. We are the characters of these places that are steeped in history and haunted by layers of life like archaeological sites. Every day, we live in these places that we own, surrounding ourselves with furniture and also with the immaterial, including gestures, words, and music that we sometimes share with plants and domesticated animals.
This exhibition traces the evolution of dwellings from one generation to the next, beginning with an example of a Soviet dwelling, a space intended for sharing among people and for building a relationship with nature, but turned into an unrealized utopia for the most part, scuttled in the totalitarian state. In addition, we discover parallels with the supposed promise of a better life thanks to capitalism, which also damages our human nature and contributes to our overall indifference regarding the fate of the homeless, the undocumented, the unemployed.
A glimmer of hope, however, survives in an exhibition that shows trees as models of life, rooted and radiant. Starting from the utopia of group living spaces or decorated and tinkered-with houses, we arrive at the loft, where it is empty space that is a luxury, an expression of perfectible and accessible uselessness. The color white is an expression of ownership, of immateriality, of withdrawal from the reality of necessities, and the white wall is a support for Modern art, one that is relegated to the closet of the history of obsolete contemporary art. The decorative object reigns in a universe completely adapted by the artists, the amateurs and the visitors. 
Francesco Tenaglia: What kind of trends or movements have you identified in this gaze that you turn to Europe with Somewhere in Between?
Kathleen Weyts: It is within these independent art scenes that a borderless Europe is really taking shape. Artists, curators, and art critics are born in one place but move freely around the continent (and beyond) to study, work, reside. Identities and localities become blurred, and practices become more and more hybrid.
Etienne Wynants (Etablissement d'en face): For the contribution from Etablissement d'en face, I opted for artists and a collective that fully go existential and altogether very figurative, too. I titled our contribution Tutti frutti, already a vulgarization of tutti i frutti, meaning dried fruit, which in the best oriental tradition is a dried delicacy that retains the qualities and flavors of fresh fruit. Works of art as a nice plate of the best dried fruit possible.
In the first room Steinar Haga Kristensen presents Brown Period, a massive museological presentation of an ensemble of innumerable motifs of his invention, or reworkings of established art historical themes. He's been repeating them over the years since his youth in different materials and scales, analog and digital. A centrally located human figure heroically presents a new object, while rejecting an earlier, similar version of it. From very early on Steinar worked this out programmatically, and can't help continuing it while maintaining a sense of humor by calling it his "brown period," presenting sculptures on cardboard pedestals. Speaking about self-reflexivity and humor?
Life Sport focuses on a specific, banal clothing item people on the Athens streets seem to wear—grey sweatpants—transforming this garment into a pamphlet for their wandering practice as artists. The industrial sweatpants this collective shows and sells through their website are branded with a logo of palm trees representing what they call the "Caribic residencies," their name for wandering around in the world. Finally, in the last room, Abel Auer conveys through a triptych painting a possible vision of the world through landscape painting,, which has quite a long tradition in European art history.
All of these artists present some kind of elemental focus on the figurative, meaning the individual figure situated in the world. They do it very skillfully, with wit and convincing lines, colors, and forms, and, as I personally appreciate, not at all in the academic fashion. I would even dare say they're doing it in a "primitive" way, as did Les Nabis, the Fauves, and so many other artists a long century ago, who were likewise distancing themselves from academic art practices in the metropolitan art centers.
Antony Hudek (Kask School Of Arts Ghent): While the students and I were working on "Transborder Networks," we were keenly aware of the effects of the Me Too movement, and a breakdown of the institutional silence around gender inequality and sexist violence. We were also, as a group, thinking through the "queer turn," which is leading many of us to address not only gender pluralities, but also the need to actively and positively queer institutional logics of (re)presentation by forging different alliances between cultural producers—administrators, artists, curators, producers, researchers, technicians, and other agents. This institutional queering was explicit in the installation co-curated by Romuald Demidenko and Hélène Jacques. But even as an assembly of sixteen curators working within two spaces at BOZAR, could we experience emotionally, intellectually, and physically what it means to try to imagine new constellations of objects and people? It was, I think, a transformative experiment facilitated by the question: How do we learn from and teach one another in the absence of a unified body of knowledge?
Michal Novotný: For me it is interesting to see how, for many people in the contemporary art world, the discussion of Eastern Europe is closed and belongs to ten or more years ago, while the material conditions and frustrations of local art scenes hasn't changed at all. How the elite of the contemporary art world are drafted to problems that are certainly real and urgent, but at the same time incomprehensible to people who do not have a global view simply because they never get to travel, and how this creates an echo chamber for both. Similarly to the American style of neoliberal capitalism, the contemporary art world creates a certain competition of the oppressed, a contest regarding which group will temporarily enjoy attention and receive resources, while overarching systems of oppression remain unchanged. And also how artists who took part in the wave that raised attention for Eastern Europe some years ago, and who voluntarily followed the demand for identity-based works, felt used afterward and necessarily turned away from those kind of works—this temporary fad didn't change much about the real problems.
Sonia Dermience (Komplot): I would propose the example of Jade Fourès-Varnier and Vincent de Hoÿm as representative of the trend Komplot can represent. They consider art as an extension of life, and create atmospheres inspired by the notion of domesticity, where visitors are received as guests. Depending on the context, the country, and the tradition, whether in a bar, a hotel restaurant, a bazaar, or a nightclub, the pair adapt their proposals, many of which deal with the themes of sharing, generosity, being together with someone; this adaptability makes their work a form of "total art." Marthe Ramm Fortun is also representative of a certain trend Komplot can express, with for example the painted sheets that she created through dialogues with passersby in the Parc de la Fonderie in Molenbeek in September 2017 for Komplot's Sculptural Park, which are shown in BOZAR with a ceramic duck encrusted and a Jupiler bottle first exhibited in the Catherine Vertige Collection by Komplot in 2016. All those occurrences of works and public interventions talk about the relation of the artist with public and private spaces. In her own words, Fortun explains: "Through actions and performative sculptures, Exit the Forest is an ephemeral platform that tests the limits of behavior and merges utterances from disparate sources. It is a storytelling practice that engages passersby by an enduring presence, transcribing the soft bodies that are vulnerable in the city. The sculptural element is supple (flexible?) and receptive, ambulating and feminine… The project is at once rhetoric and purely visceral, exploring the limits of behavior and reason." 
at BOZAR, Brussels
until 19 August 2018