EXHIBITIONS
"SOS" at Koppe Astner, Glasgow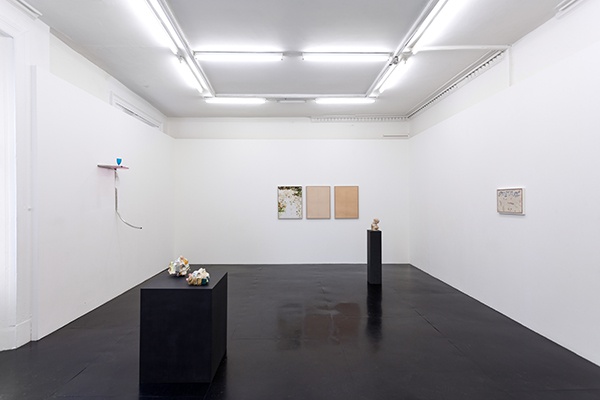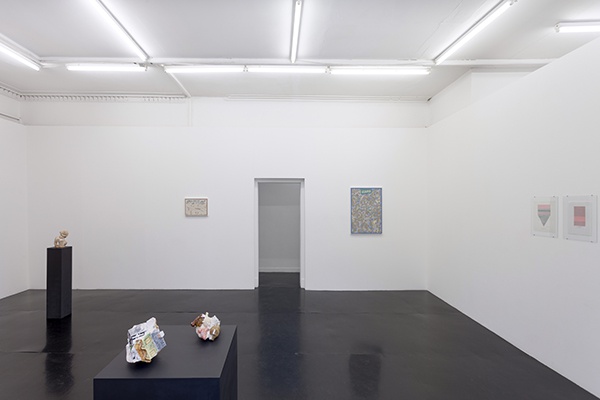 "Looked at again and again half consciously by a mind thinking of something else, any object mixes itself so profoundly with the stuff of thought that it loses its actual form and recomposes itself a little differently in an ideal shape which haunts the brain when we least expect it."
—Virginia Wolf

Koppe Astner is delighted to announce "SOS", a group exhibition that brings together the works of Henri Chopin, Alex Frost, Ryan McLaughlin, Corin Sworn and Anne de Vries.
"SOS", the acronym used to signal urgent distress is an example of the many codes that are incorporated into language. The use of these codes in various contexts and forms of communication often resulting in both understanding and missunderstandings.
The title of the exhibition refers to Henri Chopin's work which uses pattern, overlap and repetition to transform the phrase "SOS "into an abstract visual composition— treating letters as forms, thereby obscuring and challenging their meaning. The SOS is followed by = Tapis de Secours, Chopin presents the reconfigured call of distress as a visual and conceptual security blanket. The works in this exhibition investigate how objects, ideas, histories, narratives and language are in a constant state of fluctuation, each practice encouraging us to question what we see and know as familiar.
Henri Chopin (b.1922—d.2008) was an avant-garde artist, poet and musician, as well as a painter, graphic designer, teacher, typographer, independent publisher, film-maker, broadcaster and arts promoter. He is widely considered to be a pioneer in the recognition and distribution of sound- poetry. Chopin was a little-known but key figure of the French avant-garde during the second half of the 20th century. Known primarily as a concrete and sound poet, he created a large body of pioneering recordings using early tape recorders, studio technologies and the sounds of the manipulated human voice. His emphasis on sound is a reminder that language stems as much from oral traditions as from classic literature, of the balance between order and chaos.
Alex Frost (b. 1973) lives and works in London. Recent solo exhibitions include Flat Time House, London (2015); Cove Park, Cove (2014); Print Studios, Glagsow (2014); The Park Gallery, Falkirk (2013); Wewerka Pavilion, Münster (2013); Platform, Glasgow (2012) and Dundee Contemporary Arts, Dundee (2010). His work has also been included in group exhibitions at The Drawing Room, London (2015); Battat Contemporary, Montreal (2013); The Gallery of Modern Art, Glasgow (2012); Trinity Museum, New York (2012); The Times Square Gallery, New York (2011) and Museum Ludwig, Cologne (2010).
Ryan McLaughlin (b. 1980) lives and works in Boston. Recent solo exhibitions include Kölnischer Kunstverein, Cologne (2015); Laurel Gitlen, New York (2013); Lüttgenmeijer, Berlin (2012); The Viewing Room, London, Timothy Taylor, London and Pyramid Biz, London (all 2010). Recent group exhibitions include Off Vendome, Düsseldorf (2014); Tanya Leighton, Berlin (2013); Biksady Gallery, Budapest (2012); Sikkema Jenkins & Co, New York (2012); Atelierhaus Monbijoupark, Berlin (2011) and Avlskarl Gallery, Copenhagen (2011).
Corin Sworn (b. 1977) lives and works in Glasgow. Recent solo exhibitions include Collezione Maramotti, Reggio (2015); Whitechapel Gallery, London (2015); Langen Foundation, Neuss; Inverleith House, Edinburgh; The Common Guild, Glasgow (all 2014); Neuer Aachener Kunstverein, Aachen; Chisenhale Gallery, London (both 2013); Galleria D'Arte Moderna e Contemporanea, Bergamo; Fundacion PRÓA, Buenos Aires; San Art, Ho Chi Minh City; Para/ Site Art Space, Hong Kong; Istanbul Modern, Istanbul; Ballroom Marfa, Marfa; City Gallery, Wellington; Belgrade Cultural Centre, Belgrade; Cinemateque de Tanger, Tangier; New Media Center at Haifa Art Museum, Haifa Neuer Berliner Kunstverein Video Forum, Berlin (all 2012) and Tate Britian, London (2011). She received the Max Mara Art Prize for Women in 2015 and represented Scotland at the Venice Biennale in 2013.
Anne de Vries (b.1977) lives and works in Berlin. Recent solo exhibitions include Cell Space, London; Foam Museum, Amsterdam and Parc Saint Léger, Lyon (all 2015). He has been included in group exhibitions at Three Shadows Museum, Beijing; Manifesta Foundation, Amsterdam; Salts, Basel; The Moving Museum, Istanbul (all 2014) and Palais de Tokyo, Paris (2012).
.
at Koppe Astner, Glasgow
until 19 March 2016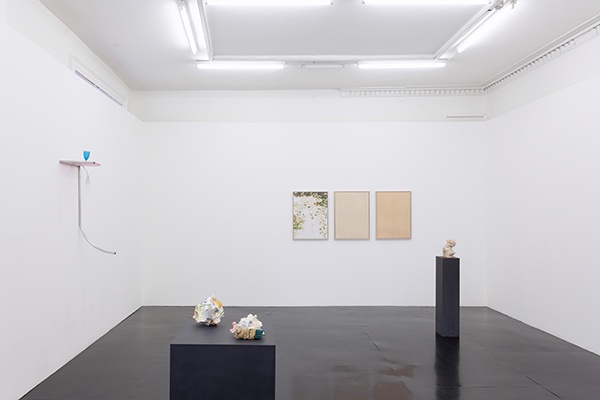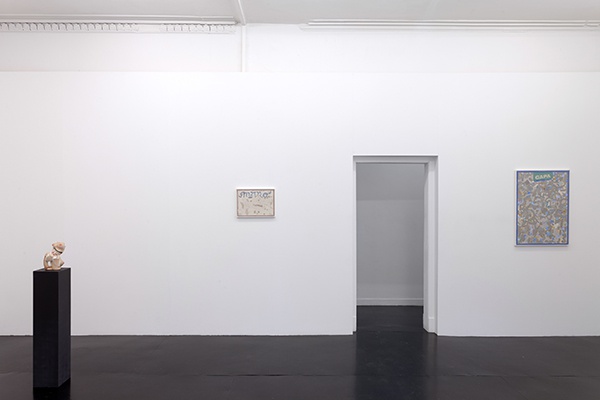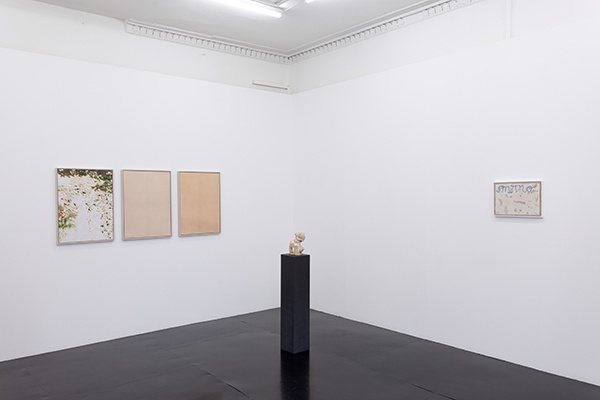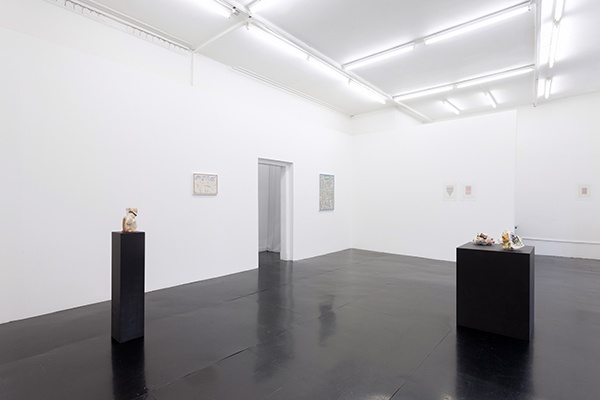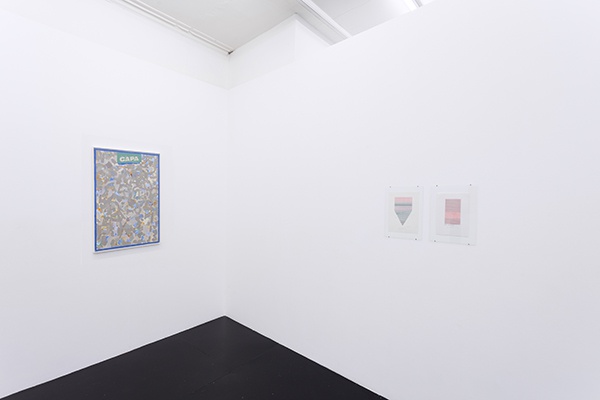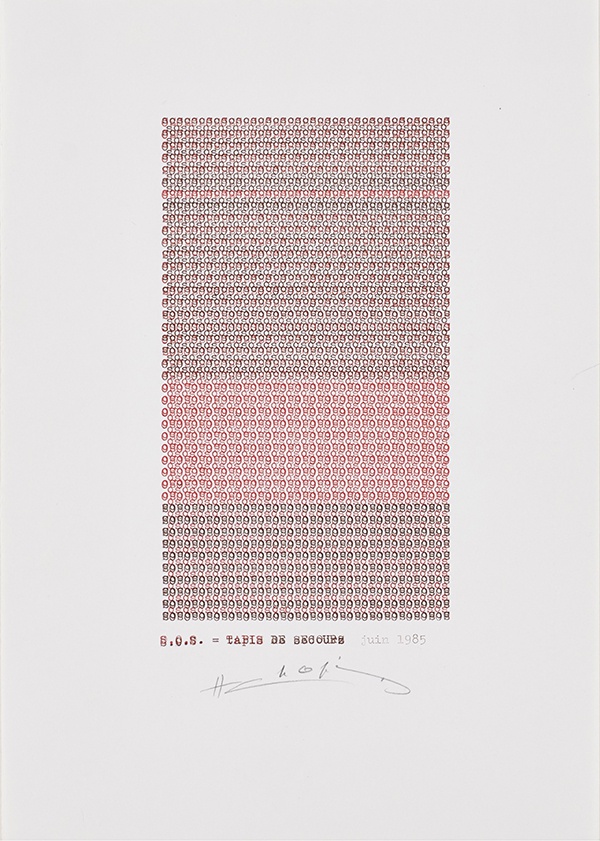 Henri Chopin, SOS = Tapis de Secours, 1985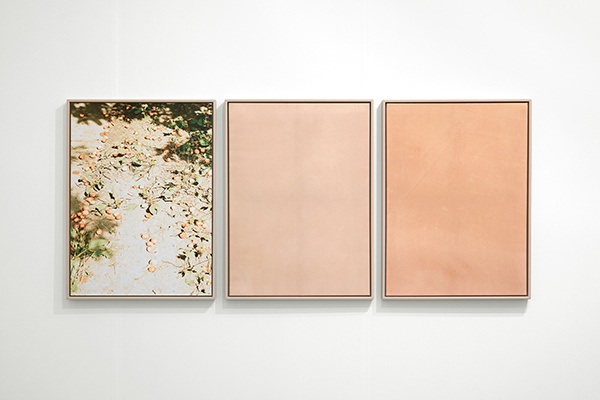 Corin Sworn, Meditations to make love rust, Despite plenty of gathering, Where were the Stairs?, 2015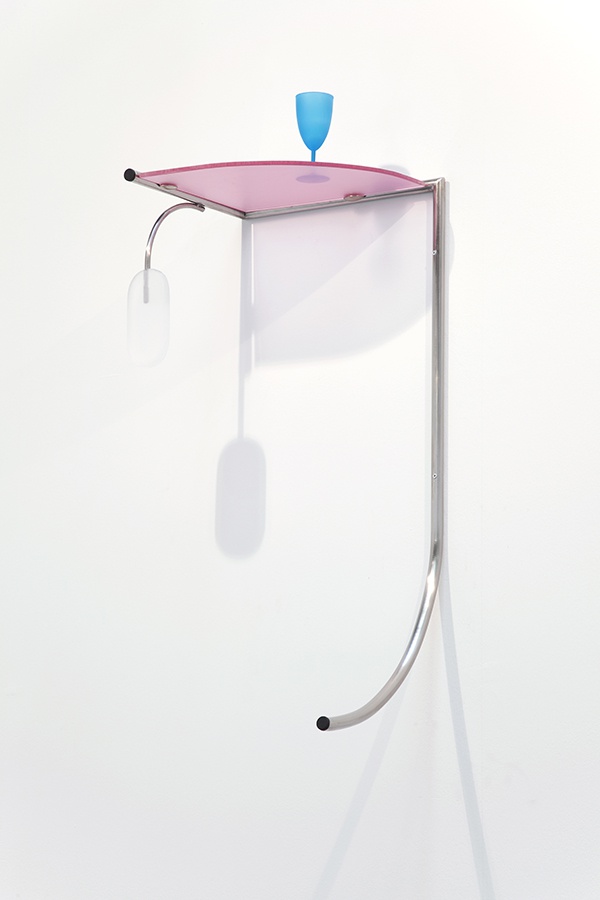 Anne de Vries, Places to see, 2013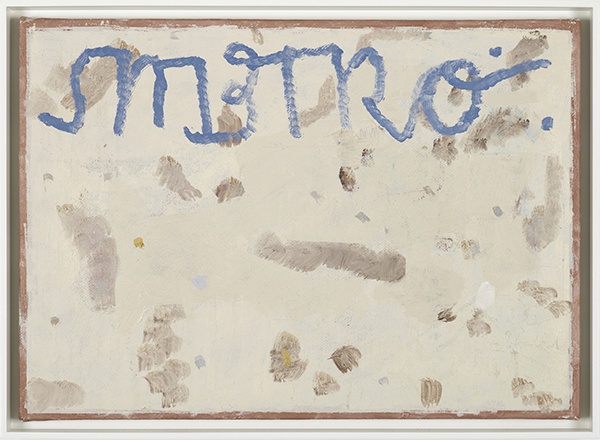 Ryan McLaughlin, Metro, 2015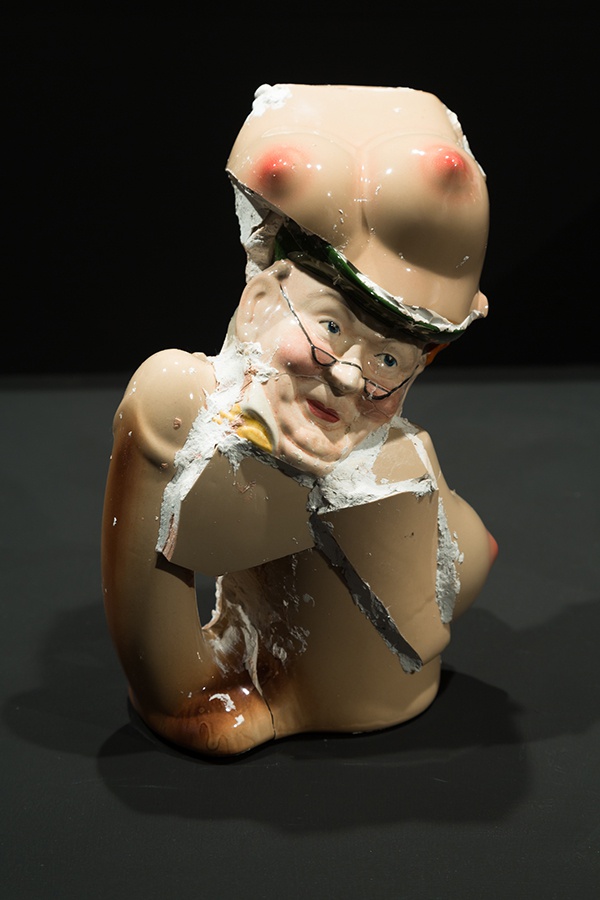 Alex Frost, Property Guardian, Mugs (penis and breasts), 2015
.
"SOS" installation views at Koppe Astner, Glasgow, 2016
Courtesy: the artists and Koppe Astner, Glasgow