REVIEWS
"Spilling Over: Painting Color in the 1960s" at Whitney Museum of American Art, New York
Close
1
2
3
4
5
6
7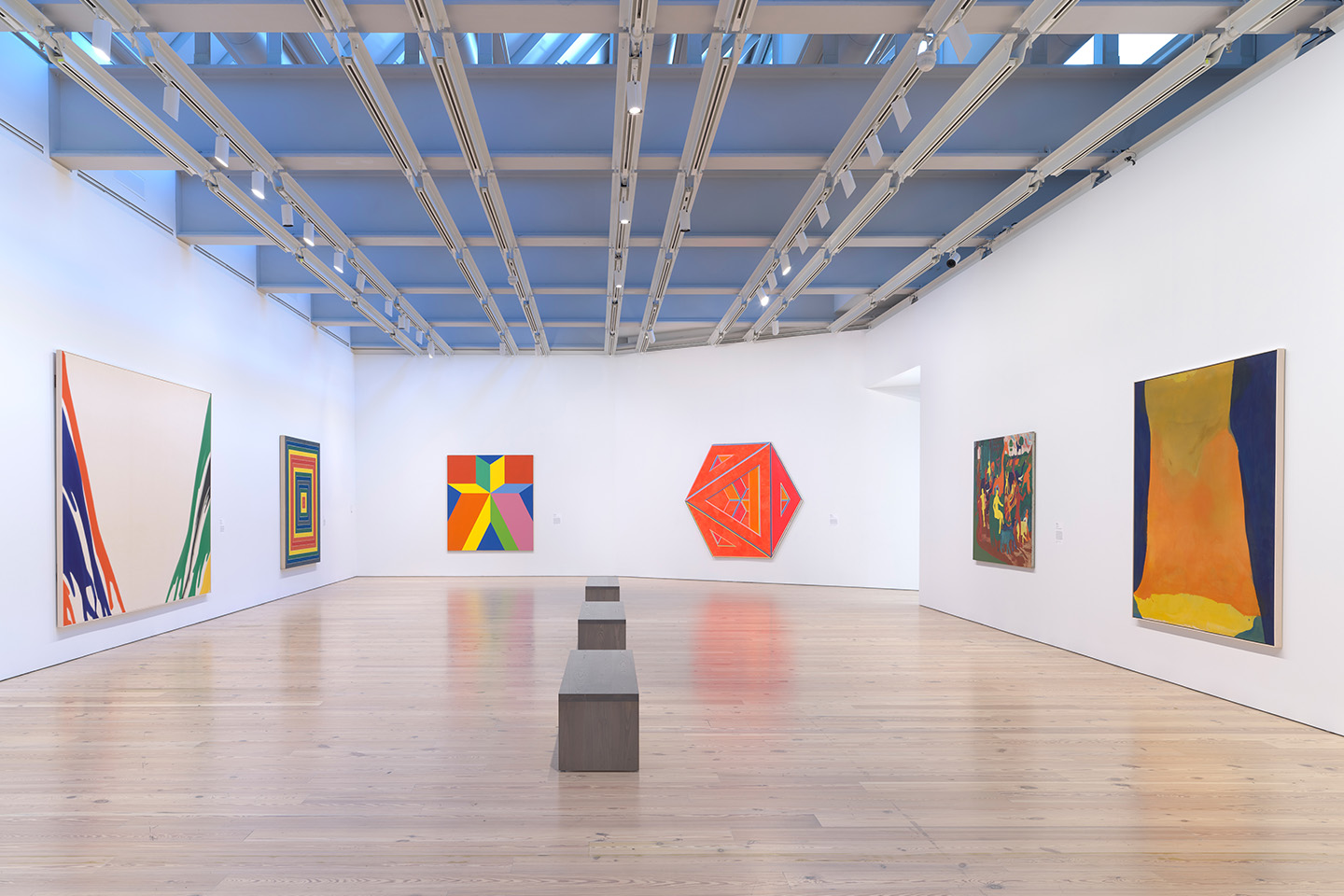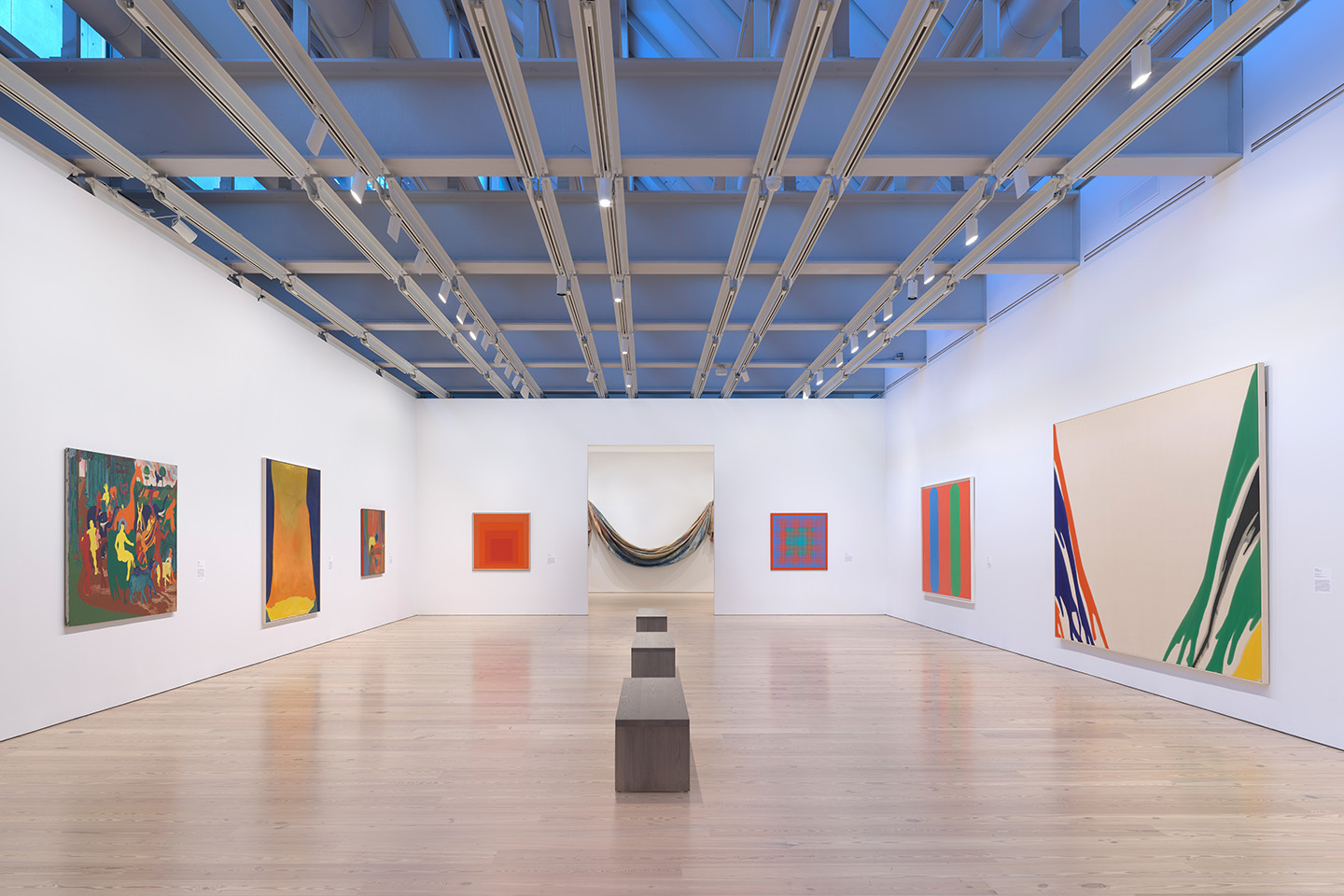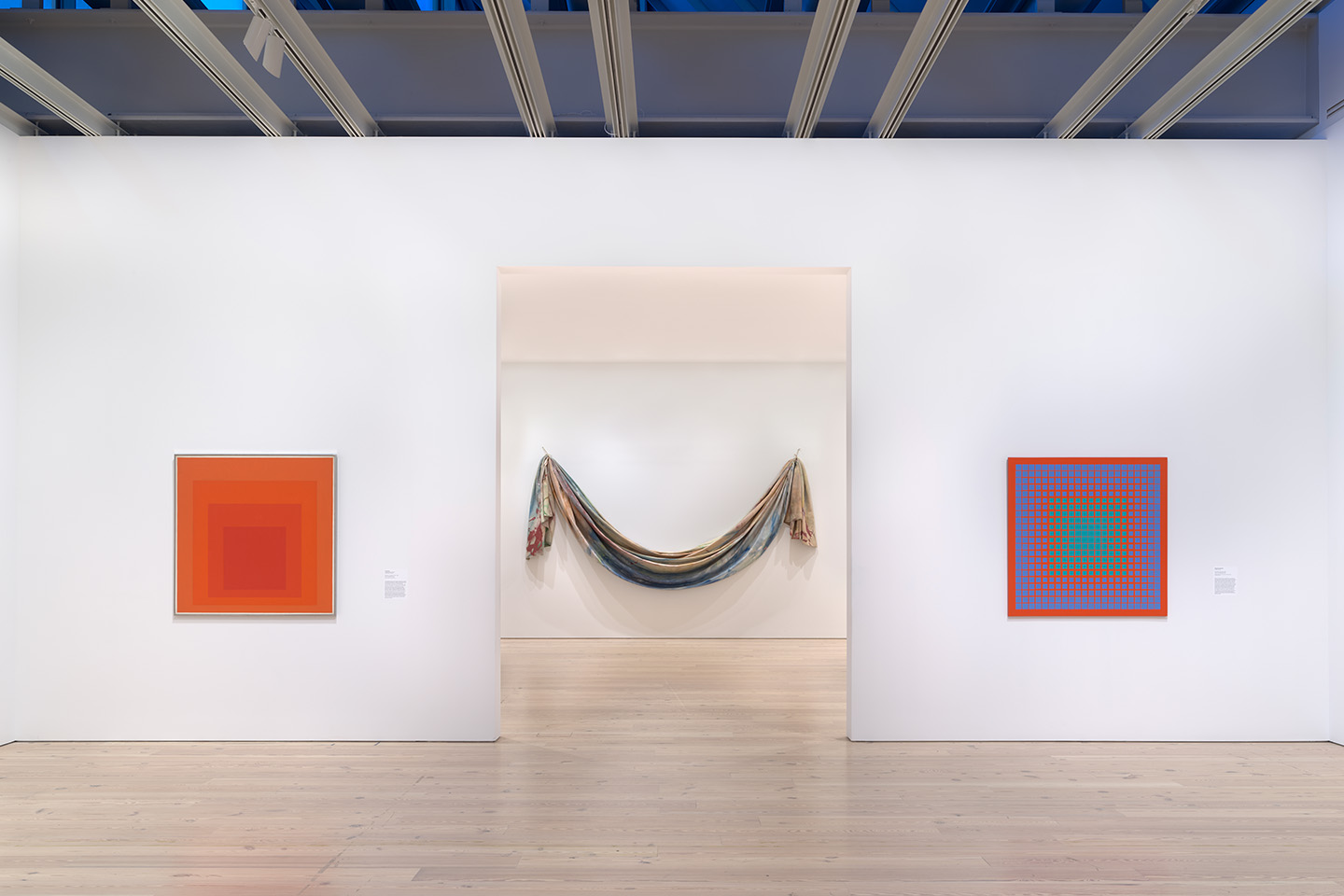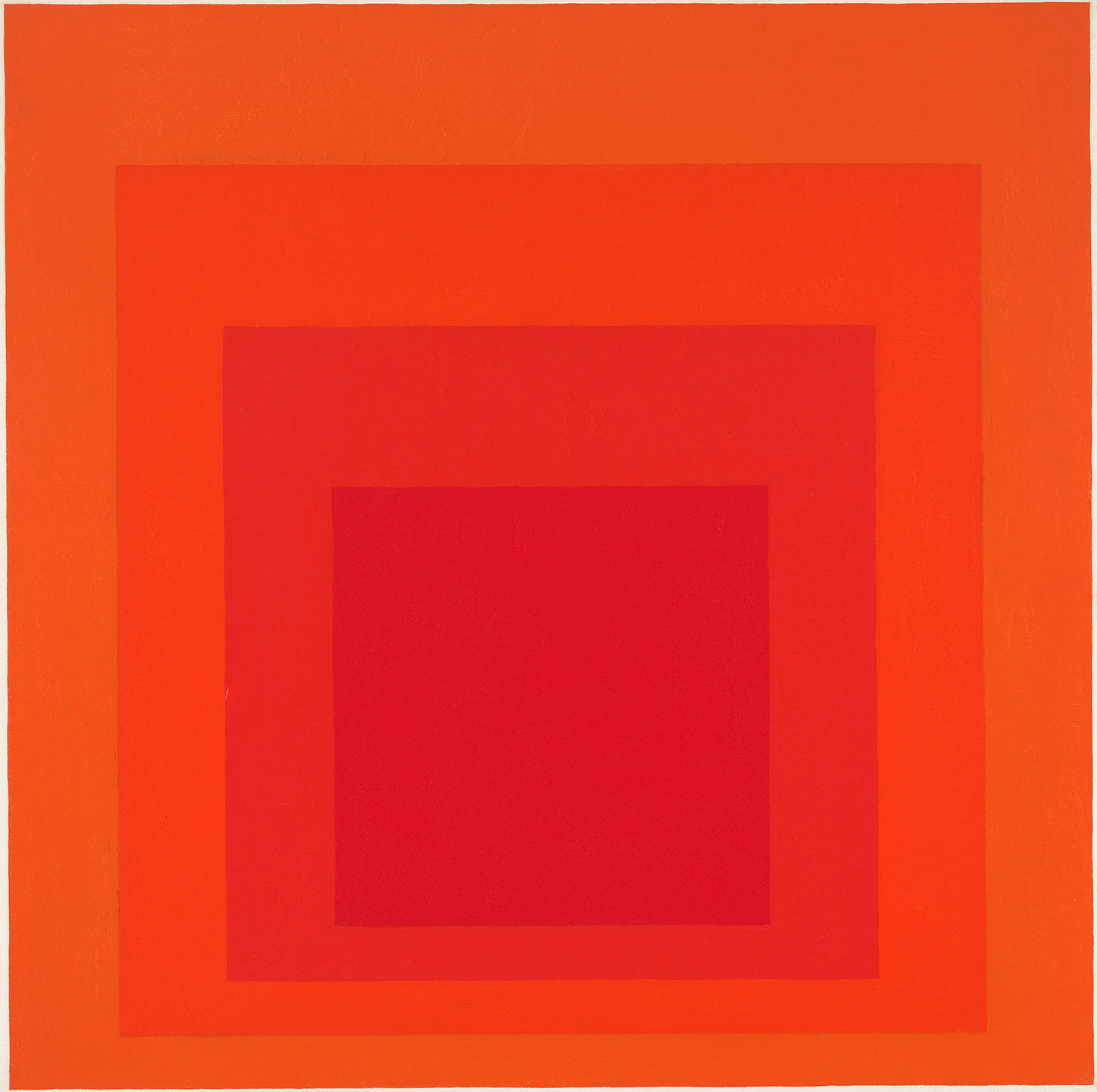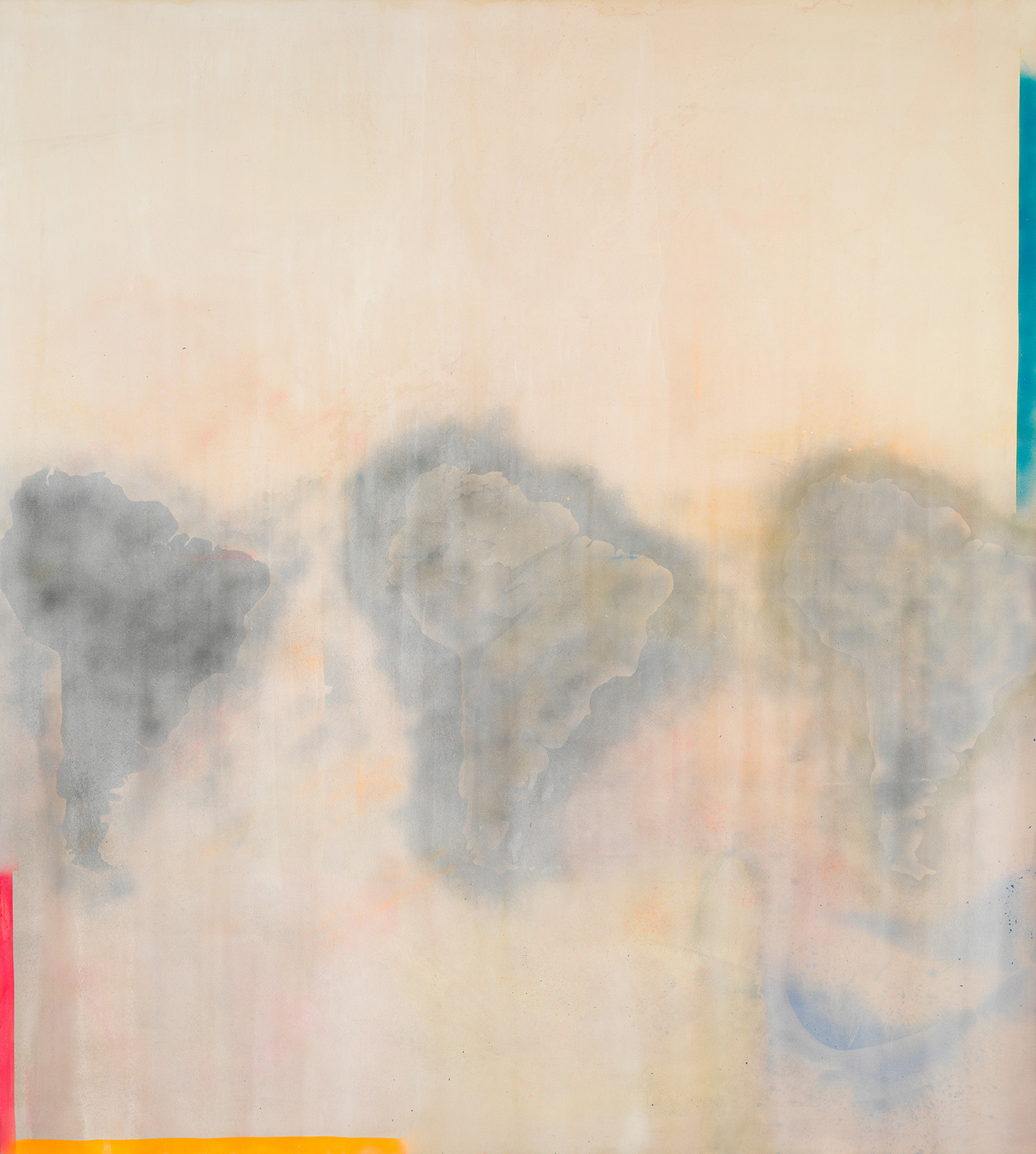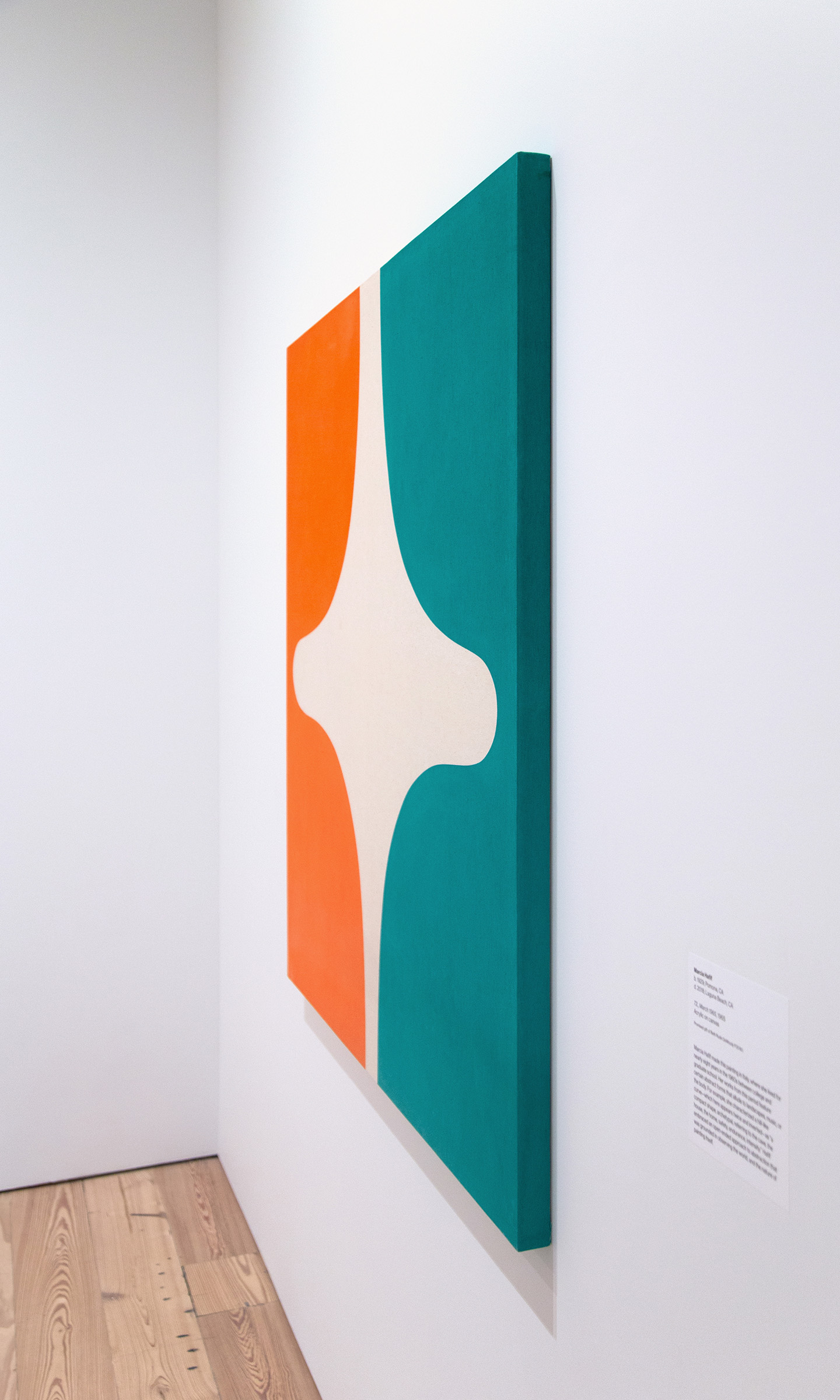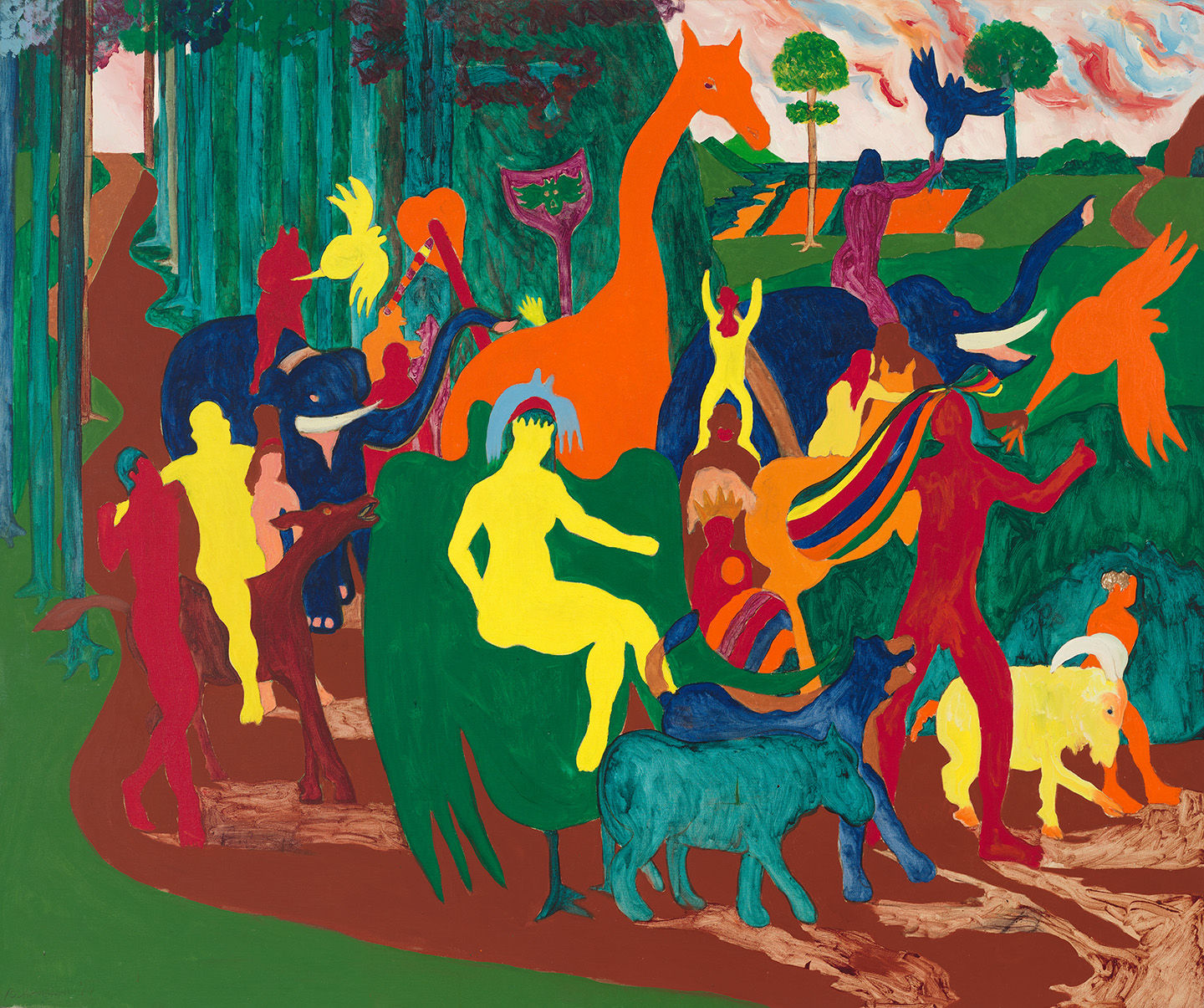 by Dan Munn
It must have looked so preliminary, so unfinished, so much like a product display at first. What happened to color during this period of transition, when artist colors were replaced by paint from the can?[1]


Supplanting artist colors, acrylic paint carried with it the promise of abandoning altogether the representational framework dominant since the Renaissance. If the modern period saw "the corruption of painting as the continuation of painting,"[2] then Spilling Over: Painting Color in the 1960s offers something of a return—a reforging of links that were severed. Premixed colors, televised colors, printed colors: these eighteen works drawn from the Whitney's permanent collection comprise a chromatic ecology. Color is employed didactically, color is layered and sunken in, and color renders forms and frames space.
In Dan Johnson's Surprise (1969), Guyana-born Frank Bowling frames three shadowy outlines of the South American continent by placing cyan, magenta, and yellow color bars right at the edges of the canvas. Moving through the rooms of the exhibition, one can see along the edges of the canvas staples, drips, and splatters—or conversely, uninterrupted pigment or bare canvas. While these may demonstrate an artist's commitment, or ambivalence, to the concerns of post-painterly abstraction, they may equally be a charade of such commitment. Robert Smithson wrote that "the whole world loves a goof every now and then… it proves that the artist is 'human.'"[3]
Bob Thompson was a regular at New York jazz clubs and often worked to music, "answering it with shapes, colors, and abrupt angles."[4] The artist's response—building up variegated surfaces through an irregular application of paint—gives the fields of color in works such as Triumph of Bacchus (1964) a painterly depth. In this picture, Thompson takes as his subject the Roman god of wine, borrowing compositional elements from Renaissance depictions. He improvises on this art-historical "standard," rendering the scene with texture and dynamism, and introducing all manner of bird and beast. Bypassing chromatic realisms of race altogether, the artist clothes the silhouetted figures of this bacchanalian procession in a rainbowed disguise.
Similarly inspired by the ancient world, Marcia Hafif painted 72., March 1965 (1965) during her fourth year in Rome, expanding on the symmetrical compositions that she had developed in California under Richards Ruben. The work's organic curves draw from the shapes and colors of opus sectile (inlaid marble) floors found in churches throughout the city. They precede the "hill shapes" the artist painted the following year, which importantly were some of the first that Hafif saw as distinctly her own.[5] The complementary color pairing of 72., March 1965   recalls opus sectile's strategy of combining contrasting marble varieties[6] and resonates with the bright red/orange and blue/green depths of Sam Gilliam, Bow Form Construction (1968), which hangs opposite. While many of the works in the exhibition are unframed—their colors running all the way around or off the stretcher—others, such as Josef Albers' Homage to the Square: "Wait" (1967), operate deliberately within two dimensions. To ensure a perfectly smooth surface, Albers required that up to eight coats of gesso be applied in the preparation of his boards. The artist marks the beginning and the end of the work within the confines of its original frame by leaving a border of pure white Liquitex.[7]
As an exhibition, Spilling Over works to soften the rigid lines that once separated disciplines. Uniting disparate constructs of image making, it locates geometry, topography, and art-historical motif along a single spectrum. The painting of the 1960s remains singular in its embodiment of the technologies of its time, and in the way that it reflected the evolving roles of artist and viewer. Spilling Over brings elements of mimesis and reproduction cast aside during this period back into the conversation, along with the mark making and rigors of production that they entail. Read across rather than against each other, these works have more in common than one might expect. They initiate a "direct conversation across the centuries"[8] and break new ground between long-antagonistic schools.
[1] "They would be good painters if they could only keep the paint as good as it is in the can."Lucy R. Lippard, "What You See Is What You See: Donald Judd and Frank Stella on the End of Painting," ARTnews, September 1966. 121.
[2] David Batchelor, Chromophobia (London: Reaktion, 2013), 101.
[3] Smithson writes of a "false impressionism": "It's hard to tell whether Noland's 'mistakes' are more or less interesting than Andy Warhol's fake 'corrections.' But, I guess, the whole world loves a goof every now and then, especially if it carries with it some kind of odd seriousness. After all, when the paint surface is messed up a bit, it proves that the artist is 'human.'" Robert Smithson, Robert Smithson: The Collected Writings, ed. Jack Flam (Berkeley, CA: University of California Press, 1996), 339.
[4] Stanley Crouch, "Meteor in a Black Hat: The Life and Death of Painter Bob Thompson," Village Voice, December 2, 1986.
[5] "What the hill shape meant to me I am not sure, it is just that paintings of mine based on this shape seemed to be more 'mine' than any." Quoted in Éric de Chassey, Marcia Hafif: La période romaine / Italian Paintings, 1961–1969 (Geneva: Musée d'art moderne et contemporain, 2010).
[6] One such palette first employed inopus sectile in the second-century AD, quadricromia neronian—comprising green serpentinite, purple porphyry, yellow Numidian marble, and white-red/dark-veined pavonazetto—remained popular throughout the imperial and late antique period, and then passed into the flooring production of medieval Rome. See Claudia Angelelli, "Opus sectile,"TESS—Floor Classes (Padua: TESS, 2016).
[7] P. S. Garland, "Josef Albers: His Paintings, Their Materials, Technique, and Treatment," Journal of the American Institute for Conservation 22, no. 2 (1983): 62–67.
[8] StanleyCrouch, Bob Thompson: Meteor in a Black Hat (New York: Michael Rosenfeld Gallery, 2005).
at Whitney Museum of American Art, New York
until August 2019