EXHIBITIONS
Hito Steyerl at the Artists Space, New York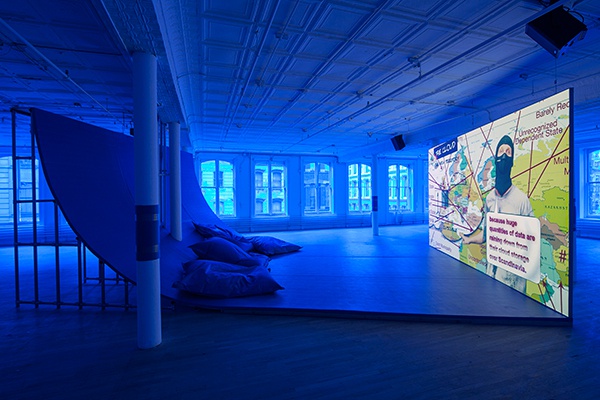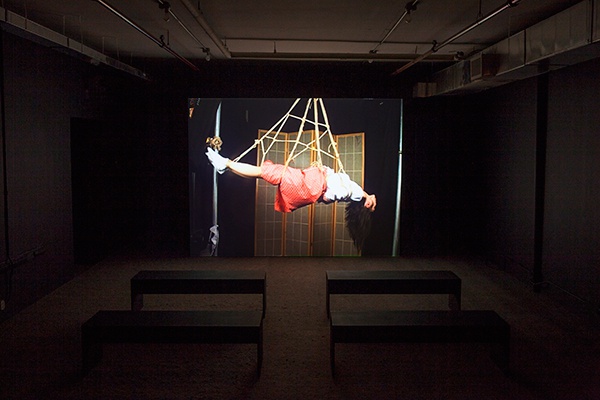 Encompassing the entirety of Artists Space's two venues in Lower Manhattan, this exhibition will include films, installations and lectures from the past ten years, as well as a new commission.

Steyerl's work has developed through her dual practice as a filmmaker and writer. Her films, essays and lectures uniquely articulate the contemporary status of the image. Central to Steyerl's work is the notion that global communications technology, and the attendant mediation of the world through images, has had a dramatic impact on the conception of politics, culture, economics and subjectivity itself.
The artist's early essay films addressed issues of migration, multiculturalism and globalization in the aftermath of the formation of the European Union. Steyerl's more recent works have extrapolated on the essay form as an open-ended means of speculation. These works are rooted in an analysis of late capitalism's social, cultural and financial imaginary via distinctive object lessons—instances in which tracing the circulation of data, sounds and images reveal otherwise illegible structures of power. Steyerl's approach is both humorous and forensic, utilizing her own research alongside montages of found material, digitally manipulated imagery, interviews and first-person voice-overs to speak about how images migrate, proliferate and persist across different technological supports and ideological contexts.
Her films often revolve around particular figures, such as Andrea Wolf (November, 2004), a friend from Steyerl's youth who became a martyr of the Kurdish liberation movement; or Jacob Wood (Liquidity, Inc., 2014), an investment banker turned cage fighter. Speaking of those films, Artists Space curator Richard Birkett states: "The films are distinctly not "about" these subjects, but instead articulate how their identities, mediated through representation and self-presentation, become allegorical sites at which complex flows of desire, control and capital intersect."
Steyerl is also routinely present in her work—as investigative voice, as image "body," as subject and object. Her recent lectures for example, initially presented live and then exhibited as documentation, articulate the notion of the artist as performing image, as producer and as circulator. Steyerl has coined the term "circulationism" in order to describe a state that is "not about the art of making an image, but about post-producing, launching, and accelerating it."
.
at the Artists Space, New York
until 24 May 2015
.
Above – Liquidity, Inc., 2014 (top); Lovely Andrea, 2007 (bottom)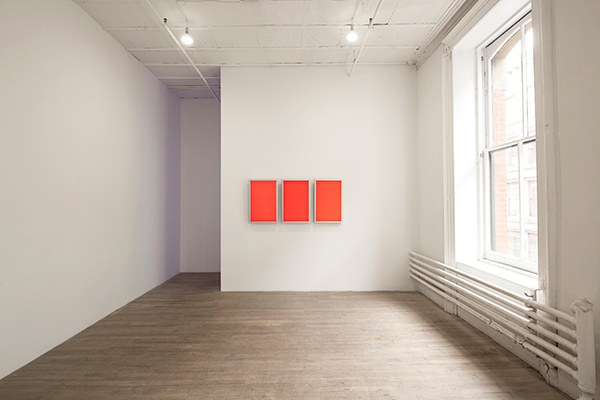 Red Alert, 2007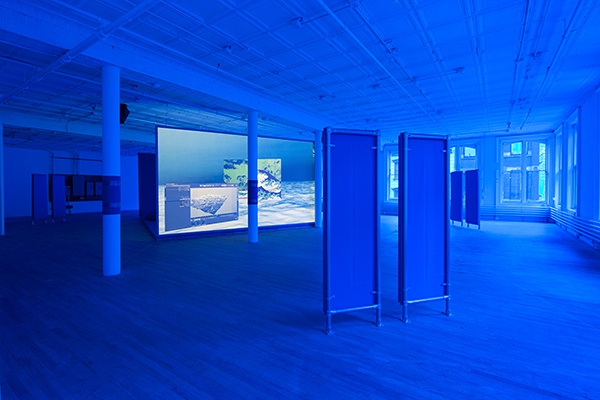 Liquidity, Inc., 2014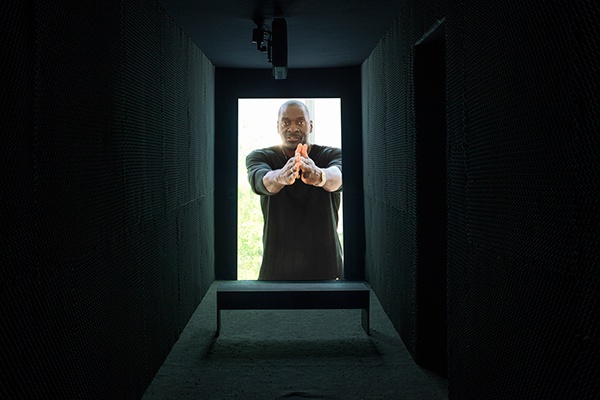 Guards, 2012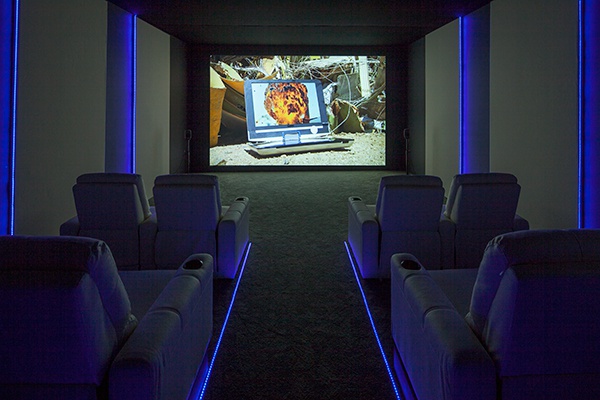 In Free Fall, 2010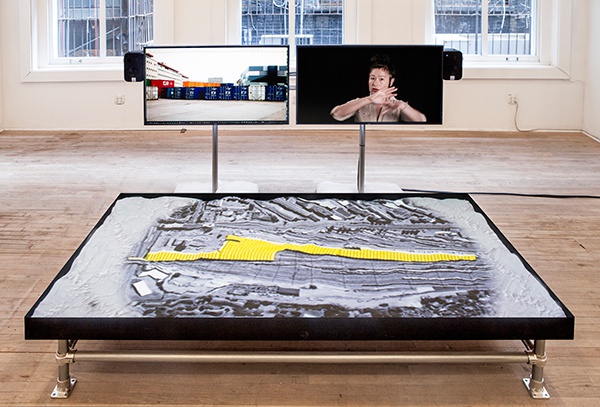 Duty-Free Art, 2015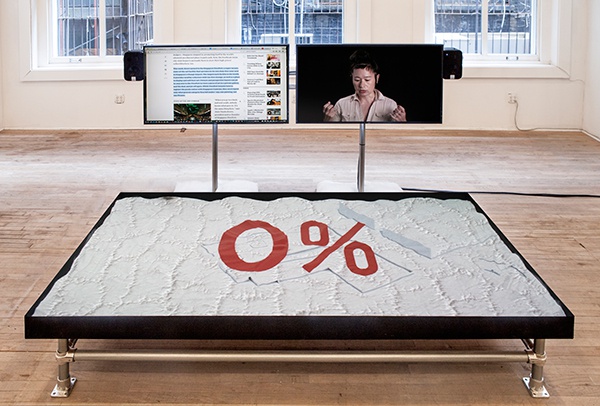 Duty-Free Art, 2015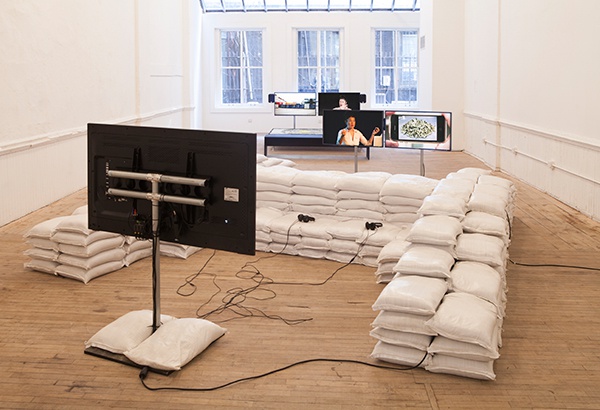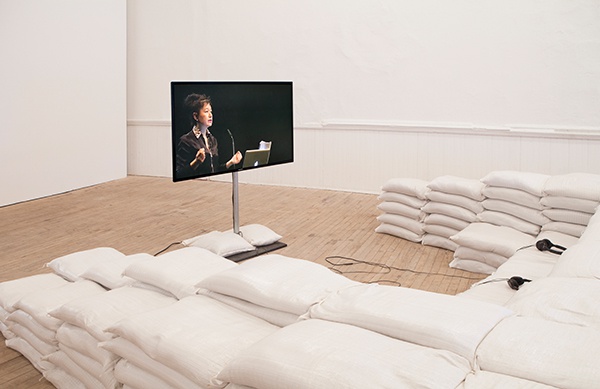 Is the Museum a Battlefield?, 2013
.
Hito Steyerl installation views at the Artists Space, New York, 2015
Courtesy: Artists Space, New York. Photo: © Matthew Septimus.