EXHIBITIONS
Elmgreen & Dragset "Stigma" at Massimo De Carlo, Milan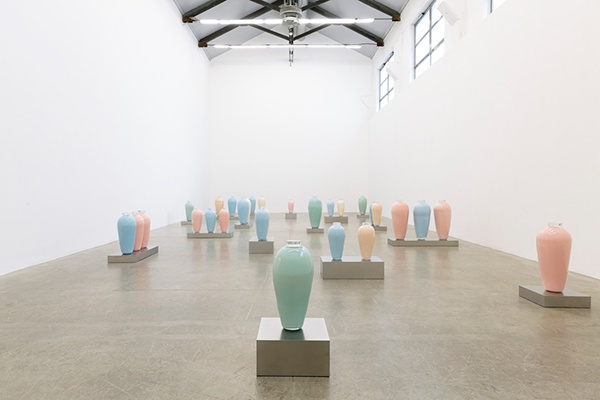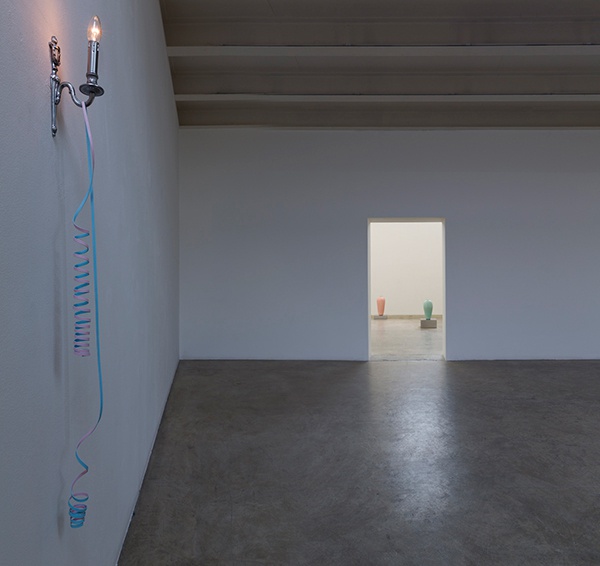 Stella Succi: In this exhibition, you focus on HIV, which is no longer a recurring subject for discussion or a recurring topic in art. I was wondering, why are you doing this now?
Elmgreen & Dragset: The problem today is that, due to the lack of public information on the topic and because nobody really writes or speaks about HIV anymore, a lot of people think, "Oh, it's just a matter of taking a pill and then you're fine". No one talks about the heavy side effects of taking this medication, the cost of it, the fact that you are actually forced to take medicine for the rest of your life. You have to take medication with you everywhere you travel. But of course you have a very good chance of having a normal life expectancy today if you are on treatment. When HIV was dealt with in the art world previously it was as a fatal disease, and that situation has dramatically changed. So, we thought that it was urgent to talk about it again from a current perspective.
SS: I noticed that your approach to the matter is completely different today; even in your other exhibition "Past Tomorrow", you focused on survival—if the last room is rather tough.
E&D: It focuses more on recurring stigma, so it talks about what has not yet been solved …and that is the stigmatisation surrounding the disease—it is still surrounded by mystery, prejudices and by lack of information. People are still afraid of catching HIV in ways that are not possible. Even within the gay community if you go and check dating websites, HIV negative guys describe themselves as clean. Clean as opposed to what? Dirty? So there are still a lot of problems with social stigmatisation in connection to HIV.
SS: I think that the sickness is still the main form of vulnerability both socially and physically. It is still something that is very scary. It is really different because medication exists and yet everybody around us is sneaking away.
E&D: Well, there is also the issue of the medical industry, how they promote these medicines by colouring them in very yummy, candy-like pastel colours, which are also a bit misleading since the medicine is actually not so innocent but rather toxic.
SS: Well then, how would you design a pill?… That was a true question actually, since you are involved in design, I was wondering, how would you design the medication?
E&D: Well the different colours for the different products are practical so you easily can tell one from the other because you must not mix them up and take the wrong dose… if they were all white then it would make it difficult to tell one from the other. But the way they look right now—they almost look like candy. That is unnecessary. There are colours other than peach and pink and pistachio. The pills are deliberately made in these colours so that they look a bit friendlier and more innocent than they really are. If you take a little pink pill, you don't think of it as something that is quite badly intoxicating your body. After Who's Afraid of Red, Yellow and Blue, our version today has become Who's Afraid of Peach, Pink and Pistachio!
SS: I was thinking about the pharmaceutical industry, which is something that often makes me feel I am living in the worst possible kind of world, and I think I would feel deeply uncomfortable in having to be completely reliant on the industry, if I was sick. So, I was thinking that your work in a way is political, but it's more existential because all this stuff is part of it. So, I was wondering, which is the perspective you consider the most important from your point of view?
E&D: In this exhibition we have been inspired by how artists like Roni Horn and Félix González-Torres in the 90s would use the language of minimalism to speak about important existential issues. But for us it was also interesting to introduce the actual material of these pills—the pigment that is used to color them. We did not want to make just an abstract or symbolic image of the problem, but rather to actually use the very same material that the big pharmaceutical industries use to colour these pills.
SS: So you had to ask to the industry to give you the materials?
E&D: Yes.
SS: And how did they react?
E&D: They were very helpful because they were also interested in artists speaking about HIV in a way that was less focused on death.
.
until 27 June 2015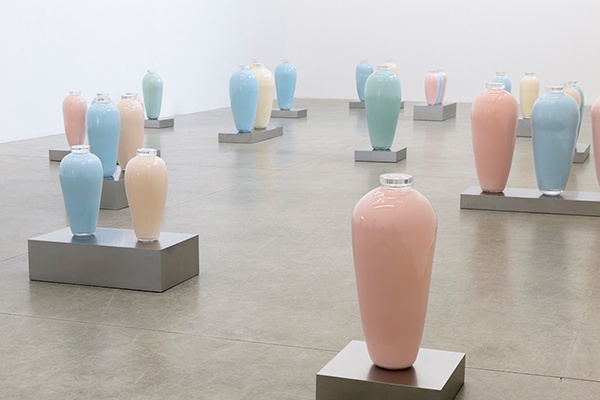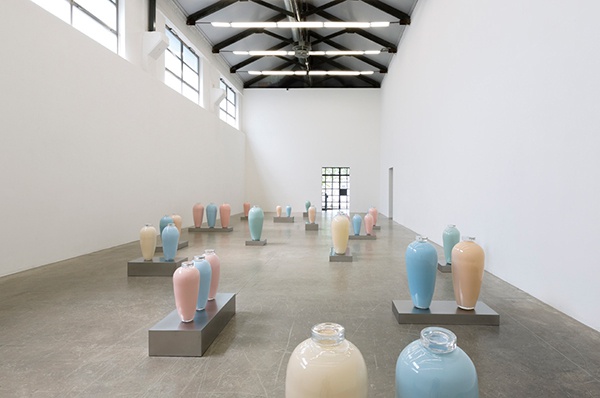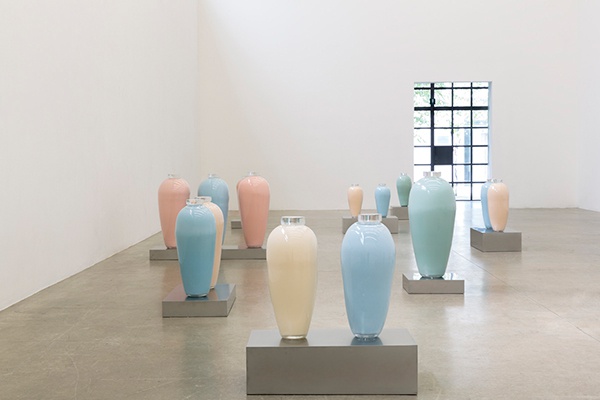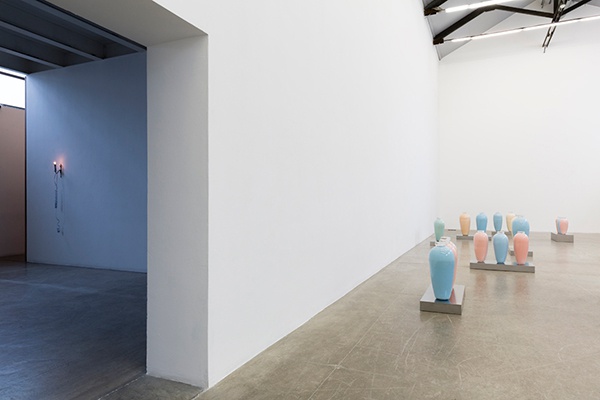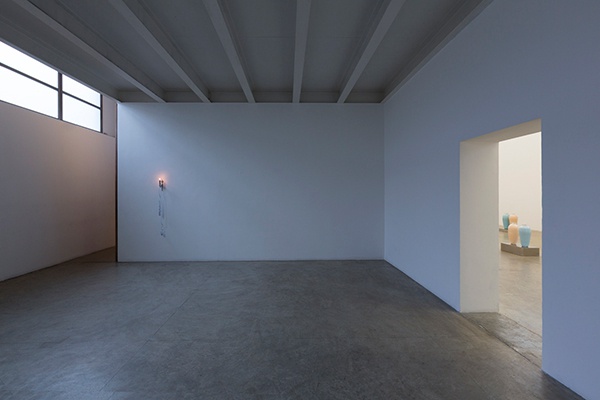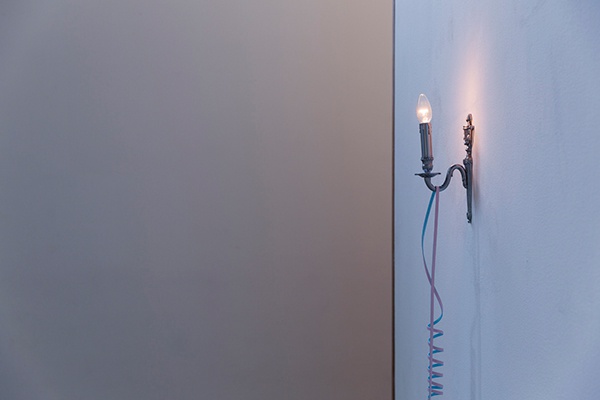 .
Elmgreen & Dragset "Stigma" installation views at Massimo De Carlo, Milan, 2015
Courtesy: Massimo De Carlo, Milan/London. Photo: Roberto Marossi.