EXHIBITIONS
STONES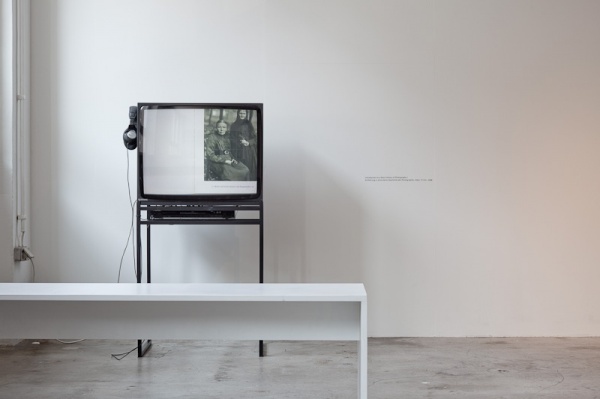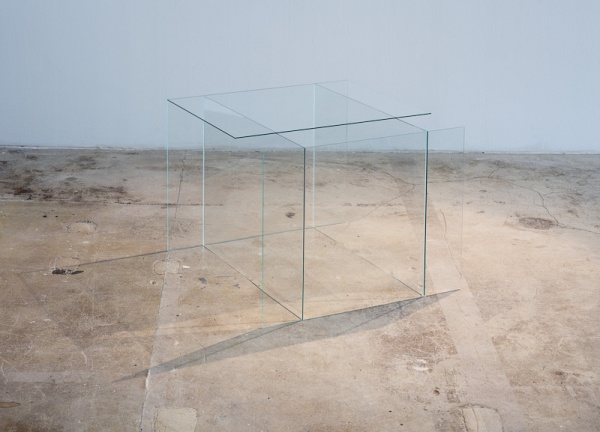 An interview with Florian Zeyfang on the occasion of his solo exhibition at Künstlerhaus Stuttgart
–
Adnan Yildiz: How would you introduce yourself to the Stuttgart audience. Especially if they are familiar with your work as a curator regarding the collaboration that took place  at Künstlerhaus Stuttgart?
Florian Zeyfang: Yes, there was an earlier appearance of mine at the Künstlerhaus in 2007. The exhibition "1, 2, 3… Avant-gardes", originally conceived by ?ukasz Ronduda and myself for Warsaw, took place here in a smaller, refined version thematically reshaped together with the previous artistic director, Axel Wieder. The focus in Stuttgart was on the architect Oskar Hansen and his influence on art and experimental film, through his teaching of the "Open Form" in the 1970s to young artists. His influence lasts through today's generation in Poland, and when I came to Poland with my interest in experimental film and what it could mean for us today there was so much to discover – especially the ways experimental film and performance were used to shape counter public protests during the Warsaw Block times. The "process-oriented approach" you mention ended up in a nonetheless thematically quite focused exhibition and book – at least I hope ?ukasz and I managed to achieve something specific…
For an introduction, I would have to go some years backwards, to explain how this interest in experimental film derived from the intense five to seven years in Berlin after the wall fell and my work with filmmakers and artists and others in a group that didn't want to be an artist group. There, we discussed – next to other things – the meaning of the many forms of documentarisms; then the Internet broadened the discussion on "media". I went to New York in 1997 to make up for some missing input in Berlin's art education and there I was introduced to many different ideas on art, text, and film, since the fellow artists at the Whitney Independent Study Program came with so many different backgrounds. During and after the WISP, I was lucky to work with great people on two different shows, one with Annette Schindler on collective work, another one with her and Gareth James on Jean-Luc Godard and Anne-Marie Miéville's TV and video work. For me this was a way to continue the work between making art by way of my own production, and by way of organizing exhibitions that were exactly the way we as artists liked them to be. This combination of practices continued, through my solo-work focusing on installation-based and cinematic film/video, and in the making of exhibitions and books, the last one conceived with Martin Ebner and titled "Poor Man´s Expression".
–
For the show at the Künstlerhaus, we both agreed to work on a long-term project that you have not finalized until now; so, the solo exhibition operates as an experiment, or even an open studio process based on three works with the same approach. Maybe you can tell us how your story with stones began?
It is a relief and a restriction at the same time: that we decided to reject some other ideas of mine, much more "content-based" and/or text related, and focused on the stones, an idea that has haunted me now for some time. You maybe want to describe yourself, how you see it like an open studio process, but I appreciate that we are somewhat have a link here to the "Open Form" exhibition we made about Oskar Hansen several years ago.
I stumbled upon the stone images in Norway in 2010, and actually it was much more by way of my interest in photography archives. So, in a way we discuss not only stones here, but also photography, or film that matter, since all or most of the images in the show are in flux. But how or why make a film about something as still as a stone? I think I have not found the answer yet, but your invitation to interpret the Künstlerhaus show as an experiment came at the right moment.
In connection with a discussion about my earlier work and archives, I was introduced to images from Stockholms Stadsmuseum through the photographer Fredrik Sweger. Thousands of stones from the museum's archive were shot by him, commissioned through an archiving process. Stones that were part of houses, bridges and palaces, etc., and are loaded with the history of a city that does not exist anymore in the same form now. Even though the people there were extremely helpful, it took me more then a year to get access to the images, and they are truly fascinating, in the range of forms, colors and surfaces and with all the signals they send out. The archival look isolates them and detaches them but at the same time sets free the imagination. And obviously, they acquire an extremely sculptural presence that they would never have, shoved in between a wall and the street surface.
The observation we experience now reminds me of Ruskin's detailed description of the "Stones of Venice", recorded through drawings and writings in his famous notebooks. So, let's call this the man-made side of stones, but again: they seem to be telling their own specific story by now.
Now to a completely different story even though it comes by the same title. I realized that this was not the only thing I was after, and became interested in stones as such, in untouched stones. I photographed them in a very northern part on a trip from Sweden to Norway and collected them at the Baltic Sea. It felt very much like a German tourist, on both locations. And how to deal with this without getting esoteric or into mysticism? Roger Caillois once activated the term "mysticism" for himself in quite a specific way, basing it on "matter" and the experience it introduces, instead of religion. He was well aware of the paradox. And for Francis Ponge in his fascinating discussion of the "Things", among others, the pebble, it is important to avoid mysticism by way of naming the details one observes, and by changing the subject often, while maintaining a certain moderate distance… I feel I cannot really translate into English, or even into German, what I remember him writing in the "Introduction to a Pebble". But he was trying to establish an enclosed description of things that I am only starting to discover.
"The pebble is not an easy thing to define. If we content ourselves with a simple description, we can say first of all that it is a form or a state between a rock and a stone. But this proposition implies a notion of stone that must be justified. I don't want to be accused here of going back even further than the Flood." F. Ponge
–
In 2008, you made a video about the books that Walter Benjamin mentions in his leading article "A Short History of Photography" from 1931. In terms of considering an archive as a living form or organic body, the relationship between that video and the recent project with stones bring me to a clear point of view that you are interested in the potentiality of politicizing the past, or are you? How would you talk about it?
One would maybe talk first about "re-visiting" the past, past ideas and images, and connecting them to contemporary discussions. In the case of the Benjamin video, I returned to a text that once had left a huge impression on me and tried to find a way how to deal with it. Of course the quality of the text comes with his words, but I found it necessary to look at the same images and in the same form as Benjamin when he wrote the Kleine Geschichte der Photographie. I found most of the books he mentioned in the first edition – basically like Benjamin saw them – and introduced them through a rigorous formal frame into the video. For me that was the only way to do it, to kind of "neutrally" look through those images. In the second part this collection is confronted with fast images from today's world, collected in six "volumes" like places of production (film set and photo lab), places of projection (Cinema and TV), Moving and Standstill, Inside and Outside. The six volumes corresponded with the six books that are the basis for Benjamin's ideas.
The simple form opens up for that many ways to read the video. Benjamin wrote the text before his famous "Artwork" essay, and yet this was the moment when the form of looking at art was turned into book consummation – the first catalogues gave an overview of art history to maybe a privileged class, but still it was far more accessible to people. And it changed its form. Not yet considered an art form itself, it was photography that allowed this and photography became itself subject to such historic recording and publication. Photography wrote and shaped its own historic appearance. Benjamin caught that moment, and so did others, but his interest was maybe more embracing, with a love for the subject and the book and the place, its discussions marked them both historically and socially.
In how far does this means "politicizing the past"? Maybe it is just a way to bring back the political approach that Benjamin used in writing this text; he had so many forms to do that. The "artwork in the age of reproduction" is the classic example, but regarding my video "Introduction to a Short History of Photography" I have been asked more in direction of his "Passages", the non-finished, giant collection of "convolutes" he left us with. (Many an artist and even more art historians have commented on, and used the Passages, and while this may be banal, they shall forever claim the right to do so.)
This video was already much less carrying an obvious political message than earlier work of mine, where I traced back the role of media in relation to politics, to revolutions, to social responsibilities. One obvious sign is that here, the text level is reduced to a mere introduction of what follows, and then just images are shown. They carry the politics of their time, and Benjamin's, and they trigger a contemporary reaction. The collection of the archival stones I am showing here now comes without any text in the video, and there is no sound either – how would it be ever political, and then, looking at the stories these leftovers and bricks and columns and lions and monsters are telling, how can it not?
Through the projects in the last years, I have been introduced to many forms of the making of moving images and the experiments of the past, as different as the abstract films of Oskar Fischinger and his contemporaries, or Dziga Vertov's newsreels. Cuban film told me a lot, both the films they love and those they did not love. Then it was the history of experimental film and there, especially the experiences in Poland, that showed me how formal experiments can be intensely political. And through "Poor Mans's Expression", the title says it, we discussed the reasons and ideas behind the use of poor means in film, video and other media, a very important issue, and political in itself. For my personal approach, the stone works are an experiment to reduce even more, to work more "poor" than before in terms of form, but not in terms of content.
–
Thanks to Fredrik Sweger, Petter Smedberg, Clemens Krümmel and Judith Hopf
–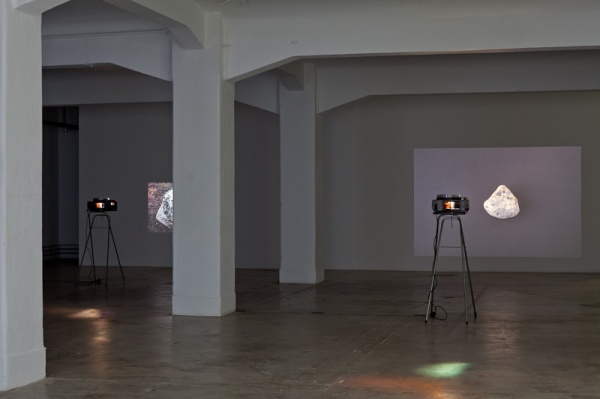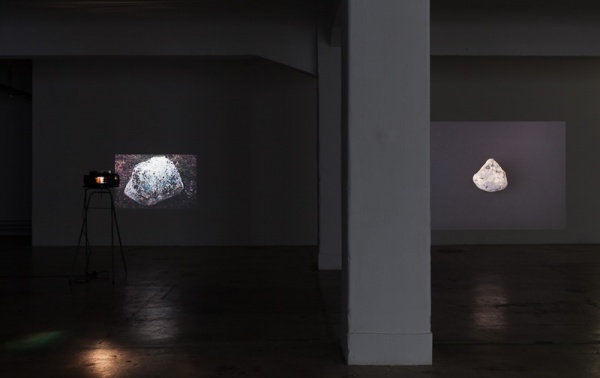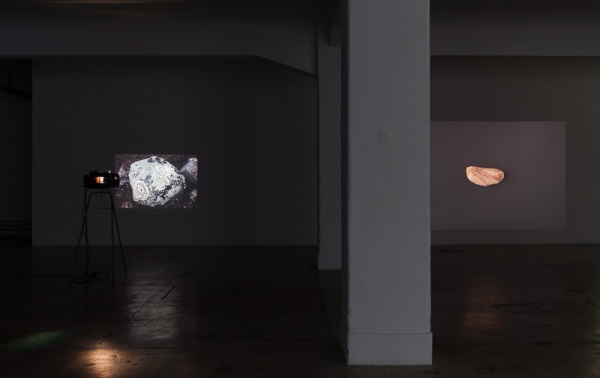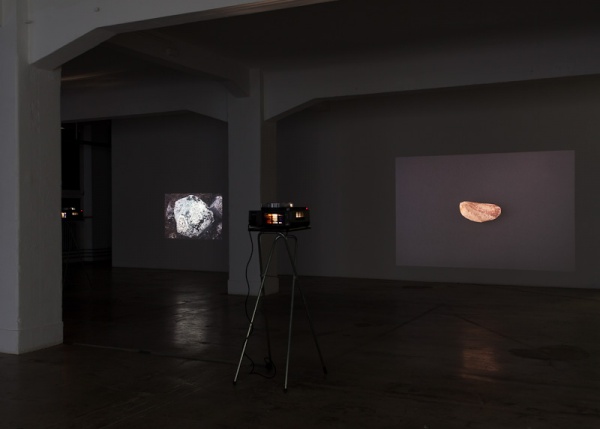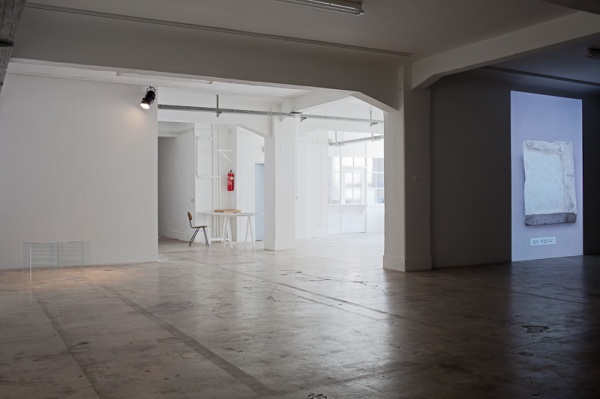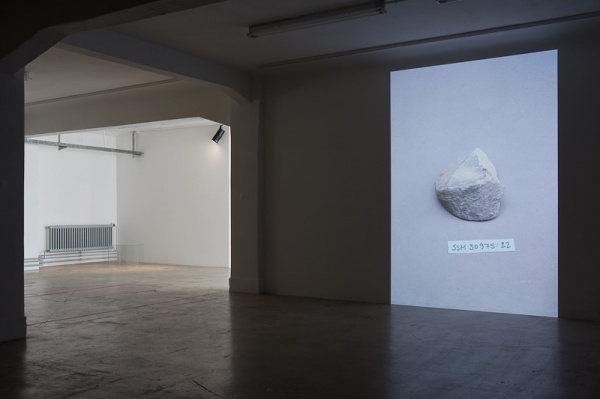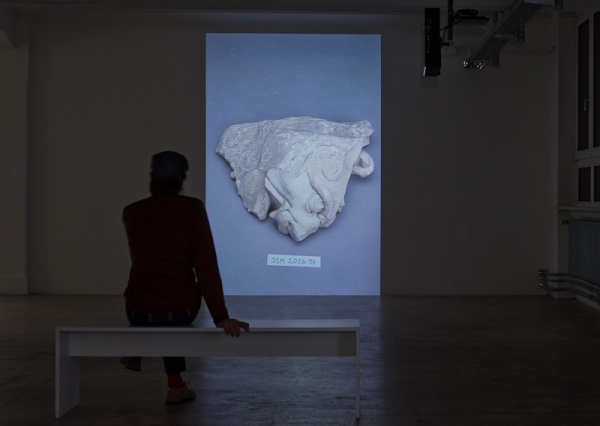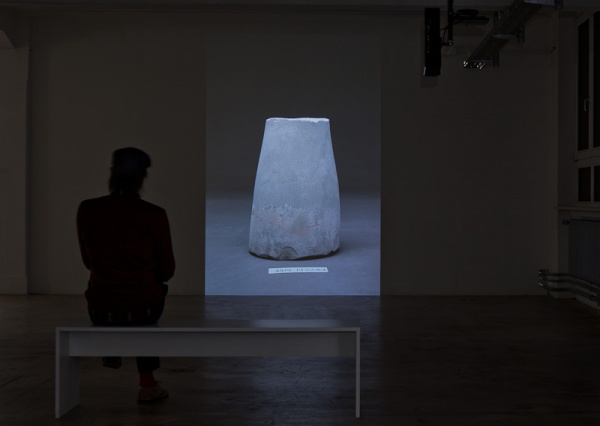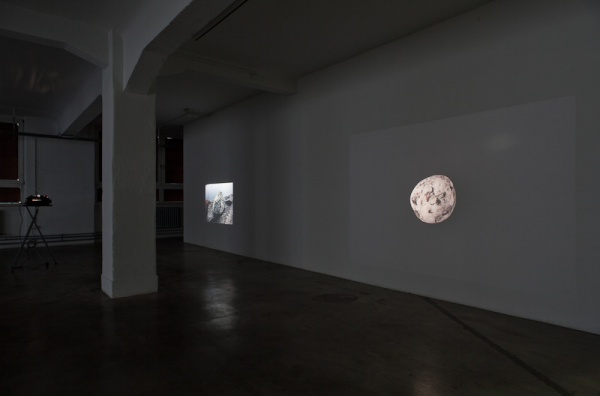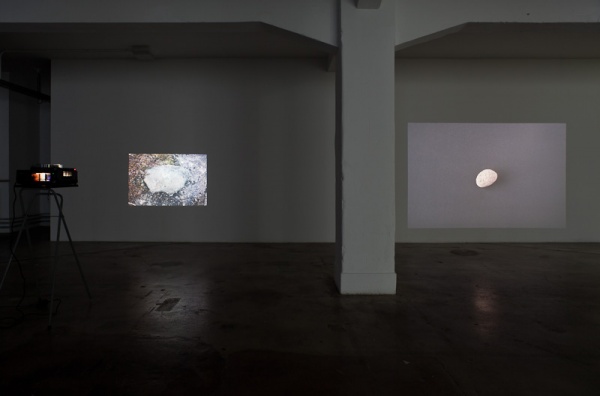 Florian Zeyfang "Stones"
through May 6, 2012