REVIEWS
Stuart Middleton "Motivation and Personality" at Künstlerhaus Halle für Kunst & Medien, Graz
Close
1
2
3
4
5
6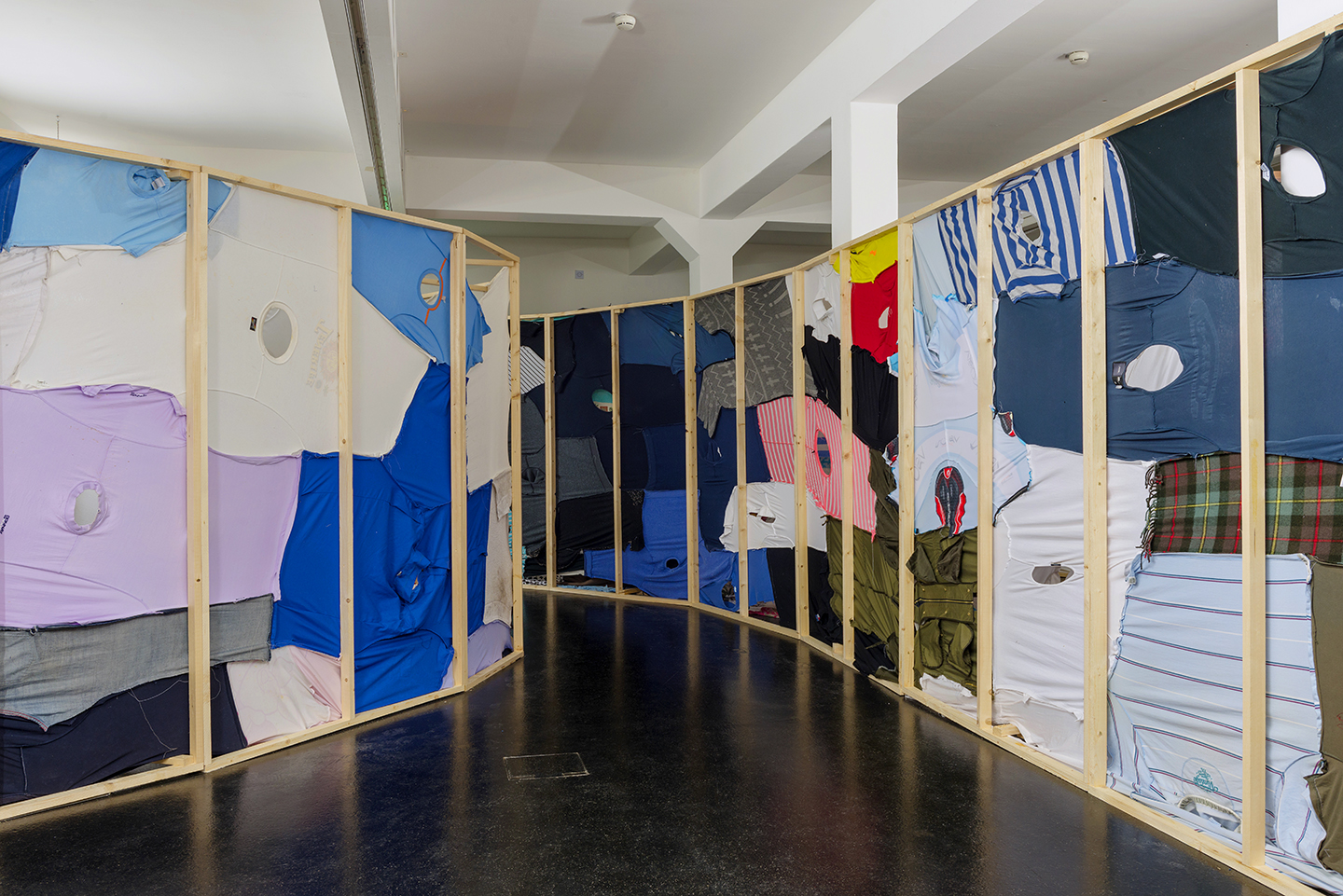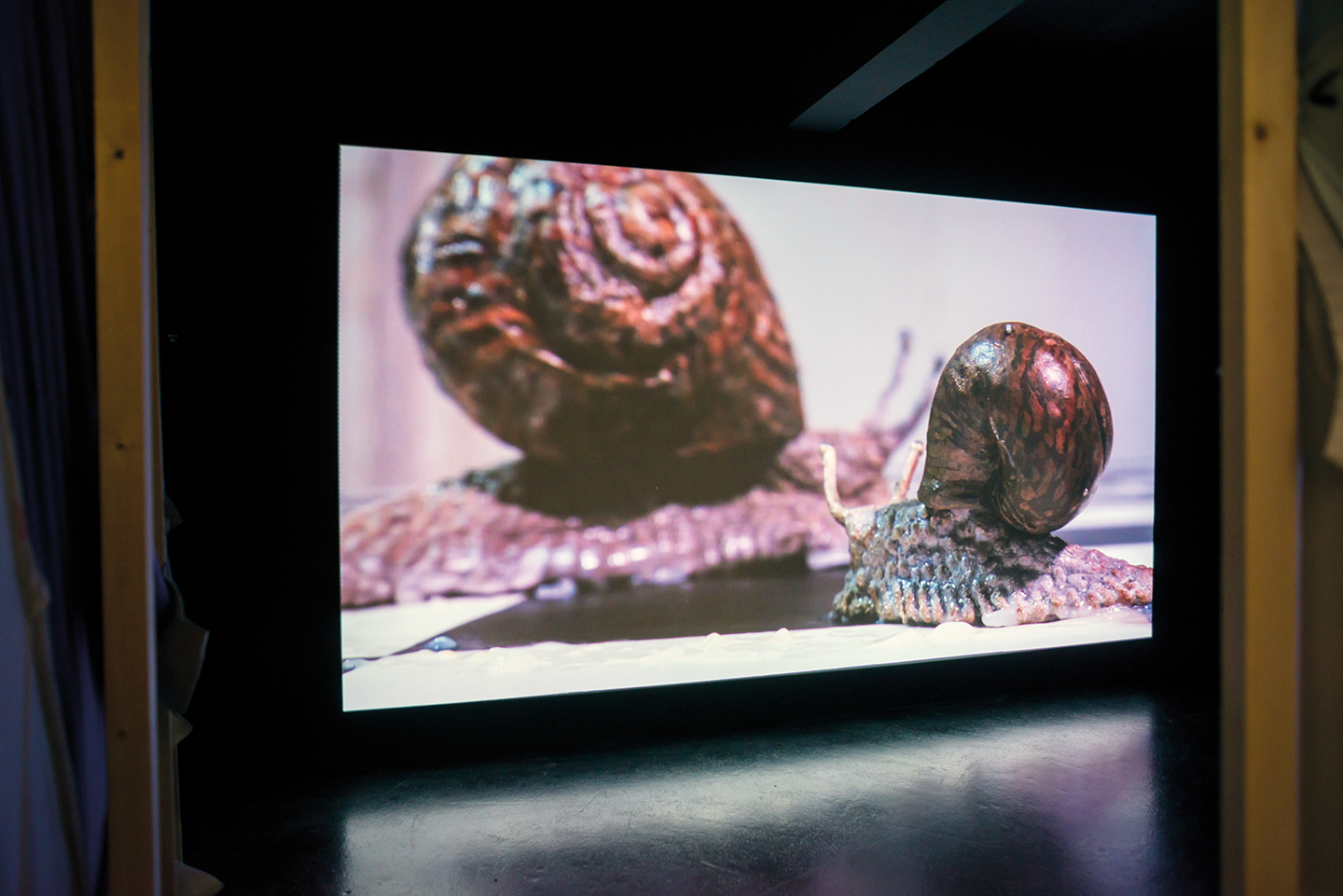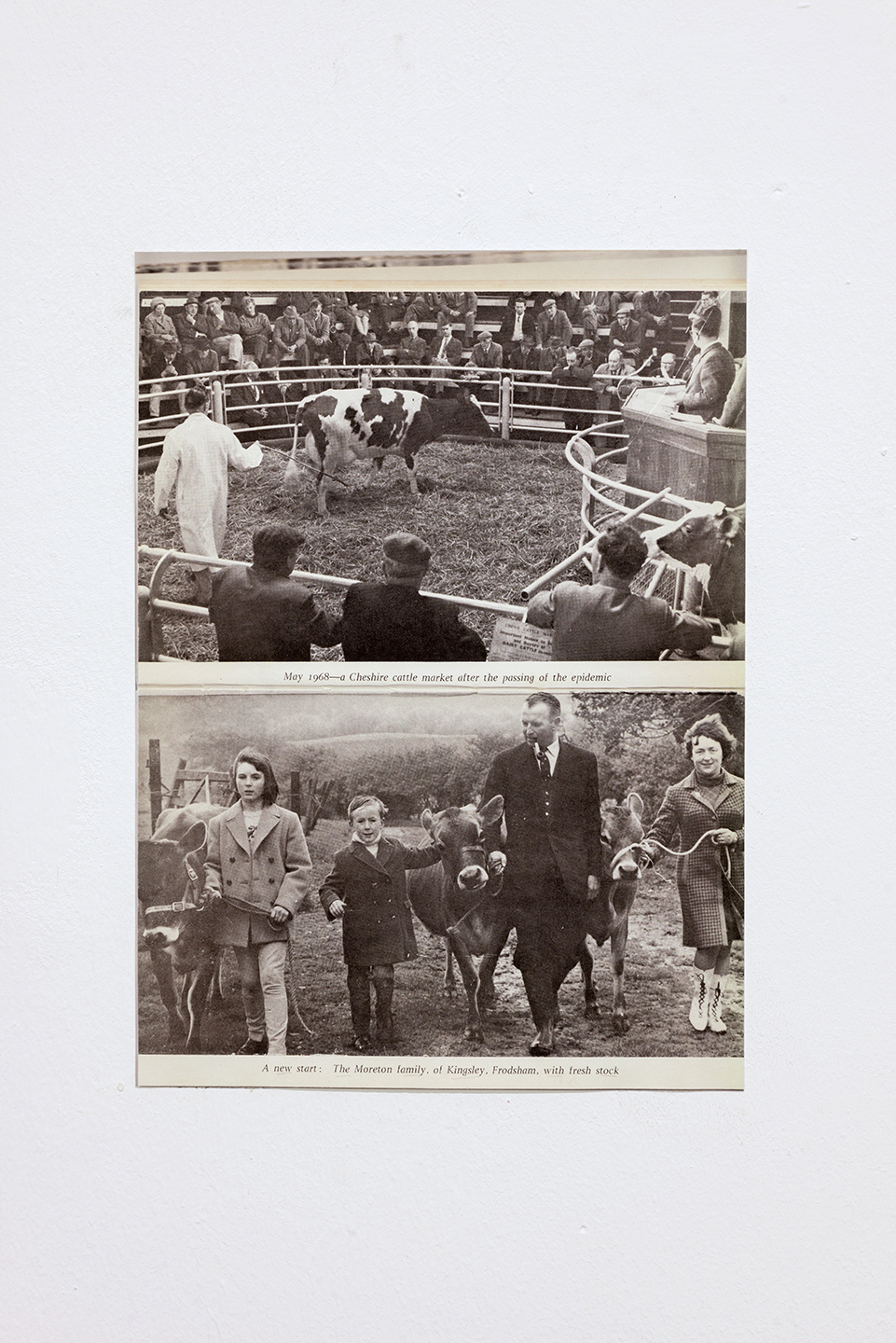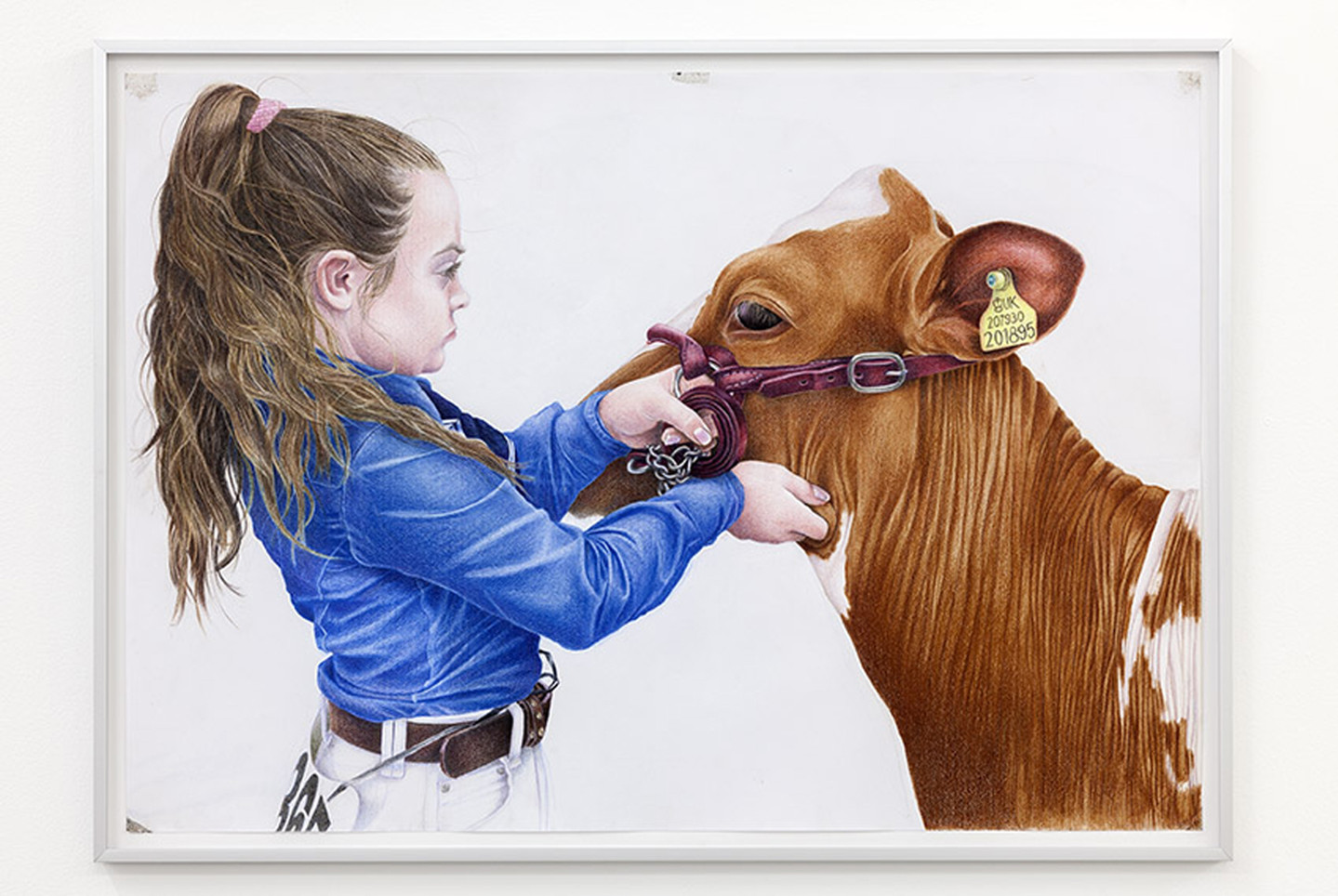 by Francesco Tenaglia
It's an apparently labyrinthine structure, but really just a short pathway leading you through a spiral-like route entirely constructed from clothes—button-downs, T-shirts, trousers, pulled, worn-out, sewn together like an epidermis—sourced from a flea market—obtained from relatives, friends and staff from the künstlerhaus (only people that the British artist Stuart Middleton knows personally). Supported by a wooden structure, the corridor imitates the project that the famous autistic ethologist Temple Grandin designed to alleviate the stress and fear of farm animals about to be slaughtered. Some call the path of death a cosmetic optimization, a sanitization, of a brutal act; for others it represents a courtesy to creatures who are nevertheless relegated to an objectified, fungible role in the food industry.
At the end of the path in the basement of the Künstlerhaus, Halle für Kunst & Medien in Graz, a video awaits: the new stop-motion animation Keep Going (2018), in which two puppet snails, one large and one small, crawl along a chessboard-looking pavement, leaving behind a dense trail of slime and emitting expressive, almost disturbingly human-sounding vocalizations. I imagine that perhaps the adult specimen is instinctively teaching the son how to properly behave in this world, the son looking up to him as an egregious example.
I walk back and forth trying to see if I, like a calf, can perceive some sense of readiness for a nail to be stuck in my skull, then return back to the inanimate stasis to which the thanatos instinct should push me forward (at the end of the day, I am prone to the reemergence of Freudian echoes, springing from the fact that I have just spent a few hours in Vienna thinking of the éminence grise of meta-narratives) or even to experience the longing of the Cold Genius from Henry Purcell's King Arthur ("I can scarcely move / Or draw my breath / Let me freeze again to death," he begs, in a moving ode to stillness revived by the late, already-AIDS-infected minor New Wave wonder Klaus Nomi). I am suddenly reminded of the short-lived American vogue for cinemas built according to the "Egyptian style"—riding on the buzz of enthusiasm deriving from the recent discovery of Tutankhamun's tomb and faded in the early 1930s—in which friezes and ornaments allude to the cinematographic experience as a form of travel into the afterlife. An extreme suspension of disbelief.
Here it is evoked by having to walk the obligatory path, mindful of the animals' deadly journey, while already hearing the rattling noises of the two snails, anticipating the seduction of an earthly, terrific experience, just to unveil a video with the unsettling texture of a surrealistic 1970s children's television program. But it's probably a specific form of death­—or better, ossification—that lingers in this exhibition, which is one of Middleton's major concerns—that is the one operated by the structures of socialization, of production of an agreed-upon reality, of normalization what's before our eyes into an obvious "matter of fact" or an "adequateness" univocally interpretable and socially sharable, starting from the first normative institution we encounter in our life: the family. This is also suggested by the miniaturized domestic environments on show: a tiny table with chair, a comfortable-looking bed, and, most of all, a toy that reproduces a military vehicle, open and furnished like a dollhouse.
Middleton lives in Glasgow but grew up in Cheshire, home to one of Britain's oldest and most thriving agricultural-fair establishments, where his family had a consistent interest in animal husbandry. The exhibition opens with an old photograph; a livestock auction and his family restocking their farm (after the 1964 foot and mouth epidemic), and in this way it connects to Middleton's exhibition Improvers—itself a slang term referring to breeders—held last year at the east London art gallery Carlos/Ishikawa. In that show, a monumental, shiny wall painting depicting trucks carrying wooden logs contrasted with pencil-on-paper paintings depicting young judges weighing the standardized qualities of tame and aristocratic animals, gesturing expertly and hieratically. Adequateness, once again.
Stuart Middleton's research is complex, allusive, and obliquely political while indifferent to the tired drift of some conciliatory formalizations of identity politics lite. The artist reflects on the production of subjectivity and on cultural devices of channeling and containment of desires and self-affirmation, firmly linking these to a core of recurring, genuine, idiosyncratic interests that have begun to arrange themselves as one of the most interesting basins of meaning and image in recent British visual art.
at Künstlerhaus, Halle für Kunst & Medien
until 20 January 2019