CONVERSATIONS Mousse 71
In-Between Repetition and Variation: Suellen Rocca
Close
1
2
3
4
5
6
7
8
9
10
11
12
13
14
15
16
17
18
19
20
21
22
23
24
25
26
27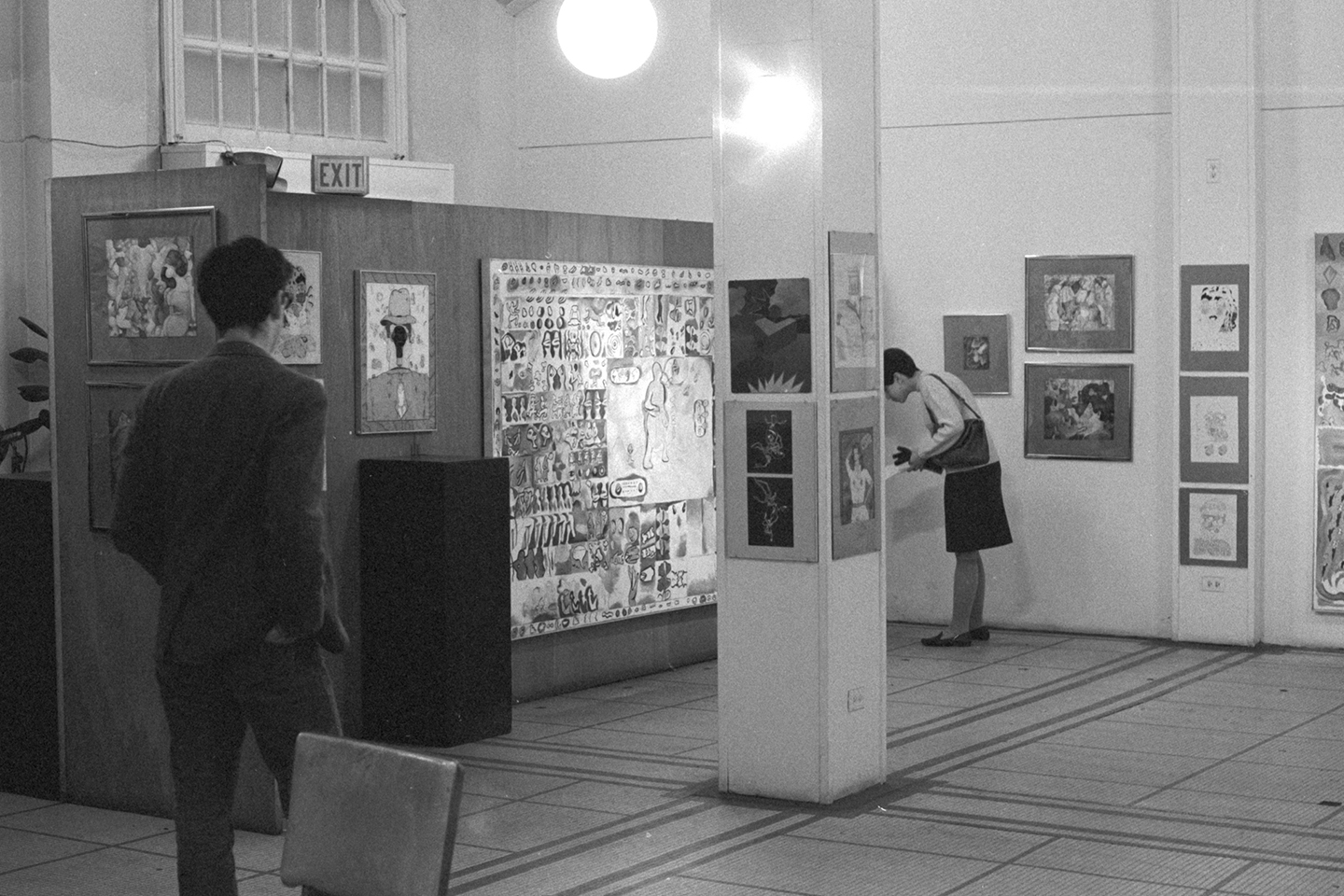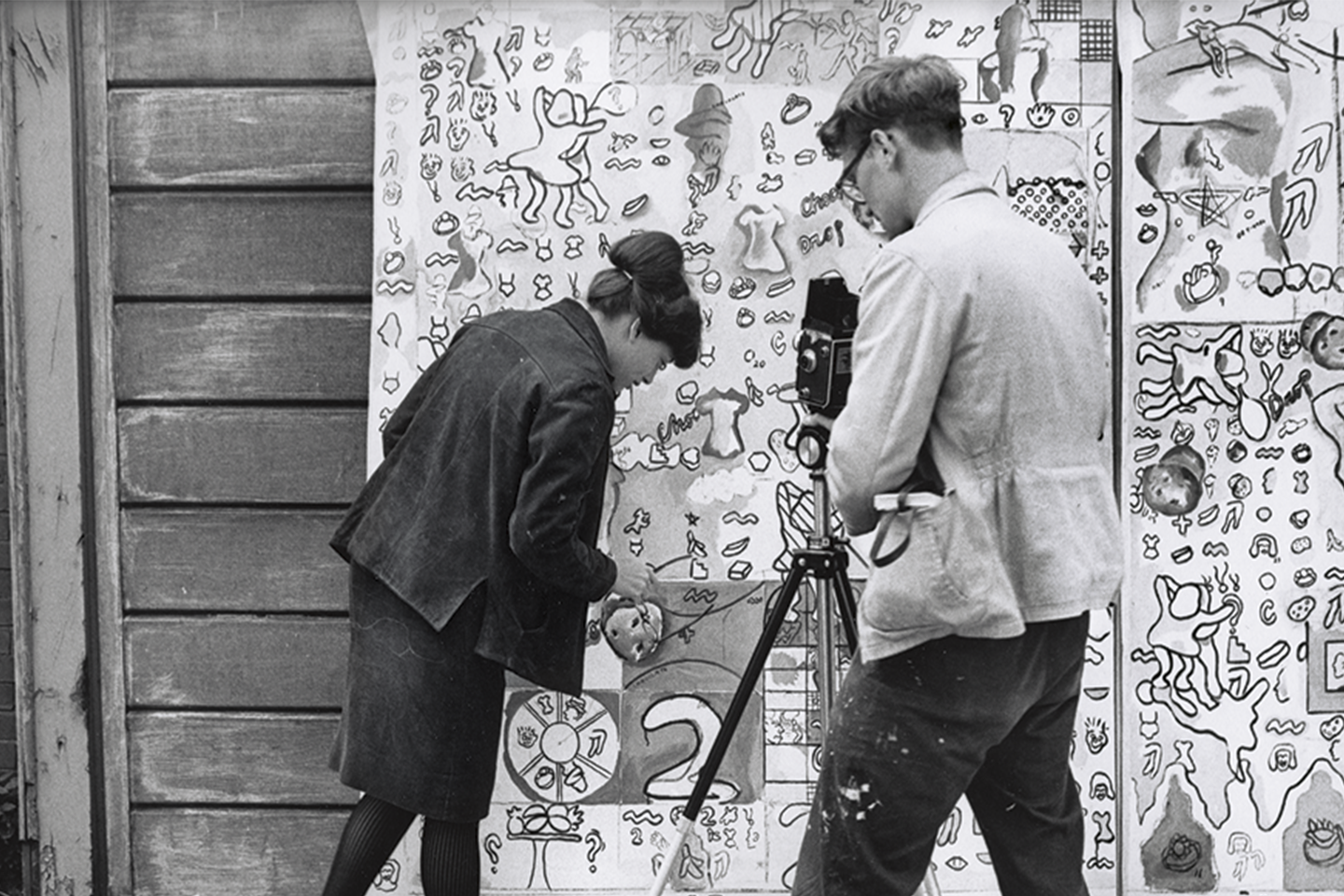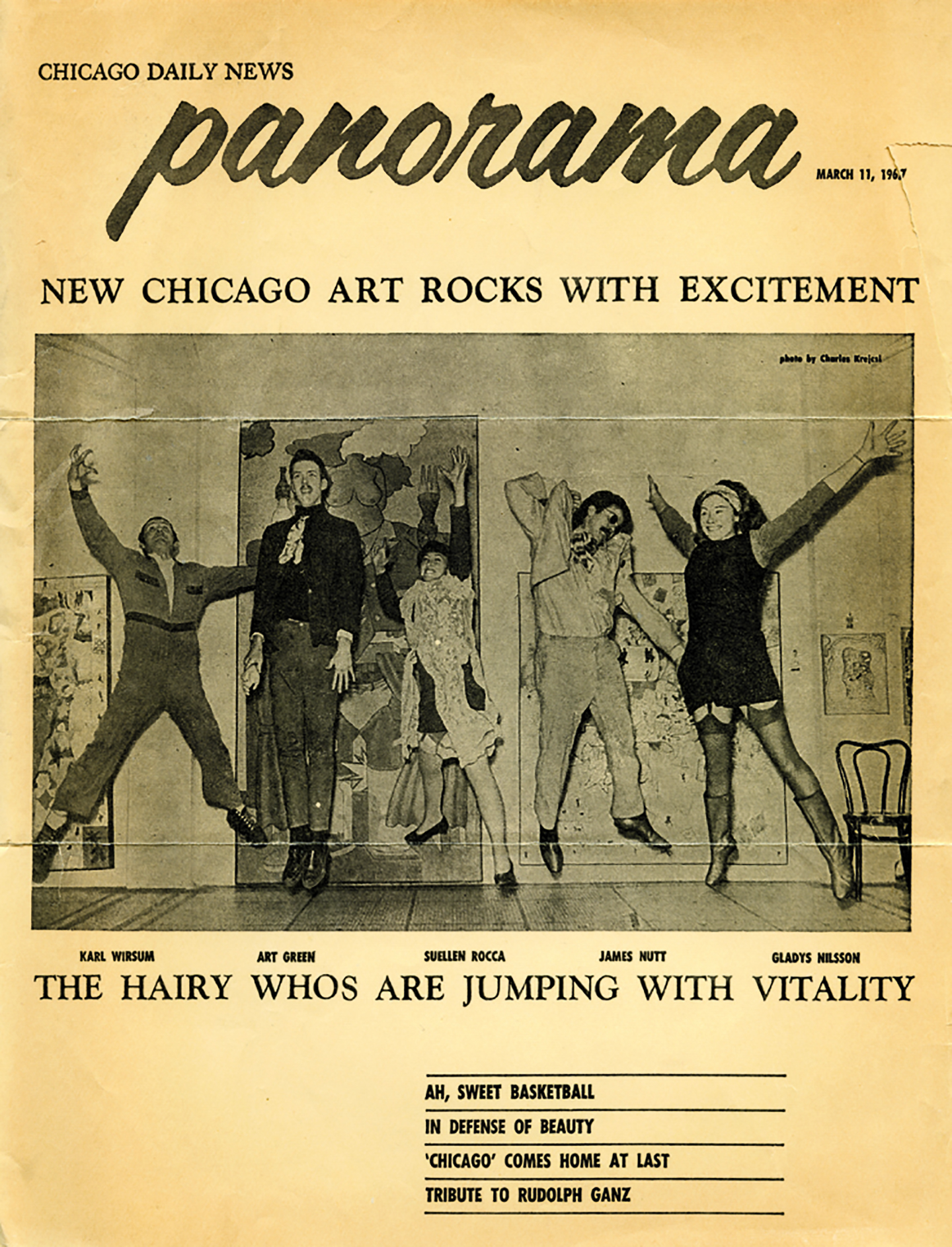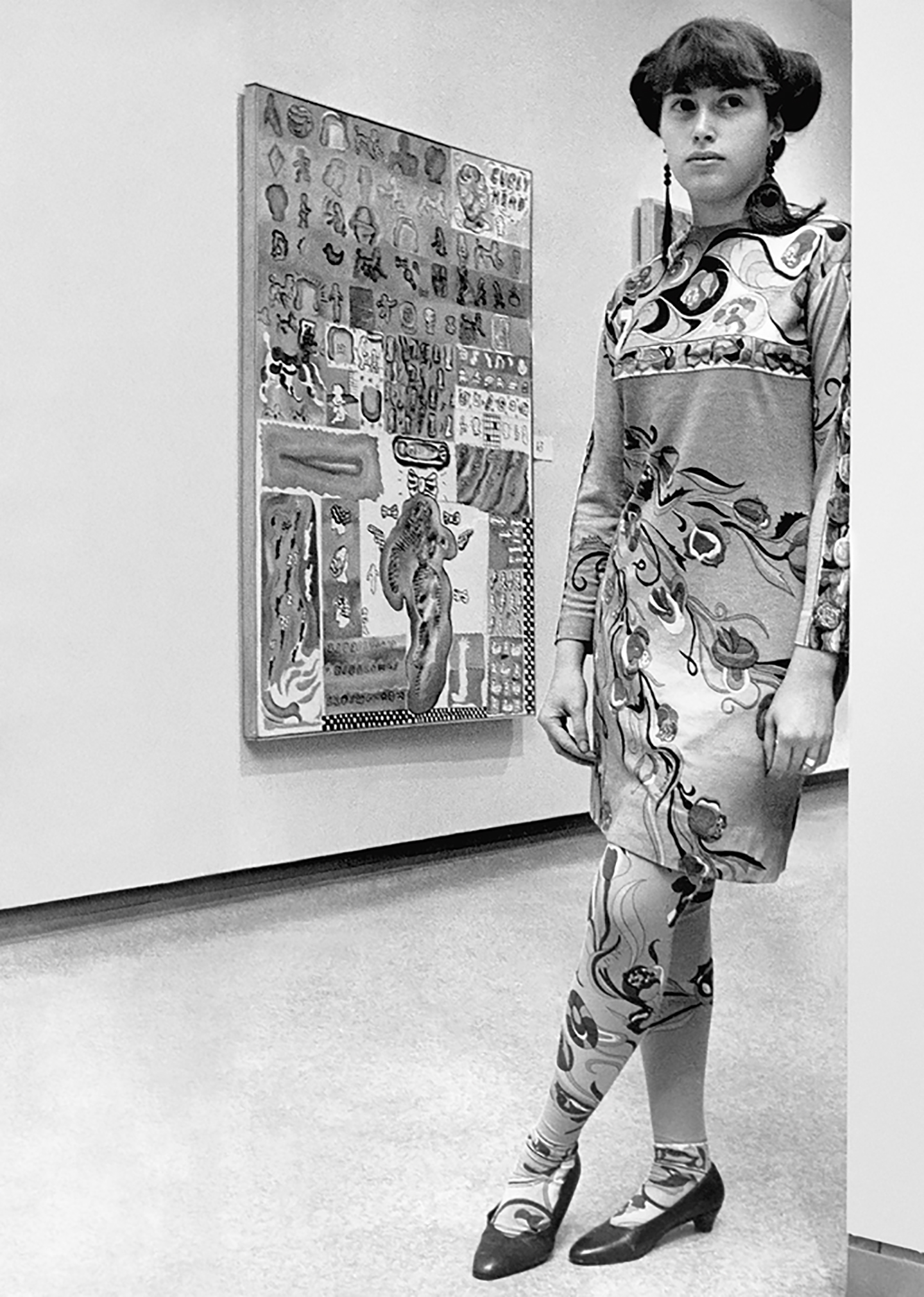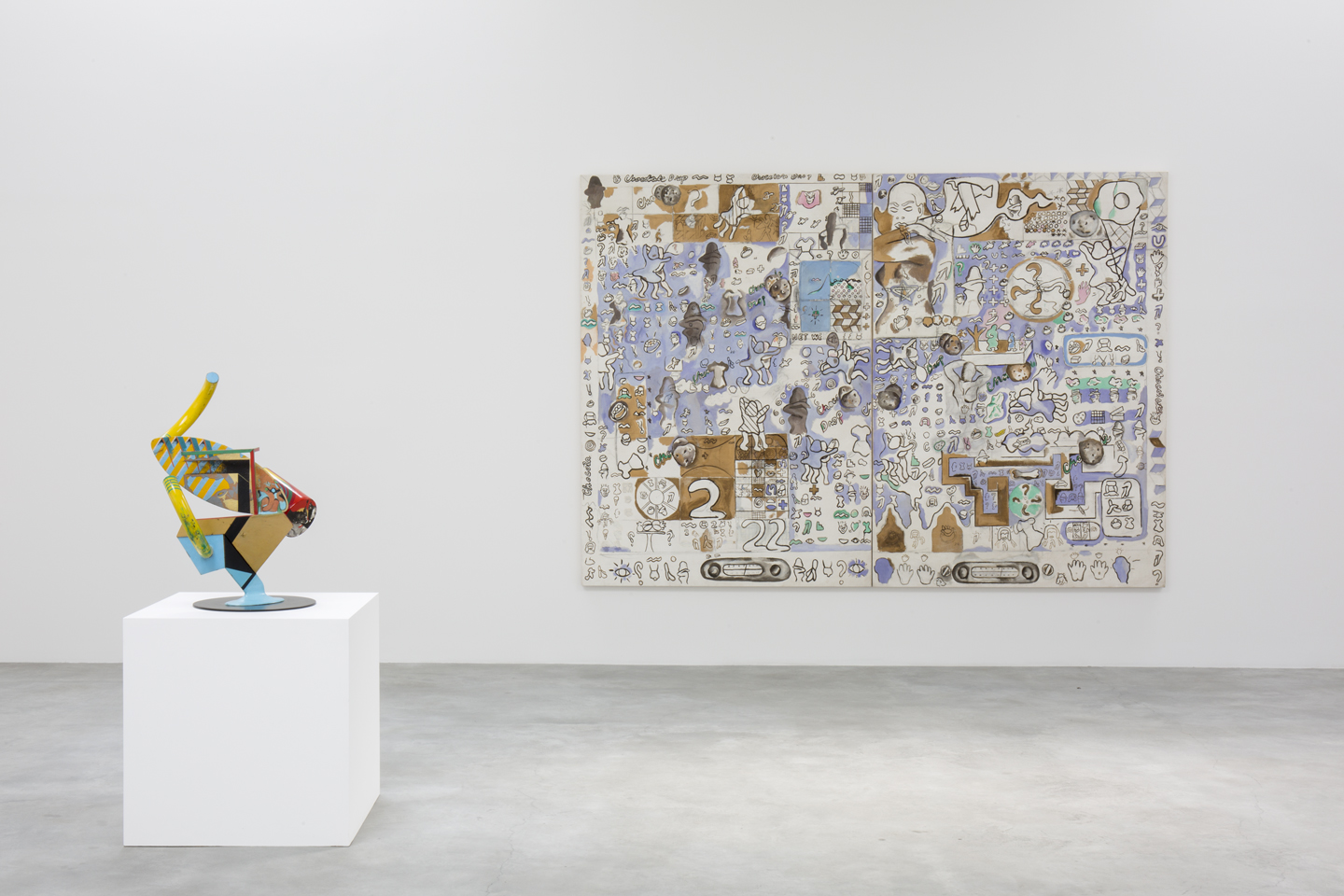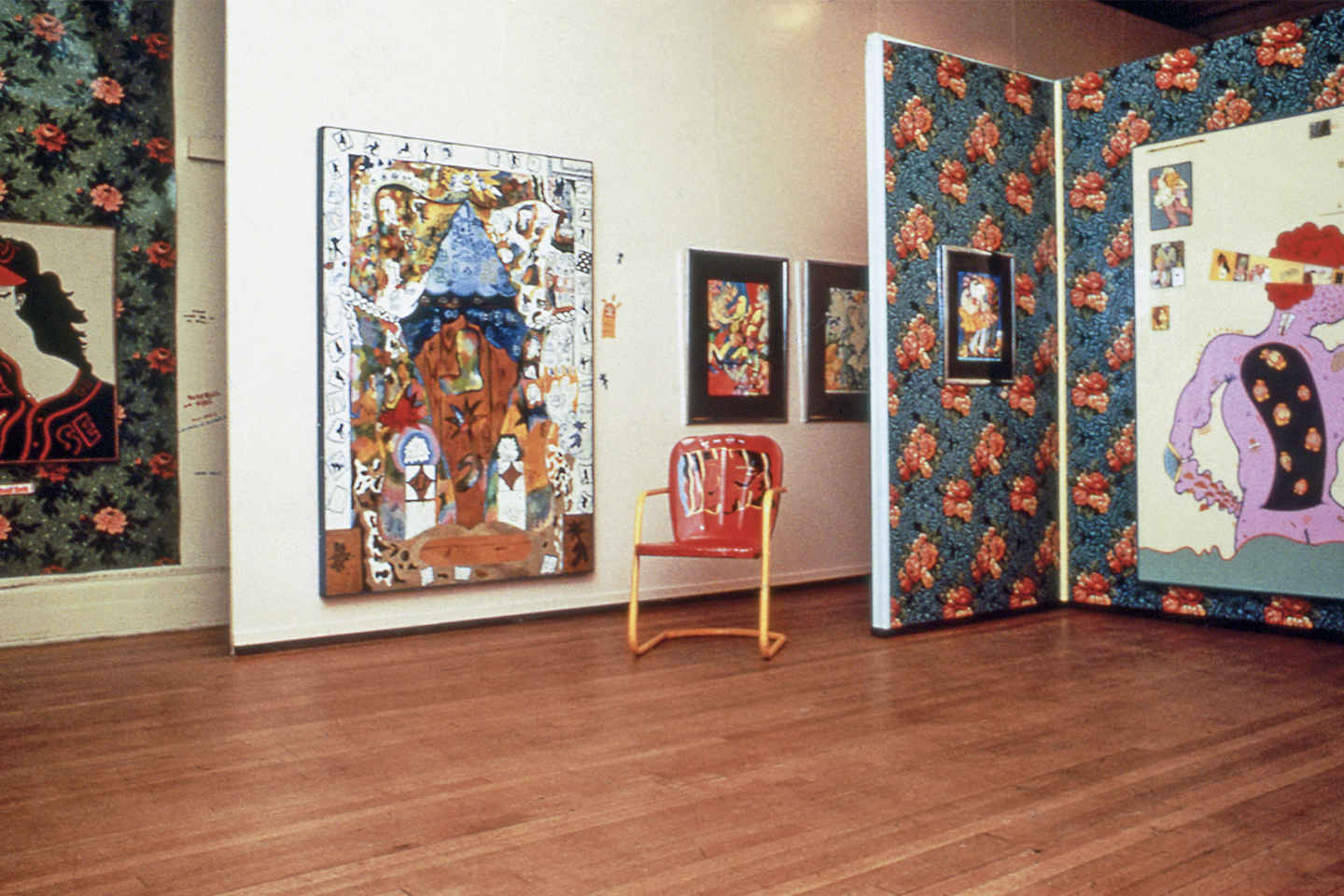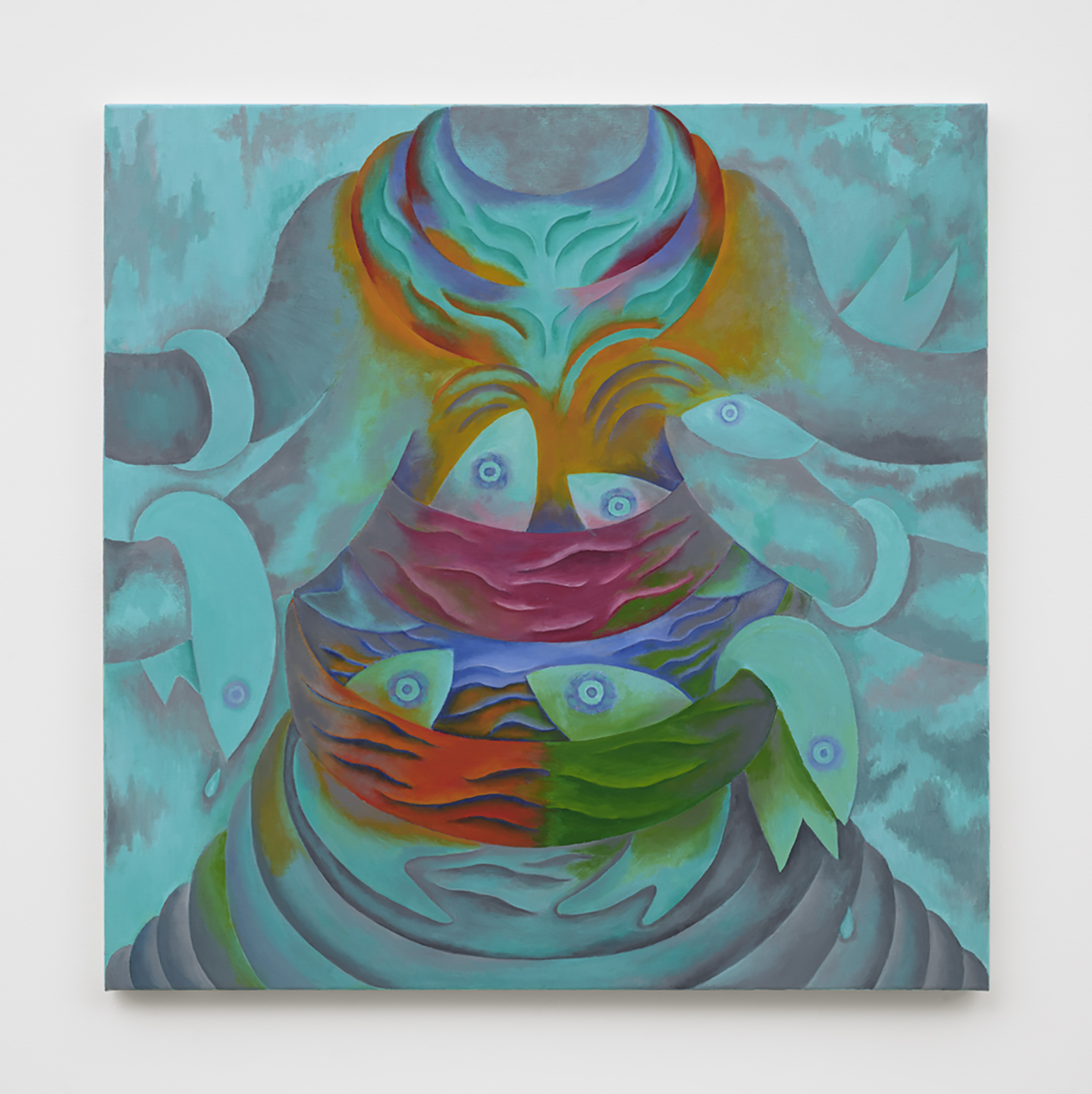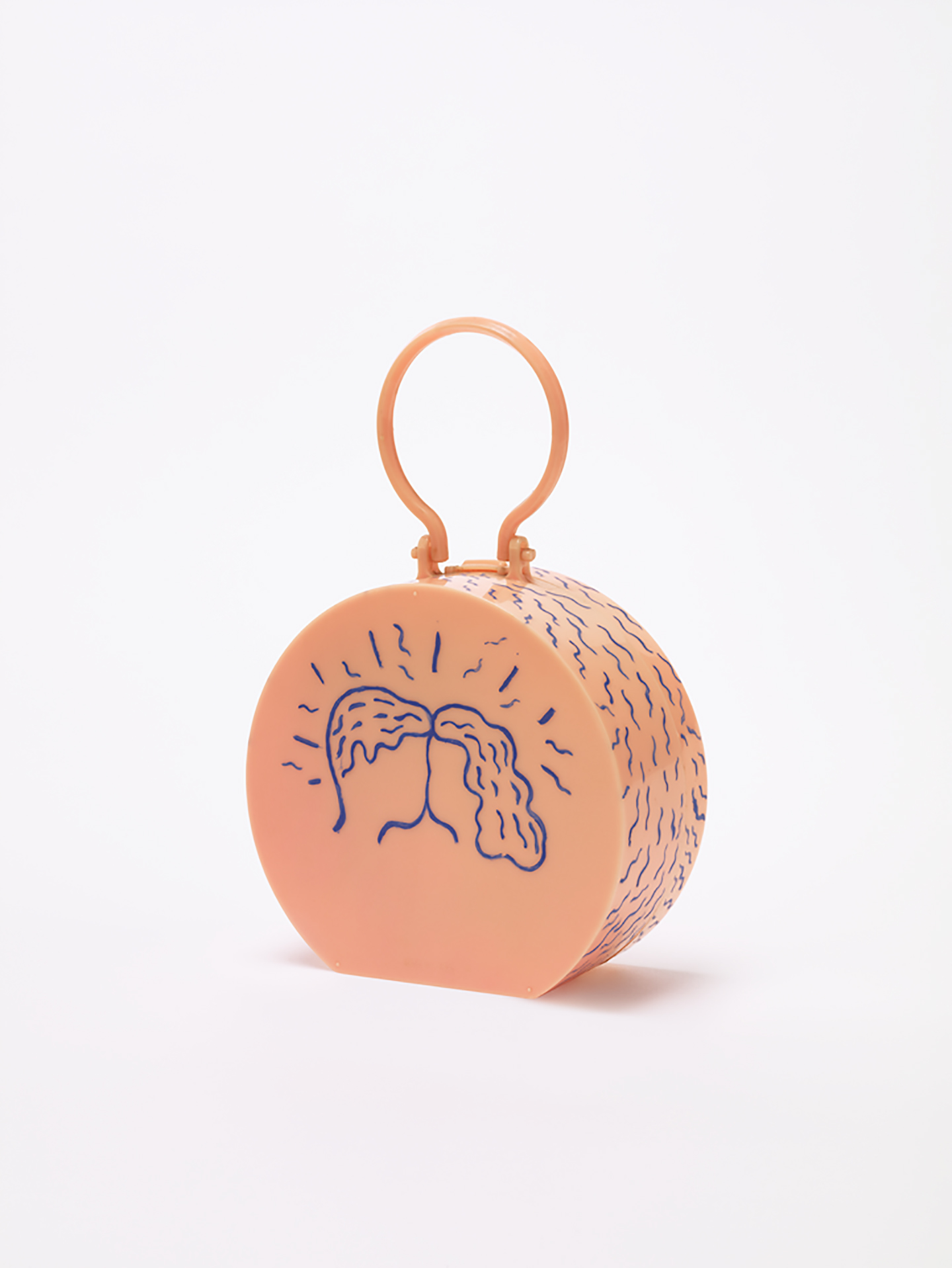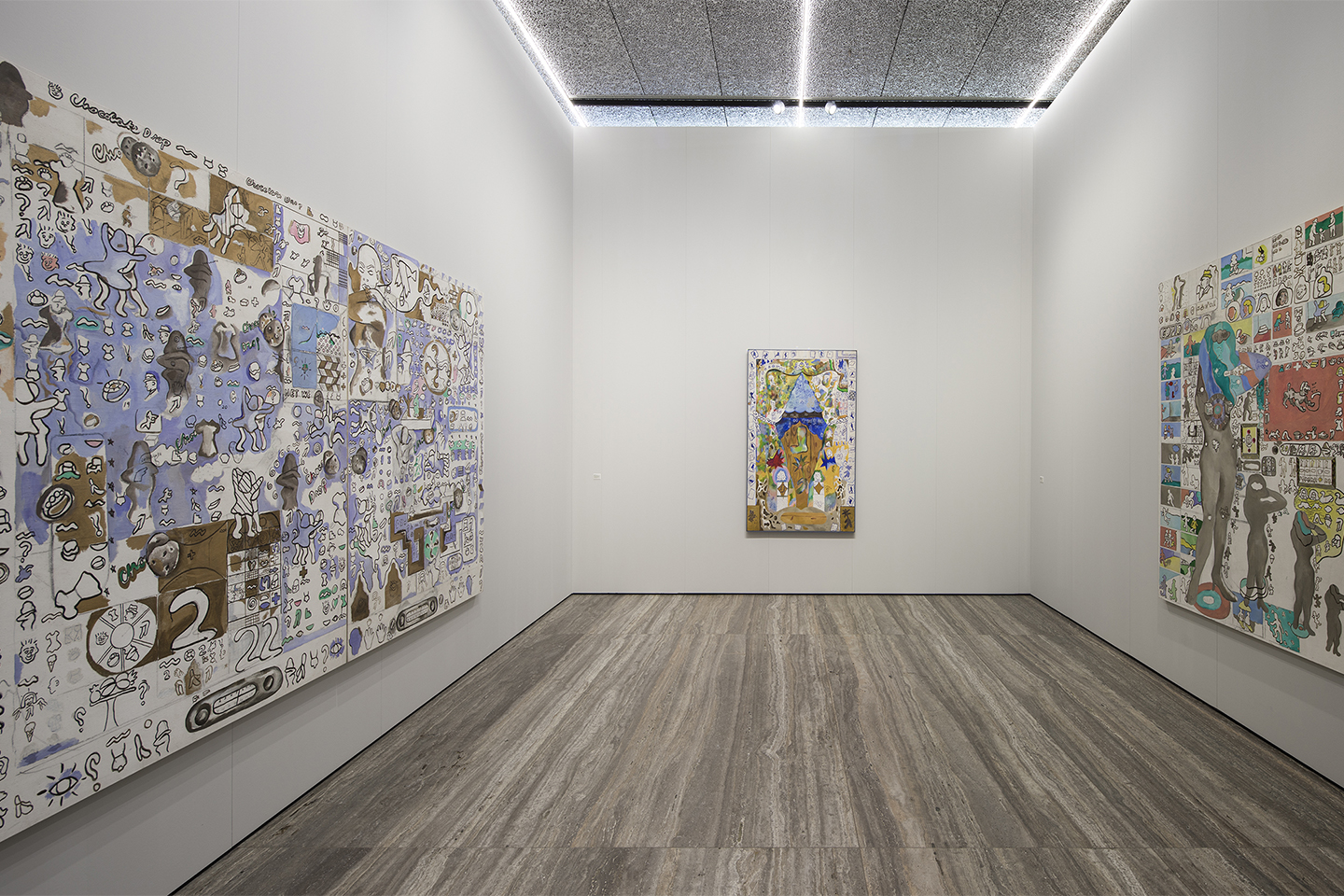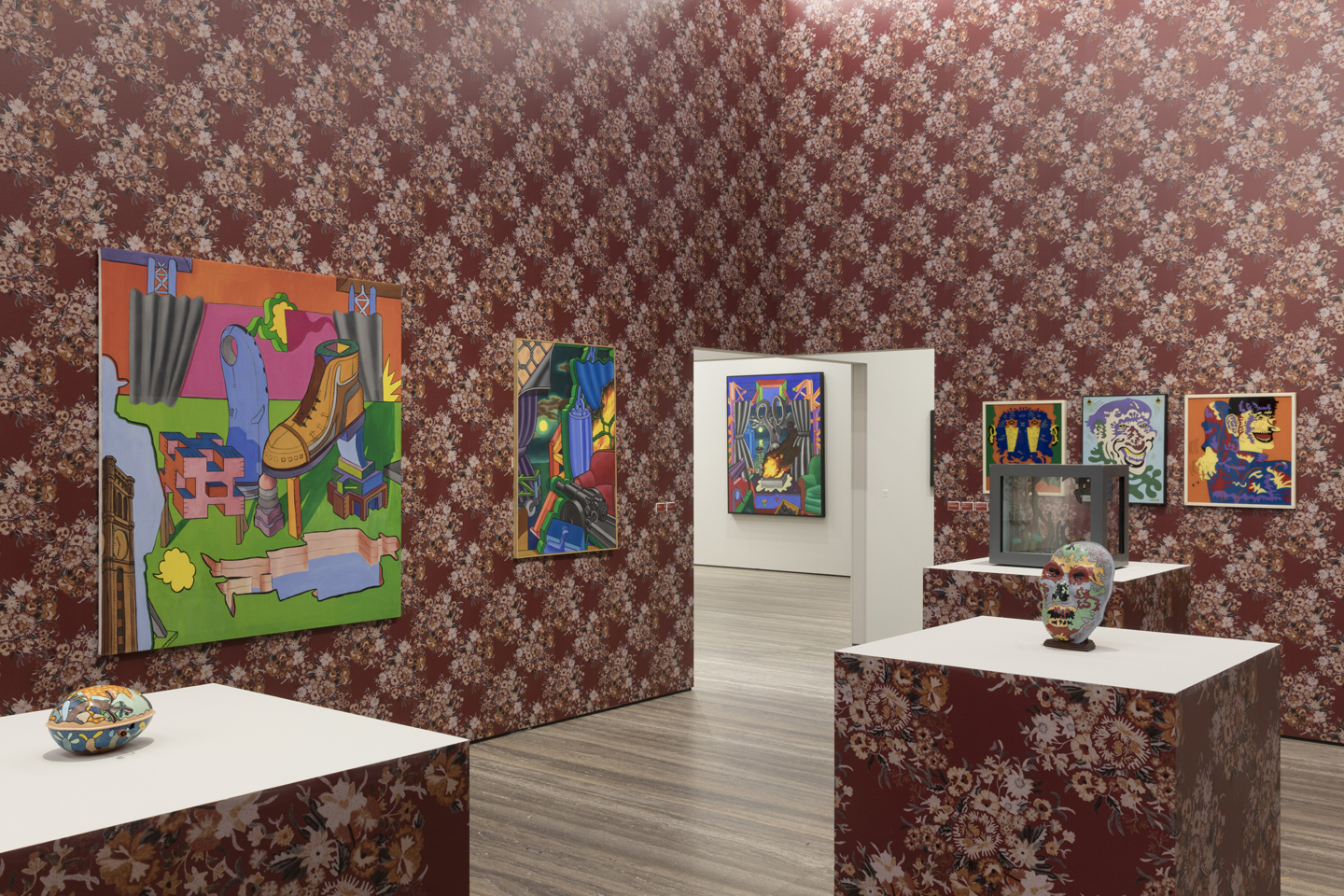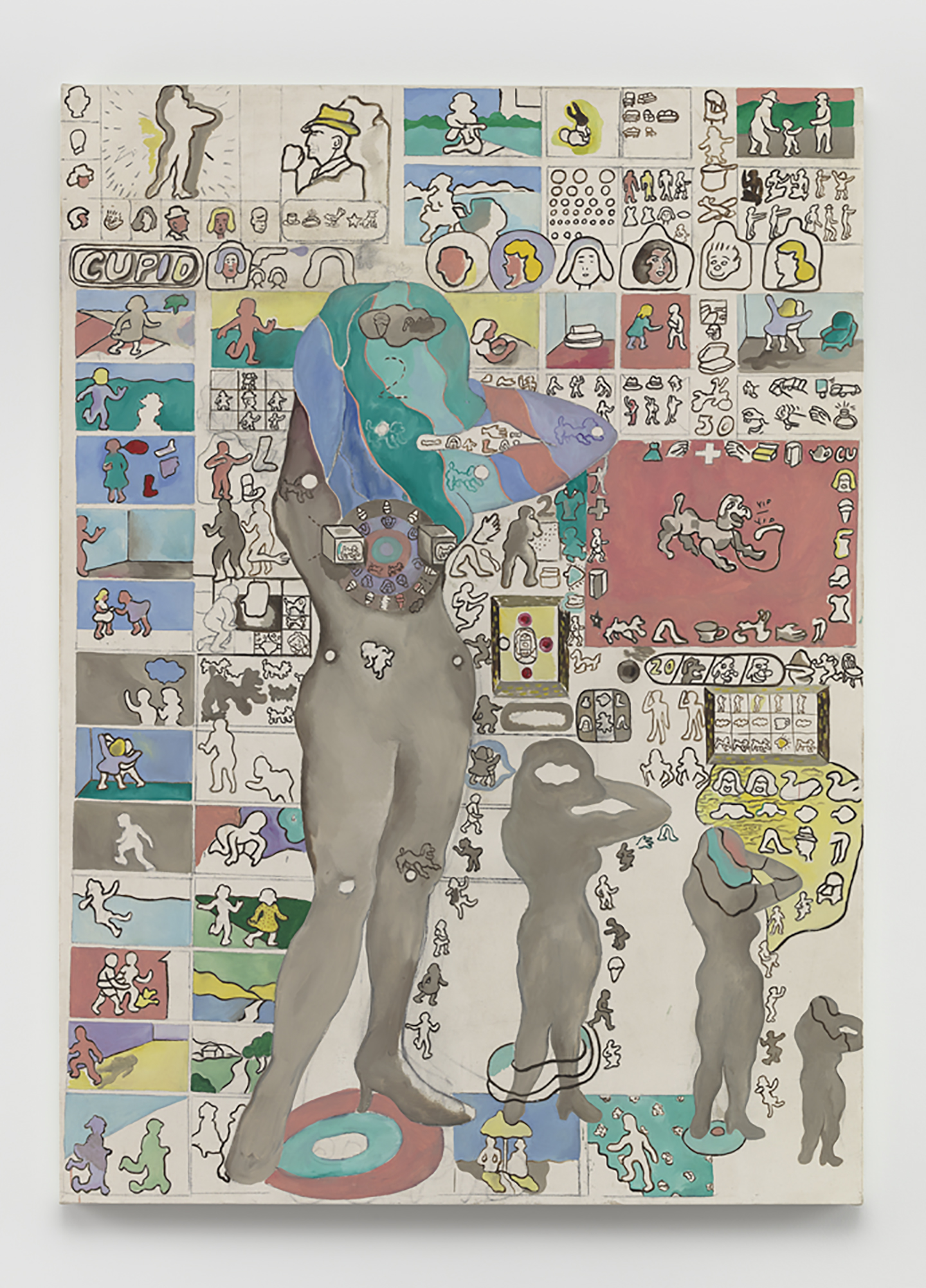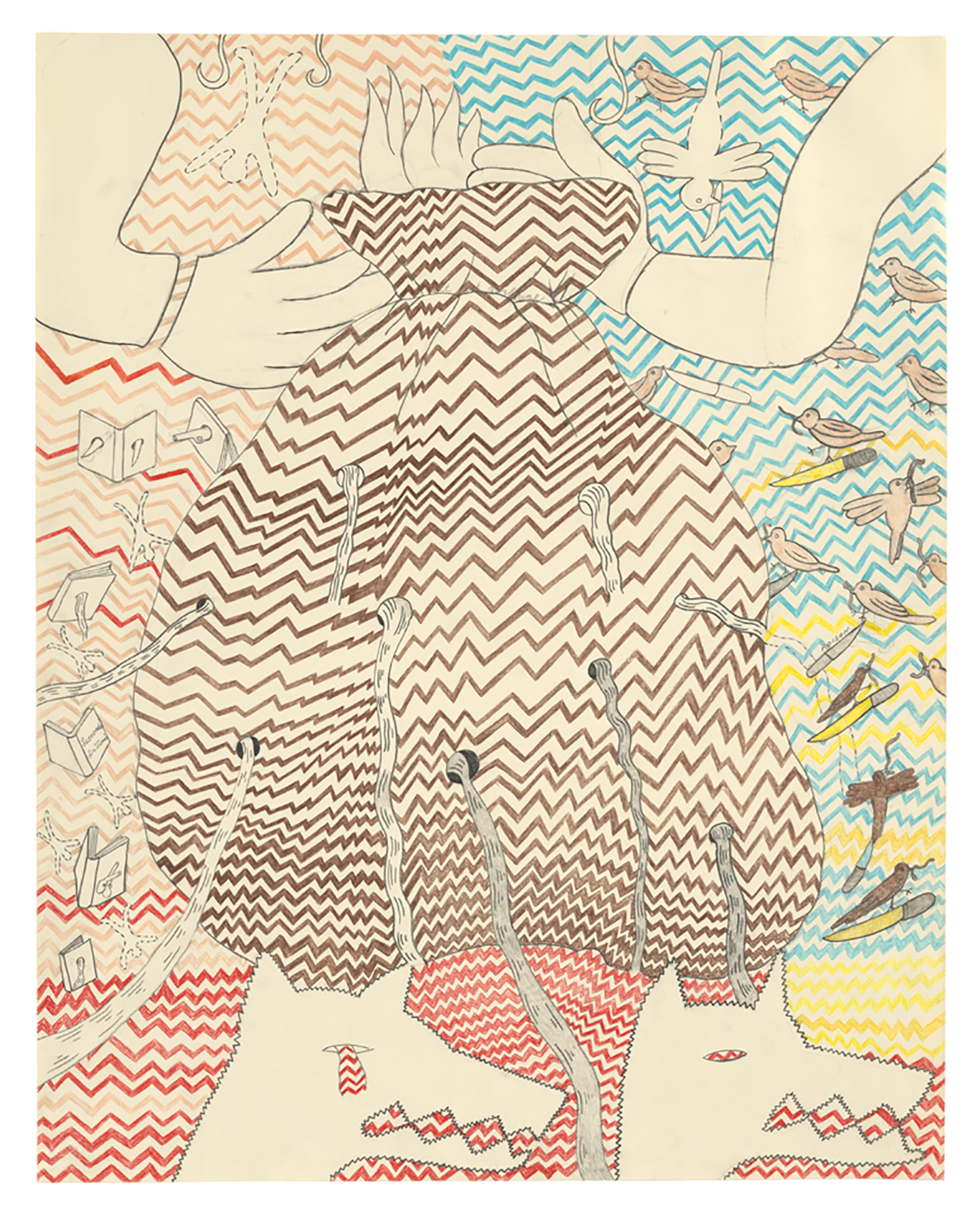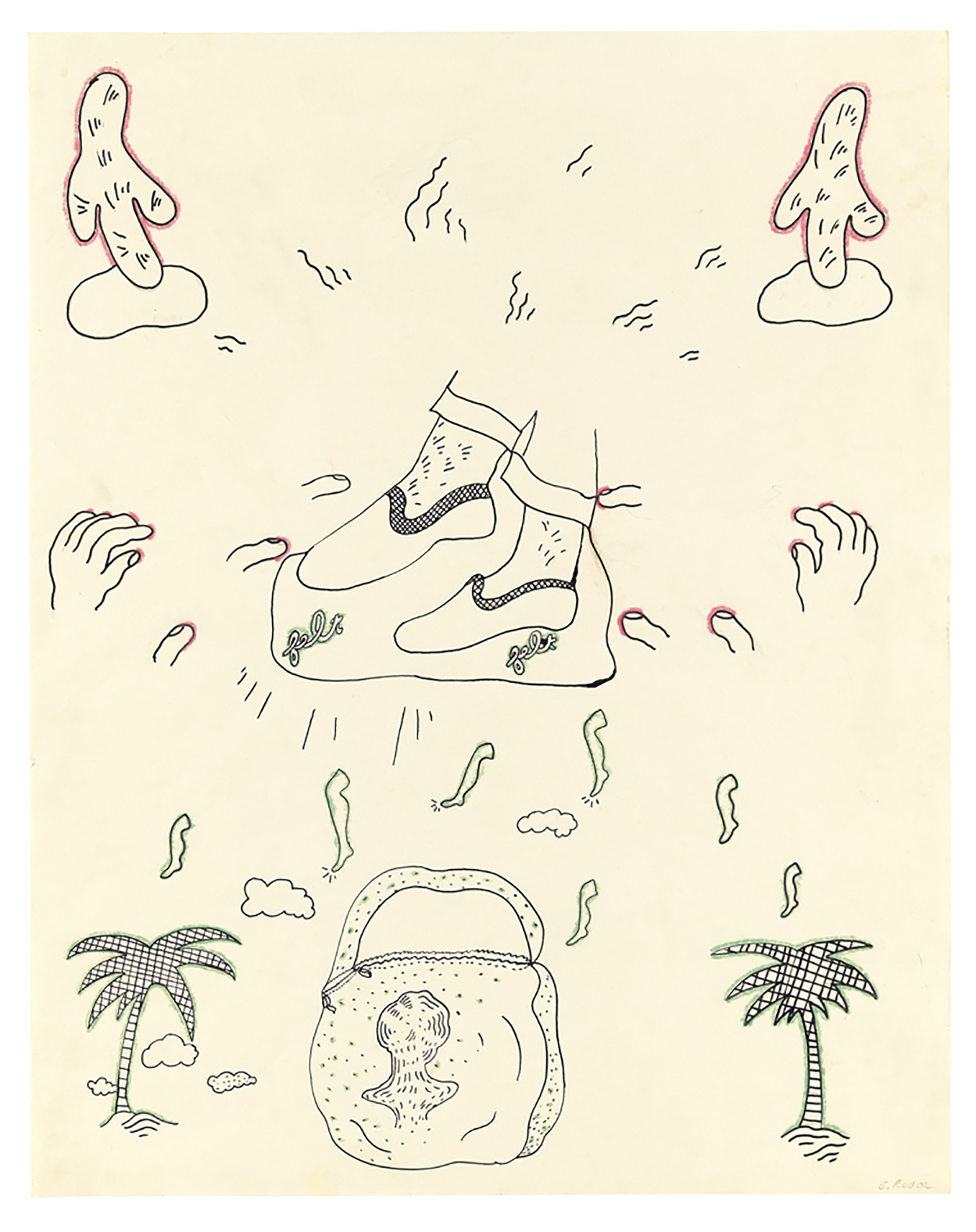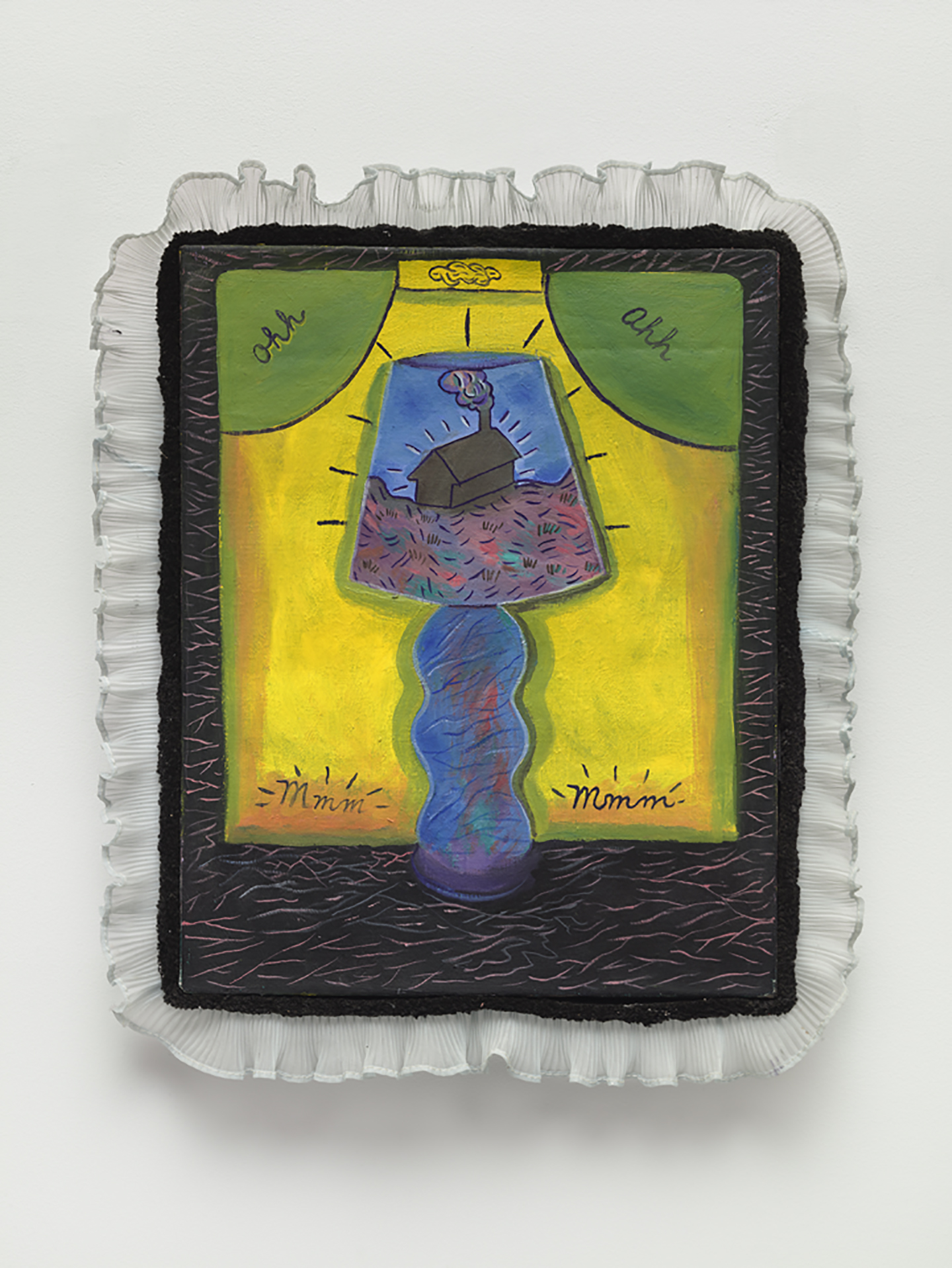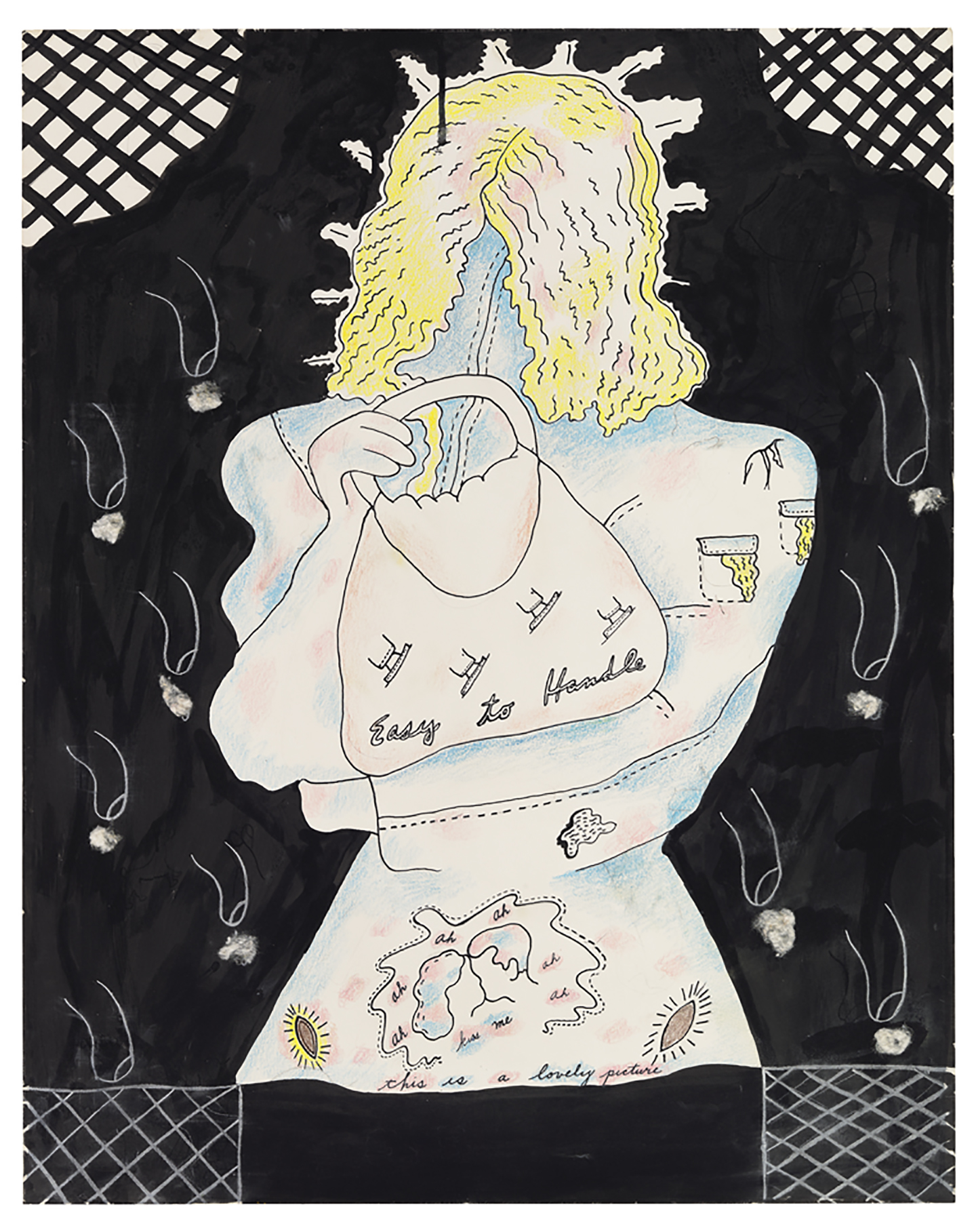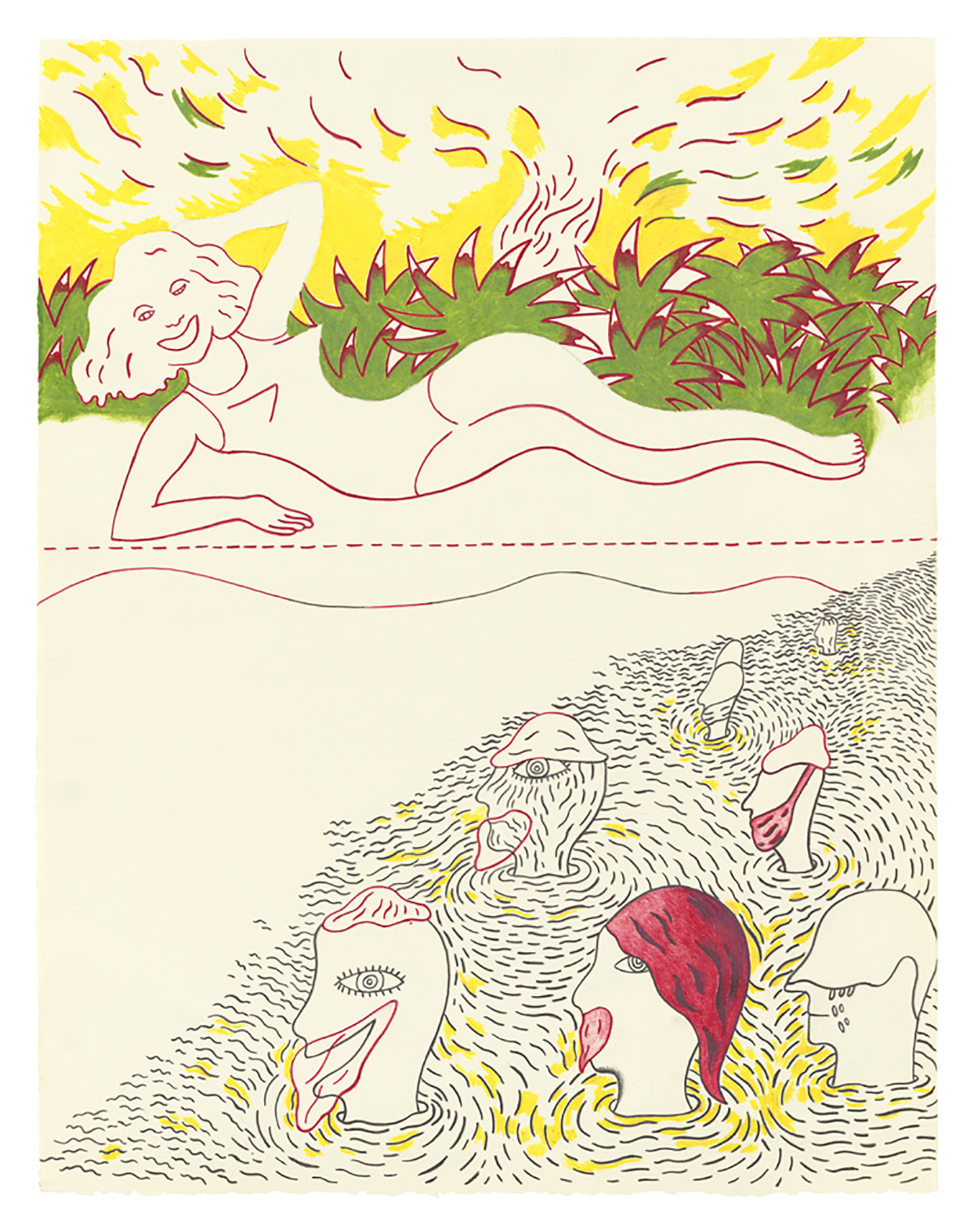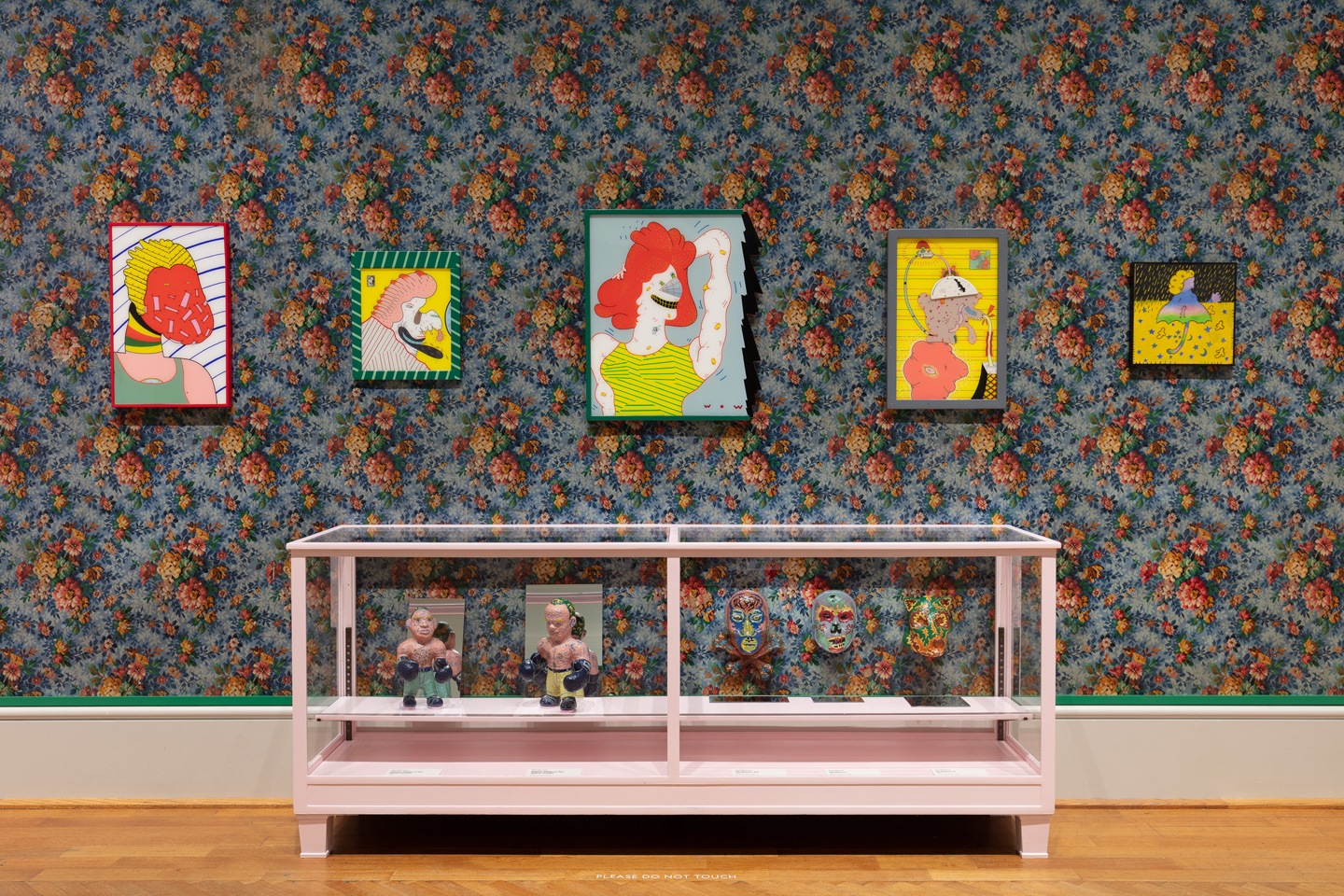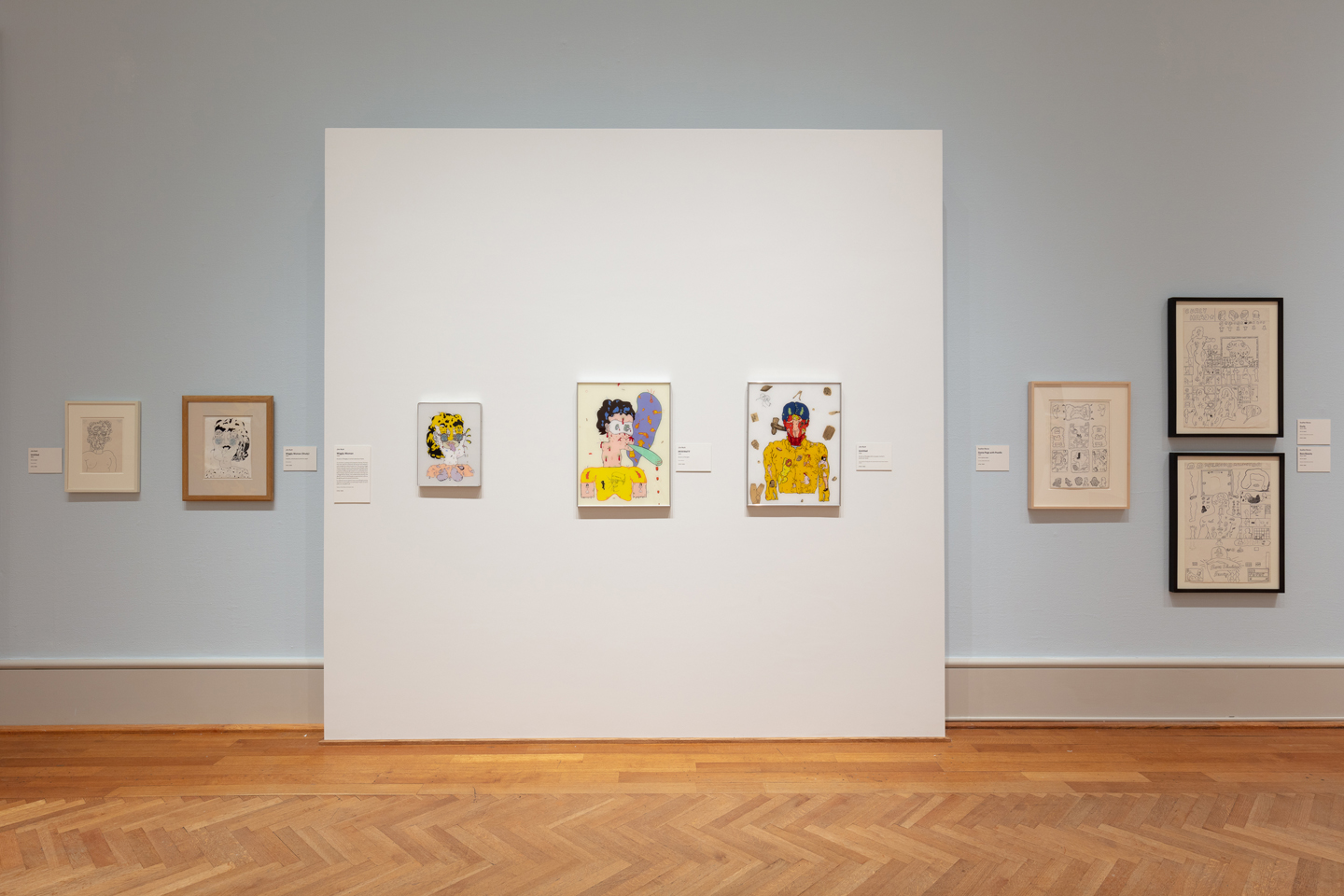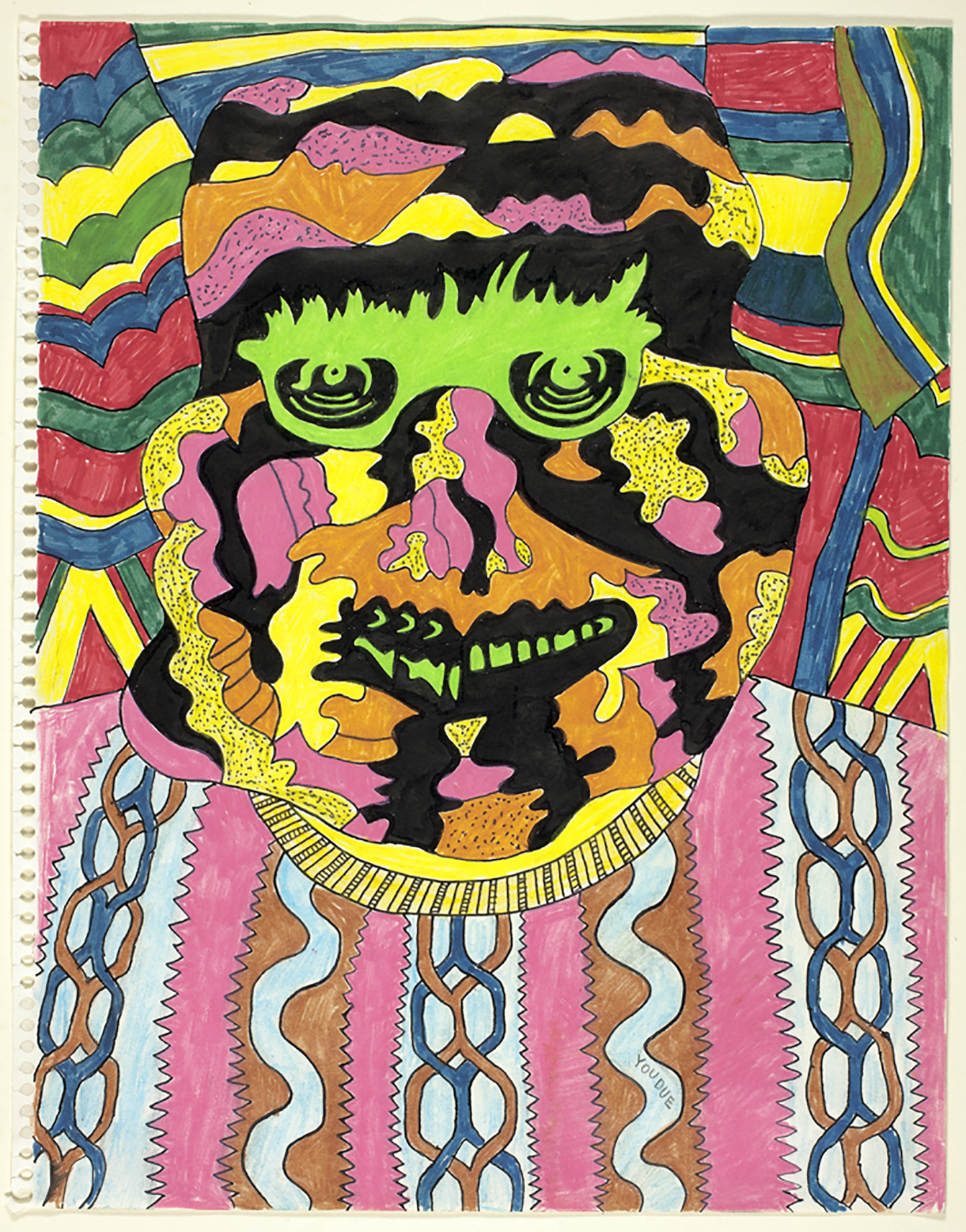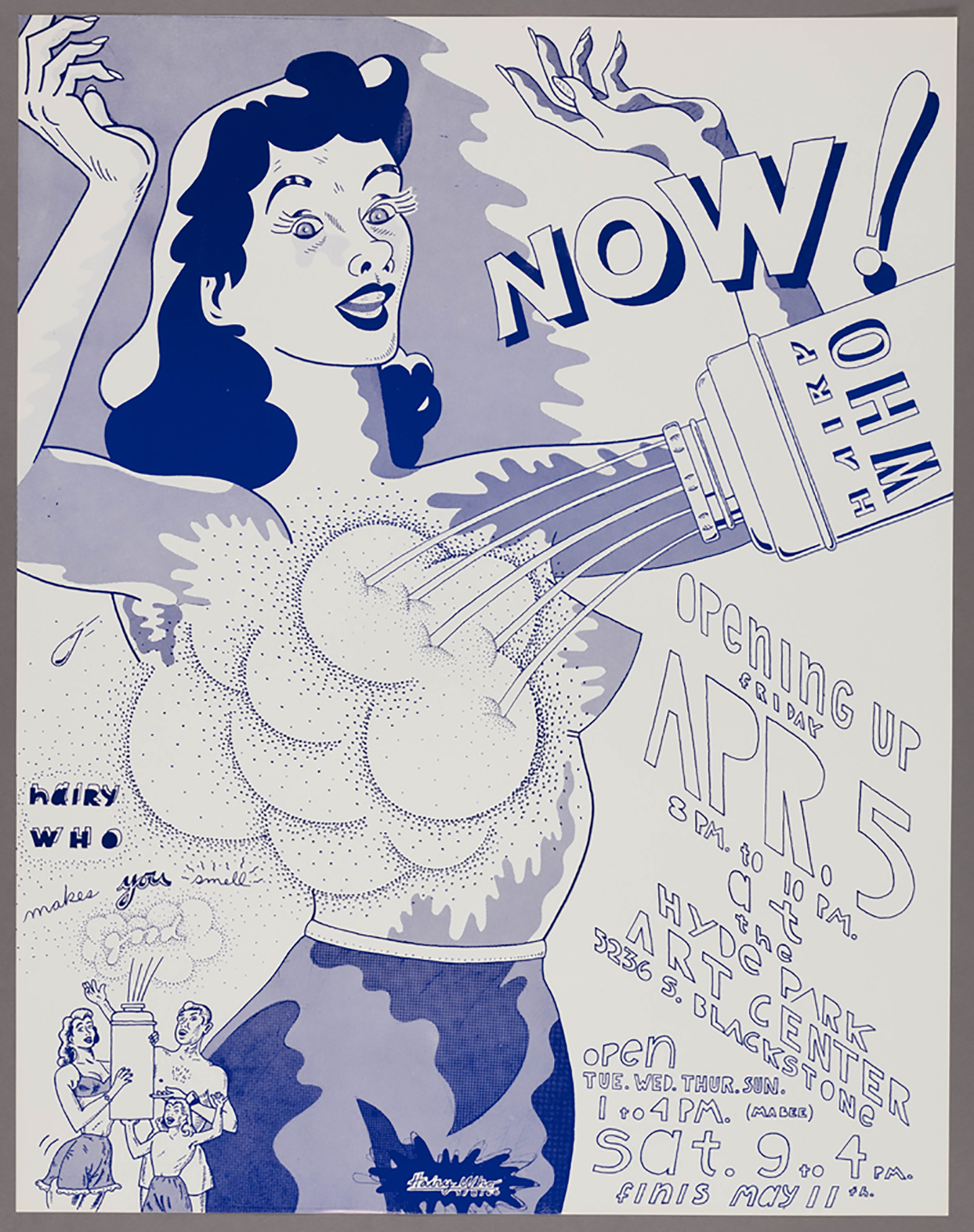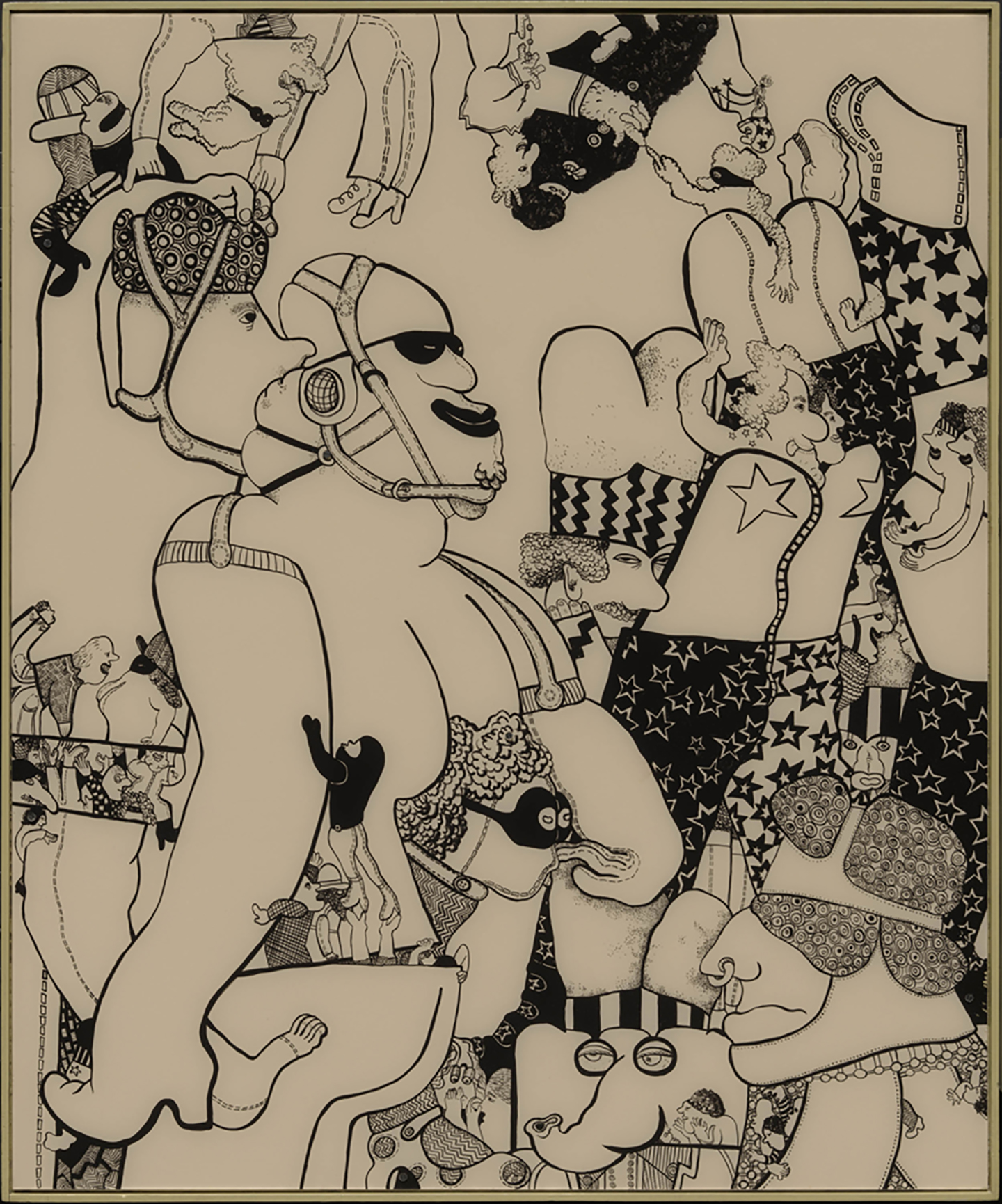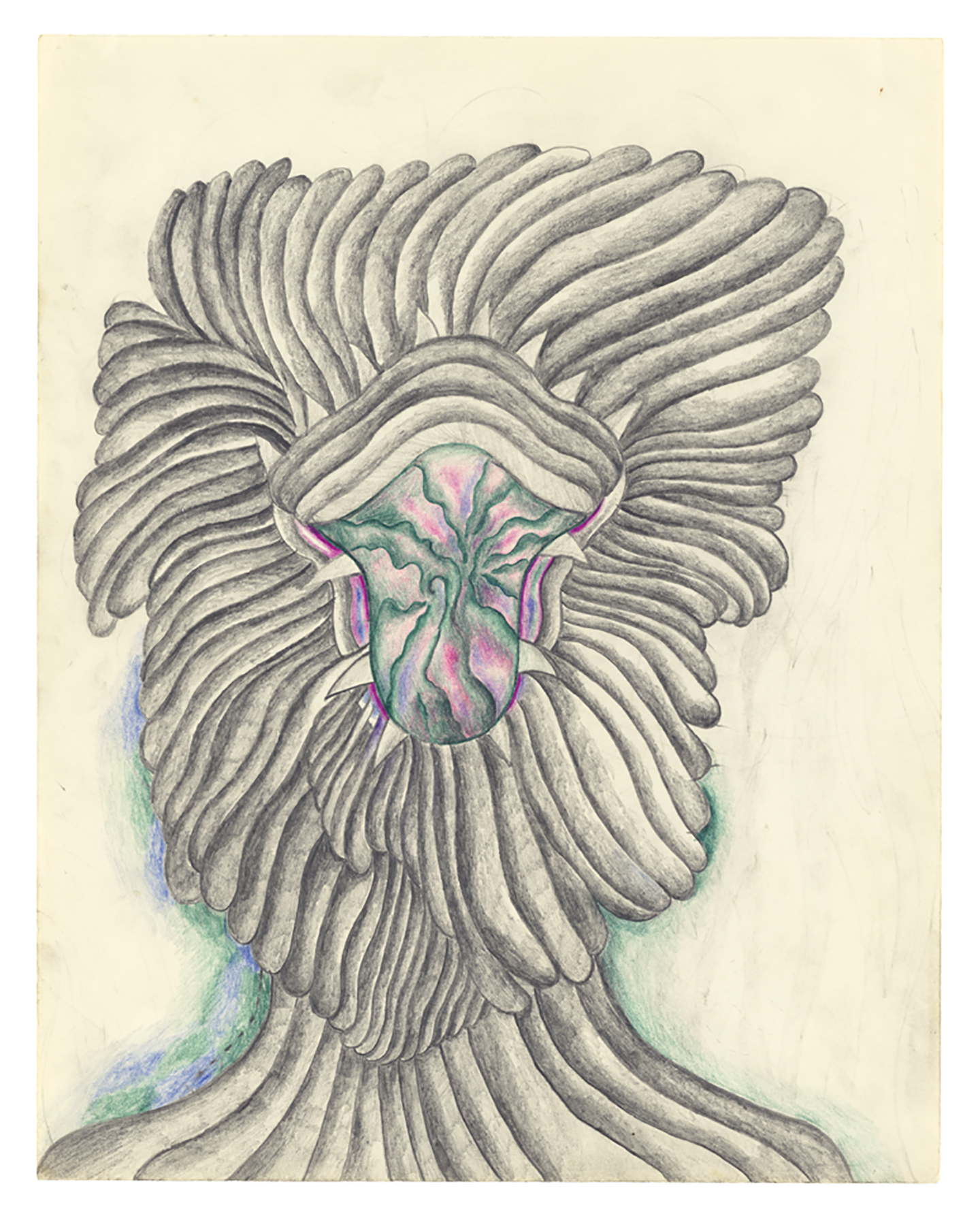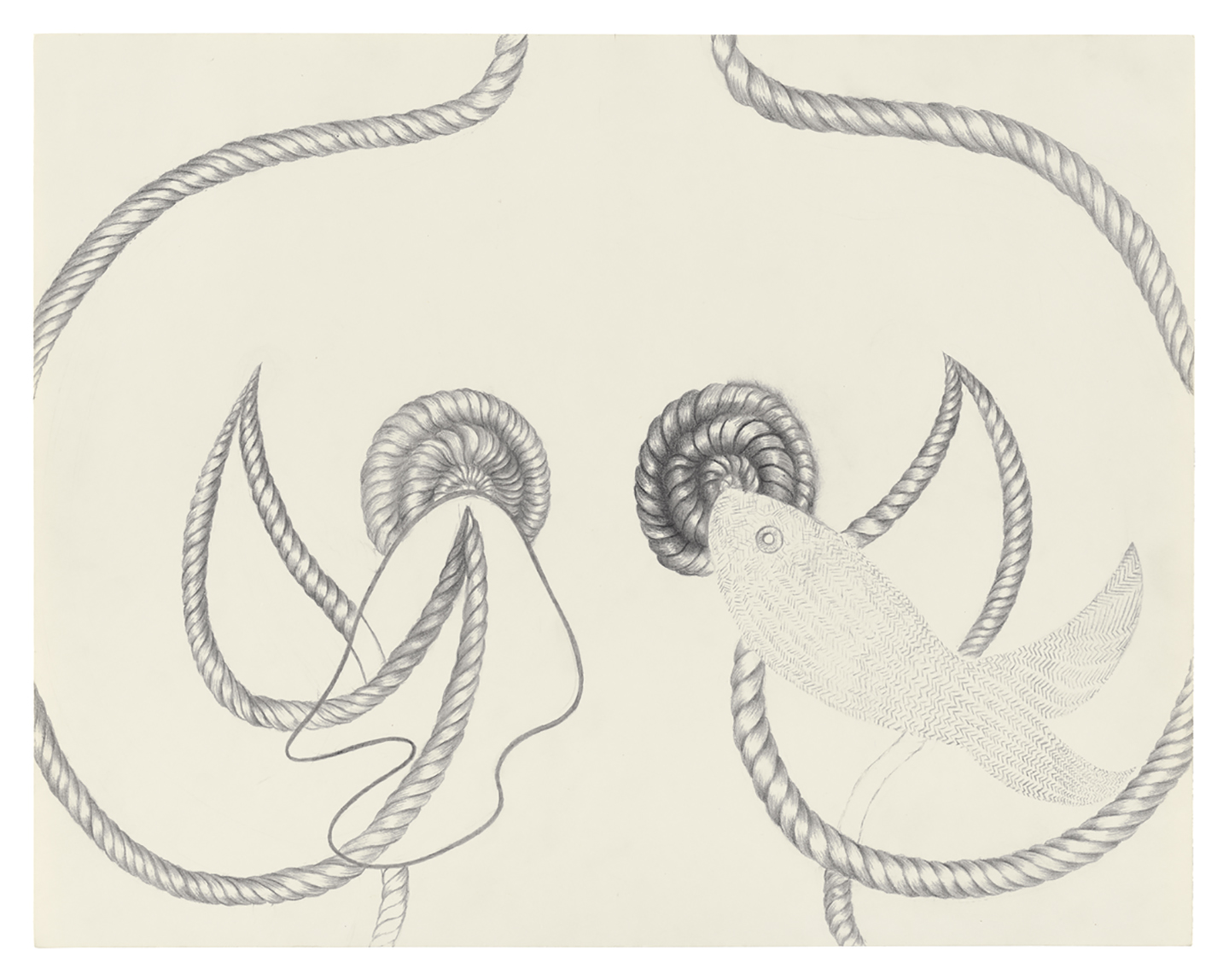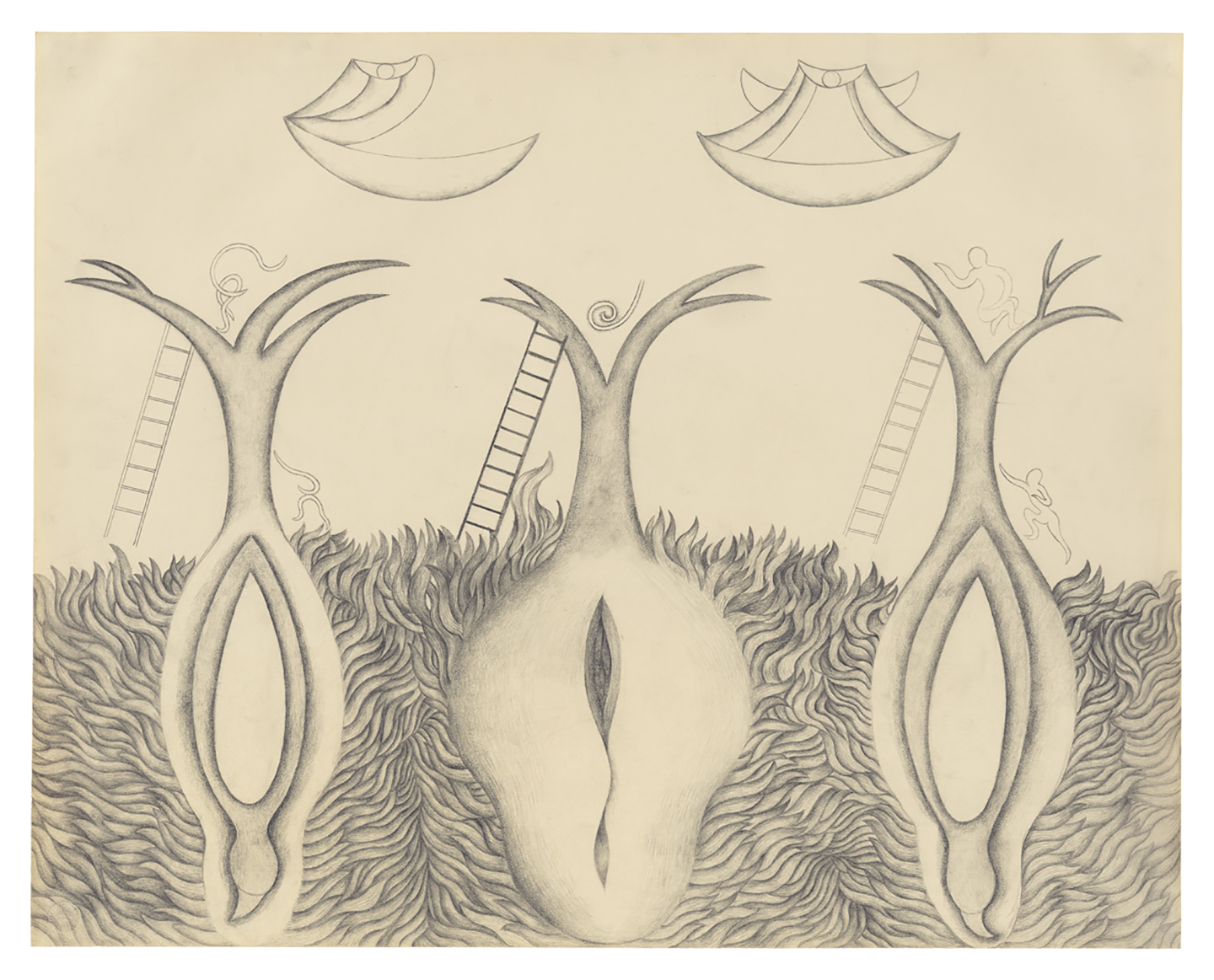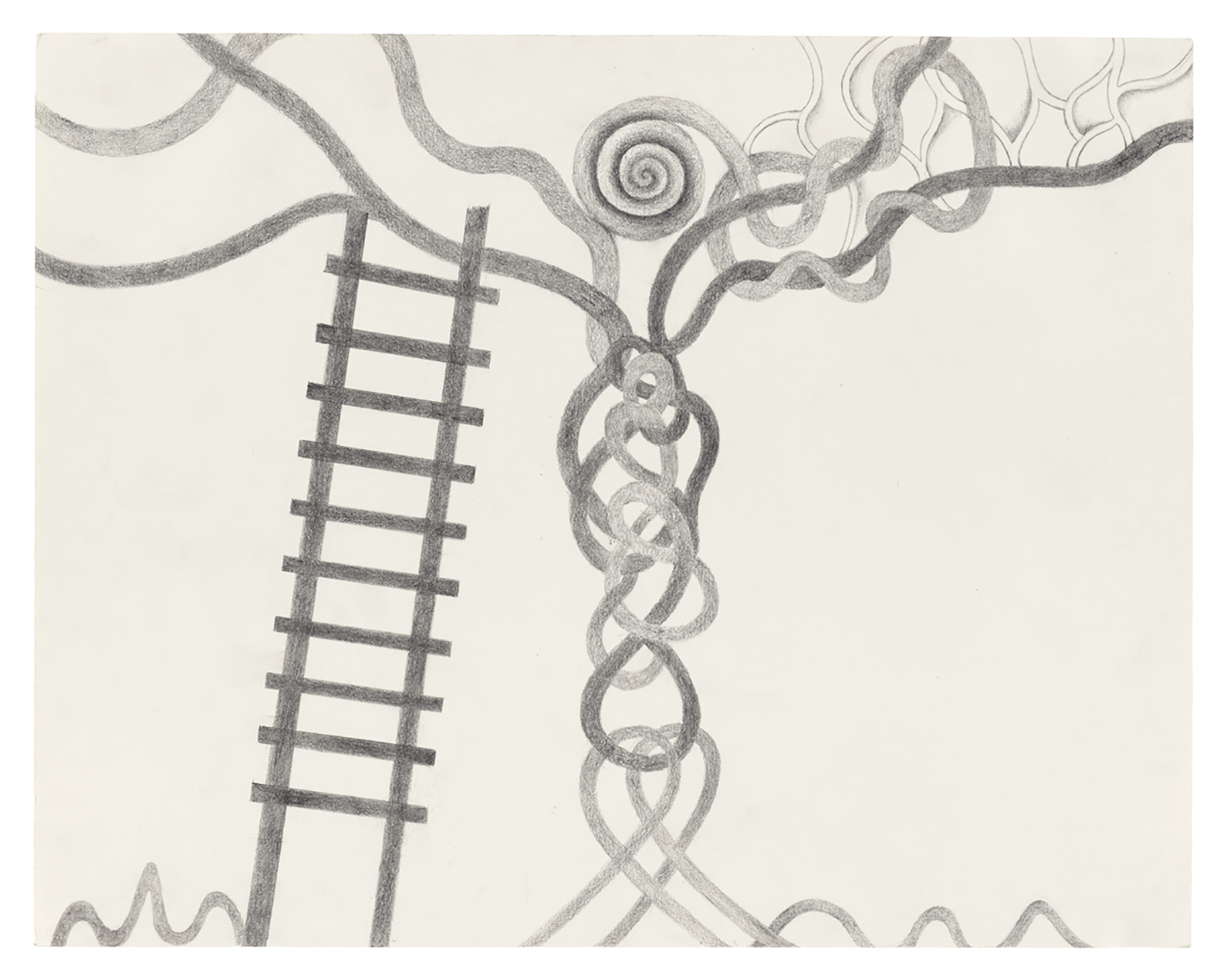 Suellen Rocca and Hans Ulrich Obrist in conversation
The recently deceased Chicago–born artist Suellen Rocca had developed for decades a visual vocabulary inspired by advertising, featuring everything from wedding rings to palm trees, hats, purses, and small dancing couples. The imagery is organized in repetitive patterns and nebulous compositions—a form of "picture writing" that somewhat resembles hieroglyphs and pictographs. Rocca's work possesses a sense of immediacy, its urgent iconography addressing themes such as female sexuality, romantic feelings, and domestic life.
In this conversation with Hans Ulrich Obrist, Rocca overviewed her long career, from her early art classes at the School of the Art Institute of Chicago, to encounters with mentors Addis Osborne and Don Baum and her peer Christina Ramberg, to her membership in the Hairy Who, the famous Chicago collective that also included Jim Nutt, Gladys Nilsson, Karl Wirsum, Art Green, and Jim Falconer. The Hairy Who first exhibited their bold, figurative, colorful work together at the Hyde Park Art Center in Chicago in the late 1960s. Rocca's strong interest in art extended to a curatorial practice as well; she was the curator and director of exhibitions for the Department of Art at Elmhurst College, near Chicago, where she also teached studio classes in painting, drawing, and design.
The interview took place on September 29, 2018, at the Aon Grand Ballroom in Chicago, two hours before the event Creative Chicago: An Interview Marathon by the Chicago Humanities Festival and Terra Foundation.
HANS ULRICH OBRIST: I'm curious to know what you're doing at the moment.
SUELLEN ROCCA: I'm working simultaneously on a painting and some drawings. I consider the latter as autonomous works. I like working on a drawing and a painting at the same time because they influence each other. Actually, I have been focusing on some little tiny drawings, which is odd for me, because I usually work larger.
HANS ULRICH: Do you work every day?
SUELLEN: Maybe not every single day, but very regularly.
HANS ULRICH: And do you have a studio in Chicago?
SUELLEN: Yes, my studio is in my home. Since 2000 I've lived in a neighborhood in the southwest called Romeoville because my daughter and my grandchildren live nearby.
HANS ULRICH: Please, tell me about your beginnings. How did you come to art?
SUELLEN: Ever since I was a very small child, I've always made art and wanted to be an artist. I was a good student. When I was eight years old and in the third grade, my teacher gave me my first solo show. She called my mother and told her: "Take your child to the Art Institute." So I started classes at the Art Institute of Chicago.
HANS ULRICH: Do you still have those drawings from the solo show?
SUELLEN: No, I don't, but I have others from that same time, from my first Art Institute classes.
HANS ULRICH: Are they similar to the ones you do today?
SUELLEN: No, not really. It was precious because they offered a scholarship to two students from every elementary school in the city. I started going to those classes. They had two different kinds of classes: a six-week sketch class, where you worked from a live model (so from the time I was eight years old, I drew from a live model), and twelve weeks. They would alternate: six weeks, twelve weeks. You would do your work at home and then bring it in to Fullerton Hall in the Art Institute, which is an old, very beautiful lecture hall with a big dome. They would show on the stage works from the Art Institute collection and other collections on a particular theme. So for instance if the theme was a winter day, maybe they would show a Brueghel painting. It was a wonderful way, at a very young age, to become familiar with a lot of works of art. The teacher who became my mentor there was Addis Osborne. He took a very personal interest in me and my work. As I got older, I went to classes for high schoolers.
HANS ULRICH: Was Osborne also an accomplished artist in his own right?
SUELLEN: Yes, and I later found out—not too long ago—that he was also an architect. He was a very enthusiastic traveler, too. He encouraged us all to keep a sketchbook. He would sketch while on travel. So, also from the time I was eight years old, I carried a sketchbook with me everywhere. I still have those sketchbooks, and the work from those classes.
HANS ULRICH: When did the pictograms and the hieroglyphs enter your iconography?
SUELLEN: Maybe toward my last year at the Art Institute. A very important teacher at that time was Ray Yoshida. I became interested in repetitive images that I was seeing in the general culture. I did a painting called My Santa Painting (1964) which was a repeating image of a Santa alternating with a winter landscape.
HANS ULRICH: Was this idea of a lexicon or pictograms inspired by Yoshida? How did he inspire you?
SUELLEN: He had a wonderful way of looking at my work, and very quietly just giving me a book to look at, or suggesting that I go and see a certain exhibition. In terms of repetition with variation I was inspired by Egyptian art, in particular Egyptian hieroglyphics. I was inspired by advertising, too. Also children's pre-readers, which are themselves a kind of picture writing.
HANS ULRICH: You are a curator as well as an artist. Could you expand a bit on the curatorial aspect of your career?
SUELLEN: I've been the curator of the Elmhurst College art collection, which was started in 1971 by Ted Halkin, since 2006. It's been just wonderful for me. I never knew I was going to be a curator, but I really love it. It's such a fabulous and amazing public collection and I've introduced lots of people to it. I used to talk to Sandra Jorgensen, the longtime curator who preceded me, about it as a hidden gem in the western suburbs, and I think I've been very successful in bringing the art community to it and creating programs around it. We've received incredible gifts of works from museums, curators, collectors, and artists themselves, where I've been able to select the work. So many beautiful and extraordinary works have come into the collection in that way, and bequests as well. Very often we are asked to loan works to international exhibitions.
HANS ULRICH: This idea of collection is such a strong element also in your paintings, because there are so many recurring motifs in them, for instance palm trees, symbols, wedding rings, purses. Your work is like an encyclopedia. Could you tell me about these "ingredients"?
SUELLEN: The rows of diamond rings come from jeweler's catalogs. My ex-husband's father was a diamond setter and a jeweler, and I would peruse his catalogs. Sears catalogs, with the sepia-toned advertisements for bras and girdles, were another inspiration. The palm tree is kind of an icon for a vacation destination. I remember a magazine ad with very small images—maybe two by two inches—of different vacation destinations. And of course the palm trees immediately evoke Florida. The original inspiration for the purses was a little 1940s manual on how to crochet purses. Each purse had a name attached to it, and of course for me, that idea of reaching in is a feminine and sexual symbol as well as a reflection of popular culture.
HANS ULRICH: These cultural icons of beauty and romance expressed by the media were also, I imagine, promises of happiness to young women of your generation?
SUELLEN: I've been asked often about whether I was making a feminist statement. I have always responded that my statement was just a reflection of the world around me; I definitely was not trying to make a statement that things should change. But I was certainly using humor and irony, very much like the other Hairy Who artists who were using familiar icons—for the men, imagery that they might have found in the backs of muscle magazines.
HANS ULRICH: What was the connection between the Hairy Who and the Chicago group nicknamed the Monster Roster?
SUELLEN: The Monster Roster also came out of the School of the Art Institute, but they were more postwar, in the 1950s. I was certainly aware of their work. For instance George Cohen. But there wasn't a direct connection.
HANS ULRICH: What was your relationship with Christina Ramberg? She obviously was inspired by you in the sense of repetition. A lot of her imagery is about comfort: caresses, sex, rings, couples dancing, lamps, legs, wigs, purses, palm trees, hands.
SUELLEN: She was an amazing artist. We were friends and fellow artists, and in terms of our exhibitions with Hairy Who, we had three shows—in 1966, 1967, and 1968—at the Hyde Park Art Center on the South Side of Chicago. Other groups that formed were, I think, inspired by our group exhibitions. One was called False Image, and Christina was part of it, together with Roger Brown, Phil Hanson, and Eleanor Dube.
HANS ULRICH: I'm curious to know what it was like to be a woman artist in the 1960s.
SUELLEN: Personally, I never felt discriminated against as a woman, either in school or when I began exhibiting. Of course, two of the six artists in the Hairy Who were women; the other was Gladys Nilsson. It was later that I became aware of the major problem with women being discriminating against. The feminist movement confronting that didn't start until the beginning of the 1970s. But I personally didn't experience any discrimination. There was less of that in Chicago than other places.
HANS ULRICH: At a certain point, some of your subjects migrated from paintings to sculptures. How do you explain this segue to three-dimensionality?
SUELLEN: I was interested in painting on objects. I used to paint on lampshades. In a 1970 show at the Hyde Park Art Center titled Marriage, Chicago Style that featured a number of members of the Hairy Who, False Image, and another group called Nonplussed Some, I had paintings of lamps and also actual lamps where I painted on the lampshades. Among the Nonplussed Some group, the most widely known artist was Ed Paschke, and he was my husband.
HANS ULRICH: Ed Paschke was your husband at the time?
SUELLEN: He was a fictitious husband. I was already married, but I needed him for a poster we did for that show. Barbara Rossi and Karl Wirsum were in that exhibition as well. The second show we had together at the Hyde Park Art Center was titled Chicago Antiqua, in 1971.
HANS ULRICH: And all these groups demonstrate how active Chicago was at the time. Many cities, even bigger ones, have just one group, while here you had many. What do you think was the secret of it?
SUELLEN: The hub of it was the Hyde Park Art Center and Don Baum, who was the director there starting in the early 1950s. Not enough people know about his role, but Don spent his whole life encouraging young artists, and he was a wonderful artist in his own right. He was very important to the Chicago art world. He organized large group shows, like Three Kingdoms: Animal, Vegetable, Mineral in 1965, where we were all invited to exhibit just one painting. One day Jim Falconer approached Don and proposed a small group show that would include himself, Jim Nutt, Gladys Nilsson, Art Green, and me. He liked the idea, and said, "I think you should add Karl Wirsum." And that's how the Hairy Who started. There was a lot of energy at that time.
HANS ULRICH: What more can you say about this form of energy? As you said, a lot of energy passed between the members of the group. For instance someone bringing their interest in a certain kind of thing and opening it up to the others.
SUELLEN: I remember as a young person, just having graduated from the School of the Art Institute, how important it was visiting Gladys Nilsson and Jim Nutt and seeing the work they were focusing on. I was certainly inspired by seeing their work, and perhaps they were inspired by mine.
HANS ULRICH: What do you think was the connection to Surrealism?
SUELLEN: Surrealism has always been very important to Chicago collectors, museums, and institutions. I remember during the Hairy Who period being invited to a collector's home and seeing several wonderful Surrealist pieces.
HANS ULRICH: As a curator, and/or as an artist, do you do a lot of writing?
SUELLEN: I haven't written about my own work, but I've written about other pieces in the Elmhurst College collection.
HANS ULRICH: And what about your idea of archive?
SUELLEN: I still have all my clippings and catalogs, but I must say it's good maybe to have someone else to keep them in order!
HANS ULRICH: But you're working on the Elmhurst archives, right?
SUELLEN: Yes, I keep everything, but I'm not the best at organizing the material.
HANS ULRICH: Do you have any unrealized projects? Any dreams?
SUELLEN: I just want to keep making work. I love making work. Recently I have been inspired by my early, really big paintings. I would probably need to hire an assistant to do it now, but I would like to work that large again.
Suellen Rocca (b. 1943, Chicago; d. 2020). Shortly after graduating from the School of the Art Institute of Chicago in 1964, she began showing her paintings, drawings, and sculptures alongside those of her fellow Hairy Who members. The group's exhibitions drew national and international attention and went on to influence generations of artists. Recent solo shows include Matthew Marks Gallery, New York (2018 and 2016); Chicago Gallery, Illinois State Museum (2013); and Secession, Vienna (upcoming). Among recent group shows: Elmhurst Art Museum, Elmhurst (2019); Greene Naftali Gallery and Matthew Marks Gallery,  New York (2018); Smart Museum of Art, The University of Chicago (2018).
Hans Ulrich Obrist (b. 1968, Zurich) is artistic director of the Serpentine Galleries, London. Prior to this he was the curator of the Musée d'Art Moderne de la Ville de Paris. Since his first exhibition, World Soup (The Kitchen Show) in 1991, he has curated three hundred and thirty exhibitions.
Originally published in Mousse 71