Books
BOOKS SUMMER SPECIAL ~ BETTY WOODMAN: THEATRE OF THE DOMESTIC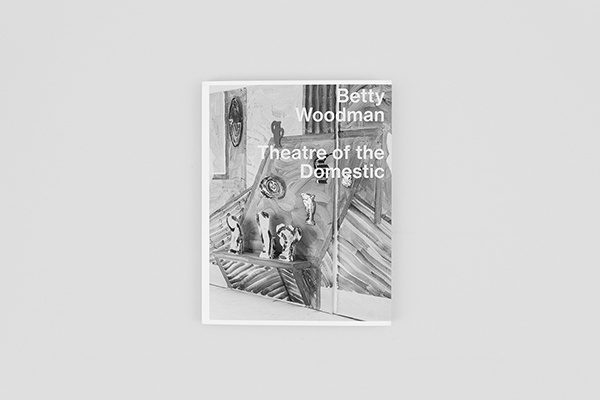 2016
180 pages
English
ISBN 9788867492183
Softcover, 22 x 28,5 cm
€ 40
Vincenzo de Bellis, ed.
Texts by Vincenzo de Bellis, Suzanne Hudson, Stuart Krimko, Gregor Muir, Alberto Salvadori, Katharine Stout
"Making, Using" by Suzanne Hudson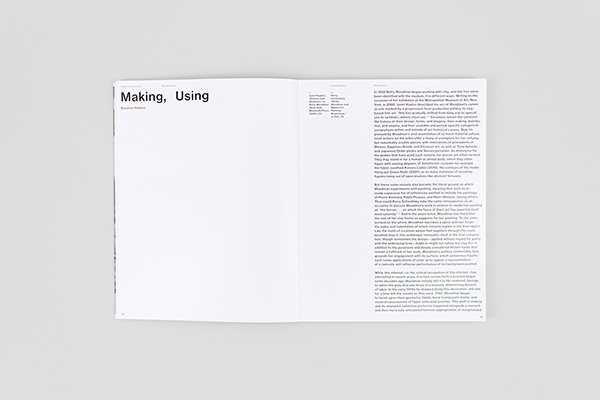 In 1950 Betty Woodman began working with clay, and she has since been identified with the medium, if in different ways. Writing on the occasion of her exhibition at the Metropolitan Museum of Art, New York, in 2006, Janet Koplos described the arc of Woodman's career as one marked by a progression from production pottery to clay-based fine art: "She has gradually shifted from daily use to special use to symbolic, almost ritual use. [1]" Ceramics remain the constant: the history of their design, forms, and imagery; their making, distribution, and employ; and their unstable and period-specific categorical assignations within and outside of art historical canons. Duly impressed by Woodman's avid assimilation of so much material culture, most writers on the artist offer a litany of exemplars for her unfussy but remarkably erudite pieces, with reiterations of precedents in Minoan, Egyptian, Greek, and Etruscan art, as well as Tang dynasty and Japanese Oribe glazes and Sèvres porcelain. As metonyms for the bodies that have used such vessels, her pieces are often vertical. They may stand in for a human or animal body, which they often figure with varying degrees of mimeticism: consider for example the fabric-swathed Kimono Ladies (2015), the contours of the model filling out Green Nude (2007), or so many instances of would-be figures rising out of open bivalves like abstract Venuses.
But these same vessels also became the literal ground on which Woodman experiments with painting, meaning that such an already-capacious list of references swelled to include the paintings of Pierre Bonnard, Pablo Picasso, and Henri Matisse, among others. Thus could Barry Schwabsky take the same retrospective as an occasion to discuss Woodman's work in relation to modernist painting as "the terrain … on which the force of [her] art has asserted itself most saliently. [2]"
And in the years since, Woodman has literalized the role of her clay forms as supports for her painting. To the slabs worked on the wheel, Woodman inscribes a spiral with her finger, the index and indentation of which remains legible in the final object. Like the tooth of a canvas weave that registers through the coats brushed atop it, this arabesque insinuates itself in the final composition, though sometimes the design—applied without regard for parity with the underlying form—might or might not follow the clay. For in addition to the purposive and deeply considered thrown forms that remain a hallmark of her work, Woodman's pottery comfortably foregrounds her engagement with its surface, which sometimes flaunts such runny applications of color as to appear a representation of a radically self-reflexive performance of its having been painted.
While this interest—or the critical recognition of this interest—has intensified in recent years, it in fact carries forth a process begun some decades ago. Woodman initially left it to her husband, George, to adorn the pots that she threw in a mutually determining division of labor. In the early 1970s, he stopped doing this decoration, and she for a time left the results as they were. Then, Woodman began to lavish upon them geometric fields, loose translucent marks, and visceral convolutions of hyper-saturated palettes. This shift in making and its attendant exhibition protocols happened alongside a nascent and then more fully articulated feminist appropriation of marginalized or more overtly denigrated cultures, media, and characteristics: "Africans, Orientals, Persians, Slovaks, peasants, the lower classes, women, children, savages … sensuality, pleasure, decadence, chaos, anarchy, impotence, exotica, eroticism, artifice, tattoos, cosmetics, ornament, decoration, carpets, weaving, patterns, domesticity, wallpaper, fabrics and furniture. [3]"
For Woodman, as for many other artists working at this time in the increasingly attenuated shadow of the prominent critic Clement Greenberg, who espoused an influential vision of an autonomous modern art, critical scorn became the basis for an affirmative production that welcomed the applied arts with all their implications of domesticity.
Alienated—or simply bored—by the officious classicism of Minimalism and emboldened by liberation politics, those involved in the Womanhouse exhibition, organized by Judy Chicago and Miriam Schapiro in Los Angeles in 1972, to a person insisted upon the imbrication of art and life. Here, painting on canvas, instead of being the default, was but an option to be mined alongside other media and handicraft traditions. In New York, the gallerist Holly Solomon supported artists associated with Pattern and Decoration, a group including not only women such as Schapiro, Joyce Kozloff, and Valerie Jaudon—authors of the above enumeration of once-taboo mentions—but also men such as Robert Kushner, Kim MacConnel, and Robert Zakanitch. These artists believed that designs sourced from quilts, mosaics, and textiles could serve the purposes of ambitious art. They draped paintings with swags of fabric, covered them in hearts and flowers, and decked them out in colors sometimes so exuberant as to seem nearly hallucinogenic. In so doing, they further challenged the long-standing consideration of femininity as the purview of the cosmetic, an old opposition between the Rubenistes and the Poussinistes (the camps in the seventeenth-century Paris Académie who respectively privileged color and line). The seductions of pigment, applied after the tensile pictorial scaffold was, as it were, erected, came to be associated with feminine guiles, and were considered suspect for their perceived superficiality relative to the intellectual rigor of the underlying structure. [4]
Woodman was thus not alone in borrowing a range of stylistic and iconographic elements, or in refusing to apologize for subjective, inevitably gendered, investments in her forms. Indeed, the shift to embrace a wider array of resources was if not ubiquitous then at least widespread. And yet the difference between Woodman and her peers is important: what constituted a reclamation for others (who regularly began in painting and left it behind or corrupted it from within) was something more like a confirmation for Woodman, who "could recognize such strategies previously less common in the history of Western painting, as endemic to the tradition of ceramics.[5]" As it happened, within a decade of Woodman's commencing to paint her own pots in the 1970s, she began to show at Max Protetch in New York, a gallery known for emphasizing art that crossed architecture, craft, and design. This meant that what was "endemic to ceramics" became part of larger conversations about contemporary art at the moment of its increasing pluralism and embrace of interdisciplinary practice, citational promiscuity, and transcultural address. Indeed, this contributed to the rise of neoexpressionist painters—Julian Schnabel, Eric Fischl, Francesco Clemente, and so many others—who were active internationally in fine art–oriented galleries and museums. Bolstered by this support, they assumed a prelapsarian attitude, showing little concern for the potent political and social interventions made by the art of the 1970s. Actions such as festooning the canvas with broken crockery achieved the look of spontaneity, and were meant to signify emotional catharsis while appropriating the handmade as parodic excess—an excess specifically keyed to a feminine register, recuperating the position of the woman as emoter but reserving it for male use in the realm of more traditional painting.
Implicated in but not beholden to such fluctuating institutional priorities, which she predated and survived, Woodman has continued to refine the architecture of her clay and the glaze that coats it. Less ideological than pragmatic, Woodman's work evidences a nondogmatic approach to experimentation that is recuperative in its wide sense of the aesthetic. She has taken to including in her arrangements large drawings and paintings of graphite, ink, and lacquer with terra sigillata (a slip glaze often used on ancient ceramics) and wax on handmade paper or canvas. Woodman's testing extends to the materials themselves, as the example of the terra sigillata on paper or her use of lacquer paint on earthenware suggests. Such works also emphasize the exigencies that their processes occasion, as in a group of recent drawings resulting from Woodman's analysis of paints: she saved the papers on which she was trying acrylics, and these abstract fields of color became the backgrounds for linear drawings. As with another series of pots marked with the numbers of the glazes that adorn them, these share a sense of collaboration with the circumstances that their instantiation cause.
Pots additionally come to rest upon vibrantly patterned canvas carpets in floor-bound cliques that likewise feature leftover scraps of clay, sometimes unglazed and bonelike. As in the monumental Wallpaper 9 (2015), the relics may also be tacked to the wall as a frieze or sprawling wallpaper reimagined from these accidental shapes that resulted from the intervals left between the outlines Woodman cut on her first pass. One thing generates another.
Old works present future prospects, as when in 2007 Woodman returned to San Marco (1989–90), a small Athenian figurine, and coaxed from it a new notion of a winged pot on a wooden base, which became the "Vase Upon Vase" works such as Vase Upon Vase: Ariana (2010) and Vase Upon Vase: Diana (2009–13). New relationships continue to manifest. Transformation might happen within a single pot, or by virtue of combinations of ceramics grouped into clusters, as in Amante Triptych (2007) or Red, White and Blue Vases (2013). It might also arise from the meeting of unstretched acrylic paintings together with glazed earthenware and structures that extend out from the wall on wooden shelves, morphing from two dimensions into three (as though redoubling the passage of clay from a flat sheet to a round shape asserting volume). Country Dining Room (2015), the first table, pointedly takes the trope of the grid and returns it as a tablecloth, a recurring motif thereafter. These polychrome tableaux exploit illusionism in other ways, chiefly by juxtaposing images of vases, real vases, and shadowlike silhouettes.
As vestibules, Woodman's new rooms extend her large-scale environments of the early 1980s, where she represented arcades and balustrades in immersive installations. The Red Window (2014),a Matisse-esque rendering of a salmon-hued chamber with a scarlet aperture, counters Leon Battista Alberti's oft-quoted description of painting as portal: absent of any depiction of the outside world, the black-framed brushy red square stays resolutely on our side of the picture plane. Perspective is further warped in The Summer House (2015), a massive four-panel painting with a table at its midline. Like a freestanding vase on the leftmost register that sprouts painted flowers crossed with pinned vines made from remnants, the table juts forward, into real space, bearing a shelf for the display of three pots (a dish and others hang from the vertical surface above). Beneath, painted floorboards converge in what would be the vanishing point were it not so askew. A window offers a self-conscious frame onto a liquefied purple monochrome beside another in kelly green. A door to the far right features baseboards at the same angle at which the central slab is turned, though the jamb is flush to the picture plane.
Woodman's rooms revel in the fundaments of representation. Like a magic trick executed over and again, each performs how a simple diagonal can make space, and also how—as in the case of the conspicuous white profile (paradoxically, it appears like a shadow) in Nina's Room (2012)—a flourish of flat, unmodulated material can cancel it. Signs of artifice are omnipresent. And the pots, capable of holding water but refusing to facilitate service, are confirmed as ornamental in this association. Their function, or lack thereof, is by nomination, not design. Or, better, their function is otherwise. There is use and then there is use under the sign of the exhibition, and underscoring this distinction seems to be very much the point. Despite Woodman's maintenance of traditional form, her kraters intended for this destination are never filled with wine. That happens elsewhere, apart from the halls of display, or at least the galleries proper (for the Met, Woodman sited massive vases in the entrance hall, where they enjoyed the accompaniment of tremendous floral bouquets, and her past publications have included photographs of her tables in her New York apartment and Italian home set with pieces of her design, and people eating off them or stuffing them with flowers), where her vases sit on exaggerated plinths, a nomination of belonging in such literally elevated climes. Woodman's recent inventions radicalize this effect of being in our space but apart from our use; we will never sit at her makeshift table or feel her carpets underfoot. These items refer to patterns of sociability, which they model at a purposive remove. As though compensating for their employ remaining only hypothetical, Woodman supplies for them the domestic context to which they might otherwise aspire.
Jeanne Greenberg Rohatyn writes: "Betty's vases never conform to what we think of as a vase—even a superb one. Rather they are exaggerated variations on a vase, bettered. [6]" This is true whether we encounter them in a kitchen or a Kunsthalle. Irrespective, this exaggeration is a key part of their claim on aesthetic experience as a kind of theater. The discontinuous motifs likewise trigger passage around them. Vase Upon Vase: Orpheo (2013), a bubblegum-pink pedestal holding up a kind of monochromatic creamish hinged shell, becomes an orange-tipped fan atop a base of vertical ribbons when seen from the opposite side. Aztec Vase and Carpet #6 Easter (2014) appears as a pinwheel plucked from its stick. Viewed from distinct vantages, the work's central element utterly shifts from emerald and citrus lines on one plane to black calligraphy and cornflower-blue polka dots on another. Circumambulation around the work is key, since sides are separated and far from selfsame, each revealing itself in turn. Taken together, the aspects do not coalesce, but show perception to be corporeal, contingent, durational. They force a mode of physical inspection that is forever irresolvable, that will not achieve a gestalt. One is left to synthesize the nature of surface and support, the lateral edges, noncontiguous planes, and their relationships, and so forth—and what all of this has to do with an abstract notion of the form.
These technical-cum-compositional decisions have profound implications for the history of ceramics as a set of habits and conventions as well as chemical reactions and obdurate material realities with which every practitioner must contend. Yet beyond this, both through Woodman's attention to the painted surface and the institutional-categorical vicissitudes that have framed her appearances at decisive moments, her work has entered into, and exerted pressure on, contemporary art as such. This last is a heterogeneous field to be sure, and the point is not that craft finally, as it were, has a place at the table (although it does, but so does everything else). Rather it is that Woodman's keeping hold of the domestic in form and reference through ceramic vessels offers a counternarrative of these same decades from the perspective of a humanist engagement with art that might orient itself less to display than to service. Of course, the former brackets the latter, and this is Woodman's point. It is worth noting that even Greenberg offered advice about how to live with modernist painting that seemed primed for more public destinations. In 1964, he boasted that "Big abstract paintings turn out to be astonishingly easy to live with," and that one need not worry about "the matching or consistency of color. [7]" This is not to suggest that the paintings' existence at some conceptual remove from the everyday realities of their bourgeois surroundings brackets them from them. Quite the contrary: in their separation from the home, the paintings are functionalized anew as portals. Even for Greenberg, then, at moments, often private, when ensconced within his dwelling and asked to speak about the items assembled therein, art was inextricable from the rest of life. Woodman assumes this. If the rest of us did, she would not need to stage domesticity to make her point, though this limit condition paradoxically has proven especially generative of works that insist upon the pleasure of art making as the precondition for art using.
.
NOTES
[1] Janet Koplos, "Echoes and Shadows," in Betty Woodman (New York: Monacelli Press, 2006), 23.
[2] Barry Schwabsky, "Betty Woodman and Modernist Painting: Beginnings," in ibid., 39.
[3] Valerie Jaudon and Joyce Kozloff, "Art Hysterical Notions of Progress and Culture," in Theories and Documents of Contemporary Art: A Sourcebook of Artists' Writings, ed. Kristine Stiles and Peter Selz (Berkeley: University of California Press, 1996), 164.
[4] See Jacqueline Lichtenstein, The Eloquence of Color: Rhetoric and Painting in the French Classical Age, trans. Emily McVarish (Berkeley: University of California Press, 1993).
[5] Schwabsky, "Betty Woodman and Modernist Painting: Beginnings," 40.
[6] Jeanne Greenberg Rohatyn, "Forward," in Betty Woodman (New York: Salon 94 and Skira, 2014), 12.
[7] Clement Greenberg, "A Famous Art Critic's Collection" (1960), in Clement Greenberg: The Collected Essays and Criticism, vol. 4, ed. John O'Brian (Chicago: University of Chicago Press, 1993), 182–83; and Clement Greenberg, "The Clement Greenbergs Who Live with the Abstractions of Contemporary Art," Vogue, January 15, 1964, 92–95.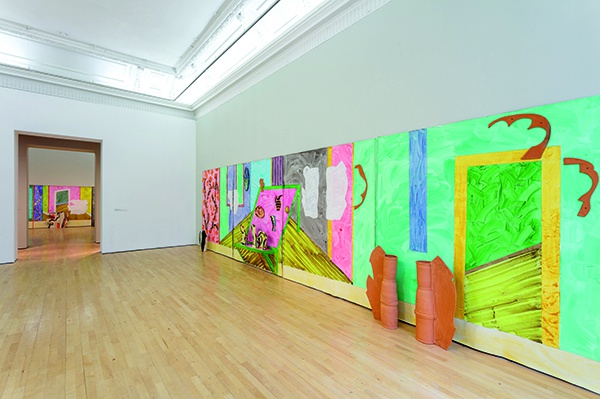 "Betty Woodman: Theatre of the Domestic" installation view at ICA, London, 2016. Photo: Mark Blower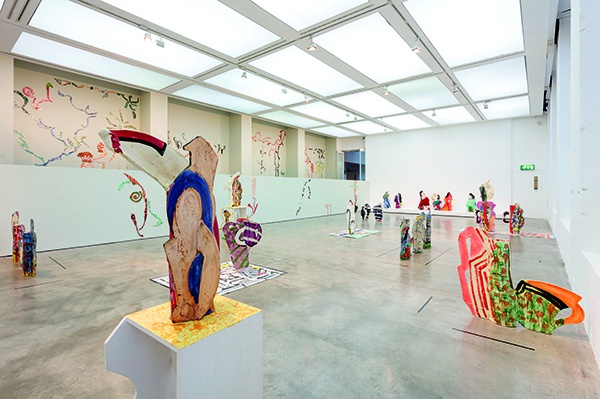 "Betty Woodman: Theatre of the Domestic" installation view at ICA, London, 2016. Photo: Mark Blower