Books
BOOKS SUMMER SPECIAL ~ DAN REES: ROAD BACK TO RELEVANCE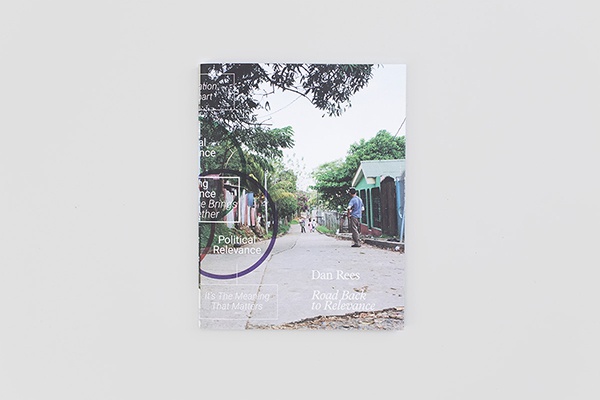 2016
144 pages
English
Softcover, 20 x 26 cm
ISBN 9788867492176
€ 28
Texts by Dieter Roelstraete, Saim Demircan, Ben Gregory
"Two Views of Dan Rees's Work" by Dieter Roelstraete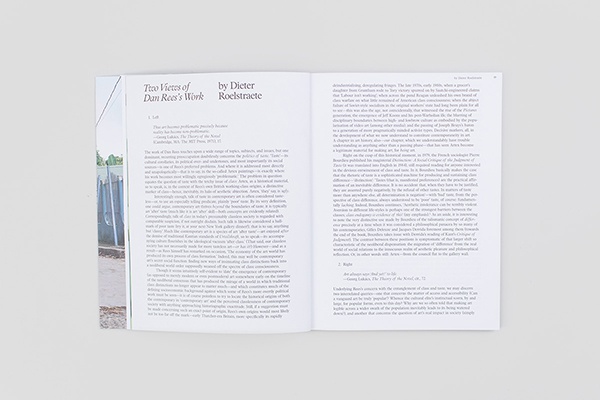 1. Left
Thus art becomes problematic precisely because reality has become non-problematic.
—Georg Lukács, The Theory of the Novel (Cambridge, MA: The MIT Press, 1971), 17.
The work of Dan Rees touches upon a wide range of topics, subjects, and issues, but one dominant, recurring preoccupation doubtlessly concerns the politics of taste. 'Taste'—its cultural corollaries, its political over- and undertones, and most importantly its social sources—is one of Rees's preferred problems. And where it is addressed most directly and unapologetically—that is to say, in the so-called Artex paintings—is exactly where his work becomes most willingly, egregiously 'problematic.' The problem in question equates the question of taste with the tetchy issue of class: Artex, as a historical material, so to speak, is, in the context of Rees's own British working-class origins, a distinctive marker of class—hence, inevitably, its halo of aesthetic abjection. Artex, 'they' say, is ugly.
Interestingly enough, talk of taste in contemporary art is often considered taste- less—or, to use an especially telling predicate, plainly 'poor' taste. By its very definition, one could argue, contemporary art thrives beyond the boundaries of taste; it is typically art 'after' taste (much like it is art 'after' skill—both concepts are evidently related). Correspondingly, talk of class in today's presumably classless society is regarded with comparable suspicion, if not outright disdain. Such talk is likewise considered a hallmark of poor taste (try it, at your next New York gallery dinner!), that is to say, anything but 'classy.' Much like contemporary art is a species of art 'after taste'—art enjoyed after the demise of traditional Kantian standards of Urteilskraft, so to speak—its accompanying culture flourishes in the ideological vacuum 'after class.' (That said, our classless society has not necessarily made for more tasteless art—or has it?) However—and as a result—as Rees himself has remarked on occasion, 'The economy of the art world has produced its own process of class formation.' Indeed, this may well be contemporary art's secret social function: finding new ways of insinuating class distinctions back into a neoliberal world order supposedly weaned off the spectre of class consciousness.
Though it seems intuitively self-evident to 'date' the emergence of contemporary (as opposed to merely modern or even postmodern) art somewhere early on the timeline of the neoliberal consensus that has produced the mirage of a world in which traditional class distinctions no longer appear to matter much—and which constitutes much of the defining socioeconomic background against which some of Rees's more overtly political work must be seen—it is of course pointless to try to locate the historical origins of both the contemporary in 'contemporary art' and the perceived classlessness of contemporary society with anything approaching historiographic exactitude. Still, if a suggestion must be made concerning such an exact point of origin, Rees's own origins would most likely not be too far off the mark—early Thatcher-era Britain, more specifically its rapidly deindustrialising, deregulating fringes. The late 1970s, early 1980s, when a grocer's daughter from Grantham rode to Tory victory spurred on by Saatchi-engineered claims that 'Labour isn't working'; when across the pond Reagan unleashed his own brand of class warfare on what little remained of American class consciousness; when the abject failure of Soviet-style socialism in the original workers' state had long been plain for all to see—this was also the age, not coincidentally, that witnessed the rise of the Pictures generation; the emergence of Jeff Koons and his post-Warholian ilk; the blurring of disciplinary boundaries between high- and lowbrow culture as embodied by the popularisation of video art (among other media); and the passing of Joseph Beuys's baton to a generation of more pragmatically minded activist types. Decisive markers, all, in the development of what we now understand to constitute contemporaneity in art.?A chapter in art history, also—our chapter, which we understandably have trouble understanding as anything other than a passing phase—that has seen Artex become a legitimate material for making art, for being art.
Right on the cusp of this historical moment, in 1979, the French sociologist Pierre Bourdieu published his magisterial Distinction: A Social Critique of the Judgment of Taste (it was translated into English in 1984), still required reading for anyone interested in the devious entwinement of class and taste. In it, Bourdieu basically makes the case that the rhetoric of taste is a sophisticated machine for producing and sustaining class difference—'distinction': 'Tastes (that is, manifested preferences) are the practical affirmation of an inevitable difference. It is no accident that, when they have to be justified, they are asserted purely negatively, by the refusal of other tastes. In matters of taste more than anywhere else, all determination is negation'—with 'bad' taste, from the perspective of class difference, always understood to be 'poor' taste, of course: fundamentally lacking. Indeed, Bourdieu continues, 'Aesthetic intolerance can be terribly violent. Aversion to different life-styles is perhaps one of the strongest barriers between the classes; class endogamy is evidence of this' (my emphasis). [1] As an aside, it is interesting to note the very distinctive use made by Bourdieu of the talismanic concept of difference precisely at a time when it was considered a philosophical panacea by so many of his contemporaries, Gilles Deleuze and Jacques Derrida foremost among them (towards the end of the book, Bourdieu takes issue with Derrida's reading of Kant's Critique of Judgment). The contrast between these positions is symptomatic of that larger shift so characteristic of the neoliberal dispensation: the migration of 'difference' from the real world of social relations to the innocuous realm of aesthetic pleasure and philosophical reflection. Or, in other words still: Artex—from the council flat to the gallery wall.
2. Right
Art always says 'And yet!' to life.
—Georg Lukács, The Theory of the Novel, cit., 72.
Underlying Rees's concern with the entanglement of class and taste, we may discern two interrelated queries—one that concerns the matter of access and accessibility (Can a vanguard art be truly 'popular'? Whence the cultural elite's instinctual scorn, by and large, for popular forms, even to this day? Why are we so often told that making art legible across a wider swath of the population inevitably leads to its being watered down?), and another that concerns the question of art's real impact in society (simply posed: Can art change or save the world?), with both converging in an ongoing interrogation of the (mostly failed) project of popular modernism, of a truly radical culture for the masses. Rees's most exemplary work in this regard, and the artist at his most emphatically political (and, perhaps not coincidentally, at his most broadly autobiographical), is probably the aptly titled video Road Back to Relevance (2015), which attempts to show us 'how the Wales Nicaragua solidarity campaign can inspire people today,' though it really asks the question as to how art can secure the longed-for intersection of 'social, cultural and political' relevance—that is, art's titular 'road back to relevance'—that Rees so clearly seeks. ('Solidarity' seems as anachronistic a notion as class in the previous discussion.) This road (back) to relevance, art's voyage back to the centre of a society's sense of self, may involve negotiating the oftentimes strained, simultaneously antagonistic and symbiotic relationship between art and?culture—a distinction that is not without consequence for a better understanding of Rees's practice.
For what it's worth, I myself have long tended to err on the side of art—in the manner discussed by Alain Badiou in his introduction to Saint Paul: The Foundation of Universalism, where he notes:
The contemporary world is doubly hostile to truth procedures. This hostility betrays itself through nominal occlusions: where the name of a truth procedure should obtain, another, which represses it, holds sway. The name 'culture' comes to obliterate that of 'art'. The word 'technology' obliterates the word 'science'.?The word 'management' obliterates the word 'politics'. The word 'sexuality' obliterates love. The 'culture-technology-management-sexuality' system, which has the immense merit of being homogenous to the market, and all of whose terms designate a category of commercial presentation, constitutes the modern nominal occlusion of the 'art-science-politics-love' system, which identifies truth procedures typologically. [2]
Badiou, in short, confuses culture with the culture industry here—that old mainstay of Frankfurt School–style cultural criticism—in terms that inscribe his thought in the long history of the philosophical valuation of art above all other realms of human activity, a history that stretches back to the early days of German Romanticism and German idealism (which eventually gave birth to Marxism on the one hand, but also to other things on the other hand). What Dan Rees's art appears to aspire to, however—and this is precisely where it has most successfully challenged the occasional reactionary inclinations of this elitist, among others—is to question this insular tendency, that is, art's self-isolating ways, by way of the jargon and spirit of art itself: call it art setting out to save culture from the clutches of the culture industry if you like—an art of righteous populist inspiration (as well as indignation).
Antonio Gramsci, one of the primary theorists of a truly working-class culture and perhaps the single most influential philosophical signpost in Rees's world, observed many decades ago that 'it seems evident that, to be precise, one should speak of a struggle for a "new culture" and not for a "new art" (in the immediate sense).' [3] A new culture such as the one Gramsci had in mind may not necessarily (or no longer) be in the offing—it is certainly not Rees's most pressing concern, and not exactly in accordance with his rather unassuming artistic temperament—but it certainly pays for 'new art' to look back at the cultures of old for guidance going forward, and Dan Rees does so by revisiting the forgotten legacies of a truly populist avant-garde culture: back to the future, where art can change or save the world.
.
NOTES
[1] Pierre Bourdieu, Distinction: A Social Critique of the Judgment of Taste (Cambridge, MA:Harvard University Press, 1984), 56.
[2] Alain Badiou, Saint Paul: The Foundation of Universalism (Stanford, CA: Stanford University Press, 2003), 12.
[3] Quoted in David Forgacs, ed., The Antonio Gramsci Reader, Selected Writings 1916–1935 (New York: New York University Press, 2000), 395.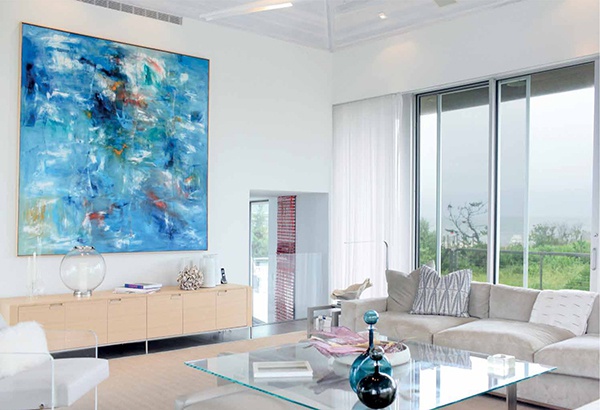 Intended Circulation, 2013–ongoing. Courtesy: the artist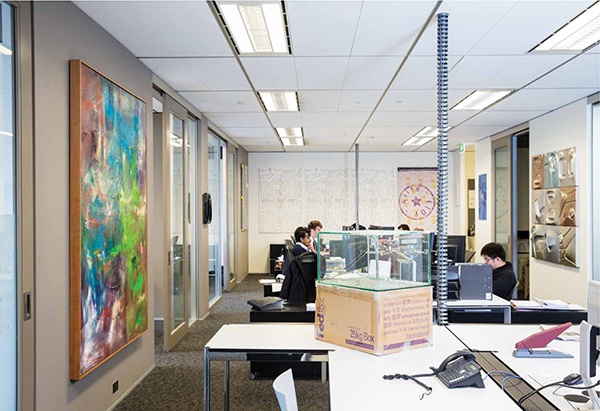 Intended Circulation, 2013–ongoing. Courtesy: the artist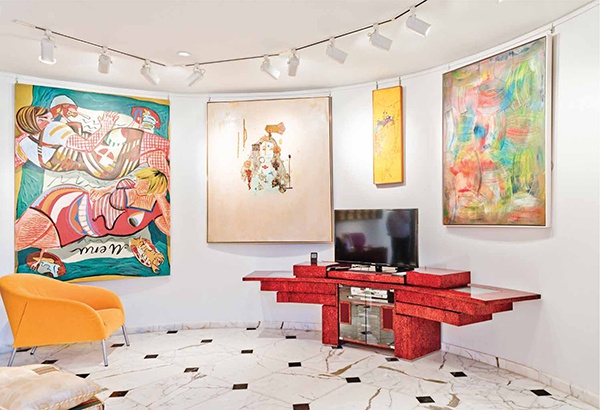 Intended Circulation, 2013–ongoing. Courtesy: the artist