REVIEWS
Susan Hiller "Social Facts" at OGR, Turin
Close
1
2
3
4
5
6
7
8
9
10
11
12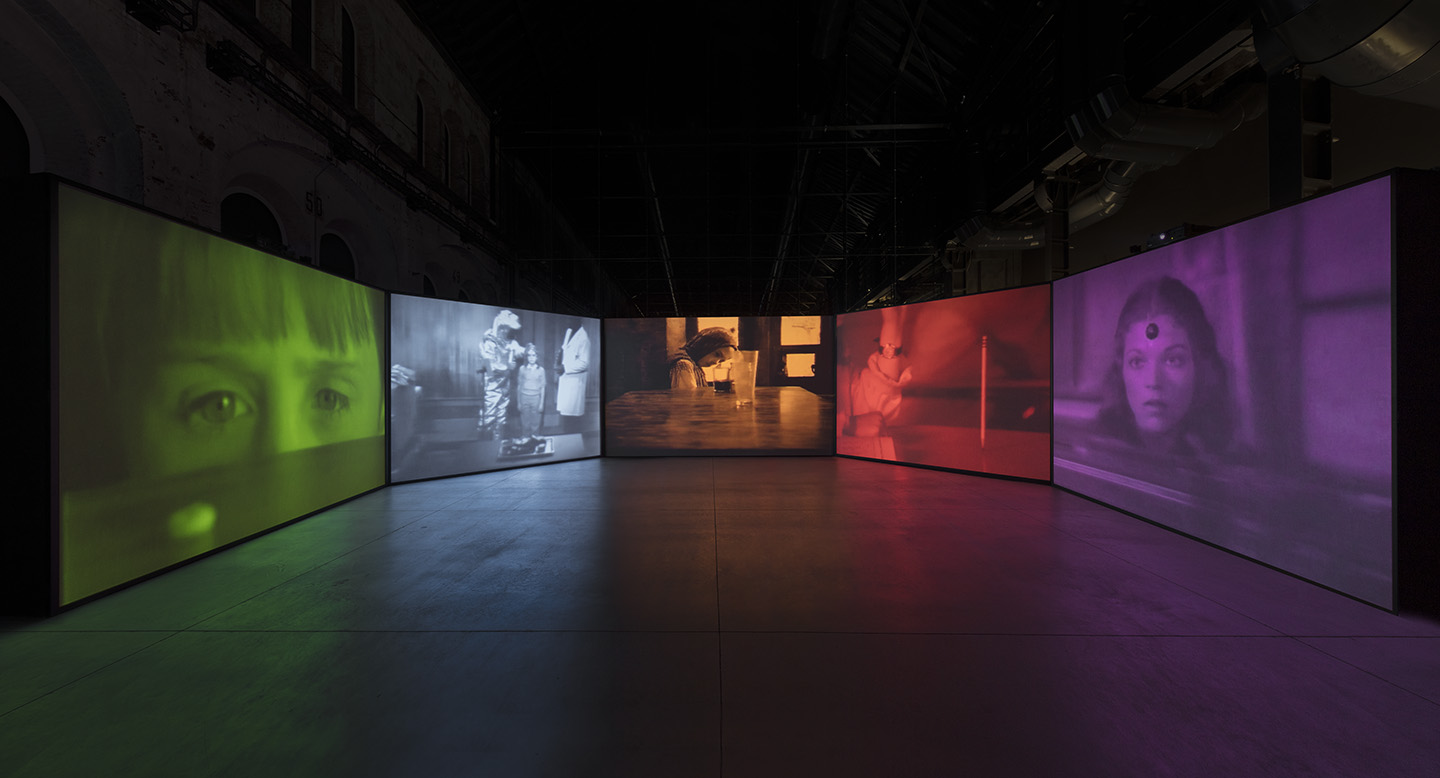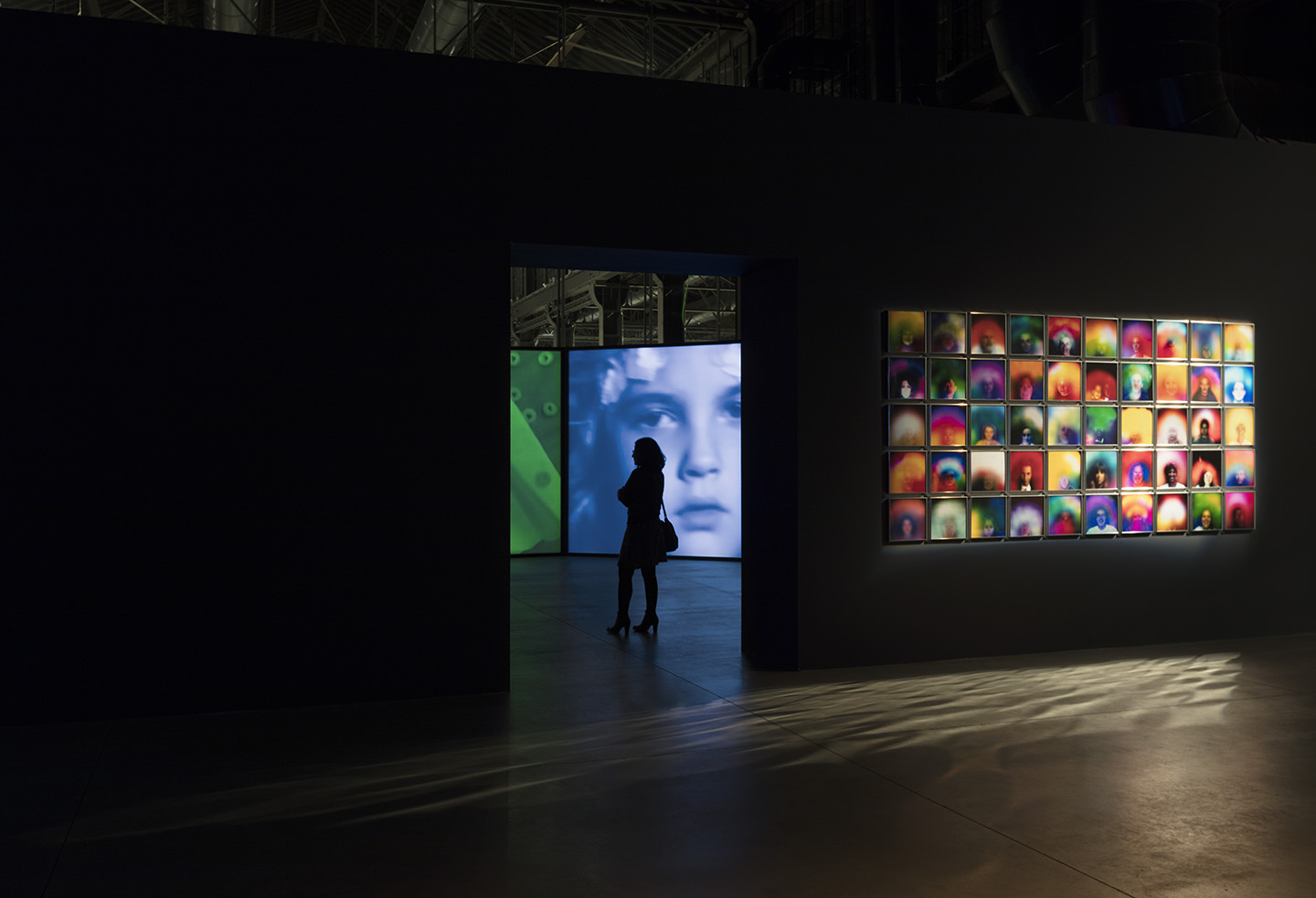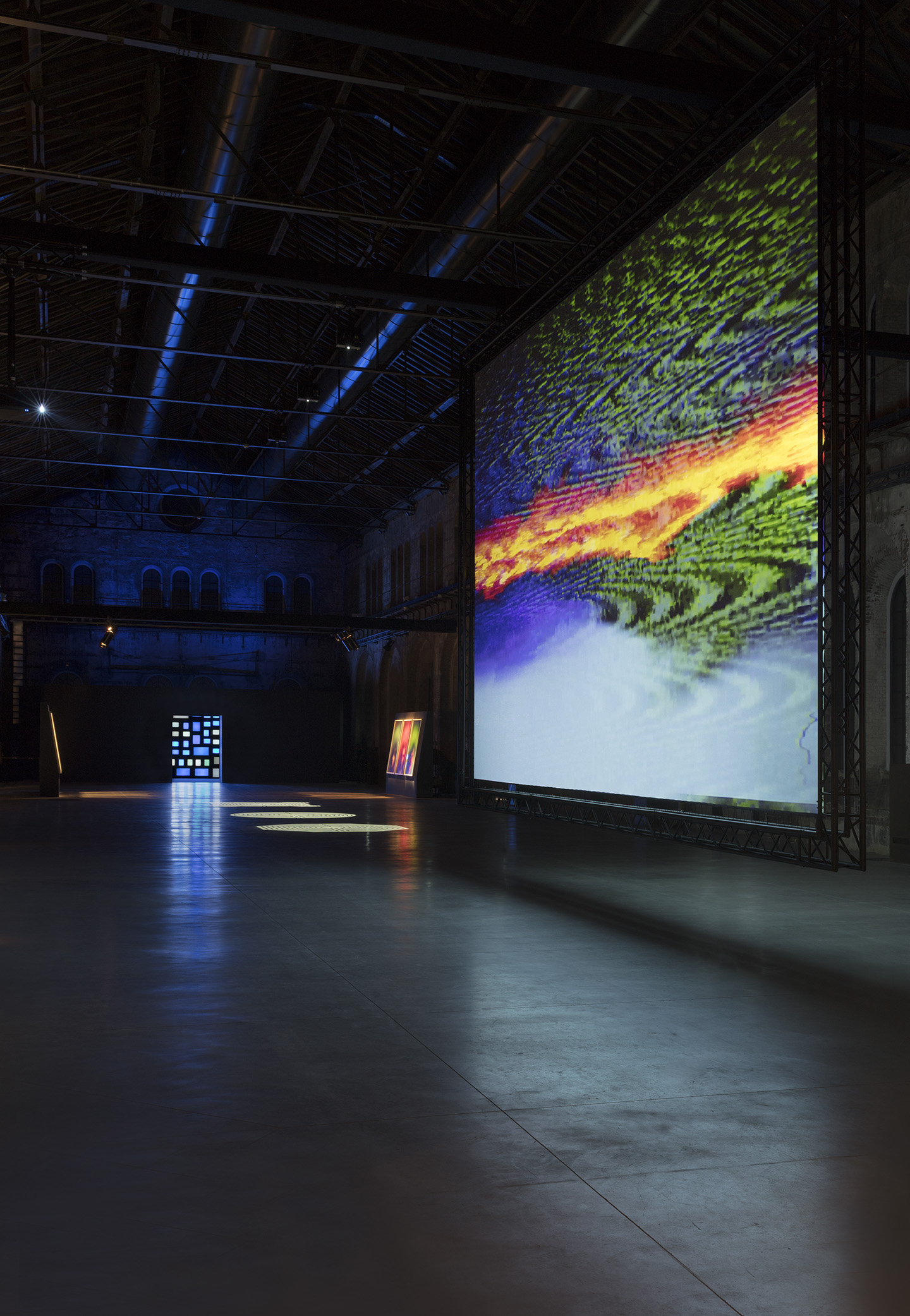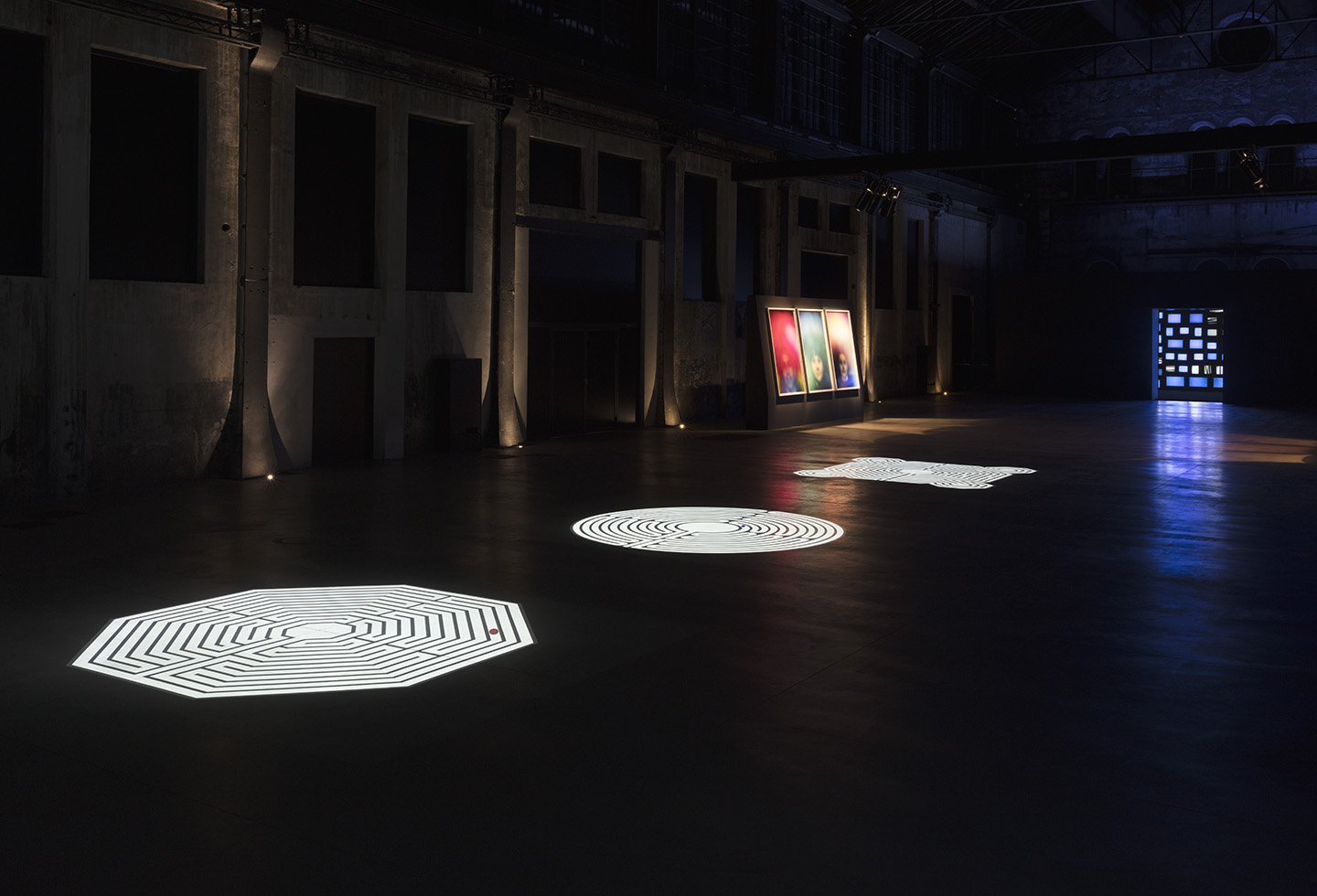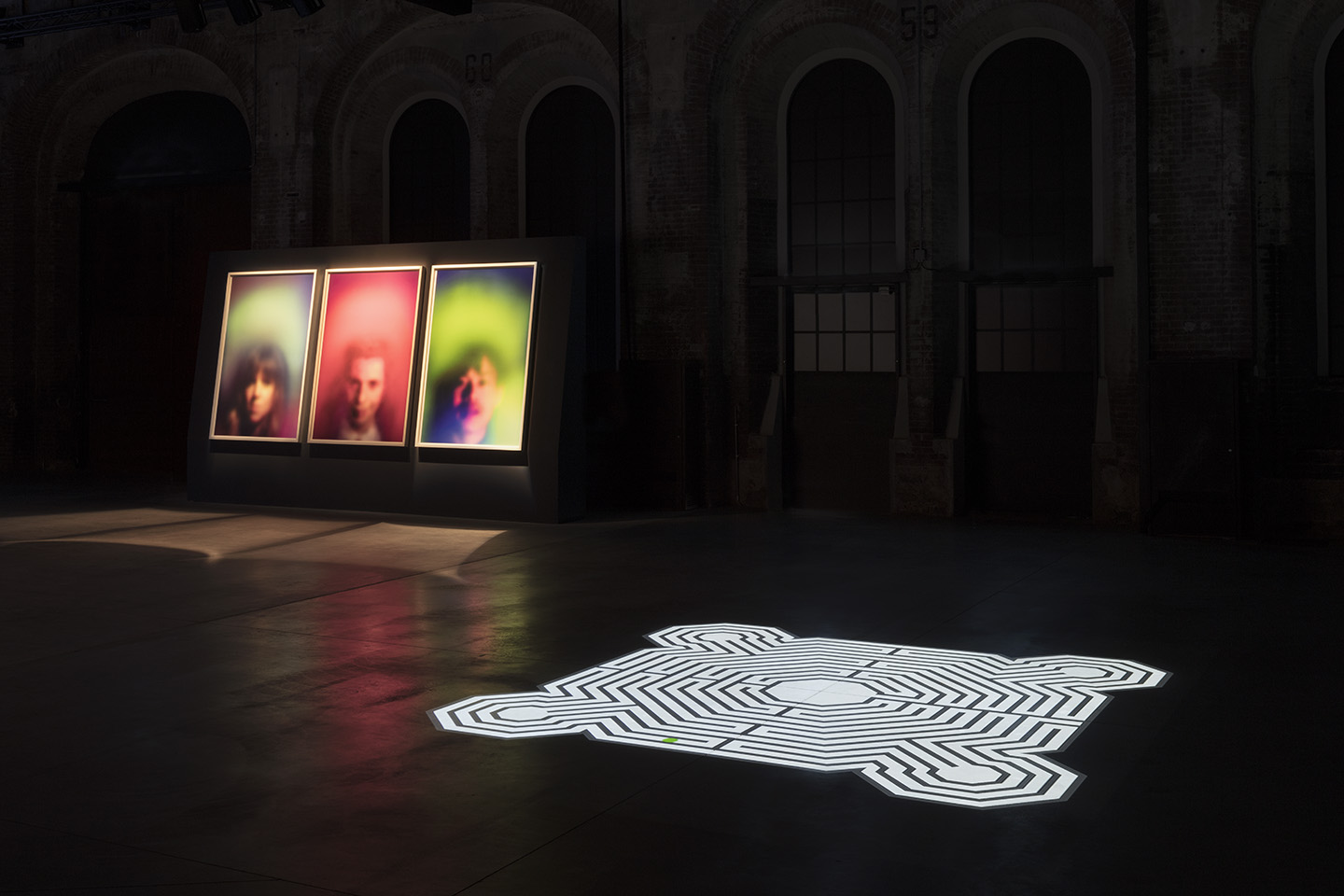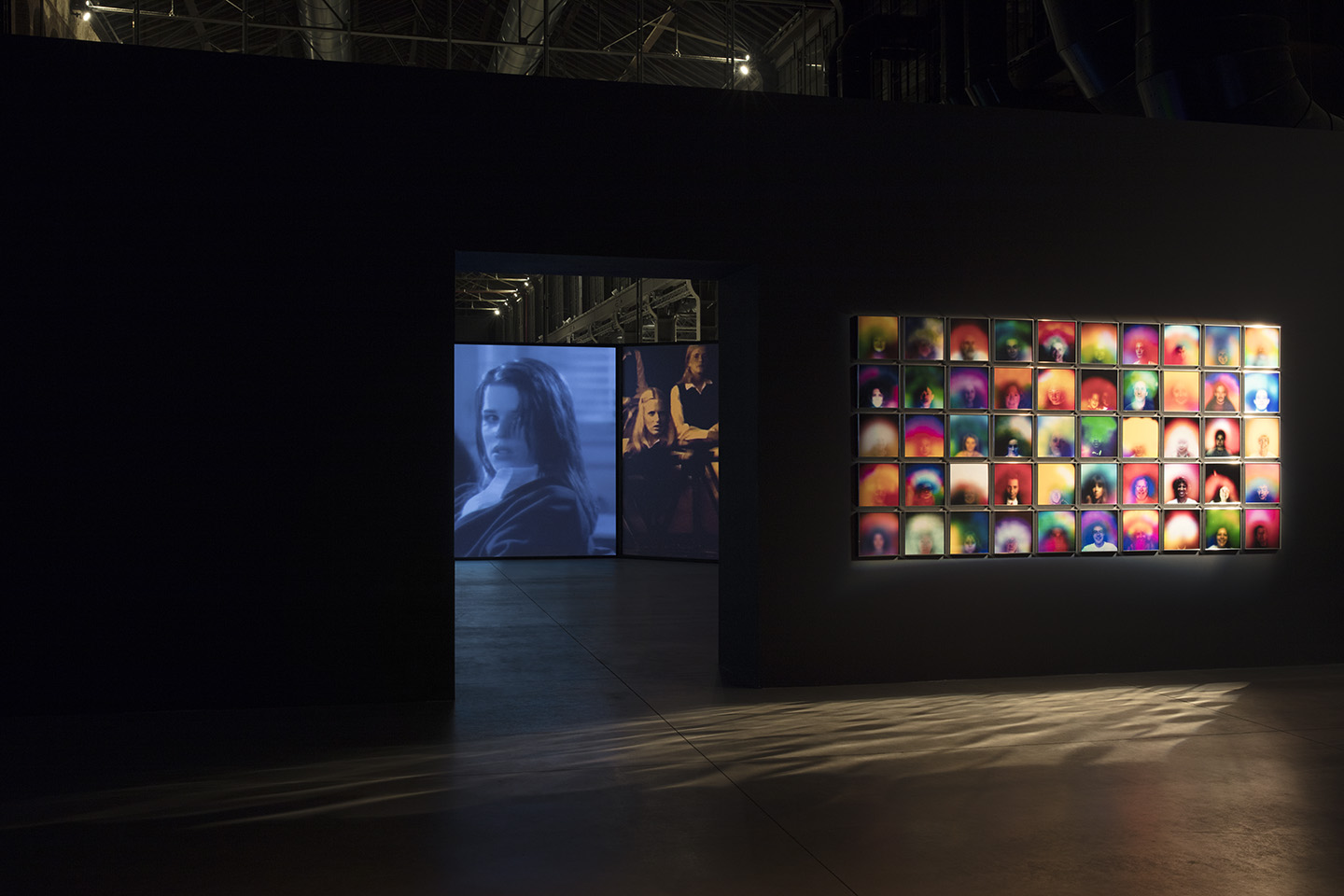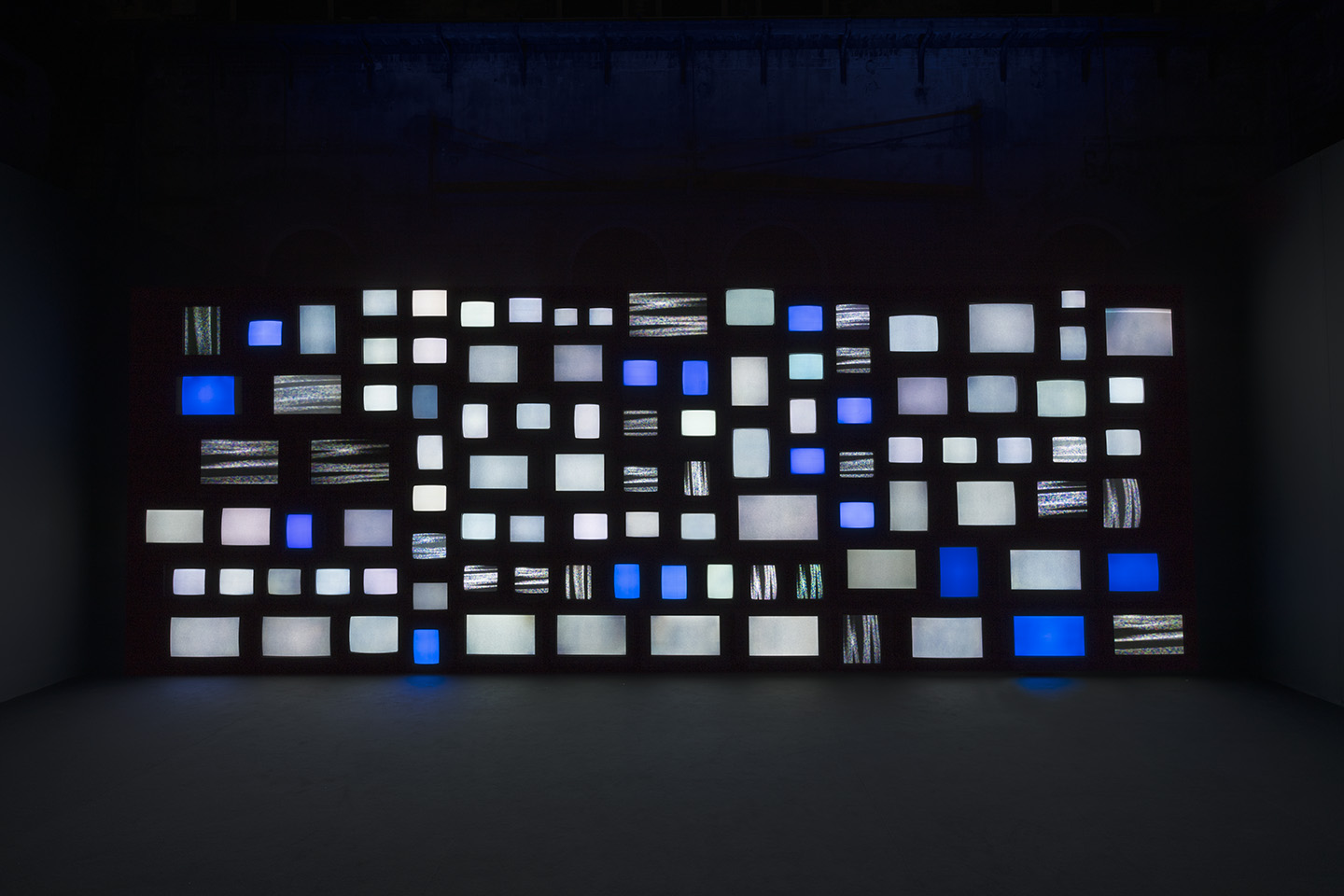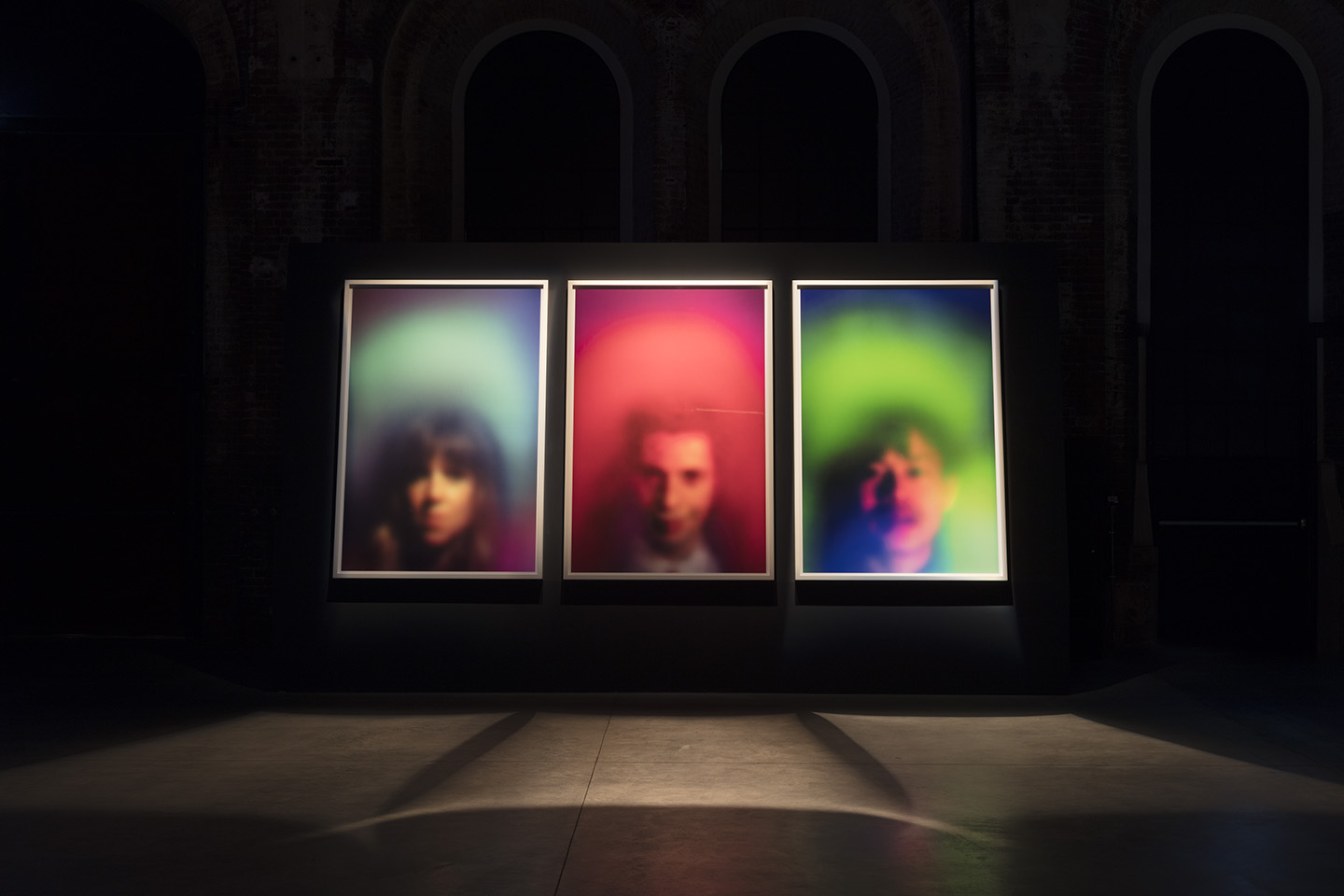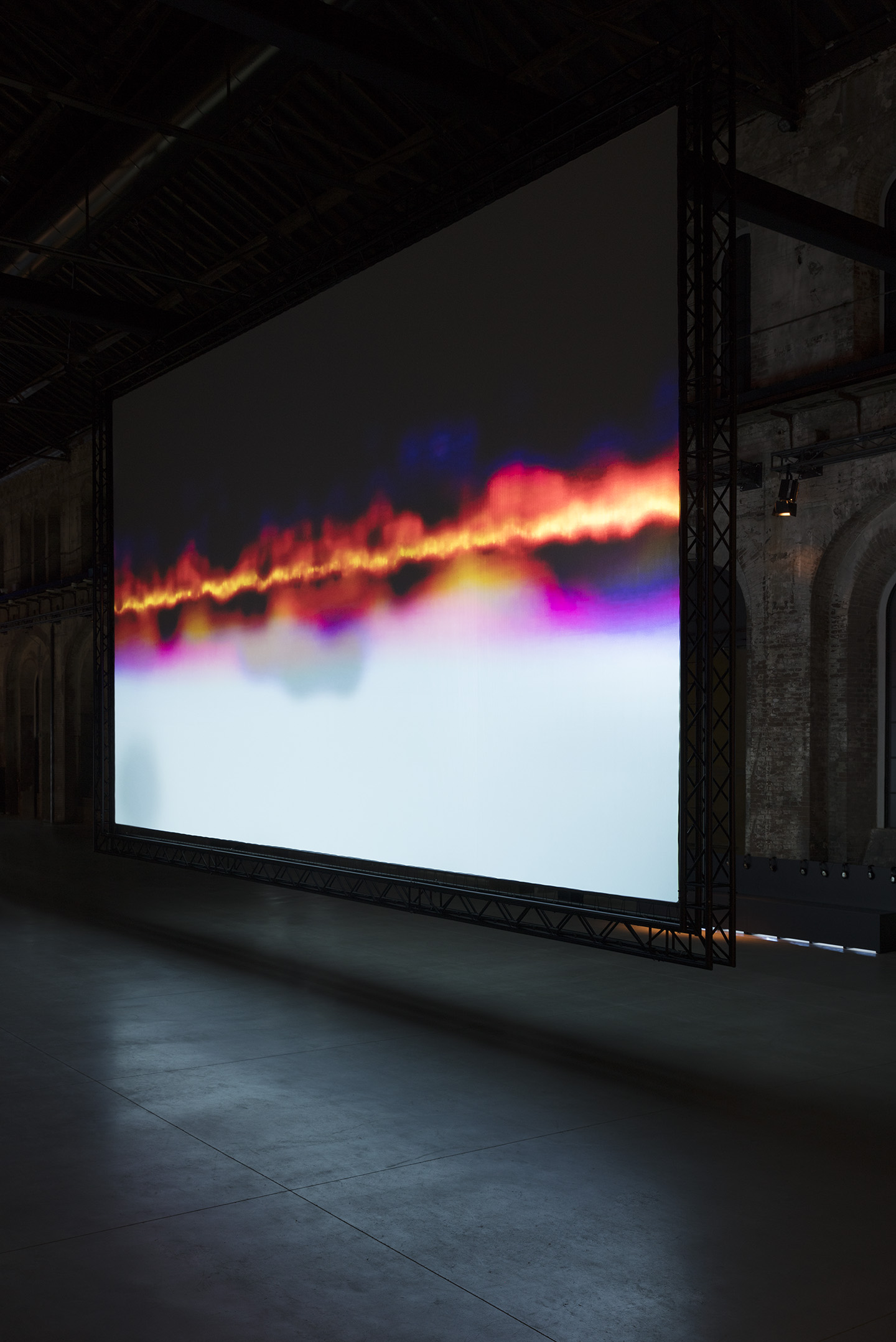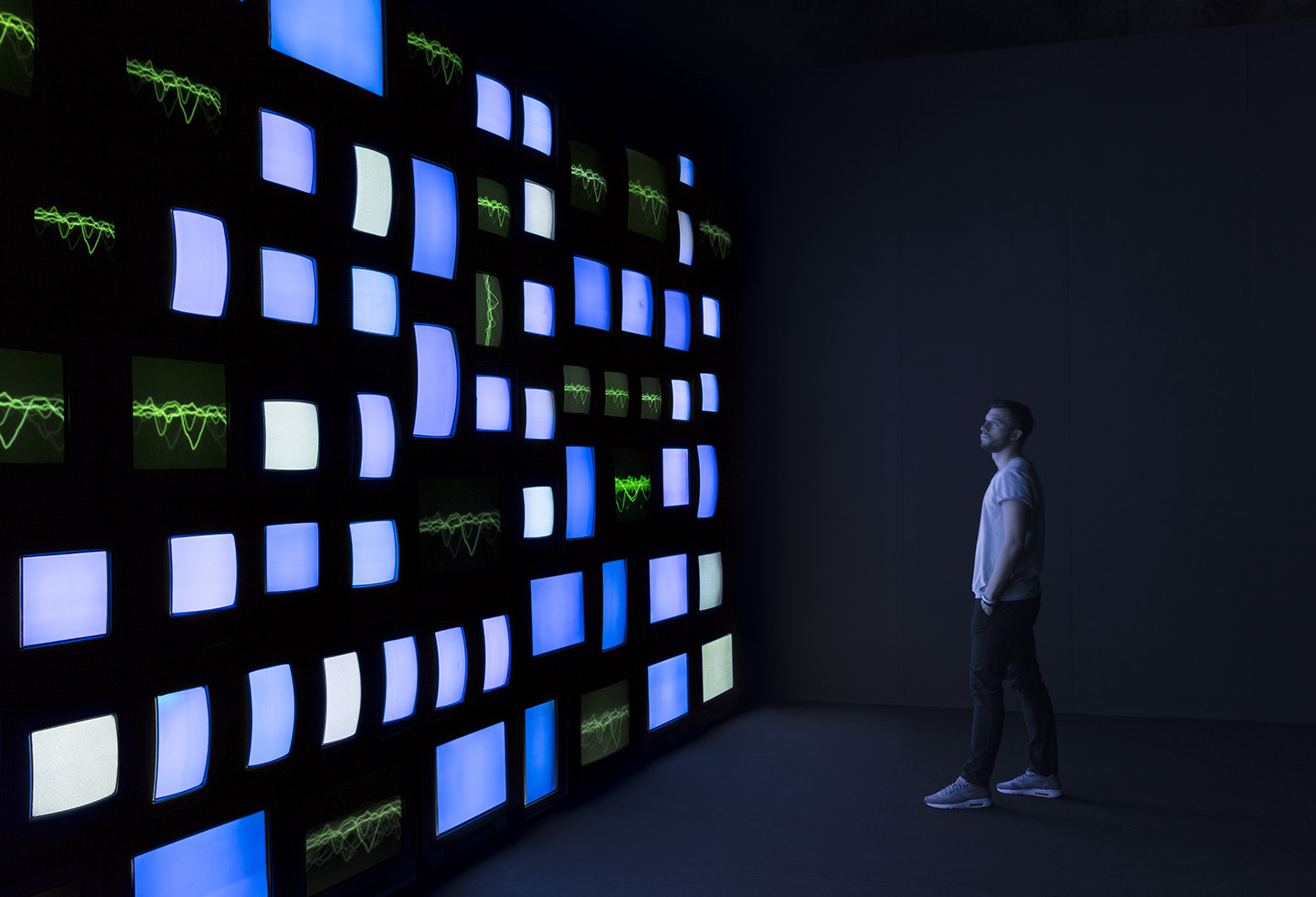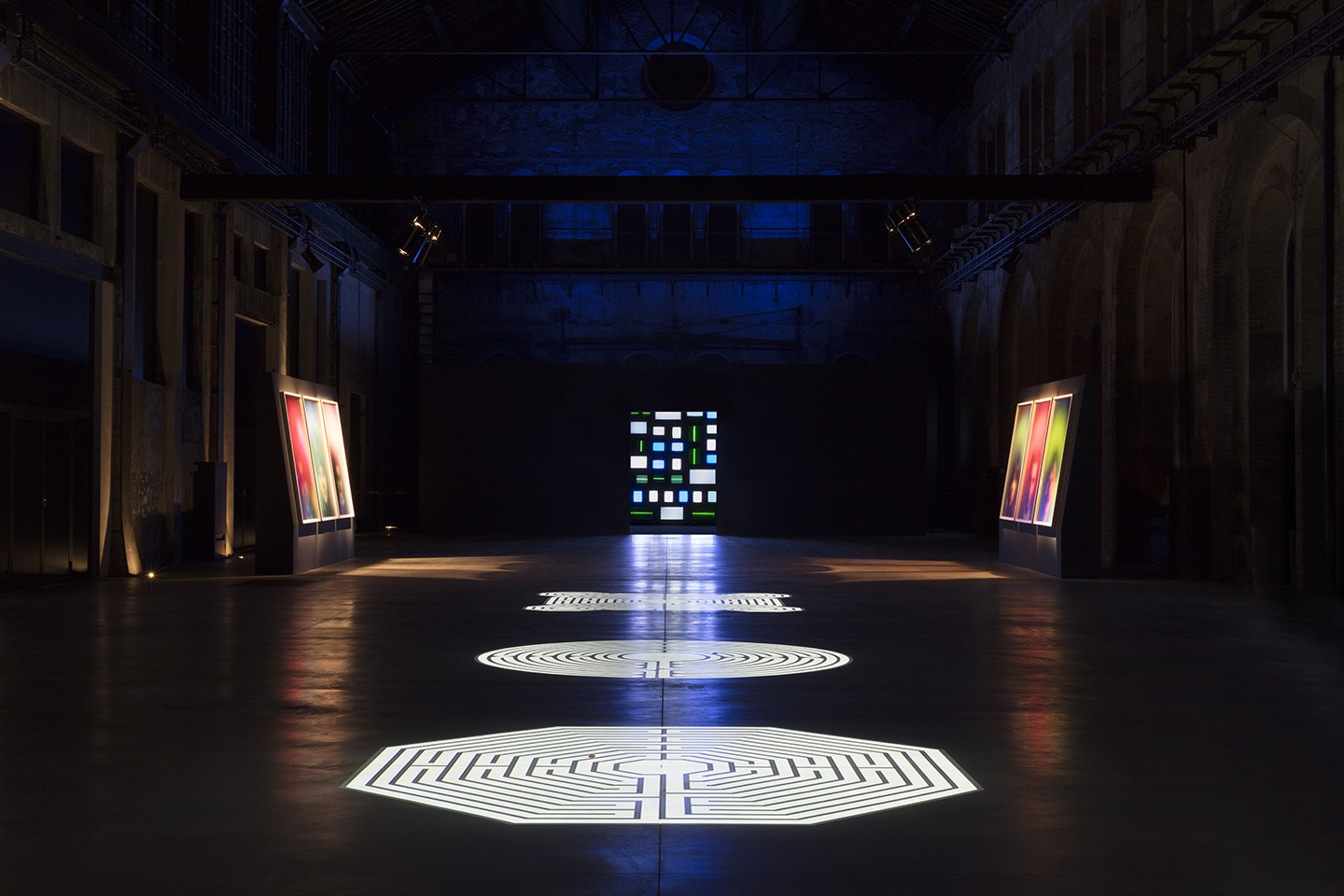 Text by Francesco Tenaglia
You sit in front of a large screen on which bands of different colors—between blue and turquoise, colors at the edge of the visible spectrum—blend and morph. Perhaps, we wonder, we cannot know the origin of these luminous, indecipherable phenomena, and they are only available to us in this reproduced form. Slipping on the headphones on the bench next to us, we listen as actors' voices recount reports of UFO sightings. In a tone confidential yet meticulous, they describe lights changing shape in the sky; apparitions that vary in color or position in a sudden, fear-inducing way; astonishment; intense, inexplicable bliss. We now find ourselves seeking moments of congruence between the luminous signals on the screen and the stories of contact with unidentified objects, putting us, momentarily, in a condition similar to that of the narrators—we try, as they do, to identify some precarious "meaning" in unreliable phenomena. We seek desperately for clues, consonances with previous experiences, motivations in areas of cultural and pseudoscientific pursuit built socially and consensually, for instance ufology, contemporary art, or an improbable intersection between the two.
Illuminazioni (2018), a new work created for this solo show curated by Barbara Casavecchia, highlights Hiller's interest in areas of knowledge normally considered childish, embarrassing, or irrational—vernacular ways of approaching and interpreting the world commonly called pseudoscience, and which find substance and reinforcement in folklore, pop culture, and, victoriously, in the all-encompassing internet. Another featured work, After Duchamp (2016-2017), is a series of digitally modified images of auras around photographed faces, those alleged luminescent halos that take on different colors but are invisible to the naked eye, and reveal something of the personalities of living beings. The aura, an idea of Indian derivation, exported to Europe through theosophy and, later, new-age doctrines, still has a following to the point that some mass-market photographic cameras claim to capture a person's unique iridescence and spiritual set-up. Psi Girls (1999) is a five-screen video installation featuring scenes from films (shot by Danny DeVito, Andrew Fleming, Brian De Palma, Andrei Tarkovsky, and Mark Lester) in which young female characters' supernatural powers reveal themselves in parallel with their sexual maturation, a topos that threads throughout Western culture and probably reached its apogee in Carrie (1976), directed by Brian De Palma and based on the novel by Stephen King. The clips extracted from the different films have been imbued with different colors, edited, and synchronized to an audio track of applause and joyful songs recorded by a gospel choir; the effect is to turn something disconcerting into a joyful experience of coming of age.
In From Here to Eternity (2008), Hiller invites us to follow the slow path of a colored light spot-projected on the floor of a maze inspired perhaps by Gothic cathedrals, Indian mandalas, or video game universes from which the player must escape. At the end of the path is the large audiovisual installation Channels (2013) made up of 106 analog televisions that light up at intervals or reproduce the gray static of off-the-air TV channels or oscilloscopes, translating into visual form voices narrating experiences of near-death—
stories and impressions of individuals who approached the end of life or who crossed over into it, only to then resume vital functions.
As with Psi Girls, the effect is not so much that of a macabre horror films as of a participatory report that frames elusive phenomena in various narrative formats that echo in our memory thanks to repeated exposure to analog examples from the entertainment industry.

Susan Hiller was born in the United States in 1940, and undertook studies that led her to specialize, in the mid-1960s, in anthropology—a discipline she would repudiate after a few years, and which continues to negatively define her practice. After becoming a British-naturalized and a feminist militant, she began questioning the presumed "neutrality" of anthropological research, given its aspiration to present itself as a scientific discourse, and the unacceptability of forcing cultures that never were subjected to hegemonic colonial influences, for instance the "rational thought" of the Western matrix, as transparent and perfectly intelligible to Westerners. Hiller puts "minor" phenomena at the center of her work, not to make fun of a supposed naïveté but to speak simultaneously about the production of "effects of truth" (and the social structures that support them), and the pure pleasure of semiosis in which we spontaneously attribute an individual sense to an ambiguous phenomenon.
The subject matter of the exhibition is not judged, dissected in a laboratory, then stored inert in an archive, but becomes an opportunity for play; the lights and colors themselves are the true substance of Social Facts. In the journey of the exhibition at the OGR, whose late nineteenth-century industrial architecture unfailingly brings to mind a place of worship, Hiller's invitation, however light and playful, is for us to maintain an independent, productively dubious position in regard to linguistic productions, which are always unscrupulous, partial truths, whether they enjoy institutional recognition or not.
at OGR, Turin
until 24 June 2018