REVIEWS
The Texture of Susanne Paesler's Paintings
Close
1
2
3
4
5
6
7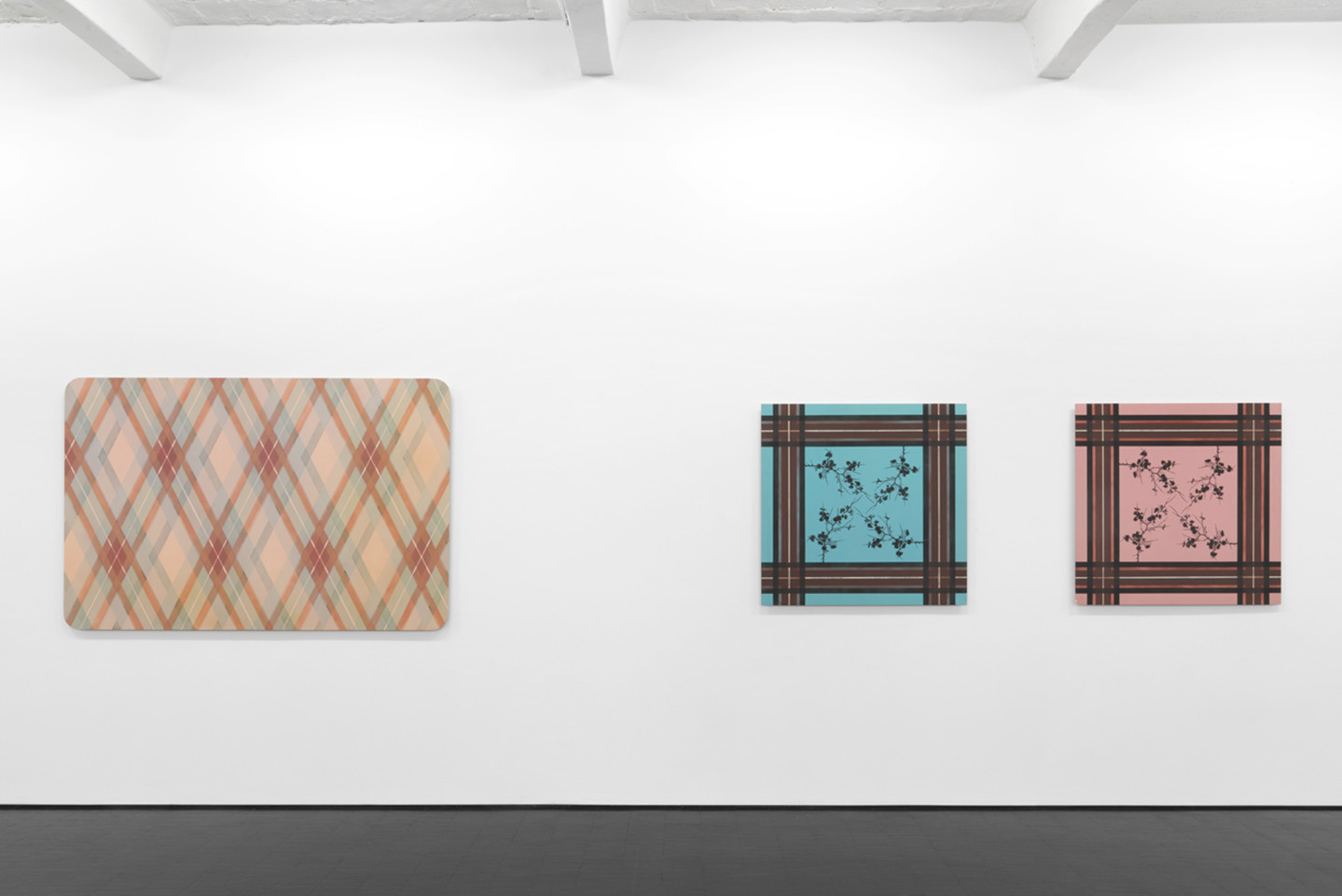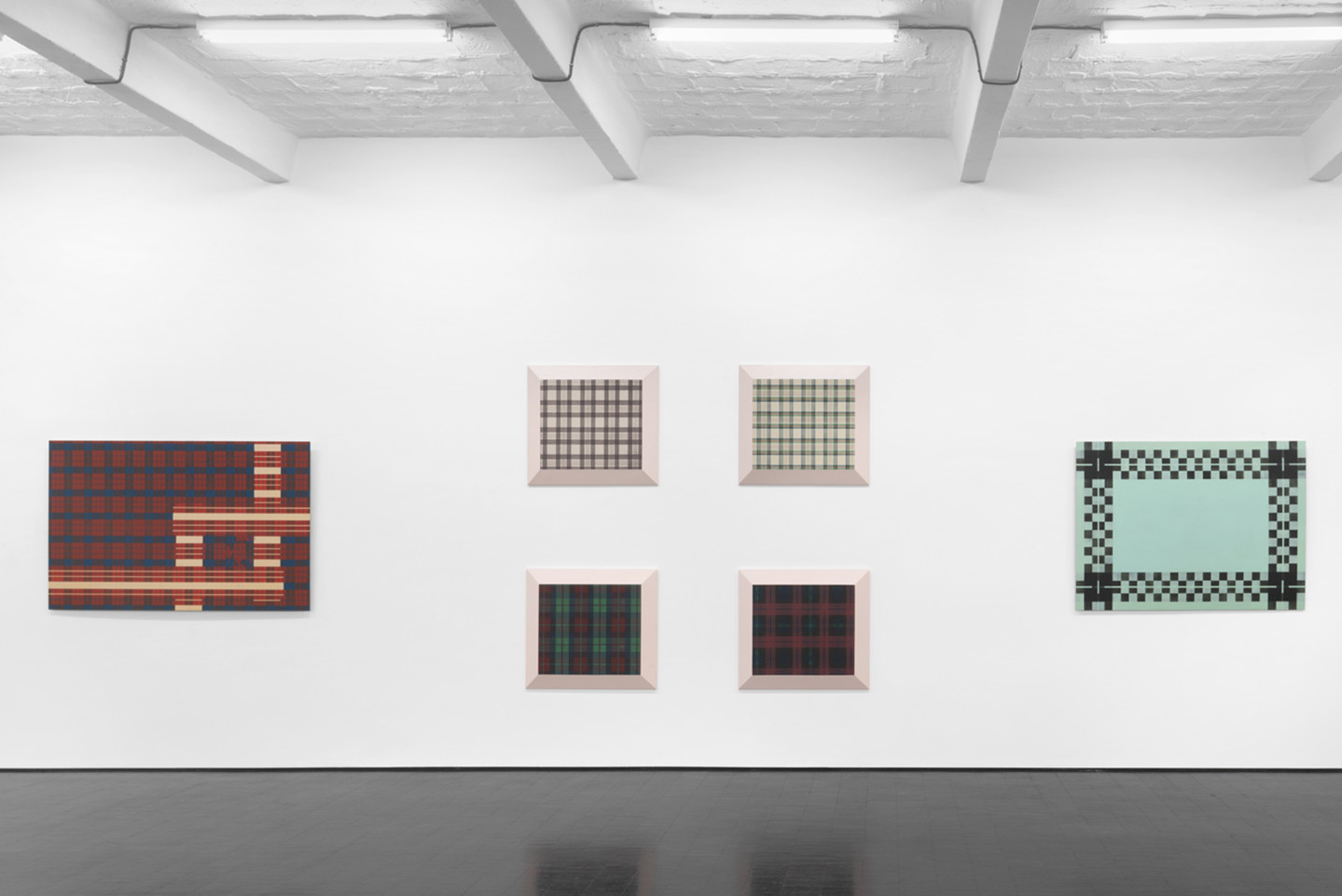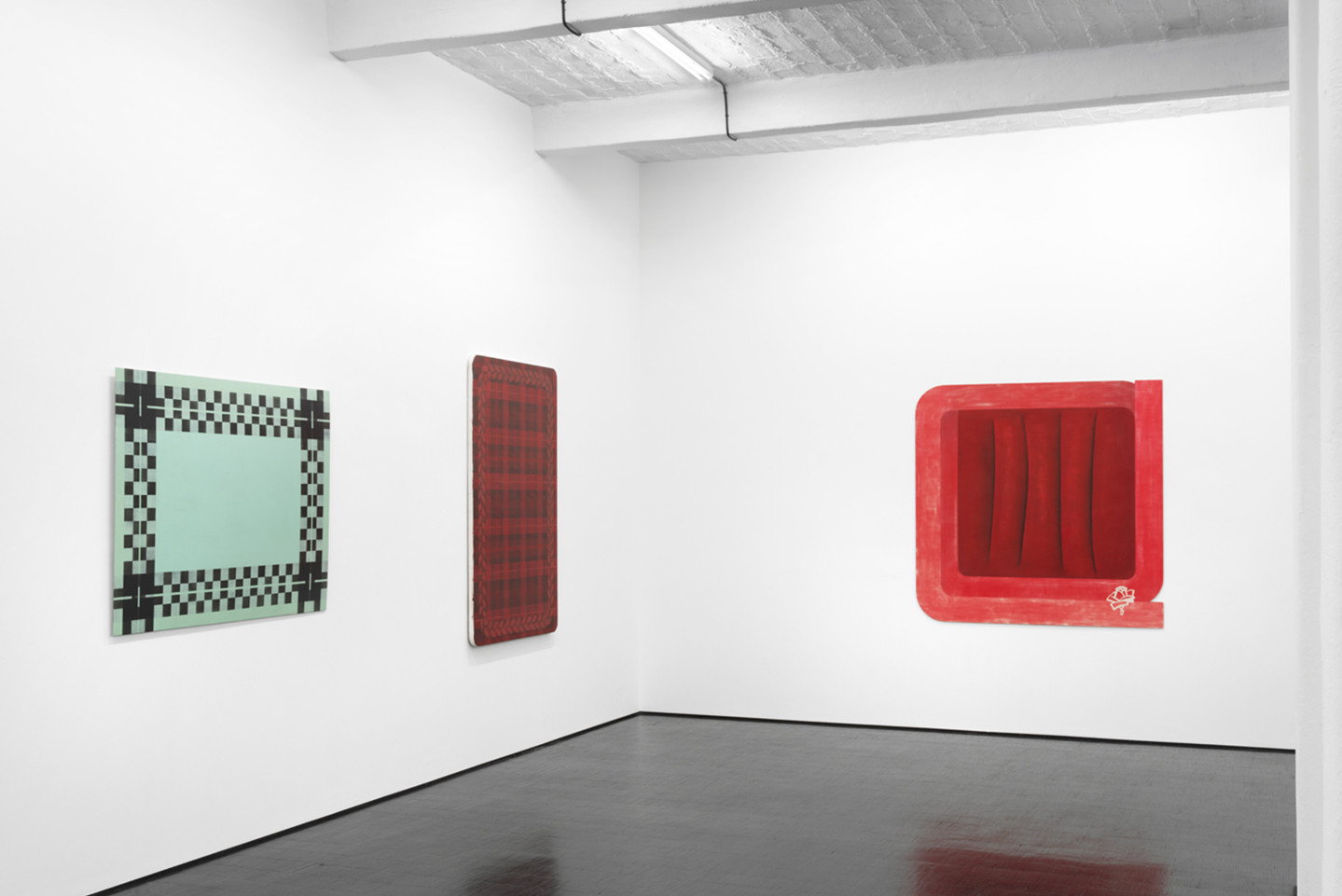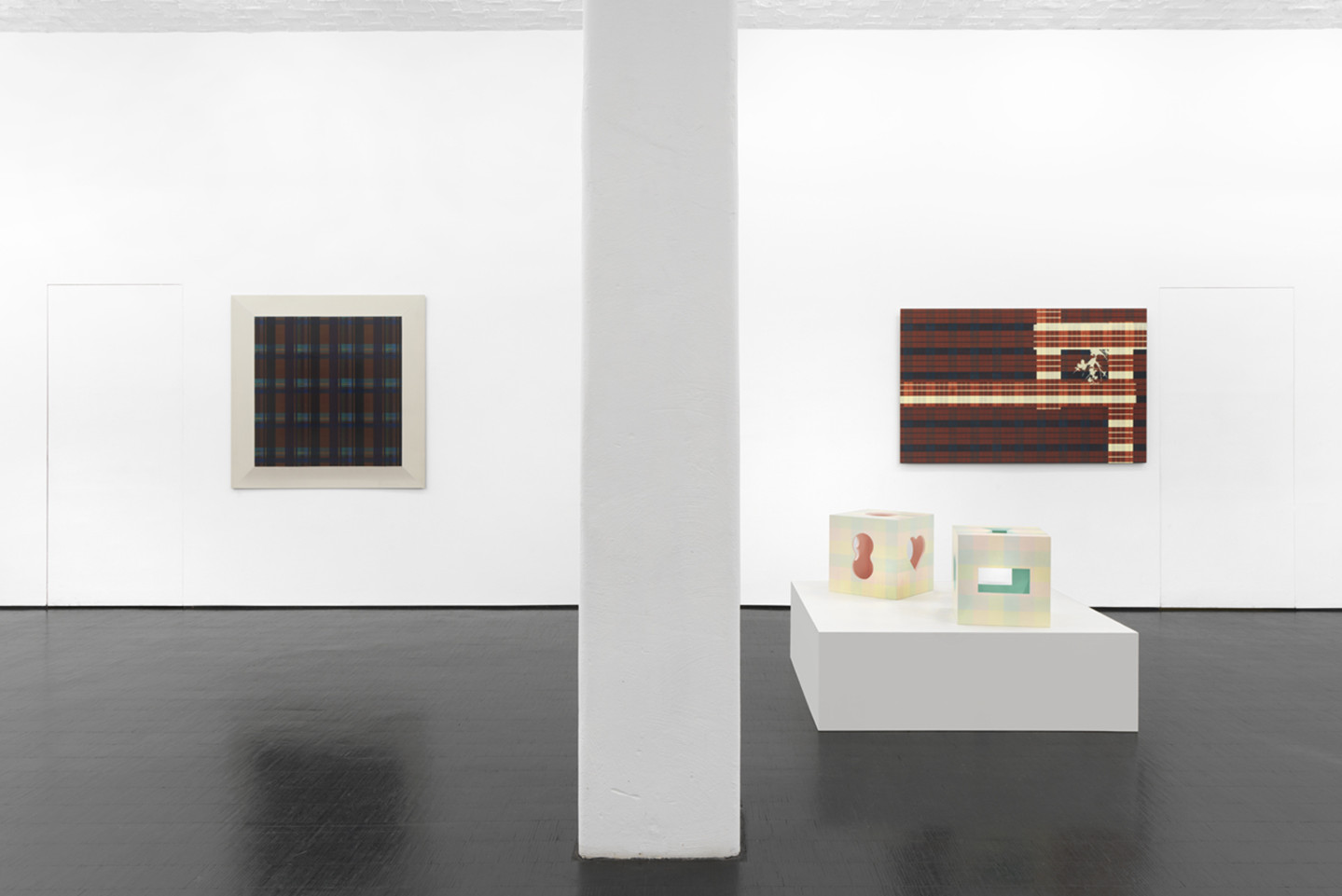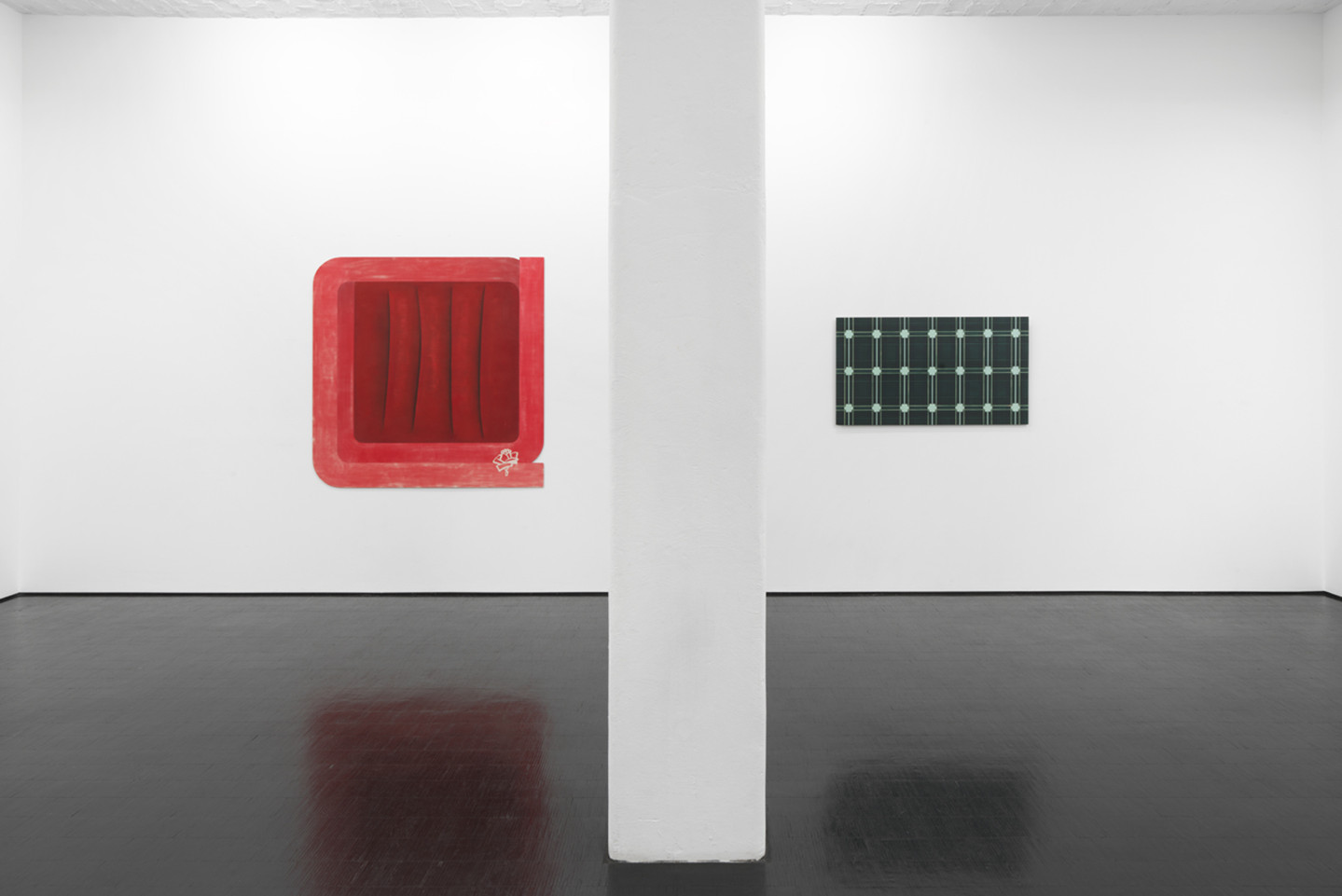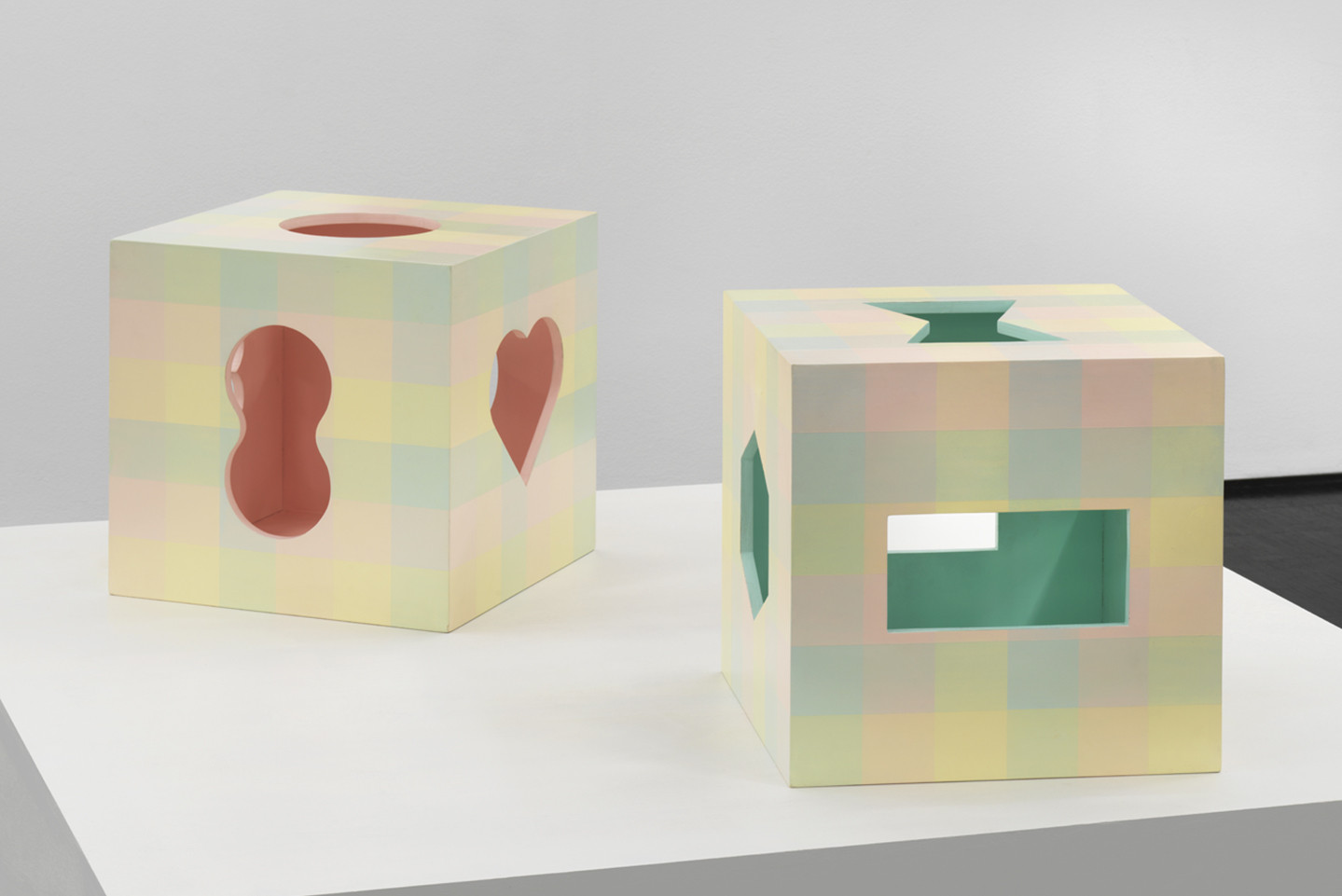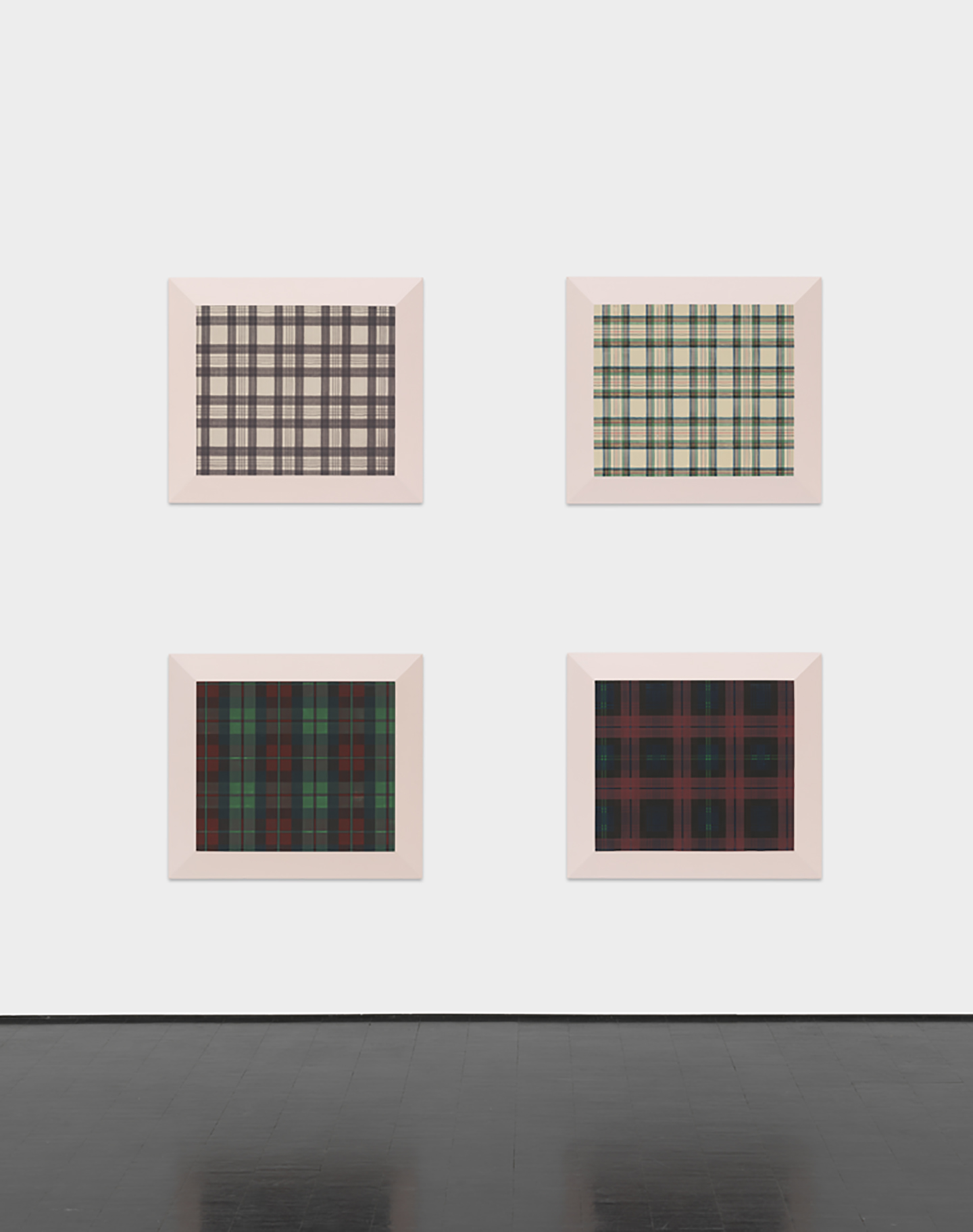 by Louisa Elderton
Salmon pink, scarlet red, duck-egg blue; roses, blossom silhouettes, plaits. These notes are all present in Susanne Paesler's paintings from the 1990s, a selection of which was recently presented at Galerie Barbara Weiss, in Berlin. If you think this sounds delicate, flowery, feminine, then you've been duped by the signification of these words, for Paesler's works, while undeniably interested in associations with womanhood, are objects that use such aesthetics as a springboard into questions of spatiality, surface, and geometry as mediated, arguably, by corporality. As Paesler once contemptuously said, "They seem to think it's some kind of girlie art."1
Paesler's patterns are not about the grid; they are of the everyday and are, therefore, culturally derived. Hers are checkered fabrics and tartan. They speak to the clothes that brush against our bodies, the subway seats upon which we sit, the tablecloths onto which we spill wine. 2 Despite the flatness of her paintings—patterns overlaid, filling the surface plane—in this sense they, too, are indicative of the physical realm, or at least the material conditions that mediate our experience of the world.
Buying fabrics as templates, the artist saw these patterns as aesthetic codes that related to style and taste, rather than to the realm of fine art, per se. Take, for example, o. T. (1993), a diptych of turquoise blue and dusky pink aluminum panels, lacquer applied as a burgundy border on each, within which four spiky blossom branches reach. The stripes are layered horizontally and vertically, pigments semitransparent, becoming increasingly opaque as they build. It could be a silk scarf printed with a Japanese pattern, or—as I discovered while sitting in a room with a frosted window the other day—the shadow of a tree, diffused light falling upon a surface. Something once removed from its original, space flattened, enlarged, heightening the aestheticism of forms in the world.
Discussing her approach to painting, the artist wanted to shed the contemplative or meditational response associated with classic Modernist abstract painting: "I'm not interested in a form of abstract painting that is bound up with metaphysical or transcendent ideas. For me becoming more radical, or—to put it more precisely—more rigorous means becoming more decorative… in my work I would like to preserve an ambivalence between disturbing and confirming what is given."3
Paesler at once roots us in the world, the decoration that we see around us or that we brush our fingertips against, and interrupts it by scrutinizing such patterns and turning them into what she has termed "painting as texture." For her, overlaying paint multiple times propelled the act of painting toward the haptic (a hand easing paint off the brush, over and over; mixing paint in Nutella jars, swirling wet pigments into existence).
There's something seemingly contradictory about Paesler's interest in texture. Many of the paintings from this period use an aluminum ground, so their finish is like satin: smooth, sensual even. Soft. When one hears the word "texture," it's easy to imagine unevenness, irregularity, or some kind of roughness, perhaps. Even though aluminum is cold, Paesler's works feel warm and inviting. They are more like a transparent pool of color into which you might be able to dive, rather than a texture that you might be tempted to touch. In other words, her surfaces appeal to the body in its entirety, to the skin that shapes us.
Is this what Paesler meant when she described "a checkered pattern, spreading without recognizable beginning or end all over the surface of the painting"?4 Like a body of water, pattern starts nowhere and is everywhere; it has a surface plane, but the depth beneath would envelop our bodies. The texture of her paintings transforms surface into something spatial, a topographic field with luminous depth.
The chains and twisted plaits of some of her paintings suggest an act of interweaving, of hands linking and entwining parts that knit together. In others, Paesler playfully misleads viewers: MDF borders actually physically frame, while others impersonate shadow, creating the trompe l'oeil illusion of a boundary. She seems to ask: Can we trust what our eyes see, or is the body the vessel on which we should rely? Perhaps this, too, is what shaped her interest in Lucio Fontana: o. T. (ca. 1998) transforms the slashes of his Concetto Spaziale series—in which he broke the membrane of two-dimensionality to emphasize the space behind the canvas and, thus, his interest in states of being—into a painted space that, conversely, seems to approach the viewer. Shadow spills from dark cuts, and a looping border becomes lighter and sketchier at the edges, a rose with a graphic register proffered as the full stop. Flat space is rehabilitated, its plasticity shaped. Paesler plays with volume as such—with inside and outside, as well as with the notions of boundary, containment, and what is beyond.
When studying at the Städelschule in Frankfurt under the professorship of Thomas Bayrle, Paesler painted cutlets and other slabs of meat, all flesh and sinew. Fabric, of course, touches our outside layers, rather than our bloody insides. It surrounds us and defines how we are perceived, even. When we are cut, when we look inside, we are all the same, red and raw, but society seeks to qualify and categorize by judging that which swaddles us—and, thus, brands us. And so the political dimension of the artist's painting becomes inescapable: a geometry of abstract lines that suggests the modes through which we are physically reduced. Paesler was taken before her time, at the age of forty-three, because of a long battle with breast cancer: in the end, we are bound by flesh,5 not excluding the fabric that covers it.
1. Katharina Döbler, "Susanne Paesler: A Portrait in Words," in Susanne Paesler: Catalogue Raisonné, ed. Hanne Loreck (Cologne: Verlag der Buchhandlung Walther König, 2014), 15.
2. I'm writing this footnote as an addendum on Monday, March 23, 2020. I've been self-isolating for 8 days because I have a persistent dry cough, which is probably, though not definitely, COVID-19. Brushing against bodies, sitting on the U-Bahn and spilling wine in restaurants now sound like the most precious things in the world. 
3. Bettina Schaschke, "Introduction to Susanne Paesler's Work (2009)," abbrev. and ed. Hanne Loreck, in Loreck, Susanne Paesler: Catalogue Raisonné, 50.
4. Susanne Paesler, "Outline of Artistic Development (2003)," in Loreck, Susanne Paesler: Catalogue Raisonné, 57.
5. Another addendum: By the way in which our cells respond to diseases and viruses—as so cruelly demonstrated by the outbreak of COVID-19 on December 31, 2019, in Wuhan, and the global pandemic that has ensued, and that keeps us from one another.