Books
Richard Hamilton and Victor Pasmore, "an Exhibit," 1957 – THE ARTIST AS CURATOR #1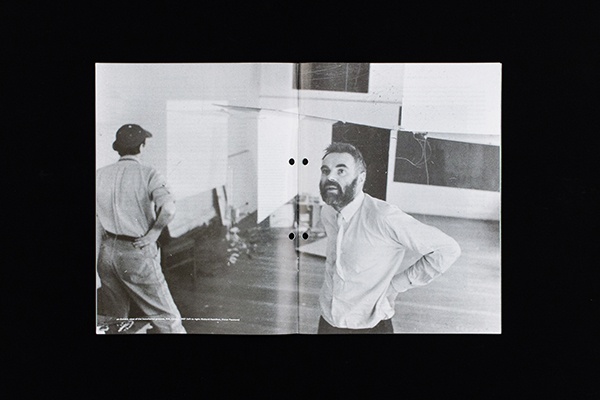 an Exhibit, view of the installation process, ICA, London, 1957 (left to right: Richard Hamilton, Victor Pasmore)
.
Richard Hamilton and Victor Pasmore, an Exhibit, 1957
by Isabelle Moffat
from THE ARTIST AS CURATOR #1 – in Mousse #42
.
The 1957 exhibition titled an Exhibit, in which Richard Hamilton played a central conceptual role, might initially seem somewhat incongruous for the British Pop artist. Most famous for combining pictures of consumer goods from ads into highly charged but coolly meticulous composites, his work foregrounds the contingency of our visual world, its constant reformulations owing to the influences of mass media, technology, and science. Even his flirtations with abstraction always left iconic traces intact: the curve of a car's tailfin, the low-cut cleavage of a woman's dress, the reflective side of a braun toaster turned monochrome, or petits Guggenheims covered in gold leaf. Hamilton's work, in short, is not known for an absence of images, and yet one of this artist's most important projects, an Exhibit, contained no images at all.
The lowercase article "an" being less a gesture of humility than a claim to generality, the title of the exhibition appeared to announce that its subject was the exhibition per se. And, indeed, "all" that visitors to an Exhibit, staged by Hamilton with fellow British artist Victor Pasmore, encountered were prefabricated acrylic panels of varying transparency and a limited color range (transparent, white, red, and black) that were hung at varying heights by piano wire from the ceiling. Cut from large sheets, the panels had a standard size of 48 x 32 inches. All panels were positioned parallel to the walls, ceiling, or floor, and at 90-degree angles from one another. Small circles and/or narrow bands made from colored paper were affixed to some of the panels—a process to which the invitation card and the accompanying text referred as having been "individuated." Preemptively undercut by the generic exchangeability of the materials and the emphases on collaborative process and spectator interaction, this was the only overt sign of an "artistic" intervention of some kind.
It is difficult to imagine what contemporary viewers actually saw, or to assess their responses. Until a few years ago, only a couple of installation shots, released in black and white, were known, making it hard to reconstruct the startling sensation of emptiness described by some contemporary visitors. But instead of clarifying the situation, now that color photos and other previously unknown shots have surfaced, our retrospective impression is further complicated by their differences. It is not only that the colors vary from one photograph to another but that the extant shots of the two completed installations—one in Newcastle, identifiable by the columns and the open, domed ceiling, and the other in London—differ decisively and therefore allow for divergent readings of the show's sensibility. On the one hand, there are images that emphasize a precise geometry of the installation, and that connote a modernist aesthetic of abstraction, and, on the other, there are shots that give an intuitive understanding of the fluidity of the materials and the experience of becoming immersed in this environment. In this context, it is also interesting to note the appearance of a more haphazardly produced aesthetic with imperfect alignments and "individuating" pieces of paper becoming unstuck in some images. The heterogeneity of the images now available can act as a kind of caveat concerning the certainty of our retrospective account, but it also draws our attention to the effort that seems to have gone into controlling the documentation of the show.
The absence of images and the abstract aesthetic of an Exhibit might initially seem closer to the work of Hamilton's collaborator, the Constructivist Pasmore. and, indeed, it was to the latter that Hamilton gave credit for the idea to deliberately avoid imagery or any apparent message. Pasmore had been making abstract three-dimensional reliefs for the better part of the decade, and since 1954 had begun to experiment with using transparent elements and manufactured components, whereas Hamilton's paintings from this period are tightly constructed from the iconography of ads and the shapes distilled from them. But as Graham Whitham, among others, has noted, Hamilton's teaching experience at Newcastle made him "suspicious of the division between abstract and figurative art," and, "rather than contradicting an IG [Independent Group] influence, [this effect of his teaching experience] reflects the open attitude toward art that was fostered within the Group."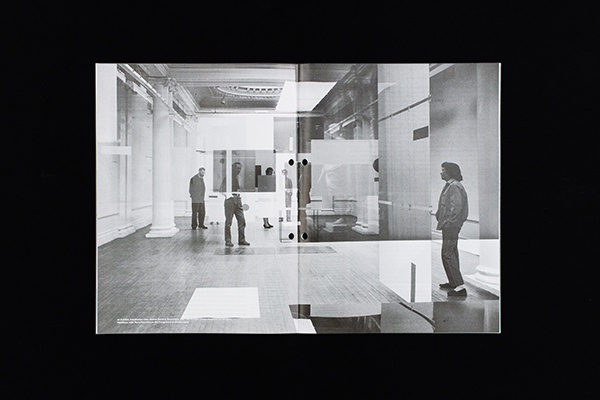 an Exhibit, installation view, Hatton Gallery, Newcastle, 1957 (left to right: Vicotr Pasmore and Richard Hamilton, with Terry Hamilton in the foreground at the far right)
.
Still, it was Hamilton who demonstrated a persistent interest in using exhibitions to communicate specific and complex ideas about the nature of vision. The displays were effectively used to present his research and to engage the spectator both intellectually and viscerally. He had previously conceived and produced two themed environmental exhibitions: Growth and Form, from 1951, based on D'arcy Wentworth Thompson's book, which showed images from the micro- and macroscopic world recently made visible by science and technology; and Man, Machine and Motion from 1955, in which he examined the history of propulsion and transportation. Whereas Growth and Form had consisted of photographs, projected film sequences, and three-dimensional elements constructed to evoke organic materials such as coral, Man, Machine and Motion was assembled from photographs and photographic copies of illustrations and drawings mounted on formica sheets, installed in open steel-frame constructions.
As Hamilton later recalled, with characteristic mockery, it was about this latter show that Pasmore had said the following: "It would have been very good if it hadn't been for all those photographs." from this exchange, Hamilton had the idea for an Exhibit. "[He] . . . approached me with the idea that we might collaborate on an art exhibition in Newcastle," Hamilton wrote, and, "remembering his comment on Man, Machine and Motion, I proposed that we might make a show which would be its own justification: no theme, no subject; not a display of things or ideas—pure abstract exhibition."
[1] Although an Exhibit is described in Hamilton's book Collected Words 1953–1982 (London: Thames and Hudson, 1982) and listed in his Tate exhibition catalogue (1992), it received relatively little attention until a few years ago, when it was also reconstructed for the first time. Pasmore listed it in a 1963 catalogue as an "environmental construction," but Alloway did not mention it in articles such as his "Illusion and Environment in Recent British Art," Art International (February, 1962): 38–40, or in his 1966 discussion of other Independent Group exhibitions in "Development of British Pop," published in Lucy Lippard, ed., Pop Art (London: Thames and Hudson, 1966).
[2] For their help making previously unknown images of the exhibition available for study and reproduction, I thank Hamilton's widow, Rita Donagh, and Nigel McKernaghan of the Estate of Richard Hamilton. John Pasmore kindly made available images of his father's work.
[3] In a recent article that included a discussion of an Exhibit, Ben Cranfield suggested that the small card sent out by the ICA comprised a better guide for assessing the show than its installation shots. As he put it: "It is the sparse exhibition invitation that reveals the importance of this experiment [with curatorial form] for an understanding of curatorial practice, rather than an image of the exhibition itself, which could easily be claimed as part of installation art, Constructivism, or expanded sculpture" (p. 96). Cranfield notes that the extant images encourage a re-reading of discrete elements, highlighting modernist continuities, whereas he wants to draw attention to the notion of the curatorial as the operative investigative practice at the ICA in the 1950s. His comments, like Alloway's text, try to encourage a correct reception. Cf. Ben Cranfield, "Between Consensus and Anxiety: Curating Transparency at the ICA of the 1950s," Journal of Curatorial Studies 1, no. 1 (2012): 83–100.
[4] This is true of the carefully managed photographic records kept of other Independent Group exhibitions as well. But Hamilton also made plans—although these were probably based on the second, later installation at the ICA, since their stated premise was to install the exhibition in an associative process: The positioning of one panel would determine the next, and so on. Hamilton, Collected Words 1953–1982, 26.
[5] Graham Whitham, "an Exhibit," in David Robbins (ed.) The Independent Group: Postwar Britain and the Aesthetics of Plenty (Cambridge: M.I.T. Press, 1990): 161.
[6] See Isabelle Moffat, "A Horror of Abstract Thought: Postwar Britain and Hamilton's 1951 Growth and Form Exhibition," October 94 (fall 2000): 89–112.
[7] Hamilton, Collected Words 1953–1982, 20, 26. Considering their extensive art historical knowledge, it might even be possible that the two artists knowingly reenacted the critique of Futurism articulated in the "Realist Manifesto" of 1920 by Naum Gabo and his brother, Antoine Pevsner. The relevant passage reads: "But ask any Futurist how does he imagine 'speed' and there will emerge a whole arsenal of frenzied automobiles, rattling railway depots, snarled wires, the clank and the noise and the clang of carouselling streets … does one really need to convince them that all that is necessary for speed and for its rhythms? Look at a ray of sun… the stillest of the still forces, it speeds more than 300 kilometers in a second…" Pasmore was well acquainted with the Constructivist "scene" of which Gabo had been an important part, whereas Hamilton admired the Futurists, whose acceptance of technology he thought more productive than what he considered Dadaism's nihilism. "Realist Manifesto," reprinted in Art into Life: Russian Constructivism 1914–1932 (New York: Rizzoli, 1990), 62.
.
THE ARTIST AS CURATOR #1 – in Mousse #42
Richard Hamilton and Victor Pasmore, an Exhibit, 1957 – Isabelle Moffat
John Cage, "Rolywholyover    A Circus" for Museum by John Cage, 1993 – Sandra Skurvida
.
.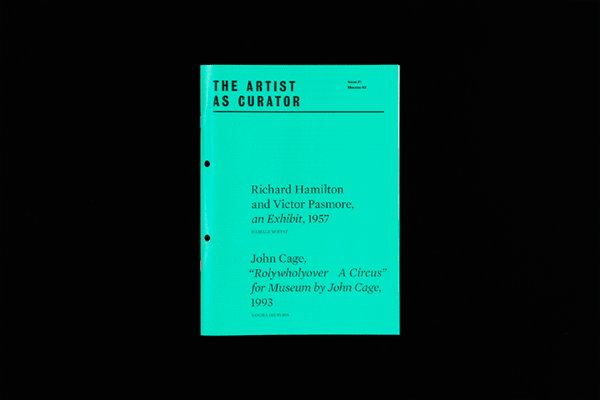 The series is conceived and edited by Elena Filipovic, published by Mousse, and generously supported by an engaged group of art institutions and foundations that have made possible the research and production of the series.
This installment is supported by Bergen Kunsthall.