Books
Marcel Broodthaers, "Musée d'Art Moderne, Département des Aigles, Section des Figures," 1972 – THE ARTIST AS CURATOR #5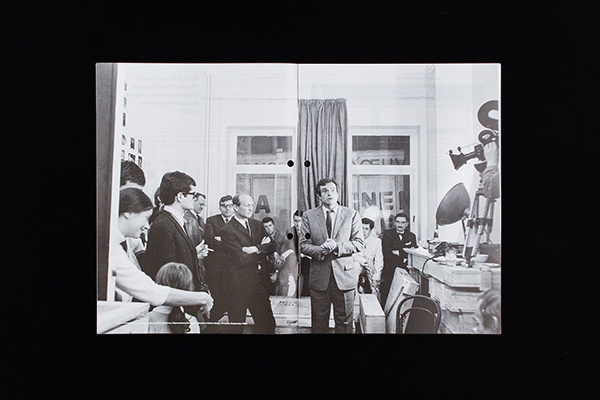 Marcel Broodthaers opening his Musée d'Art Moderne, Département des Aigles, Section XIXème Siècle, Brussels, September 1968
.
Marcel Broodthaers, Musée d'Art Moderne, Département des Aigles, Section des Figures, 1972
by Dirk Snauwaert
from THE ARTIST AS CURATOR #5 – in Mousse #46
.
This Museum is a fictitious museum. It plays the role of, on the one hand, a political parody of art shows, and on the other hand an artistic parody of political events. Which is in fact what official museums and institutions like documenta do. With the difference, however, that a work of fiction allows you to capture reality and at the same time what it conceals.
—Marcel Broodthaers [1]
What, exactly, was the "reality" of the museum: what did it conceal, and what parodies did Marcel Broodthaers explore through it in his four-year-long fictionalization of an institution between 1968 and 1972? At a moment when the role of the artist as curator had relatively few precedents, the Belgian poet-turned-artist took that possibility even further, transforming himself into the artist as curator, administrator, press agent, and museum founder, all in one. In fact, he constructed the most convincing of fictions—perfectly miming institutional approaches in the creation of no less than 12 "sections" for his ambitious museum-fiction. Broodthaers's museum, carrying the overarching title Musée d'art Moderne, Département des Aigles (Museum of Modern Art, Department of Eagles), was inspired by the 1968 student insurrections and was inaugurated in his private house-studio in Brussels as a platform for a critique of art and society. Divided into distinct sections—literary, documentary, 17th century, folkloric, cinema, financial, figure, publicity, modern art, 19th century, 19th century bis, and 20th century—staged over four years and spread across various venues, the museum simulated different registers of institutional discipline and administrative specialization in relation to artistic practice. The 19th-century section (staged in Brussels) used the artist's studio–living space as a platform for critical discussion among accidental visitors as well as a place for his art production, much as the cinema section (staged in Düsseldorf) did for his film production.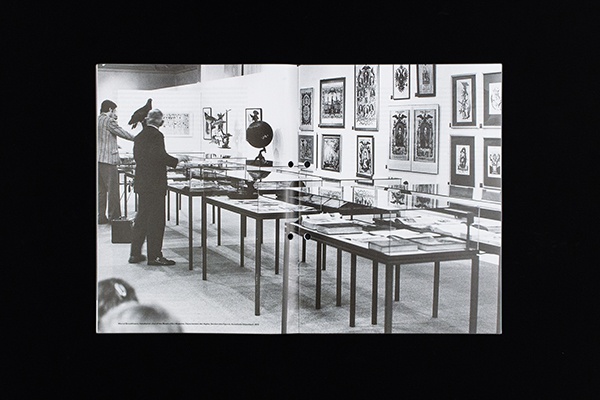 Marcel Broodthaers, installation view of the Musée d'Art Moderne, Département des Aigles, Section des Figures, Kunsthalle Düsseldorf, 1972
.
In 1972, Kunsthalle Düsseldorf director Karl Ruhrberg, together with junior curator Jürgen Harten, invited Broodthaers to do a section of the museum at the Kunsthalle, which resulted in the creation of the Section des Figures (Figure Section), the largest and most spectacular of the sections. The artist presented more than 300 artworks from all eras and geographies, originating from some 50 museums and other collections, alongside a plenitude of vernacular objects and reproductions of various natures, all bearing an image of the eagle, totaling some 500 "figures" of eagles in all. The catalogue lists only 282 entries, but Broodthaers also included three slideshows of reproductions, adding up to an overwhelming accumulation of artifacts, documents, prints, and artworks spanning centuries and civilizations, from the lofty to the trivial.
The Figure Section was subtitled Der Adler von Oligozän bis heute (The Eagle from the oligocene to the Present), an informative Kunsthalle-style title that literally announced what its contents presented. To qualify for inclusion, an object, document, or image needed only to carry the image or name of an eagle ("the emphatic exploration of a singular icon, the representation of the eagle" [2]), a romantic, idealistic, symbolic figure. The multiple connotations of Broodthaers's chosen iconic subject were certainly not lost on him or, likely, any of his (German) viewers. The eagle is a symbol of divine wisdom, authority, power, superiority, imperialism, and nation-statehood. In his transhistoric and transcultural cross-section of the history and function of this omnipresent symbol, Broodthaers drew on a widely popular form of institutional exhibition that was not so common among art museums, but frequently seen in Kunsthallen or Palaces of Fine Arts housing temporary didactic exhibitions for large audiences. Especially in German-speaking countries, the genre of the kulturhistorische Ausstellung (cultural history exhibition) presents a specific cultural phenomenon or symbolic form (the archetype or gestalt) surveyed from its earliest to its most recent emanation, evoking continuity across eras. Broodthaers's deployment of the kulturhistorische Ausstellung in an institution devoted primarily to modern and avant-garde practices must have been a shock to some habitués, but it would have sparked broad recognition among mainstream audiences. [3]  The contributions by Jürgen harten to the "encyclopedia" in the catalogue give an idea of the recognition and enthusiasm this deconstruction of an archetype encountered, in contrast to Broodthaers's other large exhibitions, such as the later Decors (1974–75), which were considered cryptic and puzzling.
[1] Marcel Broodthaers, "Musée d'Art Moderne, Département des Aigles, Section Art Moderne et Publicité" (1972), in Gloria Moure, Marcel Broodthaers: Collected Writings (Barcelona: Ediciones Poligrafa, 2012), 354.
[2] Benjamin H. D. Buchloh, "The Museum Fictions of Marcel Broodthaers," in Museums by Artists (Toronto: Art Metropole, 1983), 45–56. See also Michael Oppitz, "Eagle, Pipe, Urinal" (reprint), October 42 (autumn 1987): 155–56.
[3] The entries of the audience and the press clippings are reproduced in volume 2 of the catalogue. They show both contemporary opinions and reactions by mainstream commentators. A few years later, Jürgen Harten organized another large, diachronic and interdisciplinary exhibition on the mythical topic of money: Museum des Geldes. Über die seltsame Natur des Geldes in Kunst, Wissenschaft und Leben (Museum of Money: About the Strange Nature of Money in Art, Science, and Life, 1978). For a chronology of crucial avant-garde exhibitions as listed by the Kunsthalle Düsseldorf, including its role and programmatic line, see Prospect/Retrospect, Europa 1946–1976 (Düsseldorf: Städtische Kunsthalle, 1976).
.
THE ARTIST AS CURATOR #5 – in Mousse #46
Marcel Broodthaers, Musée d'Art Moderne, Département des Aigles, Section des Figures, 1972 – Dirk Snauwaert
Philippe Thomas, Feux pâles, 1990 – Elisabeth Lebovici
.
.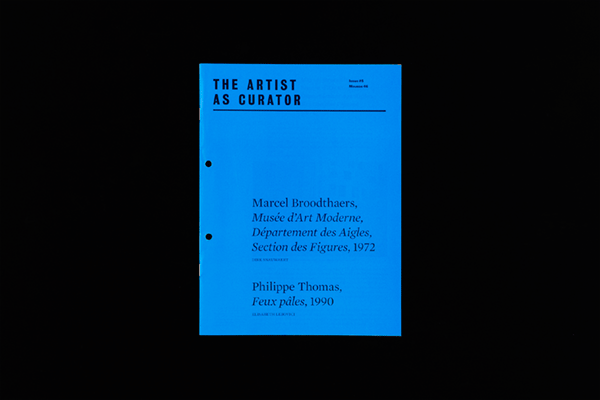 The series is conceived and edited by Elena Filipovic, published by Mousse, and generously supported by an engaged group of art institutions and foundations that have made possible the research and production of the series.
This installment is supported by CAPC/Musée d'art contemporain de Bordeaux.