Books
Andy Warhol, "Raid the Icebox I, with Andy Warhol," 1969 – THE ARTIST AS CURATOR #7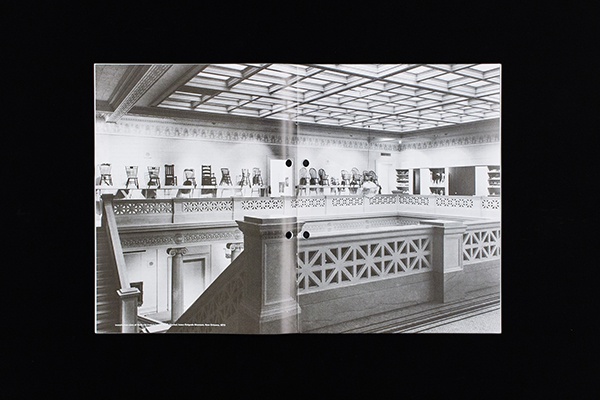 Installation view of Raid the Icebox I, with Andy Warhol, Isaac Delgado Museum, New Orleans, 1970
.
Andy Warhol, Raid the Icebox I, with Andy Warhol, 1969
by Anthony Huberman
from THE ARTIST AS CURATOR #7 – in Mousse #48
.
The artist (along with his entourage, museum staff, and, on at least one occasion, Dominique de Menil) worked his way through the storage rooms [of the Museum of Art at the Rhode Island School of Design (RISD)] and gleefully announced "I'll take that!" whenever he saw something he liked, like an excited and spoiled shopper ("Pop art," he once quipped in an interview, "is liking things." [1]) He ended up with 11 categories: drawings and watercolors, paintings, sculptures, band-boxes and hatboxes, baskets, ceramics, chairs, costume accessories (footwear), costume accessories (parasols and umbrellas), textiles, and wallpaper, ranging in dates from 1000 BC (ceramics by mound builders in Arkansas) to 1966, with the vast majority dating from the 19th century. Of the paintings and drawings, most were portraits. Of the 404 works, all but 44 were anonymous.  [2] When she was told that Warhol wanted to exhibit the entire shoe collection, the museum's costume curator said, with the tone of a schoolteacher, "Well, you don't want it all, because there's some duplication." Upon hearing this, Bourdan recounts, Warhol "raised his eyebrows and blinked." [3]
Dominique de Menil, in her catalogue foreword, summarizes the intentions of the project in incredibly flowery terms:
Like a bewitched castle in the fairytales of old, the world of art lies asleep. To break the spell unusual gifts or thorough preparation is needed. Occasional good will is not enough. Sunday visitors roam museum galleries lost and bored… If critics and scholars can open many doors, only seers and prophets open the royal gates… For what is beautiful to the artist, becomes beautiful. What is poetical to the poet, becomes poetical. So let's visit museums with poets and artists. [4]
In reality, Warhol's exhibition eschewed the beautiful and the poetic in favor of the factual and the deadpan. For the publication, he demanded that each item be catalogued as exhaustively as possible, with a complete caption, description, acquisition number, and provenance, whether it was an ancient jar or a Velázquez. There was no poetry in sight, only information, and the radical act of leveling that this implied. He was, in that sense, that seemingly impossible type of curator who sought to make as few decisions as possible and abstained from presenting any explicit judgment or opinion. He simply stood aside, got out of the way. As was always the case with Warhol, he worked like a machine, and a machine handles everything it comes across—what a subjective mind might consider good, bad, ugly, or sexy—as if it were exactly the same. [5]
Of course, Warhol did make specific selections, and much of the collection was excluded from his exhibition, but by treating a Cézanne painting with equal weight as ragged Native American quilts, he implied that no qualitative criteria could possibly apply and that any other choice would have been equally arbitrary. The only distinction he sought to make was quantitative, [6] as he wanted the catalogue to divide the works into two categories: single objects and objects in series. There were 193 pairs of shoes, 56 umbrellas or parasols, 23 jars and vases, 12 types of wallpaper, and so on. "Quality," as Vladimir Nabakov once put it, "is merely the distribution aspect of quantity," which echoes the lesson from Warhol's own work: the degree to which an object gets distributed is the only possible way to determine its quality.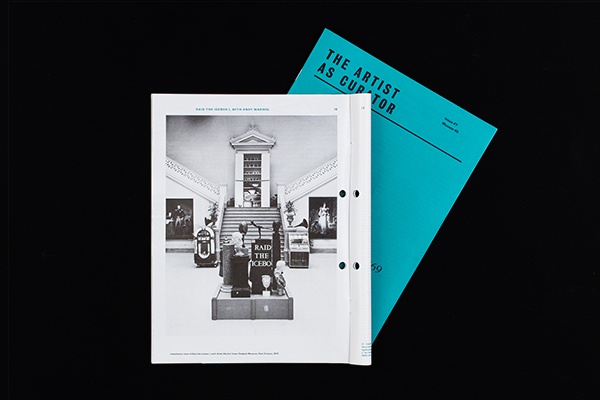 Installation view of Raid the Icebox I, with Andy Warhol, Isaac Delgado Museum, New Orleans, 1970
.
Yet as a collector himself, Warhol also recognized that there is no such thing as an "ideal" or even "good" or "bad" collection, collector, or collecting institution. Any and all collections are inherently biased and incomplete, while still considered beautiful and extraordinary by their proud owners. In that sense, all collections are full of conviction and full of ignorance at the same time. Therefore, Warhol saw no purpose in making RISD's collection out to be an "excellent" or a "problematic" one, since neither was the case. Unlike, for example, Fred Wilson's Mining the Museum (1992), a curatorial effort using the collection of the Maryland Historical Society, Warhol wasn't hoping to correct an injustice or point out institutional wrongdoing, but simply to flatten and nullify the playing field so as to render bankrupt the very notion of winners and losers.
In art historical terms, Raid the Icebox should not be filed under what would later be called "institutional critique" because it didn't criticize what a museum does and how it works, but happily celebrated it for what it is: a great place for great stuff, just like (and truly no different from) the thrift shop, the suburban garage, or the corner deli. Warhol valued each of those equally, and, therefore, behaved in one just as he would in another. The implication, however, is to neutralize anyone's (or any social body's) ability to discern and determine value. From the perspective of a museum curator, whose job is to seek out, identify, study, acquire, present, contextualize, and preserve works of art that represent the "best" of their type, period, or style, Warhol's gesture leaves him or her with no reason to exist.
[1] Andy Warhol, interview by Gene R. Swenson, "What Is Pop Art?," ARTNews 62, no. 7 (November 1963): 26.
[2] Those 44 were, in alphabetical order, Alessandro Algardi, Giuseppe Baldrighi, Frank W. Benson, Luca Cambiaso, Albert-Ernest Carrier-Belleuse, Paul Cézanne, Alonzo Chappel, William Merritt Chase, Arthur B. Davies, Herman Decker, Edgar Degas, Christopher Wilhelm Eckersberg, Lyonel Feininger, Jean-Louis Forain, Jan Gossaert, Robert Henri, John F. Kensett, Wifredo Lam, Marie Laurencin, Silvestro Lega, James S. Lincoln, Eduardo Mac Entyre, Isaac de Moucheron, Joseph Paelinck, Maxfield Parrish, Bartolomeo Passarotti, Guy Pène du Bois, Rev. Matthew William Peters, Francesco Primaticcio, Waldemar Raemisch, Guido Reni, Diego Rivera, Hubert Robert, Auguste Rodin, Henri Rousseau, John Singer Sargent, George Seurat, Charles Sheeler, Florine Stettheimer, James Jacques Joseph Tissot, Henri de Toulouse-Lautrec, Alonso Miguel Tovar, Antonio González Velázquez, and James McNeill Whistler.
[3] David Bourbon, "Andy's Dish," 20.
[4] Dominique de Menil, "Foreword," in Raid the Icebox I, with Andy Warhol, 5.
[5] The staff member in charge of the catalogue, RISD Museum Chief Curator Stephen E. Ostrow, found himself made into a machine—told to record only the facts about each work and not allowed to use his vast art historical training to produce any scholarship or insight—yet another indication that Warhol was succeeding in his attempts to be a curatorial irritant.
[6] Vladimir Nabakov, Bend Sinister (New York: Vintage, 1990), 70.
.
THE ARTIST AS CURATOR #7 – in Mousse #48
Andy Warhol, Raid the Icebox I, with Andy Warhol, 1969 – ANTHONY HUBERMAN
Goshka Macuga, Picture Room, 2003 – Lucy Steeds
.
.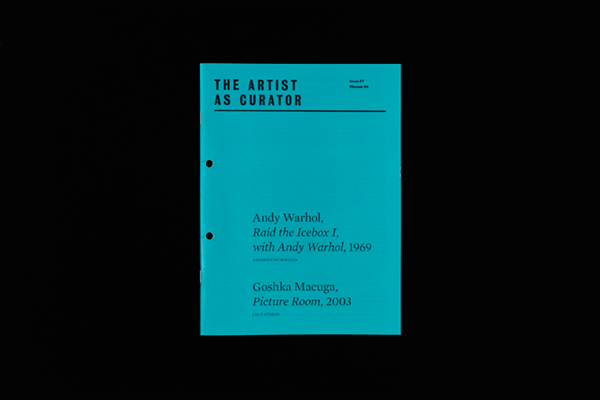 The series is conceived and edited by Elena Filipovic, published by Mousse, and generously supported by an engaged group of art institutions and foundations that have made possible the research and production of the series.
This installment is supported by Fondazione Prada, Milan/Venice.