Books
Goshka Macuga, "Picture Room," 2003 – THE ARTIST AS CURATOR #7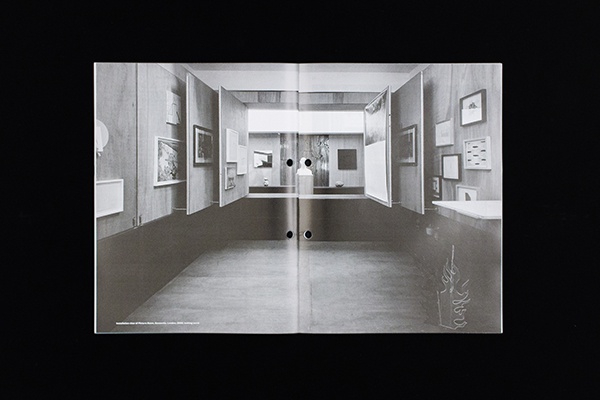 Installation view of Picture Room, Gasworks, London, 2003, looking north
.
Goshka Macuga, Picture Room, 2003
by Lucy Steeds
from THE ARTIST AS CURATOR #7 – in Mousse #48
.
By this time [2003], Macuga had already established herself as capable of nimbly complicating distinctions between artistic and curatorial practices. Following shows with her friends in her London flat in 1998,9 she developed installation-based displays of selected works by several of the same artists, perhaps most notably Cave (1999) at Sali Gia. [1] For this exhibition, Macuga and her collaborator, fellow artist Matthew Leahy, created an Aladdin-style grotto with the works of more than 30 peers set within a quasi-underground environment created from scrunched brown paper. [2] The host project space in this instance was the home of Michael Klega, another fellow artist.
As this starts to indicate, Macuga was part of an art scene in the 1990s that was brimming with exhibition-making artists and opportunities. When she was at art school in London during the first half of the decade, the BANK collective started producing its roving and irreverent shows, and City Racing, the artist-run space that squatted a former betting shop close to Gasworks, was already established [3]—to name just two of the more high-profile initiatives.  [4] By the end of the decade this scene was still diversifying, albeit on a more fleeting basis and increasingly in individuals' homes, as in the examples mentioned above and also in other projects, such as Info Centre, which took a more overtly politicized position. [5]
At the turn of the new century, a ripple of articles in London's contemporary art press attempted to address the significance of local artists exploring strategies identified as curatorial. Here Macuga featured consistently, although the authorial position she developed—by producing group shows in her own name, as solo exhibitions—set her practice out against more horizontally collectivized or quasi-institutionalized initiatives [6]. Whereas in the beginning, in the late 1990s, she was co-curating exhibitions that included her own works among those of her friends, in 2000 she asserted, in a more artistically committed and expansive position statement: "I provide a total, unifying environment for the exhibition of other people's work, in which their work becomes my work and my work theirs." [7] The reciprocity of the exchange claimed here might need to be questioned, but a power dynamic was not much in play at the time, since Macuga was yet to become securely established as an artist—or was only in the throes of beginning this process—while some of the friends whose work she was exhibiting were further along, and others just starting out.
Beyond John Soane, a peculiarly English point of historical reference, Macuga's emerging artistic practice was also informed by moments of artistic exhibition making in continental Europe a century later. Cave was formally related to Marcel Duchamp's contribution to the 1938 Exposition Internationale du Surréalisme in Paris, or rather to his environmental transformation of this show—using packing paper in place of coal sacks, and a table lamp by Enrico David instead of a brazier. Her Kabinett der Abstrakten (2003) made manifest an interest in El Lissitzky's designs for the permanent display of abstract art in the Provinzialmuseum Hanover (1927–28). Yet as influential on her work at the time of Picture Room were the Ming- and Qing-dynasty curio boxes she had come across in Taipei in 2002. These were individually crafted containers with multiple compartments and drawers for the portable storage and display of miniature art objects. Significantly, before her schooling in art, Macuga had trained in exhibition design as a teenager in Warsaw, and this combined educational background helped to sustain her in London financially; while developing her art career, she worked as a shop-window dresser.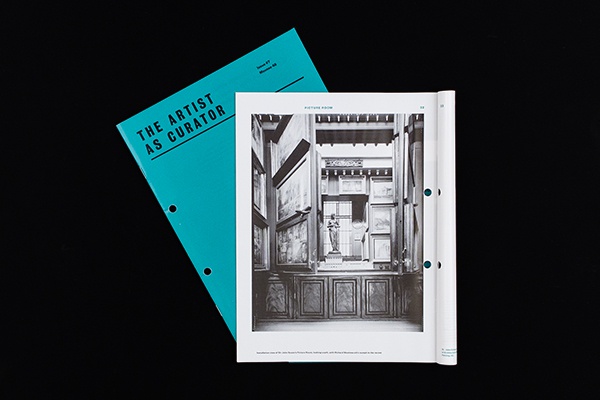 Installation view of Sir John Soane's Picture Room, looking south, with Richard Westmacott's nymph in the recess
.
Macuga's major projects, following 2003, would take her away from making art through displaying works by her network of artist friends [8]. While arguably the culmination of her endeavors in that arena, Picture Room also pointed to a new direction for her practice, toward exhibitions stemming from dedicated historical research and evocation. As fleeting as are most exhibitions, her elaborately composed installations demand a specific historiography in order to do them justice: an exploration of their effectiveness as assemblages of other works of art, given a specific environment created in a specific place and time. Perhaps uniquely, a consideration of Picture Room encourages a nosing in and a stepping back—or rather, a succession of such actions of engagement.
[1] Related London shows by Macuga were The Mountain and the Valley (co-curated with Dexter Dalwood and Matthew Leahy for Cubitt Gallery, 1999), Iceberg (Nylon Gallery, 2001), Waterfall (Hales Gallery, 2001), and Cabin (Cell Project Space, 2003).
[2] Five of the participating artists would be in Picture Room: Louise Harris, Heidi Kilpeläinen, Saskia Olde Wolbers, Michael Raedecker, and Richard Woods.
[3] On City Racing, see the book produced by the five founders, four years after its closure: John Burgess, Keith Coventry, Matt Hale, Paul Noble, and Peter Owen, City Racing: The Life and Times of an Artist-Run Gallery (London: Black Dog Publishing, 2002). BANK has yet to self-historicize in this way.
[4] For a curatorial mapping of the mid-1990s artist-run scene across the UK, and a solid text by Rebecca Gordon-Nesbitt summarizing the situation, see Laurence Bossé and Hans Ulrich Obrist, Life/Live: la scène artistique au Royaume-Uni en 1996 de nouvelles aventures, exh. cat. (Paris: Musée d'Art moderne de la Ville de Paris, 1996).
[5] Info Centre, run by Henriette Heise and Jakob Jakobsen, operated from 1998 to 1999.
[6] For a contemporaneous questioning of this authorial position and its implications, see Paul O'Neill, "I Am a Curator," Art Monthly 275 (April 2004): 7–10.
[7] See Gavin Wade, "Artist + Curator =," AN Magazine (April 2000): 12; and as quoted and amplified in Charlotte Edwards, "Artist-Curators: Make, Do," Art Review 52 (December 2001– January 2002): 38.
[8] On the continuation of a certain curatorial flavor in her practice, or complicating this, see the artist in conversation with Monika Szewczyk: "Knowing This…," Afterall 20 (spring 2009): 76–77.
.
THE ARTIST AS CURATOR #7 – in Mousse #48
Andy Warhol, Raid the Icebox I, with Andy Warhol, 1969 – ANTHONY HUBERMAN
Goshka Macuga, Picture Room, 2003 – Lucy Steeds
.
.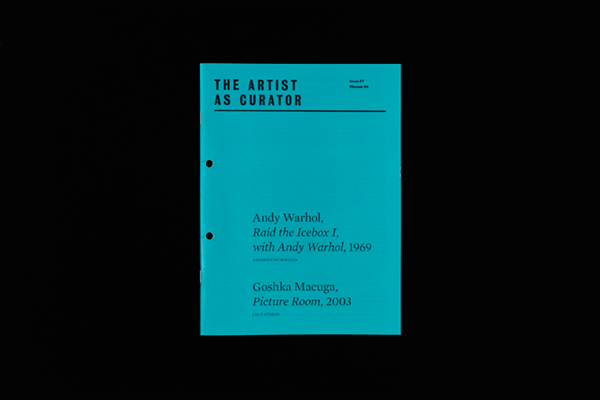 The series is conceived and edited by Elena Filipovic, published by Mousse, and generously supported by an engaged group of art institutions and foundations that have made possible the research and production of the series.
This installment is supported by Fondazione Prada, Milan/Venice.