EXHIBITIONS
Tacita Dean "….my English breath in foreign clouds" at Marian Goodman Gallery, New York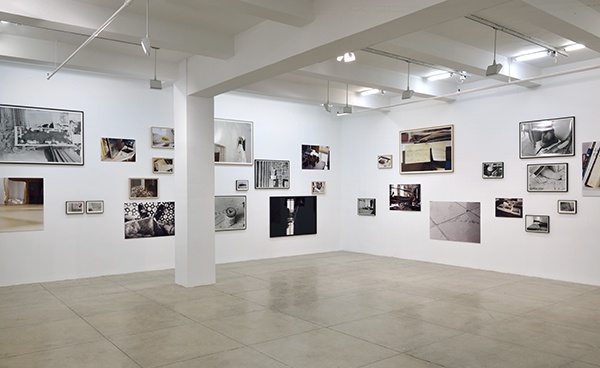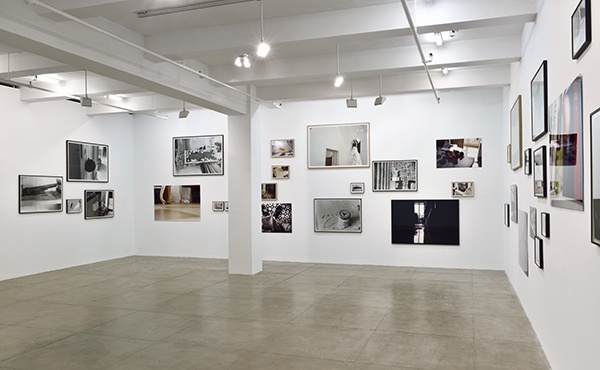 Marian Goodman Gallery is pleased to present an exhibition of new works by Tacita Dean, "….my English breath in foreign clouds", which will feature new drawing works, a series of photo works, a new film, Portraits (2016) and two recent films, Buon Fresco (2014) and Event for a Stage (2015).

A British artist who works and resides in Berlin, Tacita Dean has for the last eighteen months been living in Los Angeles. Drawing on the daily experience of this changed milieu—indicated by the title of the current exhibition—Dean was inspired by what she hadn't expected, which caused her to jettison preconceived ideas of work she might do in California.
"What surprised me most about Los Angeles was the one thing I had imagined there would be little of and that was clouds. These clouds differed from their European counterparts because they were nearly never gray but extremely variable and white; they appeared unconnected to rain, as in Europe, but instead to the imperceptible activity of winds high above the earth's surface. Driving down Sunset Boulevard early on in my stay, I was confronted by a voluminous atomic cloud blooming at the end of the road in front of me, back-dropped by a deep blue sky. This inspired me to take up chalk on a blackboard once again. I have since become a cloud watcher."
A Concordance of Fifty American Clouds is a collection of cloud works reprising several of her mediums while embracing two new ones – spray chalk, white charcoal pencil and gouache on salvaged Victorian era school slates, and lithographs with Gemini G.E.L. Using A Complete Concordance to Shakespeare that she first came across when clearing out her father's study, she looked up the word 'cloud' and was delighted to find how variously and how richly the word appeared in his plays. The Concordance became her guide to the titles of the slate drawings. "…my English breath in foreign clouds" is taken from Richard II.
… my English breath in foreign clouds also has particular resonance in the subject of Dean's new 16mm film Portraits, 2016 (16 minutes). The artist David Hockney has smoked for years. He smokes when he looks, considers or thinks but never when he is painting. He is a happy smoker but observes that these days in California, it has become nearly impossible to light up: "It used to be you couldn't be gay. Now you can be gay but you can't smoke. There's always something," he told the Guardian in 2014. Dean asked if she could film him having a cigarette and he replied that he'd be delighted to sit for her smoking. The resulting film is not one but five cigarettes and is compounded in its multiple portrait-ness by the series of portrait paintings that Hockney has been working on since returning to live in Los Angeles in 2013.
Alongside Portraits is Dean's 33 minute film Buon Fresco, 2014. Filmed in the Upper Basilica of St Francis of Assisi, Dean observes Giotto's frescos of The Life of St Francis at extremely close quarter using a macro lens and a scissor lift, giving the viewer the privilege of detail and the normally impossible perspective of the painter himself. Giotto was the artist who embodied the transition from Byzantine painting to a more naturalistic style, at the same historical moment that St Francis humanized sainthood. Observing the brushstrokes and the ingenuity of the technique allows the viewer to see just how radical and expressive a painter Giotto Di Bondone was. Alongside the film, Dean is launching her new artist book Buon Fresco published by MACK Books, London.
In the South Gallery, Dean is showing GAETA, 2015—Fifty photographs, plus one. Photographs were taken in 2008 in Cy Twombly's house and studio in the Italian town of Gaeta where he made his home. They were published as a photo essay, Gaeta, in the catalogue of Twombly's exhibition at MUMOK in Vienna in 2009, where Dean invited him to collaborate with her in making the original selection. Last year, on being offered the last available Cibachrome photographic paper (color photographs made photochemically from transparency), Dean decided to use the paper to realize the essay as a photographic series while also extending it to include various photochemical processes and papers also under threat.
On the third floor, Dean is showing Event for a Stage, 2015. Originally commissioned as a live performance on four consecutive nights at Carriageworks as part of the 2014 Sydney Biennial, it became Dean's first foray into theatre and her first experience of working with an actor. What resulted was a fierce interplay between the artist and the actor Stephen Dillane as they struggled to understand and accommodate each other's disciplines. Dean filmed each of the four nights as part of the performance with the intention of making the film. Event for a Stage lasts 50 minutes and will be shown every 90 minutes with the following showing times: 11 am, 12:30 pm, 2 pm, 3:30 pm, 5 pm. Due to the film's complex and emotional trajectory, it is recommended to watch it from the start.
.
at Marian Goodman Gallery, New York
until 23 April 2016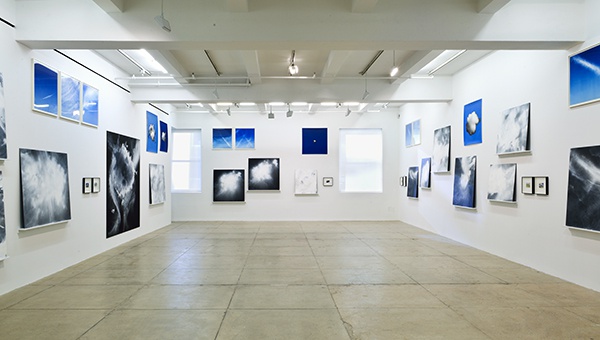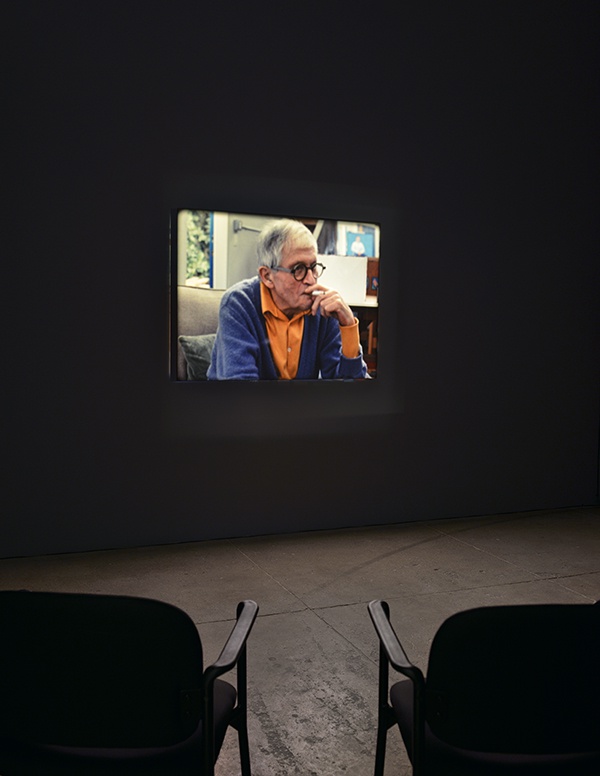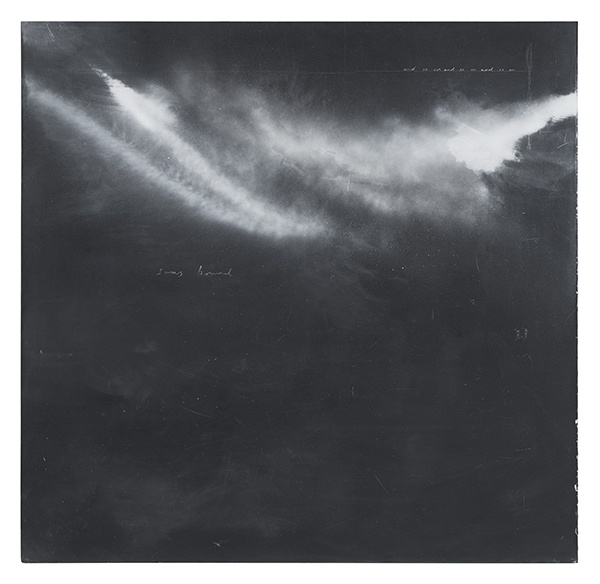 Sans Bound, 2015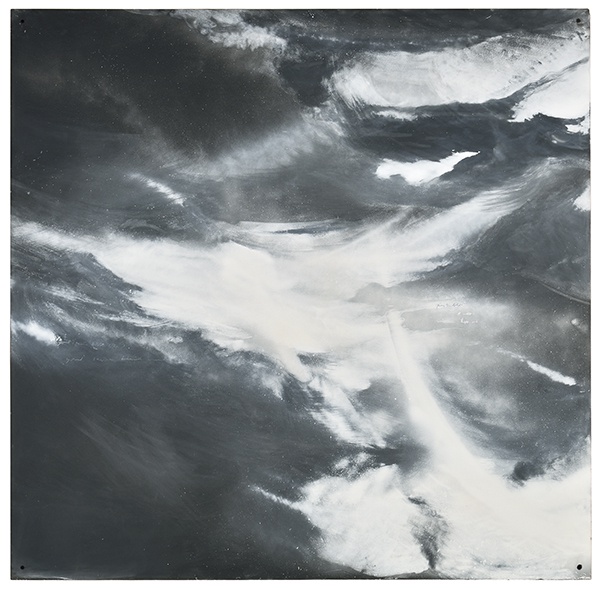 Yond' same black cloud, 2015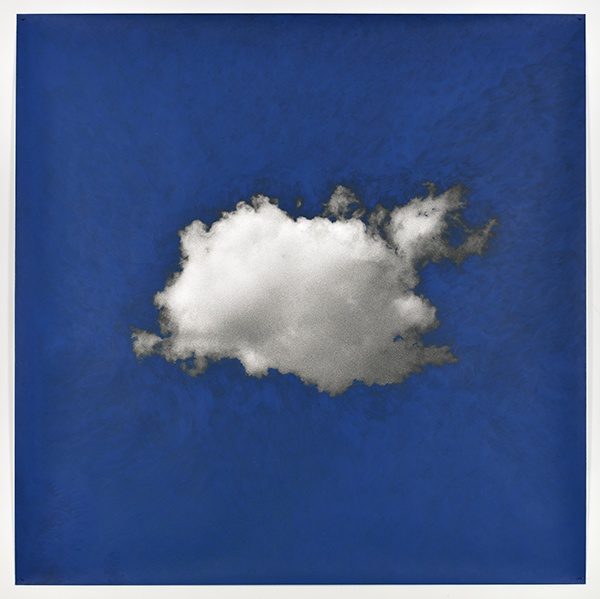 Veteran Too, 2016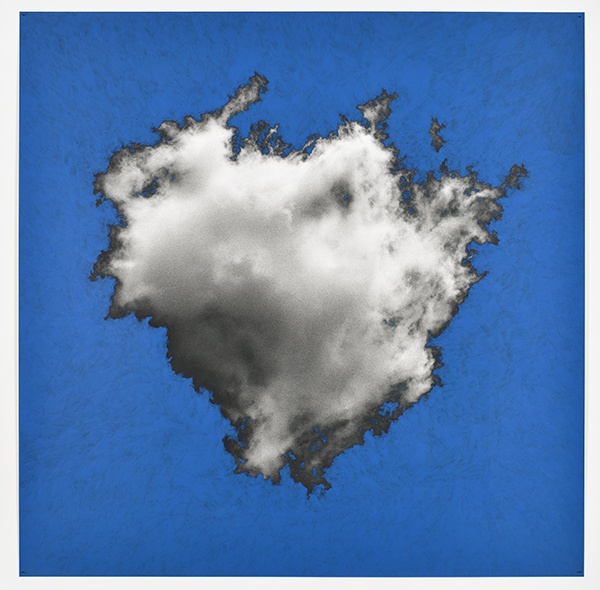 Veteran Cloud, 2016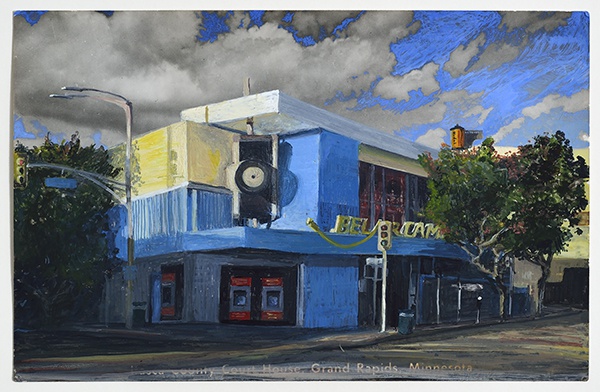 Bel Air Camera, 2016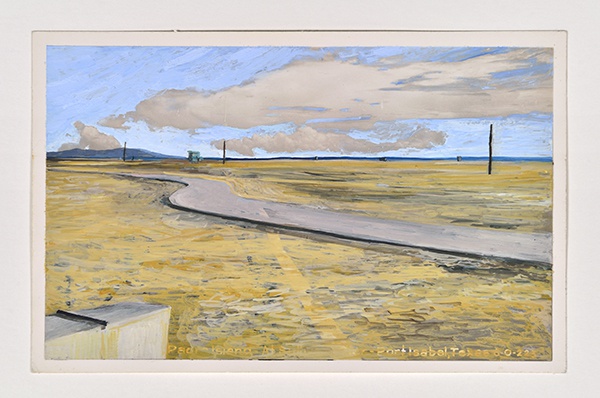 Ocean Front Walk, 2016
.
Tacita Dean "….my English breath in foreign clouds" installation views at Marian Goodman Gallery, New York, 2016
Courtesy: the artist and Marian Goodman Gallery, New York.