REVIEWS
Tal R "Sexshops" at Victoria Miro, London
Close
1
2
3
4
5
6
7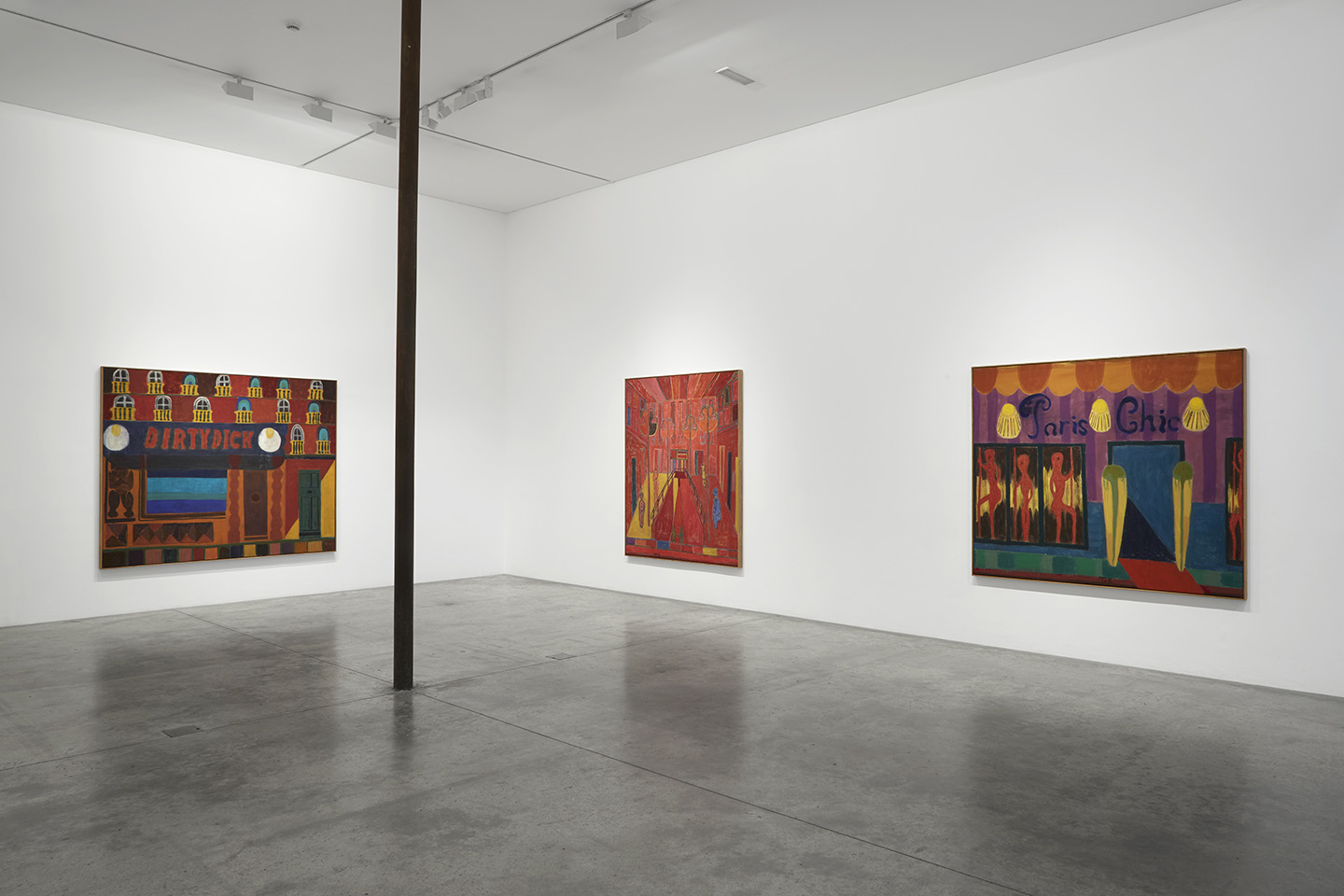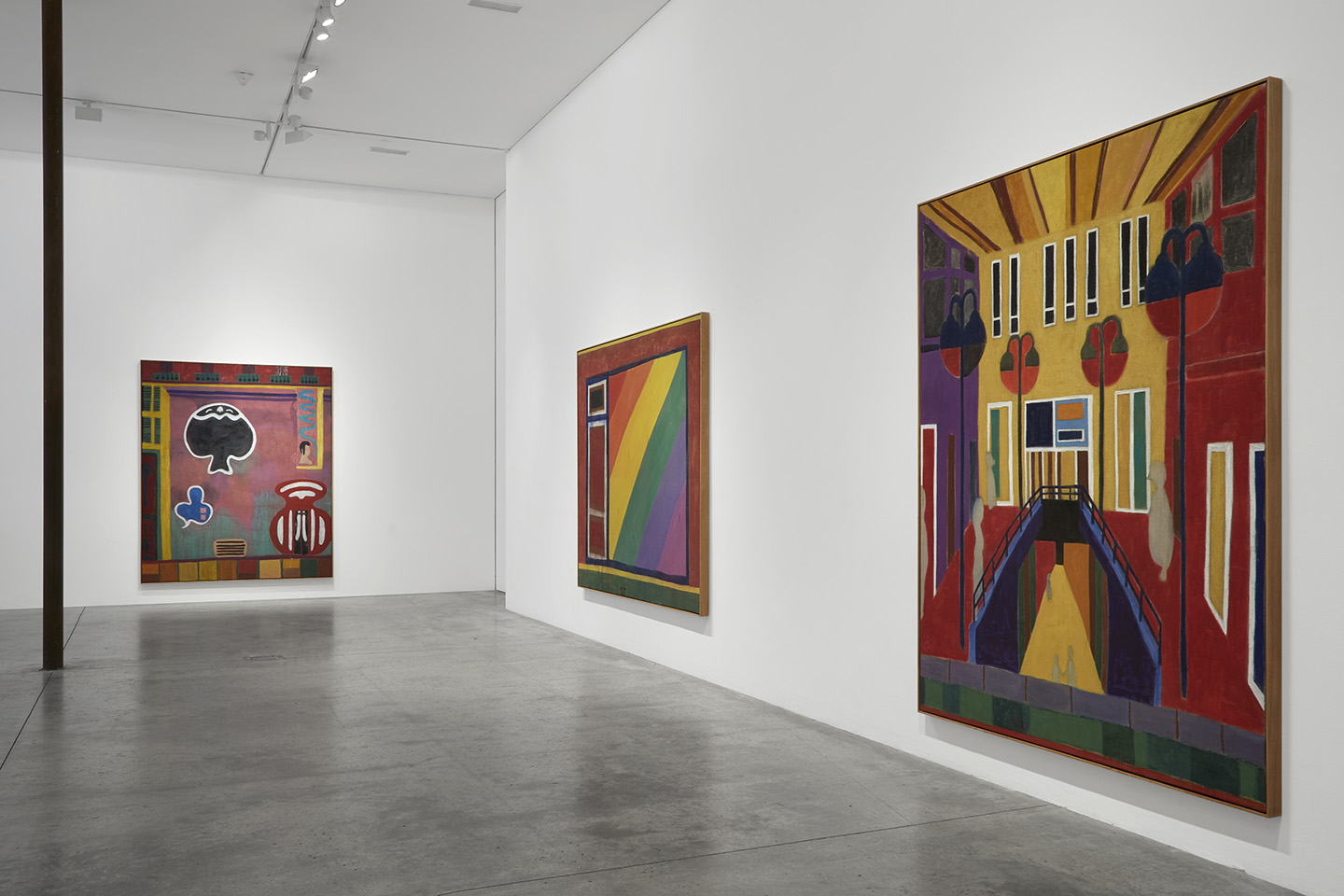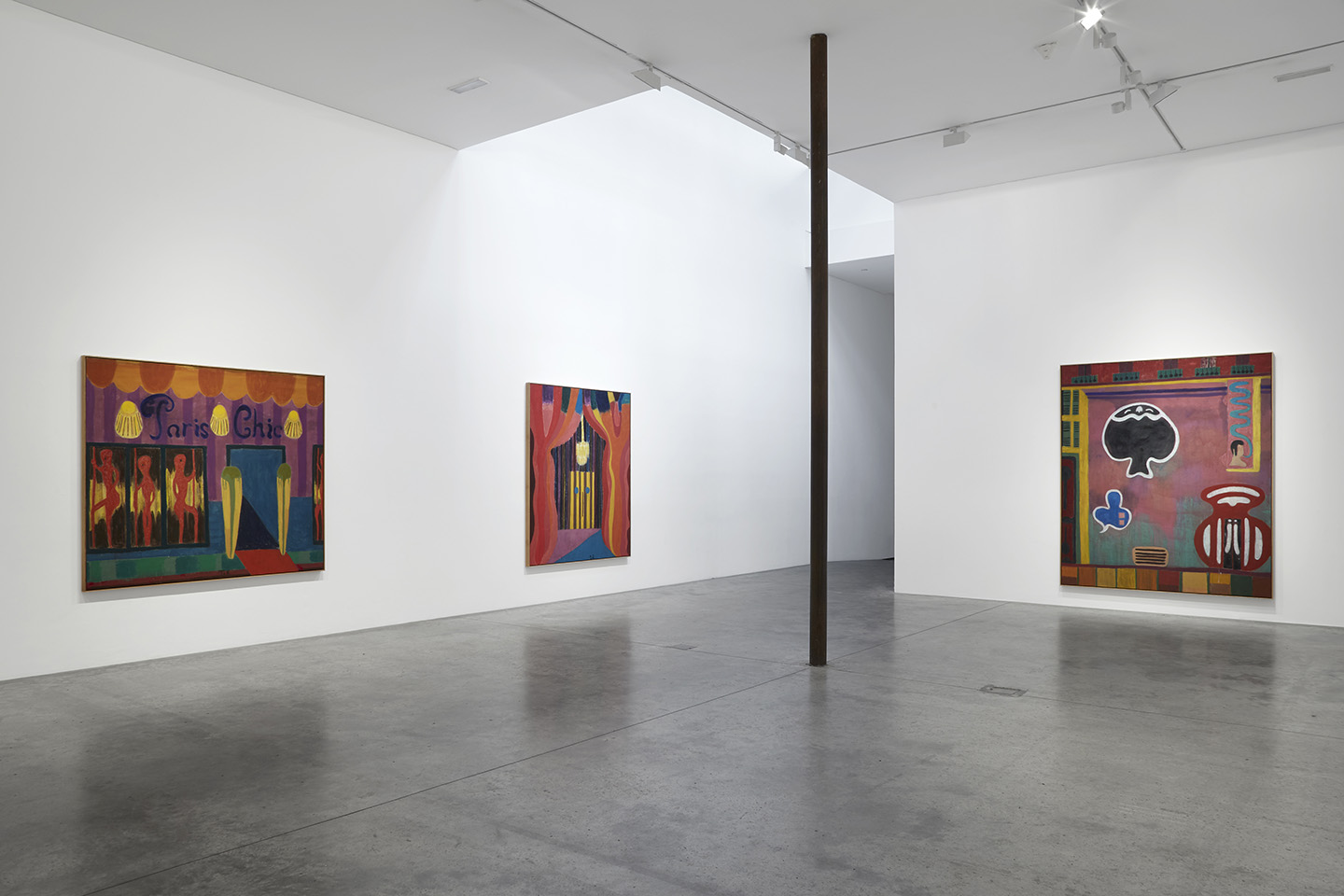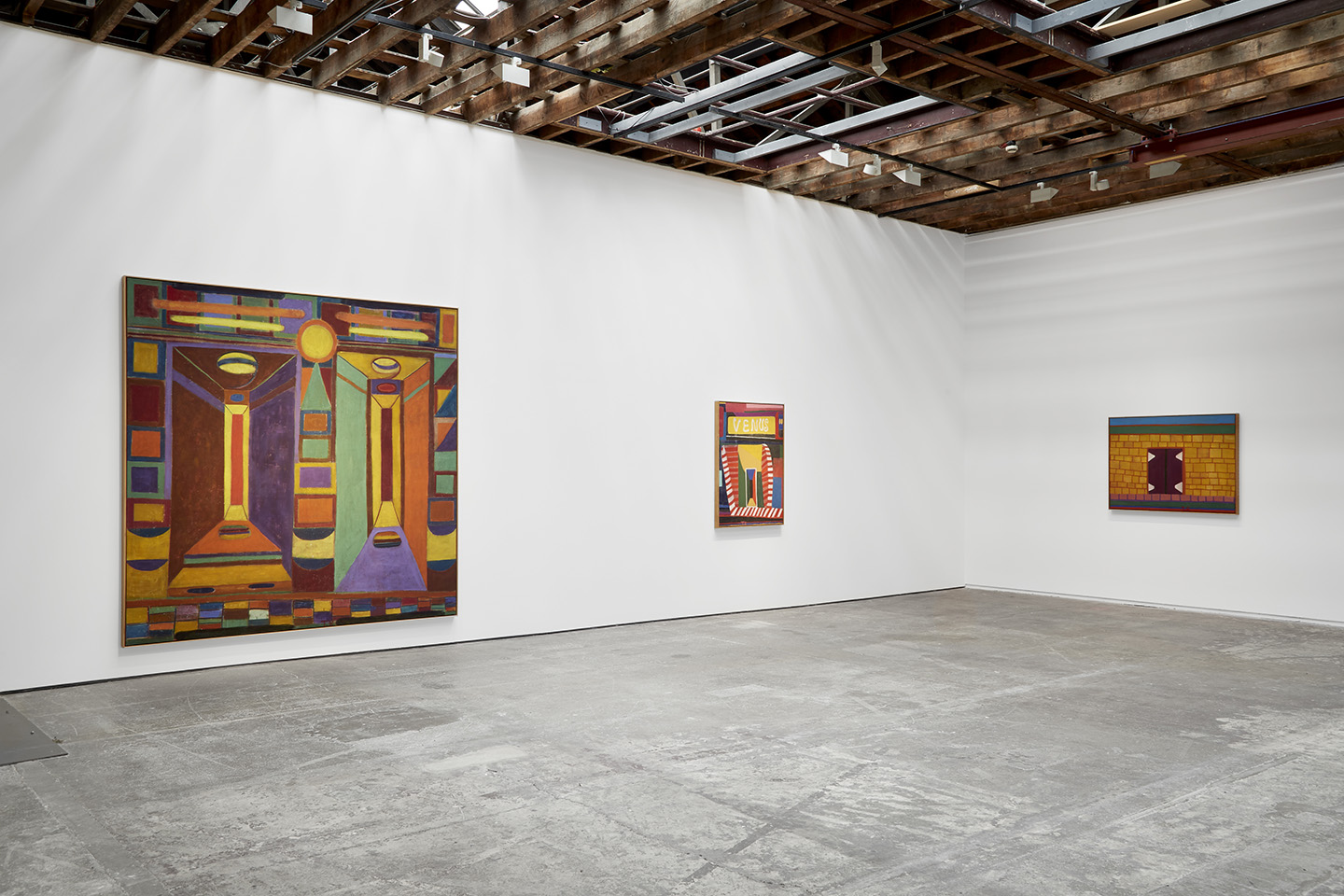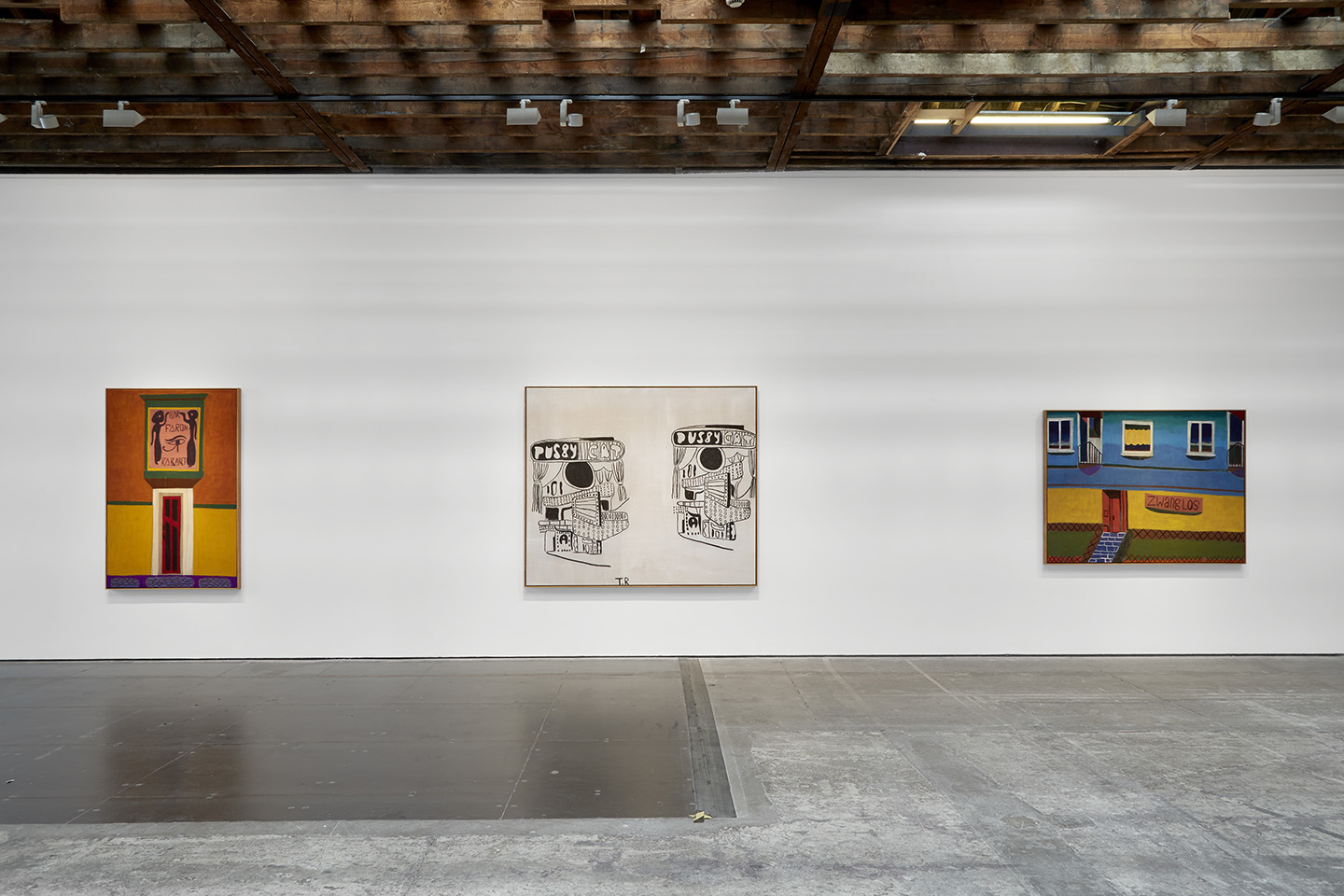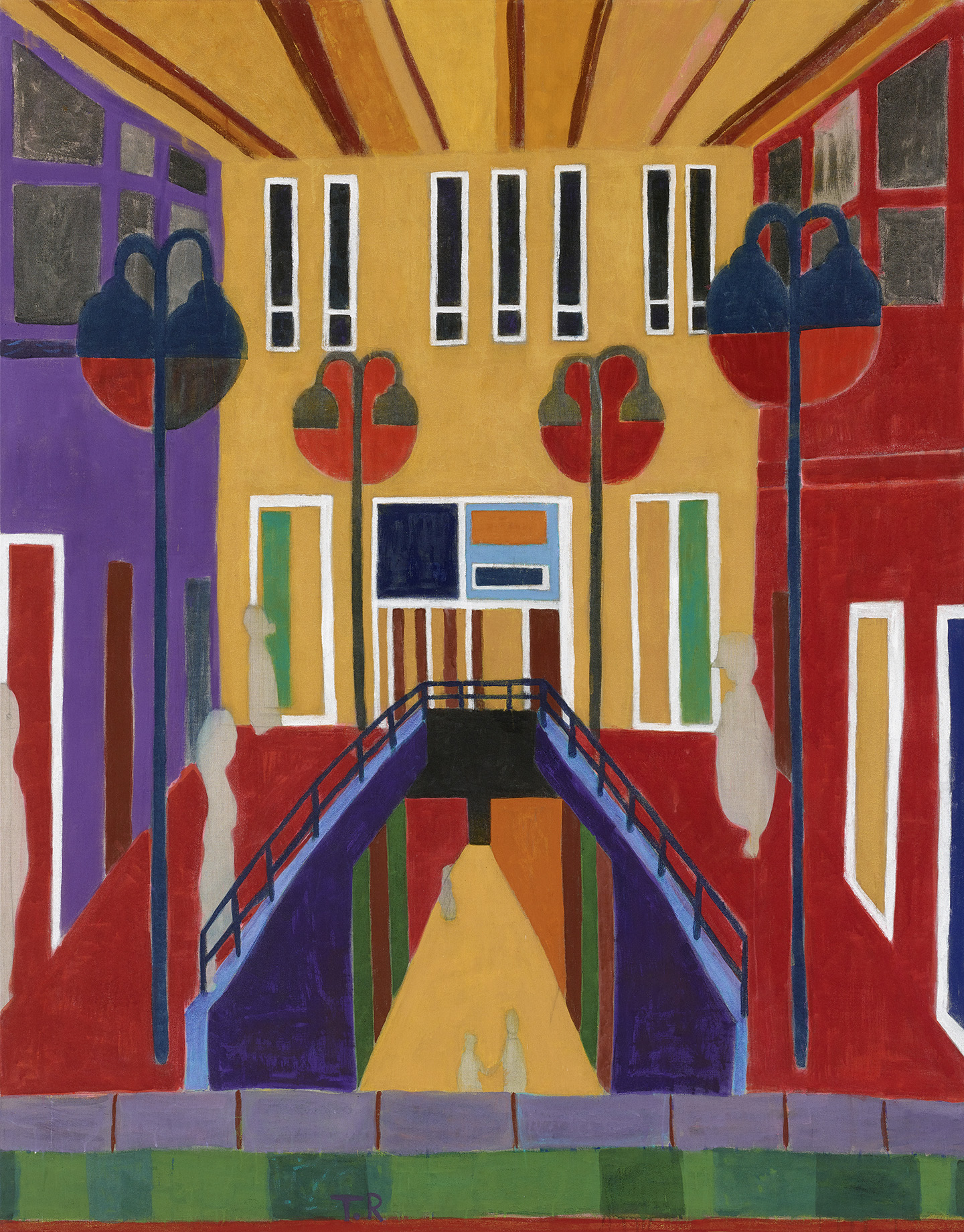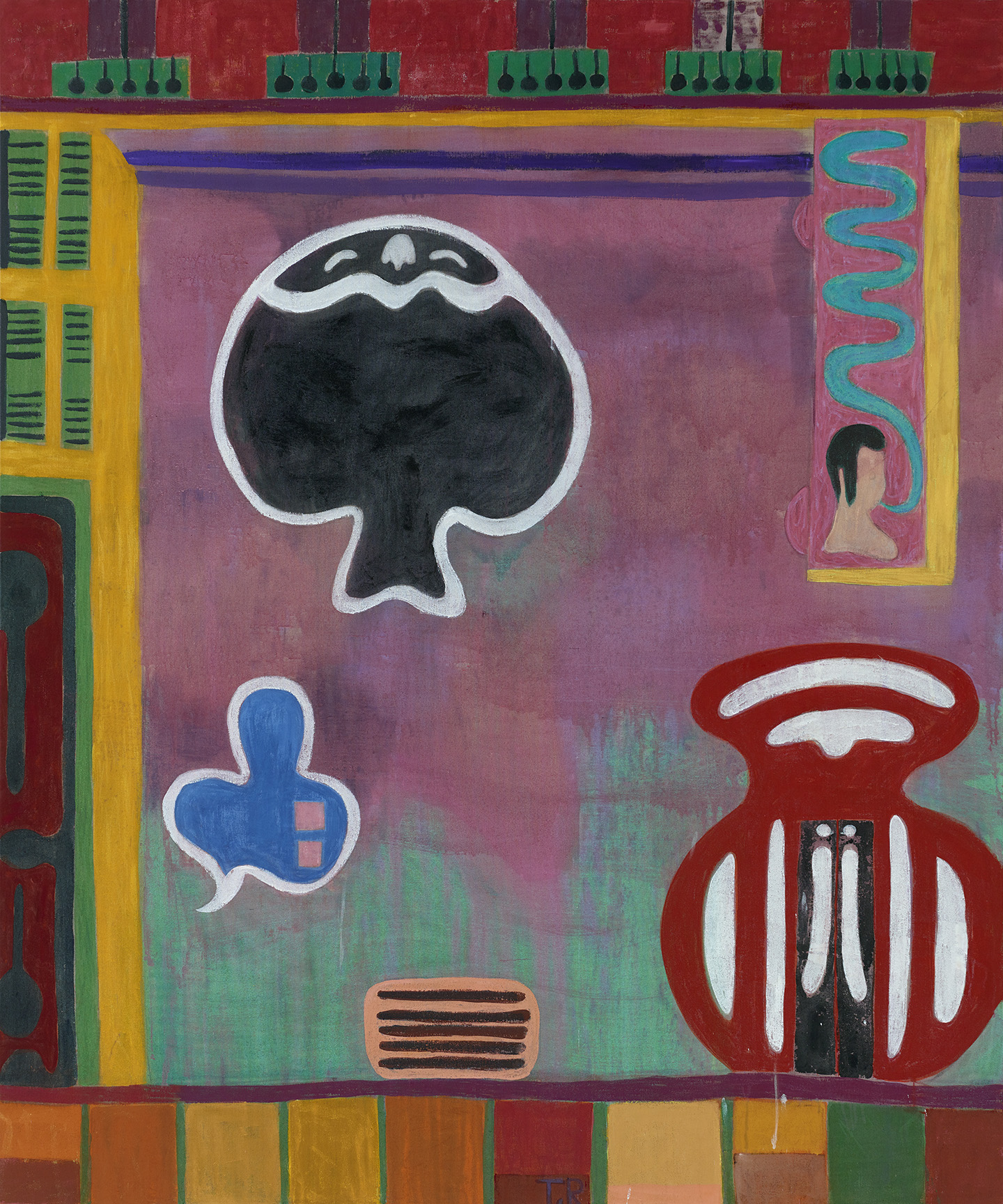 By Nicholas Hatfull
Hopping out of a black cab, a Hamley's bag in each hand, a raspberry-corduroyed Tal R was in the nick of time for a talk on Armes de Chine, at this location eight years ago. Then, the low-slung pavilion of a McDonald's drive-thru was the only scenic distraction on Wharf road. Now, buy-to-let shower gel bottles huddle metres away. Perhaps there is an artist who could take pleasure in drawing their grimly ribbed exteriors, but I don't think Tal R would find much to work with here—now he's back, several episodes later. His recent paintings are ghost-signs of sorts, streetview transmissions of layered, coincidental softness, warmths, absorbent shadows. Gleaned from snaps of red-light establishments sent in by helpful acquaintances all over the world, Sexshops unearths fruitful cues for Tal R's pictorial tics in an Esperanto of the shopfront. You might wonder if he'd said it all in 2012 with Framer At Night, a dangerously cute idea dispatched from mind's eye to canvas with the succinct, autumnal perfection you might have thought the preserve of Sempé. But while the sense that he will never tire of inveigling the world's trappings into robust patterns is made so plain in the pictures, neither will we.
Earlier canvases had a boisterous, hell-for-leather quality, completion reached by drastic, sometimes self-destructive manoeuvres. Flecks and gobs of messy color hung in the air as if sneezed, enlivening the painting's space. Squirted worms and fondant-finished oil have been supplanted by fresco-ey dispersion—here, the powdery colored dust peeping out; there, melting into the thirsty surface steeped in rabbit skin glue. An impressive train of canvases, premiered in his recent Louisiana survey, depicted imaginary freight cars, expressed as gnomic xylophones. A video revealed stages of their execution, and it was illuminating to see underlays of Per Kirkeby-like slathers, or most surprisingly, the heavier sauces of Sean Scully. These exclamations were then dialled way down in the mix, all-but-obscured by more definitive closing remarks in chunky opacity. And in the Sexshops canvases too, despite the paint being broth-thin, there is smouldering beneath the surface. At times, rivulets and dissolving backgrounds suggest the screever reinstating his rain-washed pavement chalking.

A diaspora of other activities, all jolly enough, often vie for attention with his paintings, but no sideline holds a candle to his powerful fluency and wily intelligence with pigments on stretcher. He shines at whittling down his imagery, parking at the border control between picture and pattern, and placing chunks of unabashed color that are soft and strong, airy yet structural, dense yet buoyant. Sexshops leaves the impression that Elmer, the patchwork elephant, has tessellated into the background, perhaps embarrassed to find he has wandered into a rather adult picture book. Space is malleable as plasticene—nowhere in this series more so than Venus, which squeezes a variety of spatial curios into frontal confines. Certain visual conundrums recur—an upright rectangle split diagonally into turquoise and black triangles could be a doorway with a glimpse of a dingy corridor, but seems to have second thoughts and becomes a dimensionless flag. While we may have been around the block with this device, we never in fact get to the bottom of it, and at least brushed by Tal R, it retains mystery. A bouncer seemed to indicate you could enter, but in the next breath thought better of it and gruffly replaced the velvet cordon—walking away, you can't resist looking over your shoulder, wondering if you couldn't charm your way in a little later.
While Tal R's most resonant paintings often have the feel of playground murals somewhere in their DNA, their atmosphere has matured from suburban oversleeping and magazine hoarding, to a more perfumed realm, on nodding terms with modern masters. Self-assured, too, in using richer, sophisticated arrays of color, more obviously palatable than his erstwhile restriction to pre-mixed signal hues. Any painter lately chancing timeless subjects in an uninhibited palette will have had namechecks to Pierre B and Henri M lobbed in their direction, not always helpfully; but in Tal R, there is real digestion of their deeper cuts, rather than cartooning pastiche. The paintings are prepared to enter a historical conversation, though tasting notes would suggest marzipan, the hint of kitsch, of which few contemporary painters can do without a nibble. As Sexshops coincides with the Royal Academy's Matisse In The Studio, visitors to London might compare a painting like Venus and Matisse's Vase with Safrano Roses to show inherited pictorial capabilities that dig further than surface Niçoise. Every finger of color, every turn and scrub of the brush reroutes space. It may clamp, brace, channel, concertina. Everything is active, even when it's turning mute. The color patches transmit an idea, not an illusion, just as much autonomous forces with distinct temperatures and flavours as they are components of a kit. In brief, they belong in the limbo of great painting.
Swatches of fabric hang, panning across Odalisque with Gray Culottes (1926-27), tapering to indicate the far end of the room, or limning the divan simply by reorienting the decorative motif within the shape. The patterns nestle softly together, their variety briskly noted but none screeching to out-do the other. Matisse registered idioms that have become accepted sorts of loveliness, idioms that can be riffed on with air-quotes or tunnelled into, in the case of Tal R, chatting away with a fresh accent. On the other hand (experientially, of course), his paintings don't have all that much do with Matisse. They're very much Tal Rs—fully trademarked, with an authentic visual charisma. They can warp like the print on a child's duvet cover, and the rhythm of the design isn't hurt if it curls at the edges.
In the case of Allenby, he knows when the decorative rhythm of a picture should be interrupted with a coloristic non-sequitur: lampposts in an arcade glow strawberryish, with one exception beaming charcoal. Whether a real bulb once needed replacing, or the light has been put out for entirely painterly reasons, changing a swatch of color has an immediate and consequential effect in a truly plastic space. Figures, unpainted linen blanks, are stationed like irregular bowling pins in this mall formed of stark, economic planes that ramp up and down (possibly backwards and forwards) with something of the entrancing opacity of René Daniëls' interiors.
Somehow, the more austerely reduced the image, the more heartily it sings, as in Babylon. If anything, the tapering and wobbling of edges count for more when the painting verges on (but doesn't arrive at) geometric abstraction, when the planes have almost forgotten their brief of passing for earthly things like windows and lintels. I can't tell if making a painting like Babylon is more of a challenge or an indulgence (or both—they seem to be rationed), but it feels particularly impressive that he pulls them off, and they hum with power left in reserve.
Chez La Souris floats a louche ideogram of not-quite-legible signs. Perhaps lost in translation from a jobbing muralist's efforts, we have something between a turbot and a hand mirror, a smurf-hued speech bubble, and club doors passing through a snake charmer's pot. Most of Temple Bar's surface area is really a scene-setting bookend to a sliver of doorway, a tantalising glimpse of—not debauchery—but, yes, alright, a Bonnardy potpourri that will slay those with the relevant weakness. Although one canvas spells out the legend DIRTY DICK, by and large, these works step not towards pleasures of the flesh, but thresholds of an afterlife, a disembodied party.
.
at Victoria Miro, London
until 20 December 2017