EXHIBITIONS
Teresa Margolles at Kunsthalle Fridericianum

Teresa Margolles, Frontera, 2010. Installation views Kunsthalle Fridericianum
Coutesy: the artist, Galerie Peter Kilchmann, Zurich, and FRAC Nord – Pas de Calais, Dunkerque.
Photos: Nils Klinger
Under the title 'Frontera', Teresa Margolles (b. Mexico, 1963) is presenting works which reflect the frightening extent to which the drug war is influencing Mexican society. Using reduced but always drastic means, Margolles creates extremely poignant works of art. The large painterly exterior work Frontera on the outer façade of the Fridericianum envelops the entire building. 40 lengths of cloth dipped in soil and bodily fluids will make the Fridericianum 'bleed' when subjected to weather influences. The Mexican artist uses substances such as blood, body fat or even water used to wash dead corpses not only symbolically, but also palpably, attacking human beings' fears of contact in a subtle way.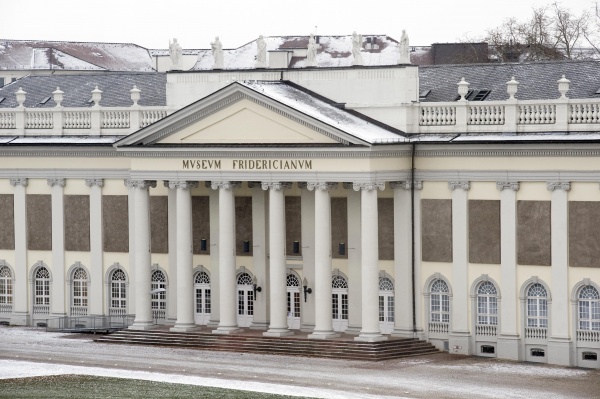 The man-high concrete-block walls are witnesses of daily violence: they display bullet holes resulting from shoot-outs that have had a lasting impact on cities such as Ciudad Juárez, where the drug war is raging with particular vehemence.
Margolles also shows relics of victims of criminal violence, presenting glass display cabinets with jewellery of shot police officers, government officials, passers-by and tourists. While the golden watches, earrings, chains and bracelets are draped as though on display in a jewellery store, as vanitas symbols the valuables directly refer to the sudden, unexpected deaths of these people. For another sculptural work she bought structural steel scrap from razed neighbourhoods on the black market and melted the material into a minimalist cube. Weighing one tonne, this cube is a maximally compressed symbol of suffering and decay in Mexico.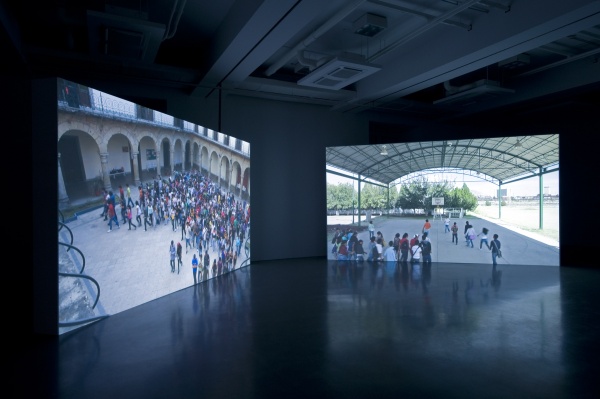 In her filmic work, she documents places with no future in a disturbing way; a poor quarter in the north of Mexico as well as three boys vying for attention from the camera. In two videos, Margolles shows performances at schoolyards in Guadalajara and Ciudad Juárez, drawing attention to the absence of the many young people murdered in a single month. These new video works add the theme of hopelessness in Mexican towns bordering the USA to the exhibition. Frontera is realised in collaboration with Museion, Bolzano and will be on view from 27 May to 21 August 2011 at the Museion.