EXHIBITIONS
Thomas Jeppe, Kasia Fudakowski, Jimena Mendoza at Centre for Contemporary Art FUTURA, Prague
Thomas Jeppe "Neo-Lad"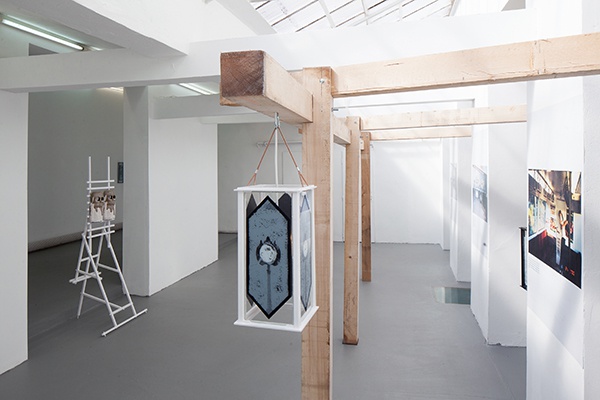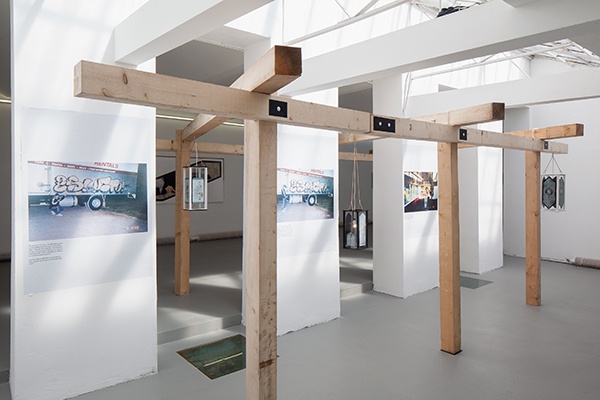 Centre of Contemporary Art Futura is pleased to announce "Neo-Lad", a presentation of new works by Australian artist Thomas Jeppe, that have been produced over the last two months during the artists production residency in the frame of A.I.R. FUTURA.

Thomas Jeppe wrote the Abstract Journalism manifesto, a propositional text about an art making methodology. This text describes the artist, on his research journeys across cultural landscapes, chancing upon a picture, object or situation—a loaded symbol—which immediately announces itself as the "solution" to a situation. This symbol, taken as a form, is then disengaged from its original context and woven into a semantic constellation in a process of aestheticization. This allows for a general reorganization of its potential meanings, purposes and possibilities.
The method applies the aesthetic criterion of fine arts' questionable sincerity to the empirical research of cultural studies. It doesn't strive to eliminate, but rather to reinforce ambiguity, inconsistency and divergence. It's based on the allegoric, emotionally stimulating and communicative. The result is accessible and comprehensible and resonates to such a degree, that it can cross cultural contexts. Jeppe describes this process and its legitimising framework as a "rampant sophistry", a thorough and engaged form of productive nihilism. It's a method connecting intuition and passion with intellect; with the underlying message that "to feel" is the only way "to know".
Formally extending this ethic, the exhibition "Neo-Lad" revolves around the theme of dandyism, the struggle with social rules and boredom, and a godless spirituality. More generally, the exhibition is about freedom and release, about delimitation, structure, and attitude.
In his essay "Neo Lad" about Australian "lads", a subculture of inverted dandies identified by distinctive styles of branded sportswear, Thomas Jeppe speaks about the culture that is "a dance in the streets". This dance is "a physical, delinquent pirouette; the partners authority, the built environs, history" and whose music is a "chosen inevitability", a resignation without despair. Alongside this essay, Jeppe's exhibition comprises several reconstructed compositions of paintings by Czech romantic-symbolist painter, Jan Preisler. The works Jeppe chose were generally Preisler's late ones characterized by planar emphasis, simplified shapes and a marked intensity of colours. Their over-stylized carelessness stresses a kind of void of the timeless dreamy youth portrayed. However, the viewer can only see cuts of it, framed by a diagonal hexagon, a graphic motif of a period advertisement depicting the Lucerna building compound from the bird's eye view, as featured in Václav M. Havel's book "My Memories". The hexagon intersects Preisler's painting, framing it within an asymmetric dynamics. These works, as historical echoes, are presented in parallel with large posters of intimate social photographs of Australian teenagers at the turn of the millennium. These photographs radiate the feeling of carelessness, being at once specific and expressing a sense of universality. The posters, along with several painted reworks of Preisler's sketches for advertisements, are captioned with proclamations from the text of "Neo-Lad".
A series of lamp sculptures return to the logo of the Prague Lucerna, these lamps doubling as an emblem of city and night. The symbolic charge, reaching almost to the point of lyrical pathos, is embedded in craquelure and eroded motifs on panes of glass. Their supporting structures, reminiscent of podiums or gallows, present collected variations of simple wooden joints. Their formal purity and simplicity associate an almost immaterial language of signs. Yet a moment later, it falls again into amorphous elasticity of the rubber podium below it.
Jeppe makes increasingly daring digressions into areas of unexplored and forbidden aesthetics, with increasingly complicated and excellent pirouettes of his own contradictions. Neo-Lad thus forms an incarnation of Jeppe's personal artistic attitude.
All works exhibited in the FUTURA Gallery were created during the 6 week production residency in Prague, a part of the A.I.R. FUTURA programme.
.
at Centre for Contemporary Art FUTURA, Prague
until 5 June 2016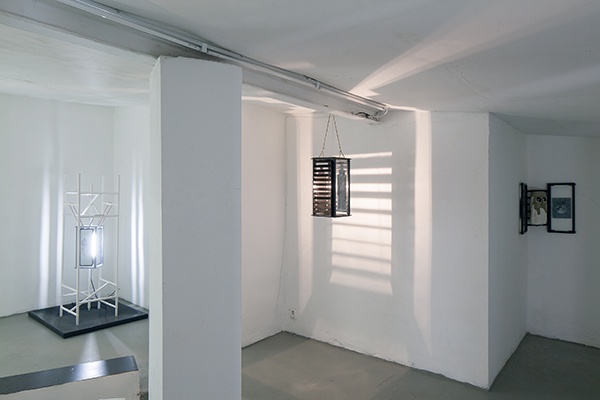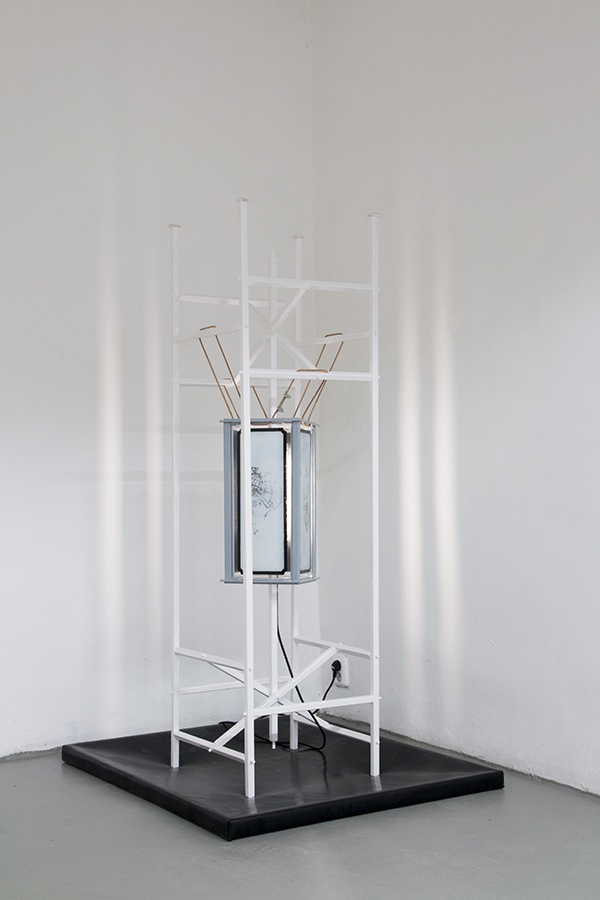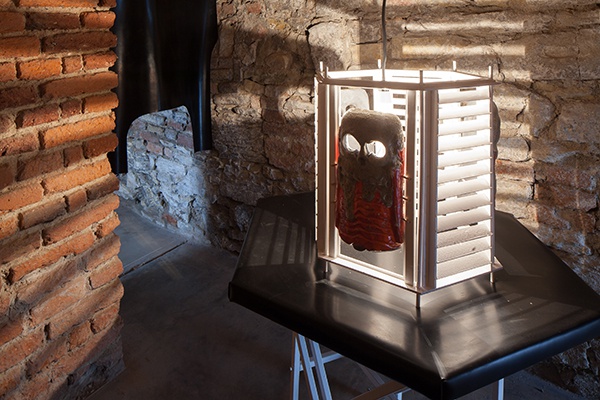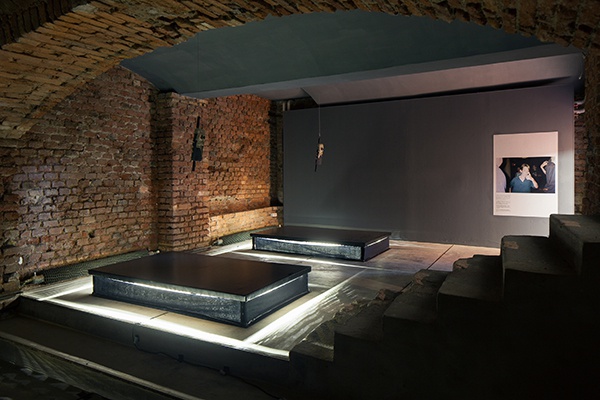 Thomas Jeppe installation views at Centre for Contemporary Art FUTURA, Prague, 2016
Courtesy: the artist and Centre for Contemporary Art FUTURA, Prague.
.
Kasia Fudakowski "Meat in window, worried by a wasp"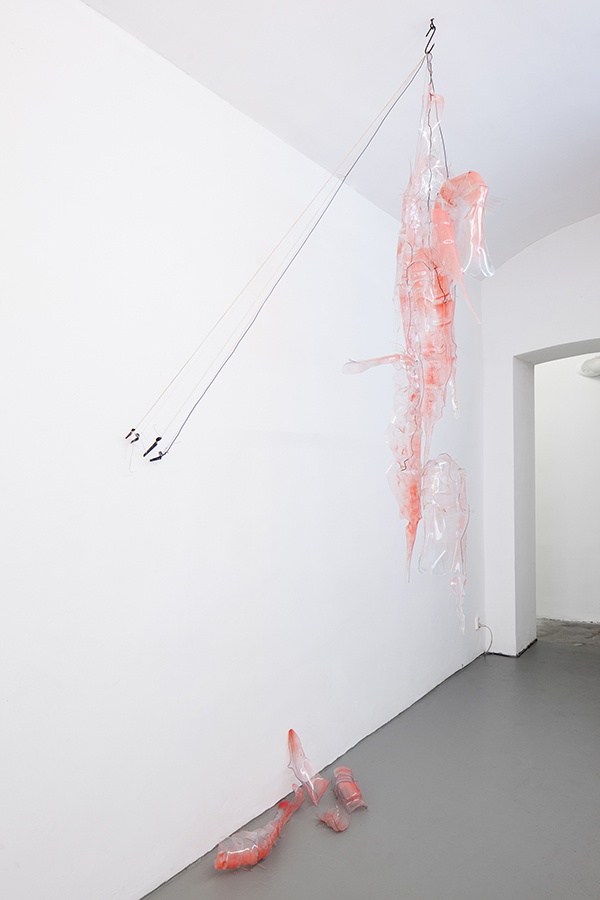 Centre of Contemporary Art Futura is pleased to announce "Meat in window, worried by a wasp", a presentation of works by Berlin based artist Kasia Fudakowski.
Kasia Fudakowski works with joke structures and comic theory that she translates into the construction of a sculpture. A joke can be understood as a passage from an initial understanding of a imagined situation to a different understanding, often quite the opposite one. The core of a joke exists in the shift of a contrast, where two positions are revealed in a moment of surprise, which is enhanced by subconsciously directing the expectations of the audience in the wrong direction.
In Fudakowski's works, this shift from one perception to another takes place in the tension between the material and the form and in how this tension influences us without us being aware of it. Our perception exposes us to an intuitive and automatic recognition of shapes, their identification and categorization, which also develops physiological reactions in our body.
One of the causes of this tension is the space between a conscious economy, the freedom of the material rendering of a sculpture and it's fidelity to what it purports to represent. Similarly to a joke, here the mastery also consists in finding the right balance between bewildering obscurity and over-obviousness while keeping the contrast at its maximum.
We often attribute meanings and characteristics to objects that they don't inherently contain. Impressions of welcoming or conversely of hostility, of constriction or openness, of pressure and movement which arouse our empathy are in direct contrast with what the sculptures objectively are. At times this contrast is shown in an obvious absence of function usually attributed to the object, in a disproportionate exaggeration of a certain trait, as well as in many other moments. Kasia Fudakowski doesn't work only with the textualization of the result; she works with its emotional effects. Therefore, she doesn't only rely on linguistic figures but on associations. These are often chosen with an emphasis on stereotyped binary oppositions of dominance and submission in relation to attributes commonly used to describe women and femininity in terms of roundness, delicacy, weakness, dependence, meekness, softness, formlessness etc.
Her exhibition in the FUTURA Gallery revolves around the theme of anxiety which by definition has a strong effect without real cause. In her work, anxiety is presented not only as gripping and tragic but also as liberating and comic at times, and therefore almost invincible. Fudakowski says that a joke is a "cloak of invisibility". It allows us to be critical in contentious situations. Though she makes use of chronological succession and expectations necessary for the set up and a punch line, her sculptures work in a non-linear way. While both set up and punch line are seen simultaneously, they remain in contrast.
Fudakowski's preoccupation with the fear of failure, which she has parodied as an artistic-comic attitude, becomes ironically real and gives a vivid and critical picture of the stereotypical masculine system of individualization, expansion and invasion.
Curated by Michal Novotný.
.
at Centre for Contemporary Art FUTURA, Prague
until 5 June 2016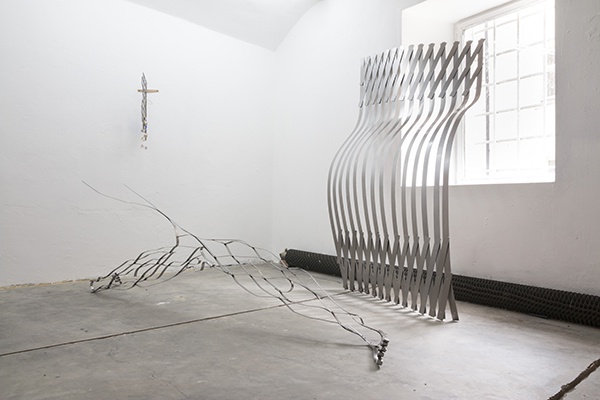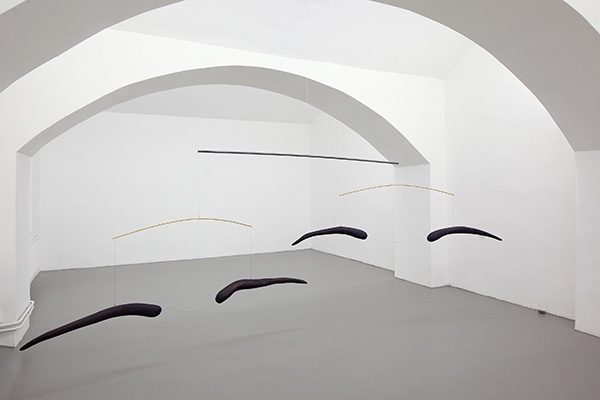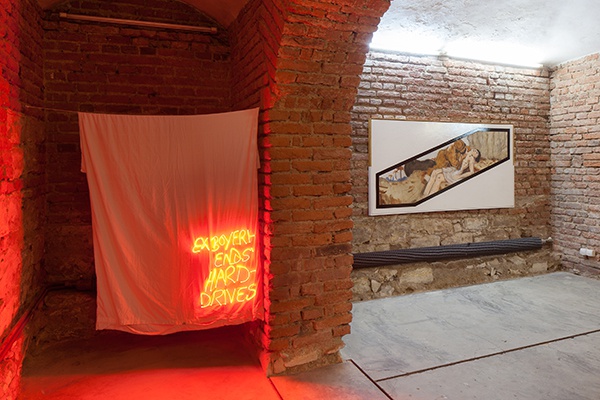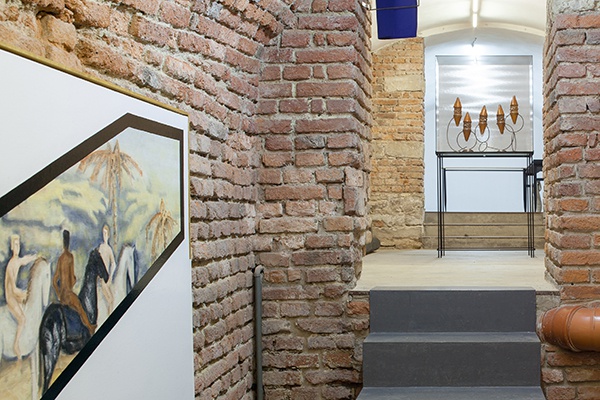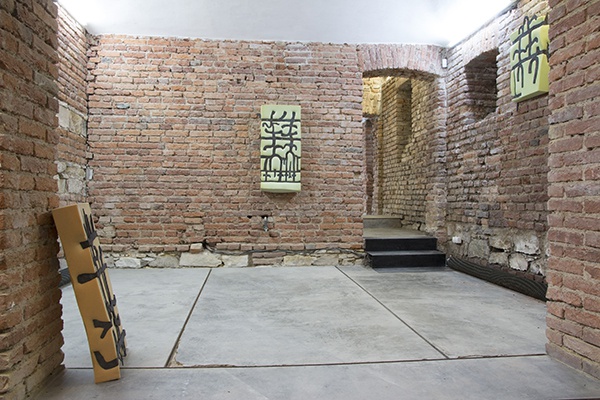 Kasia Fudakowski installation views at Centre for Contemporary Art FUTURA, Prague, 2016
Courtesy: the artist and Centre for Contemporary Art FUTURA, Prague.
.
Jimena Mendoza "The Notion of Distance (Threat)"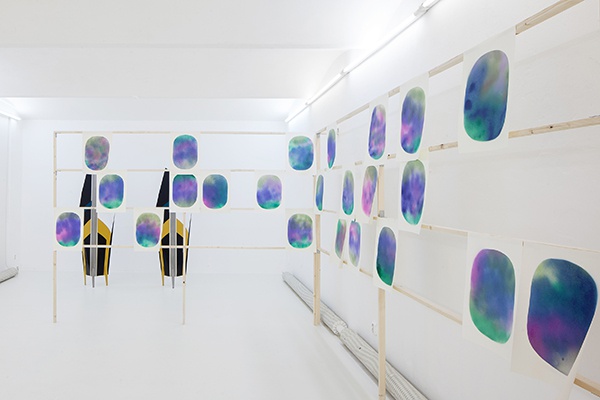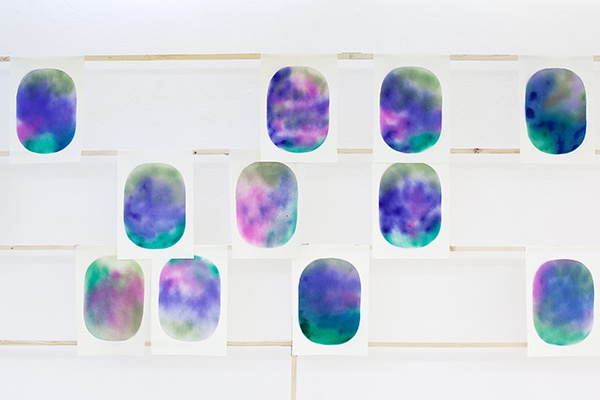 Interview with Jimena Mendoza asked by curator Michal Novotný
Michal Novotný: You made many of the works presented with your own hands and without using any specific technological procedures, except for the base of painting, moulding, and firing. Is it important for you to touch the material?
Jimena Mendoza: I have always been impressed with the invention of things, as a response to a basic or primitive urge to build something that you need; and suddenly you start inhabiting the world. In this sense, my hands have always been involved in my projects as my primary tools. But I am also very conscious of doing something with my human capital: of spending hours and hours of work to create something, of investing my energy in a piece intended to be imperfect and impure. Just like in the Navajo rugs, I like that my work contains a spirit line, a human error, and although the result can be considered industrial, I like to imply a contradiction.
This is why I am deeply interested in handicrafts, in reproduction and the uniqueness that can exist in serial work and is in contrast with the faultless mechanical-technological precision.?The ceramic, textile or glass, which I often use, have these qualities. For example, the impulse to transform in a few steps the soil from the mountains, to fire it and make of it a kind of stone, but cultured one… I love the process of transformation of elements involving complex meaning and shapes.
MN: To a certain degree, your works underline their hand-made nature, but at the same time, this impression is erased due to their almost inhuman perfection and unearthly presence. What's your feeling about the relation between the ideal and the realization, the perfection and the imperfection, the tension between the poverty of some materials and the noble ideas they represent?
JM: I'm very sensitive about the context, about the things that the territory offers as fruits in the field, the remnants of the culture, the contemporary archeology of the world, the decay, which is an unavoidable course of things, the world of progress. I'm constantly walking backwards, trying to catch the origin of the mess or the splendor of the things that are dying.?You also work often with traces, tarnishing and patina; with degradation, scarification and decay. What does this represents for you??I love the sentence by Jorge Luis Borges in his Aleph where he wrote: "I felt infinite wonder, infinite pity." To me, the contradiction and the feelings provoked by tarnishing things are very powerful, and it explains my interest in glaze, tarnishing, and patina. I try to avoid the flat, absolute, shiny surface.?This formal factor relates to my research and interest in contradiction: in illusion and disillusion enclosed by modernism and the open gap between these concepts.
MN: There is a touch of folkloric and vernacular but also of extra-terrestrial and mystical. Do you intentionally work with those elements?
JM: In the past years, I have been researching different cultural origins; I am very much interested in cosmovisions and historical traces.?When I came to Czech Republic in 2013, I thought for the first time about the outer space as a human. I visualized the cosmogony of universe during the 1960s as part of a continental modernist utopian project.
The possibility of existence of other entities, other beings in the universe excited me, and consequently I discovered important cultural fictions: just think of Golem, the mythical Jewish anthropomorphic, extraordinary fictional being, or the first robot of Karel ?apek. This explains why I'm still not interested in watching any of the Stars Wars movies.
I have never been interested in science-fiction before; my interest in fiction is very local. To be precise, it is about the singular atmosphere the history, the context and events resulted in here in the Czech Republic.
MN: Could some of your pieces be seen as traces of the past civilizations found in a museum of archeology? Would you say you're more oriented towards the future, the past or the present?
JM: I'm very happy with the present. I love having the possibility of seeing the past as a condensed chunk of time. I have been very touched by future projected in the past – it is a capsule of hope, of invention and dreams, and at the same time it is a nightmare, a disaster, a catastrophe and totalitarianism.
My intention about this period is to take back the lost energies and the dreams of other times and use them to question the present. I'm definitely far from reviving or illustrating this period with my works. My intention is to create new items. I'm interested in creating an iconographic project, an excursion into a personal cosmovision that would put together studies, visions, experiences, misunderstandings, free translations, my own baggage and unavoidable cultural signs (Mexico).
I am unable to visualize my future, I am like the Tuvans who believe that the past is in front of them, which is why they can see it, but the future is behind their backs, so they can't see it. This is why it is a permanent surprise.
MN: People often classify you and your art as "Mexican". Is this cultural heritage important for you? Do you intentionally try to deal with it in any way?
JM: I'm not terribly proud to be Mexican but we cannot choose our ancestors. The first thing I wanted to study in my life was anthropology but I didn't. Anyway I think that my interests go very often in this direction. I like to search and learn from human manifestations, habits and customs.
.
at Centre for Contemporary Art FUTURA, Prague
until 5 June 2016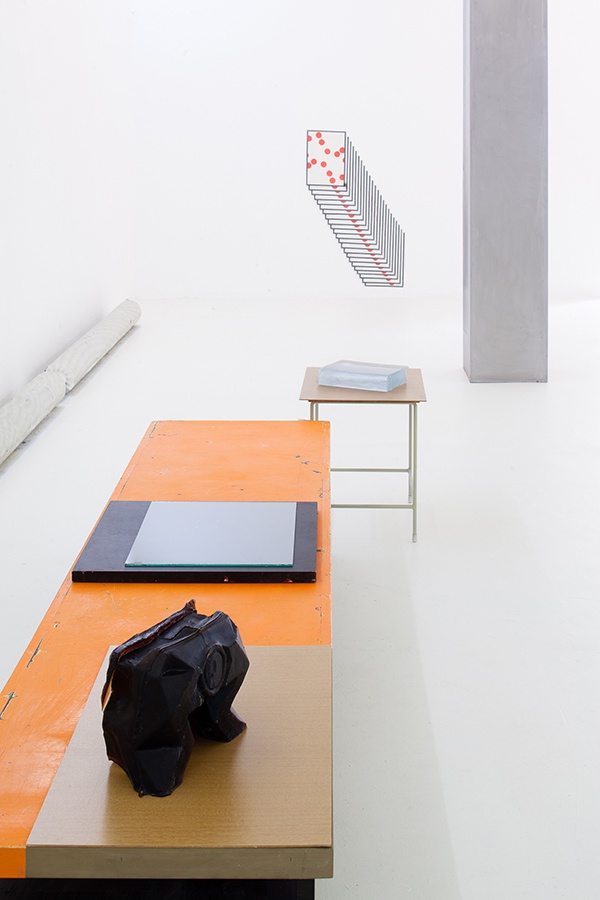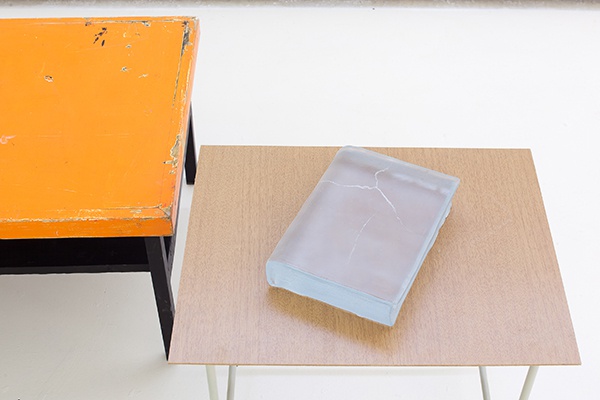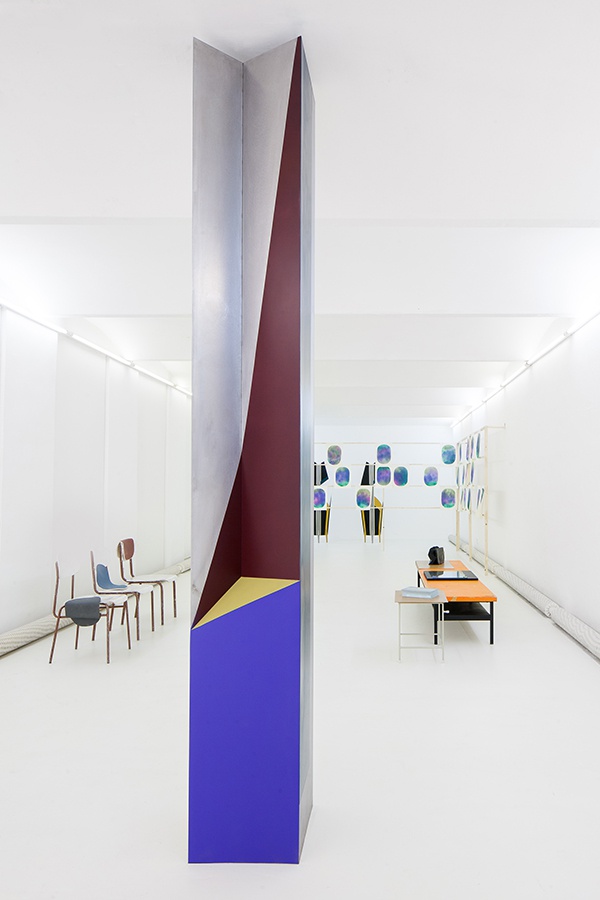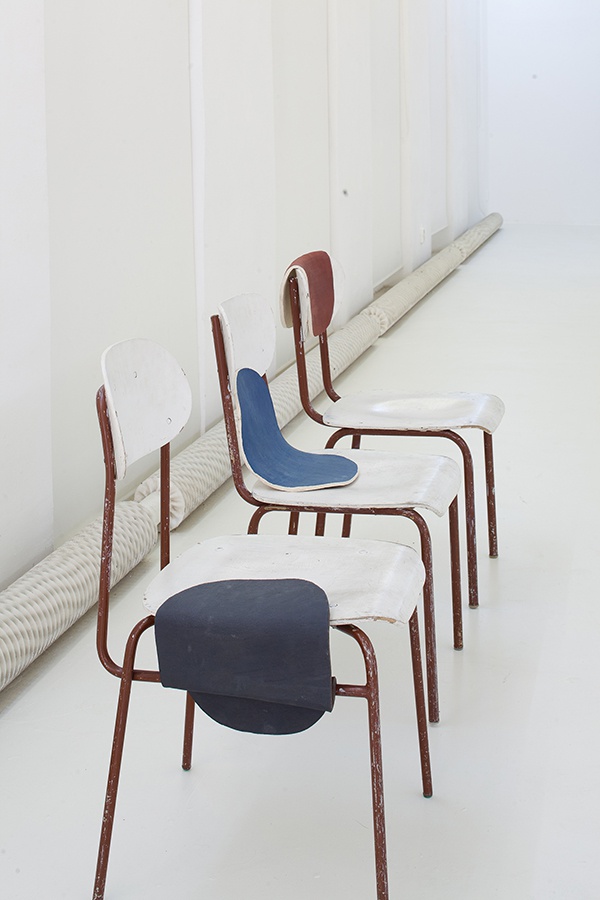 Jimena Mendoza installation views at Centre for Contemporary Art FUTURA, Prague, 2016
Courtesy: the artist and Centre for Contemporary Art FUTURA, Prague.