EXHIBITIONS
Thomas Kovachevich "Portraits of the room" and Ryan Foerster "Early Prints and Paintings" at The National Exemplar, Palermo
Close
1
2
3
4
5
6
7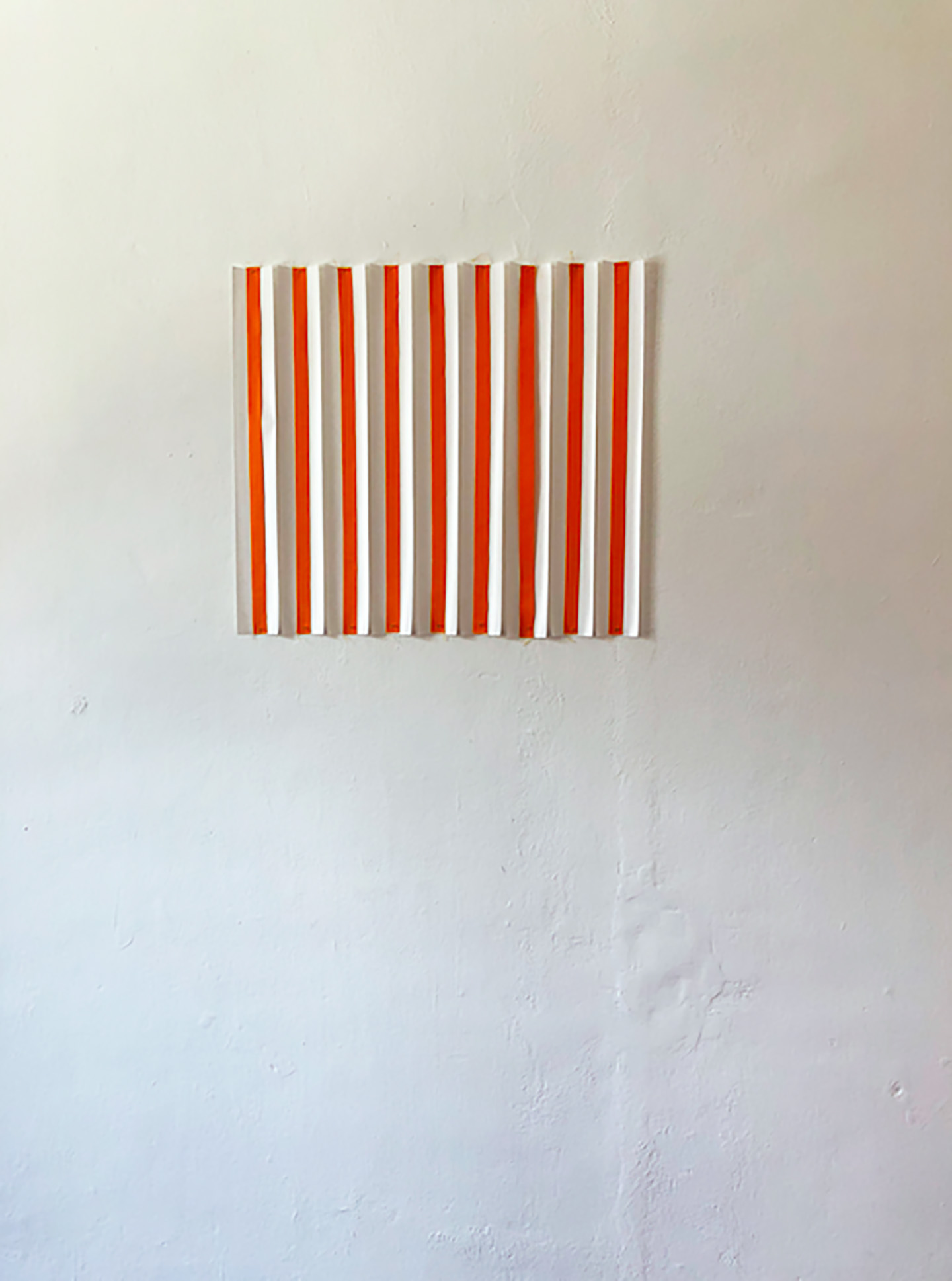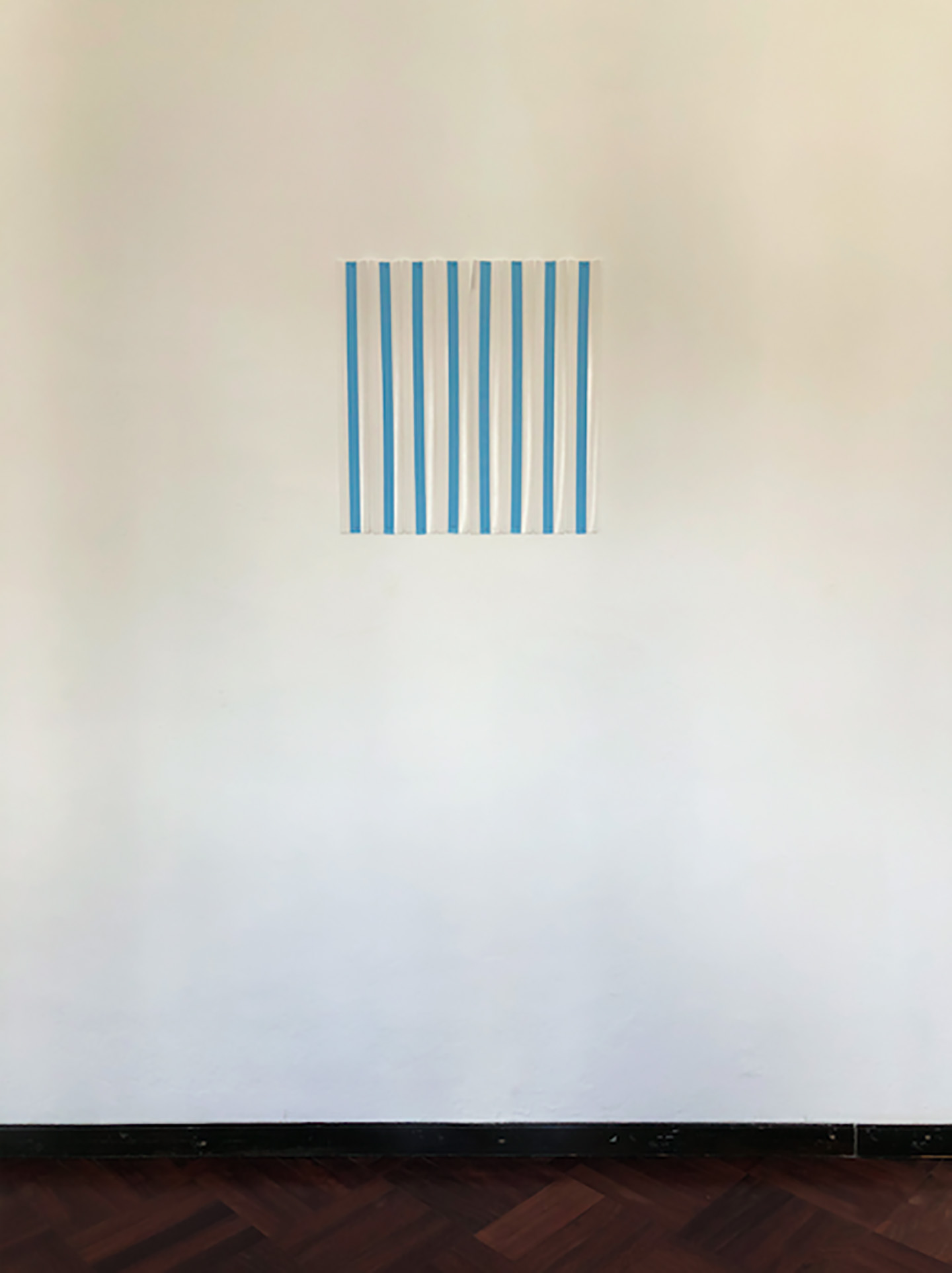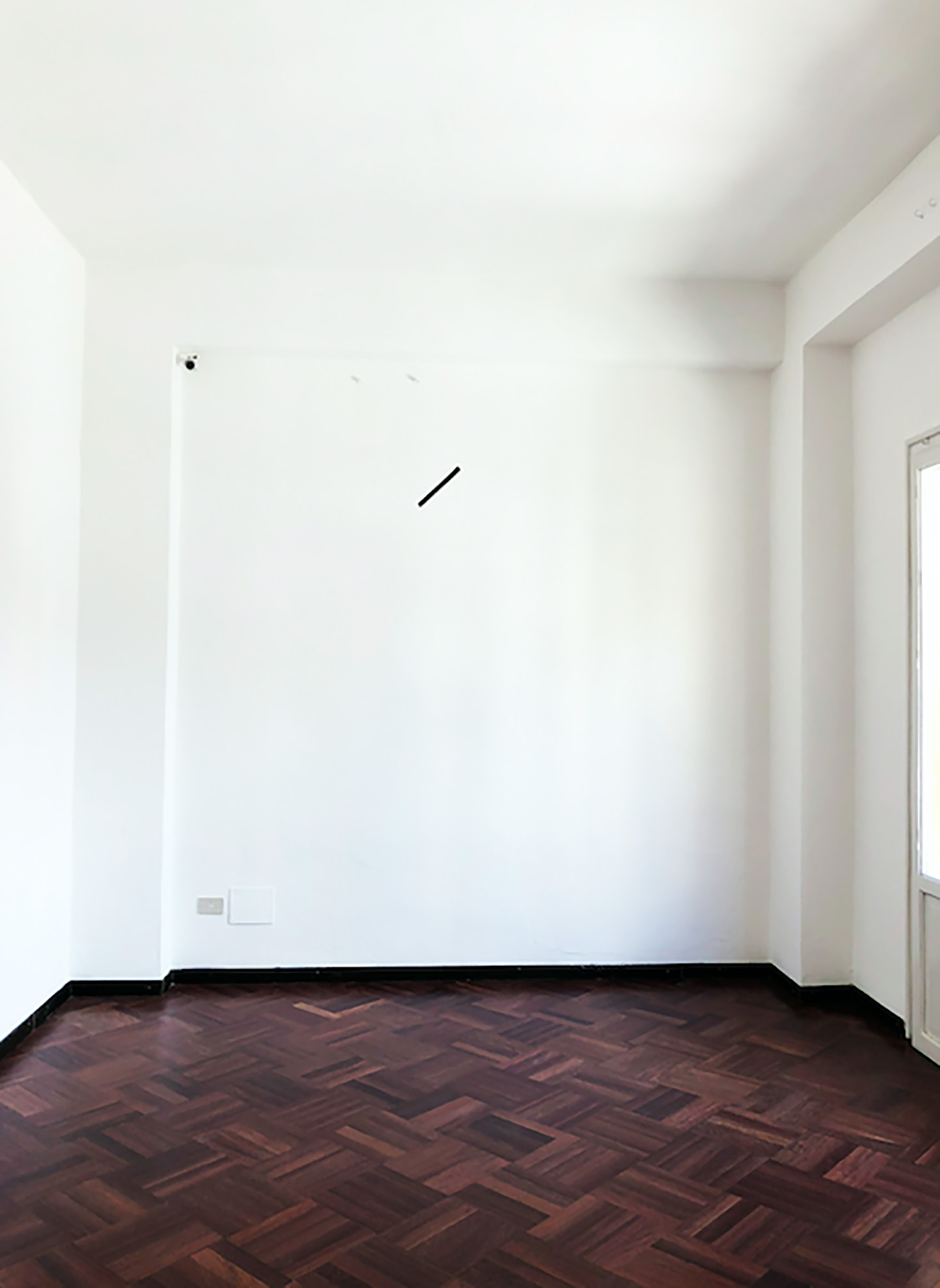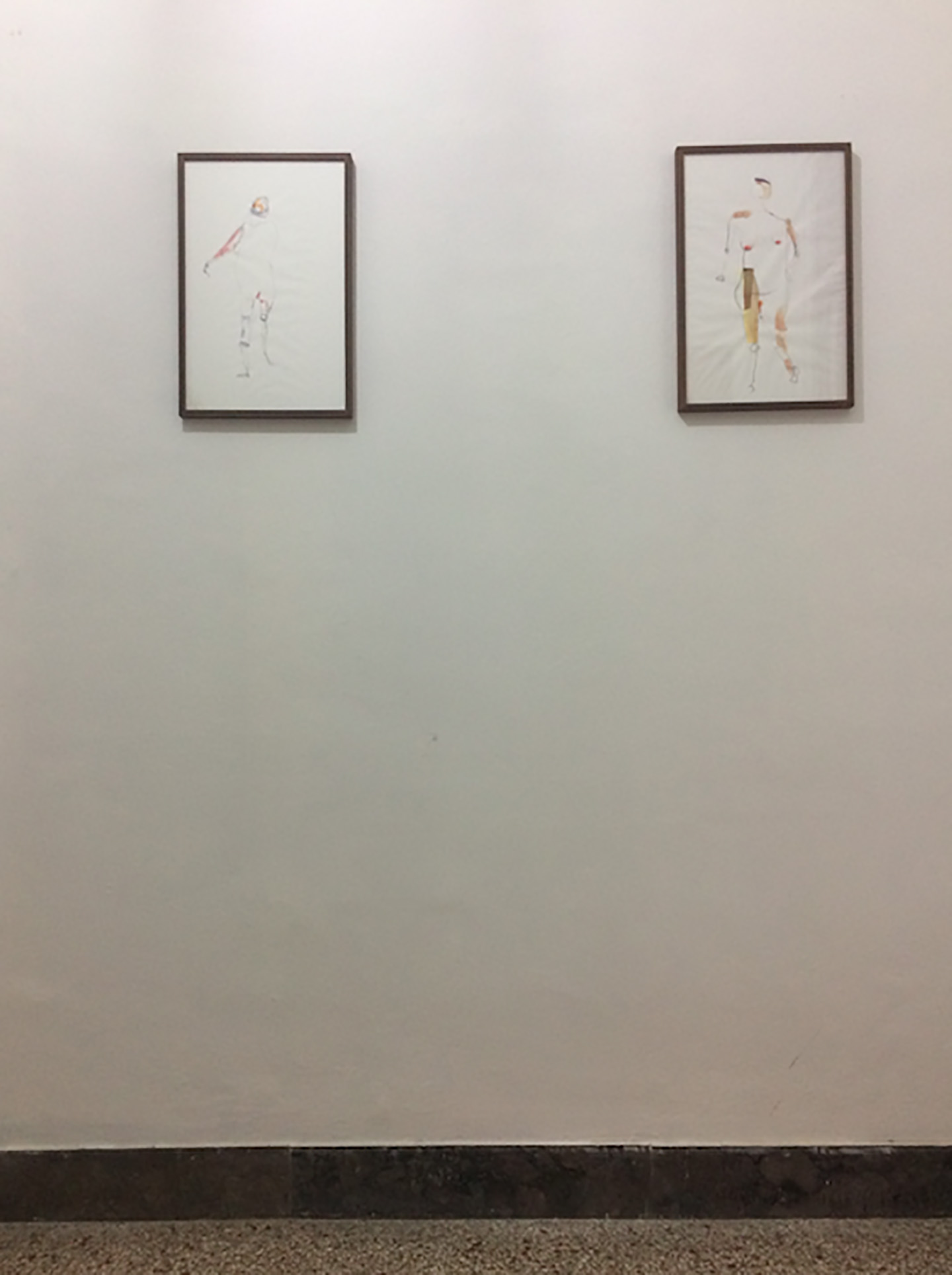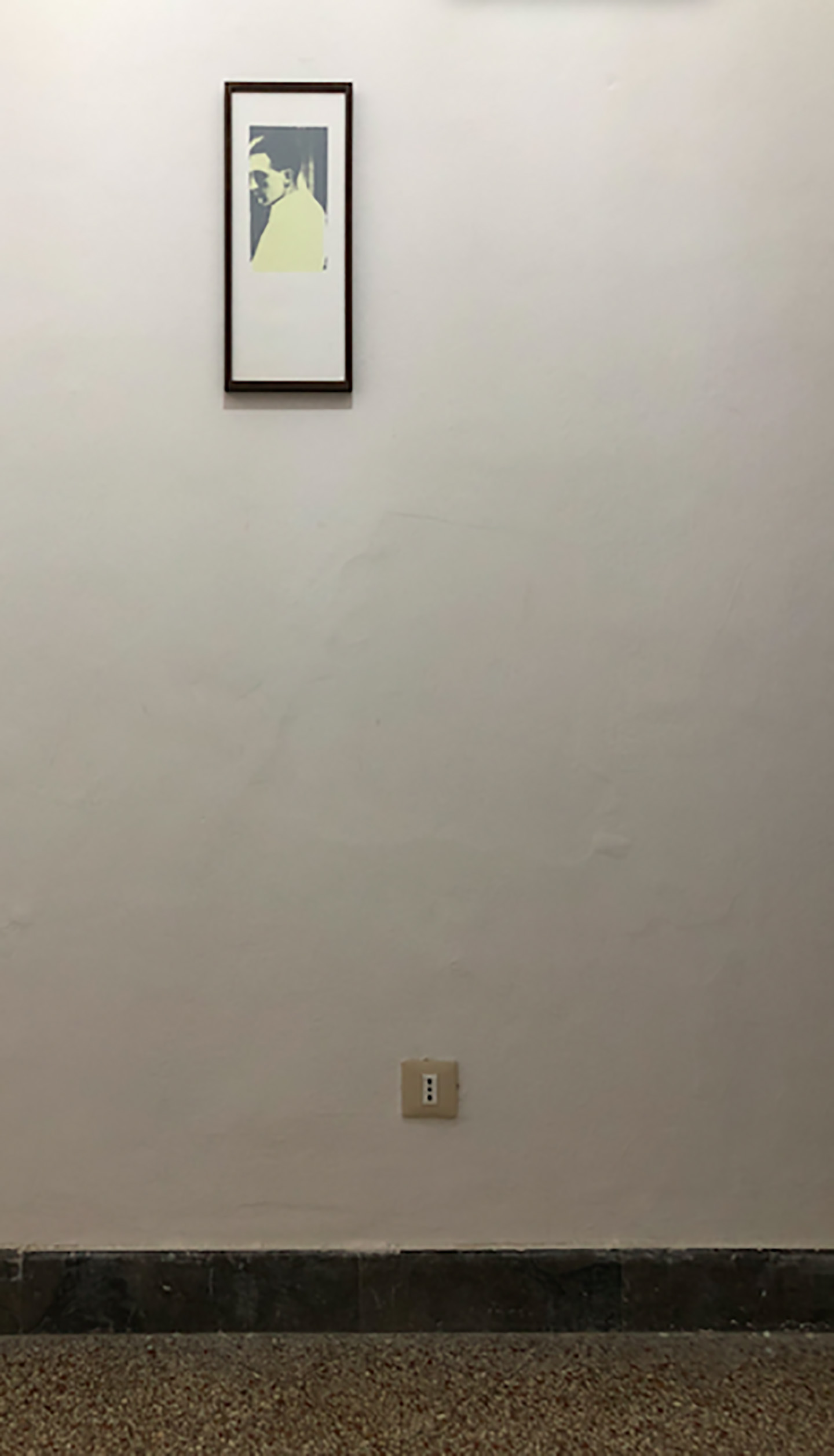 Thomas Kovachevich "Portraits of the room" 
I attach papers to the wall, in strips or geometric shapes. Depending on the atmosphere the paper can be flat against the wall, other times it curls up into tubes. Flat -to tubes -to flat again. Constant.
A useful analogy is comparing the paper to the hour hand on a clock. The hour-hand is slowly moving, continuous imperceptible motion. Time passes.
The paper moves in response to nature (changes in humidity, temperature, barometric pressure, air currents and countless other variables).

Light also alters our view of the paper. Shadows appear of various shapes. Dawn and dusk bring further mystery. Diffused light magnifies the ambiguity of perception.

In the sixties, I began using packing tape for its original purpose, which is to tape cardboard boxes shut. I made a variety of things with these boxes. I hung them on the ceiling, attached them to walls, as building blocks to construct sculptures, furniture, tables and pedestals.
Among the first public exhibitions I had was at The Detroit Institute of Art. Sam Wagstaff was the curator. He visited my studio and invited me to participate in a group show. He loved the boxes too. I exhibited them as boxes, ordinary cardboard boxes, 3 x 3 x 3 feet, placed on the floor, scattered about at random.
This was 1969.
While using packing tape, as packing tape, I noticed how lovely the tape was for itself. A very elegant material. It had translucent properties that glowed, as well as opaque ones.
Packing tape became my everyday work material. Working with the tape immediately became troublesome. I could not make it do what I thought I wanted it to do. Some days it would lie flat other days it curled and became unruly. I couldn't control it. I was frustrated.
Finally, I realized that I must let the paper be the paper it wants to be, which is free. Free to contract, expand, curl and uncurl as it wants. No interference from me.
I set aside a room in my house devoted to packing tape. I painted the floor with a silvery glossy paint. There, I cut paper strips of various lengths and arranged them on the floor. I cut geometric shapes in all sizes and tossed them down too. I applied pastel colors to some, added ribbons, drew lines, marked them with pencil, sometimes a drop of paint. I added thread and 'scotch' tape. Then I walked out. Each day I would re-enter the room to find it and the paper different each time.
I noticed that the paper would move from one part of the floor to another. No wind, no human or other animal interferences. They just moved around with the changes of humidity and temperature in the room. They would couple up and gather in groups, then break apart creating a tableaux of relationships with each other.
I looked forward to visiting this room every day. Always different.
One day I pinned some of the paper to the wall in various configurations. I made orderly rows of paper strips, then constellations of geometry, then abstractions of twisted arrangements. Then I let nature takeover to make its own composition. They became portraits, landscapes, and non-representational pictorial images of infinite dreams.
Since the sixties I have worked with packing tape and other paper.
This is just the basic aspects of the science behind the aesthetics. There is so much more to say.
I plan to continue….
Ryan Foerster "Early Prints and Paintings"
Ryan Foerster is an artist who works in video, bookmaking, printing, photography, painting, and sculpture.
His work is an exploration of the process of making objects and images, and the corrosive effects of nature on the materials.
In Palermo, Foerster presents a series of works on paper from 1999 to 2002, that reveal his early explorations of printing methods and experimentation with different mediums and techniques, including etching, silkscreen, Xerox, watercolor, and collage.
While he had intended to edition them, each one turned out unique because of the technical errors that occurred in the process.
The subject matter, ranging from landscape to portraits, reflects Foerster's early influences as well as his current interests. A small silkscreen of a very young Marcel Duchamp in profile titled "Duchamp-Love-Art" pays tribute to his art hero, the most diverse and intriguing art maker. Appropriating objects and working in all mediums and styles. A copy of Maurice Galbraith Cullen's landscape painting "On the St Laurence" from 1897, is the first glimpse of his favored material in art making: Nature.
at The National Exemplar, Palermo
until 30 August 2018