Mousse 70 TIDBITS
Email My Heart: Tobias Spichtig
Close
1
2
3
4
5
6
7
8
9
10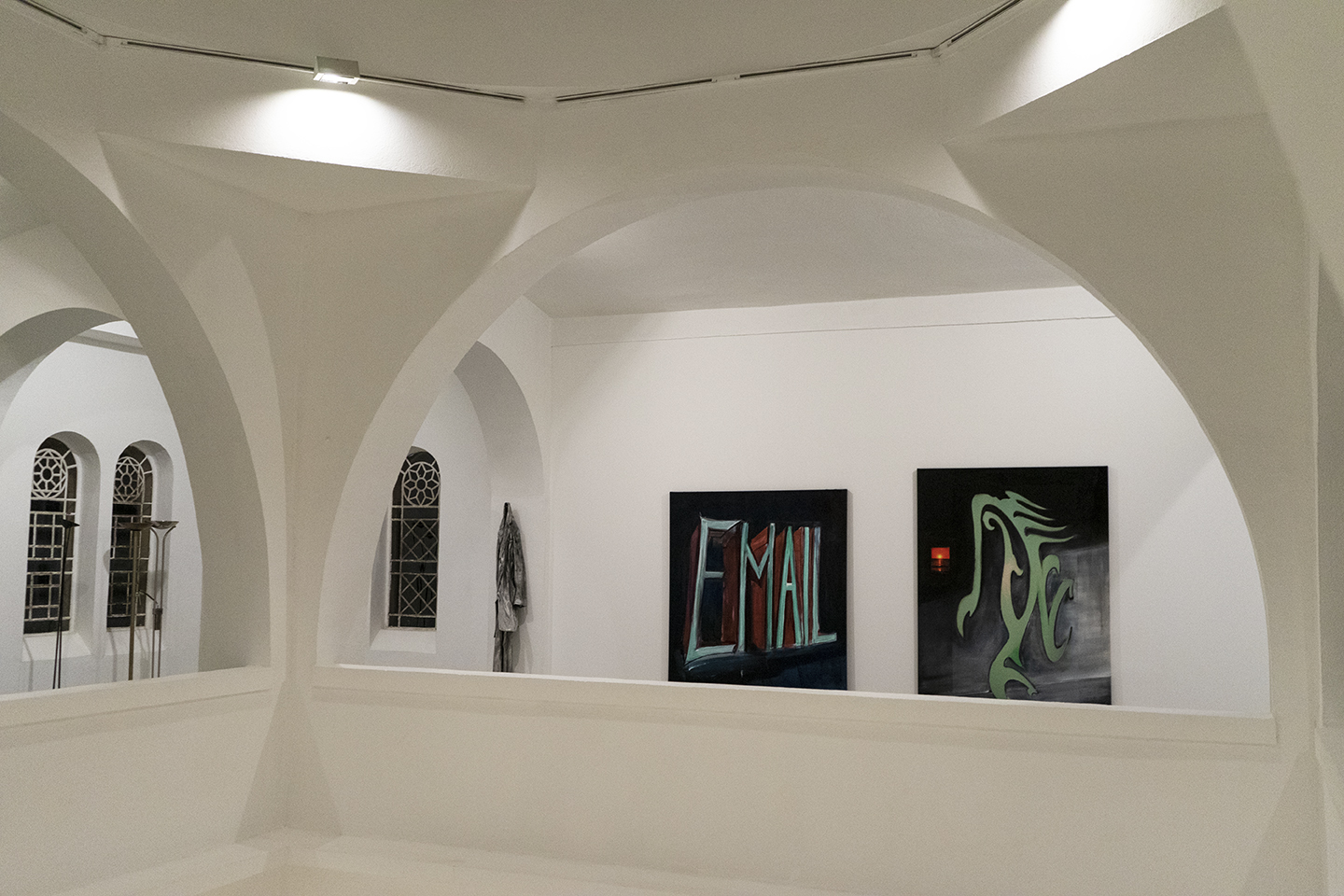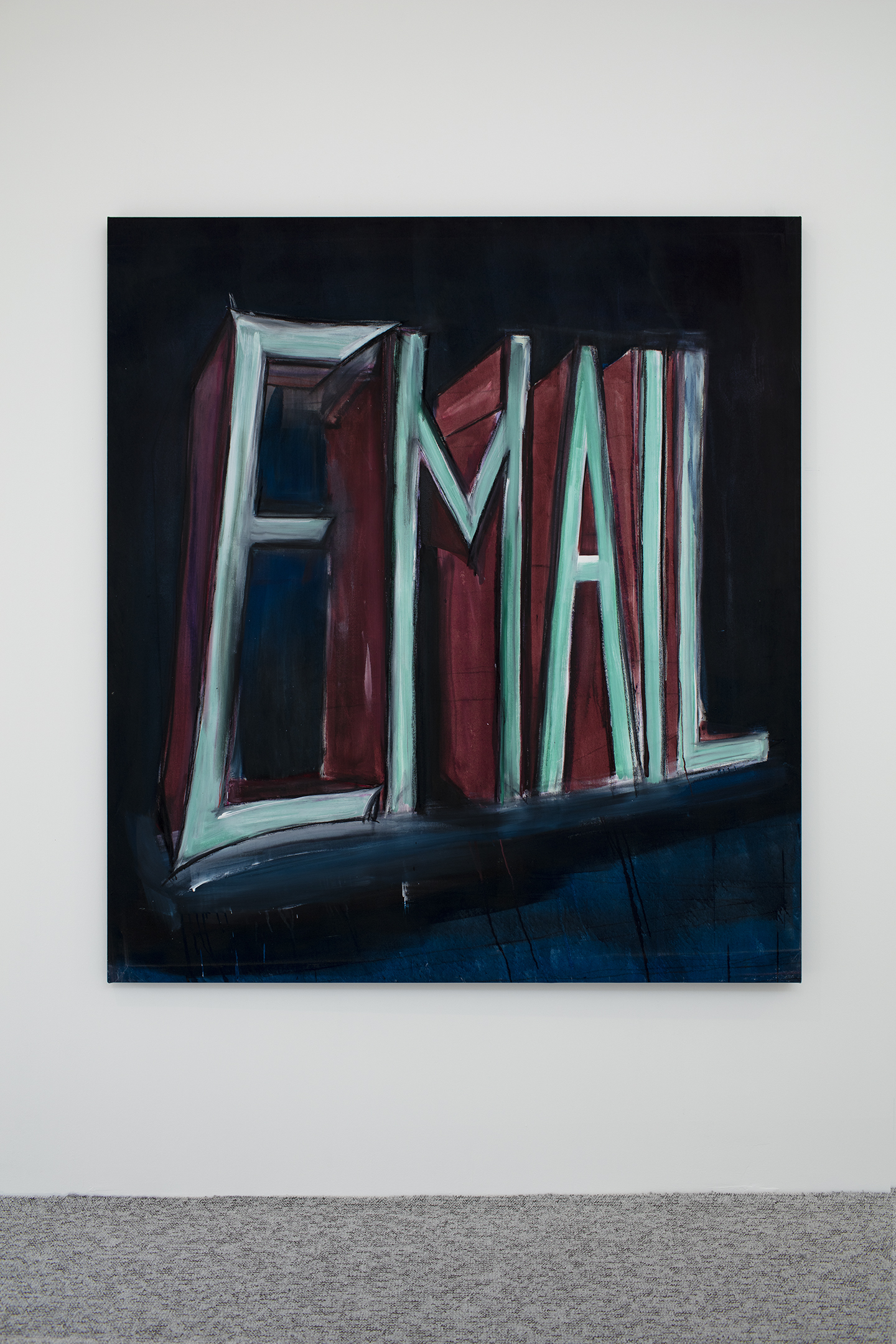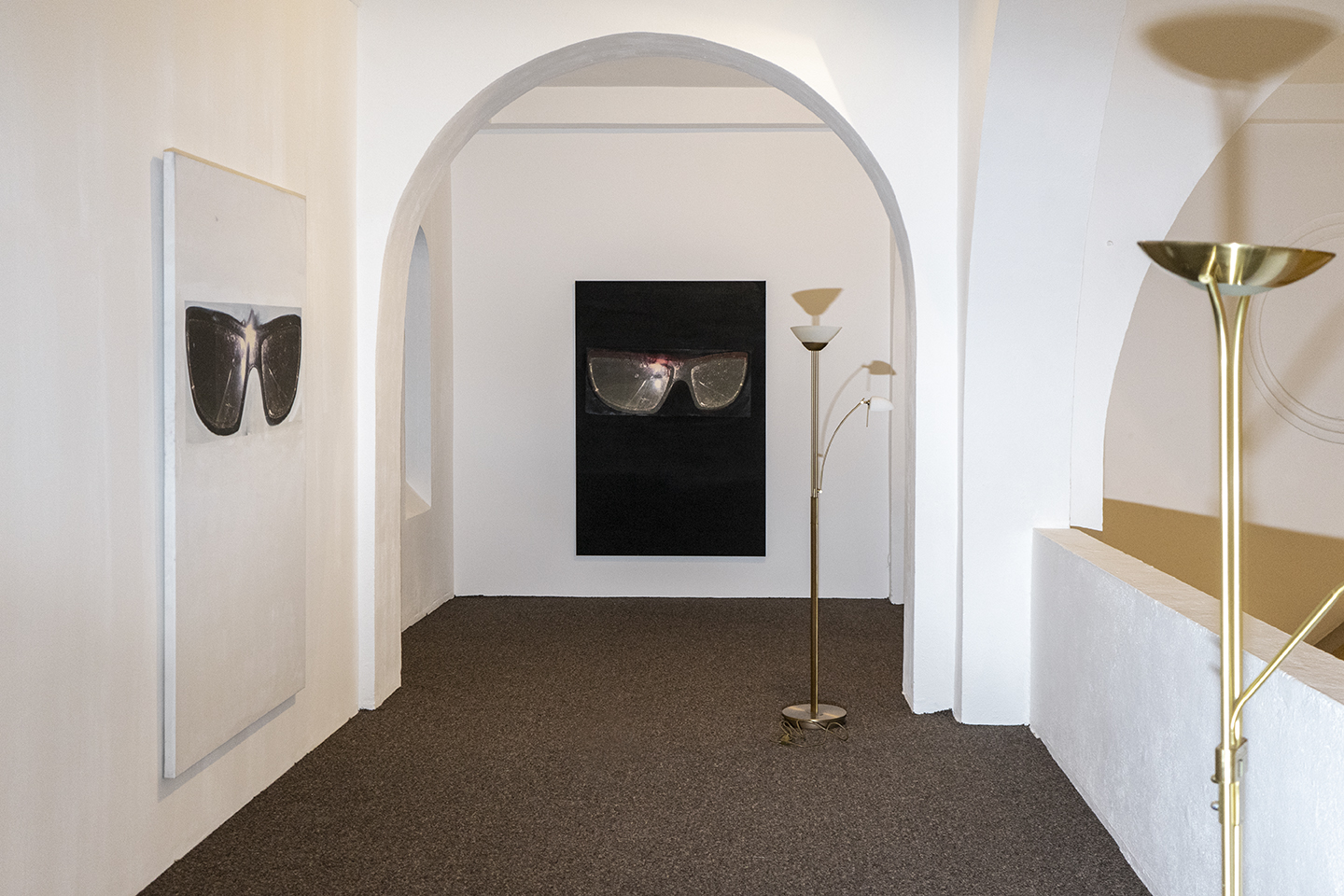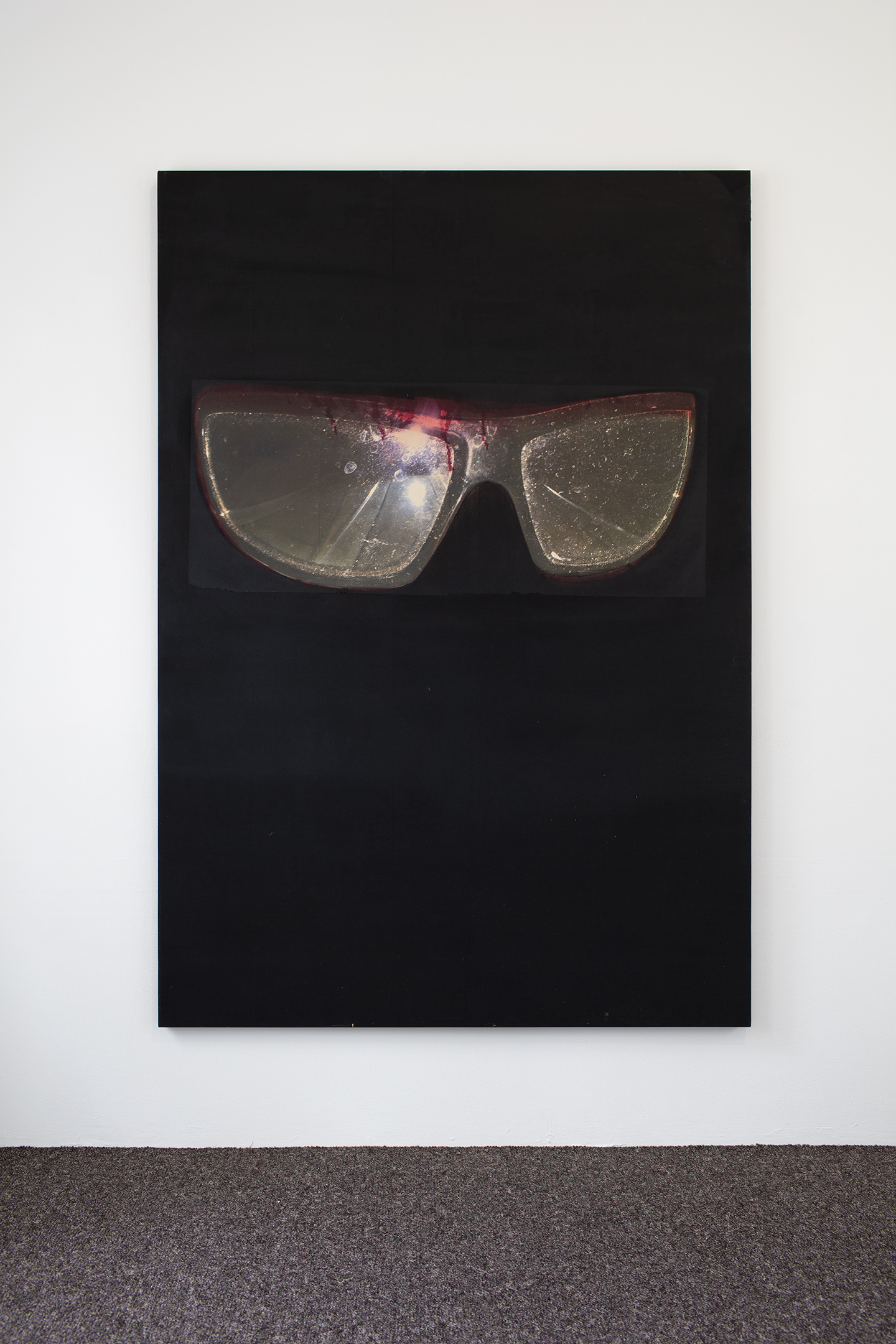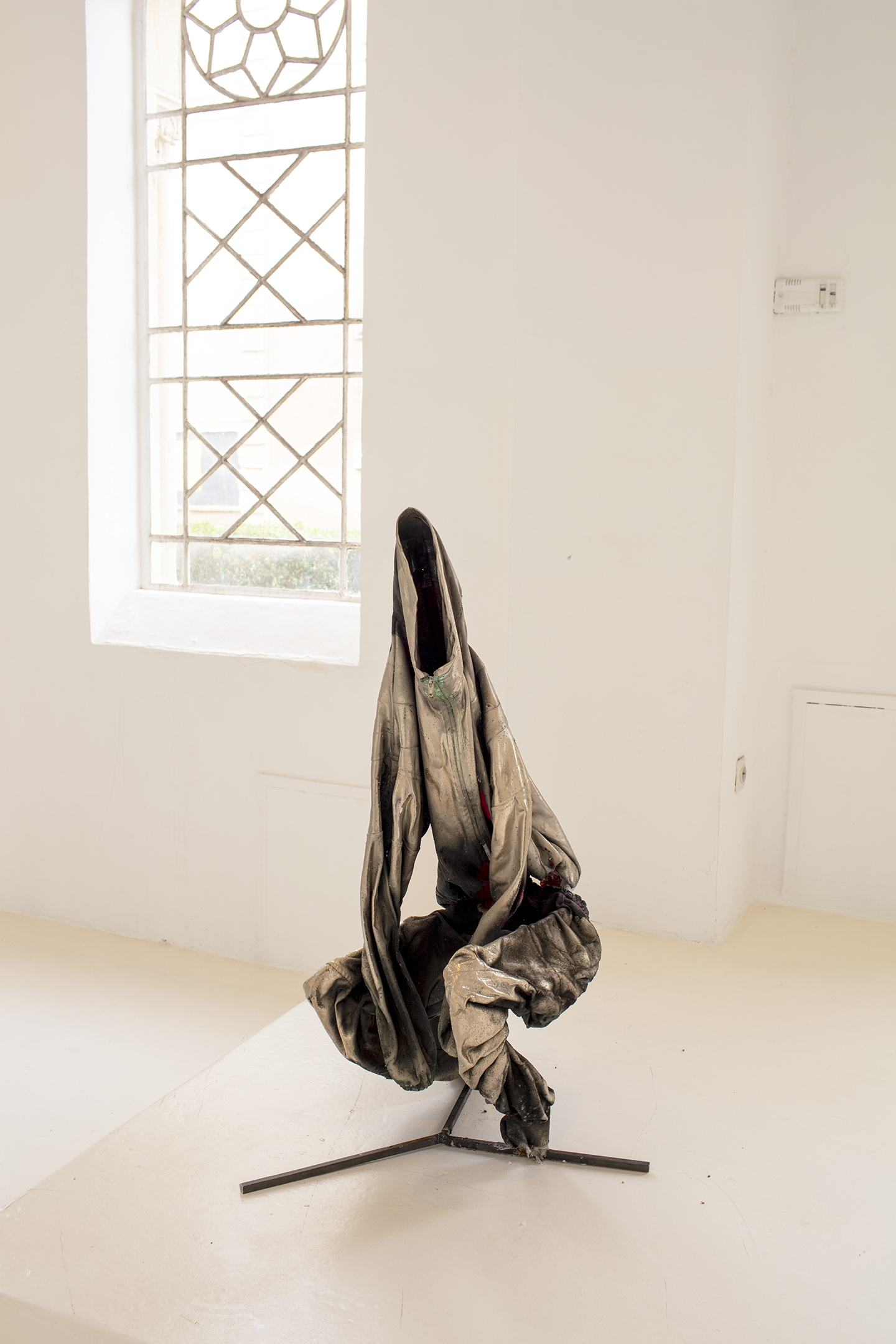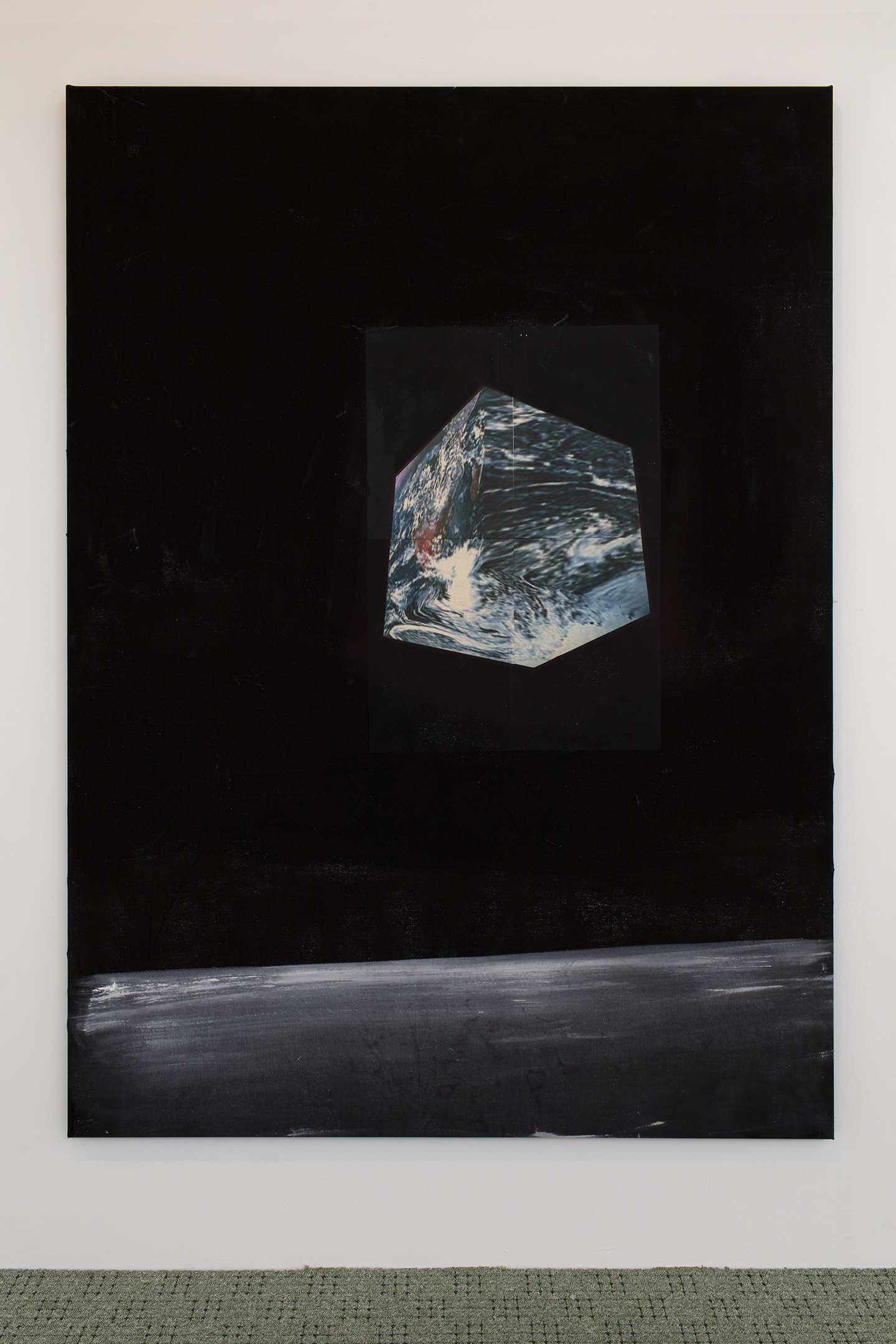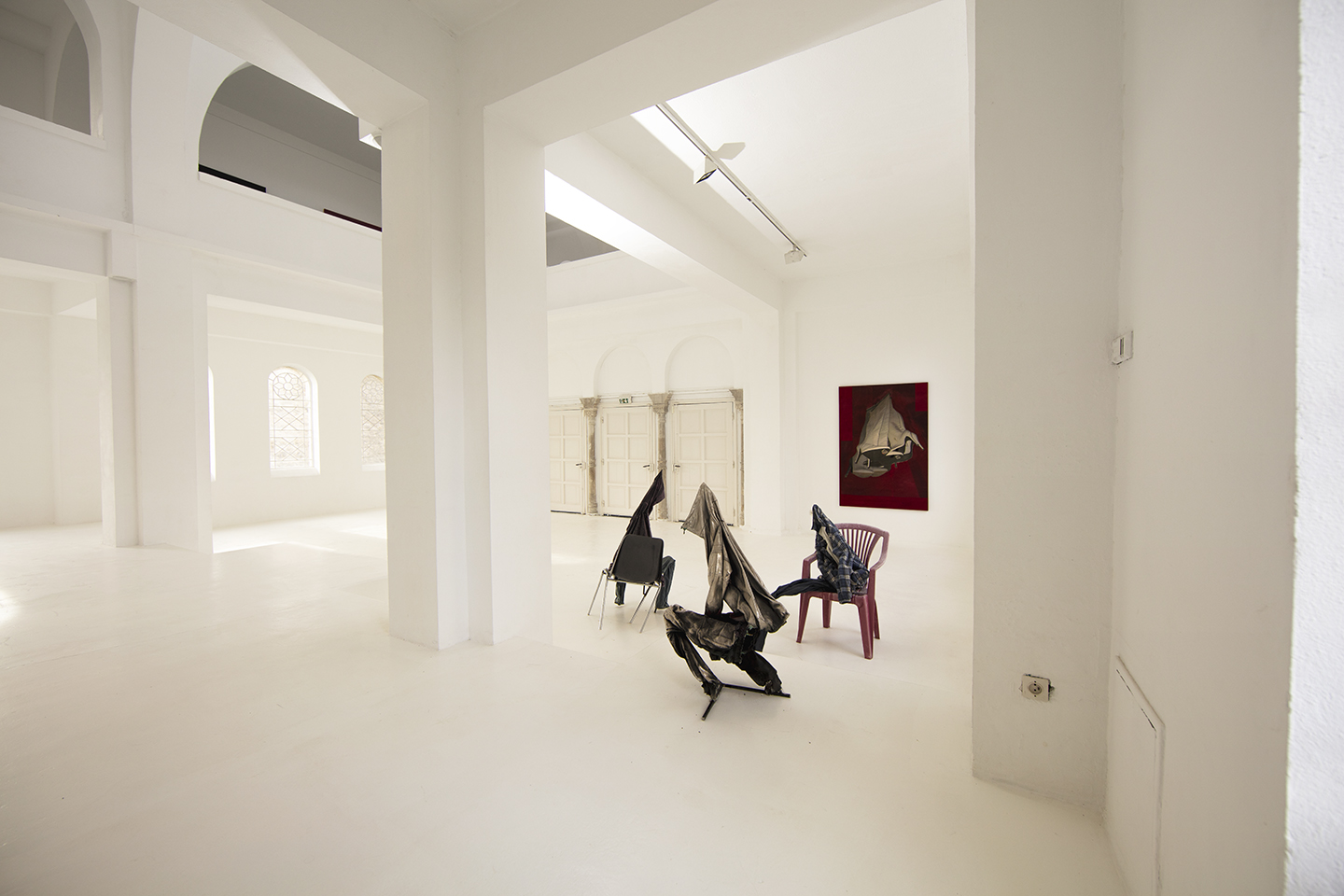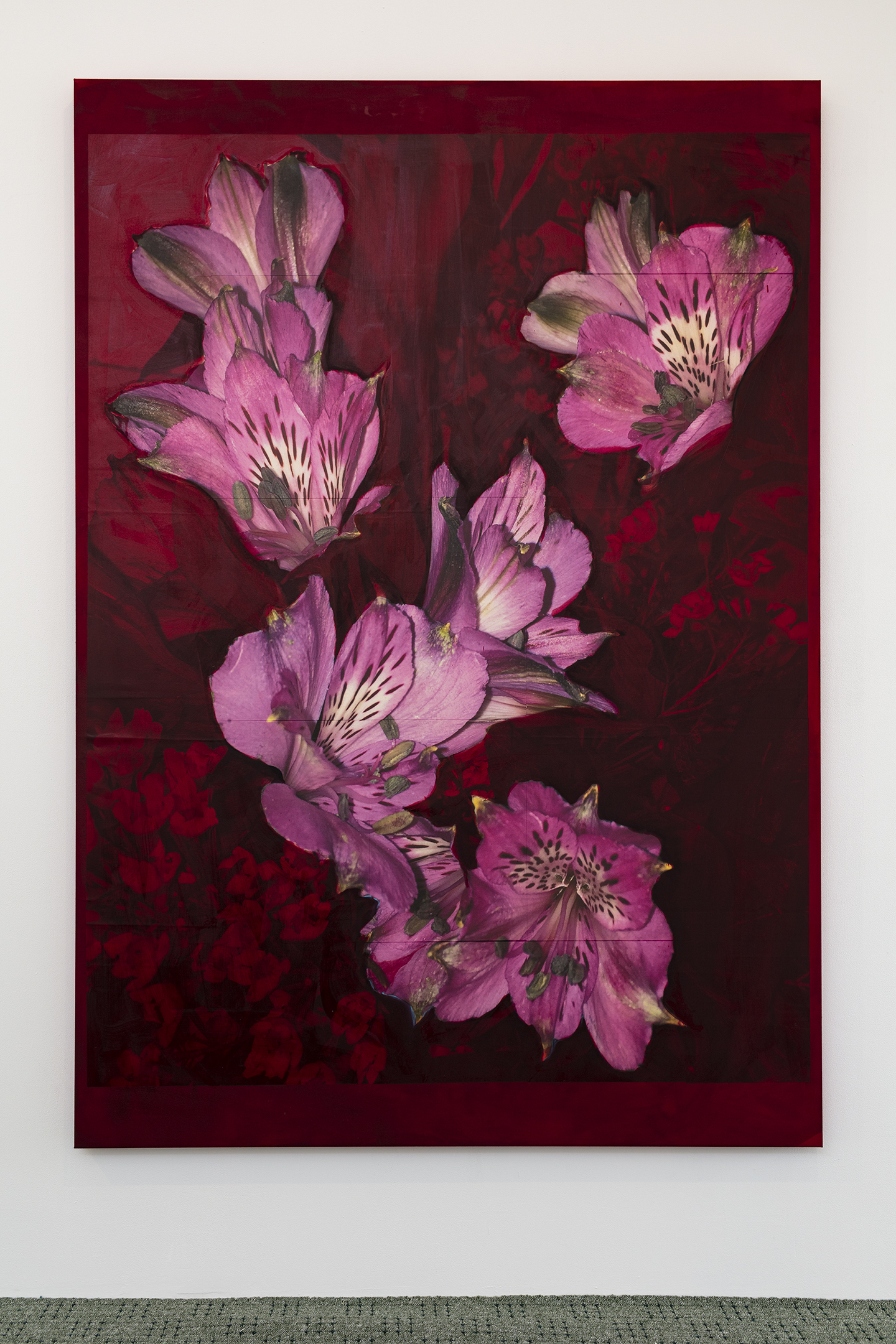 by Kristian Vistrup Madsen
Tobias Spichtig's work has the appeal of pop music—that's why I've always liked it. It oscillates between trash and glamour, allure and repulsion, emotion as mere effect and—crucially—flashes of intimacy and honesty that appear almost as if inadvertently.
"As soon as there's a skinny figure, shit gets existential," Spichtig told me in a dismissal of the link between his clothing sculptures and fellow Schweizer Alberto Giacometti's signature emaciations. Spichtig's are outfits worn by no one. But attitude has no need for substance. He treats the fabric with resin so that the characters can hold their poses without the help of a body. Heroin-chic taken to the next level. It is not hard to see how the impossibly thin silhouettes could be reminiscent of Giacometti's, yet while the modern master worked in reduction—each figure equivalent in essence to any other—Spichtig undertakes an exercise in making a whole without a core, an adjective without a noun, a personality without a person. An -ality? The only thing they are not is interchangeable. Each shell lounges or loiters with its own particular brand of nonchalance. All surface, no reason. These works are about not essence, but superfluousness. The people who hang around in the back rooms of galleries, people who neither add nor take away. Friendly ghosts, as we know, don't haunt.
This difference aside, to say that the clothing sculptures are entirely un-existential—a kind of shorthand for depth or profundity—doesn't seem quite right, either. The superfluous is always a distraction from something else, like air freshener frantically masking the shit that will inevitably testify to the mess of being. When I visited his studio this fall, Spichtig actually told me that the idea for these works started from a fascination with the marble "cloths" draped over urns and busts in graveyards. This bizarre feature is not an act of modesty, like fabric draperies that conveniently conceal genitals, but of refraining from mourning. Likewise, Spichtig's empty outfits circumvent sentimentality by distracting us from what might lie behind, instead turning emotion into a much more palatable shell, an attitude. It's a battle with feeling that must be lost, but only ever so partially in order to give the work its soul, to let slip the faintest insinuation of what cannot be looked at.
The first clothing sculptures were, say, a sweatshirt forgotten by a friend, or that last coat never picked up after a party. Leftovers from the everyday and the close by. Making resin postures of them is a process of amicable mummification, a way of making them not belong to your friends, or your life, but to anyone's. The latest ones are from the archive of Balenciaga. What's the difference? What is fashion if not the idea of the personal, embalmed and pushed down a runway? 
A similar maneuver is at stake when Spichtig fills galleries with however many old refrigerators, sofas, or yellowing mattresses. Again, the material is sourced from the sphere of intimacy—the home. Multiplied, the elements appear strange and lifeless, populating the rooms like stones in a cemetery. I saw a gravestone recently that just read "Warum?" ("Why?" in German). This is a question to ask of life, not death. Still, we might ask the same of Spichtig's crammed interiors. Why are we being pushed out of the rooms? What are these things standing in the way of?
The paintings! It must be the paintings! In 2017 at Galerie Bernhard, Zurich, it was barely possible to enter the premises for the army of tables. The following year, also at Bernhard, paintings peeked out from behind refrigerators like penises from under fig leaves. It's not about modesty, but it is certainly about barring you from what you want to see, teasing your desire—not just for penises, but other, less solid things as well, like togetherness, familiarity, beauty.
The paintings, once you get to them, are layered with distractions of their own. Spichtig takes photographs of things or people around him, and prints them onto canvas, like concert merch t-shirts. Then he starts painting. Good Morning and Good Luck (2016) presents fragments of Vincent van Gogh's sunflowers and a mug picturing the skyline of New York. To see the flowers in full, not blacked out by broad black brushstrokes, or that cup, not hovering on a blood-red plane, would naturally be too much. Too many memories. Too many associations. Similarly, take Father after Surgery (2016) or Theresa (2016)—especially the latter, Spichtig's beautiful girlfriend—and, by way of the hazy quality of the print and the painted interventions, make intimate relations look like movie stars, make them seem far away. Then you can look at them from the comfort of an old leather sofa in a room full of other such sofas, as if things didn't matter quite the way they do. I'd understand if someone told me they thought Spichtig's work was cold, or shallow. Just as I'd understand if they thought pop music wasn't about anything. But I'd still ask them to look again at the brushstrokes and the filth with an eye to compulsive tenderness, and other traces of life lodged there. After all, it's no great mystery what's behind a fig leaf. People wear sunglasses because they're either high or crying. So, which one is it, Tobias?
Tobias Spichtig (b. 1982, Switzerland) lives and works between Zurich and Berlin. He graduated from Hochschule der Künste in Zurich. His work has recently been presented in personal exhibitions at SALTS, Basel; Museum Folkwang, Essen; Freehouse, London; Jan Kaps, Cologne; Malta Contemporary Art, Valletta; Galerie Bernhard, Zurich; LambdaLambdaLambda, Pristina, and featured in group exhibitions at Balice Hertling, Paris; galeria stereo, Warsaw; Jan Kaps, Cologne; Museum of Contemporary Art, Belgrade; Dortmunder Kunstverein, Dortmund; Michael Thibault Gallery, Los Angeles; Oracle, Berlin; Kunsthalle Wien, Vienna. Solo and duo performances have been showcased at Volksbühne, Berlin; Swiss Institute, New York; Kölnischer Kunstverein, Cologne; Kunsthalle Zurich, Zurich; Hammer Museum, Los Angeles; New Theater, Berlin.
Kristian Vistrup Madsen is a Danish writer and art critic based in Berlin. He is writing a novel about strong feelings and architecture, and has been published widely in magazines such as Artforum, frieze, and Kunstkritik.