Mousse 70 TIDBITS
Body Language: Tomaso Binga
Close
1
2
3
4
5
6
7
8
9
10
11
12
13
14
15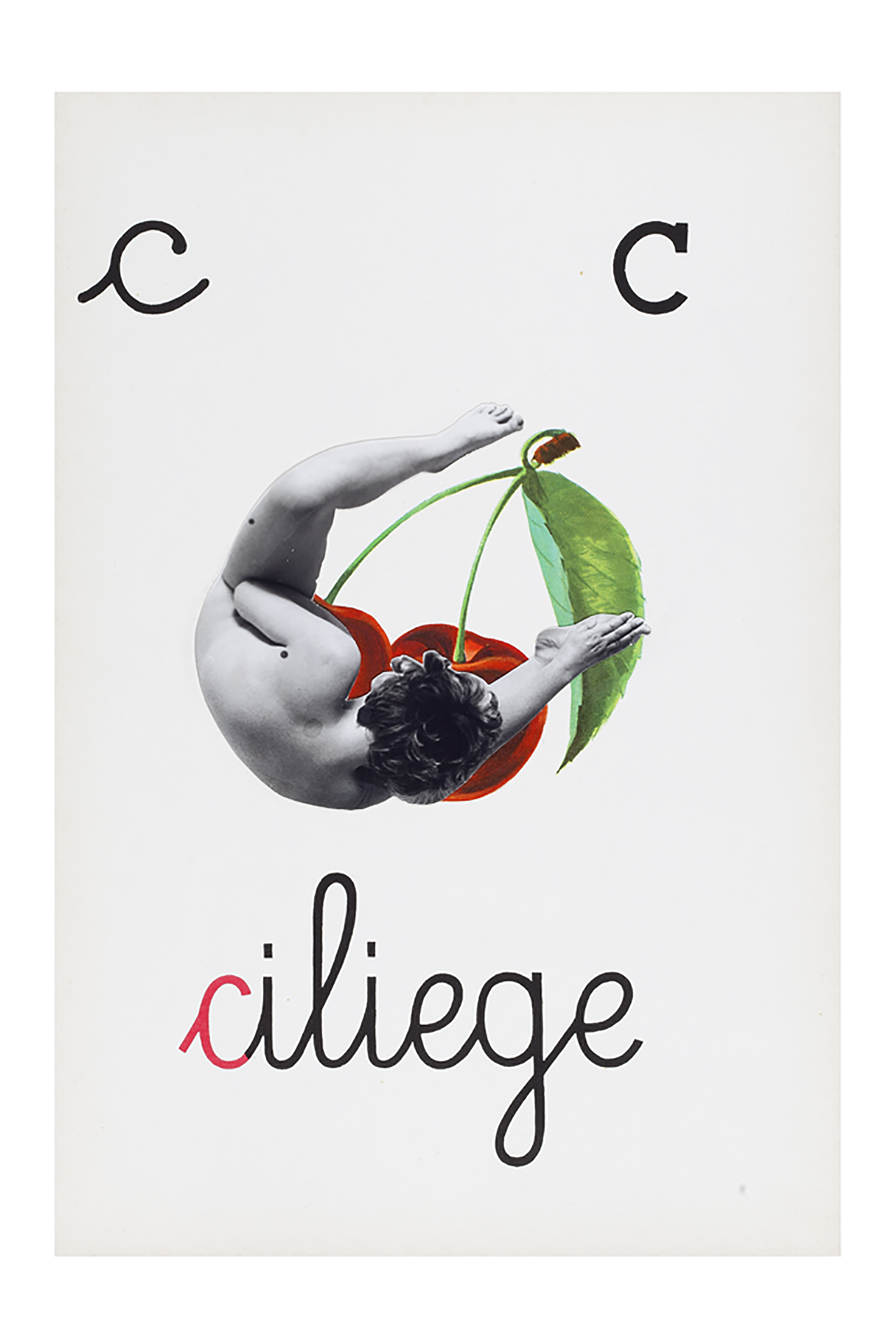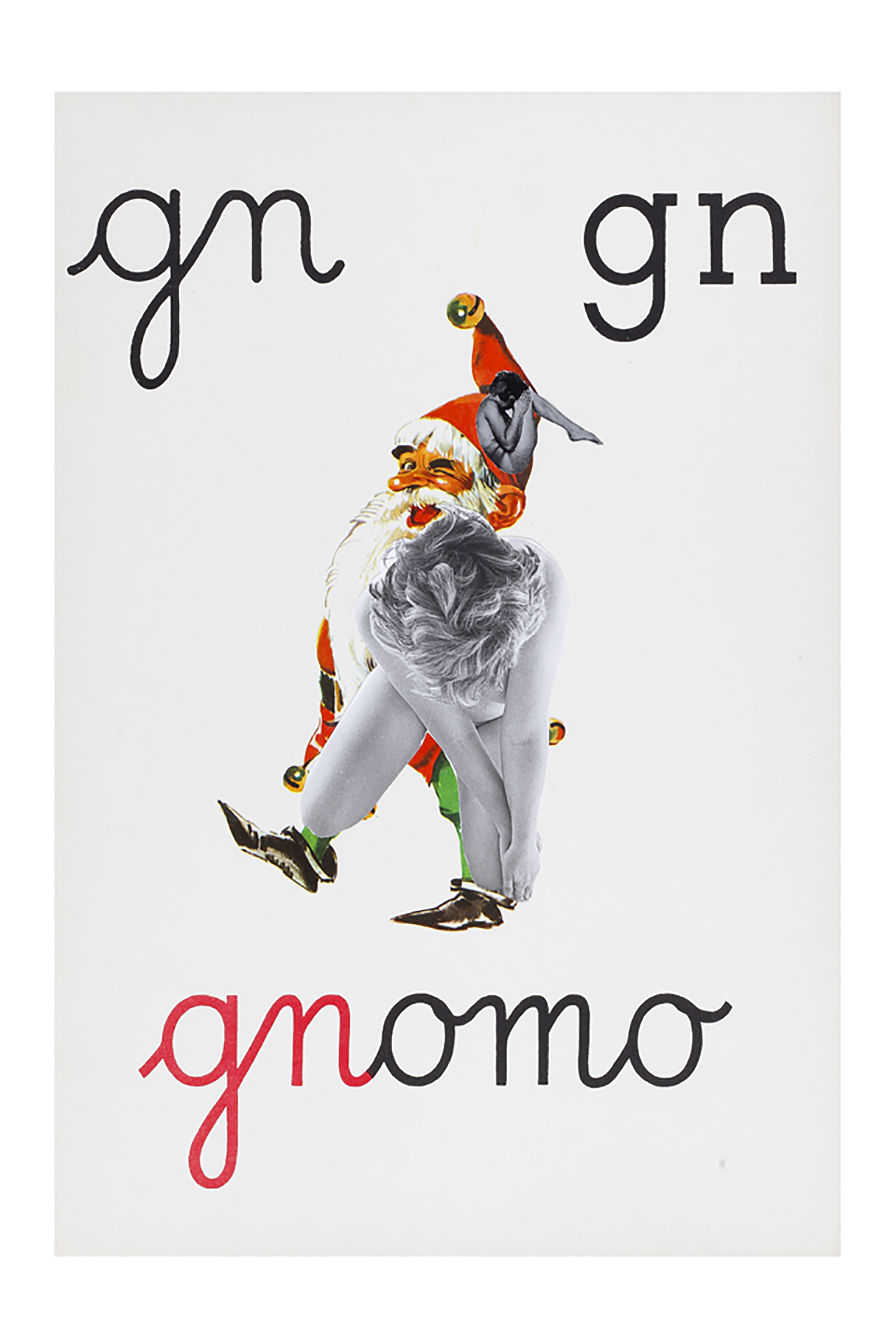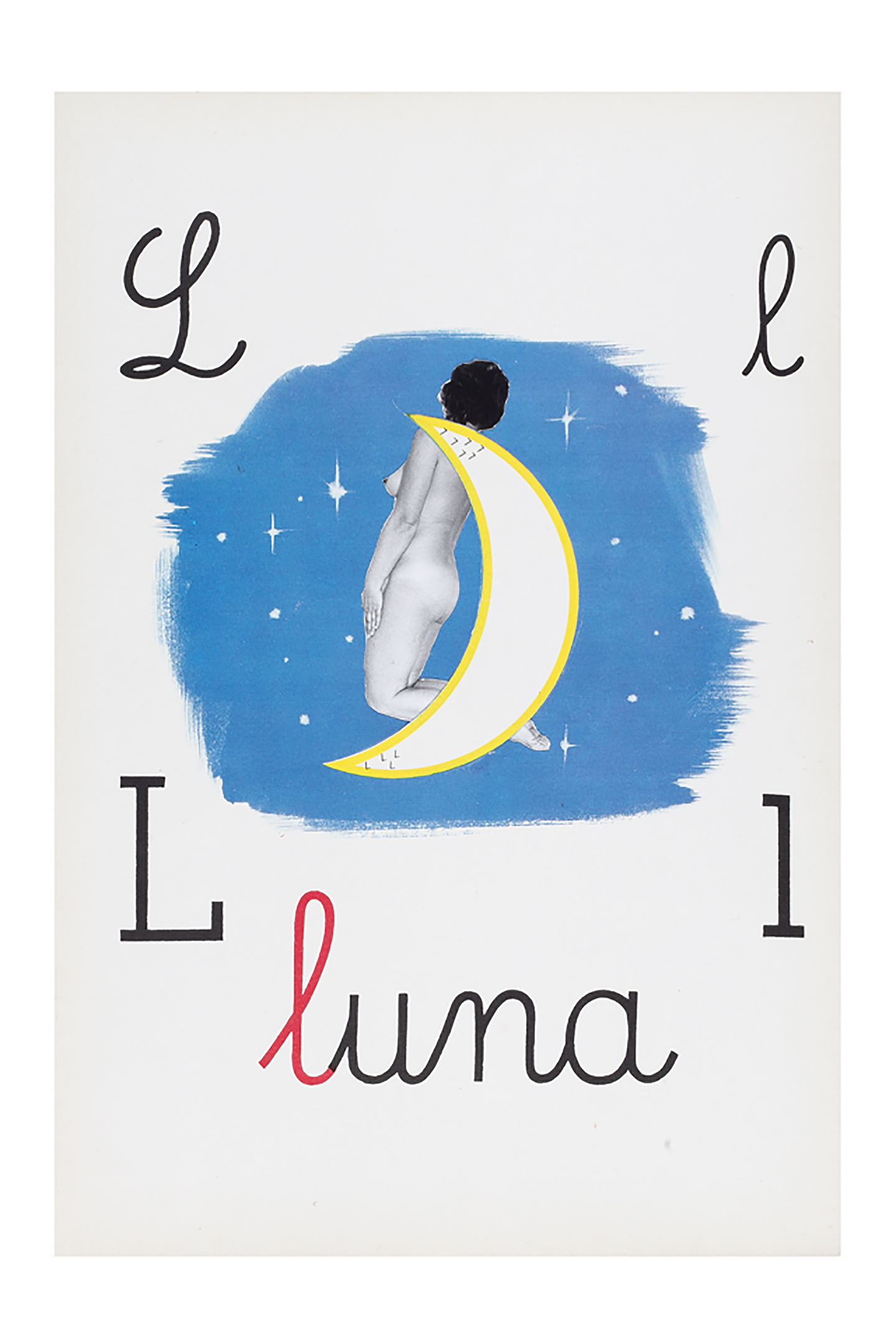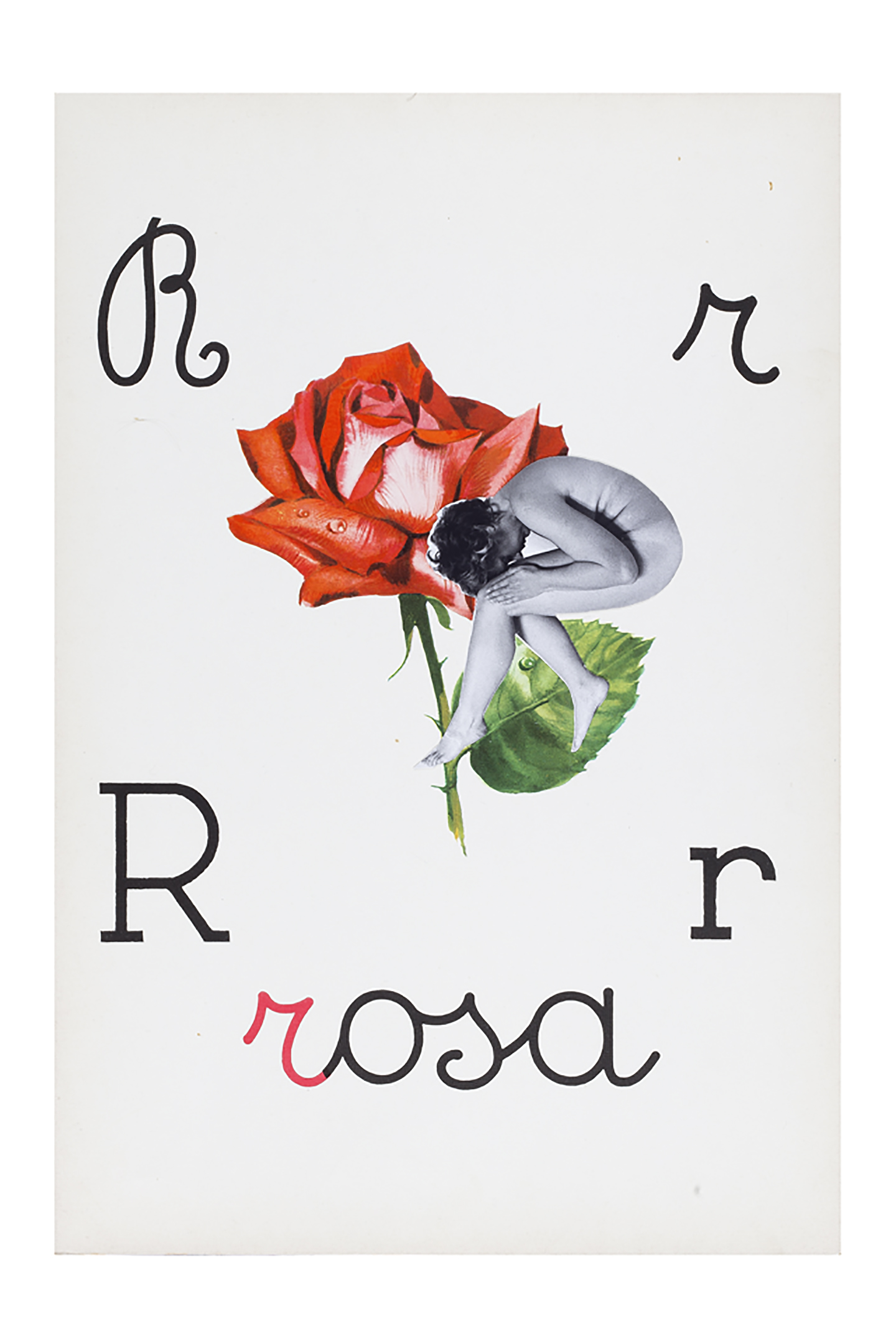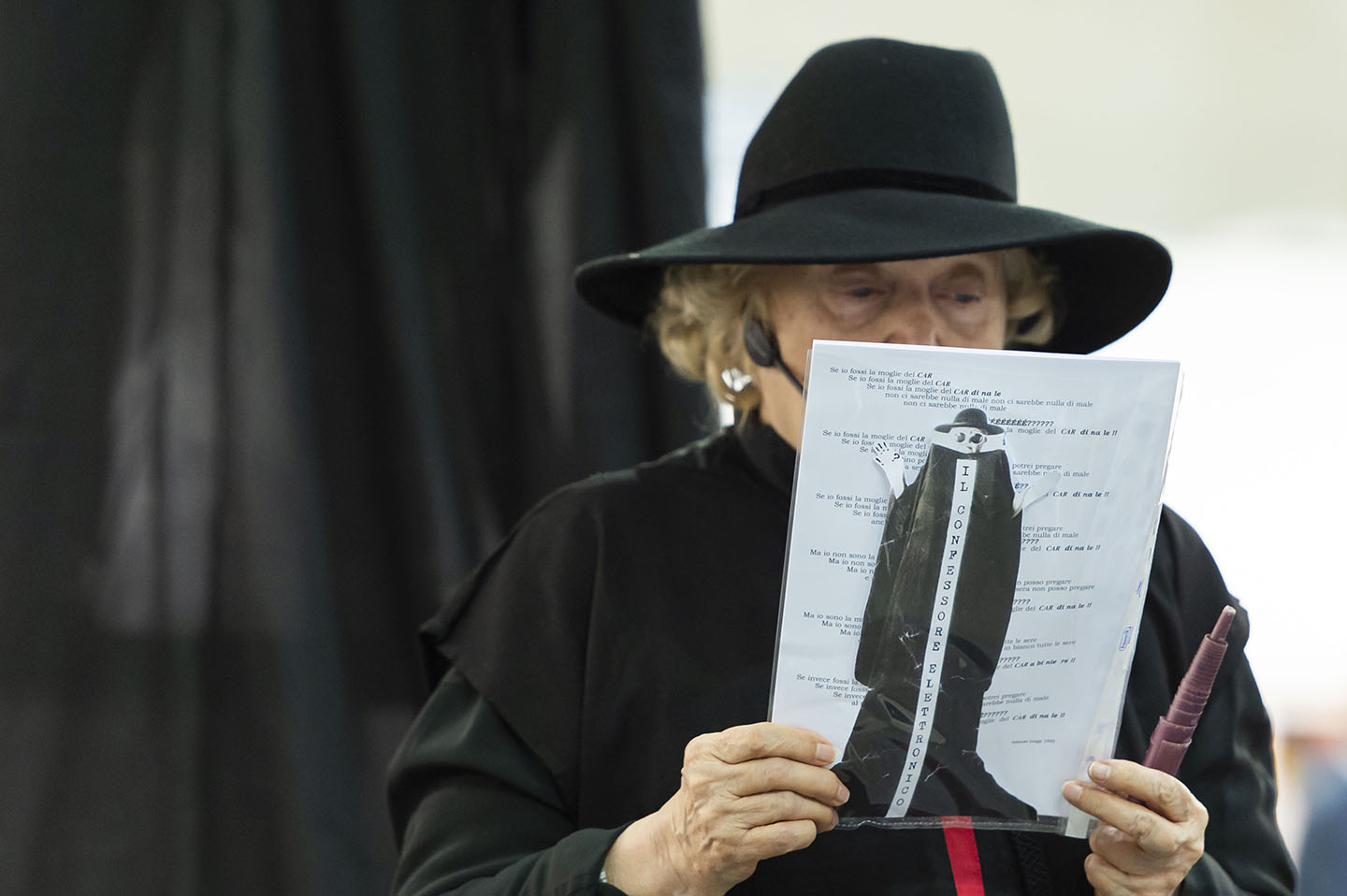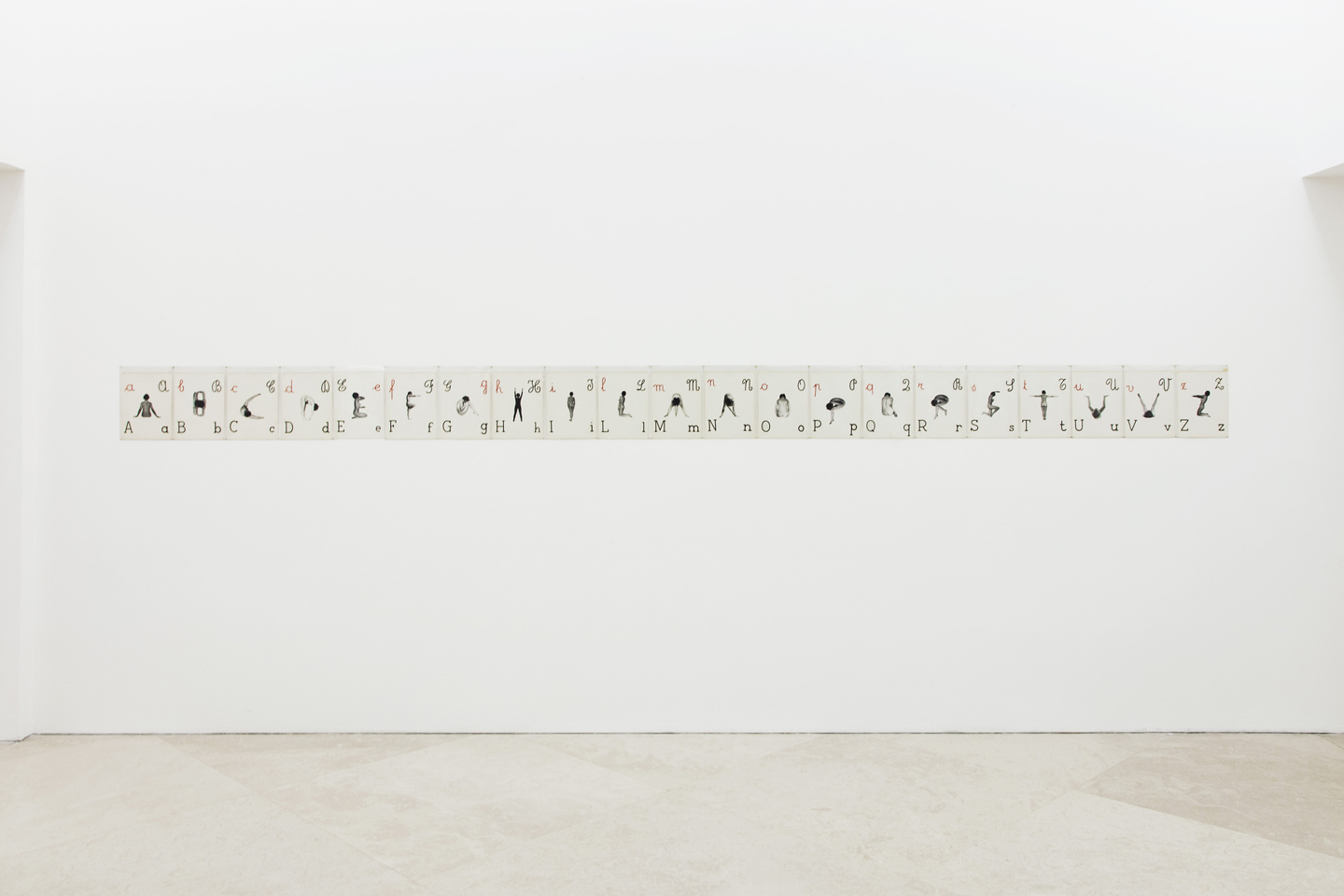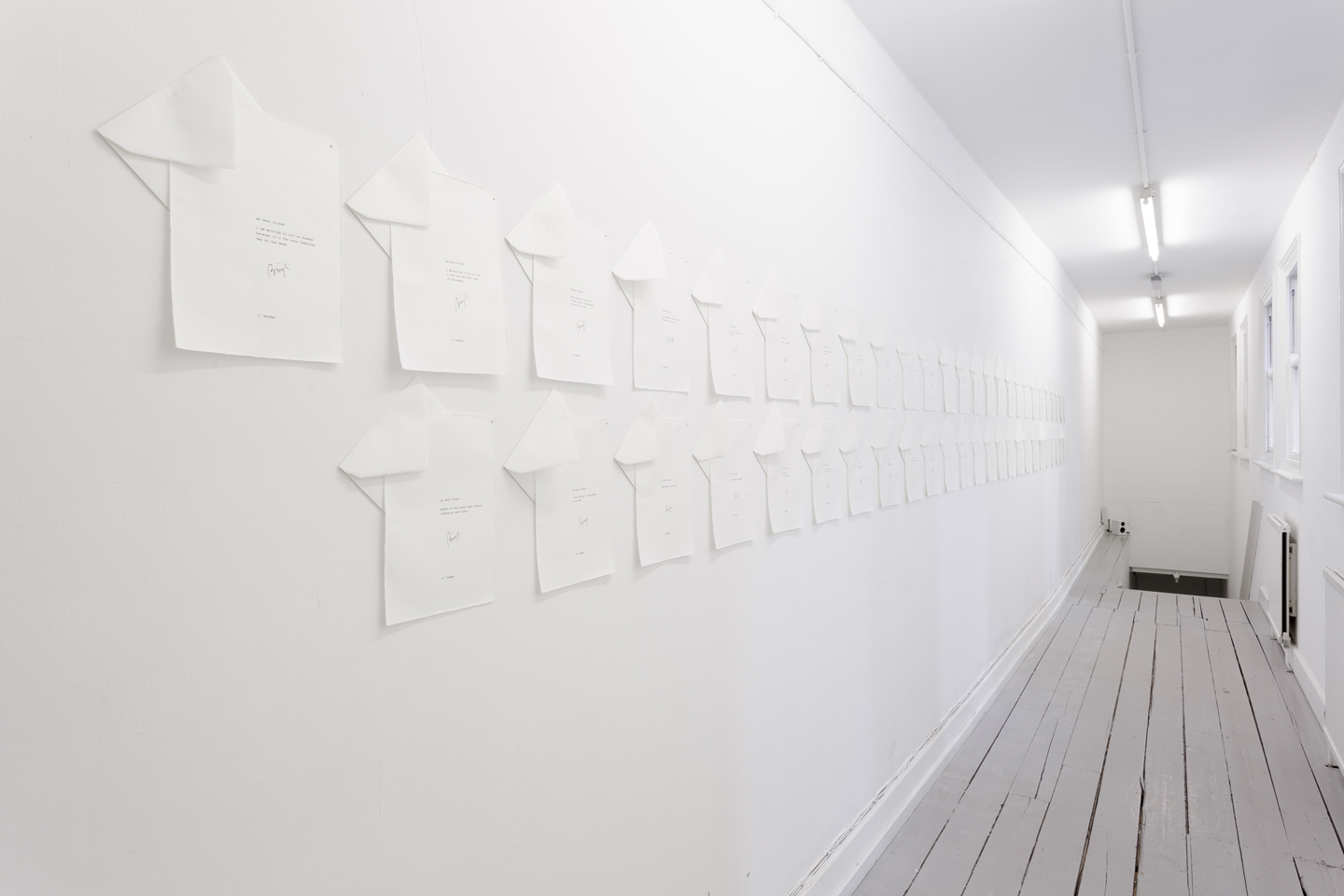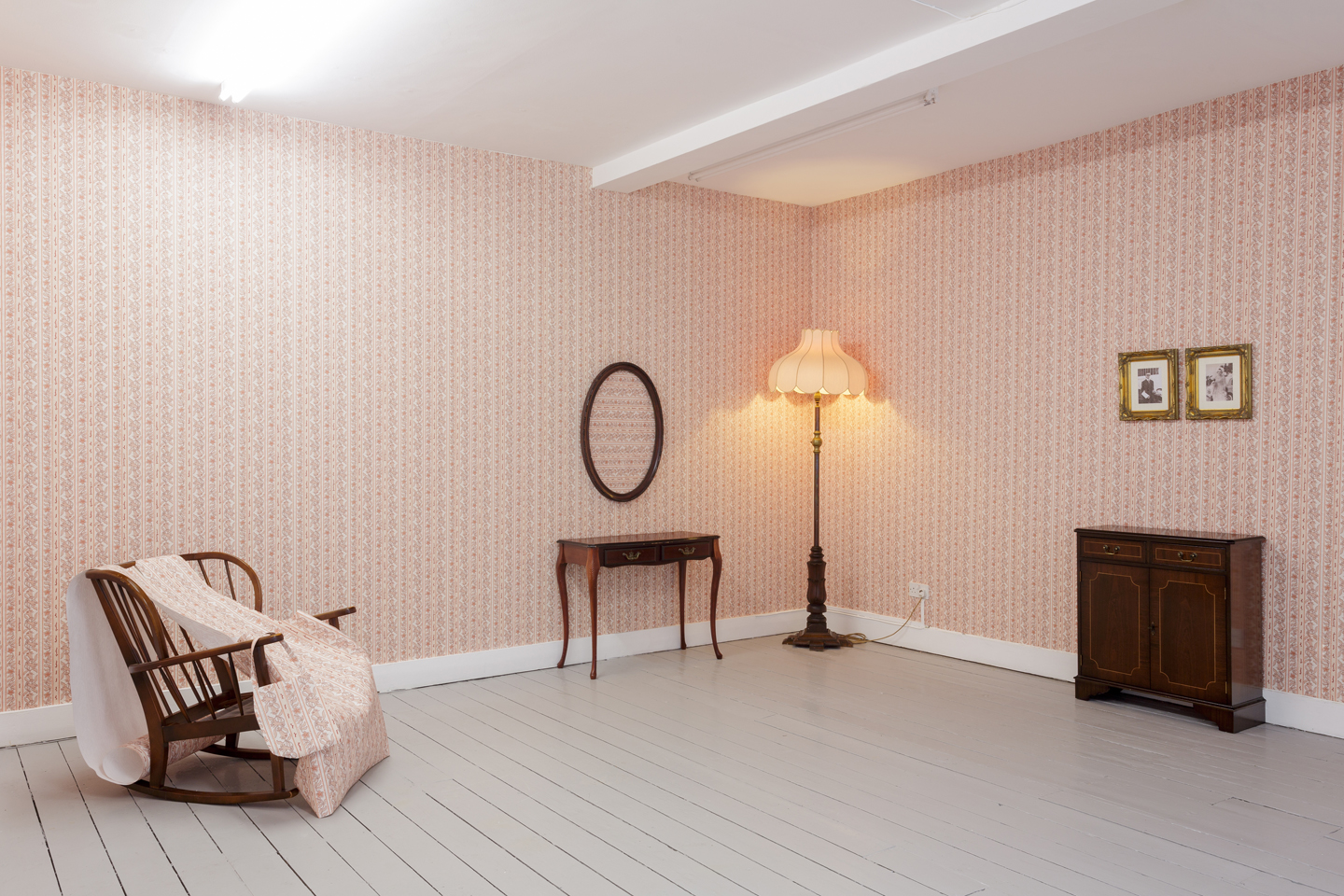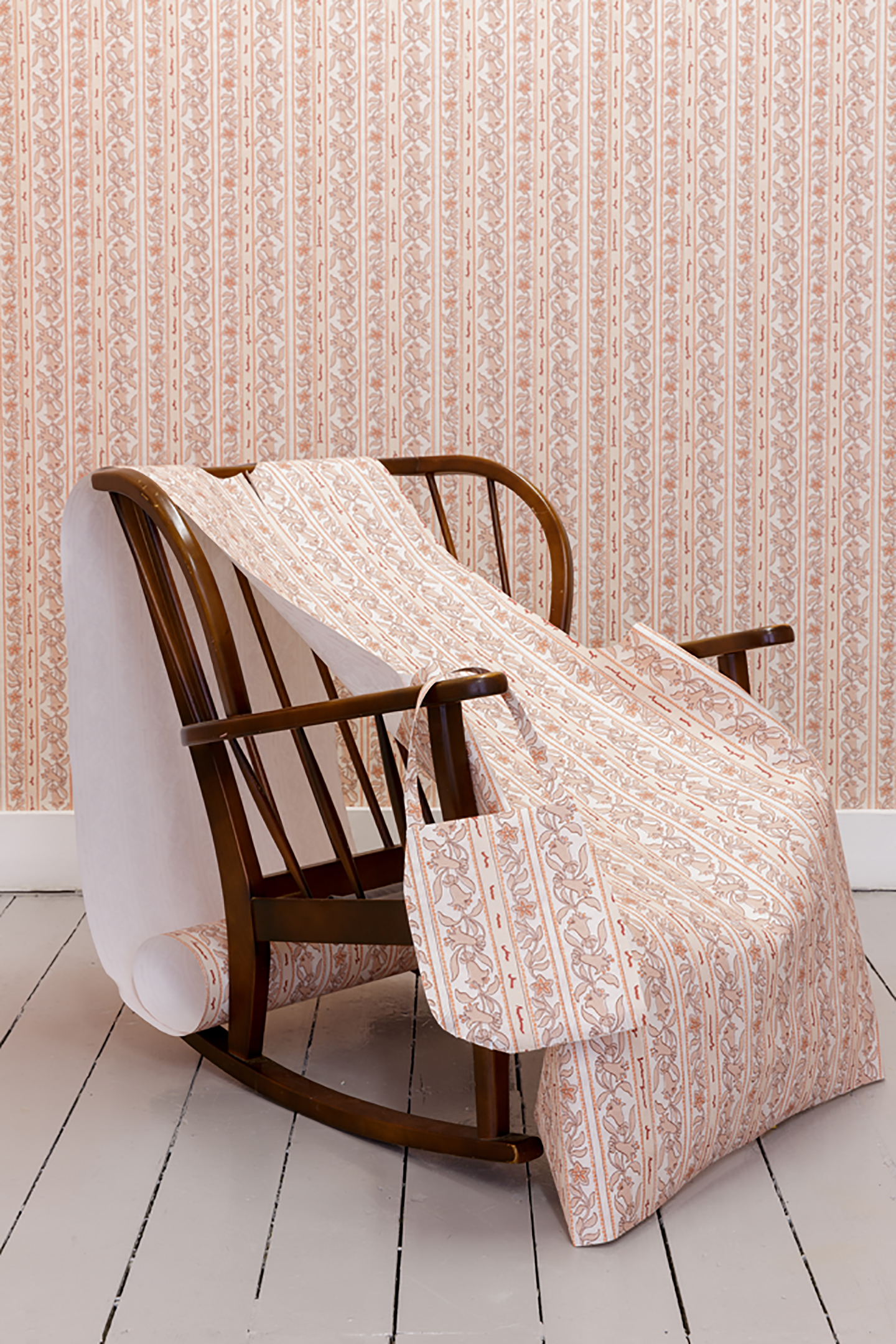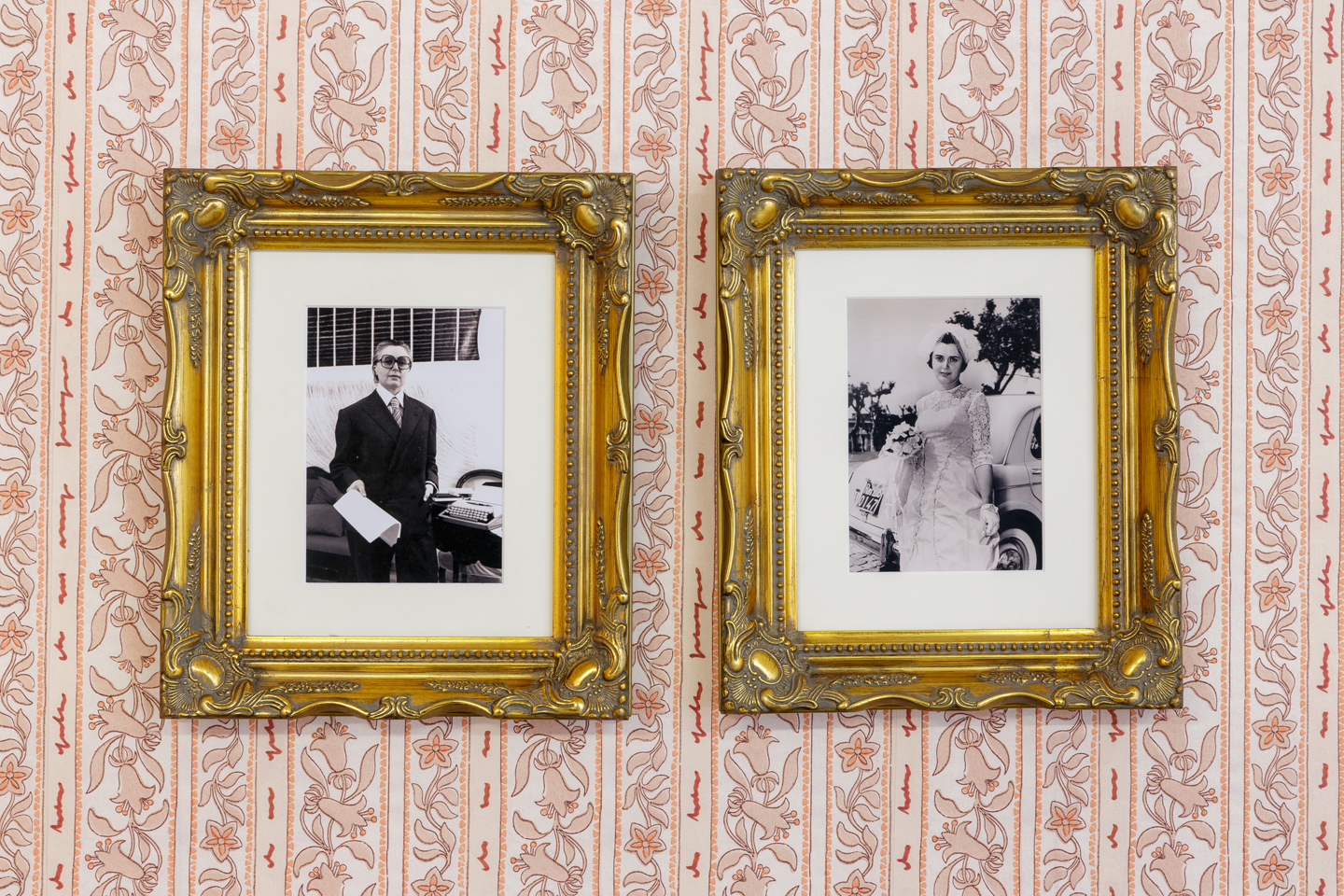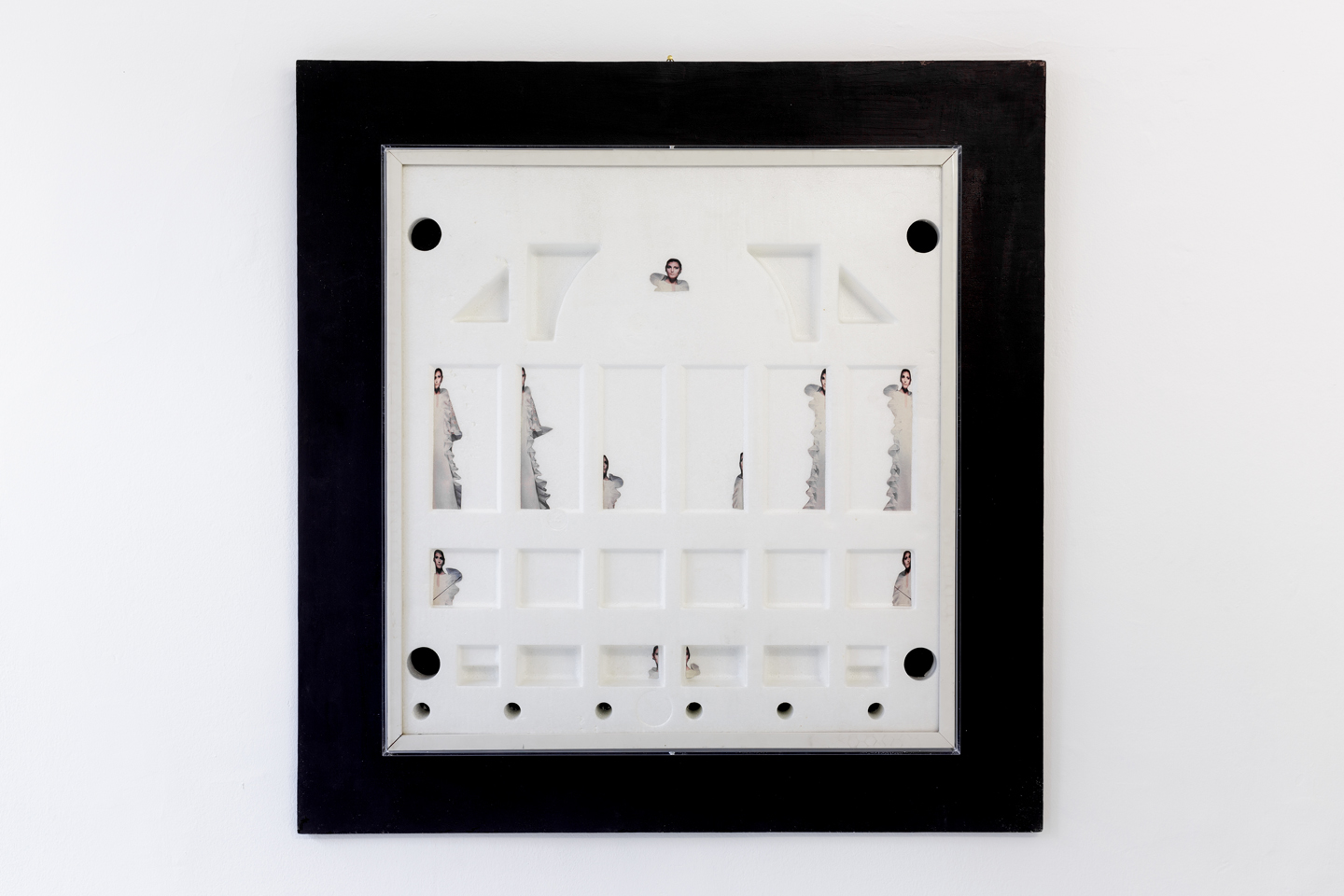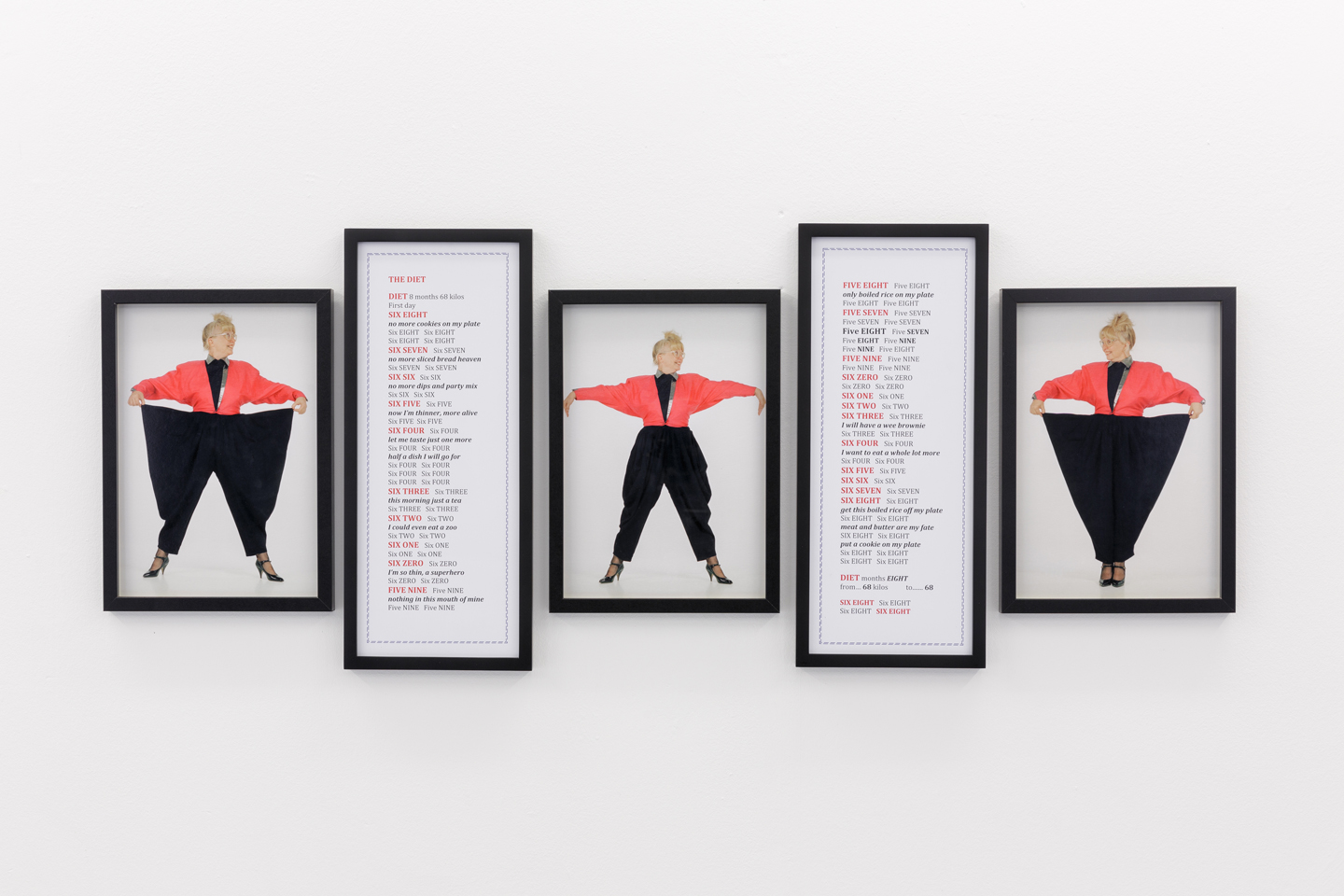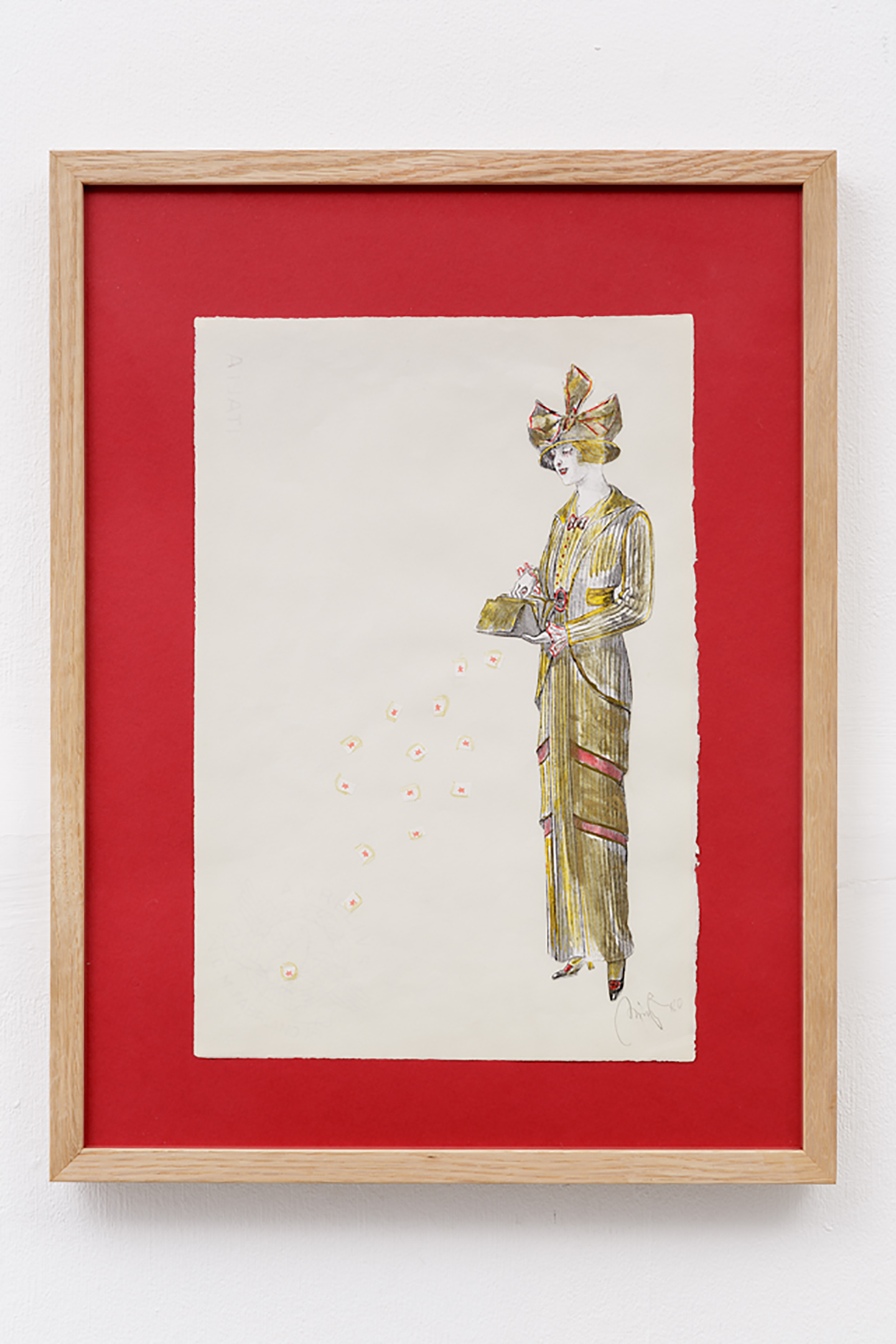 by Guia Cortassa
Tomaso Binga has been exploring the infinite possibilities of body and language since the early 1970s. Now, at almost ninety years of age, the poet and performer is taking her unique feminist agenda outside canonical art platforms, conquering with her performative practice spaces like fashion runways or art fair aisles, and collaborating with stylists and designers to remind us all how much work has yet to be done to right contemporary society's wrongs. She is still on the front lines against inequalities and climate change.
Forty-two years before the actress Emma Watson described her sentimental status as "self-partnered," an Italian artist decided to marry herself. Bianca Menna had already adopted the pseudonym of Tomaso Binga, splitting her private self from her public persona: the person from the artist, the female body from the male name. Bianca, educated to be a teacher, worked in a primary school and was married to Filiberto Menna, a doctor who would become one of the most important art critics in Italy. She had taken his last name, abiding by the traditional patriarchal habit. The newly minted Tomaso, a poet and a performer, proudly made it in the all-male circle of Conceptual artists living and working between Rome and Florence— where her pieces were nonetheless often labeled as bischerate, a regional Tuscan term for stupid, foolish things with no value or meaning.
The wedding reception took place as a performance in 1977 at Galleria Campo D in Rome. Guests arrived in formal attire and brought gifts, and were welcomed by two photos hung on the wall, each a portrait of one of the two brides: Binga in an elegant suit and tie with slicked-back hair and big eyeglasses in an office, and Menna in a shot taken during her actual 1959 wedding day, in her white gown holding a flower bouquet against a white car. The two images were displayed under the somewhat untranslatable Italian title Oggi Spose, bending a highly gendered language that uses the male form when even just a single masculine item appears in the group, thus inflecting the idiomatic expression for newlyweds "just married" to the male case. Binga turned the phrase to the female form so that it loosely translated as "brides today," defying the patriarchal grammar of her native tongue. Language and the body have been Binga's topics and medium of choice throughout her career: the written body, the portrayed body, and the physical body are the core elements of her research.
"I've been working with verbovisual poetry forever, always searching for new linguistic codes. […] The body was a fundamental experience for me, especially in the 1970s. It all happened by chance: I had this project of a classroom alphabet ready for years, but I could only carry it out after a casual yet striking encounter with Verita Monselles, a photographer based in Florence, at the opening of a collective show she took part in. I would have never gone to look for someone to shoot the project I had in mind, but she was working on the female body in the same way I was: transforming it into graphic signs. I always have this expression in mind, il corpo della scrittura [literally, 'the body of writing,' an Italian figure of speech to denote a text]. Writing is corporeal; it isn't only idea or sign. It's a body. A language speaks, and— the other way round—gestures speak, the voice speaks, the hands speak. A body speaks with its whole self."1
From Menna's experience as a primary school teacher and worker, Binga borrowed the foundations of her feminist art making, from mural alphabets—where her naked body takes the shape of the represented letter—to the experiment of turning superimposed, layered characters into new typewritten organic shapes (called Dattilocodice), to the nursery rhymes she composes to give voice to her fulminations. Her approach is always playful and positive, far from the angriest wings of women protesters of the 1970s: "I wanted the work done on my body as essential as possible. I wanted it to little by little become sign, to transform again into a body, and then into substance, intelligence, and mind, for it to have the possibility of communicating with others. All my work is based on alphabets. I made so many of them in any possible form. But I never want- ed them to be turned into writing. They were pieces of art, researches, ideograms. My job is to highlight the world's dissonances, its inequalities, especially those involving women. At the time I took part in all the conferences, the meetings, the talks, the self-awareness groups. They happened everywhere: in schools, alongside the road, even on public transport. Everywhere you could meet other women."
With her rhymes and statements, Binga tackles gender bias, discrimination, and prejudice, unafraid to address such topics as Catholic priests' celibacy—or, better, the rights of Catholic priests' partners, as in La Moglie del Cardinale (The Cardinal's Wife, 1989)—or surrogacy, as in her recent Utero di Sirena (Mermaid's Uterus, 2016). "Nursery rhymes keep taking shape into my mind over and over again, and they always include this debunking, this eagerness to expose all the things that could be recovered by passing new laws. My poetry never relies on romantic inspiration, but always comes from an image, an idea, something I read in the newspaper."
1. All artist's quotes are taken from a conversation with the author, occured in November 2019 during Artissima Fair, Turin. Translation by the author.
Tomaso Binga (b. 1931, Salerno) lives in Rome. Her practice involves collage, typewriting, painting, performance, and verbal-visual writing, and she is among the leading figures of Italian phonetic-sound-performance poetry. Her recent exhibitions include This Is My body, My Body Is Your Body, My Body Is the Body of the Word, Le delta, Namur (2019); Il sog- getto imprevisto. 1978 Arte e femminismo in Italia, Frigoriferi Milanesi, Milan (2019); Doing Deculturalization, Museion, Bolzano (2019); Who's Afraid of Drawing? Works on Paper from the Ramo Collection, Estorick Collection, London (2019); Vocalizing (two-person show with Greta Schodl), Richard Saltoun Gallery, London (2018); The Body as Language. Body Art and Performance. What Is Left, Galleria nazionale d'arte moderna e contemporanea, Rome (2017); Televisionario. Francesco Vezzoli guarda la RAI, Fondazione Prada, Milan (2017); MAGMA. Body and Words in Female Art in Italy and Lithuania 1965–2016, National Gallery of Art, Vilnius (2017); Tomaso Binga, Polistiroli e Ritratti Analogici, Galleria Tiziana Di Caro, Naples (2016); Tomaso Binga, Scrivere non è descrivere, Galleria Tiziana Di Caro, Naples (2015).
Guia Cortassa is a Milan-based editor and translator for several international publishers, and a writer for international magazines focusing on art, music, and literature. She is a radio host for Radio Raheem, Milan. She holds an MA in cultural studies from Accademia di Belle Arti di Brera in Milan.