EXHIBITIONS
Sue Tompkins and STANDARD (Oslo) at The Modern Institute, Glasgow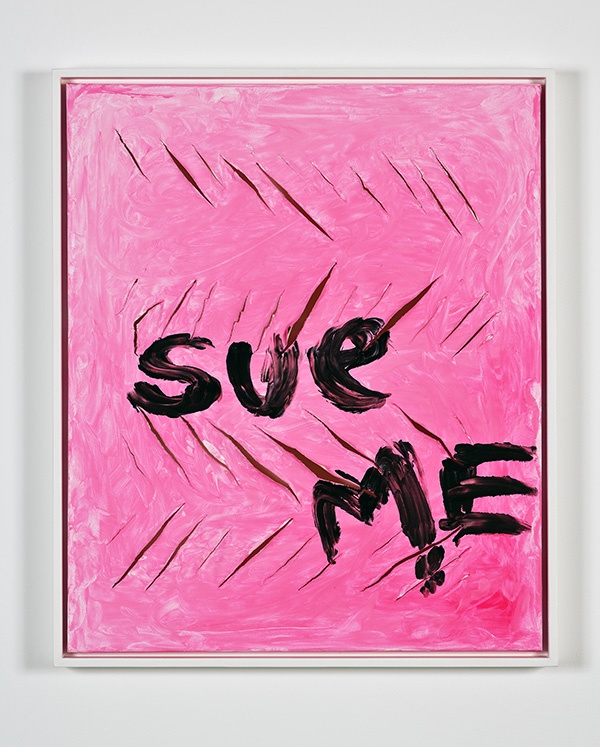 The Modern Institute, Glasgow presents two new exhibitions: "Expressions", an exhibition of new paintings and performance by Sue Tompkins and "Sea Salt and Cross Passes" curated by STANDARD (Oslo).
.
Sue Tompkins: Expressions

Tompkins' practice is lead by an enquiry into language and personal expression, through the spoken, sung, and written word. Over several years this has incorporated text, sound, installation and live performance. Addressing language in visual and spatial terms, Tompkins works with the fragments of words, phrases and lyrics gathered from everyday encounters and experiences. By an almost rhythmical accumulation of words – ordered, interrupted and repeated – Tompkins allows us to experience the flow of language in state of flux – both open ended and closed – paused, altered and undone.
For Tompkins' fourth exhibition with The Modern Institute, she is presenting several new paintings on canvas. 'Expressions' is the first exhibition in which Tompkins has installed only paintings, independently of her works on paper. Producing paintings of varying scales, each presenting text, Tompkins has allowed the process of painting to drive each piece – a process of honest expression and experimentation.
Text is both the focus and subject matter of her paintings, framing a context within which the viewer can play a part. Tompkins applies the paint liberally onto each canvas, often directly with her hands, pushing and pulling it across the canvas' surface. Beginning with a selection of fragments of words, the process of painting these on to the canvas becomes a point of re-evaluation and adaptation. Dictated by the feeling of the painting, Tompkins plays with familiar everyday words 'Let' or 'Saw', alongside random couplings and disjointed words, 'Young Wheat' and 'Be yond'. Displayed in succession on the wall, these pieces create coincidental sentences, or implied phrases of communication, like a chain of reflecting scenes – 'Let – You – Sue Me'. Rather than acting as a background to the text, Tompkins' use of paint is integral to the relaying or distortion of the words meaning. Utilising both text and paint in a free and associative manner, occupying the spaces between the words, and the spaces between each painting – Tompkins lets language inhabit the gallery space.
In response to the spatial restrictions imposed by the canvas, Tompkins has cut the surface of several of the paintings with a scalpel blade and by doing so she intends to allow air, light and space to become a part of the painting. Creating movement and a form rhythmical composition.
As part of the exhibition Tompkins performed her new piece Letherin through the grille during the preview evening. Creating a new verb like word: 'Letherin' could also be interpreted as 'Let-her-in', alluding to the way a voice could carry through gaps, windows and grills. Through an expression of singing and speech, Tompkins asks us to let her, or someone in, both metaphorically and emotionally.
.
at The Modern Institute, Glasgow
until 2 November 2013
.
Above — Sue Me, 2013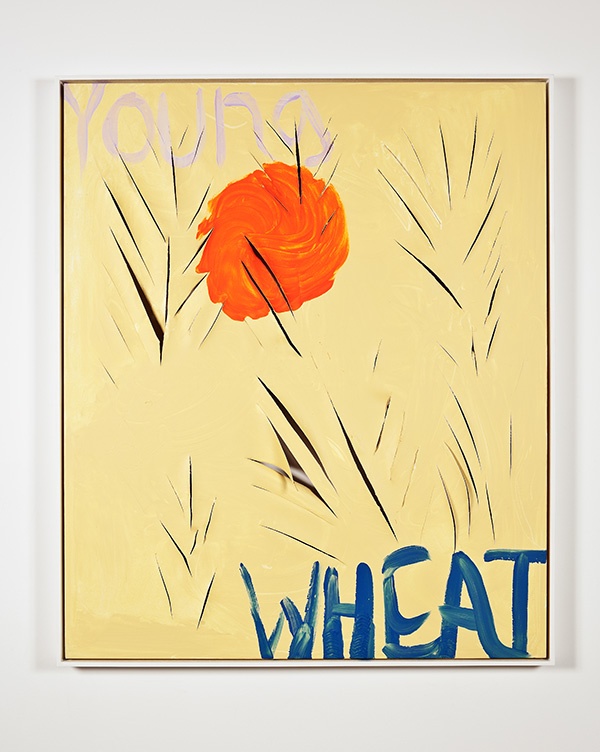 Young Wheat, 2013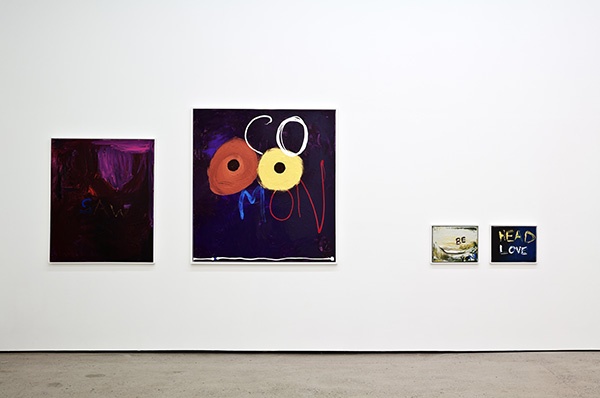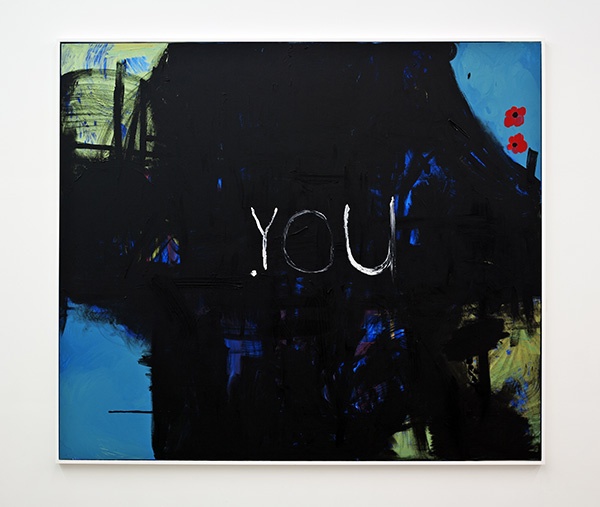 You, 2013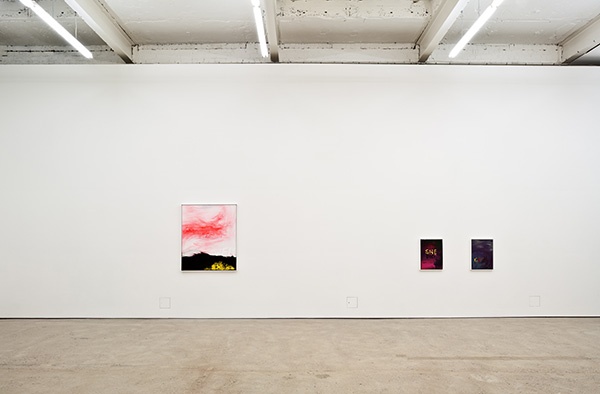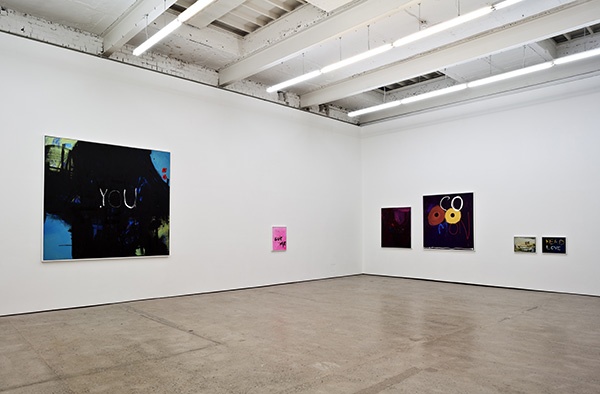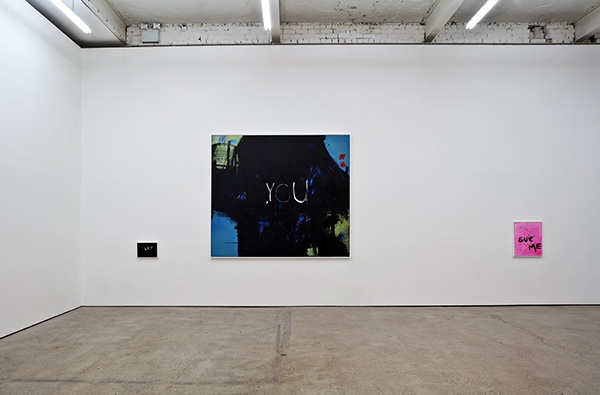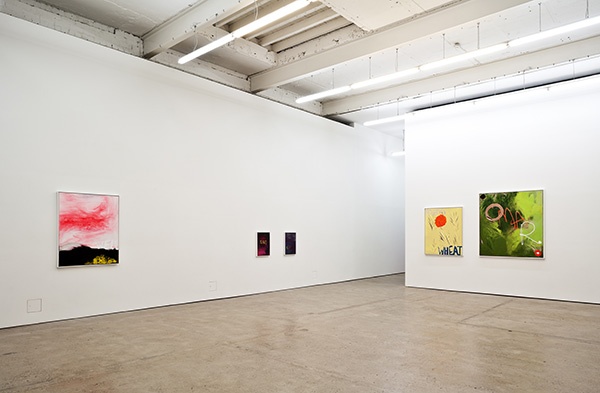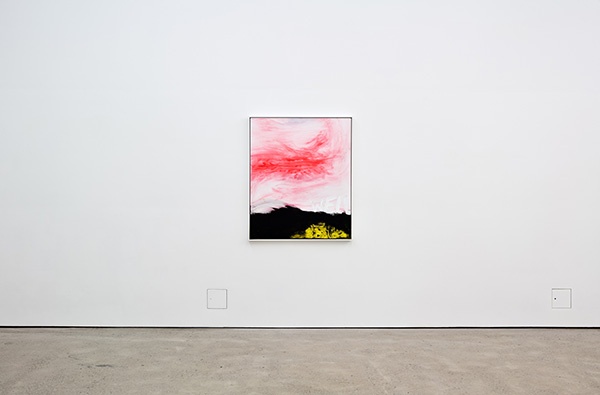 Well, 2013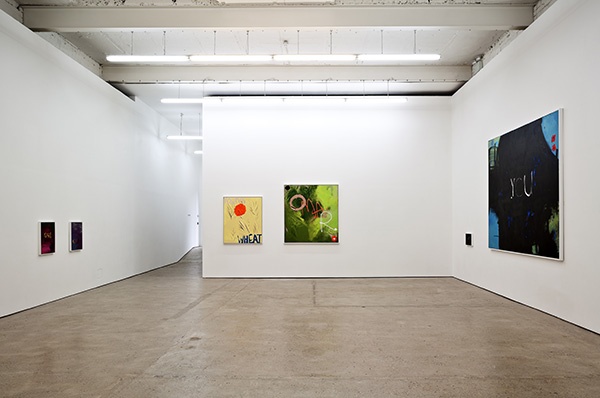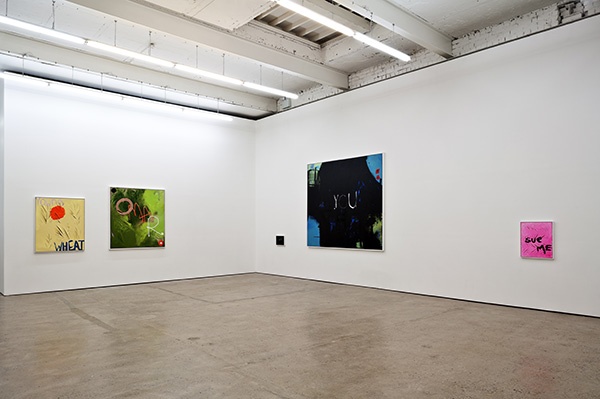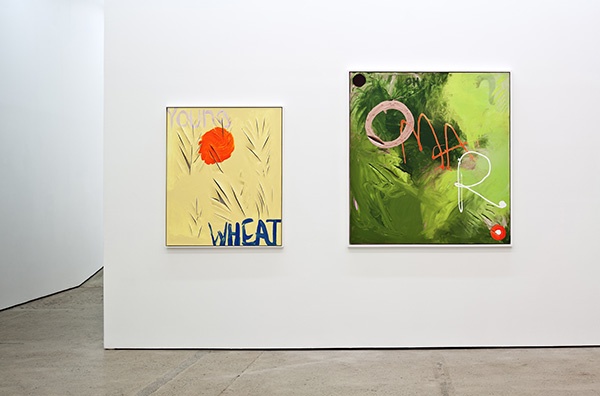 Left – Young Wheat, 2013; RIght – Oh Omar, 2013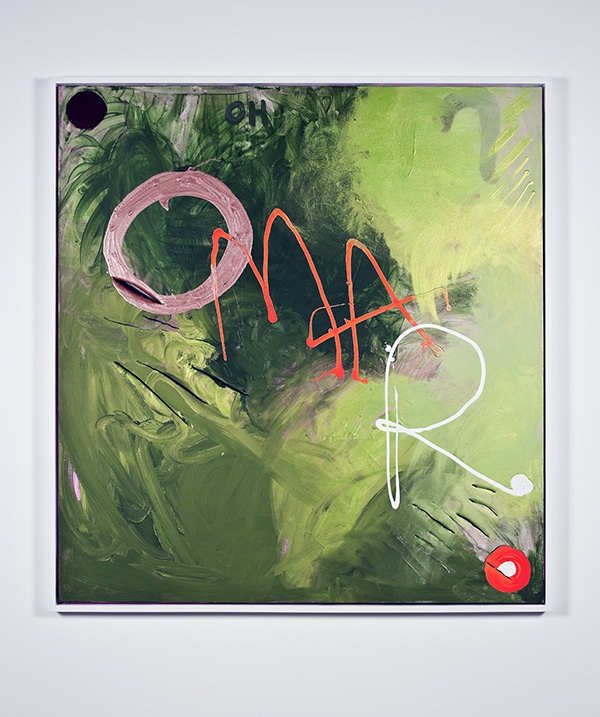 Oh Omar, 2013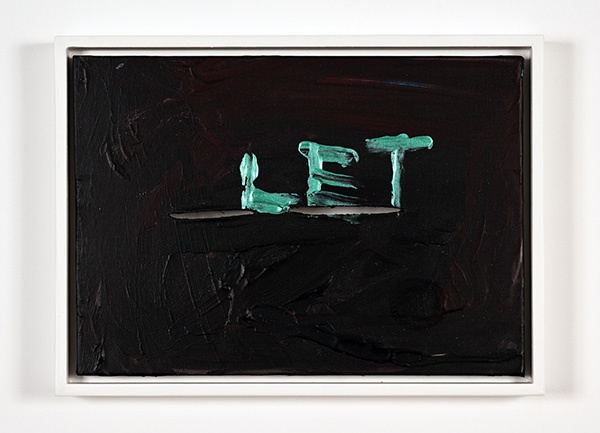 Let, 2013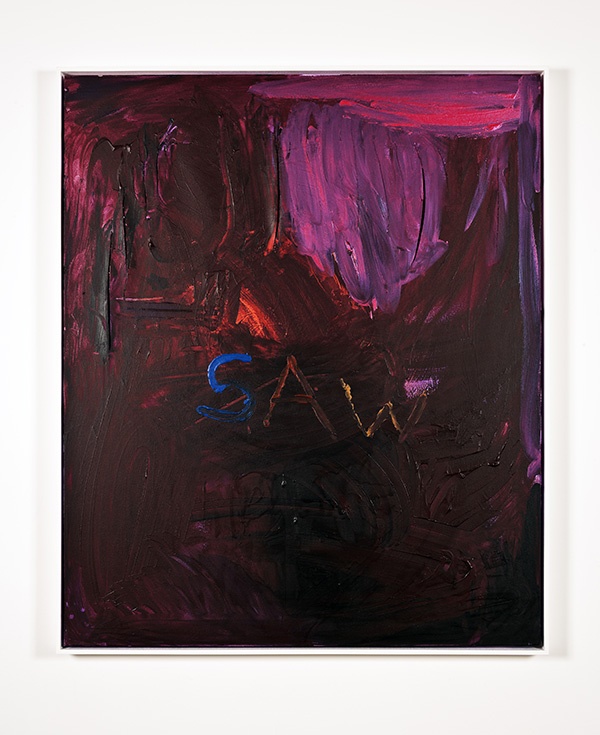 Saw, 2013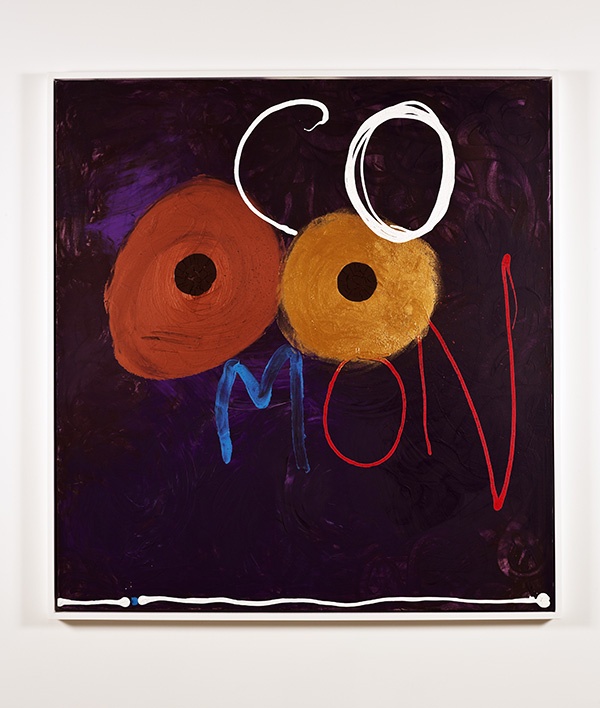 Cooomon, 2013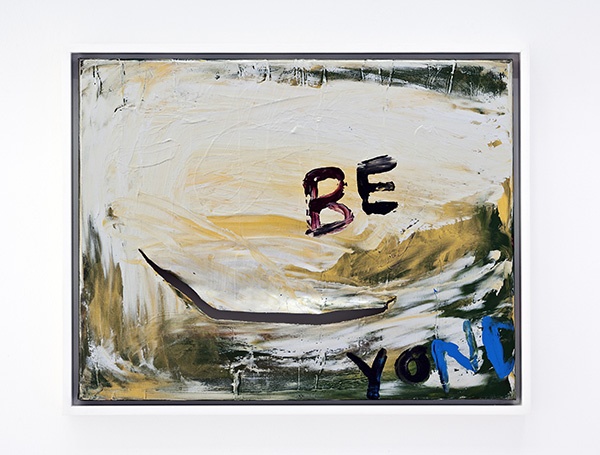 Be Yond, 2013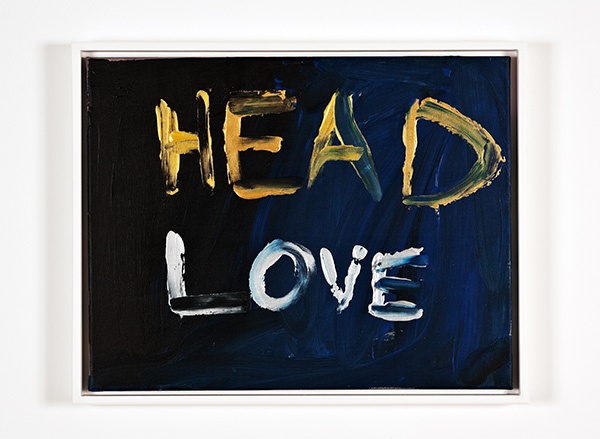 Head Love, 2013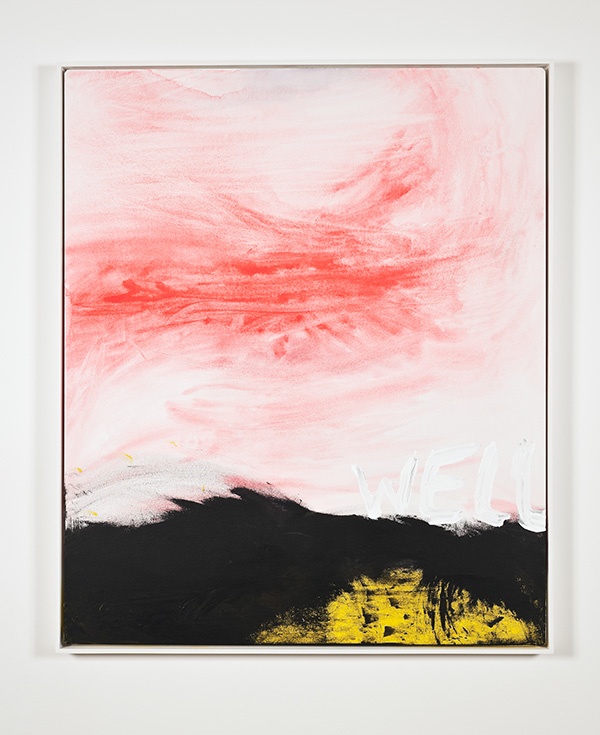 Well, 2013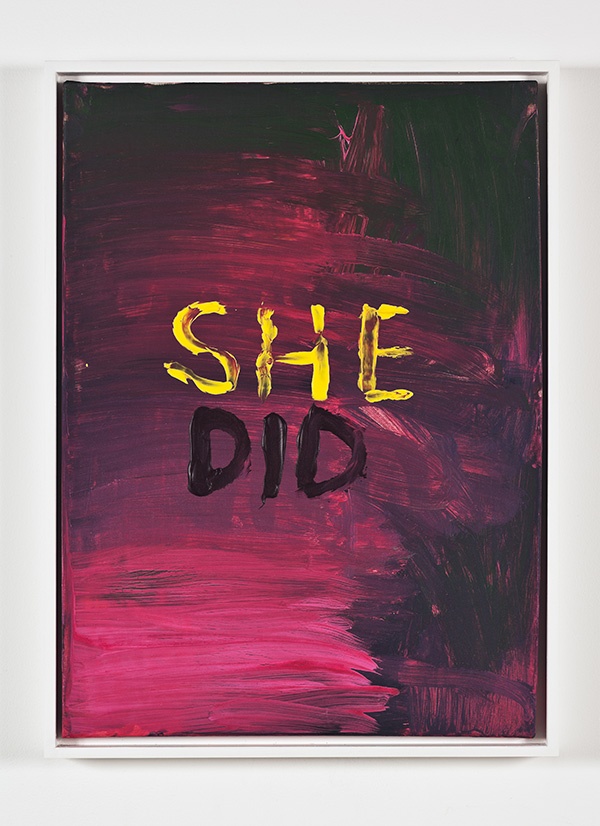 She Did, 2013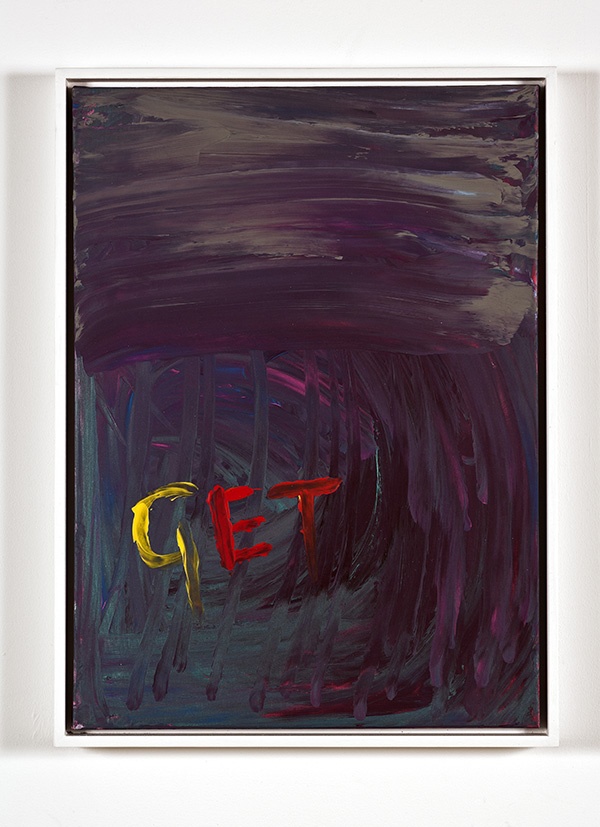 Get, 2013
Courtesy: the artist and The Modern Institute/Toby Webster Ltd, Glasgow – Photos: Keith Hunter
.
"Sea Salt and Cross Passes": Matias Faldbakken, Chadwick Rantanen, Torbjørn Rødland, Oscar Tuazon, Fredrik Værslev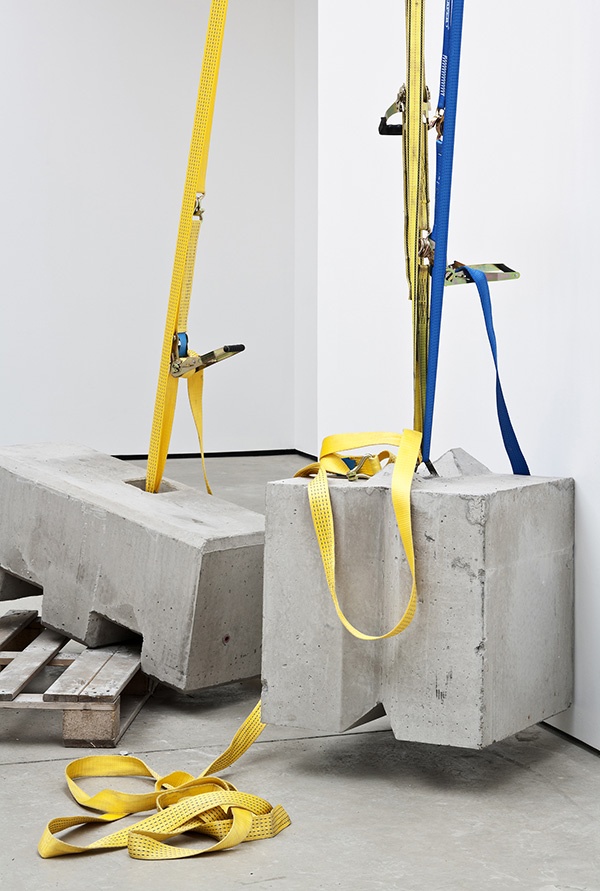 "Sea Salt and Cross Passes" is the first part of an exchange between STANDARD (OSLO) and The Modern Institute. The second part, curated by The Modern Institute will be held at STANDARD (OSLO) in 2014. Within this inaugural exchange The Modern Institute intends to work with another international gallery, presenting contemporary visual artists from another scene to an audience in Scotland.
Taking its departure from the maritime relations between Norway and Scotland, as instrumented by the connecting North Sea, "Sea Salt and Cross Passes" is thematically underpinned by the nautical pastimes of both countries – as nations of sailors and a long tradition of maritime paintings.
Centering the works in this exhibition on an enquiry into this genre and re-visiting traditional parameters within a contemporary context, "Sea Salt and Cross Passes" explores the whimsical connotations of maritime paintings. Through this framework, their significance is rooted in the aspects of animation and composition adopted within such paintings. The ship as the painting's focal point is frequently found to be leaning diagonally. This stance is both a tool to achieve a dynamic composition – as the diagonal represents the most dynamic visual direction, and is also a catalyst for creating implied movement within the picture. The resultant scene is one of an active composition with a specific reference to the elements of nature not visible to the human eye.
Installed in this exhibition is a painting by Martin Aagaard, of an unknown date. This painting depicts three sailing ships on the sea between them creating a triple echo of diagonal movement. In response to this position 'Sea Salt and Cross Passes' incorporates works by Matias Faldbakken, Chadwick Rantanen, Torbjørn Rødland, Oscar Tuazon and Fredrik Værslev. Across a variety of media, each artist's work plays along this path of influence – further echoing this diagonal line and mythologising life by the North Sea.
.
at The Modern Institute, Glasgow
until 19 October 2013
.
Above — Matias Faldbakken, Untitled (Ladder Pull), 2013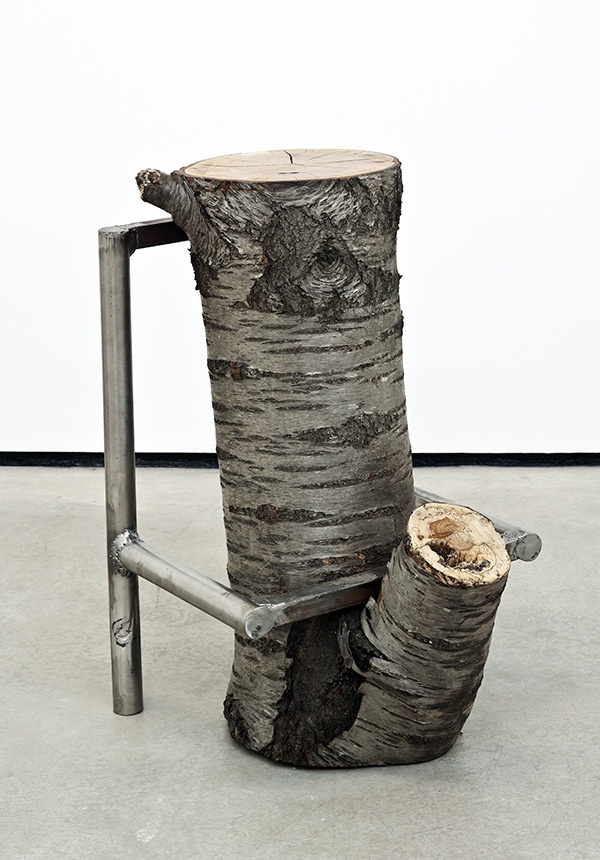 Oscar Tuazon, Untitled, 2013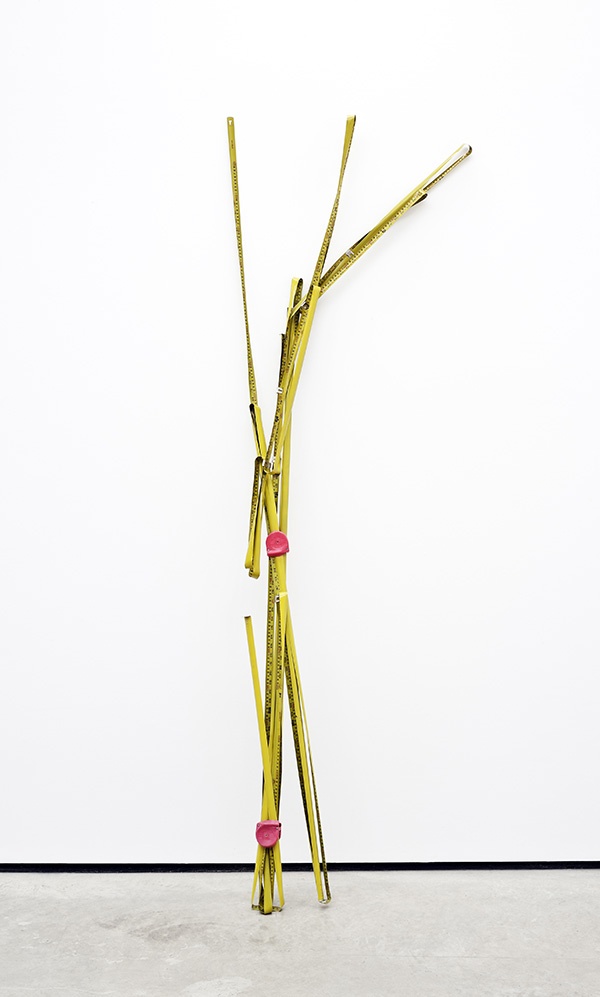 Chadwick Rantanen, Untitled (yellow/ pink), 2013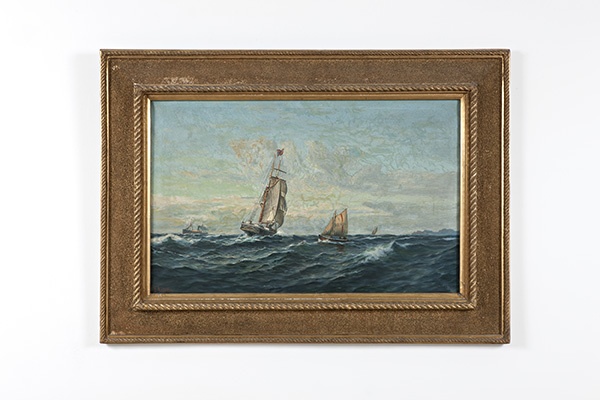 Martin Aagaard, Losbåten "Arendal 2", (Date unknown)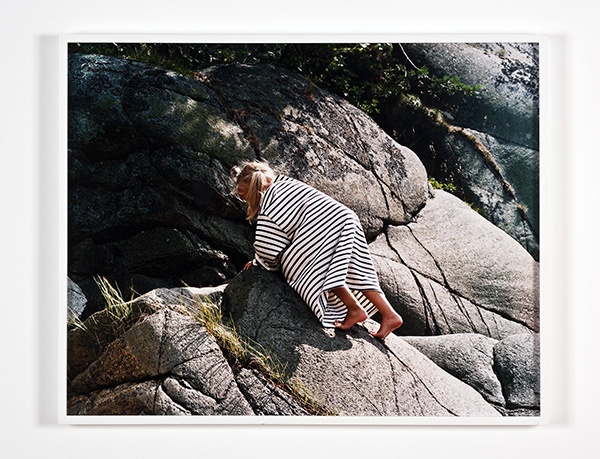 Torbjørn Rødland, Rock and Stripes, 2001 – 2013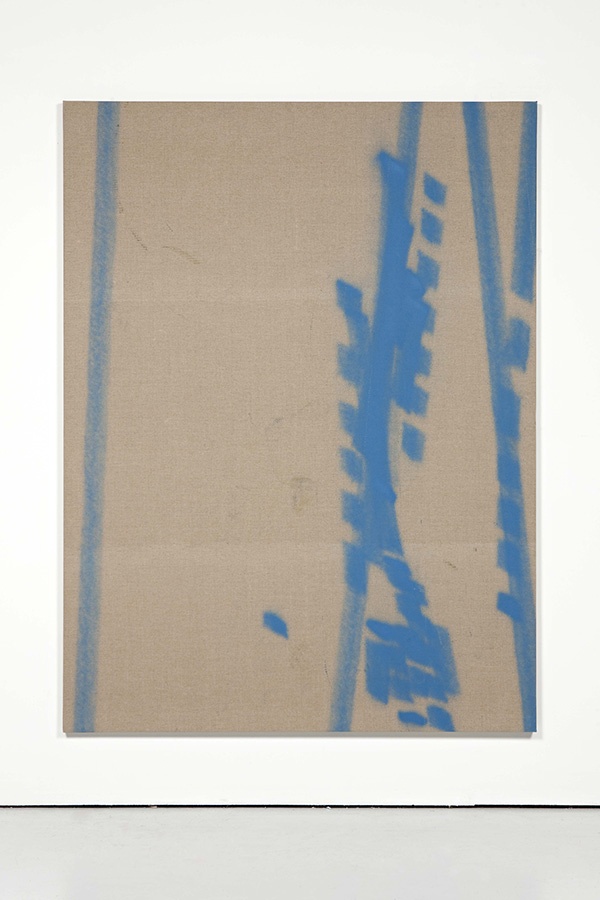 Fredrik Værslev, Untitled (Trolley Painting: Cream and Light Blue), 2012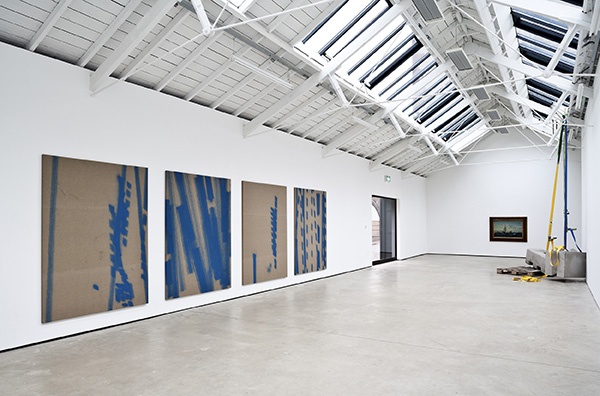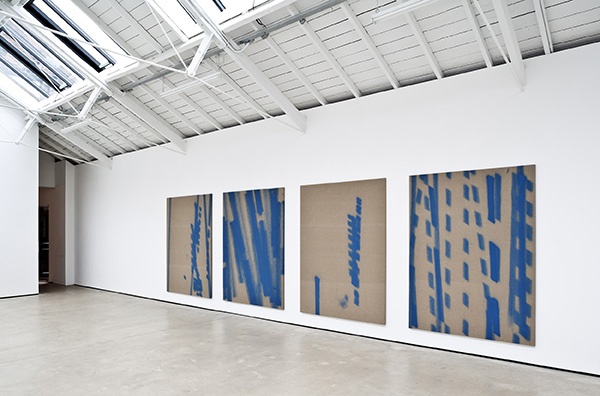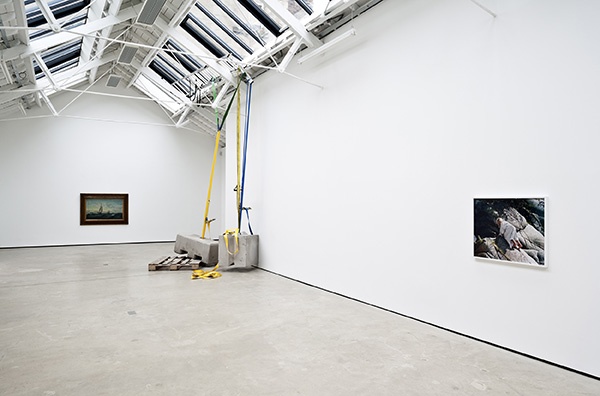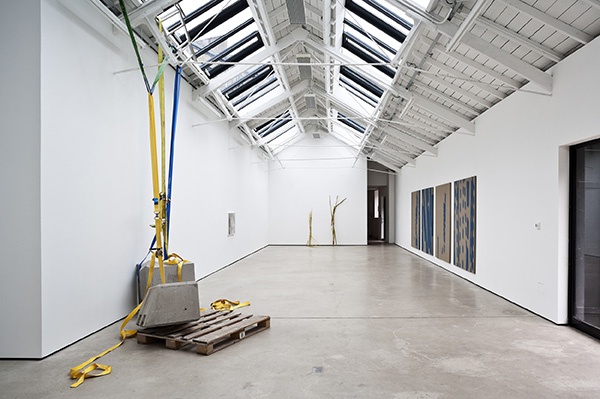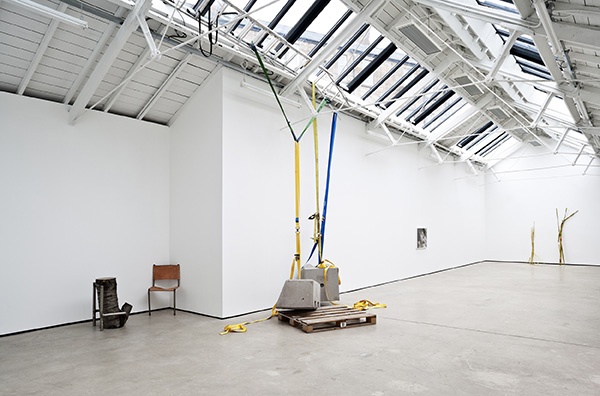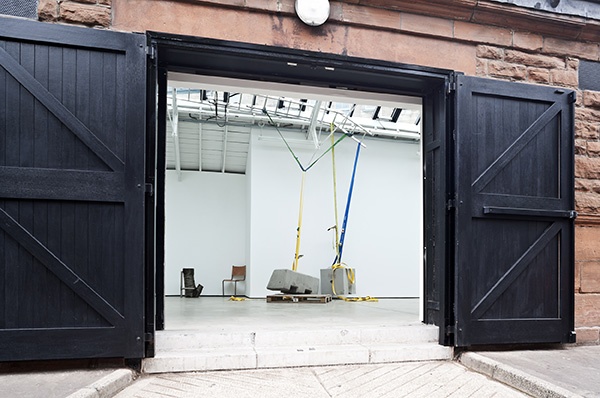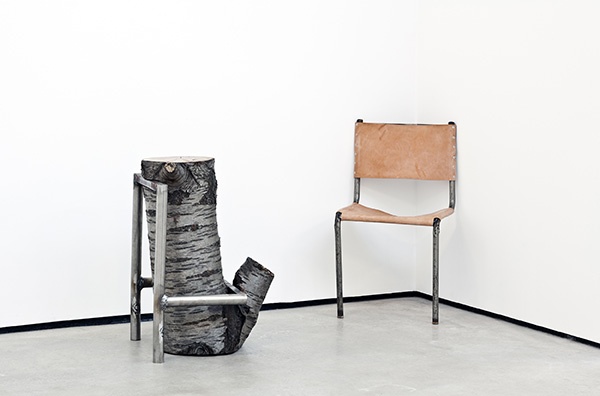 Left – Oscar Tuazon, Untitled, 2013; Right –  Corner Chair, 2012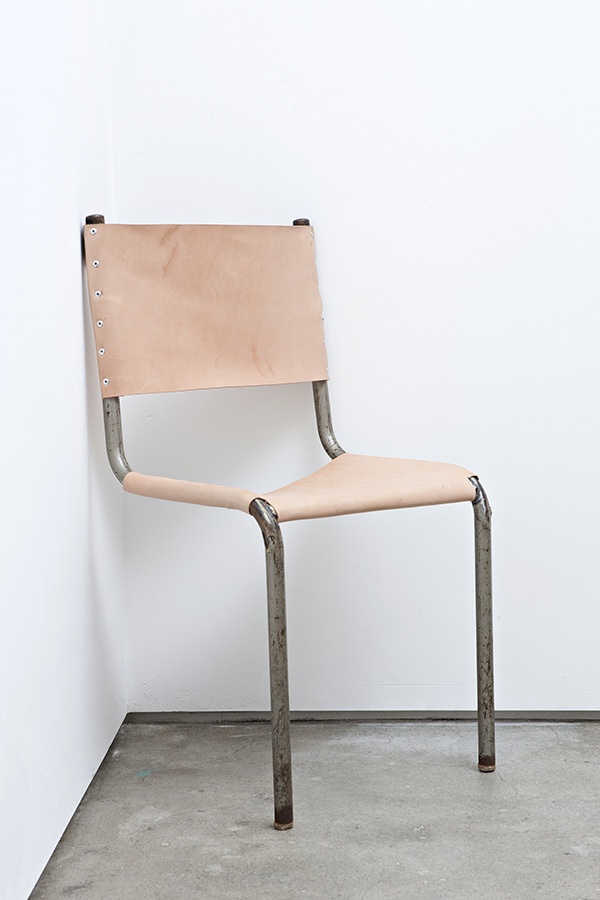 Oscar Tuazon, Corner Chair, 2012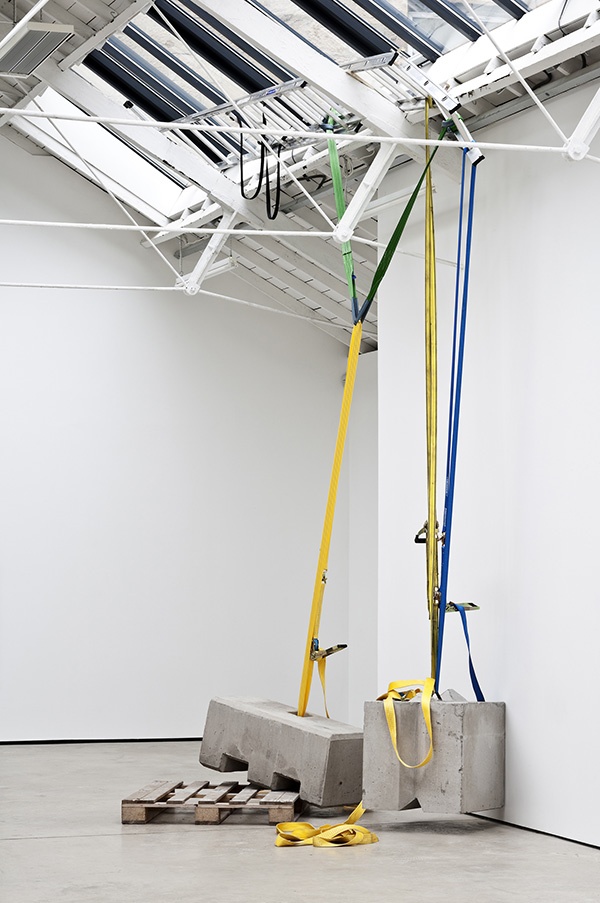 Matias Faldbakken, Untitled (Ladder Pull), 2013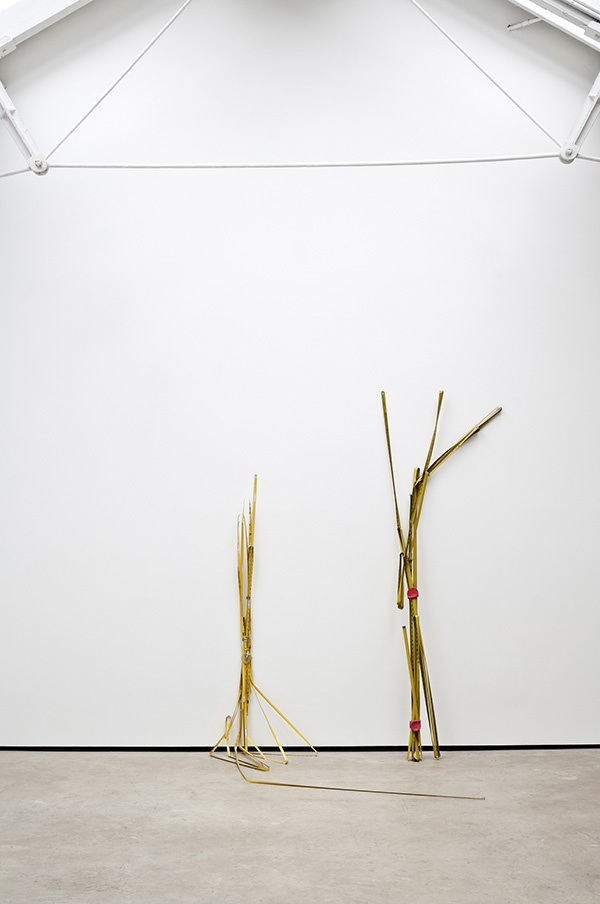 Left – Chadwick Rantanen, Untitled (yellow/ clear), 2013; Right – Untitled (yellow/ pink), 2013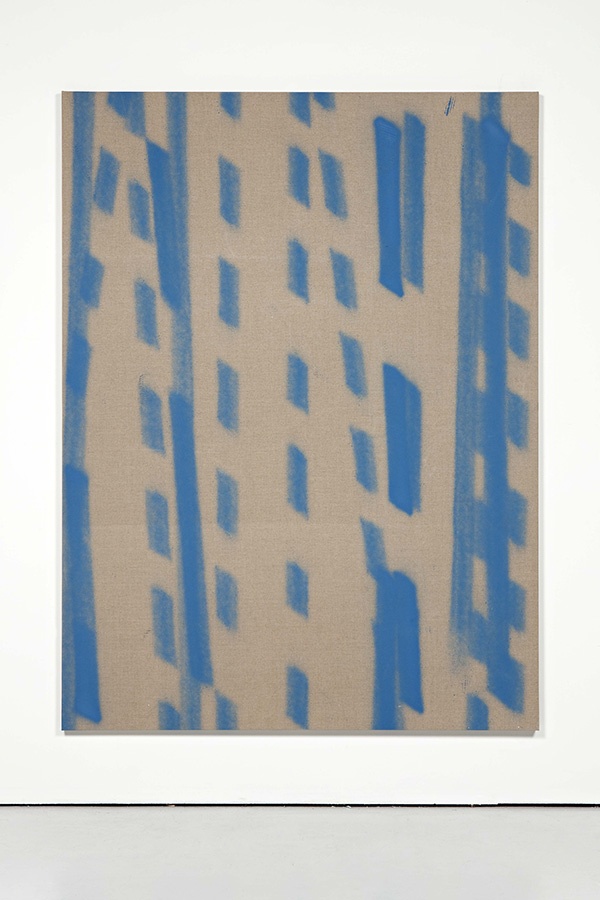 Fredrik Værslev, Untitled (Trolley Painting: Blue stripes), 2012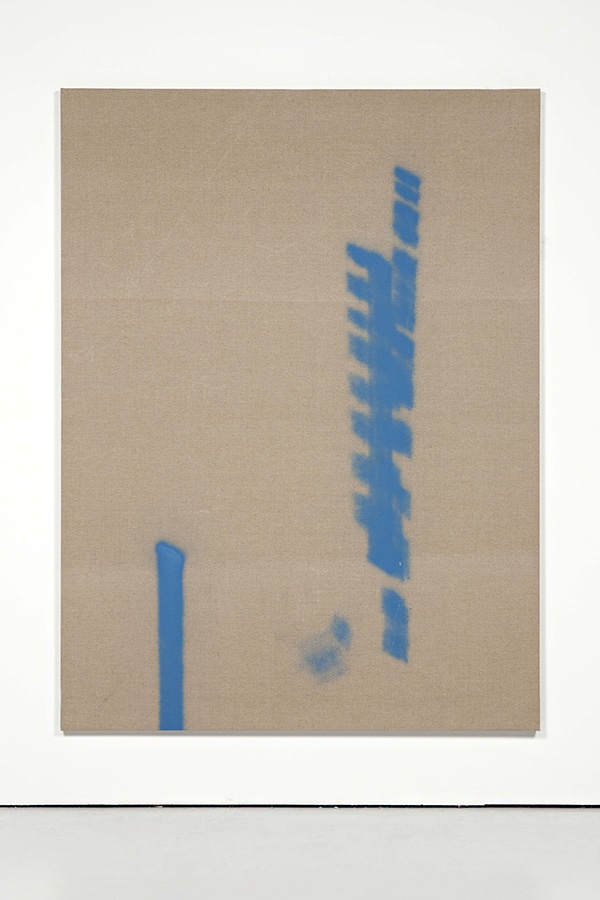 Fredrik Værslev, Untitled (Trolley Painting: Two blue lines), 2012
Courtesy: the artists, STANDARD (OSLO), and The Modern Institute/Toby Webster Ltd, Glasgow
Photo: Keith Hunter and Vegard Kleven