Agenda EXHIBITIONS
Tony Lewis "Alms Comity and Plunder" at Museo Marino Marini, Florence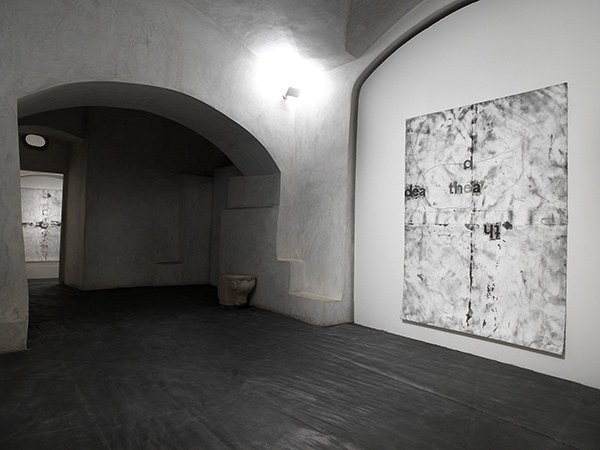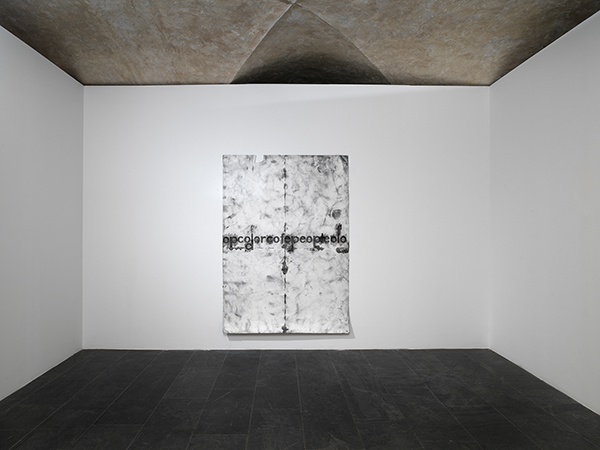 Tony Lewis interviewed by Luigi Fassi
Luigi Fassi: You recently opened your first institutional show at the Museo Marino Marini in Florence. The exhibition space used to be a crypt, a burial place for the monks of the San Pancrazio monastery, and a place of transition from earthly to heavenly life. How did you approach its cavernous, dark space? It seems that space is a growing concern in your practice, as in the case of your floor drawings and their space-appropriation strategy.
Tony Lewis: The crypt of Museo Marino Marini is architecturally connected to its several histories, and walking through the space one can sense this dense oddity. The deep brown nooks and coarse brick walls create a warm chiaroscuro—it's quite dramatic. These physical qualities have always been associated with the floor drawings, and from the first moment I saw the space, it felt like a natural place to see the full possibility of the work. Conceptually, I use the floor drawings to carry an array of narratives, and more recently they've functioned as palls—a shroud of smoke or dust, or markers of death. Considering this gravity, the weight of the drawing had to be the initial gesture for us to build from.
LF: They absorb not only the traces and dust of different places, but also the physical experience of being in a specific place. Inevitably, they evoke the human presence, but keep it at a distance. This seems to me a strong element in your practice, this intimate evocation of an absence.
TL: The floor drawings as site-specific installations began as a practical solution to protect a space from the central act of throwing loose graphite powder directly on the floor and completely covering it. For the sake of the generosity of a given exhibition space, there had to be some consideration for deinstallation, future exhibitions, and future friendships. Paper, masking tape, and paint provide protection, and concurrently allow me to remove the work easily after an exhibition. Sort of like peeling off a fresh sticker that's 140 square meters.
LF: How long have the drawings been traveling?
TL: For the past five years, six floor drawings (including the youngest at Museo Marino Marini) have collected roughly twenty exhibitions. The traveling, handling, and various methods of display all contribute to the nature of the work. For me they have their own energy, and a distinct maturation. It's been a pleasure working with and seeing the oldest drawing develop, climax, and slowly decline to shiny chunks and rotten pieces from exhibition to exhibition. This exhibition structure provides a place for the drawings to be born, to live, and I would imagine a place to eventually die.
LF: I remember seeing the main Florence floor drawing last year at CAB in Brussels. It conveyed the feeling of the space, and the movements of the kids playing on it.
TL: I think the absence of that visual or anecdotal information is precisely what the floor drawing can do. How do you traverse from children playing on a public basketball court in metropolitan Brussels to a burial site for monks in Florence? This history is imbued in the object as effectively as massive rips, folds, and real dirt. This work also spent time in Chicago, where it didn't perform as a place for children to play, but as a memorial for the overwhelming death of young men and women.
LF: This stratification makes me think of a book I always admired as a classic of twentieth-century American philosophy, Art as Experience (1934) by John Dewey, where he talked about art in humble terms, as something resulting from the absorption of present and past occurrences, and able to reconcile disturbing experiences by bringing about a possible harmony. But your works tend to stay instable, and that seems to be where their political power resides. As in your large black-and-white drawings, where words are broken down, letters and signs float around and hardly come to a clear meaning. Abstraction seems to threaten the possibility of logic, reason, and predetermined meanings, and the viewer has to find his or her way through them.
TL: If I have achieved some sort of harmony, it exists primarily in the studio. The moving of objects in relation to the ubiquity of material in relation to linguistic structures that help me understand/communicate what I may be doing, are all happening in the same place, and end up slipping into the same omnipotent rhythm. This might make it hard for me to see the instability of the work because it stems from a developing sensibility or logic in which abstraction doesn't register as a threat, but more as a heuristic or filter; it's a part of the larger system. However, I agree that predetermined meanings or perceived subject matters attributed to the text work triggers a density, which can be difficult to navigate.
LF: Apart from their systematic perspective, the text drawings seem to refer to a personal level, like a private language.
TL: The original sentence is essentially from private writings about older work. Enigmatic and quite epigrammatic, it was also empty, and hopelessly quotidian in its declarative authority. After a while the language of the drawings became inextricably linked to the format of the page, the type of paper, and the type of pencil used to make the drawing. It became another material to play with to serve the drawing. Each formal/linguistic play created space for new narratives and new language to absolve me from my linguistic or historical sense of responsibility. The drawings end up creating a sort of assortment of perspectives of, engagements with, or reactions to their shared history.
LF: When you speak about the quotidian nature of the authority of the drawings and about shared history, I think of all the popular-culture sources you deal with in other bodies of work, such as Calvin and Hobbes, or H. Jackson Brown Jr.'s Life's Little Instruction Book. In the latter case, it seems a personal subject matter for you, a struggle to visually deconstruct a set of conservative values ingrained in American culture.
TL: The most effective tool of Life's Little Instruction Book is its ability to penetrate the private world of its readers; to penetrate and regurgitate seemingly familial sensibilities; to penetrate and marginalize identity and insecurities; and also to fit in the palm of your hand while exploiting the humility and domesticity of a small booklet. Ultimately it's an ominous conflation of both private and public authority—a conflation of the autobiographical development of ethics and the ubiquity of conventional American wisdom. It's a consolidation of self-governed restraint, and imposed societal restraint. What's crucial are the moments when private and public authoritative languages blend together or feel the same, when there is no authorship over the authority of the declaration, when public authority can dictate private language, or, more pointedly, when private language can dictate public authority. This becomes personal for me.
.
at Museo Marino Marini, Florence
until 23 April 2016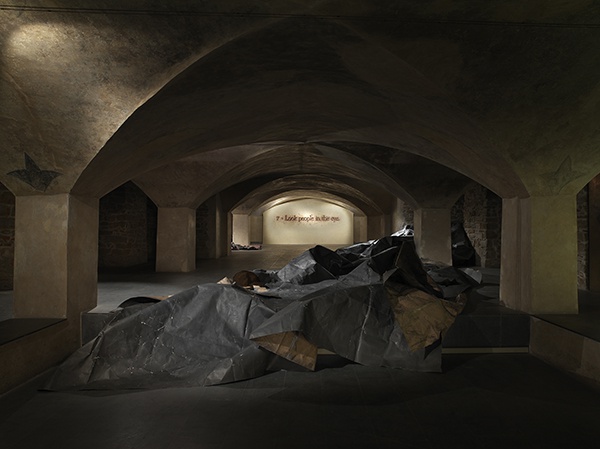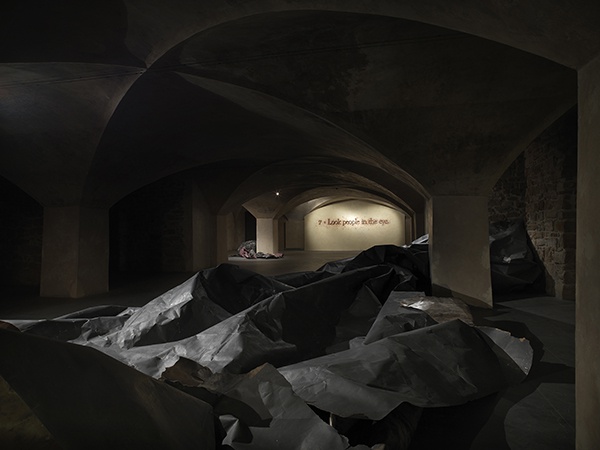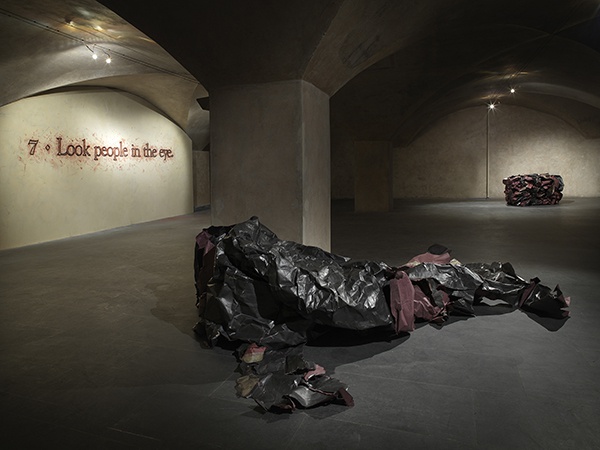 Tony Lewis "Alms Comity and Plunder" installation views at Museo Marino Marini, Florence, 2016
Courtesy: the artist and Marino Marini, Florence. Photo: Dario Lasagni