CONVERSATIONS
Trisha Baga "Plymouth Rock 2" at the Whitney Museum, New York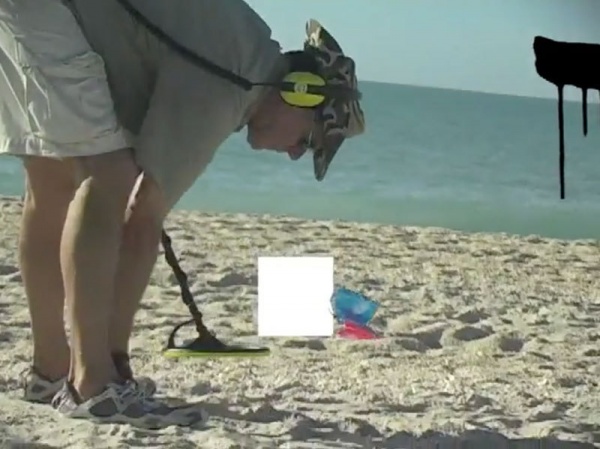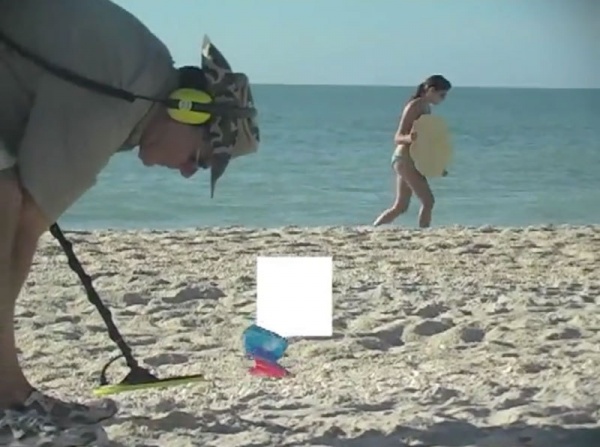 Trisha Baga interviewed by Jenny Jaskey on the occasion of "Plymouth Rock 2", Baga's first US solo show.
Jenny Jaskey: Your work currently on view at the Whitney Museum, Plymouth Rock 2, presents a fractured narrative. It seems to suggest, to borrow Adorno's aphorism, that "the whole is untrue". I'm wondering if you could speak a bit more about your interest in the fragment and in returning to an icon of past without looking for an origin.
Trisha Baga: Now that you've got me thinking about the word origin (even though I've been listening to that song "Origin of Love" from Hedwig and the Angry Inch over and over again for the past four months), I think the origin you are referring to, I think to me, that is the present – the here, now experience. Which is such a dumb and impossibly slippery thing, but we are all subject to grasping at it, each from our singular bodies. What we experience is only a fragment of what we are aware of and vice-versa, and what I am interested in is the stuff that fills the gaps. Desire is a part of it, and I am realizing that the 3D video piece I just showed you (the long one with fireworks and karaoke starships) is about, well, this is what I wrote in my notebook earlier today: the desire to exceed the body, and how that led to sports, the industrial revolution, 3DTV, and Madonna.

JJ: Speaking of Madonna, there are a number of subjects that recur in your videos. She is one, but I'm also thinking of "natural" phenomena like water, fire, and light. I use scare quotes around "natural" here, because I'm not sure that the nature/culture divide holds up in this case. What is the appeal of these elements for you?
TB: Biologically, these are the elements of culture (like a bacteria culture/growth/life) – the elements of culture and perception. All living things contain water, and light is the only thing we can see. You could say that fire is the body version of light. These are actually super-traditional references. "The sea" and "the sun" are the large bodies of these elements and they can constantly be located as the object of metaphors, from contemporary pop songs to ancient storytelling. I think of them as moody constants that inform and are informed by the things they surround and contain, as well as things that contain them. The words we use to describe the  weather are often the same words we use to describe emotions.

JJ: I once heard you say in passing that you were more interested in reality than fiction, and I'm wondering how this might square with your obsession with larger-than-life figures like Madonna or the Olympics, typically regarded in terms of how they occupy mediatized space.
TB: I've been thinking of the show at Greene Naftali, "The Biggest Circle", as an early stage of understanding "epic", but in broad layers instead of progressive steps.* The Olympics is a large subject (the history of the world's culture) that has been condensed by representation. In contrast, Madonna or Plymouth Rock are both body-sized subjects that have been expanded by representation. There is something about using my own body and blunt experience as a form of mediation or filter that enables sympathy for these bodies. You could say it makes them body-sized again. Stem cell research. * I have issues with progress – the concept of it, the stretch towards it, the motivations behind it, and its psychological implications, especially in regard to America and American history and ideals. It seems like an insatiable hunger, or an excuse to take things away from other people. I think it is also related to how I've been stepping away from narrative video, or at least making an attempt to curve an abstraction of the arc, back into a circle. A straight line is often the least efficient way to get anywhere.

JJ: A number of writers have remarked on how your work is sort of hyper-Brechtian – layer upon layer of "breaks", so to speak: the direct address of the film, the interruption of physical objects on top of filmed objects, the play of "real" shadows against projected ones. While Brecht was interested in laying bare the mechanisms of theater, I'm wondering if you think that is even possible – is there any sort of outside to which we can return?
TB: We're over the whole fourth wall thing, right? How many times can people look at us and go "voilà!" and have that be exciting? I hope my work bleeds rather than breaks. I know that my practice does – between art and life and making and gathering. Maybe that answers your question about the outside. But ultimately I think it depends on who is looking at the work and what condition their eyes are in at the moment.
JJ: Your work for "The Biggest Circle" at Greene Naftali Gallery in New York has a strong relationship to painting, and I'm wondering if you could say a bit more about this aspect of the work.
TB: I don't know how to talk about painting, but when I started working with 3D video, it felt like I was painting. I was making curiosity-driven decisions about light and color and composition, and it was very liberating. It was about understanding what "stripeness" is and how that is different from "redness" and "underness" and letting those THINGS set off strings of associations without demanding that these qualities align into modes of linearity (which would bring them outside of their own terms).

JJ: In other words, an interest in uncovering the hidden ecologies of the everyday materials around us. For example, asking not just what a sequined shirt signifies, but wondering about its capacities for diffusing light.
TB: The object is not to re-historicize, but to adjust the dials on attention, perception, and affect in order to arrive at a THING's natural frequency. For example, looking at an image of a tennis ball but knowing the THING you are looking at is hairiness and comedy. Wanting to pull qualities an arm's distance away from their names, or "the people's understanding".
JJ: It strikes me that this way of looking happens much more slowly – that it requires a different pace.
TB: I want to create a greater space of looking. The best thing about consumer-grade 3D technology is that the viewers have their own choices to make about what they look at within the frame, allowing the images to move and change much more slowly. It stands in contrast to Hollywood's typical way of directing focus and eye movement, which I find so oppressive and wasteful. To borrow an analogy from cooking, I want to spend more time in the oven without drying out the juices of looking.

Exactly. The work stays moist.
–
at the Whitney Museum of American Art, New York
until 27 January 2013
–
Above – Plymouth Rock, 2012 (installation view, Rock, Vilma Gold, London, 2012)
–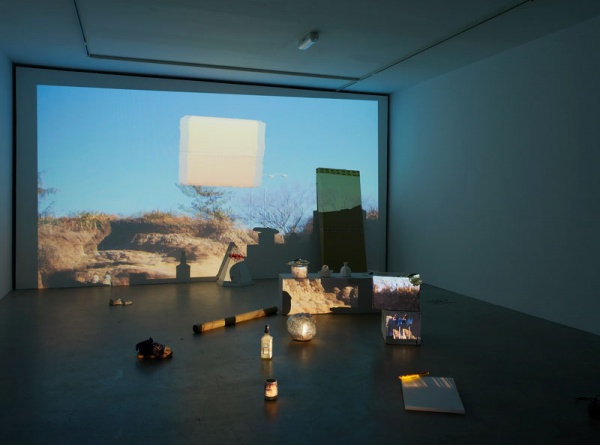 Plymouth Rock, 2012, installation view, Rock, Vilma Gold, London, 2012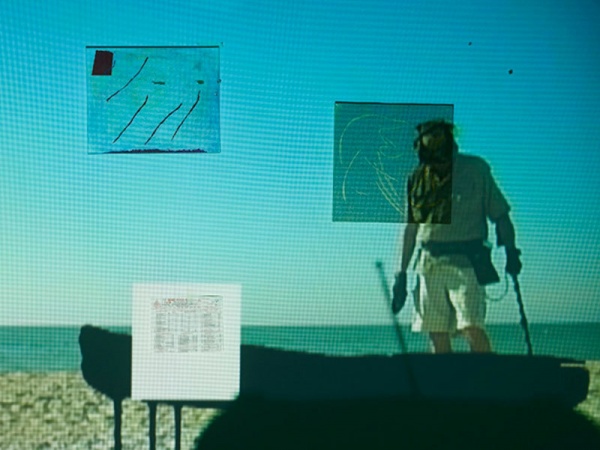 Plymouth Rock, 2012, installation view, Rock, Vilma Gold, London, 2012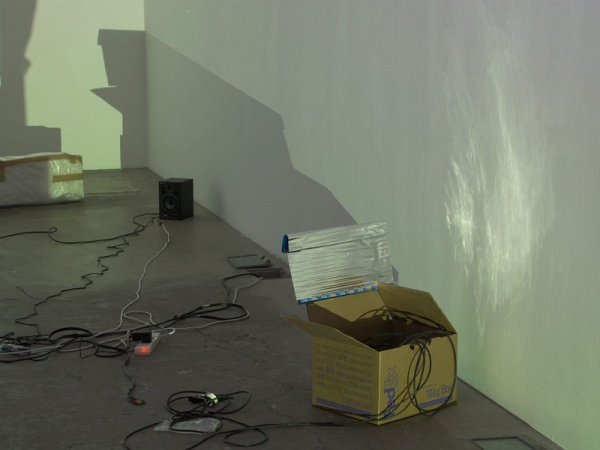 Plymouth Rock, 2012, installation view, Rock, Vilma Gold, London, 2012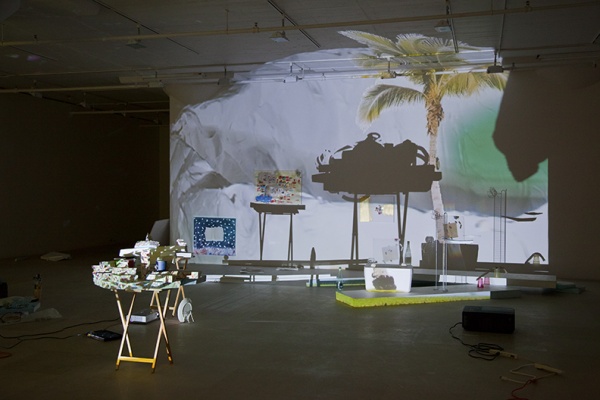 Bag's Circle, 2012. Photo: Martha Fleming-Ives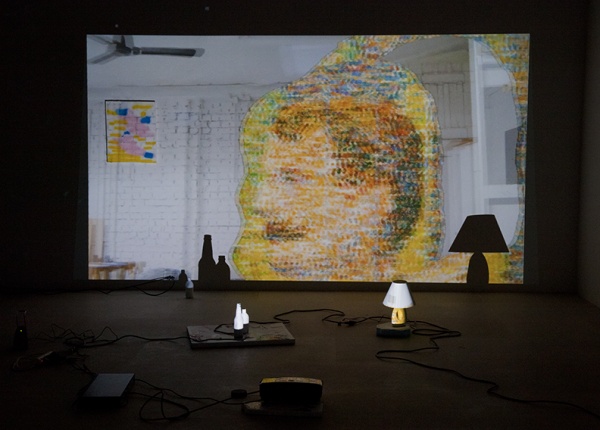 The Story of Painting, 2012. Photo: Martha Fleming-Ives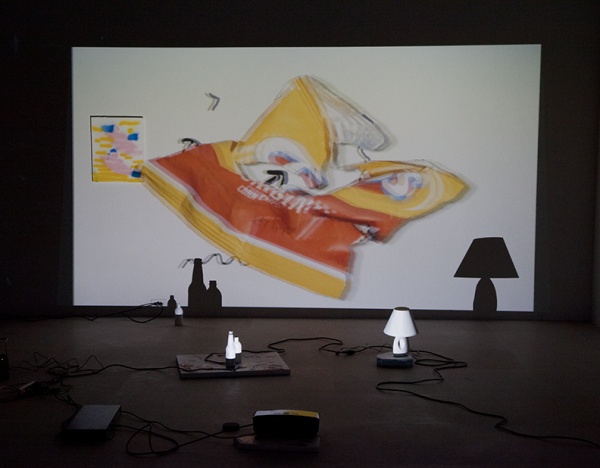 The Story of Painting, 2012. Photo: Martha Fleming-Ives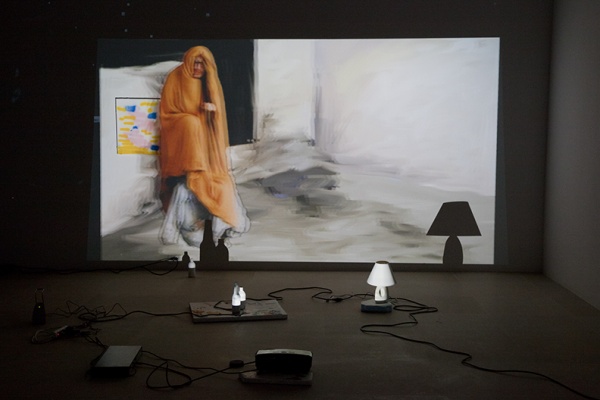 The Story of Painting, 2012. Photo: Martha Fleming-Ives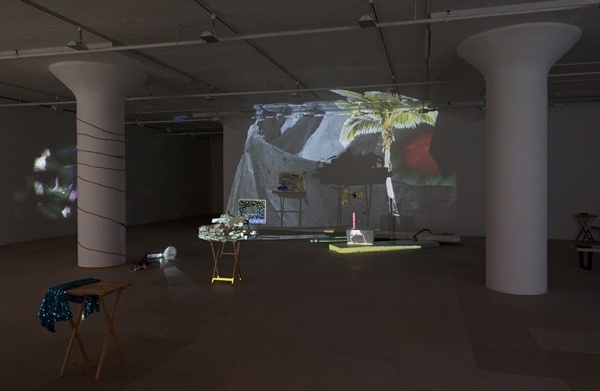 The Biggest Circle, installation view, Greene Naftali, New York, 2012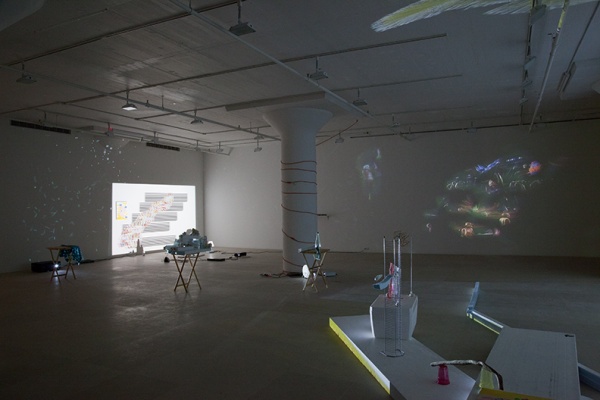 The Biggest Circle, installation view, Greene Naftali, New York, 2012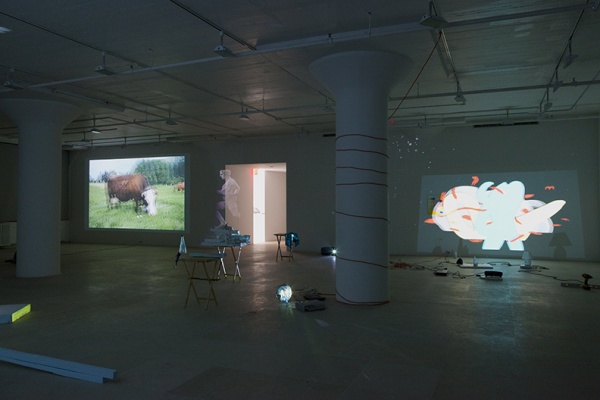 The Biggest Circle, installation view, Greene Naftali, New York, 2012
All images courtesy of the artist and Greene Naftali, New York