ESSAYS Mousse 67
Let's Get Physical: Vanessa Conte
Close
1
2
3
4
5
6
7
8
9
10
11
12
13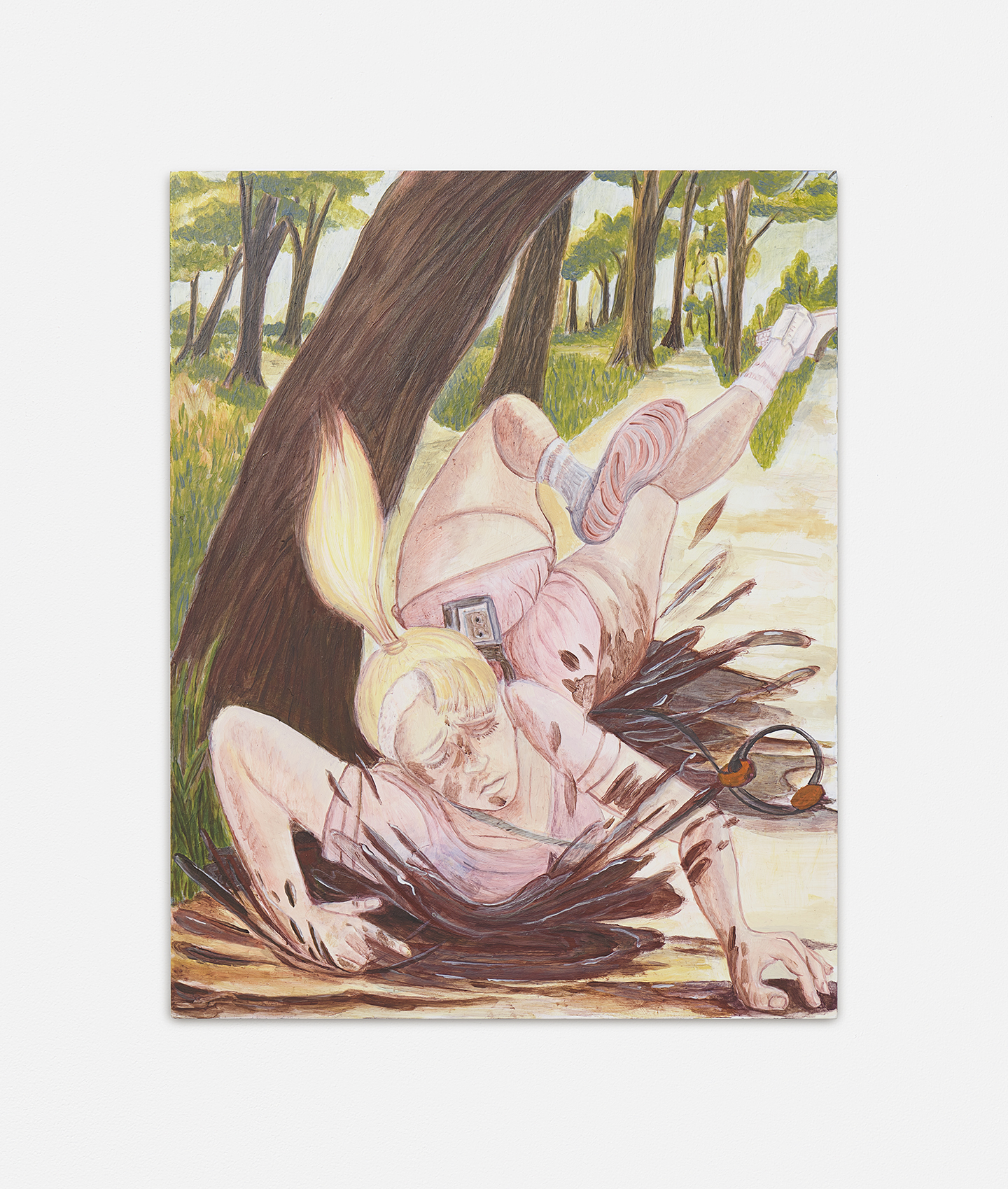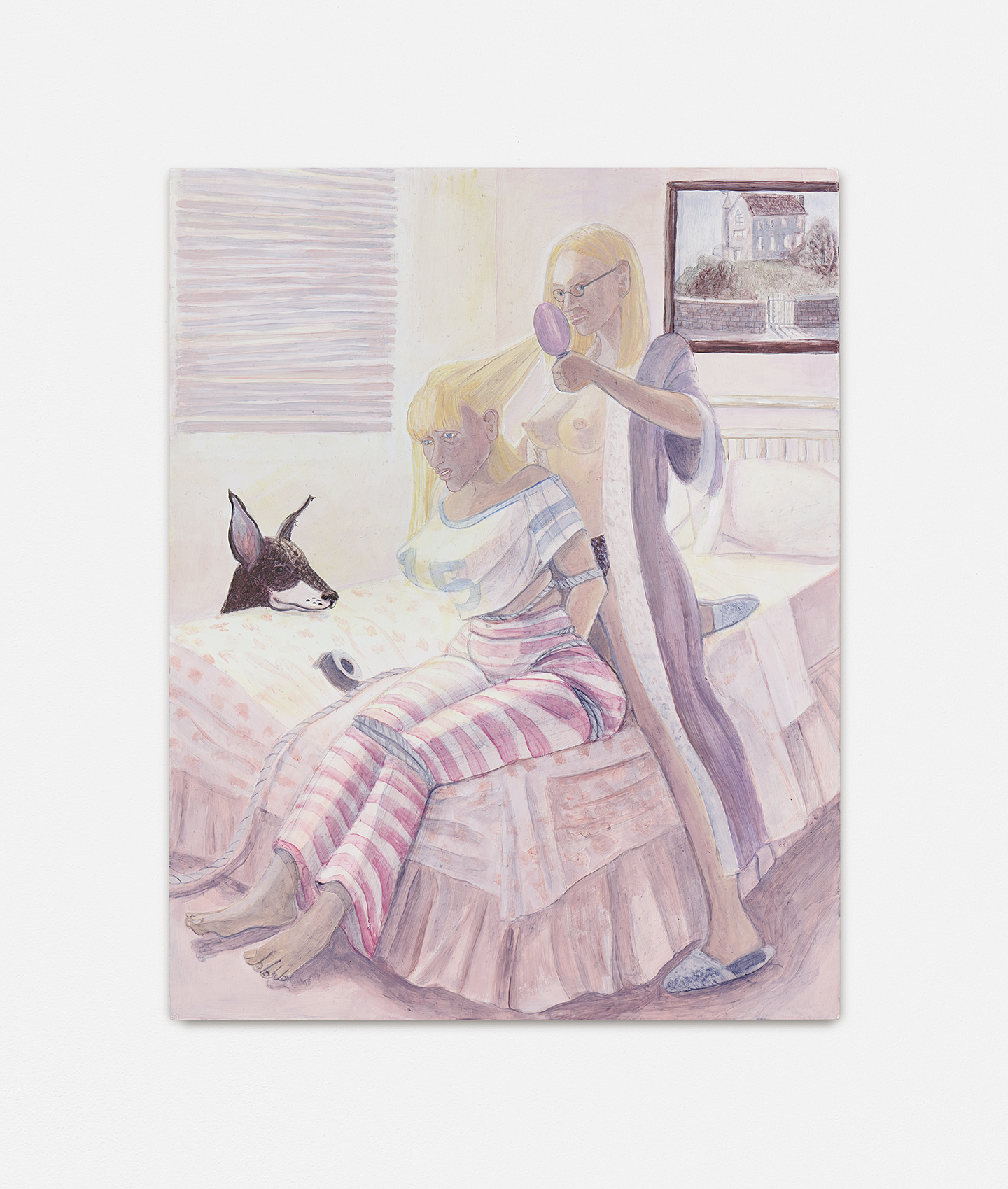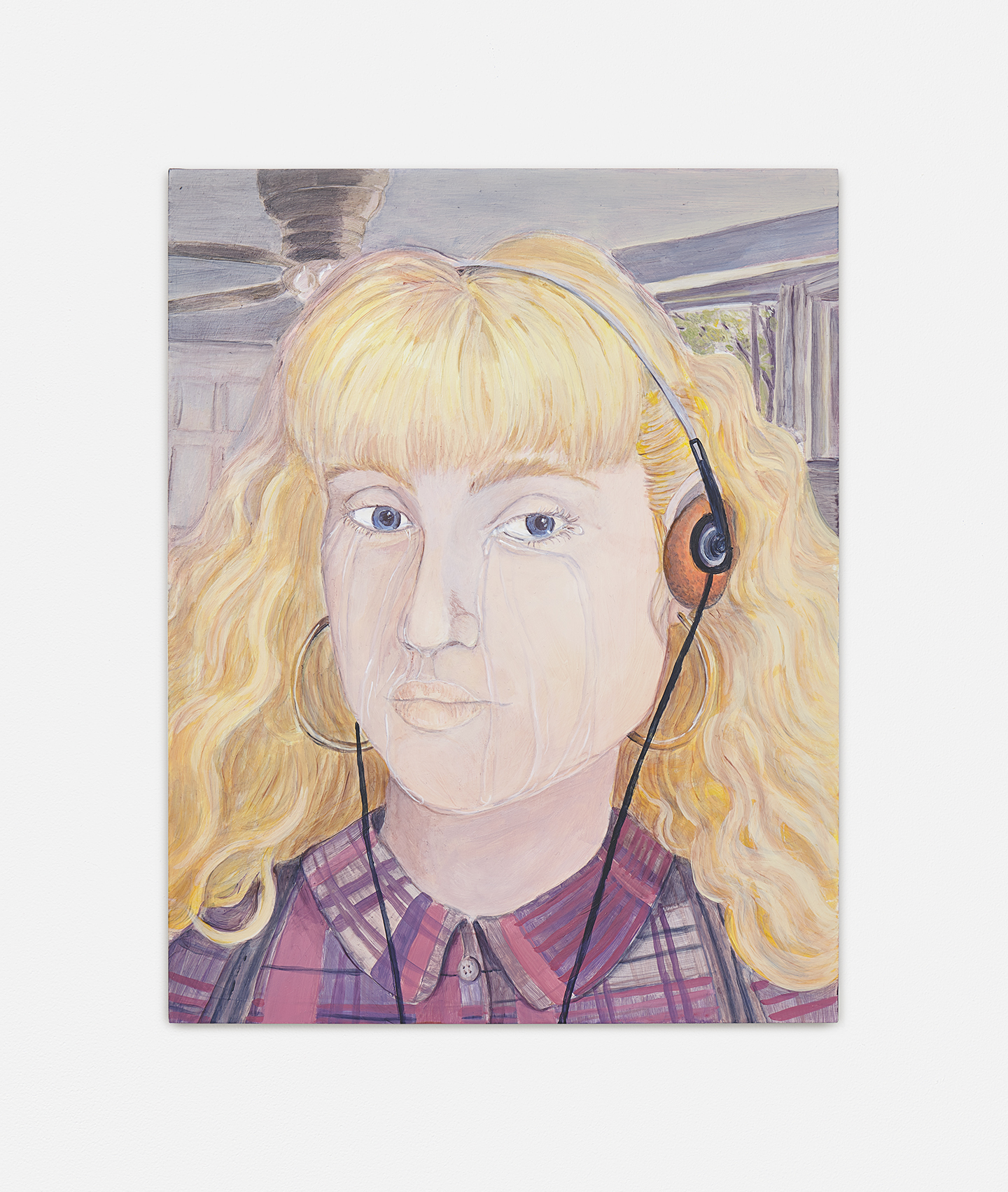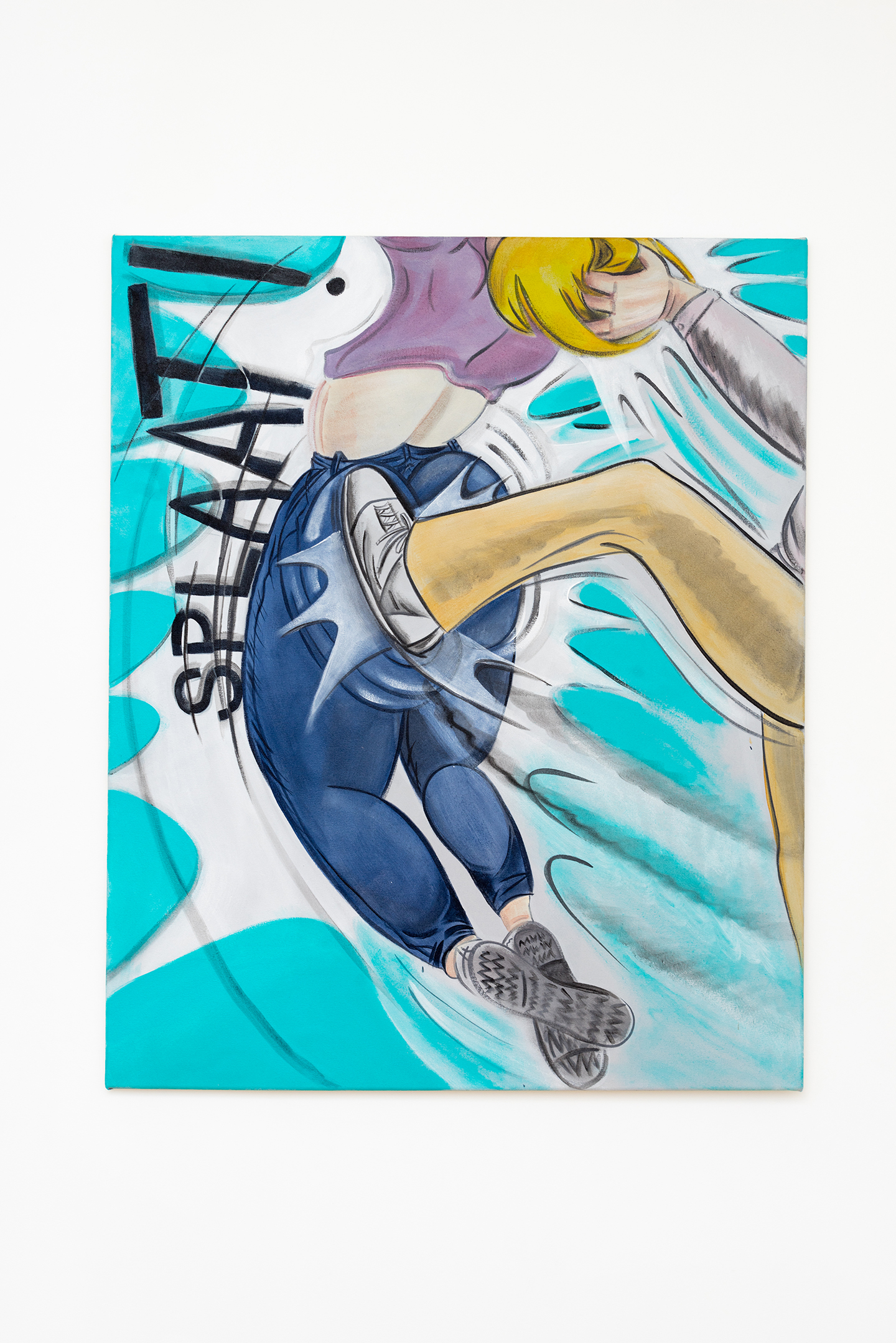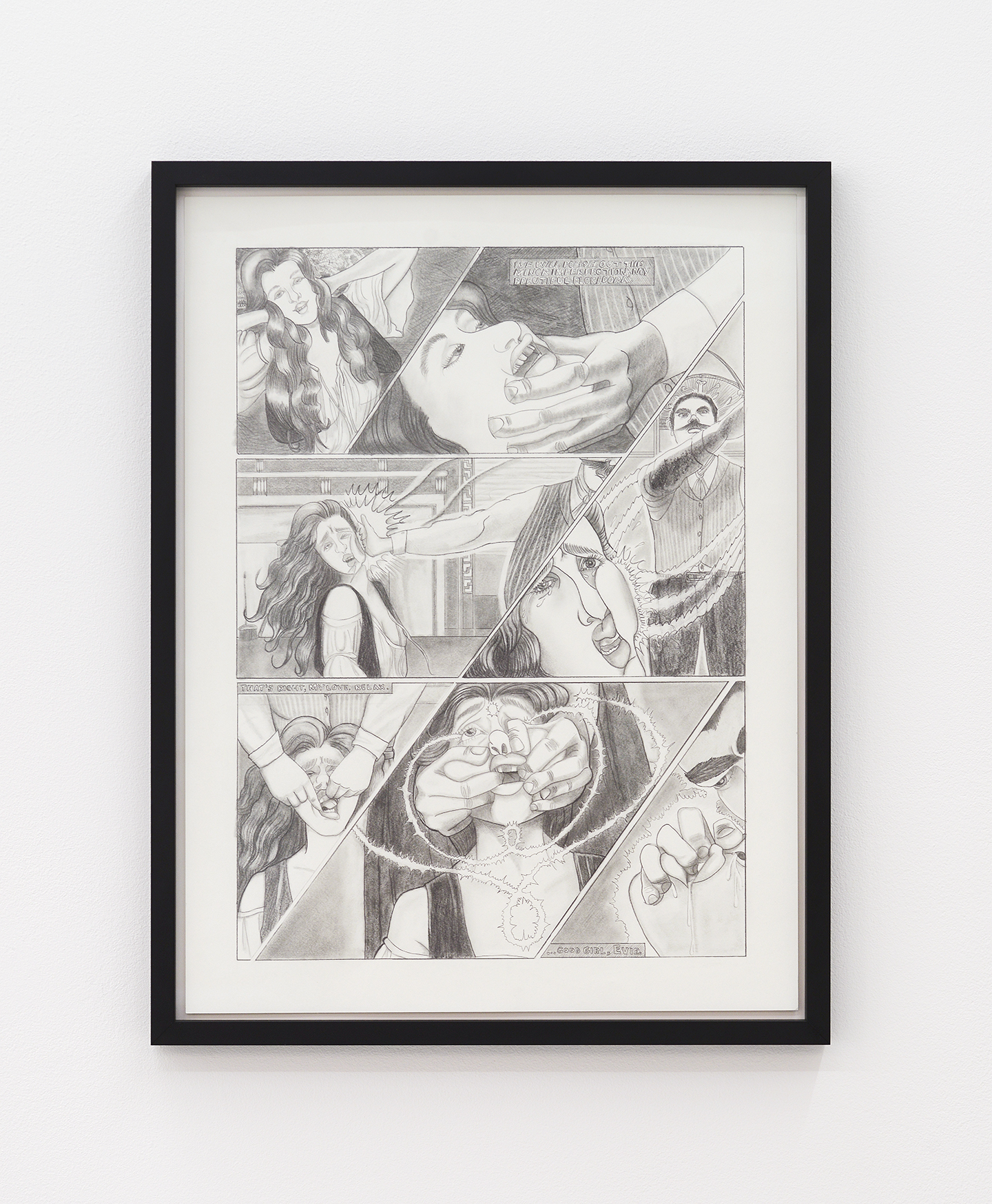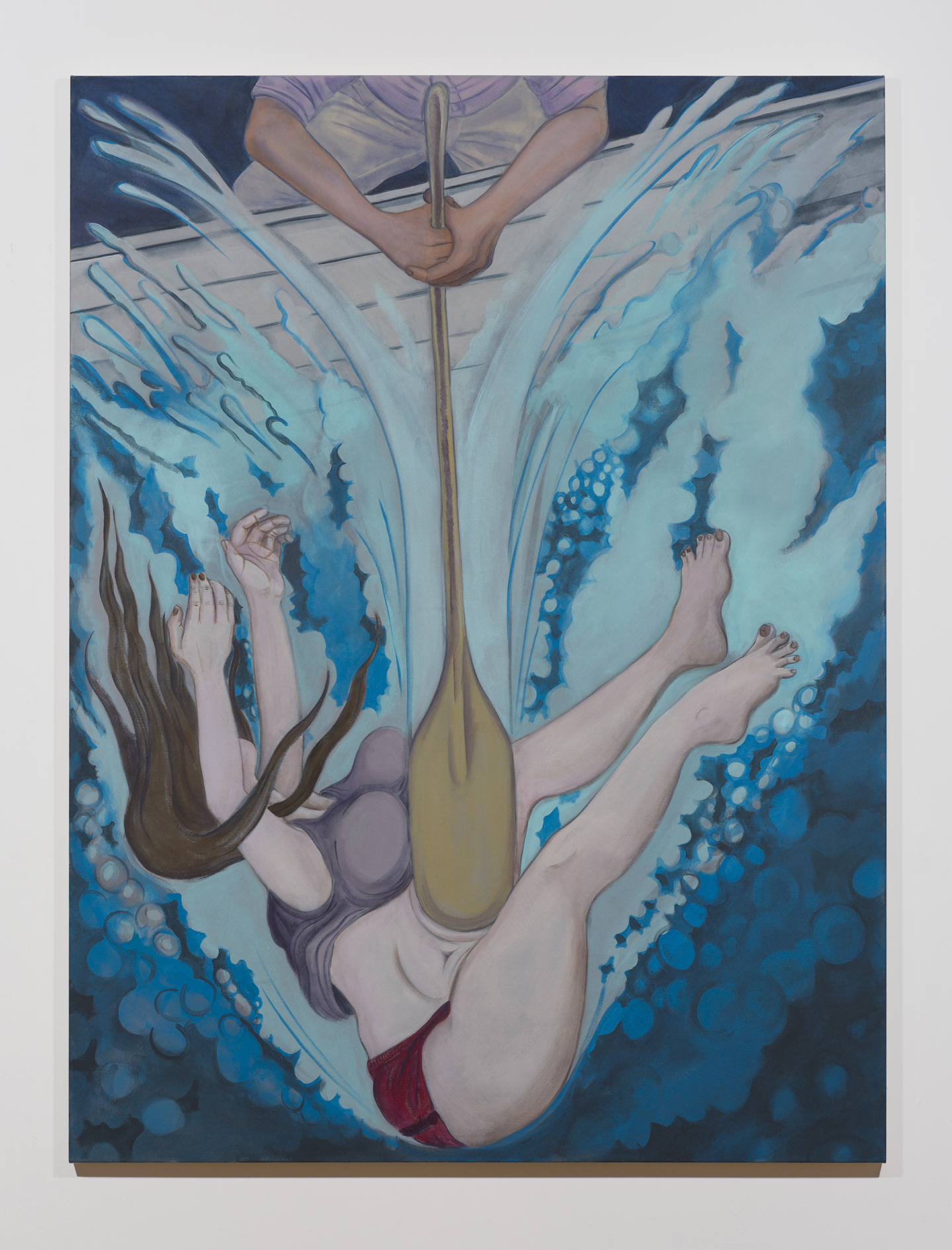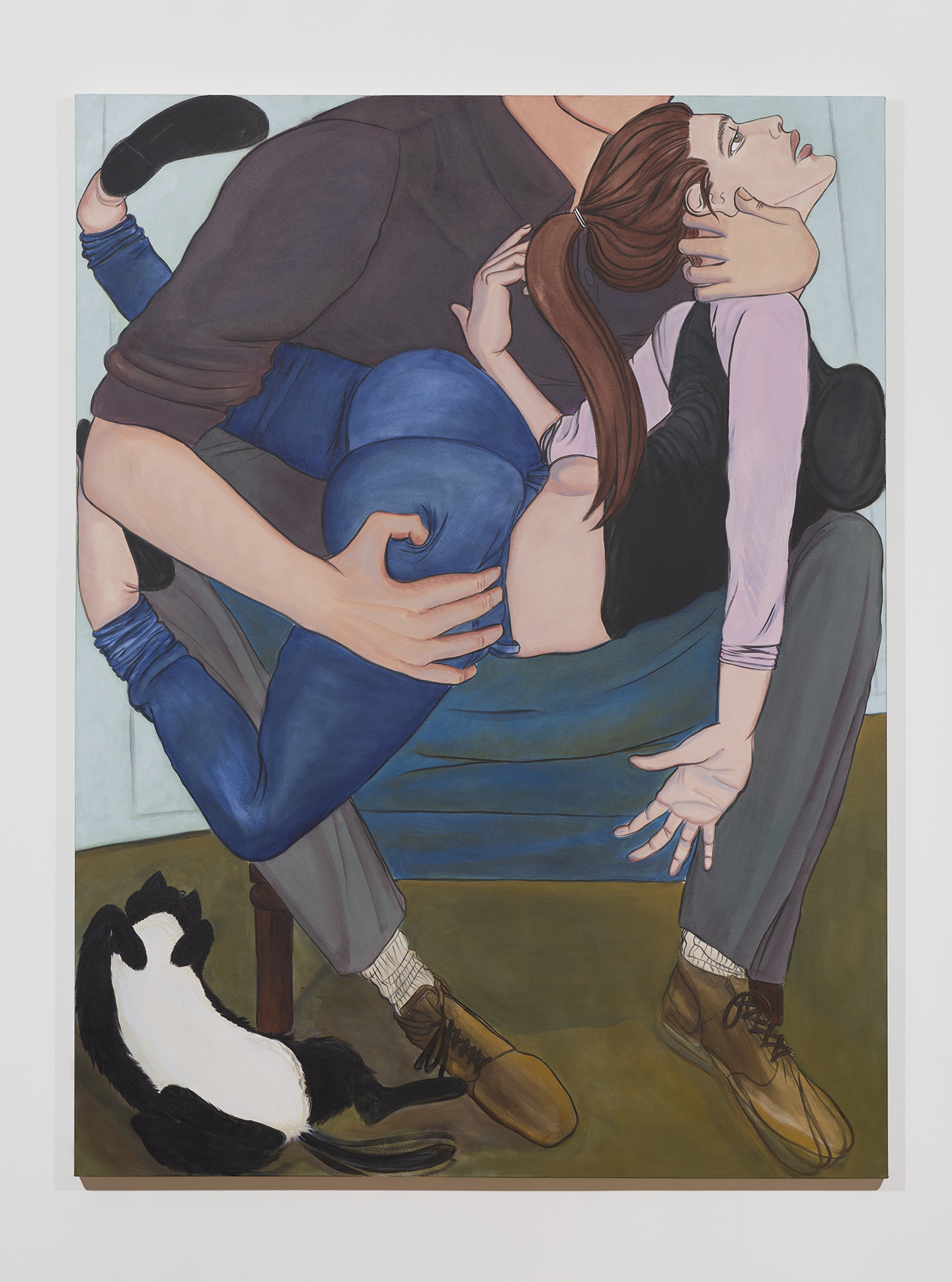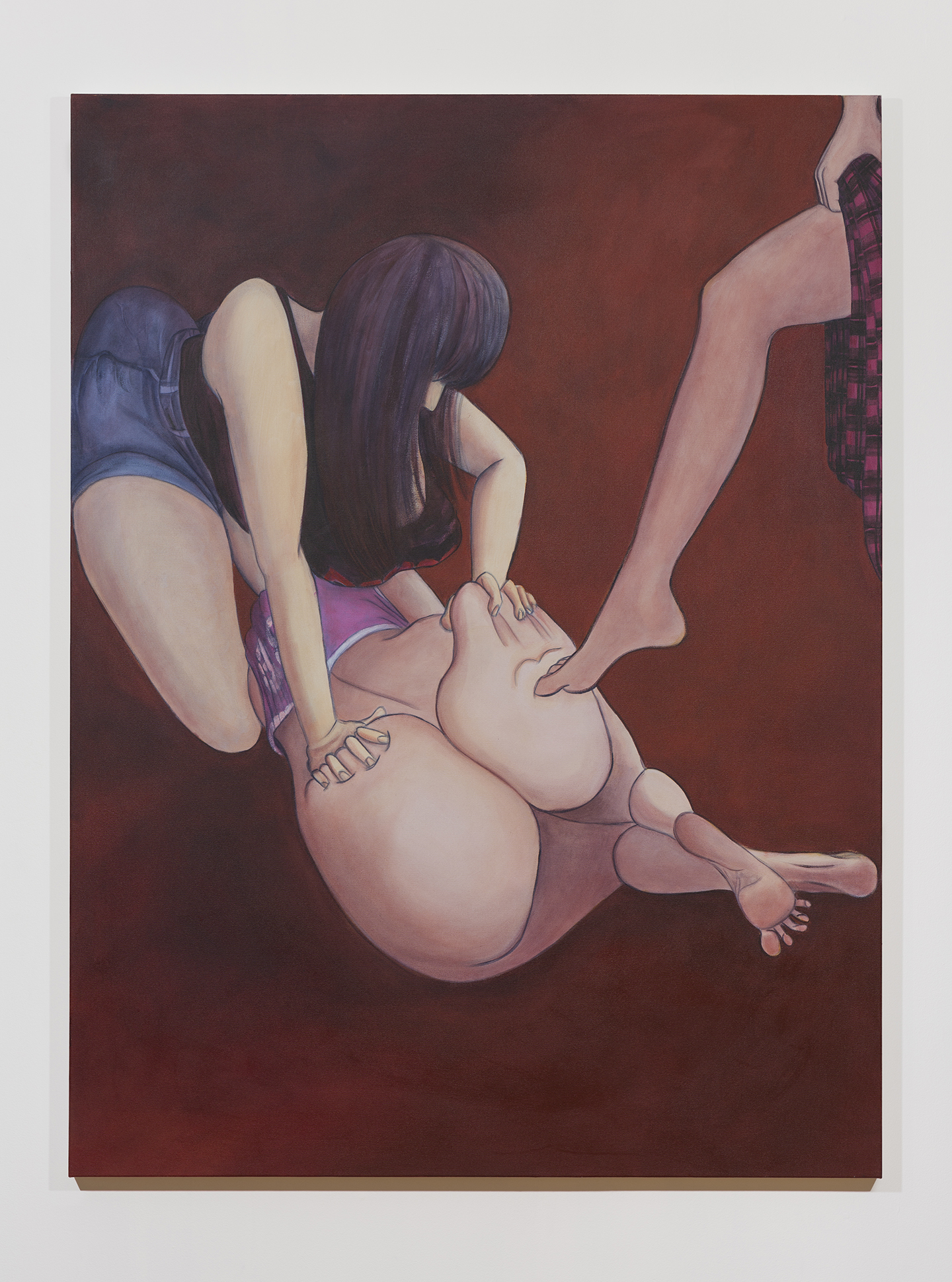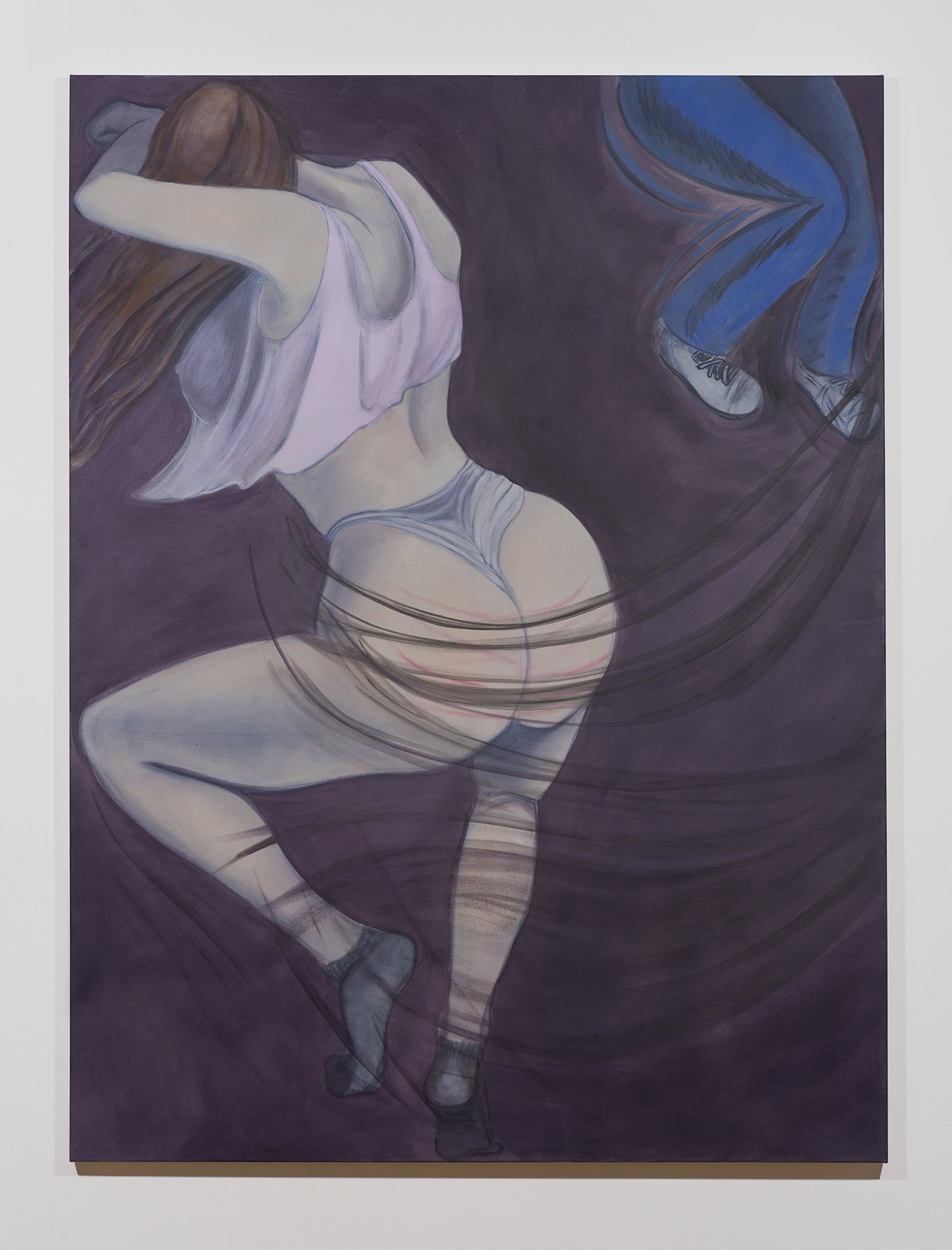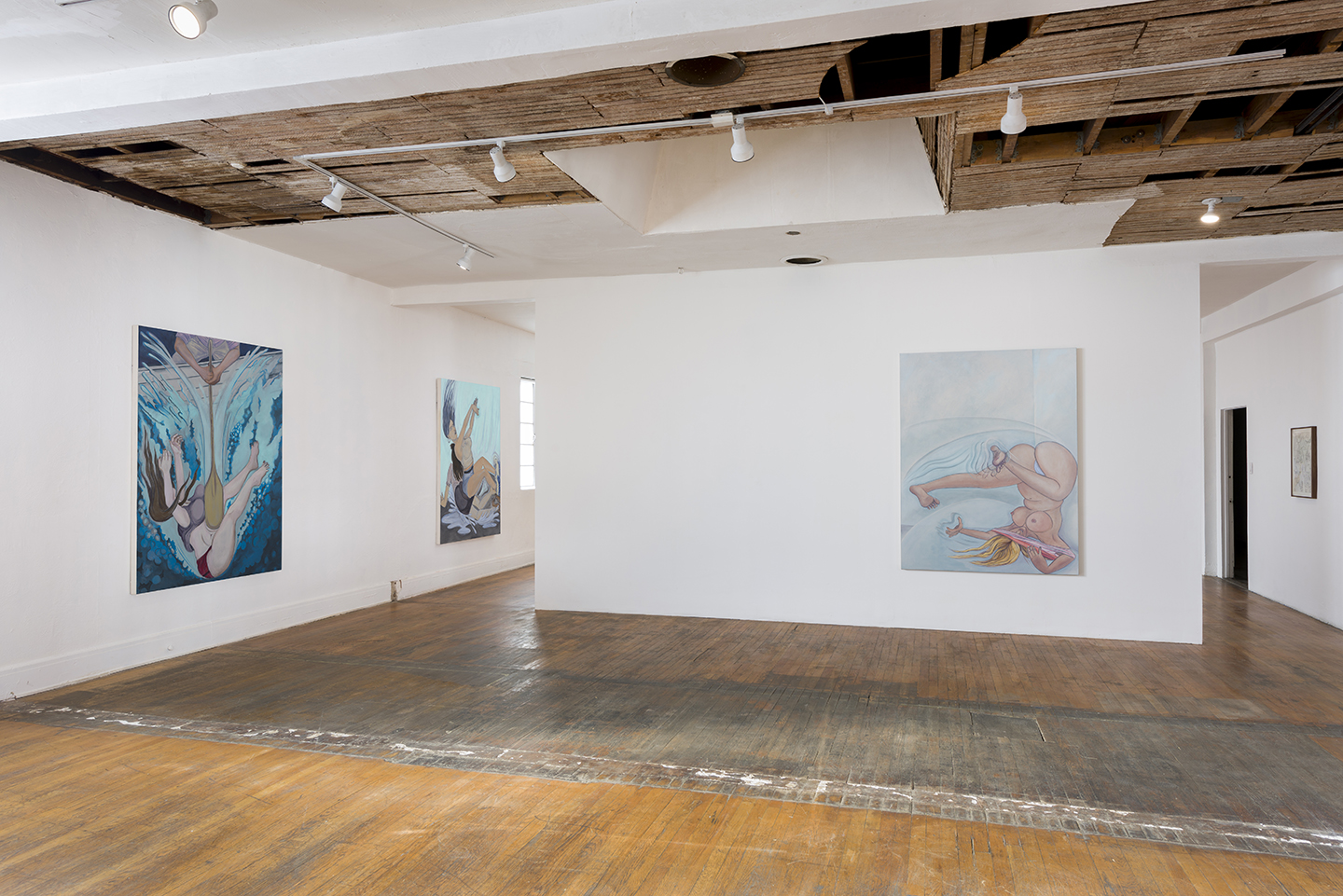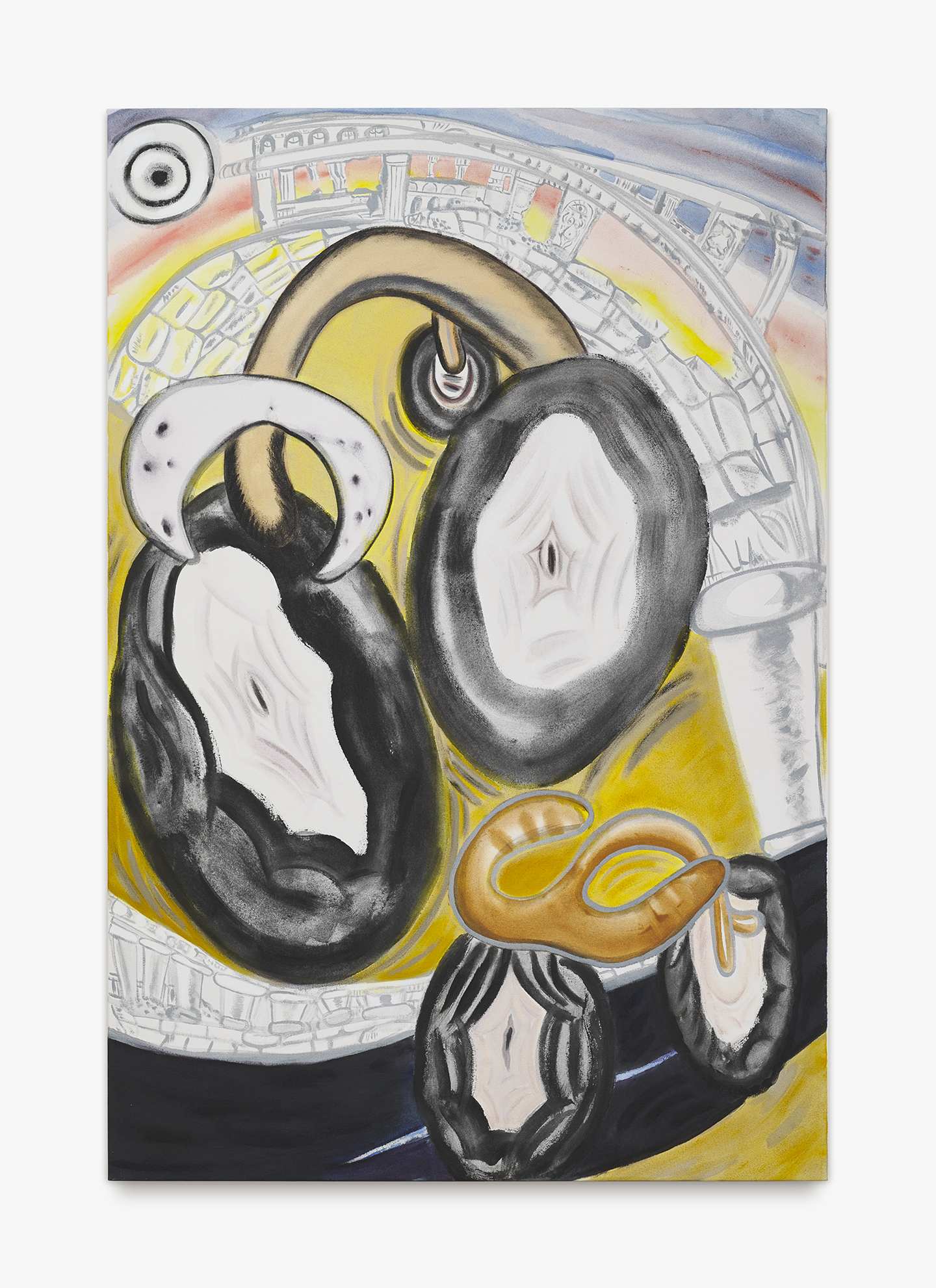 by Moritz Scheper
Vanessa Conte's paintings, drawings, and stories are bursting with blows, kicks, and moaning flesh. Acts of humiliation and submission are carried out on young, curvy women, upon whom, almost always, extreme sexual violence rattles down. And yet there is no denying that behind the violence lies a subtle, sometimes dirty irony that completely subverts the reading of the work. The result is a multilayered, shockingly amusing observation of the female body, wrenched between the centrifugal forces of power and sexual yearning.
I have a clear memory of the moment I first came into contact with Vanessa Conte's work. Or rather, of how unsettled I was by her drawing Polished Out (2017). Here, in a series of cleverly nested cartoon panels, fingers aggressively probed a woman's mouth, and finally a discolored tooth was knocked out. The woman was little more than a figurine, human clay reshaped by the application of force. Moreover, this aspect was excitingly heightened by the graphic style, pushing the images to the brink of the grotesque, though not quite far enough to ignore the violence. It made me want to grin, but I didn't dare. My unease may also be due to my male perspective, to which, in the face of all current debates, Conte offers portrayals of women being given a thorough spanking. Moreover, within the universe of these pictures, everyone seems to agree that they deserve such treatment.
The victims in her works are naive Playmates of the Year, archetypal jerk-off material, or simply the result of perfected self-objectification: Angelina Jolie's lips, breasts like those of John Currin's doll-women, Kardashian booty. The overinflated padding of their buttocks and breasts, in particular, is maltreated, distended, twisted, and cleaved, often defying the laws of physics. Everything flops and wobbles in overdone orgies of beating. In spite of this, Conte's pencil-drawn cartoons, her paintings, and also her stories, which can be understood as a comical variation on corporal punishment literature, manage to layer a good dose of humor over the sheer brutality of their subject matter. This is due primarily to her style, whose ligne claire and muted colors recall Hergé's Tintin. The bulging, juicy breasts and buttocks, on the other hand, are visual codes from Japanese hentai comics, known for their explicit portrayals of violence and sex, often combined. In this way, Conte mobilizes a cartoon aesthetic of overdrawing in which exaggerated portrayals of violence have a long tradition—and a similarly long tradition of sexist stereotyping. Even her stories are littered with onomatopoeia, another typical feature of cartoons, lending them an ironic twist. Irony also occurs in less codified forms, however, as when the women in her drawings are beaten not by men or women but by cactuses or trees. Or when the violence is presented in hilarious ways, as in Rebellion Fail (2018), in which a young woman is hung from the ceiling as a human piñata and thrashed with sticks.
The importance of this ironic touch as a form of release when confronted with the work's coarse content becomes especially clear when it is missing. In To The Torrid Sea I Fall, her show at Commonwealth & Council, Los Angeles, 2018, Conte used no written sounds and almost no synthetic colors, which made it hard to reconstruct the contextual trail to cartoons and hentai. The shrill, exaggerated quality was suddenly removed from the pictures, as if the artist wished to block the easy way out via liberating laughter. This suddenly made any distancing difficult, and instead of a loud laugh, each of the works aimed at a lonely, quiet place in us. One female figure's backbone is bent by strong male hands as if she were a kitten. Another is forced underwater by an oar, causing her body to fold in two like the covers of a book. These large-format works radiate a dark attraction like the one sought by subs in their doms, a world of sexual submissiveness the works also openly address sometimes. In Redeemer (2017), for example, a female body is seen from behind with flying hair, its huge buttocks adorned with delicate pink welts. Is she dancing? Does she lean painfully against a wall? Or both? And the mood-laden Justine (2018)—the most famous character created by the Marquis de Sade—shows, against a ruby-red background, a monstrous, fleshy ass being kneaded by another woman as if it were dough. The leg of a third woman protrudes into the frame, sticking its toes into one of the meaty buttocks—a small gesture that contains a huge amount of humiliation and power but (as the exhibition title suggests) also produces pleasure at a point where physical pain is getting a sweet taste. At least for some; others only feel the darkness when falling into the sea's depths. 
In any case, these works make it clear that Conte's main interest is not in transferring fetish cartoon codes from the field of pop culture into art. No, these fantasies (whomever they belong to) ratchet up the deeply tangled relationship of body, power, and sex. The fact that her focus is explicitly on the female body is made clear by the slightly older "bike paintings" that do not feature women being given a hiding or any cartoonish conventions. Instead, we see bizarre riderless bicycles in front of enigmatic landscapes. Not for nothing do their composition and palette recall paintings of Magic Realism and early Surrealism, as Conte borrows the method, used in both movements, of animating objects or giving them a sexual charge via an aura. Over time, her bikes changed from mere objects into accumulations of female organs—fallopian tubes, wombs, vulvas—behind which the bicycles increasingly vanished. This is especially well illustrated by Ms. Mycenae (2016), in which the handlebars and crossbars of two bicycles consist of fallopian tubes, while the wheels are, well, pussies. Not long after painting Ms. Mycenae, Conte traded these intricate body/object combinations for a more explicit, more drastic register in which to portray female objectification, a register of permanent punch-ups. What remained was the malleability of the body, with flesh now wobbling under kicks and blows where previously organs were bent into shape. These unnatural distortions of soft, female tissue (that never tears or bleeds) tell, above all, of extreme imbalances of power: helplessness, submission, possibly both.
Bearing Conte's excellent, reliably dirty sense of humor in mind, her work can even be classified as an active reclaiming of sexist image conventions, a standard approach since third-wave feminism. Cures for Pouting Girls, the title of her short story collection, might suggest this reading, as it embeds her exaggerated corporal-punishment fiction into the inglorious history of female marginalization, which often came in the form of obscure "cures." For if it is mostly naive playmates, pure male fantasies, who are cured with extreme sexualized violence in her work, then maybe it is also directed against a specific definition of femininity. But only maybe—after all, we are now in the midst of the fourth wave, meaning we cannot ignore the affirmation of kinkiness that shines through, especially in Conte's larger pictures. And why should we? If one is looking for a feminist critique in these works, then perhaps it lies in their subtle commentary on the male tradition of carnal desire in art, from the odalisques of Ingres to Araki's bondage pictures. In her works, their sensuous, sexual charge moves in a distinctive direction, appearing in a sometimes disconcerting, almost outrageous setting. The high point in this development to date came with her last show Up to Your Neck at Ginerva Gambino, in Cologne, 2019, featuring situations (or thrashings) from the life of the all-American girl Amy. In the show's small-format paintings, which come without the black outline lines typical of cartoons, Mother (2019) stands out. Here, Amy sits on a bed while her mother kneels behind her, combing her hair. But poor Amy is bound with a rope and her mother's bathrobe is open, revealing bare breasts and leopard-print panties. A roll of gaffer's tape nearby points to what may be yet to come. This constellation of sexual dominance is disturbing above all because it contains remnants of an everyday, caring mother-daughter routine. With this hint at the influence of family, the sweetly tinted image offers explanations of where our tendency to submission or dominance comes from—after all, each one of us has a tacit preference, without it necessarily being a fetish.
Nonetheless, works like these are the reason people repeatedly walk out of Conte's exhibitions in indignation, as if they themselves had just been given a beating for the pleasure of all present. They can hardly be blamed; after all, the assaults on Conte's female figures are loaded with violent sexual humiliation. Her works flirt too strongly with taboos and misunderstandings for that. Added to which, Amy and the other nameless but always curvaceous women are not Saint Teresa, avid masochists voluntarily seeking sweetness in all manner of pain. Instead, the kicks and punches rain down on them like the last judgment. Perhaps they can be seen instead as a female reboot of the figure of Saint Sebastian, who did not choose to die but died beautifully, and whose body has, for centuries, been a battleground of escalating pain and sexual desire—with the tiny addition that seriousness isn't sacred at all with Conte. 
Elsewhere, I have called her works "Tarantinoesque" as a way of dealing with this combination of ironic exaggeration and fascination. But perhaps this is precisely what distinguishes her approach: it breaks a taboo while fascinating us in a dark, sensual way. We can't control this response; it makes us feel a peculiar kind of degradation. Not the usual authority of artworks, but a contempt we seem to feel in our own flesh. But that also somehow feels good—at least for some. 
Vanessa Conte (b. 1977, Yonkers, New York) lives and works in Glendale, California. She holds an MFA from the University of California, Los Angeles, and an MA in Linguistics from California State University in Long Beach. Conte's work has been shown at JB Jurve, Los Angeles; Hester Gallery, New York; Various Small Fires, Los Angeles; Gavin Brown's enterprise, New York; Night Gallery, Los Angeles; Ginerva Gambino, Cologne; Commonwealth & Council, Los Angeles; and Delmes & Zander, Cologne, among others. Vanessa Conte published several short stories of corporal punishment fiction using pseudonyms, before releasing Cures for Pouting Girls (New York: Hester, 2016) under her own name. In 2018 she published Heavy Penalties (New York: Random Man, 2018), which consists of a selection of graphite drawings.
Moritz Scheper is a writer and curator based in Essen, where he works as artistic director at Neuer Essener Kunstverein.
Originally published on Mousse 67