Special Projects Websites
Vdrome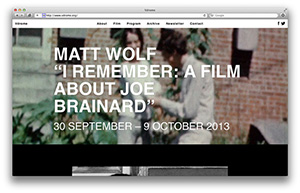 Vdrome
February  2013 ~ ongoing
Special Projects, Website
Vdrome is an initiative launched by Mousse in February 2013, created to investigate and promote the relationship between cinema and contemporary art via an online plat- form that offers regular, high quality screenings of films and videos by international visual artists and filmmakers.
Every day, millions of people watch films online. Vdrome has enriched this way of enjoying movies through a curated program of cultural content that is free of charge.
Each film is selected and presented by an international critic or curator, and is introduced by an interview with the director or an essay by the curator that frames it with- in a context and offers insight and behind-the-scenes information.
Vdrome is curated by Edoardo Bonaspetti, Jens Hoffmann, Andrea Lissoni and Filipa Ramos. It has a permanent viewing location at the Museum of Contemporary Art of Detroit.