CONVERSATIONS
Vibrational Aesthetics: Lisa Alvarado
Close
1
2
3
4
5
6
7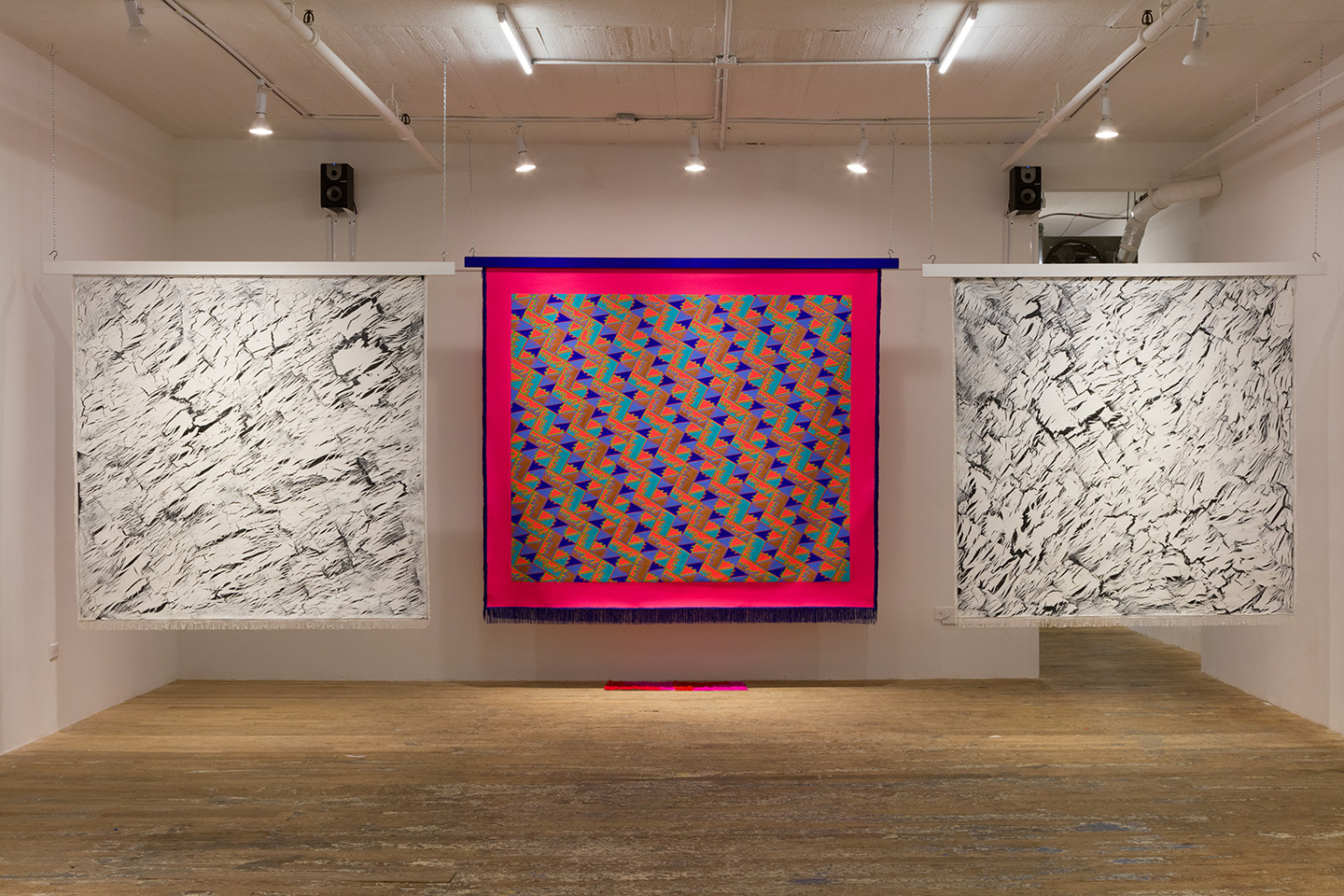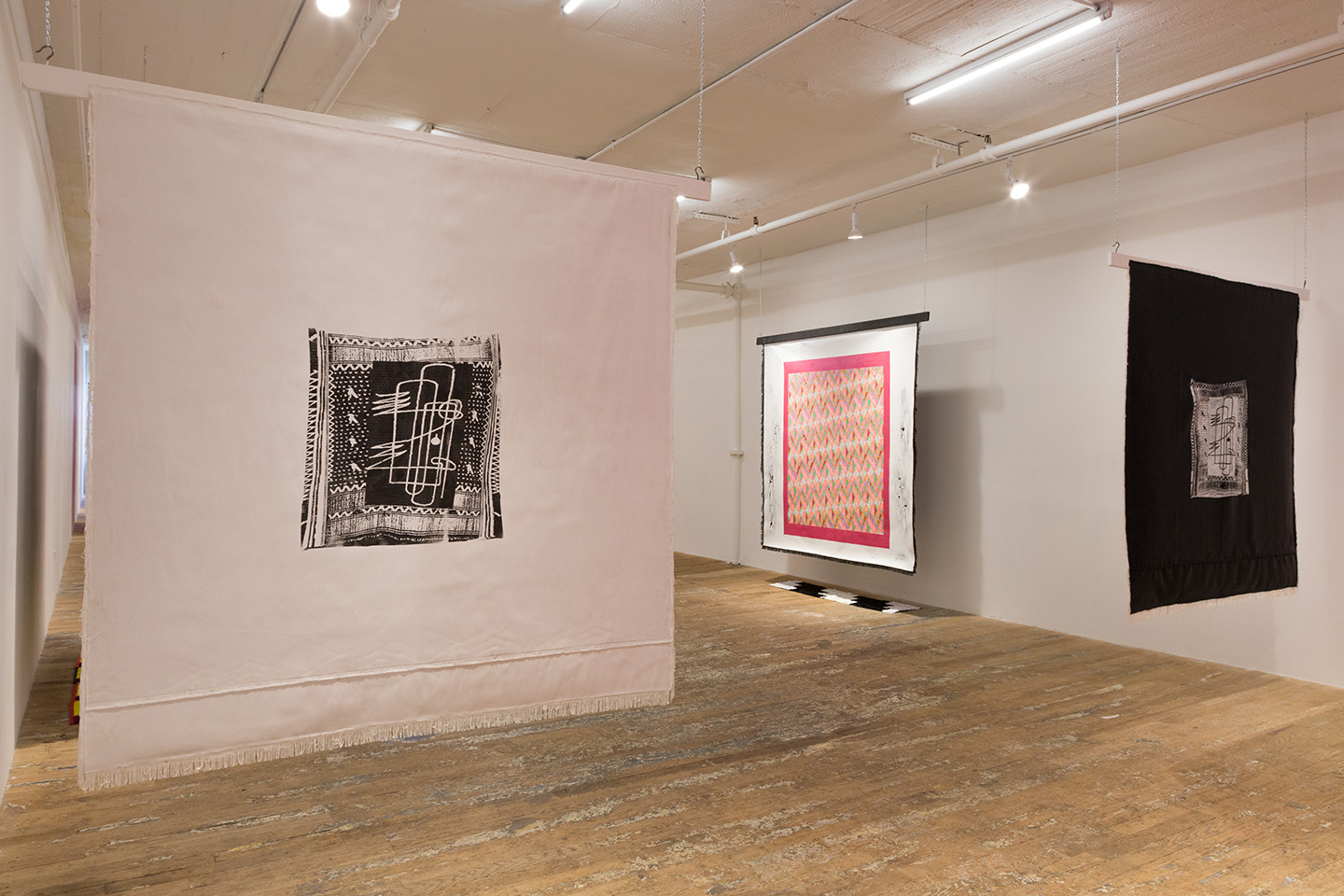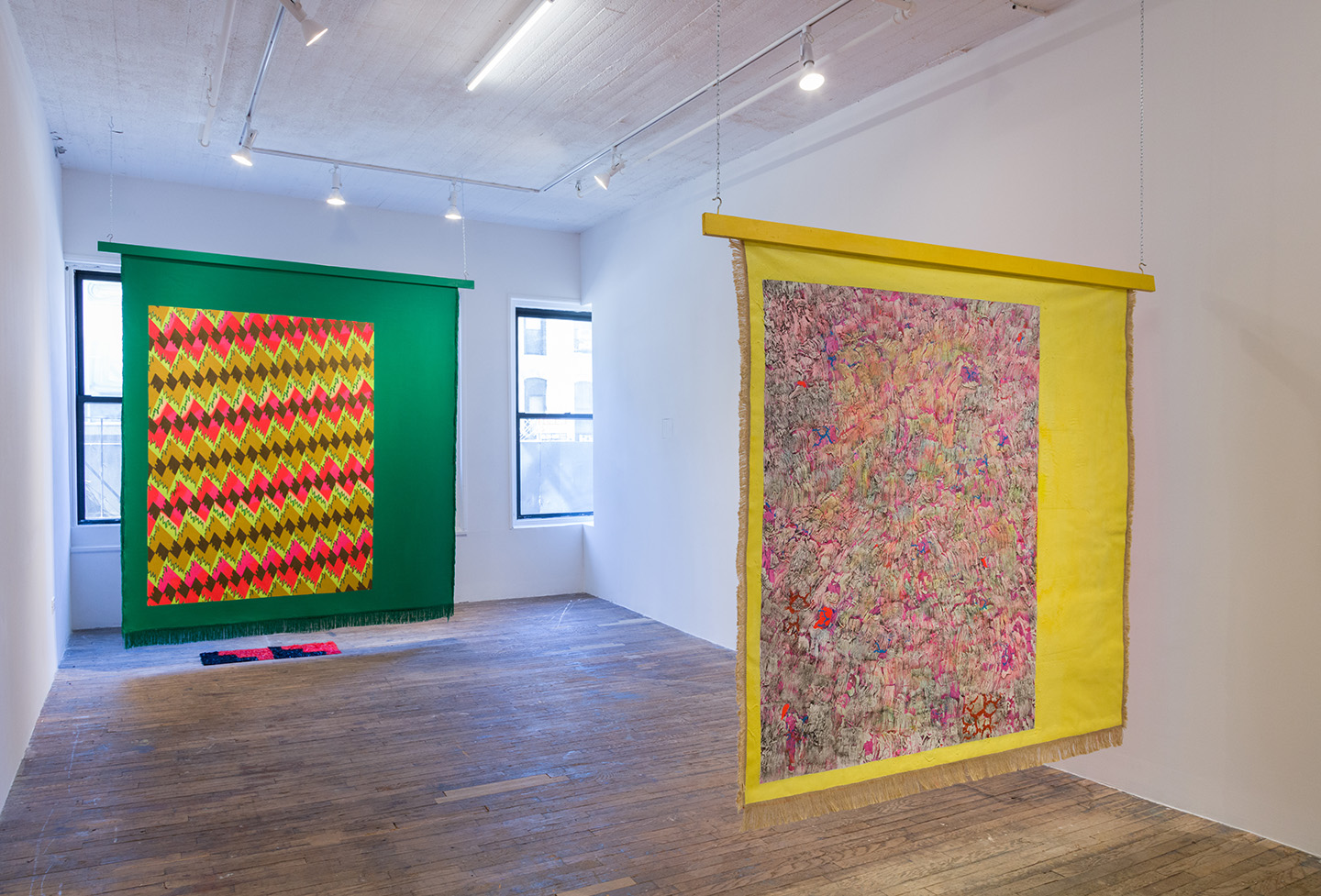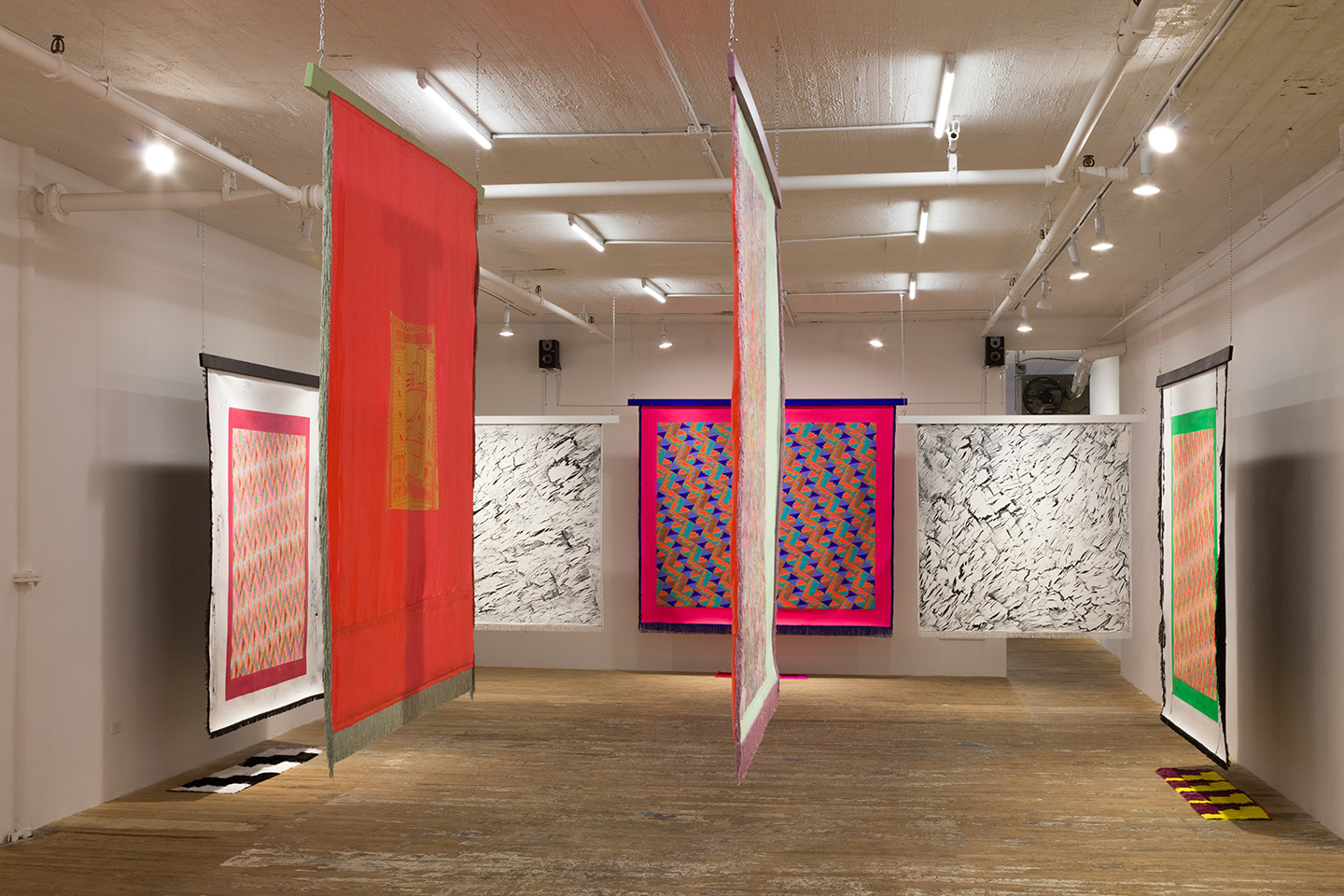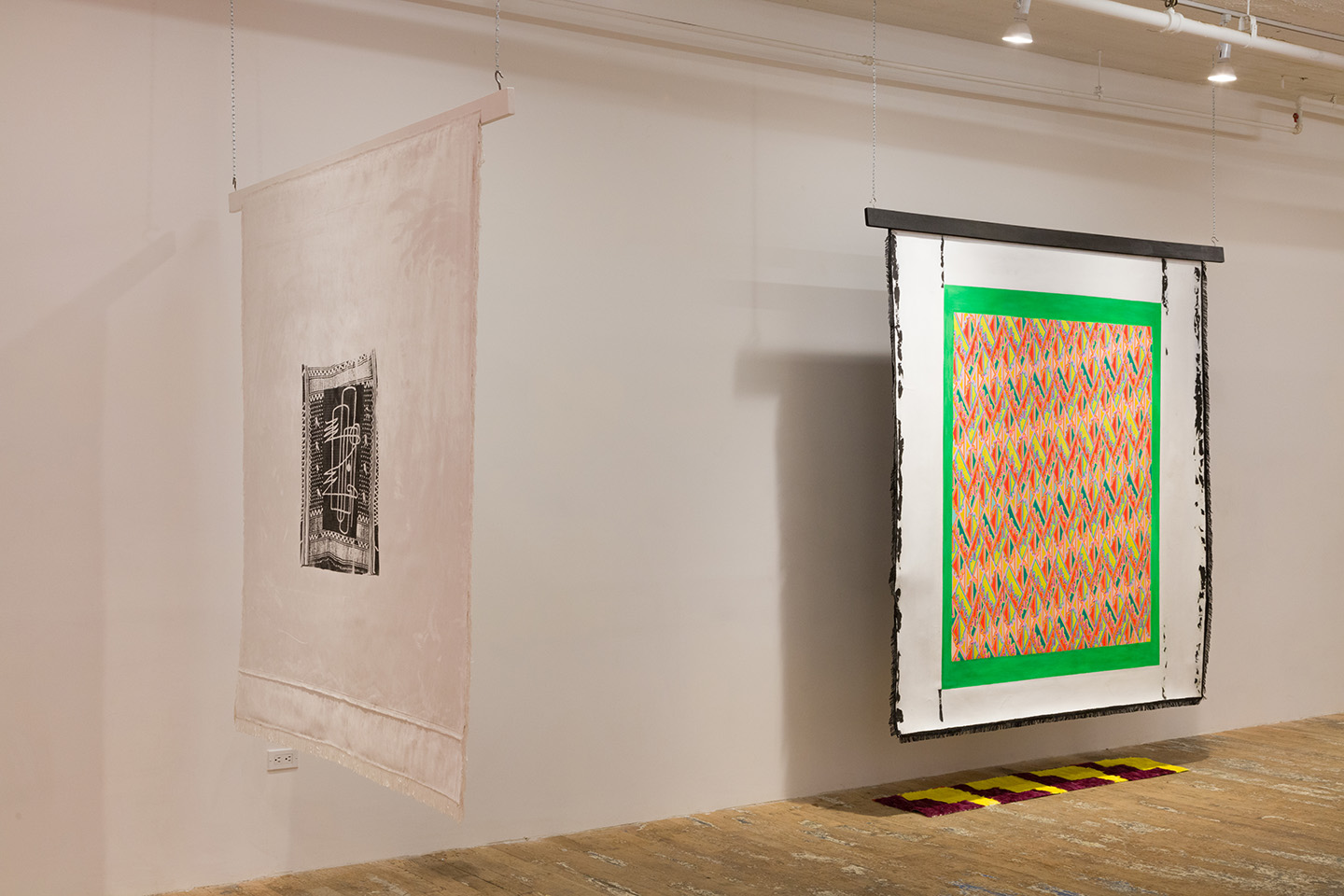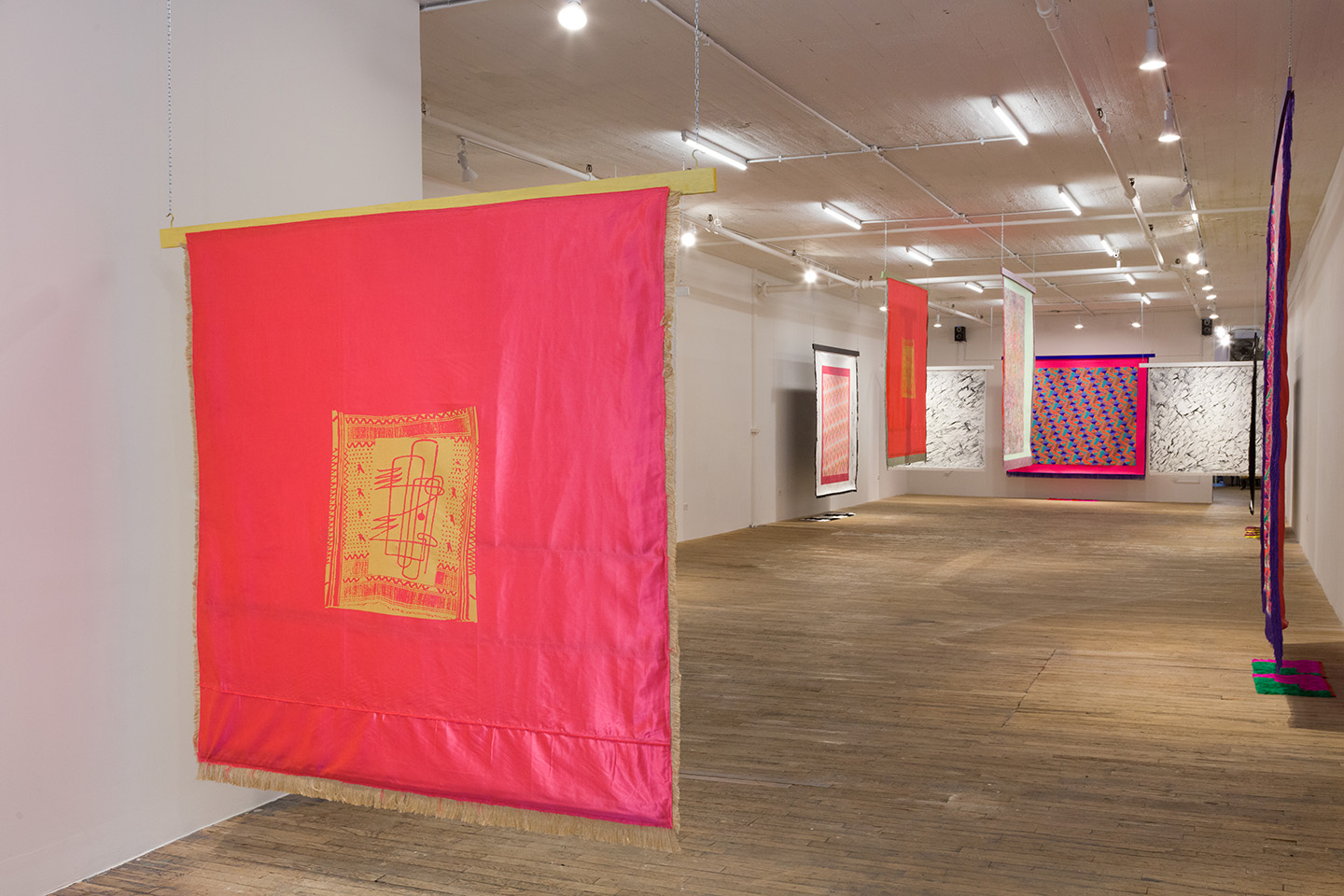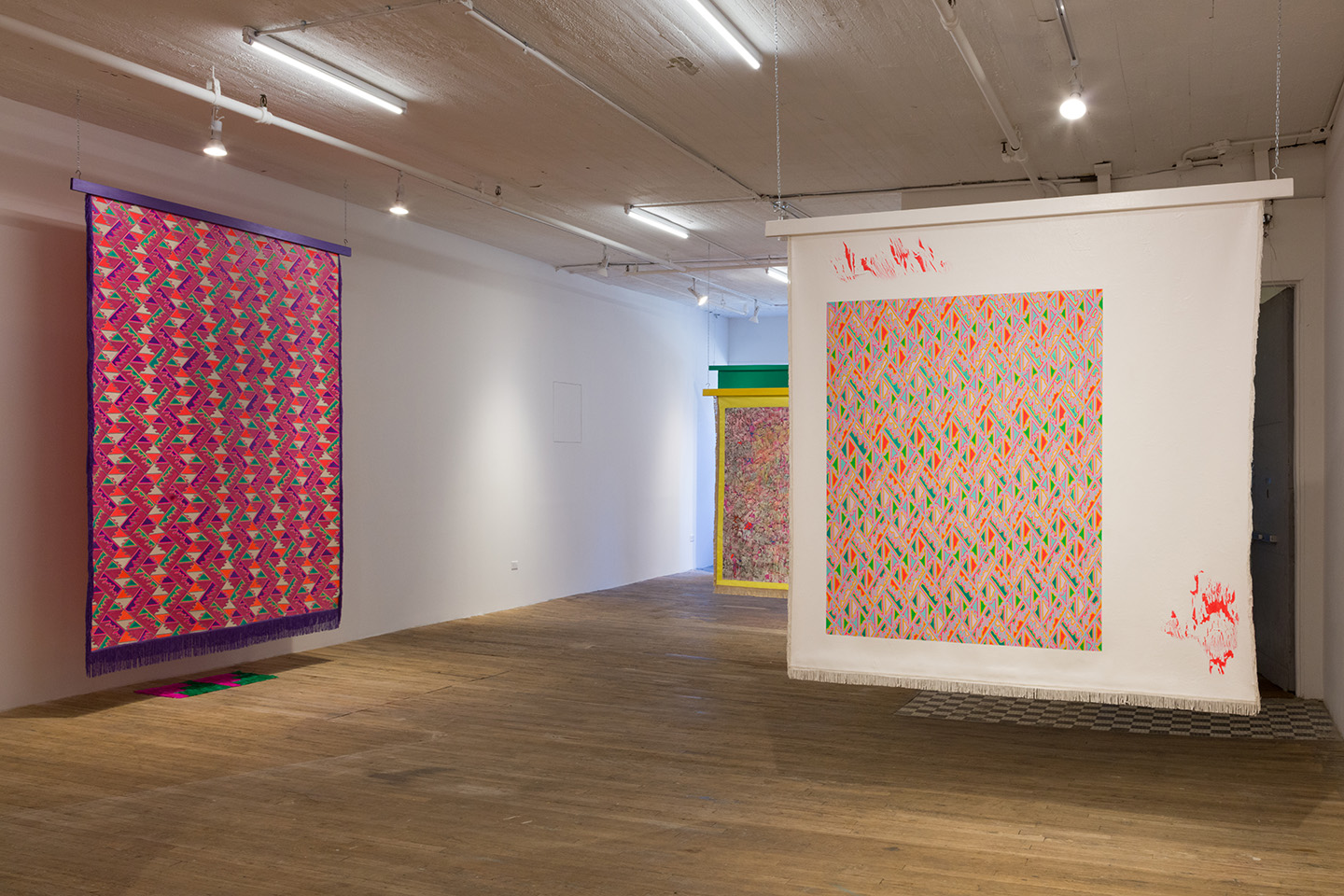 Lisa Alvarado and Dana Kopel in conversation.

The artist's practice is an exercise in balance, bridging visual art and sound to create works that feel at once spiritual and grounded in the physical, natural world. Her paintings often operate as stage sets, artworks, and ritual objects simultaneously, and engage with abstraction beyond the parameters of Western art history. Alvarado also plays harmonium in the band Natural Information Society, whose music has been described as "ecstatic minimalism"—a designation that also suits her paintings, with their bright colors and geometric patterning. Originally created as stage backdrops for Natural Information Society performances, these paintings are currently on view in Alvarado's solo exhibition at Bridget Donahue in New York. The show also features a sound installation by the band and a program of live performances.
Dana Kopel: You're involved in projects that are sometimes more firmly grounded in music, as with Natural Information Society, and sometimes—as with your exhibition at Bridget Donahue, or the recent group show The Freedom Principle at the Museum of Contemporary Art Chicago and the ICA Philadelphia—more situated in a contemporary art context. Other performances and projects seem to exist somewhere between art and music, bridging the two. How does your approach differ among these different modes of production?
Lisa Alvarado: It's an intertwined process. My husband and I are both involved in music, and our home is a space for rehearsals and recordings. When I'm in my studio, which is right next to the sound studio, I hear music a lot and it influences the work. I always have been interested in the residue of how these things rub off on each other, and in bringing the works into real-time gatherings with people, the platform or backdrop that they create. What is the psychic residue, if anything, that is embedded within them, or within our memory? Does any sort of transformation happen? That's something I'm curious about.
DK: In your exhibition at Bridget Donahue, your paintings are installed to form a sort of stage, where performances intermittently take place, yet most of the time the paintings very clearly constitute an exhibition. Sound, too, inhabits a gallery space quite differently than it does a performance, in terms of both time and the kinds of attention it elicits from its audience. How do you see your works operating in a gallery setting, as opposed to the performance environment in which they're more commonly shown?
LA: The differences allow for new things to happen. For example, I'm able to have more than a few paintings up at a time and play with the relationships among them. The performances, along with the sound installation, help activate the work and bring the paintings into a similar place as when they're on stage. It's exciting to see them up for a longer time and beyond a transient situation.
DK: There's also something durational with an individual experience of the works: a viewer can walk around them, especially the double-sided ones, spend time with them, and see that they take up space in a different way.
LA: That's something that can get missed when we're on a stage. Often the audience doesn't know there's a back to the paintings, or may not even know that they're painted. It becomes an inside thing. The band knows the ins and outs of it; the band is helping roll up the paintings and put them in the van with all the other instruments, so they come to hold this collective memory of our experience. That's what's nice about the exhibition: I get to share more of what's going on.
DK: The paintings are designed to be rolled up so you can take them to shows, open them up, and put them away afterward. That's a much less precious relationship to them as art objects than is usual for artists.
LA: I thought that it was important that they became part of my life. I make them in my home, which is also a site for rehearsals and recordings, so bringing them on tour felt natural—they were already a part of this environment.
DK: Tell me a bit about your process.
LA: The process is slow, and I see it as meditative, repetitive, mantra-like. I think about how the paintings can create balance in my life. When everything's going fast and I need to be on the computer all the time, my work in the studio forces me to slow down. When communications are virtual, I want to make work that creates situations of shared experience. In a lot of the works I am thinking about movement. I've been calling it "vibrational aesthetics." I use a variety of approaches: sometimes it's more of an organic, cracking, poured paint; other times I'm standing at the wall and painting these patterns with small brushes. Very different processes that arrive at similar ends of movement, vibration, and pulse. It relates a lot to music and sound but also, for me, to the heartbeat and the breath and how the painting can tune in with someone's body.
DK: There's a resonance between the use of rhythm and this mantra-like quality that you describe in the paintings and in your music with Natural Information Society.
LA: A lot of my decisions also come from thinking about the stage and the audience. With color, I think about how I can make the works be seen at a distance and how they function with a foreground of moving instruments and people, to highlight the situation and create a back and forth. I've been painting for a long time, so paint has become an instrument I communicate with. The way musicians get started playing a certain instrument is the way that I went into painting: you develop a language with it over so many years of playing; it becomes your voice. I think that is my relationship to paint. I see it as a very ancient process. You have this liquid stuff that you're guiding to a solid state.
DK: You titled your exhibition at Bridget Donahue Sound Talisman, and there is indeed a talismanic quality to the paintings: their use of patterns inspired by Mexican textile designs, the way they hang from the ceiling like banners or charms, the small geometric feather pieces that are placed beneath some of them, almost like a prayer mat. Where does this element of ritual, or the talismanic, come from? And how does it relate to your musical work with Natural Information Society?
LA: The title of the show came from an NIS song where I'm rapidly striking a gong for a long duration. I think there's something talismanic about that striking or activating—talismans are objects that get activated or enacted through some form of concentration or touch. When I was setting up the space at Bridget Donahue, I started thinking about the works as though they were chimes, and the sound was wind bouncing off all of them, and activating them like a talisman.
DK: Can you speak to the histories of minimalism and abstraction—in both sound and visual art—that inform your work?
LA: I'm into the musician-artist couple Don and Moki Cherry, specifically their Organic Music Theater: they used Moki's textiles and created a space for musical performances. Asco, the art collective from Los Angeles, their walking murals. Gutai, the Art Ensemble of Chicago's sound stations—those are their onstage visual-sonic assemblages. I think textiles are an interesting framework for thinking about painting and abstraction, the history of textiles being a more culturally inclusive history than, say, the Western painting canon. They're objects that have been categorized as "in between," situated as artifacts rather than works of art. Some objects made by some people are considered art, and some objects made by other people are considered artifacts. My work considers that in-between place: is there a place for artifacts to turn into art or art to turn into artifacts? I'm interested in the motif of the steps that can be seen throughout the Americas, part of an art history that encompasses a geography that's not separated by artificial borders. Something that's beautiful about these steps is that they're simultaneously going in opposite directions: on one end they're going up to the heavens, and on the other end they're going down to the underworld. I see it as a symbol of opposites that coexist and complement each other. It's very musical, but also goes into how these opposites or parallels can be in harmony together.
Lisa Alvarado (1982, San Antonio) is an artist and performer based in Chicago. Alvarado plays harmonium in the experimental band Natural Information Society comprised of multiple performers and led by multi-instrumentalist Joshua Abrams. She has exhibited most recently in the group exhibition "The Freedom Principle: Experiments in Art and Music, 1965 To Now" at the Museum of Contemporary Art Chicago and The Institute of Contemporary Art Philadelphia, and in group exhibitions at the Kentucky Museum of Arts and Crafts, The Logan Center of the Arts at The University of Chicago, and in a solo presentation at the Soccer Club Club.