Corporate Identities
vice versa. Italian Pavilion at the 55th Venice Biennale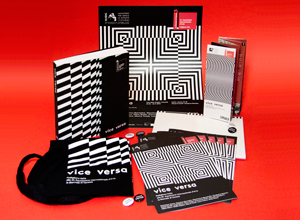 vice versa. Italian Pavilion at the 55th Venice Biennale
June ~ 2013
Corporate Identities
Mousse Agency has developed the coordinated image of vice versa, the Italian Pavilion at the 55th International Art Exhibition of the Venice Biennale.
The show curated by Bartolomeo Pietromarchi features 7 pairs of Italian artists of different generations, working in the widest range of languages – painting, sculpture, performance, installation and photography. The concept of the pavilion underlines dualism, the double, the polarity which according to Giorgio Agamben has always been a vibrant part of Italian culture. Studio Mousse has graphically translated this idea into many optical patterns, rigorously in black and white.
Mousse is also the publisher of the vice versa catalogue.