ESSAYS Mousse 11
Warsaw, an Alternative Guide for Art Lovers
by Michal Wolinski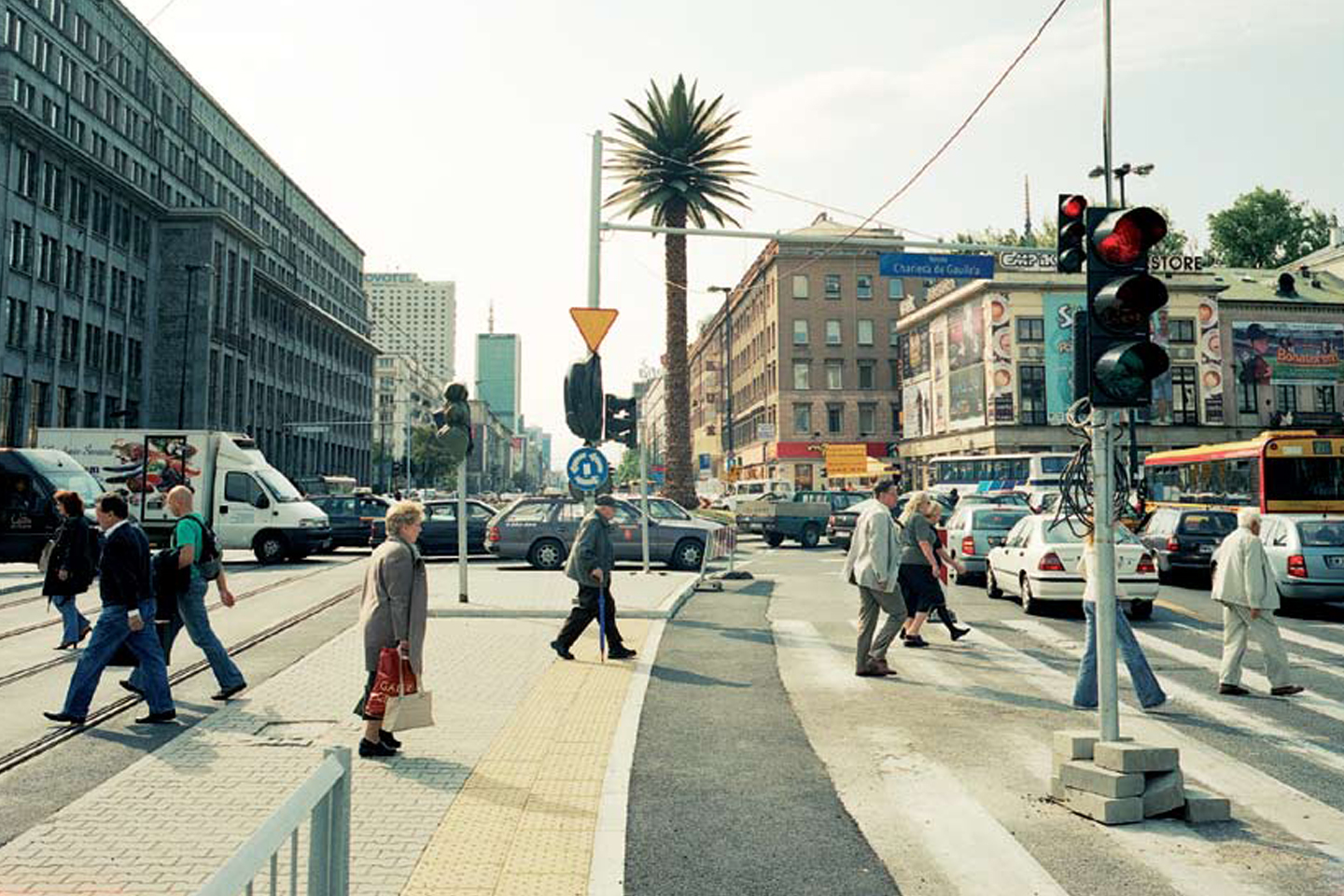 Joanna Rajkowska, Greetings from Jerusalem Avenue (detail), 2002. Courtesy of Piktogram and Wideoprojekt. Photo: Wideoprojekt, 2007

The truth is that we are confined into this office, and we never manage to go anywhere. We just follow the unavoidable flow of must-have openings, but only the minimum necessary because Mousse absorbs all our remaining time. So now we've decided to make a present both to ourselves and to you readers, i.e. a brand new survey, a nice virtual tour of the places where great artistic scenes have been rising through history or are rising right now (and we won't be able to say "I was there"). Both far and near, big and medium cities that are certainly out of the trite network of the capitals of art but also are definitely rich in and promising of extraordinary initiatives, and that are told to us by its active protagonists. Warsaw, for example. What is really known about it? Not much, in our view. So what did we do? We started from something irremovable, the last hope, one of the few certainties in our lives—Piktogram, a fantastic Polish magazine that in a recent issue we duly pointed out to you as one of the best things happened to the (publishing) world in the last years. We started from Piktogram, and more precisely from its founder and editor, Michal Wolinski, to whom we asked to take us virtually around his city; to tell it to us from his point of view of a sharp observer and a decisive "active enzyme" of the lastand traditions, an expedition inside the more or less subterranean body of Warsaw. We really enjoyed having it, during the bittersweet wait for the moment to make it real. Now it's your turn. Bon vojage.
One of Warsaw's legends claims that in the vaults of the Old Town there once lived a bloodthirsty and exceptionally ugly monster, the basilisk. When you looked at it, you were dead on the spot. Not only was it terribly ugly (a hybrid between a cock and a snake) but looking it in the eye turned you immediately into stone. The professionals, despite being well-equipped, were, of course, helpless. It was only a teenage boy who found a way to beat the creature—he went down into the vaults with a mirror rather than a sword. (Another version says the Varsovians went to a wise man, who invented a special optical device that killed the monster.)
This is an instructive story because, in this city, the standard procedures and instruments may not produce the intended results. Well aware of this are the influential activists of Warsaw's artistic scene, people like Andrzej Przywara of Foksal Gallery Foundation; Joanna Mytkowska, the recently appointed director of the Warsaw Museum of Contemporary Art; Lukasz Gorczyca and Michal Kaczynski, the founders of Raster Gallery; Lukasz Ronduda, who runs the Archive of Polish Experimental Film and, together with me, the Piktogram Association, which organizes actions and exhibitions in specially selected venues; Joanna Warsza, the founder of Laura Palmer Foundation, which organises performative actions in public spaces; as well as the artists: Pawel Althamer, Artur Zmijewski, Joanna Rajkowska, and others. It is not without reason that I'm mentioning here people who bend and modify conventions (institutional, commercial, and other) instead of simply following them. Looking from this perspective, the most effective "optical devices" can be provided by artists and theoreticians active in Warsaw in the 1960s and 1970s, and the visionary architect Oskar Hansen, whose Open Form theory greatly influenced their thinking about art. Among them are Marek Konieczny, author of the "Think Crazy" strategy, enemy of standard solutions and predictable forms of behaviour, and founder of the Think Crazy Institute (an emanation of which is the artist's apartment, transformed into a "work of art for living"); Jan Swidzinski, who developed the theory of "art as contextual art" (one of his propositions is that "flexibility is what makes our existence possible"); and the KwieKulik duo (Przemyslaw Kwiek and Zofia Kulik), artists who, by taking knowledge from the Open Form theory and by using new media, made an impossible, grassroots attempt to reform the whole system and its institutions. At the same time, they wanted to shape new forms of visual communication on a broad social scale (via official multimedia shows or TV broadcasts).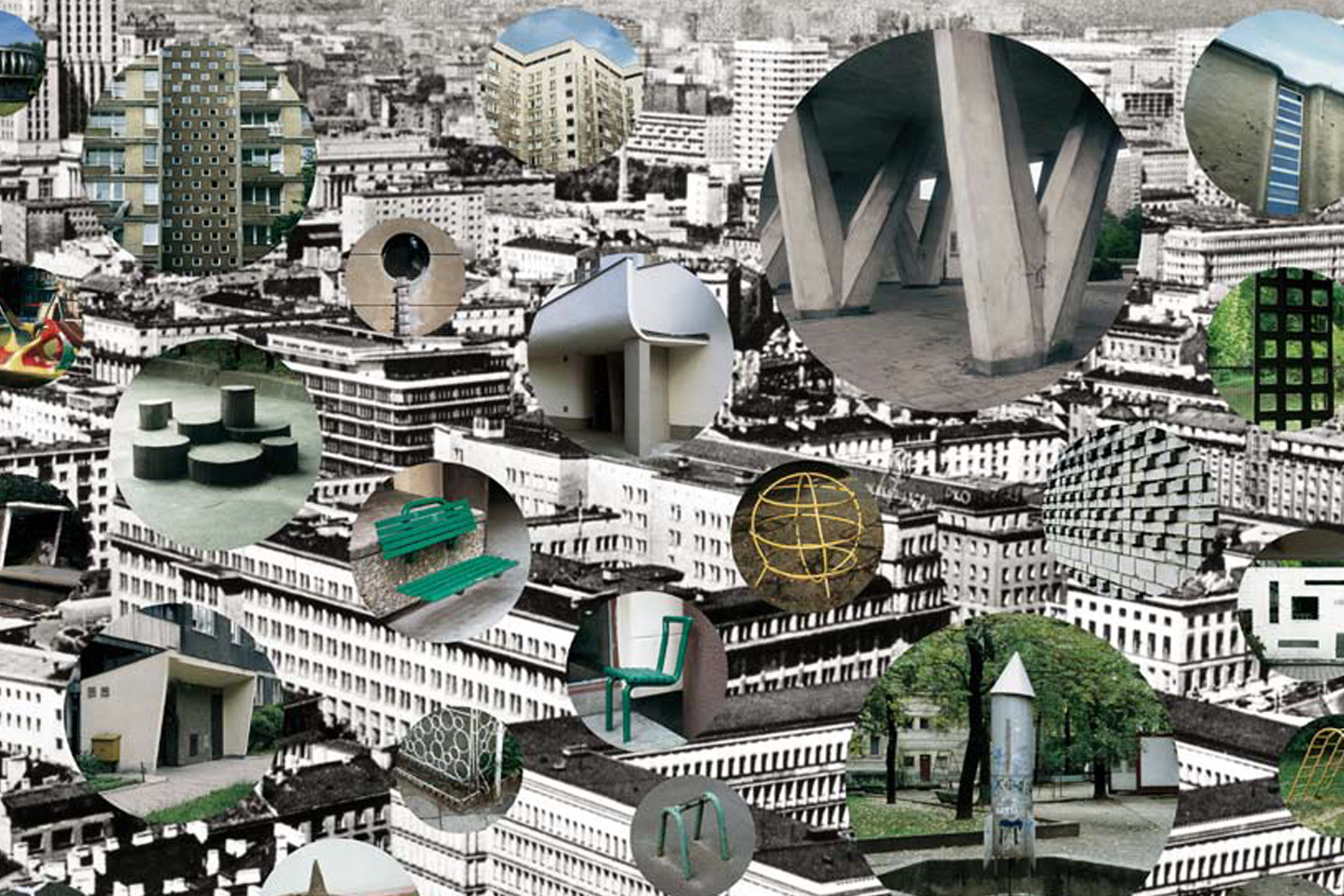 Maurycy Gomulicki, Culture and Concrete (detail), 2007. Courtesy: the artist
Before we stray from the centrally-located Palace of Culture and Science and the institutions mentioned in guidebooks, and learn to move throughout this city and notice its hidden treasures, it is worth finding an appropriate field guide. In planning a reconnaissance of Warsaw's art scene, it is also worth getting acquainted with its precedents. In 1999, a group of German art collectors came here to see how artistic life looked in the "wild East." Pawel Althamer took them for a walk around the Bródno neighbourhood where he lived (a far-from-the-centre sprawling settlement of high-rise apartment blocks). Walking them around the working-class neighborhood, he showed them objects created spontaneously by the inhabitants or by the natural conditions: a stone painted in red and yellow polka dots, a door with the drawing of a naked woman, a fence that had been repaired numerous times, or a ruined "minimal" concrete flowerbed without flowers. Miroslaw Balka, a sculptor, who, despite enjoying worldwide recognition, continues to draw inspiration from working in a small, austere wooden house in the suburban town of Otwock, could say that what Althamer showed to the collectors was more authentic than Jannis Kounellis's soot-blackened wall or Arte Povera. And more fascinating, one could add, than the contents of many museums, especially one that is becoming a mausoleum of dead and mute objects. It happens rather frequently in Warsaw that one leaves the safe gallery walls in a quest for intense experiences and less conventional relationships between artists, recipients, and "culture producers". Walks are close to being a Warsaw specialty. A particularly unforgettable experience are night-time escapades to the 'other side' of Warsaw with Maurycy Gomulicki, artist and the passionate author of a complete typological analysis of Warsaw's visual alphabet recorded on slides.
In Warsaw, you will often encounter art and artists in rather unexpected places—not so much even on the street as in a hotel room (the exhibition Hidden Treasure); a stage theatre (Virus, the performance group Main Referee's intervention into a traditional stage play); a villa (Villa Warszawa, a fair/exhibition of ten galleries from different countries organised in a modernist villa by Raster Gallery) the stock exchange building (the exhibition Down With The Pimps Of Art! on the relationships between art and punk); an antiquarian bookshop (Mikolaj Grospierre's Library); a shop window (Monika Sosnowska's Tired Room); an apartment block (the Avant-garde Institute, a museum/institution located in Edward Krasinski's studio/apartment); a movie theatre (Cinematic Projection, a conceptual film-performance); a hairdresser's (Tomek Sacilowski's Pierre Le' Verson); or at a sports stadium—a monument of the socialist era now serving as Europe's largest bazaar (actions organised by Joanna Warsza). Warsaw is a strange conglomerate of not-very-compatible elements (its symbol is a hybrid—a beautiful and brave one, fortunately—a siren). Destroyed almost completely by the Germans during WWII, it has been rebuilt since then (in most cases, unfortunately, without a larger plan or vision). Today, instead of filling gaps in the city's fragmented development, interesting examples of the bygone era's socialist-modernist architecture are being demolished (e.g. the Supersam stand-alone department store with a unique roof construction—against whose demolition the city's artistic community stood united). In their place ugly apartment complexes and anonymous glazed office buildings are being developed (higher and higher). Other older buildings are covered with chaotic and unattractive billboards. Once, in the 1960s and 1970s, Warsaw was a city of neon lights. Today, the neon signs are being thoughtlessly destroyed, replaced by kitschy billboards and light boxes. Artist Paulina Olowska decided to prove the trend could be opposed and organized a campaign to revitalize the Volleyball Player, one of Warsaw's most emblematic neon signs, a symbol of the socialist-realistic central neighborhood of MDM. She made a series of paintings and sold them via the Foksal Gallery Foundation in order to raise the funds to save this "common treasure." One could cite many examples where unique socialist-modernist buildings have been thoughtlessly, sometimes cynically, destroyed. Fortunately, it was recently announced that the historical pavilions of Warsaw's commuter train network would be renovated.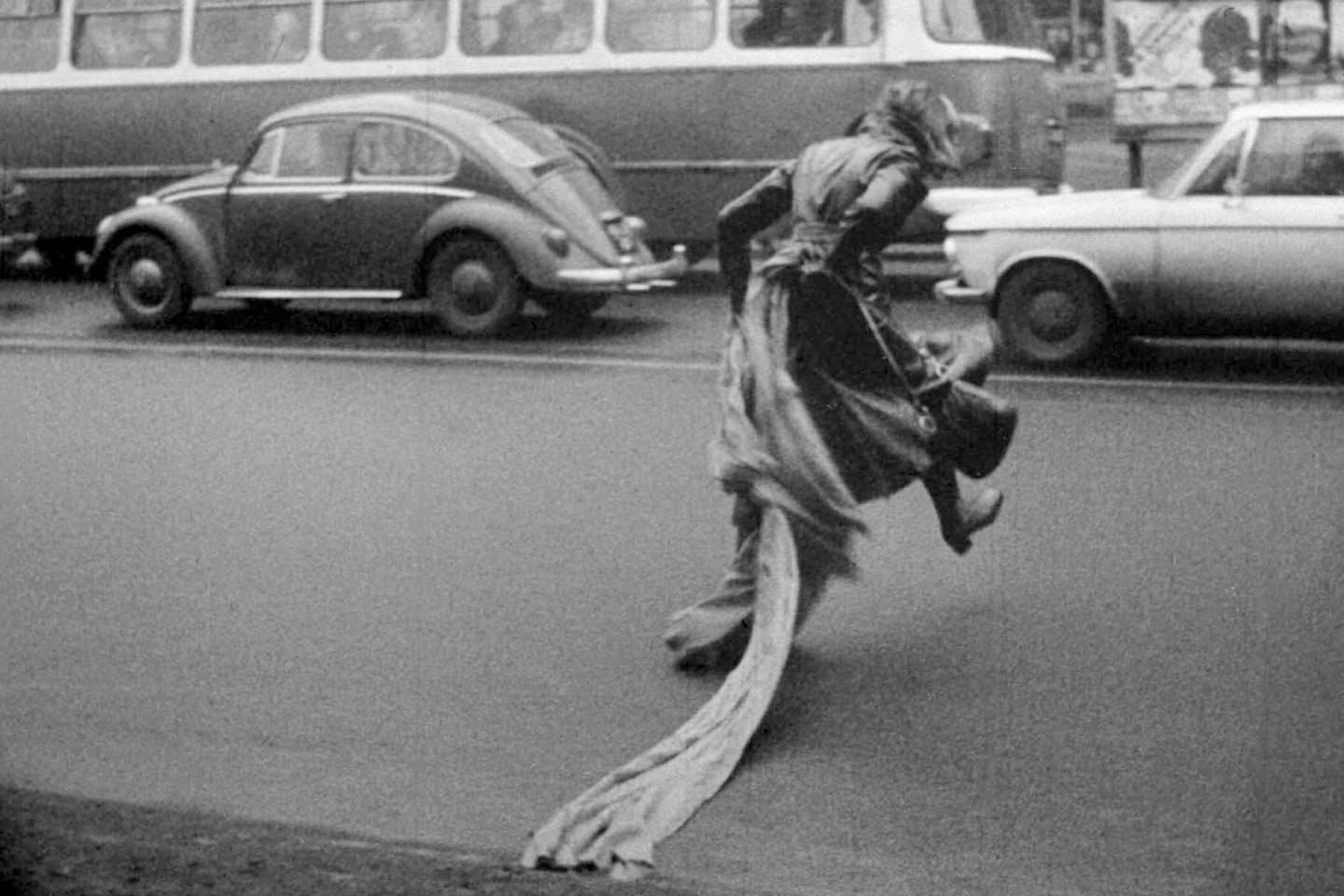 Zofia Kulik, Przemyslaw Kwiek, Jan S. Wojciechowski, Pawel Kwiek, Open Form, 1971. Courtesy: PDDiU KwieKulik
The remnants of the Metal Sculpture Biennial, whose only edition took place in 1968, have been less fortunate. Though the event wasn't particularly successful in artistic terms, it would surely be worth saving the objects left by the unique "street gallery." A dozen such sculptures alongside Kasprzaka Street have been preserved—located between the lanes, where they can only be viewed from a passing car. Several have been, rather amateurishly, renovated. A handful of sculptures have also survived near Sowinskiego Park. A particular attraction, especially for children, is the Giraffe by the biennale's curator, Wladyslaw Frycz. Looking from another perspective, a gradual degradation of social ties is becoming a serious issue in Warsaw—the intense propaganda of the communist era made the attitude of civic activism and communal work a laughing stock and it has never recovered since. At the turn of the millennia, Pawel Althamer initiated an action as part of which the residents of his housing block were mobilized to do something unselfish and 'impractical'—they turned the lights in their apartments on or off, according to instructions, so that the building turned into a huge display of the number 2000. Far less ephemeral and extremely successful have been the interventions in public space conducted by Joanna Rajkowska. In 2002, she placed in the middle of a busy roundabout in the centre of Warsaw an artificial natural-scale palm tree. The object, exotic and absurd at the same time in its location, worked like a surreal mirage. It provokes controversy and disarms at the same time, firing the imagination and demonstrating that alternative realities are possible, that things can be "different."
And, when we return from this excursion into the "world of art"— what do the guidebooks say? That it's worth visiting the Centre for Contemporary Art Ujazdowski Castle, Zacheta National Gallery of Art, Foksal Gallery Foundation, Raster Gallery, Le Guern Gallery, and several other venues. You can go to an opening reception if you want to meet people from the art world and, if you are determined or have business in mind, you can exchange brilliant remarks over a glass of wine. Or, you can stay at home and read some interesting art magazine. The possibilities are many.
Originally published on Mousse 11 (November 2007)