EXHIBITIONS
William Kentridge "More Sweetly Play the Dance" at Marian Goodman Gallery, London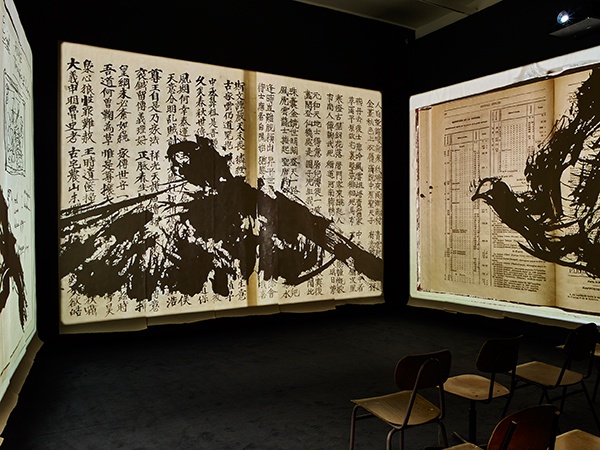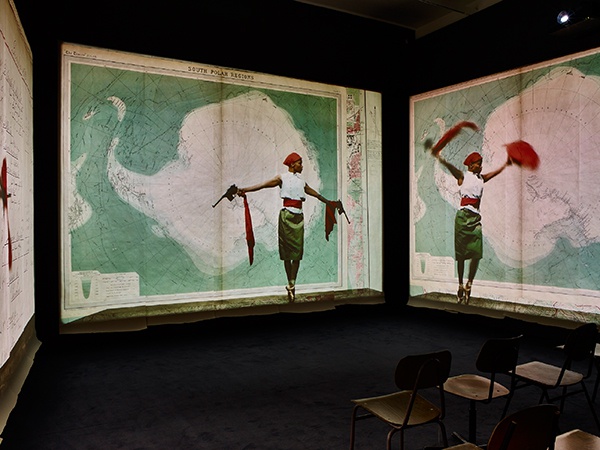 Marian Goodman is pleased to present a major exhibition of new works by William Kentridge at 5-8 Lower John Street. This is Kentridge's first substantial solo presentation in London for 15 years and includes two immersive multiscreen film installations, monumental ink-on-paper paintings, sculptures and drawings.
The upper gallery is dedicated to More Sweetly Play the Dance, an eight-screen processionary danse macabre. But, beyond the medieval notion of dancing as a means of staving off death, as this 40 metre, life-sized, circular caravan traverses around us, one senses that it's as much a cortege of those who have been deprived of a fully realised life—yet another procession of refugees fleeing a skirmish or warlord. "My concern has been both with the existential solitude of the walker, and with social solitude—lines of people walking in single file from one country to another, from one life to an unknown future". (William Kentridge, A Dream of Love Reciprocated, 2014)

Most of the itinerants are filmed holding up silhouettes transcribed from enlarged Kentridge drawings as they march: a group of priests sway past bearing a forest of lilies; patients cling to drips with sketched saline solutions barely keeping them alive; robed shadow-figures who recall pre-Quattrocento frescos hold giant classical busts, propagandist portraits, bird cages and miners' heads (many of which are shown in the adjacent upstairs gallery); and a trio of skeletons dance on a platform dragged across the artist's barren, charcoal-drawn landscape. An entire brass band leads the procession, and its wailing but vital, defiant anthem, while Kentridge's long-time collaborator Dada Masilo brings up the rear, dancing en pointe with a rifle to the last strains of their canticle, as if singlehandedly "hold[ing] the hope and disillusion together". (William Kentridge, Peripheral Thinking, 2014-15)
Downstairs, Kentridge presents Notes Towards a Model Opera, a three-screen film installation that grew from his research for a recent exhibition at the Ullens Center for Contemporary Art in Beijing. He found himself repeatedly drawn to Madame Mao's Eight Model Revolutionary Operas, which conflated vainglorious folklore, jingoistic re-presentations of military victories, martial arts and ballet, including, as Kentridge notes, the peculiar skills of "…learning to throw a hand grenade en pointe [and] charging through the enemy machine guns en pointe…" (Peripheral Thinking, 2014-15). The soundtrack for the piece, arranged by the composer Philip Miller, is based on various elaborations of the communist anthem The Internationale ranging in style from period 1950s colonial dance bands to South African toyi-toyi chanting protest marches. Masilo is here again, dancing in a cultural revolutionary uniform while wielding guns as if limbs and switching seamlessly between contemporary South African choreography and classical ballet. Her fellow cadres wave scarlet flags while torn maps, calligraphy and pages from the notebook that gave this work its title, project a constant flux of stage settings.
In one scene, Masilo wears a dunce's hat and billboards covered in slogans, re-enacting the self-denunciatory public rituals that many Chinese academics were forced to endure under Mao. But even here—in contrast to the original model operas' certainties—Kentridge's typically implicit approach is to elucidate through peripheral associations: this humiliated professor is part Goya etching, part Dadaist performance, part contemporary African reeling from the sudden wave of Chinese economic re-colonisation of her continent. Or, as Andrew Solomon puts it in the Ullens catalogue, "[Kentridge]…the patron saint of ambiguity" has again eschewed straightforward cogent storytelling for "seducing us with scraps of lucidity". This love of obfuscation connects his practice directly with those of imperial-era Chinese artists, as does his blurring of language and image to Chinese literati culture as a whole. All three originated within authoritarian societies in which ambiguity and an adept use of metaphor often prove pragmatic.
.
at Marian Goodman Gallery, London
until 24 October 2015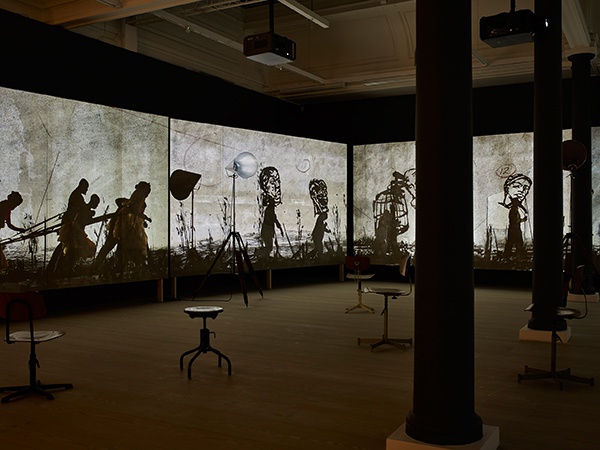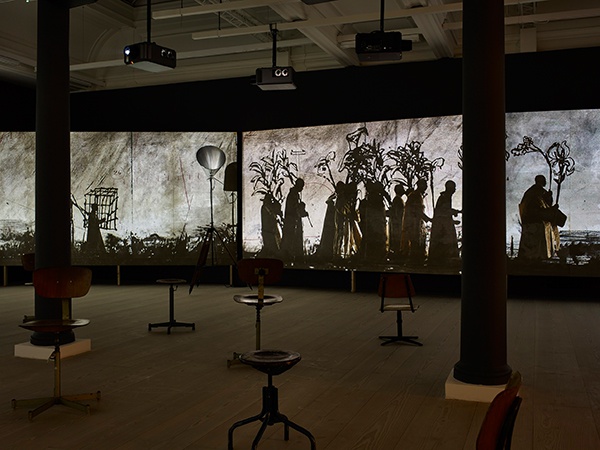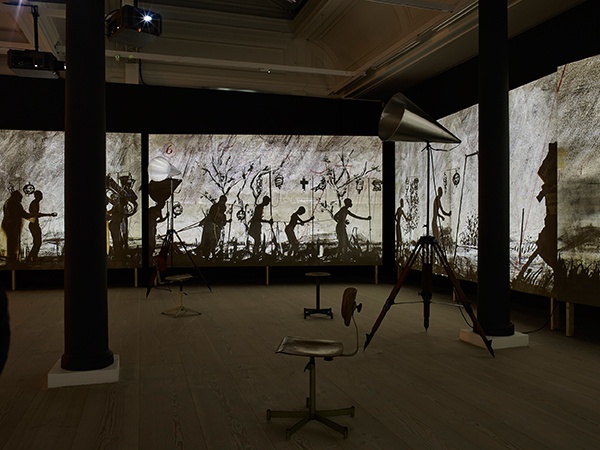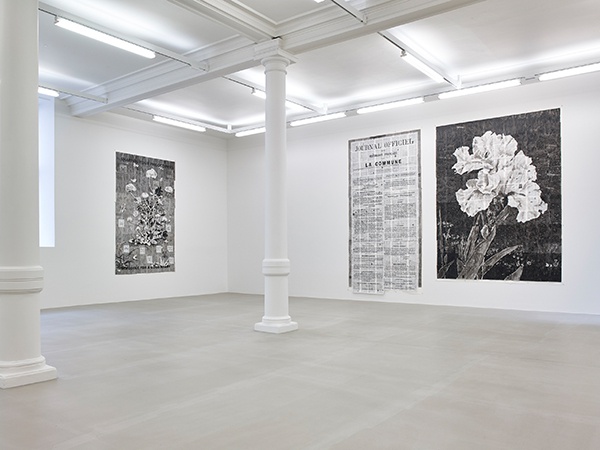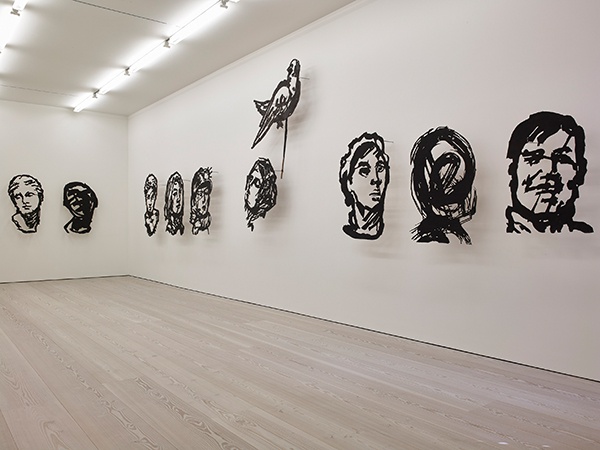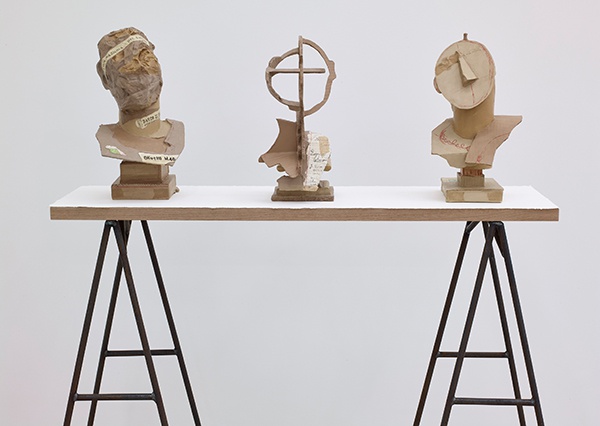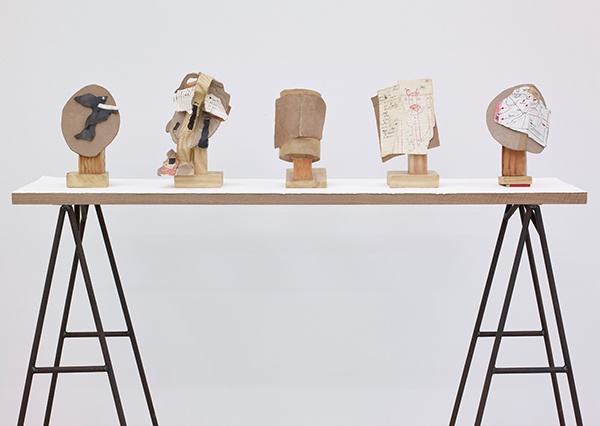 William Kentridge, "More Sweetly Play the Dance" installation views at Marian Goodman Gallery, London, 2015
Copyright: the artist. Courtesy: the artist and Marian Goodman Gallery, London.