CONVERSATIONS ESSAYS
The Erosion of Reality: Yuri Pattison
Close
1
2
3
4
5
6
7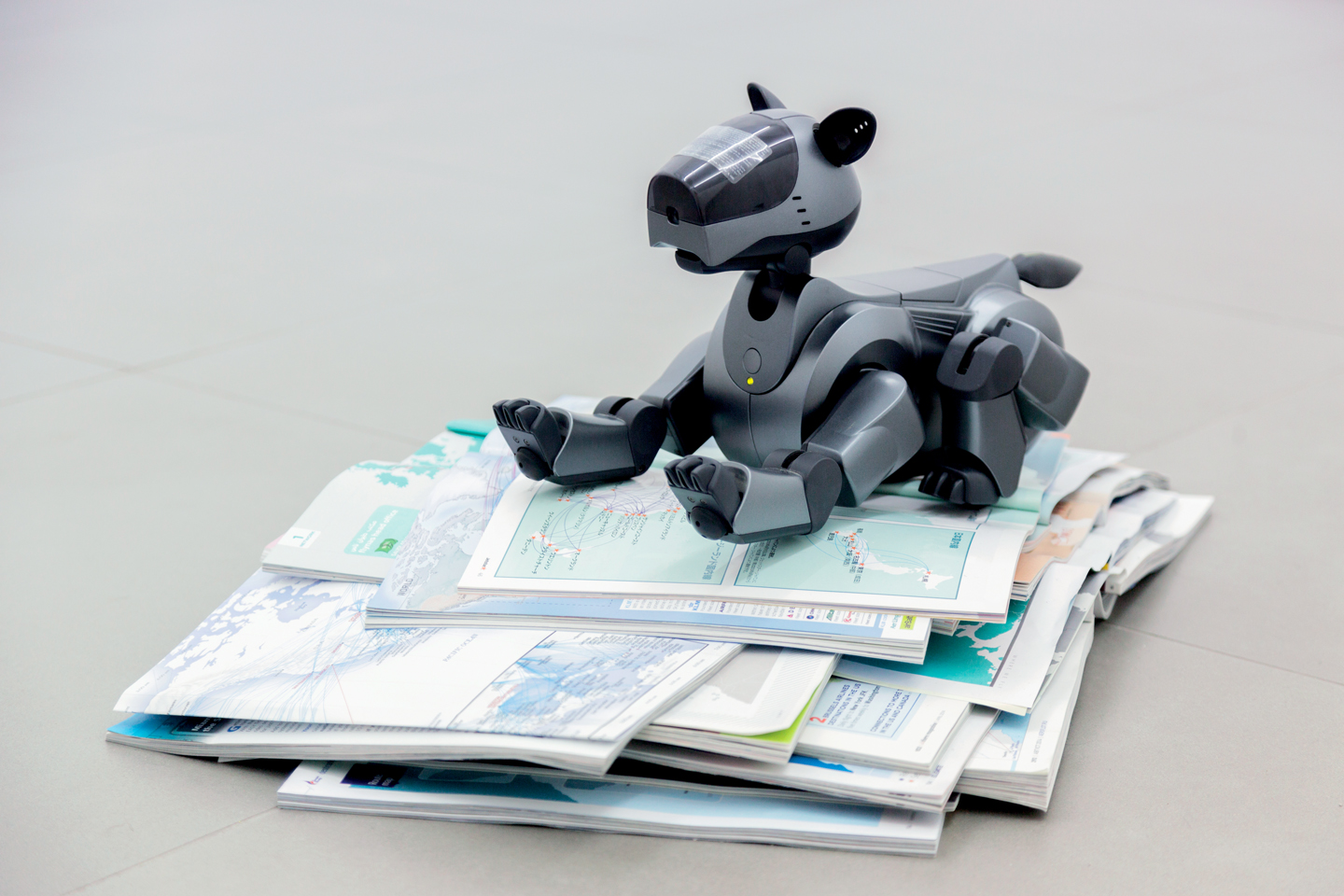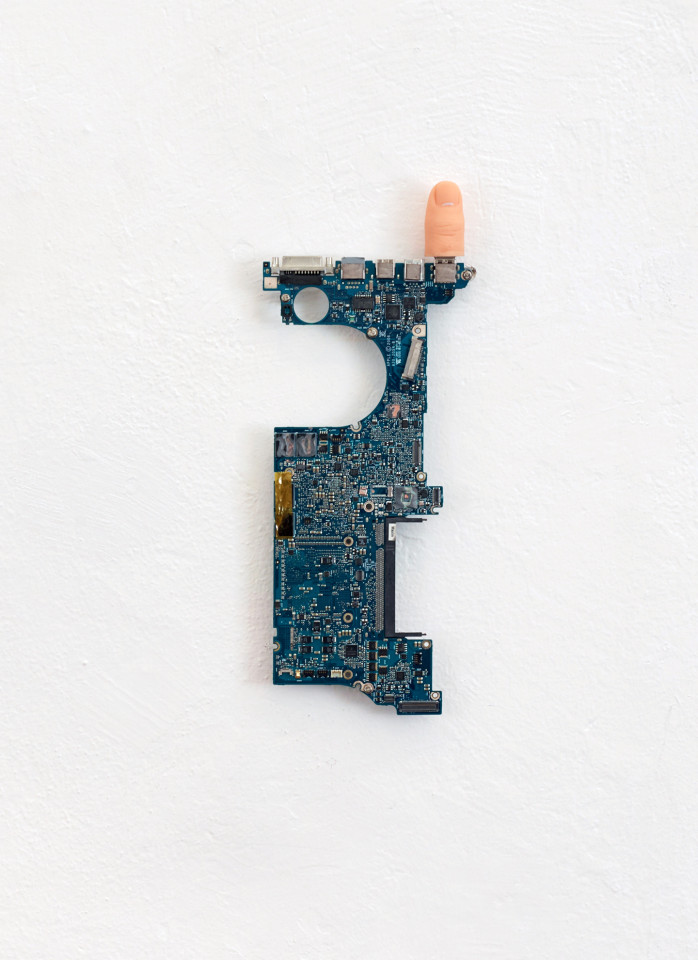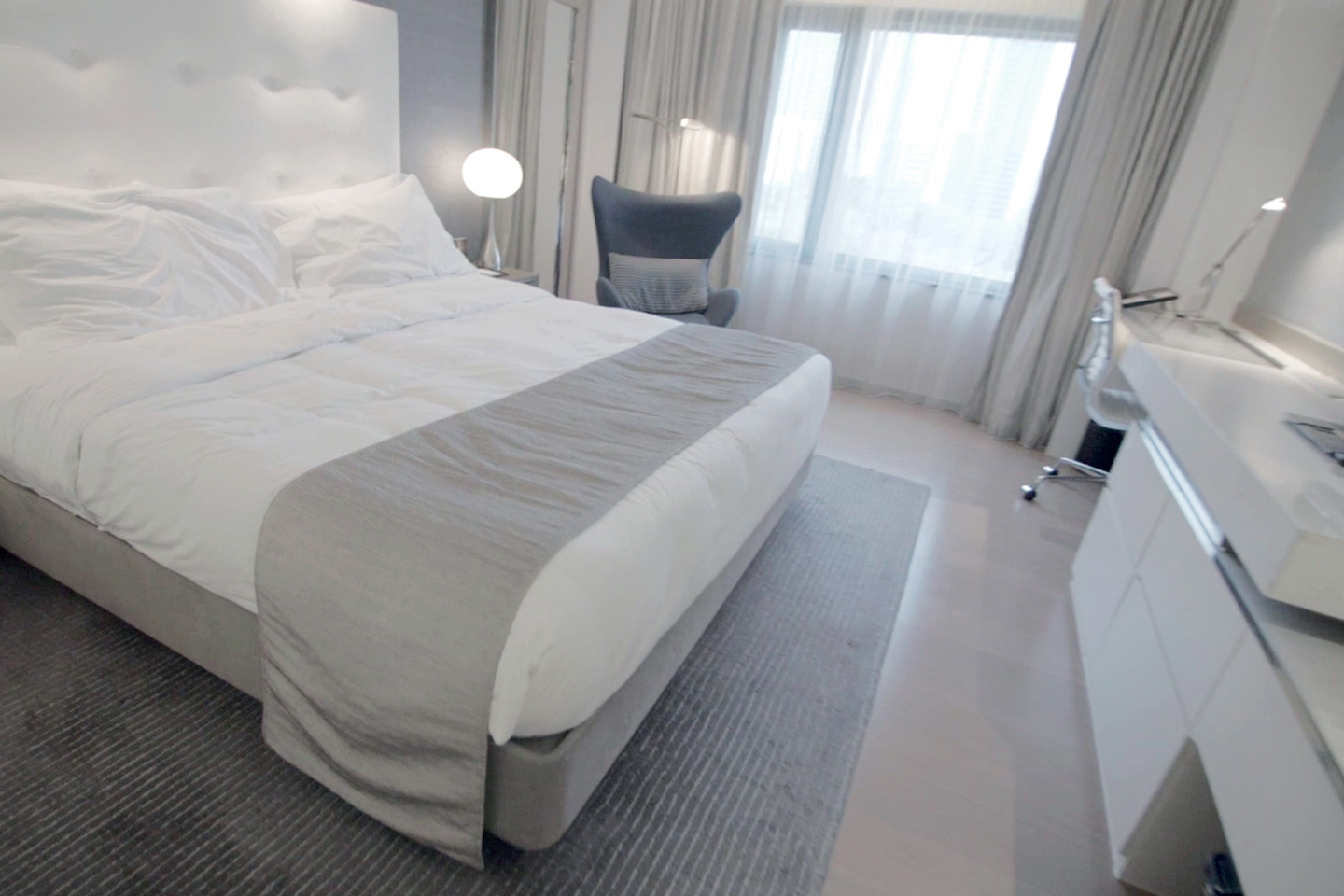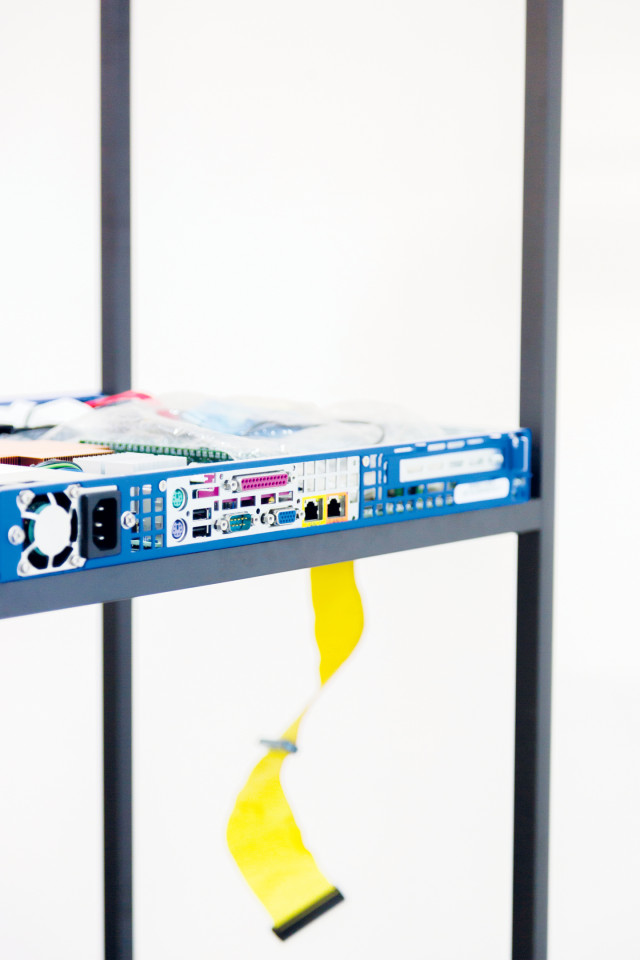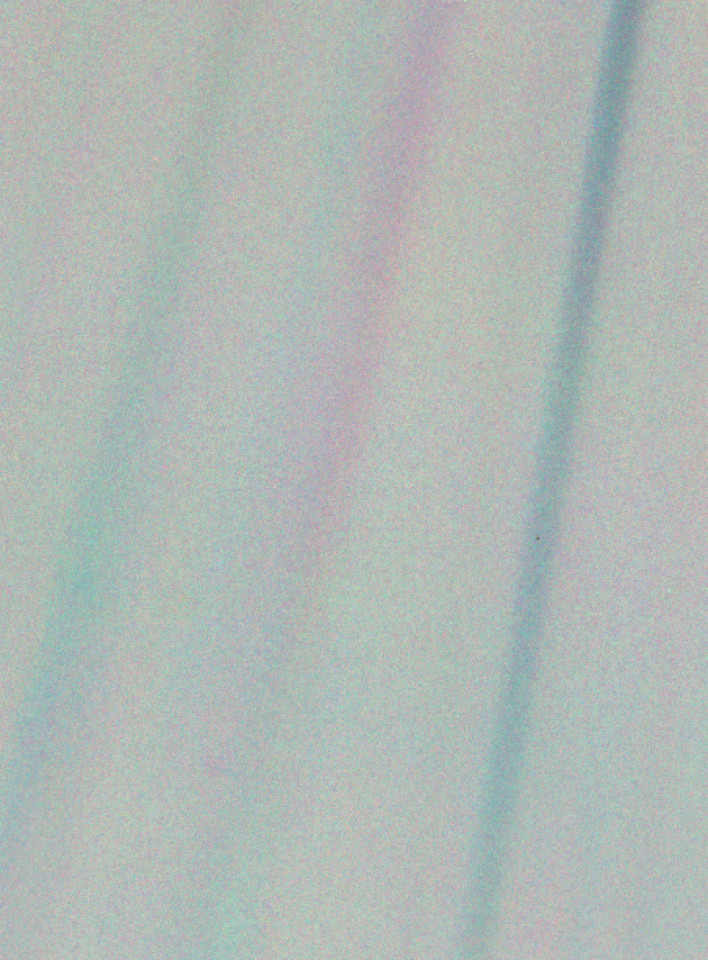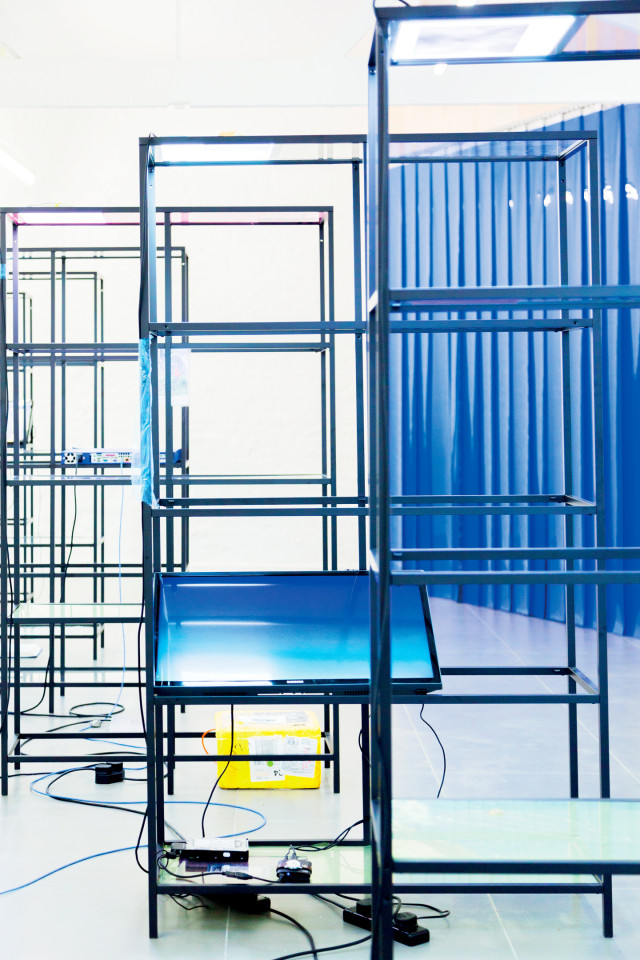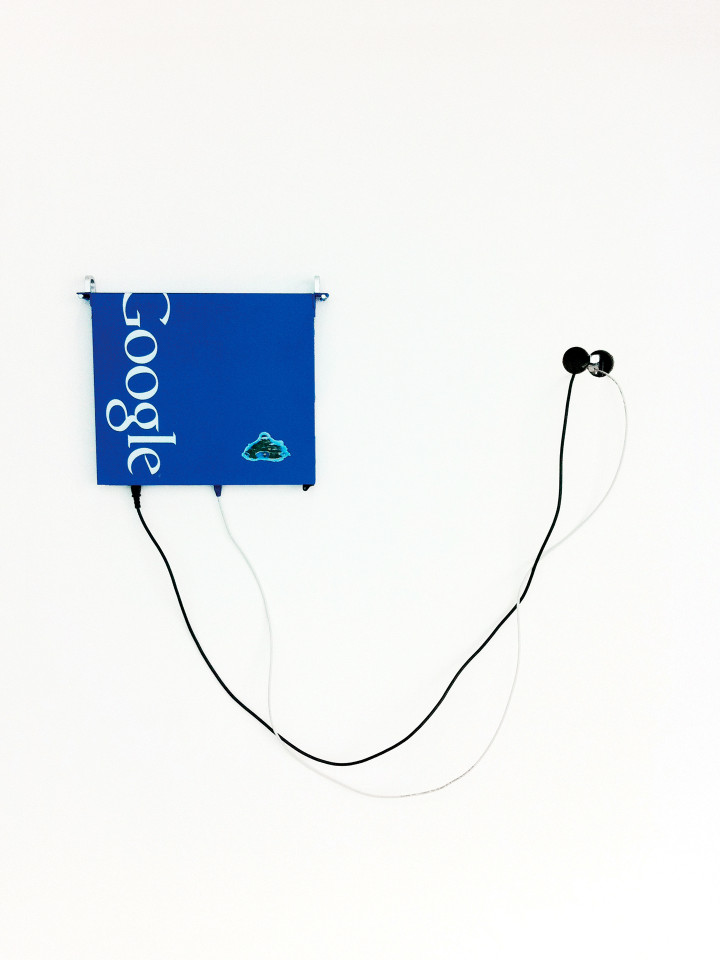 by Bart Van Der Heide
Yuri Pattison works in digital media and sculpture, exploring ways in which the virtual world permits material reality. His work addresses the relationship of visual cultures to emerging communication technologies and metadata circulation.

BART VAN DER HEIDE: I would like to start this conversation with an artist's presentation you made earlier this year at the DLD conference in Munich, programmed by Simon Denny and Hans Ulrich Obrist for this annual gathering of all the major players of the digital economy. Both you and your audience share a similar field of research, yet you couldn't be further apart in terms of practice. While digital economy favors the ideology of weightlessness and mobility, your work seems to seek the opposite. One could say that your work aims to visualize the Internet as a physical space, involving weight (in terms of hardware and design), labor, etc. For instance, in Outsourced Views, Visual Economies (2013-2014) you asked the workers of Amazon's Mechanical Turk to send you a snapshot from the nearest window of their work space. This particular work takes on a classical academic motif—the landscape—to portray immaterial labor within the restricting conditions of Amazon's service, which forbids workers to provide personal information. The DLD audience, however, injects billions a year into research projects and start-ups that support an upgrade culture of efficiency and speed, related to the circulation of information and transparency—the latter even being widely used in computing marketing in substitution of the term invisible. This contradiction would perhaps have been more embedded if you had done the same presentation in front of an art audience. Would you agree? Is it a contradiction you consider or find relevant at all?
YURI PATTISON: What struck me most about listening to the talks at DLD was the consistent usage of the terms "user" and "user base," and it seemed at the conference that the terms took on a meaning of blanket otherness. I was interested that in that context I felt excluded from being a part of the "user base" despite being a user of many of the apps and websites being presented. This contradiction aligned itself with some previous thoughts I've had where the network becomes a filter of sorts—obscuring or reconfiguring our view of the connections we are making. So in the case of Amazon's Mechanical Turk, their network and its interfaces obscure and render invisible the workers—performing the role that distance previously played in outsourcing. What I find intriguing about Mechanical Turk is that you could be outsourcing to your neighbor, a student in the Midwestern USA or central Europe, or someone in Bangladesh. As noted, the terms of service forbid asking for tasks that reveal "personal information" of the worker, while at the same time the service allows direct email contact between "Turker" (worker) and requester (temporary employer). So the worker has a voice, undeniably ignorable, and the requester has the choice of a constant multitude of distributed workers. So here we find a contradiction of apparent communication but a loss of rights and voice on the workers' side, due to distribution and lack of accountability for requesters in the architecture of the network. Jeff Bezos has described the service as providing "artificial artificial intelligence," thus showing the dehumanizing intention of the network. The production of that work followed the very common usage of the service by university research students, where a simple task is asked of a large "sample group"—and the work presents this data. However my hope is that this information, landscape views, will begin to build a portrait of the network, humanizing the people on the other end. Given the format of the work it felt perfect to present it back to the audience at DLD, which included representatives from Amazon as well as many apps and websites that use Mechanical Turk or similar systems to supplement their computational systems. More broadly, I'm interested in network architecture, from the physical realities of giant anonymous server buildings to the software configurations of networks—such as the weighted difference in access to different users on a network (the different User Interface options), or the reduction of people to scores and rating systems—and how the promise of universal network access has obscured the social injustices perpetrated via that network. As we all become more tethered to the cycle of consumption and production via networked technology, I feel the idea of "outsourced views, visual economies" becomes more universal, no longer purely about Mechanical Turkers.
BVDH: Pale Blue Dot features a photo taken of Earth from the Voyager as it was leaving our solar system. This picture was used by Chelsea/Bradley Manning in chat logs to depict her troubled state of mind and explain her actions (i.e. leaking thousands of classified US military documents to Wikileaks). You bought the original defunct URL used by Manning, restored it and uploaded your own inverted version of the image. The image is easily perceived as a tribute to the ex-soldier and a critique of online surveillance. Could one relate your practice as a visual artist to that of the Whistleblower? Your work shares the ethos of "unmasking" or, in other words, the idea that information is not a neutral, boundless resource to be exploited. In addition, the narratives in your work feature fictional scripts that lean towards conspiracy theories and science fiction.
YP: I think there are some parallels in how I hope to reconfigure views on the status quo by presenting information that is just below the surface. Recent whistle blowing has served to confirm the suspicions of many, while science fiction often provides the sufficient distance to critique the present, and I'm interested in these binaries. By exploiting the architecture of the web to make the work, in effect I wanted to change the historical record (my image is directly linked from the historical chat log between Manning & Adrian Lamo), illustrating how malleable that digital record is, but also our wider perceptions of history. I also wanted to play with the fact that altering, obscuring or hiding something online only serves to amplify it in its original form—and Manning's justifications for leaking are perhaps the most poetic, so I wanted to amplify that aspect. Furthermore, I'm interested in finding new narratives outside of how news (such as the Snowden revelations) is subsumed into pure entertainment.
BVDH: To continue the juxtaposition of online and offline, invisibility and visibility: your work is often delivered directly online, or when presented in a physical space it has network connections. With Familiarity breeds contentment one could only see and hear the server in the exhibition space, but could visit the website on a personal device, such as a mobile phone. Could you tell me a bit more about your decisions/motivations behind this set-up?
YP: I made this work from a reconfigured Google search appliance server (a blue mini-server box sold to companies, universities, etc., that contained Google's search algorithm for the purpose of using Google on more local data), so as well as the formal gesture of adding a web server to the architecture of the Internet as a means of making that network visible (and demystifying, for myself, the notion of the "cloud"), the work also negotiates Google's current presence as our main filter to almost all information—the work is titled after an internal slogan for Google Search. Physically the work referenced Google, and was adapted with a sticker of an image representing the Pirate Bay (one of their "doodles" of a island with the torrent site's history rendered on its topography), which presented an oppositional and alternative ethos within the "sea" of Google. Bringing the active server into the gallery space made visible the almost always hidden mechanisms of the web, in all its noisy, disruptive and heavy qualities. In some ways I wanted to pit the current methods of speaking about the web, in abstract, all-consuming and spectre/godlike terms (the "cloud") against earlier and perhaps more accurate notions of traveling or "surfing" to a location. The server itself contains a spam scraper website which takes on the IP address of the gallery or institution hosting the work. This site autonomously searches the web and appropriates information of keywords based on the work's interests and the context in which it is being shown. This information is reposted on the website on a minute-by-minute basis and offers a new alternative index of information to the viewer. As an aside, I'm intrigued by the control and effects these invisible services have on us. Recently in New York I mapped a route and due to an error on Google Maps I was led to a street corner with no subway entrance to be seen. Looking up from my phone I found myself on a street corner surrounded by people in the same situation as me, and on the opposite corner more people looking around and then back at their phones. It took several minutes for any of us to break out of the loop of rerouting, confusion and disbelief, to actually ask someone not holding a smartphone where the subway entrance might be. It was two blocks south.
BVDH: I like the relation in your work between feedback and erosion. In a recent online and ongoing work you developed for ICA London (mute conversation) there are explorations of the erosion of the self caused by data exchange. The project sets two Artificial Intelligence Agents to converse with each other every time someone visits the work. One is programmed with your research interests and the other is a bot available on the open web which is shaped by interactions with millions of people. The bots learn from their conversations, whereby the bot that has your interests is gradually eroded and obscured by what it has learned from the other, more social, bot.
YP: When thinking about circulation of data and metadata, feedback and erosion kept cropping up. Erosion also seemed key to upgrade culture and the anxieties produced by it; it seemed to affirm the passage of time. I also felt there was a certain erosion of the aspirations and hopes we were being sold, a degrading of the "magic" contained within the devices and services. Feedback came out of the research bubbles I began to find myself in, where personalized search engine algorithms began serving my own work back to me rather than the new discoveries I sought. So I thought it was appropriate to reference these loops of influence within the work. On a wider scale, I'm interested in how the feedback loops in popular culture have closed in—for instance the time between Snowden emerging as a public personality and his subsumption into an Oliver Stone movie, or the feedback loops between popular technology design and science fiction—and how these feedback loops seem to erode our sense of reality or agency over the present.
BVDH: On Wednesday July 22nd you will mark the midpoint of your residency at London Hackspace, as part of your commission for the Chisenhale Gallery Create Residency 2014-2016. With the project Enquire to Annotate a new website is launched, along with a series of talks and workshops. London Hackspace is a grassroots, community-run space for skill sharing and workshops. At the beginning of your residency there, you told me you had started with an open view, investigating the (problematic?) relationship between creativity, the space for creativity and the visual arts in big cities like London. What are your views on flexible ("post-studio") working methods? How are you looking at the relationship between these practices and the London Hackspace today?
YP: Models like Hackspaces interest me as they attempt to establish an economy outside of potential monetization—the space's function is its purpose—while the function or longtail end goal of artists' studios, project spaces, co-working environments, etc., is increasingly unclear, and in cities like London ultimately tied to other purposes or intentions. Non-hierarchal methods of using a network to organize and govern offer a potential solution to use network technology in a way that is more akin to the roots of the Internet, and offer an alternative to the misnomer of "sharing economy" touted by many start-ups. I'm also interested in finding the positive potential within the idea that progress doesn't stop. Personally, I found myself at a point of feeling extremely deskilled within my practice, and I also found the options open to me outside of further education (itself extremely monetized in the UK) very limited. Artists' studios or deskspaces simply provided space, and often their structures precluded skill sharing or community, so using Hackspace ahead of a solo show at Cell Projects to work on some more technical pieces (Familiarity breeds contentment) really opened my eyes to other possibilities outside the standard "studio" system, but also outside the new alternative methodologies being promoted. When thinking about work and space I think these methods are potentially a double-edged sword and can easily be reconfigured to be unbalanced (and hence monetizable, or more monetizable), so I'm interested in exploring these contradictions through the residency.
BVDH: Could you already give us a scoop about what you will do with Enquire to Annotate? The project will be launched at a special event at Second Home in East London, a cultural venue and workspace for creative entrepreneurs. Why there?
YP: Enquire to Annotate incorporates all the activities during my research and development period of the residency, so all private and public enquiry including events with the outputs collated on a website—I'm thinking of this period as a beta testing phase of the work, for the concepts but also for the physical works. The title references Tim Berners-Lee's prototype for the World Wide Web, its inspiration (a Victorian household manual), the point we're at now where the Internet feels like an information film or layer over every object and activity, and the attempts at augmenting the architecture of the Internet to make it useful again (the goal of services like Genius). Second Home struck me as significant within the London tech ecology. Notions of transparency seemed codified within the space's physical architecture, but also the space operated as part members' club/social space, restaurant, co-working space, incubator, alternative office/studio and also a home from home for working. It combined all the elements I was interested in when looking at the shift in how people are working in London & other large capitals. I was also interested in following the arc of so-called grassroots development of many apps, with their presentation and launch often happening in corporate spaces. And as the event will happen within my beta testing phase, my hope is that some productive conversations will occur within this space.
BVDH: One could say that with this residency your research subject is less about data exchange and more about the metadata of the creative economy, a type of virtuality that is far from immune to network ideology. Likewise, terms such as flexibility, fluidity and spontaneity become the mainstream here. Returning to the earlier mentioned motif of feedback, one could make interesting analogies with, for instance, the role that social media play within the programming of art institutions today, making some institutions "shapeshift" to public opinion or the number of "likes." Here the feedback loop erodes the foundations of the art institution, which are inherently hierarchical, as a place for education and enlightenment.
YP: I've been thinking a lot about "creative destruction" favored in the tech industry, often packaged as "disruption," which forces us all into a constant and frequent position of pivoting and precariousness. So it's interesting to see art institutions attempt to adapt to new ways of communicating work to audiences and having instant feedback on their programs, etc. In politics this has led to bland politicians shaped by network consensus and similar effects seem to be happening to large institutions, with programs either becoming bland and hoping to please the masses, or rapid-fire and all-encompassing (something for everyone). I'm also interested in how artists have adapted to or ducked out of these systems. More than ever, it feels all too easy to drown in local network consensus and not see the bigger picture.
Yuri Pattison is an Irish multimedia artist based in London who studies ways in which the virtual world permeates material reality. Mastering a huge variety of media, his work often uses different devices to explore the strengths and limits of digital communication. Pattison is the current recipient of the Chisenhale Gallery Create Residency 2014-16, and will have a solo exhibition at Chisenhale Gallery in 2016. Recent solo exhibitions include Architectures of Credibility, Helga Maria Klosterfelde, Berlin (2015), Free Traveller, Cell Projects, London (2014) and Colocation, Time Displacement, Minibar, Stockholm (2014). Selected group exhibitions include The Weight of Data, Tate Britain, London (2015), The Future of Memory, Kunsthalle Wien (2015) and Private Settings, Museum of Modern Art, Warsaw (2014). In 2015 Pattison took part in DLD Conference, Munich & Fear of Missing Out, Institute of Contemporary Arts London.
 
Originally published on Mousse 49 (Summer 2015)