CONVERSATIONS
Zach Blas: Contra-Internet
Close
1
2
3
4
5
6
7
8
9
10
11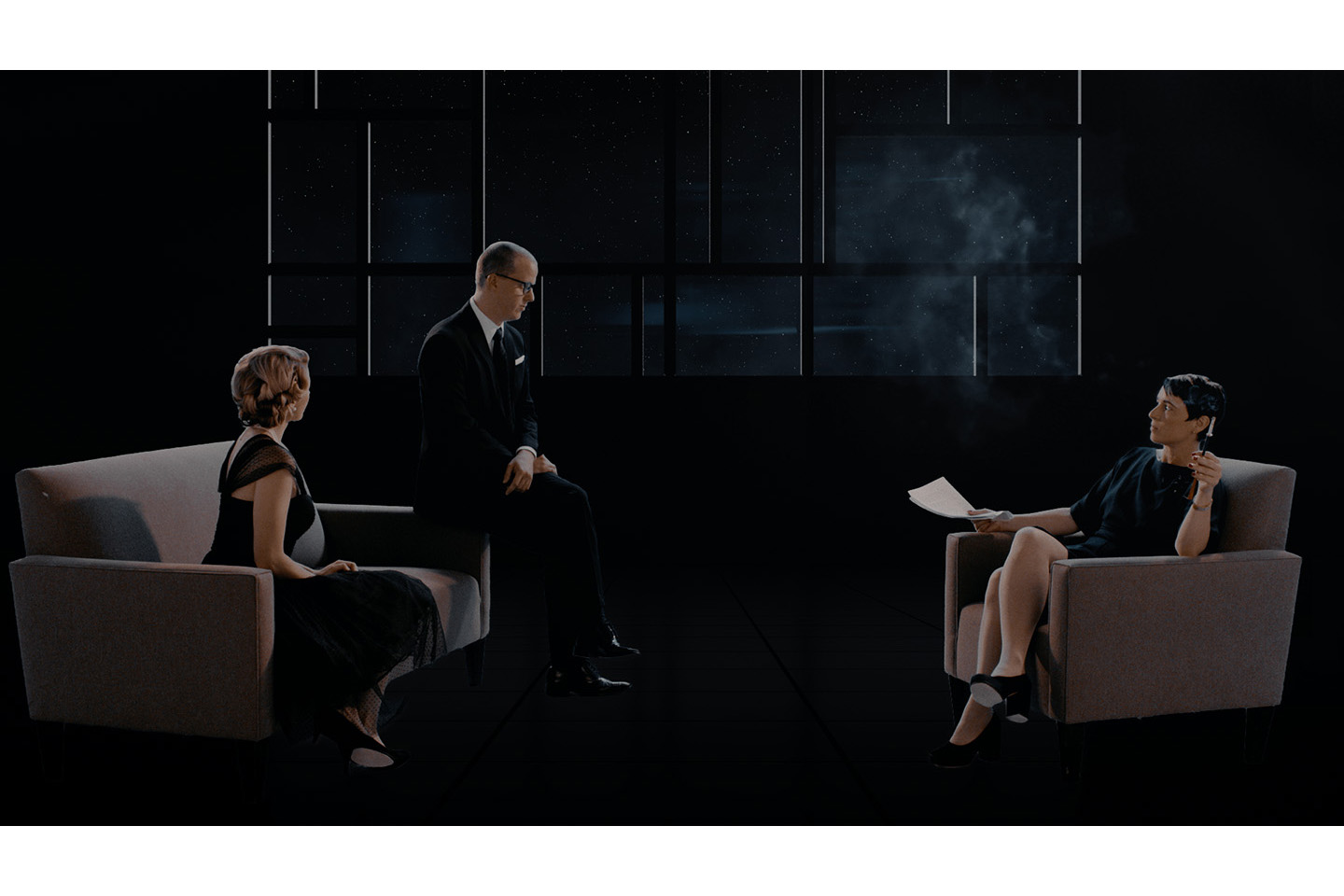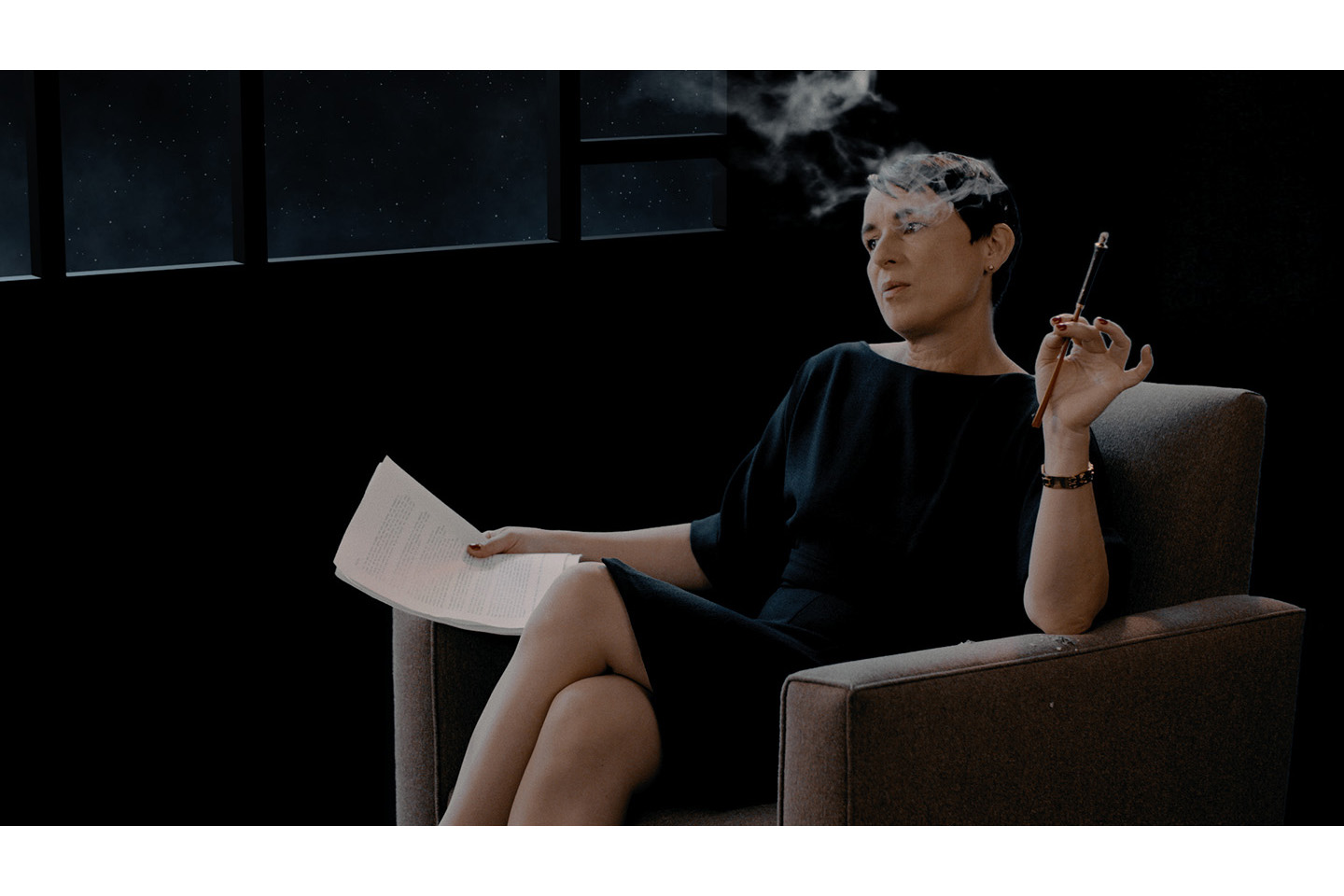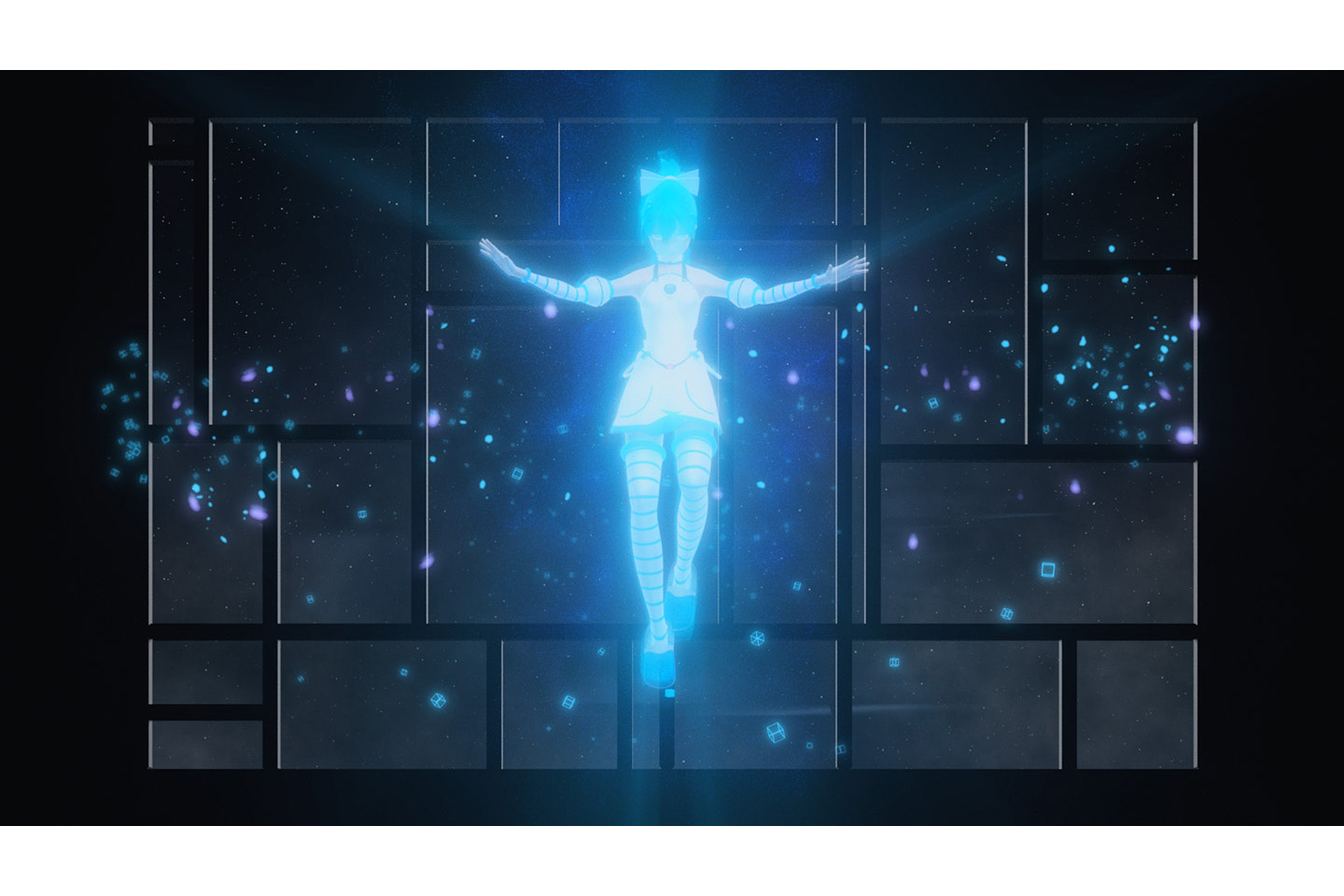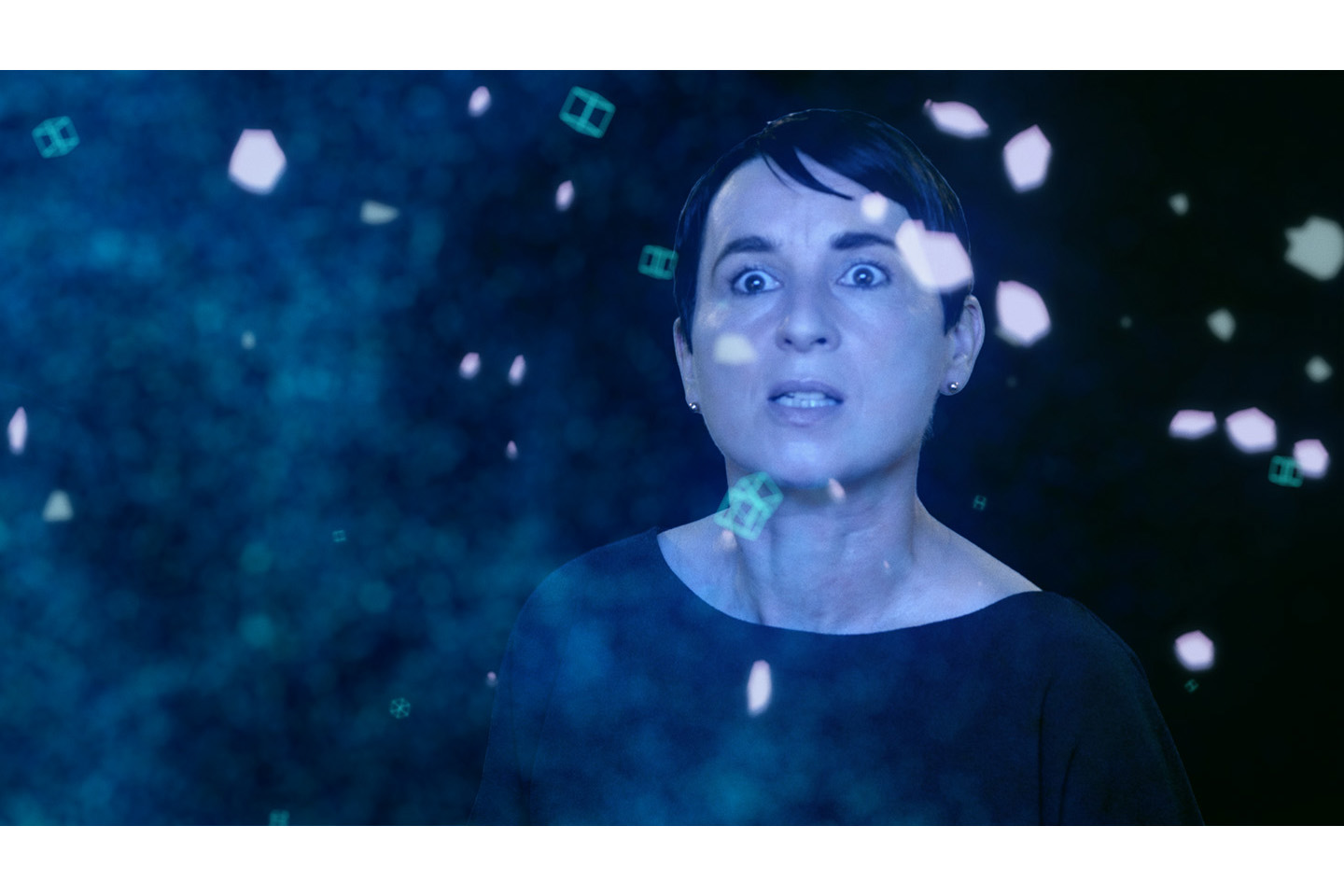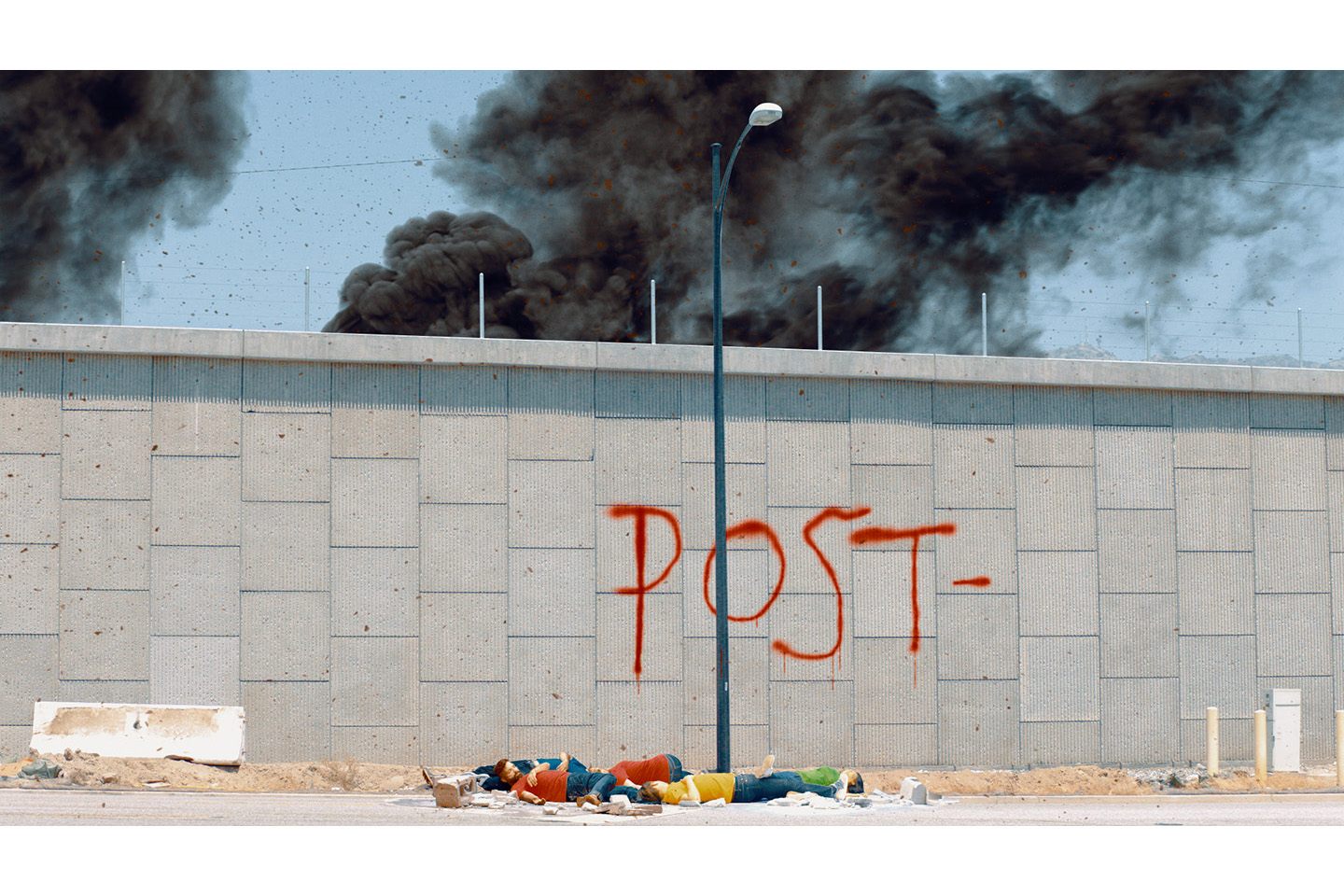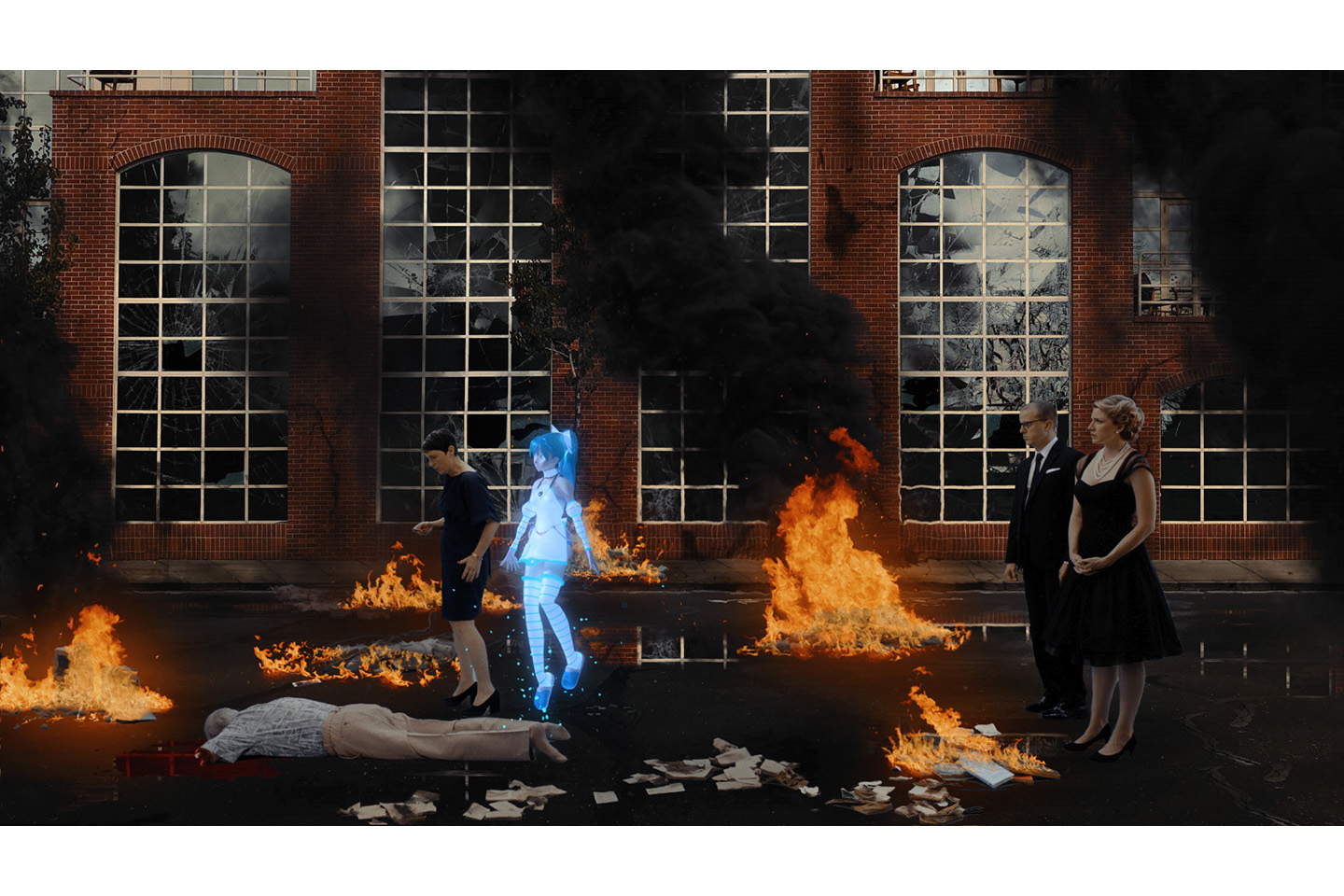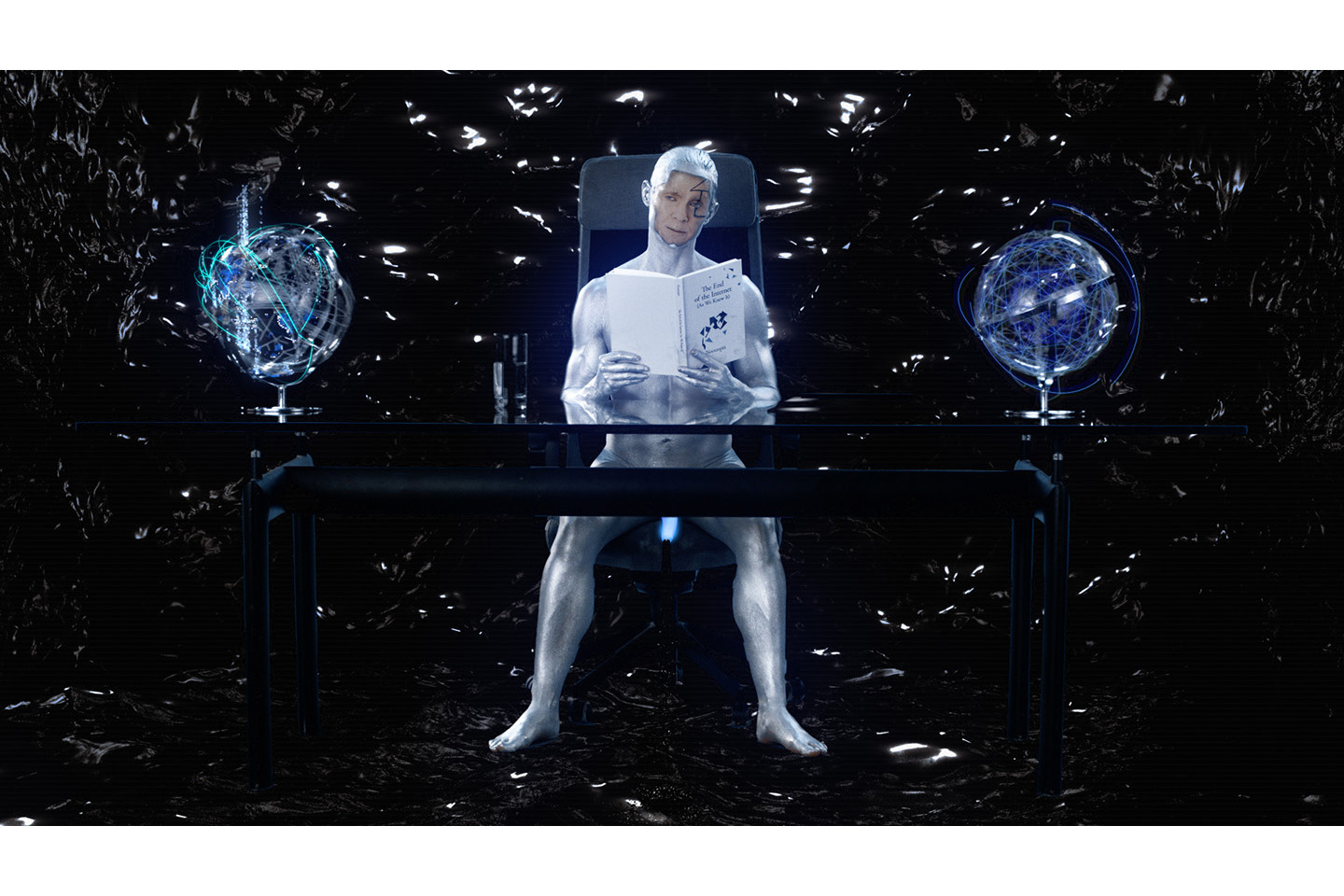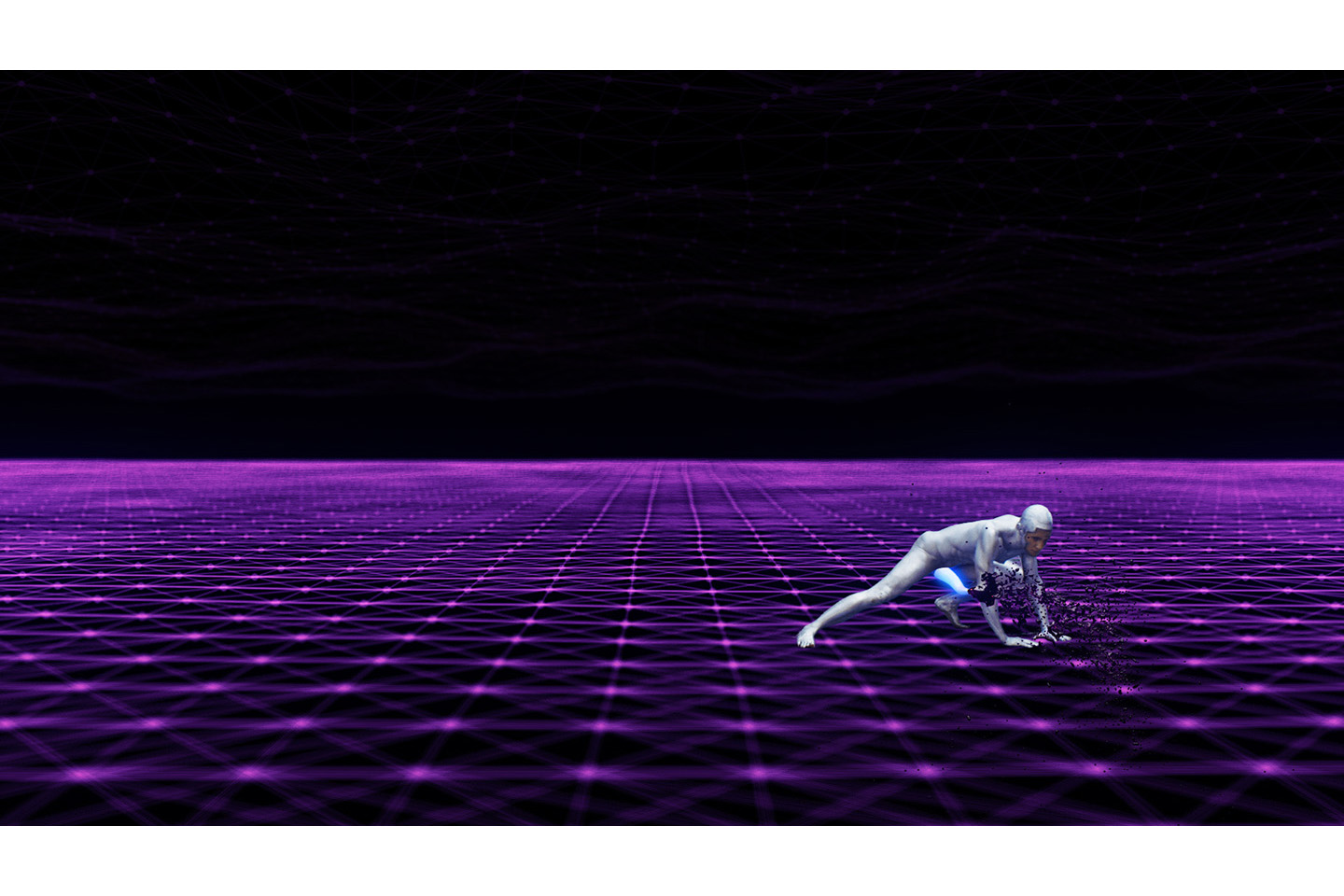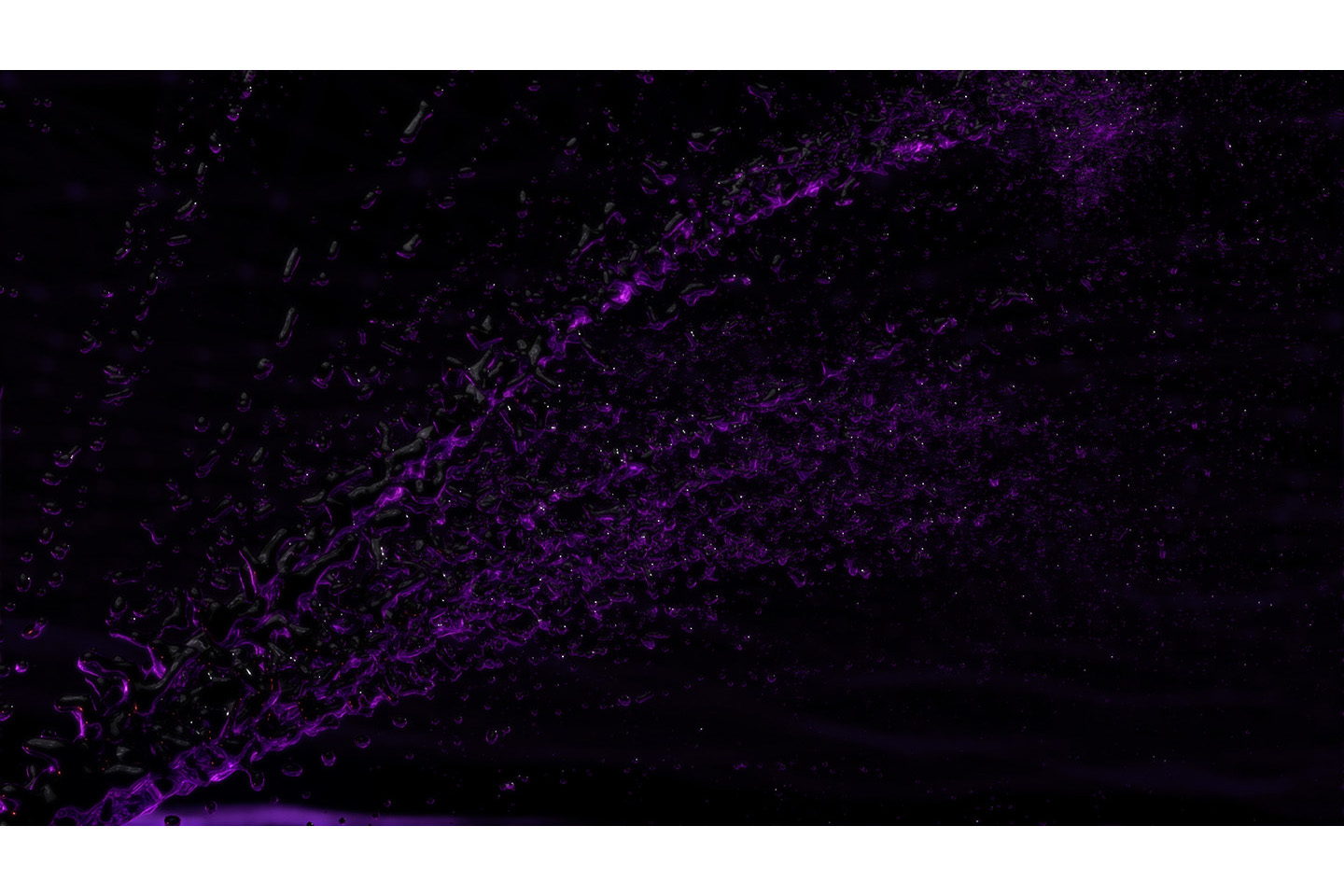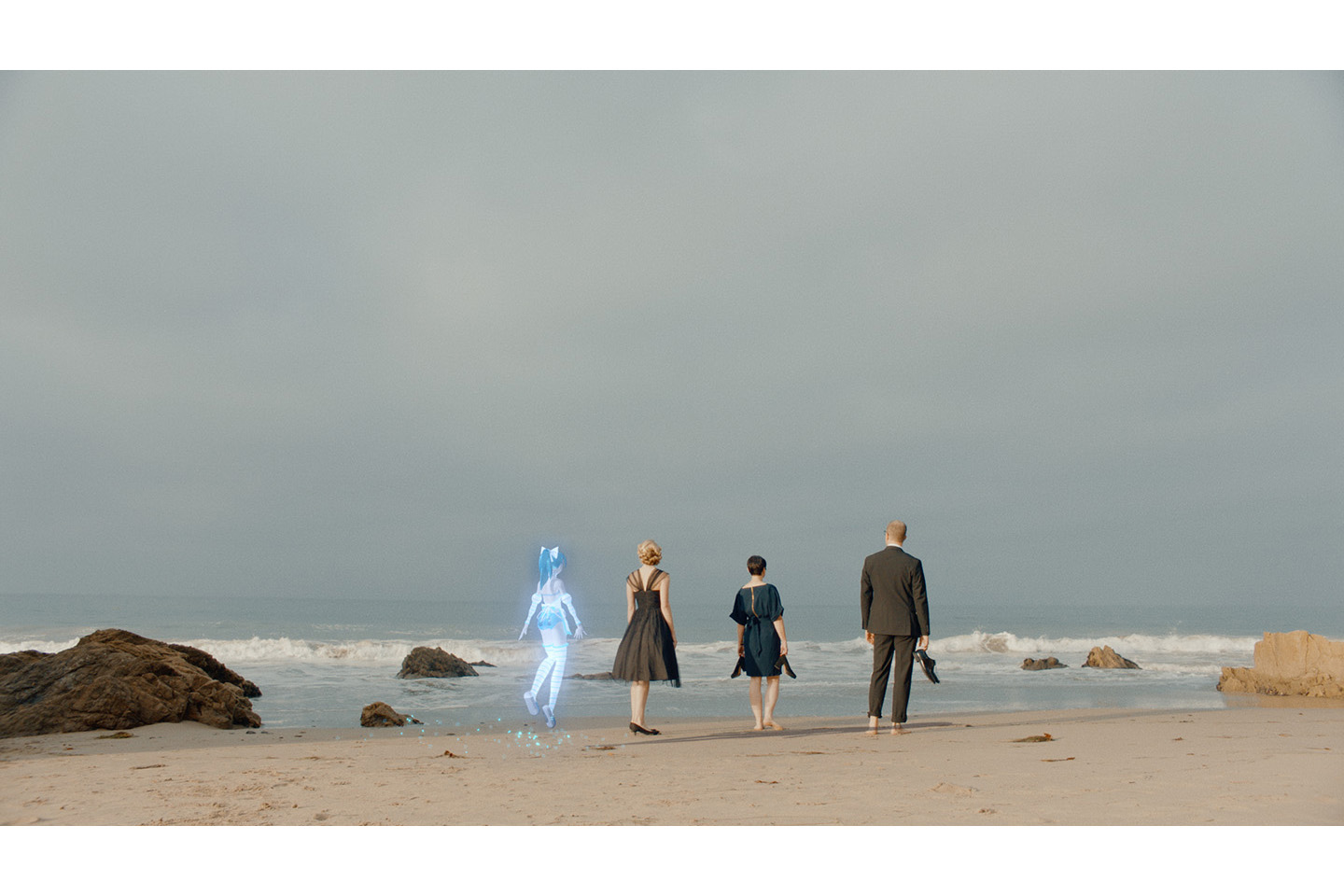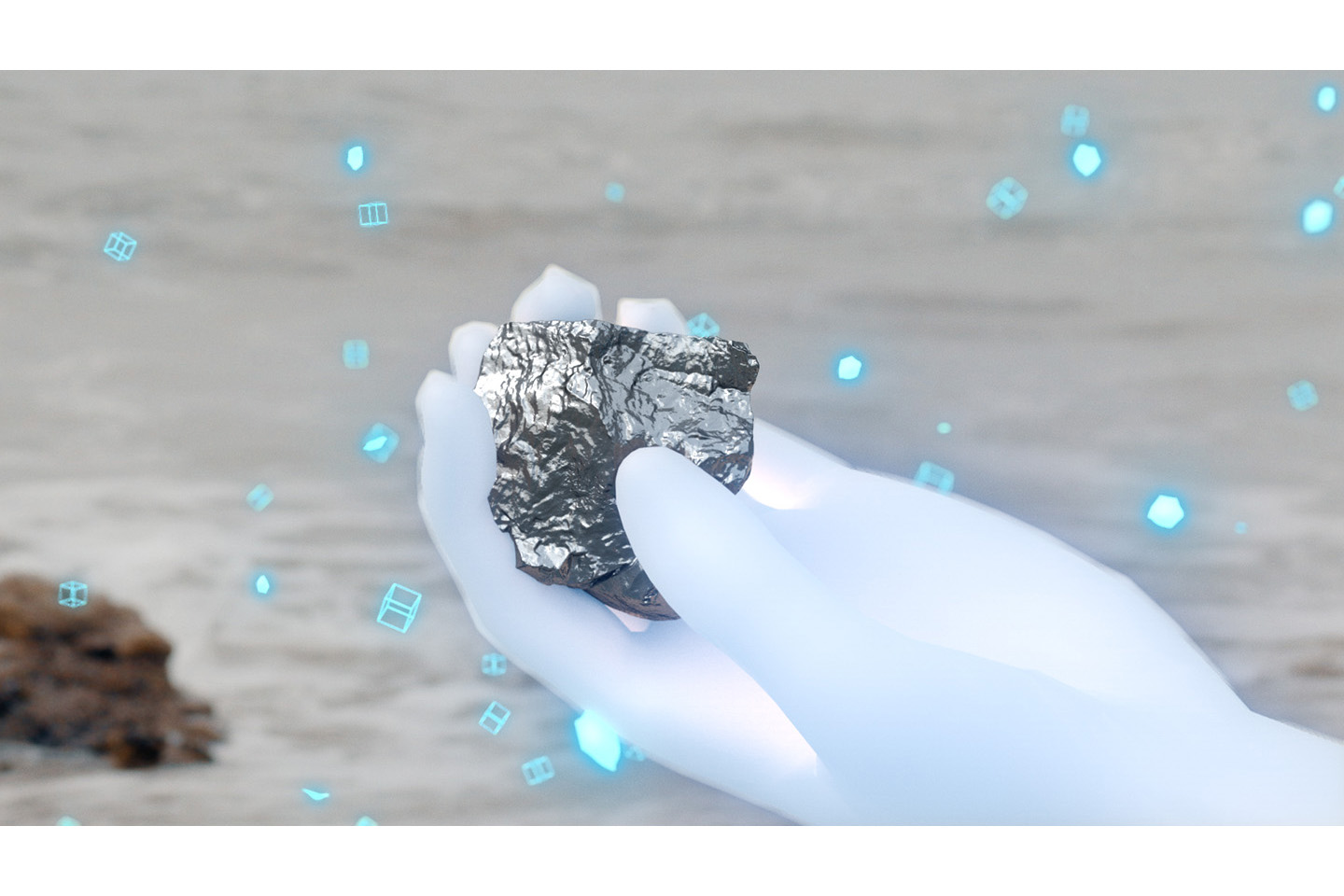 Zach Blas and Ana Teixeira Pinto in conversation
Zach Blas's exhibition Contra-Internet is a queer science fiction whose centerpiece, Jubilee 2033 (2017), fictionalizes the "end of the internet as we know it." The story begins in the 1950s, when, having taken acid, libertarian philosopher Ayn Rand and two of her devotees, Alan Greenspan and Joan Mitchell, hallucinate an anime-interface AI named Azuma, who tells them that Silicon Valley has built a cult-like culture around Rand's writings. Rand is eager to see the future, her ideas brought into being, but as Azuma leads the small group around the Bay Area they chance upon a ransacked Google headquarters, widespread mayhem, and a mutilated body whose ID badge reads "Peter Thiel." Inside Thiel's Palantir Technologies, now occupied by insurgents, the group encounters Nootropix (played by postgender performance artist Cassils). Nootropix is a contra-internet prophet, and their victory dance to Andrea Bocelli's "Con te partirò" (Elon Musk's favorite song) is the most earthshaking contrasexual manifesto since Lynda Benglis's 1974 Artforum ad.
Ana Teixeira Pinto: Not many people associate your protagonist, Ayn Rand, with Steve Jobs or Mark Zuckerberg, and Alan Greenspan was pretty much forgotten after he gave us the great recession. Did you ever fear Contra-Internet would be inaccessible to a wider audience?
Zach Blas: When I was a teenager, a relative put a copy of Ayn Rand's The Fountainhead (1943) in my hands and said, "Read this if you want to be an intellectual." I think encountering Rand's literature was—and still is—
typical and widespread in the United States. Her fiction is frequently read in American high schools, for instance, which is not surprising, as her tall tales of individual heroes fighting against the strictures of society to pursue their selfish ideals is truly the stuff of the American dream. Her writings even reached me in an isolated, working-class town in Appalachia!
ATP: Still, Randian egotism is hard to reconcile with Silicon Valley's post-capitalist ethos and its (however hollow) promise of community building and direct democracy.
ZB: After Adam Curtis's 2011 documentary linking Rand to Silicon Valley as well as numerous high-profile magazine features also making the connection, such as Vanity Fair in 2016, I think Rand's influence on Silicon Valley is becoming better known, even celebrated.1 You even find write-ups on why millennials should choose Rand over Karl Marx.2 It makes sense: Americans with a lust for business and start-up culture love what Rand embodies in her very biography: fleeing Russia and state communism for the land of the free, aka US capitalism in sunny California. Preserving such sentiments, the Ayn Rand Institute now resides in Irvine, California, where you can study through online learning how her philosophy of objectivism applies to today's world. And speaking of followers, you're right, many people are surprised to discover that Alan Greenspan was basically a lifelong Rand devotee, even though his economic proclivities align smoothly with Rand's objectivist principles. Recall that in 1966 Rand published a collection of essays titled Capitalism: The Unknown Ideal. Didn't Alan Greenspan give us one possible answer to this unknown in 2008? Perhaps what's more confusing is the artist Joan Mitchell. When Contra-Internet was installed at Gasworks in London in the fall of 2017, visitors were stumped by Mitchell's inclusion. Yet there just so happens to be two Joan Mitchells who are both painters: the well-known Abstract Expressionist and a lesser-known "romantic realist" who was briefly married to Greenspan. It's the latter who features in the film. In the end, I have faith that the queer theorist Lisa Duggan will clear up any remaining Randian confusion in her forthcoming book on the author. Have you caught the title yet? I believe it's Mean Girl: Ayn Rand and Neoliberal Greed.
ATP: Your film Jubilee 2033 is also loosely based on the narrative structure of British filmmaker Derek Jarman's 1978 queer punk film Jubilee.
ZB: I have had a long love affair with Jarman's film, and am particularly taken by its often overlooked science fiction elements, like time travel. The film begins with Queen Elizabeth I journeying to late-1970s London, where she bears witness to a wrecked future England—a future that she, of course, was complicit in bringing into being. Similarly, when I decided to make a queer sci-fi film on the internet and tech culture, I knew right away that Ayn Rand was surely a—if not the—philosophical queen of Silicon Valley. Jubilee 2033, in a sense, gives Rand and her acolytes a chance to ascend to the throne, even if it is burning. This transpires in the film through an acid trip, so the film is like a fever dream, created via computer graphics. In this context, it struck me as necessary to visualize Rand's hallucination through CGI, a technical apparatus innovated/subsumed by Silicon Valley (which is why the Adobe headquarters had to be burning in the film). At this point you can probably gather that there are many jokes throughout the work; they're not private but rather in plain sight. To grasp them, they might demand multiple viewings or some independent sleuthing. This is not to be obnoxious. Rather, it comes from a place of cinematic passion, as the films I've always loved—and that have marked me—deliver some revelation even after the tenth, twentieth, thirtieth screening. In that sense the film is like a software stack of layers and details, often humorous. For example, at the start, there's a flash of a 1944 essay written by Rand titled "The Only Path to Tomorrow," which reads like a kitschy sci-fi slogan, and also recalls Tomorrowland at the Disney theme parks.
ATP: Is the internet evil?
ZB: To keep things concise, I'll just list the material with which I wanted to think this question through: Friedrich Nietzsche, Matt Fuller on evil media, Al Gore on democracy, cruel optimism, network pessimism, internet kill switches, disappearing the internet, redefining the internet as a condition à la J. K. Gibson-Graham, the world and Michael Jackson, Hannah Arendt—I could say the internet is evil in some capacities, especially when it presents as a totalized condition.
ATP: Cassils––my newest crush––who plays Nootropix, is a contra-internet guru. Would it be fair to say their dildo is an anti-phallus?
ZB: Welcome to the crush club! Cassils is a magnificent artist and human being. I'm still reeling that they're in Jubilee 2033! I once did a personal training session with them in Los Angeles, and no one else has ever made me hurt so good. It was all queer love from that point forward. Contra-Internet began as an essay I wrote that attempted to imagine an aesthetics and politics beyond post-internet, out of Paul B. Preciado's Manifiesto Contrasexual (2002). I would term this relation between contra-internet and the contrasexual as one of "utopian plagiarism." I learned about this conceptual practice from Ricardo Dominguez. When he was still a member of Critical Art Ensemble, the group wrote of such a practice, which in short encourages the taking up of an existent idea and slightly altering it to open up a different pathway for thought and action. Alternately, we could think of this relation as a kind of Deleuzian enculage, in which a philosopher is taken from behind to give birth to a monstrous mutation of their thought.
ATP: Utopian enculage?
ZB: That's enculage in its ideal form! At its core, contrasexuality is not just a critique of sexual norms but also a celebration of the dildo. Preciado (breathtakingly, I might add) develops a practice of dildotectonics throughout the manifesto, in which the reader is presented with the dildo as a kind of diagrammatic form that is capable of activating contrasexual potentiality. For instance, drawing a dildo on one's arm and masturbating it is a possible technique. Importantly, Preciado distinguishes the dildo from a penis or phallus, claiming that the dildo is not a symbol for patriarchy or phallocentrism. All of this is to say that if contra-internet comes out of contrasexuality, then at least one dildo has to come along for the ride! In the film Jubilee 2033, Nootropix, played by Cassils, does indeed possess such a contrasexual dildo. During their lecture, a black liquid continuously flows out of it, coating the entire room. Is this piss, cum, some other bodily fluid, or a substance we don't yet know or understand? When Nootropix dances, the dildo is erect, spewing liquid like a fountain. In fact, Nootropix's dildo here gives us a nice counterpoint to Rand's The Fountainhead. Here is a contrasexual fountainhead! It sprays a lush and shimmering liquid, not unlike the glorious water fountains in Kenneth Anger's Eaux d'Artifice (1953). Nootropix even does the dildotectonic exercise of arm-masturbation, which perhaps helps keep the liquid flowing. If the name Nootropix is a variation on nootropics, which means "mind bending" in Greek, then I like to think of their dildo-
fountain as emanating a liquid drug that's poisoning the Californian ideology. To bask in this shower might be the ultimate water sport.
1. Nick Bilton, "Silicon Valley's Most Disturbing Obsession," Vanity Fair, November 2016, https://www.vanityfair.com/news/2016/10/silicon-valley-ayn-rand-obsession.
2. Leisa Miller, "3 Reasons Millennials Should Ditch Karl Marx for Ayn Rand," Foundation for Economic Education, December 18, 2017, https://fee.org/articles/3-reasons-millennials-should-ditch-karl-marx-for-aynrand/.